Whether you deal with newcomers or old loyal users, each of them should be aware of your price list. For new customers, price list templates are standard components of the onboarding strategy. The price list template is not time-consuming but will help you increase sales.
As for existing users, it's essential to keep them aware of corresponding prices! Having sent a price list online notification, you avoid the awkward moments when your updates turn out to be a bad surprise. While informing the audience about price list changes on time is a gesture of care. Your recipients will appreciate your price list template for sure.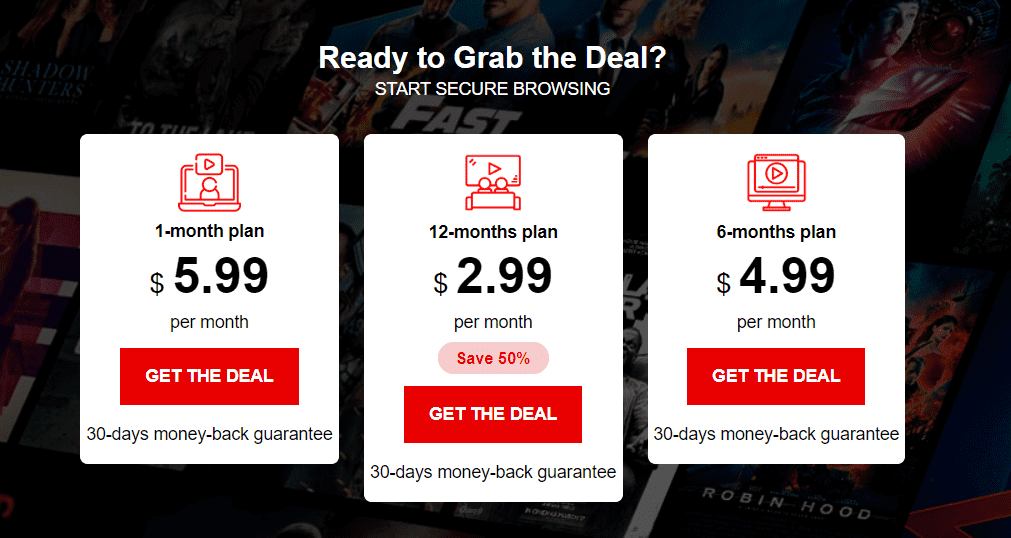 Check Stripo's free Price List templates to create and customize emails faster
Use this Template
Price list HTML email templates: What are they about?
In fact, these emails are similar to other types of trigger emails. We all know that such email messages are usually meant to deliver a certain piece of important information to clients.
To let you build these emails fast, we've prepared free price list email templates with various new-fashioned features.
1. Bulleted lists
Here we added the necessary blocks for all the typical information in a logical order. Everything is flexible; you can add, remove, and change the positions of each element in your price list template. Note the special blocks for subscription plans have pre-designed bulleted lists that allow you to place your price list, descriptions, and other details in a structured order.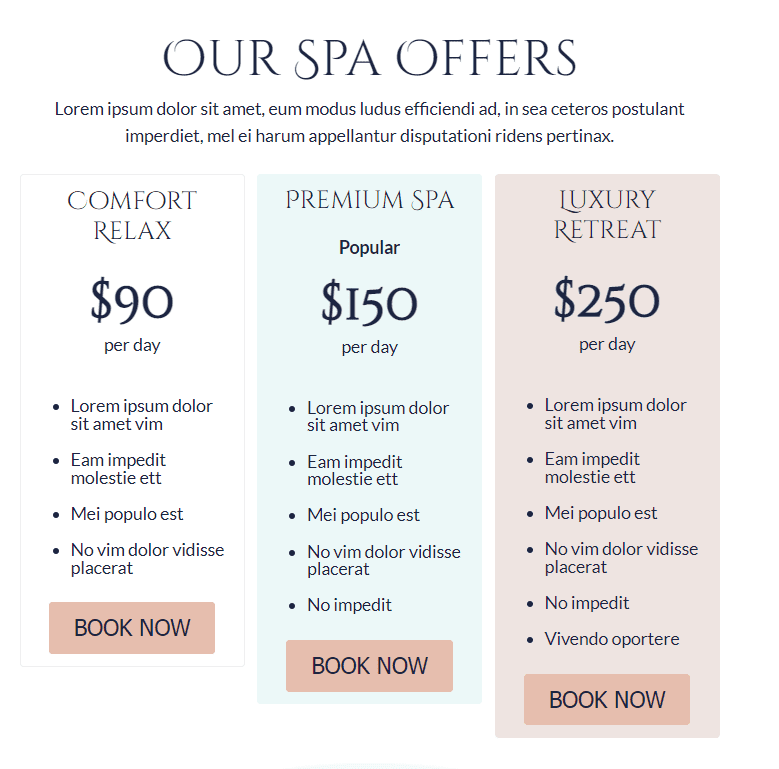 2. AMP accordion
Opportunities for content structuring are not limited to bulleted lists. Our HTML email templates for price lists have prebuilt AMP-powered blocks. An expandable accordion menu allows structuring your offers by categories/plans and adding FAQs if your products or pricing require detailed descriptions.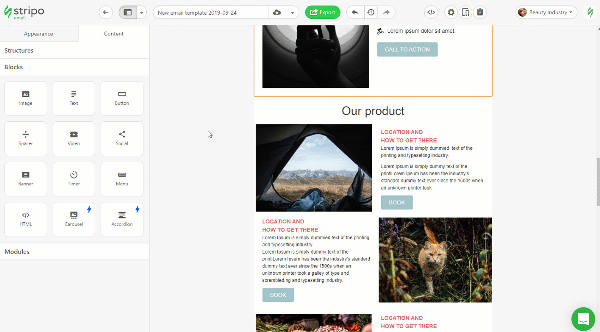 To make your price list email templates more visually appealing, include an accordion menu
Get Started
3. Embedded videos
Videos in emails are still on-trend. It's a good solution to communicate with customers more personally, show them how they can upgrade or downgrade their subscription, or highlight the differences between pricing plans. Stripo allows you to embed video files easily and even set custom thumbnails.
In our "How to add videos to emails" article, we show how you can add links to your YouTube videos or even embed videos in your price list templates.
4. Countdown timers
A sense of urgency is a good catalyst for making decisions. Add a countdown timer to your email with no third-party tools and no coding skills required.
This trick best suits campaigns when you inform existing customers that you are about to increase the prices. So why not let your clients know your price list will rise in seconds?
Did you know that timers in emails increase conversion by 9%? Be sure to add them to your price list email templates
Get Started
5. Mailto links
We should enable users to contact us whenever they need it, especially regarding money. If people can reach you via email channel only, don't make them highlight and copy your email address, then go to their email accounts and paste your address there. Add the "Email us" option to your emails using the "mailto" hyperlink.
In our "How to add different types of links to email" blog post, we cover the "mailto" links.
The best Stripo price list templates for your campaigns
If you are not sure how to better design your price lists and create a special campaign on the topic, here are some great examples of a free price list template to use:
1. Minimalistic design
Sometimes, cutting to the chase is better than being wordy in your price list template. If you are unsure what to discuss before the price list overview, skip all the festiveness like lots of images and GIF animations.
Point out the reason for reaching out at the bottom of your price list template, add some clear CTA buttons, ideally mention some free services or any possible gift for starting your cooperation, and move thereafter to the price list itself ;).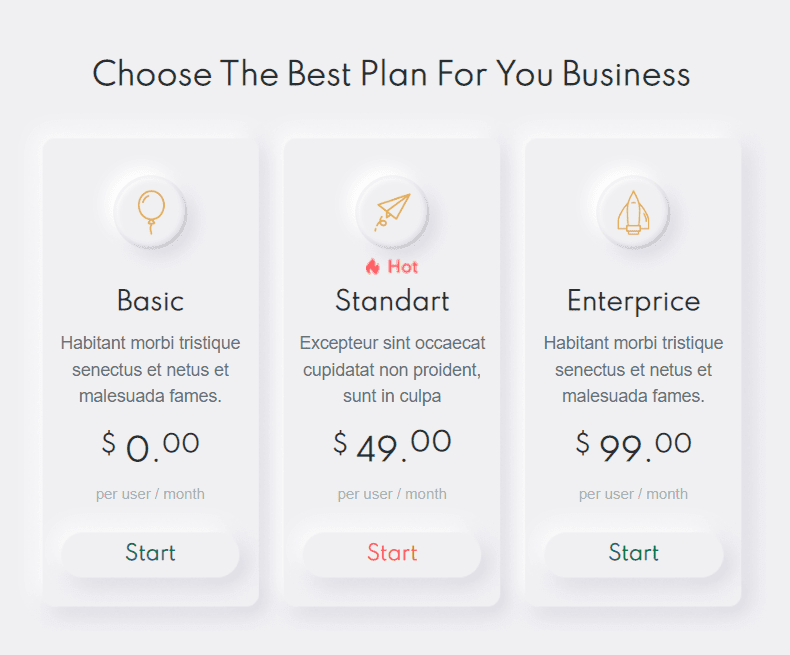 2. Eye-catching visuals
However, if your business has recognizable brand colors and style, it is better to use those in your price list design. Let's agree that the colorful approach perceives better.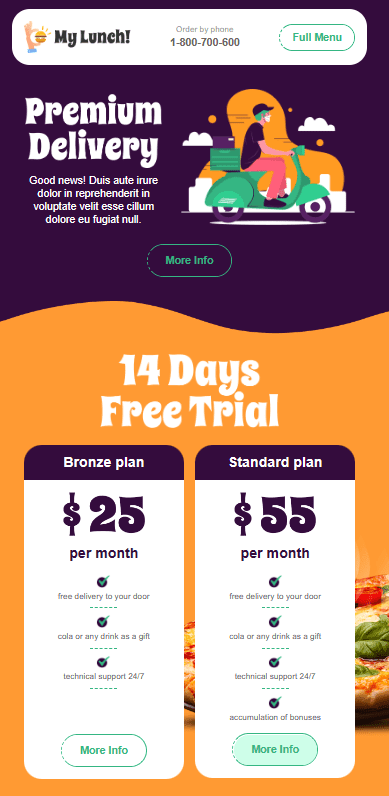 Moreover, it will be useful to graphically depict the distinction between the included services in your price list. However, keep the text readable and brief, as the brightness of your price list template shouldn't overlap the meaning.
3. Timeless classics
Although, your price list design might be displayed in soft colors if it matches your general company's idea. Mention your hot offers or the most popular services price list to appeal to your prospects.
Stripo's ready-made price list template in any variation is what your customers will be happy to see in their inboxes!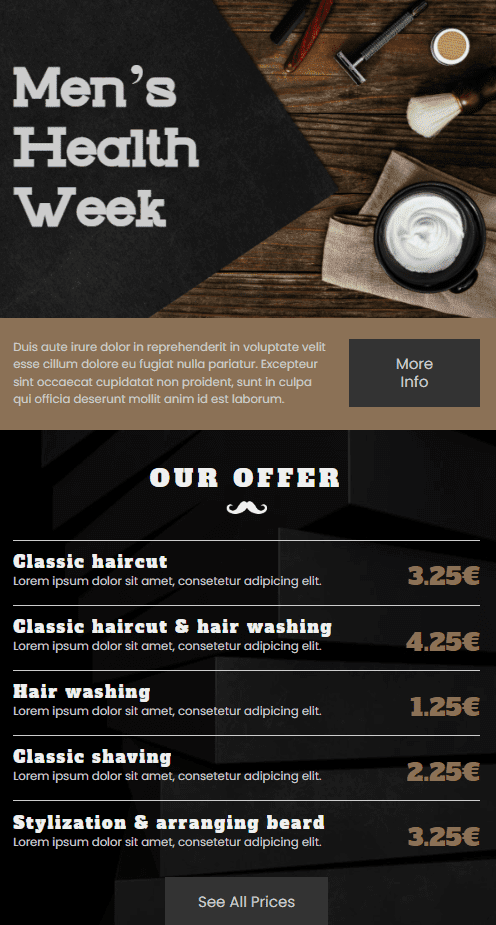 4. Attention-grabbing color palette
As you know, colors are known to evoke specific emotions. As a result, selecting the right colors can help you drive more attention to your price list template.
Blue, for example, is commonly used for business websites and is also used for navigation bars, headers, and footers because it represents stability and calmness. Purple is associated with royalty, mystery, luxury, and wealth, so it describes high-quality services. Orange is considered playful and warm, combining some of the feelings associated with red and yellow. It's commonly used for hyperlinks, menu bars, and call-to-action buttons.
Investigate the meaning of colors in marketing and use the appropriate ones for your business to create an aesthetic price list template.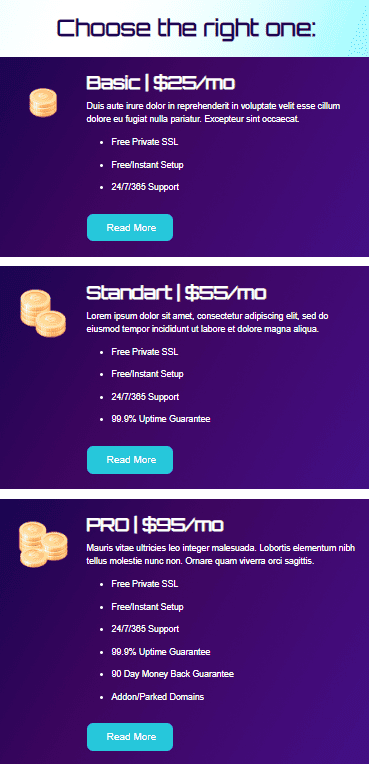 5. Brief and informative option
If you don't like colorful details or believe they will distract the reader from the main point, Stripo has a nice price list template for you. Light and classic, such a price list template will be highly appreciated even by the most demanding readers.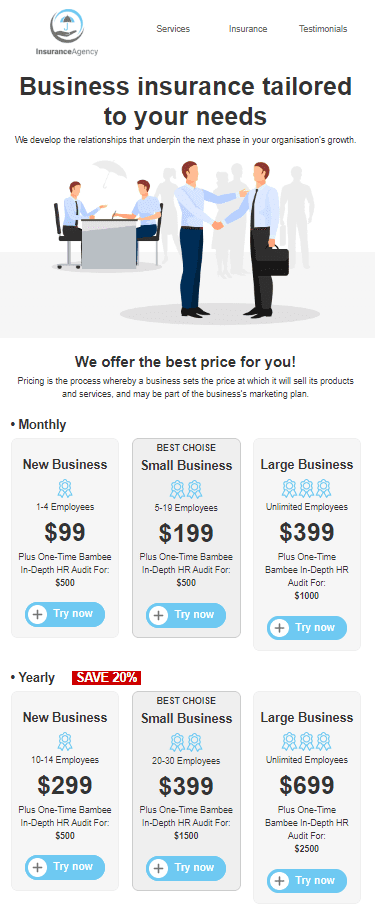 Wrapping up
Make your services price list emails enjoyable to receive and read, rather than something boring like a paper invoice. Our price list responsive email templates are designed to the smallest details to help you!
Use any for your future campaigns, or create yours with a blank canvas. Stripo's editor is always at your service for the best price list designs.
Join over 1 000 000 users
Start with free email template builder — upgrade anytime