You have thought your value offer through, but have not yet found the best design idea on how to wrap your value proposition in?
Stripo offers a number of ready-to-use templates for your holiday newsletters — use any of them to congratulate women on this day!
What makes us so convinced that your clients will love the Women's Day emails that you build with us?
All our templates were prepared by professional email coders and designers. So, they are:
1. They are totally responsive
They are totally responsive and mobile-friendly. Tested with Litmus and Email on Acid. So you may rest assured that your users will see emails exactly the way you intended.
2. We paid close attention to email design
We are well aware of the fact that this is a very emotional holiday, as we congratulate our dearest and beloved women. This is why we did our best to make the Women's Day email design really heartfelt and feminine.
Backgrounds
Backgrounds of our newsletter templates are decorated with flowers, or colored in pastel shades.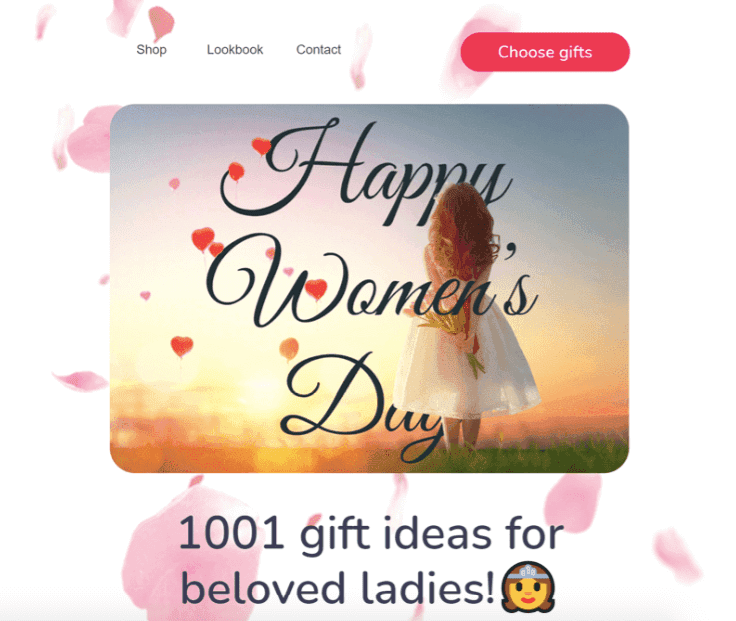 You may use this template for your Women Day Email campaigns right away
Our backgrounds render well in most email clients, even in Outlook if you use the tips from our blog post on "Outlook rendering issues".
Or else, you can set a respective background color as a fallback.
Banners
Stripo enables you to build a beautiful banner, for instance, you may use a bunch of flowers as a banner image and a sweet poem written over it. Wrap the poem in one of our 40+ decorative fonts, and apply filters for the entire banner right in the editor to make it really unique and festive.
Build sophisticated, elegant festive banners for your emails
Interactivity
Games are an essential part of our lives, especially when it comes to holiday emails.
You can easily add any kind of interactivity or even elements of gamification to Women Day email templates in Stripo.
Videos
Another Women's Day email design idea — is to embed a greeting video into our Women's Day HTML email templates. You can either insert a video where all men of your big company congratulate women by saying nice wishes or find a video of happy women enjoying food and time in your restaurant, for example. Seems like a good marketing idea, as well ;)
3. Using our Women's day email templates saves you time
Here's a brief list of features that help you get the most out of Stripo:
How do our Smart Elements option work? Only once you have to set them up by picking what parts of the description you want to be displayed next to the product's snippet in your Women's Day newsletter templates. Those elements could be price, text with a detailed description, size, name, etc. Then, next time, when needing to promote a wide range of goods, you will only need to insert the link to the item into these smart elements, and the system will automatically fill out all the necessary lines by itself.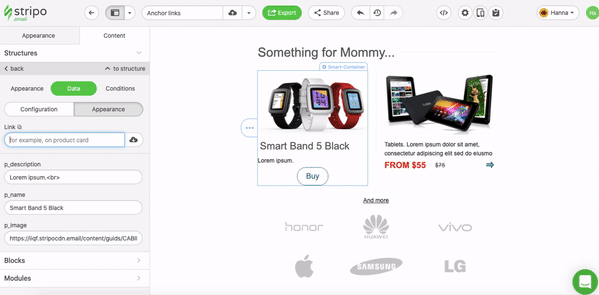 And the best news about it all is that you can save these modules into your personal library. Some of our free Women's Day email templates already have these smart elements set up. With Stripo, it will take less than 10 minutes to create a gorgeous Women's Day email template.
Stripo allows building AMP emails literally with no coding skills.
You just use our drag-n-drop blocks, fill them out with your content, and voila — your email is ready to go!
See how to build an AMP carousel with us in no time: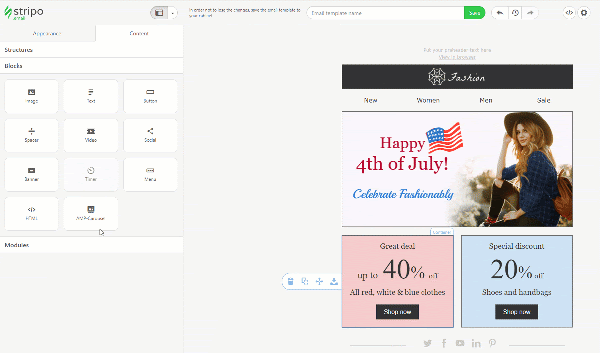 Add innovative AMP elements to your emails to stay ahead of the competition
Final thoughts
Get inspired by our examples, implement our ideas and use our templates to make your women a little bit happier on this wonderful holiday!
Join over 750K users
Start for free — upgrade anytime