Have you thought your value offer through but have not yet found the best design idea?
Stripo has a variety of ready-to-use templates for your International Women's Day newsletters — use any of them to congratulate women on this day and remind each of them that she is a queen today and every day!
Email design tips for your Women's Day marketing campaign
1. Use custom fonts to brighten up your emails
If you want your International Women's Day emails to stand out, we highly recommend using custom fonts for the email text. Custom fonts make your International Women's Day email more creative, festive, and unforgettable! With Stripo, you can do it in several clicks ;).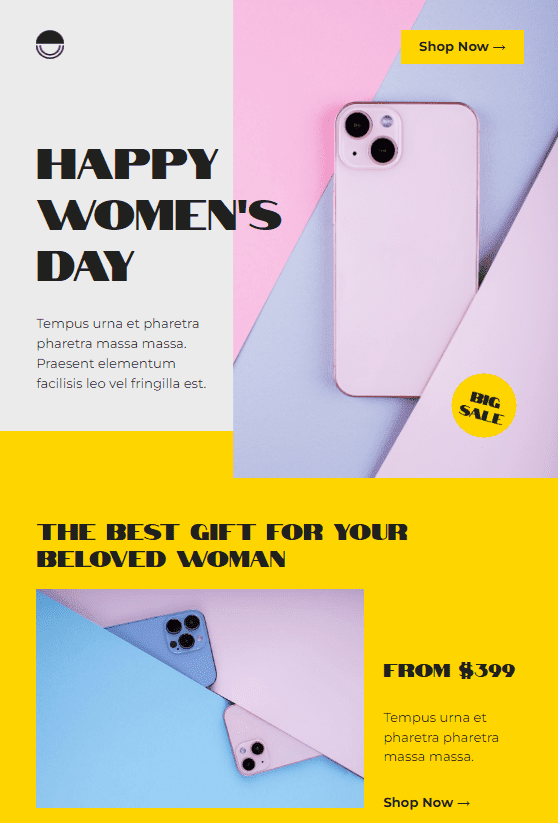 (Source: Stripo template)
On our blog, you can learn how to upload and use custom fonts with Stripo.
2. Design bright banners
Large and stylish banners are a must for the International Women's Day email. Just insert the "Banner" block into your Women's Day email campaign with Stripo: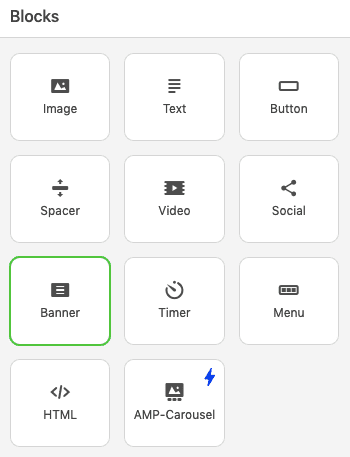 Then, upload the images you want to use for your International Women's Day banner. Stripo allows you to upload images in four ways: via drag-and-drop, an external link, the Stripo product photos gallery, or a previous campaign.
Feel free to add additional Women's Day images and buttons and decorate them with festive fonts from our library. Stripo's banner is composed of layers. This way, you can customize each layer separately without leaving the builder, saving you significant time.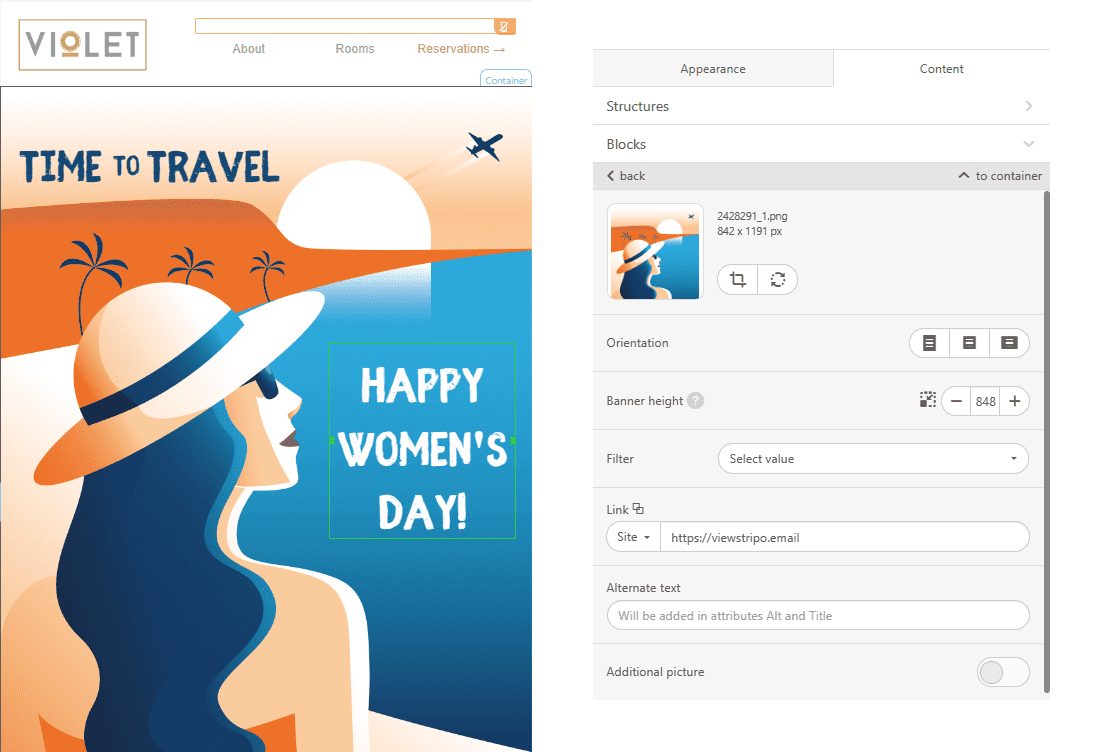 3. Add clear and brief CTA buttons
A CTA is essential to any online communication because it boosts the average click-through rate (CTR) and makes your email template more appealing. Call-to-action buttons serve as road markers, directing users to the next step.
(Source: Stripo template)
With Stripo, you can create clear and interactive call-to-action buttons in a few seconds. First, you have to find a "Button" block and drag it to your email template.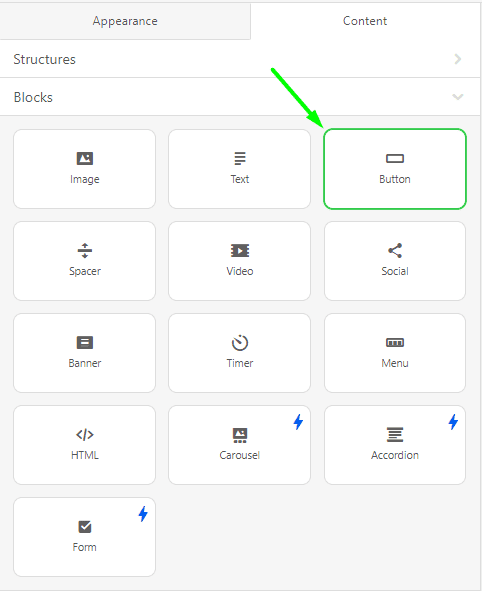 Then customize it with the preferred design and add a link to the needed landing page.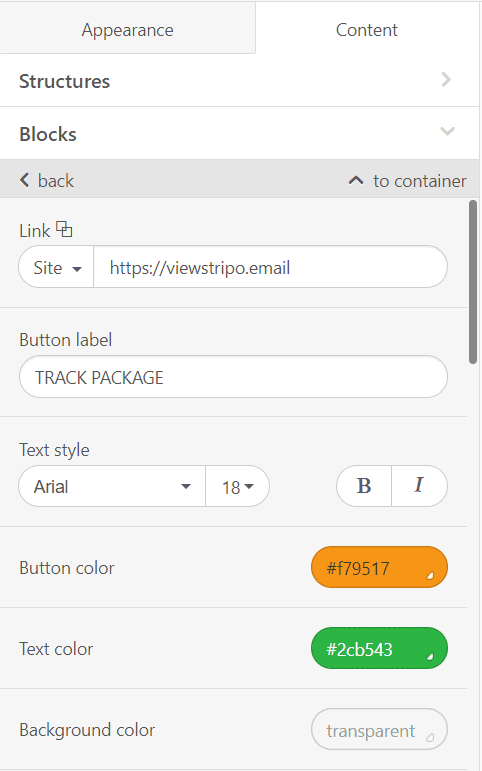 4. Benefit from countdown timers in the Women's Day email template
Customers feel rushed when they see a time-limited email campaign. What's more, a countdown timer is a colorful illustration of an interactive International Women's Day email. It motivates female subscribers to take the expected action before the deadline has passed, increasing subscribers' click rate. Don't forget to mention in the subject line that your offer expires on X date.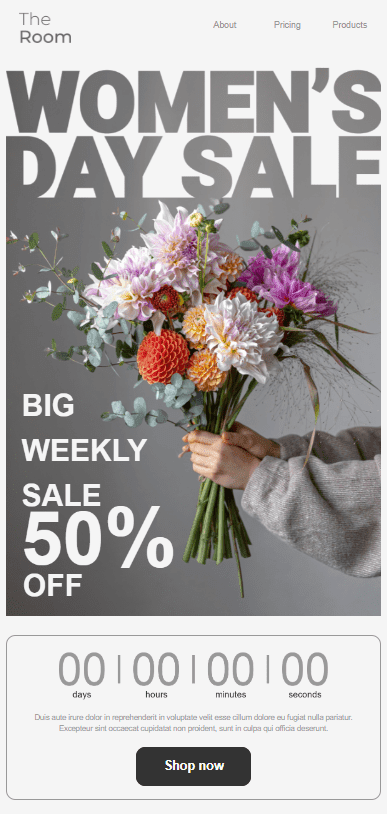 (Source: Stripo template)
Navigate to the "Content" section, then click "Blocks," find "Timer," and drag it over the required container of your International Women's Day email template in the editor.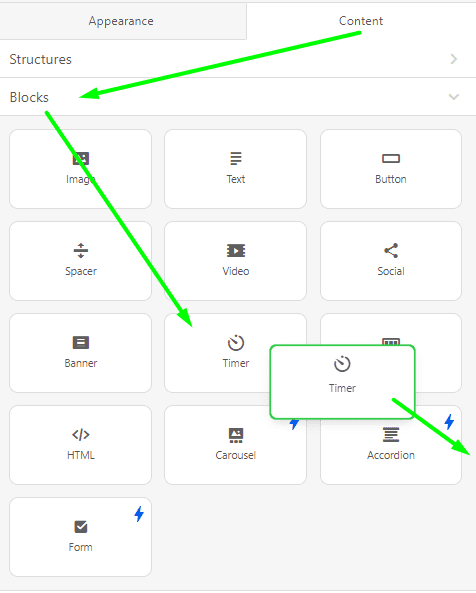 After that, enter the end date and time. Remember to choose the correct time zone. You can also change the colors and fonts.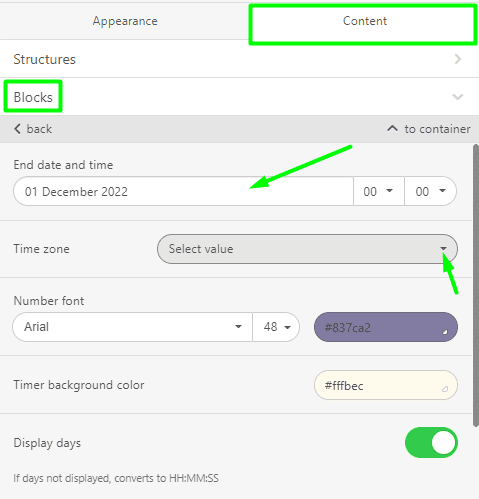 5. Build AMP carousels
You can connect links for each International Women's Day email image in your AMP carousel. These links will direct recipients to the preferred pages on your website.
All you need to do is:
1. Drag the "Carousel" block into the Happy International Women's Day email template.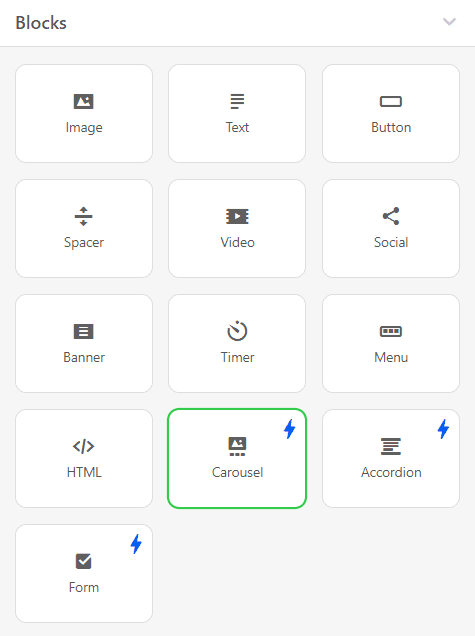 2. Click the "⚡HTML" icon to open the settings panel and add an image to your International Women's Day slide.
If you want to show small preview images, toggle the "Display preview" button in the settings panel and set the width for the preview images.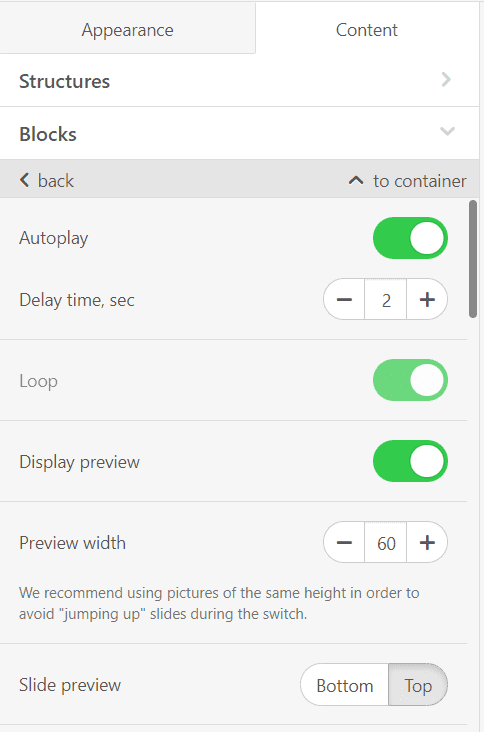 3. Enter the Alternate text, paste the required link, and press the "Add slide" for your international Women's Day email (repeat the same for other images you need to add):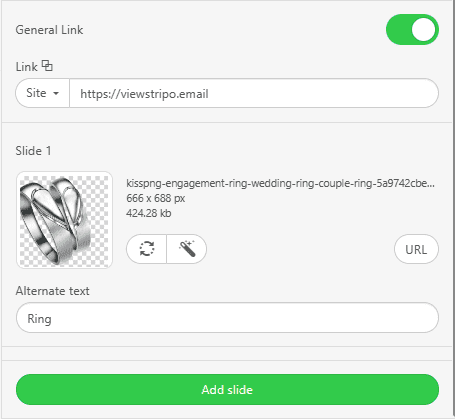 4. Check that the sizes of all images are similar. If they don't, use our photo editor to crop them. If you want your slides to change automatically, use the "Autoplay" button. You can also toggle the "Loop" button to display slides from the beginning when a visitor taps on the last image.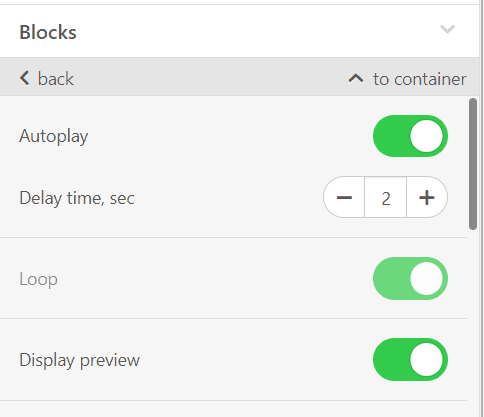 5. In the "Slide preview," select top or bottom placement; in the "Custom preview," select image or color preview.
Please refer to our detailed guide to learn more about building AMP carousels with Stripo.
What makes us convinced your clients would love the Women's Day emails you build with us?
Professional email coders and designers prepared all our templates. So, we offer the following benefits:
1. Responsive email templates
Your International Women's Day email will be totally responsive and mobile-friendly with Stripo. So you may rest assured that your users will see emails exactly how you intended.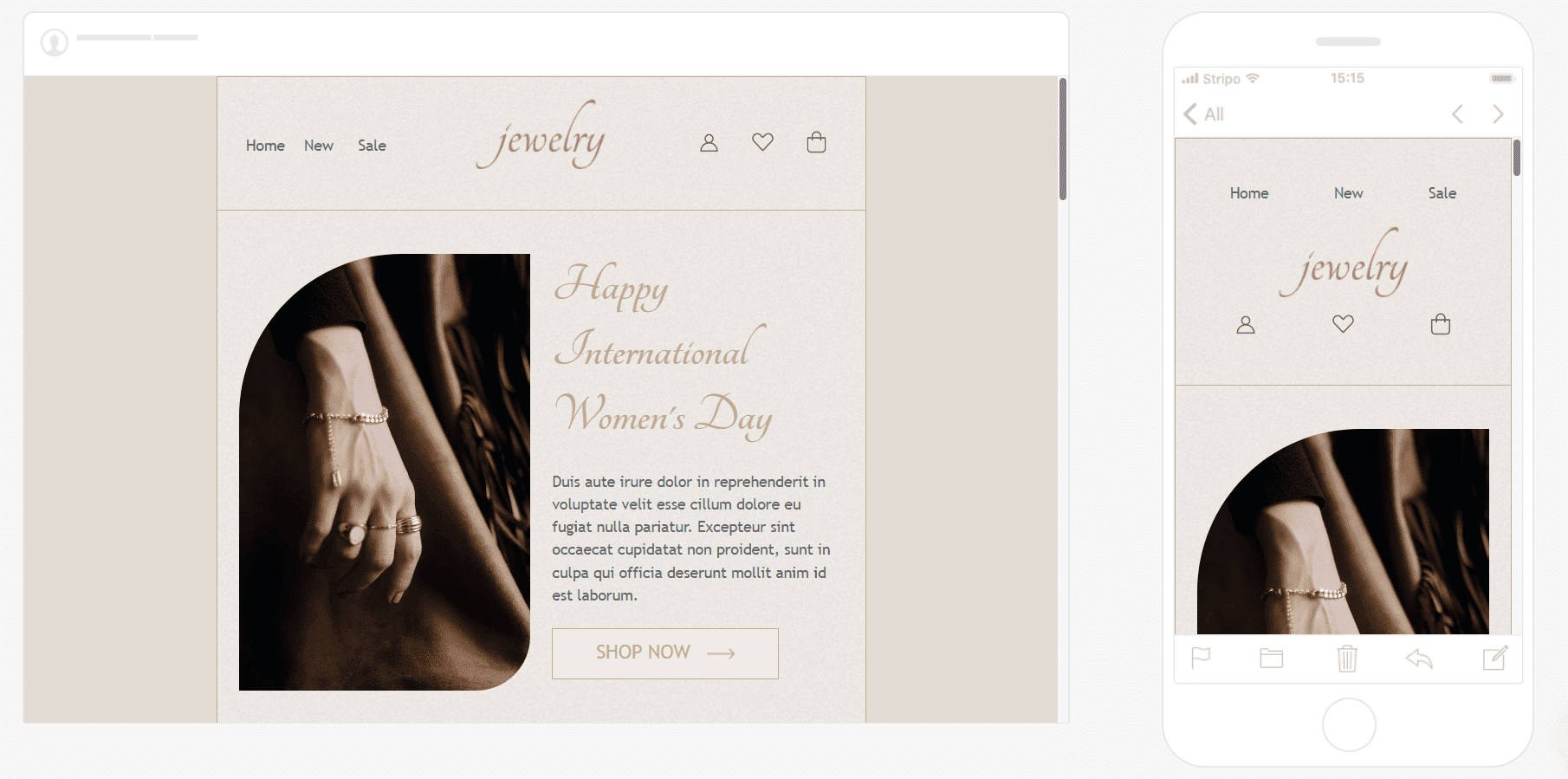 2. Beautiful email design to celebrate International Women's Day
The backgrounds of some of our International Women's Day email templates are decorated with flowers or colored in pastel shades.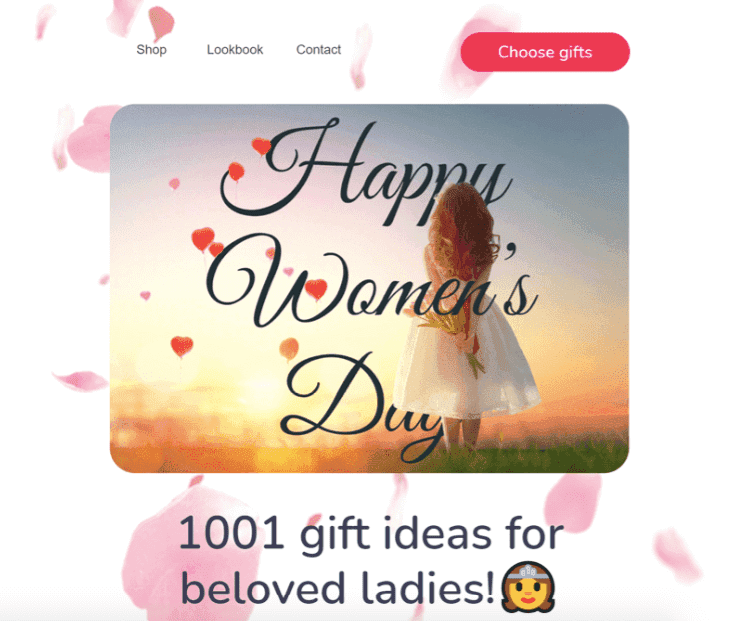 Use this template for the Happy International Women's Day campaign
Use It
Our backgrounds render well in most email clients, even in Outlook, if you use the tips from our blog post on "Outlook rendering issues." Or else, you can set a respective background color as a fallback.
Stripo enables you to build a beautiful banner to celebrate the strong women's holiday; for instance, you may use a beautiful poem written over it. Wrap the poem in one of our 40+ decorative fonts, and apply filters for the entire banner right in the editor to make it unique and festive.
Build sophisticated, elegant festive banners for your emails
Join Stripo
Games are essential to our lives, especially when celebrating International Women's Day! You can add gamification elements like quizzes or scratch cards to Women's Day email templates in Stripo.
Another International Women's Day email design idea — is to embed a celebrating women video into our email templates. It seems like a good marketing idea to celebrate International Women's Day :).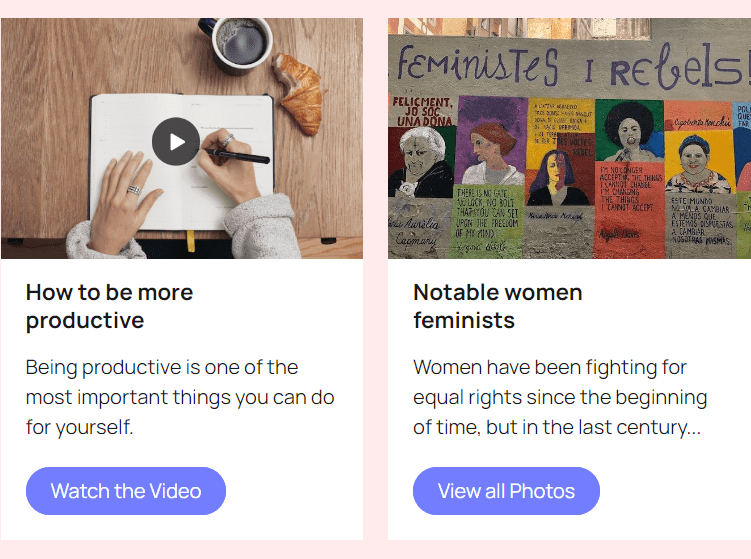 (Source: Stripo template)
3. Time-efficient solution
Here's a brief list of features that help you get the most out of Stripo:
How does our Smart Elements option work? Set them up just once by picking what parts of the description you want to be displayed next to the product's snippet in your Women's Day newsletter templates. The elements could be price, text with a detailed description, size, name, etc. For the next campaign, you will only need to insert the link to the item into these smart elements, and the system will automatically fill out all the necessary lines.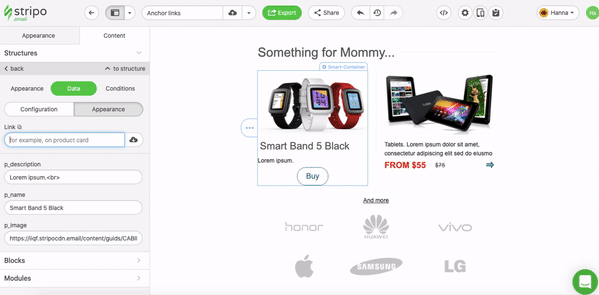 You can also save these modules in your library. Some of our free Women's Day email templates already have these smart elements set up. With Stripo, it will take less than 10 minutes to create a gorgeous Women's Day email template.
Stripo allows building AMP emails literally with no coding skills. You use our drag-and-drop blocks, fill them out with your content, and voila — your email is ready!
See how to build an AMP carousel with us in no time: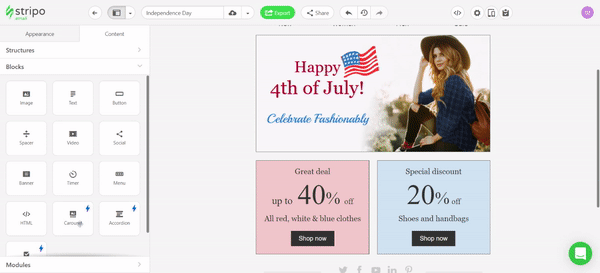 Add innovative AMP elements to your emails to stay ahead of the competition
Join Stripo
The logo, header, menu, and contact information modules usually don't change across all campaigns. So, when you launch a new campaign, all you have to do is choose the necessary modules.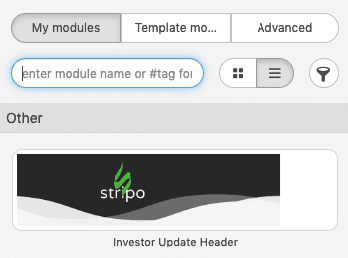 As a result, when you need to edit the International Women's Day campaign content, email elements such as buttons, image size, font size, font colors, and text alignment won't require your attention because you already set them before saving modules to the library.
Use our Stripo Content Modules guide for quick assistance.
Press on the "Wand" in the Content blocks after you upload a picture to your International Women's Day email.
Then you will see a wide range of editing tools to customize your image.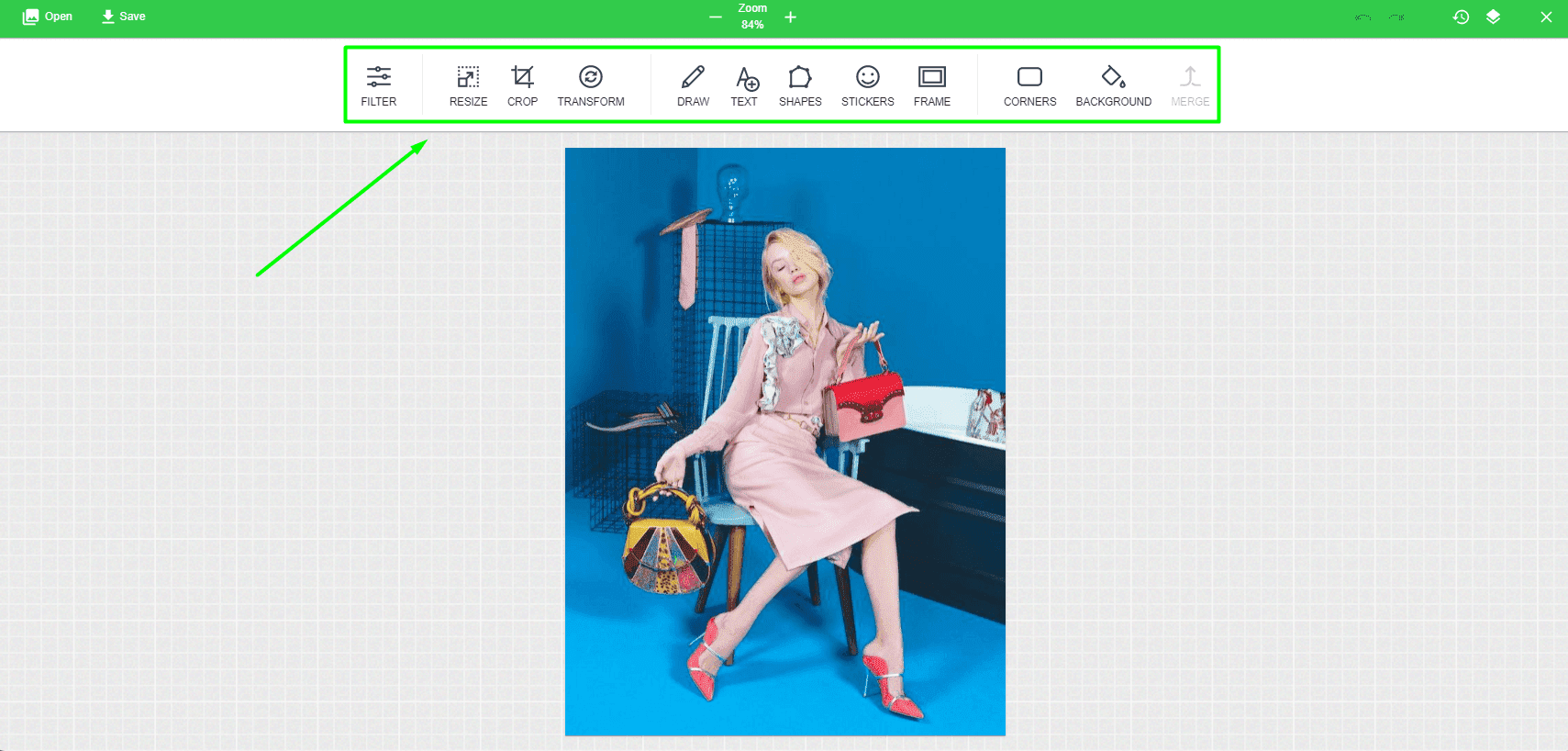 Do you want your clients to celebrate International Women's Day with you? Send them interactive emails with Stripo.
Implement a rollover effect for a beautiful GIF animation or show your products from different angles, like in this template.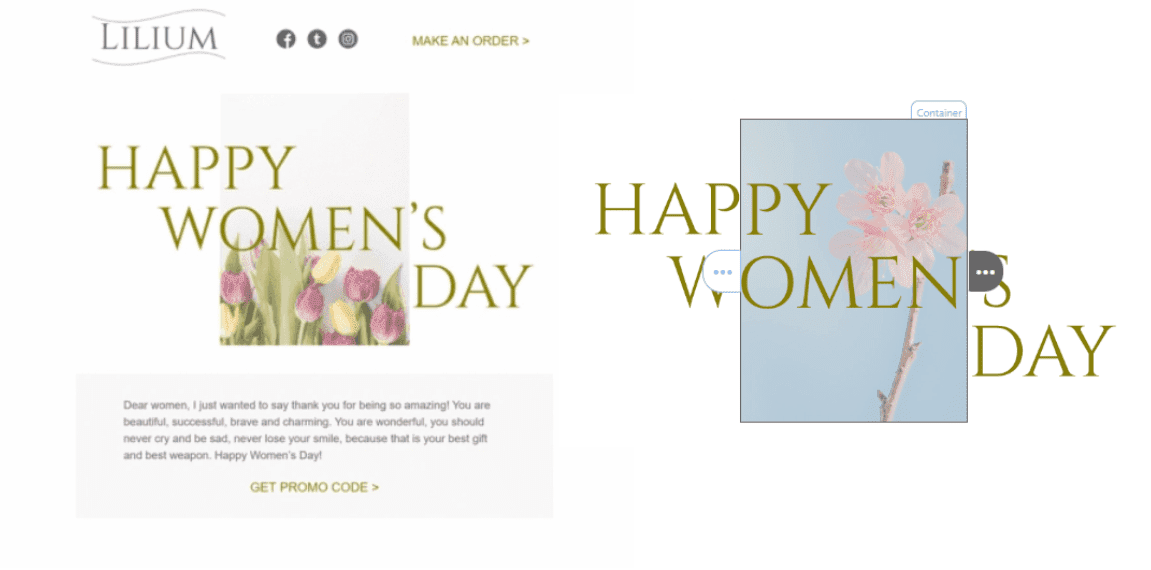 Just follow these simple steps:
After you've uploaded your first image, click the "Rollover effect" button.
Then choose the second image.
Ensure that both images are the same size.
Voila! Now it's rolling😎. Please check this article for a more detailed guide.
Stripo offers several email campaign collaboration tools, including co-editing, which involves editing the same email simultaneously. Besides that, each team member can get a role and level of access. All of this is manageable in the Users section of your Profile:
Stripo saves your email template after each action you perform — we chose this intensity because you may make multiple edits in a couple of seconds.
This way, your Women's Day email will be automatically saved and labeled with a checkmark in the editor's upper area:
Wrapping up
Get inspired by Stripo's examples, exciting offers, unique feature images, and interesting ideas to make your female subscribers happier on this beautiful and happy Women's day!
Spread the word with Stripo's ready-to-use International Women's Day templates. It's for all of you, ladies💗.
Join over 900K users
Start for free — upgrade anytime