Memorial Day (also known as Decoration Day) is a national holiday in the United States honoring military personnel who died defending our freedom. It takes place on the last Monday of May and is meant to express our appreciation to the fallen soldiers' families and friends. To celebrate Memorial Day properly by paying tribute to military personnel sacrifice, you should choose only the best, the most emotional Memorial Day email templates ever. Stripo offers a lot of decent Memorial Day email examples.
Design tips for Memorial Day email campaigns
First of all, I would like to say a few words regarding how these emails should look.
Make Memorial Day email design simple. Memorial Day honors the history and American patriotism; it also marks the unofficial beginning of the summer season, with family gatherings and holiday weekends. So return to your roots, be respectful, offer some special Memorial Day sale, and add the color thematically. It would be inappropriate to use bright colors, so be careful here. You can use red, white, and blue colors to celebrate Memorial Day weekend.
1. Banners for your Memorial Day email templates
Banners are the face of your Memorial Day email campaigns. Make them meaningful. Help recipients understand at first glance what your Memorial Day email is about.
(Source: Stripo template)
Stripo enables you to also write a motto or a poem over a Memorial Day banner:
Design banners for your Memorial Day newsletters in under 10 minutes
Join Stripo
2. Backgrounds for a profitable Memorial Day campaign
If you think festive banners are not enough for your campaign, you may decorate Memorial Day email backgrounds in the flag colors.
Please, watch our short video for strategic tips where we show how to add backgrounds to:
the entire Memorial Day email;
a row/stripe;
a structure;
a container.
x
Add meaningful backgrounds to your Memorial Day emails
Join Stripo
3. Color scheme to make your Memorial Day email templates attention-grabbing
Most people associate Memorial Day with the classic colors of the American flag: red, white, and blue. These colors are undeniably important in Memorial Day long weekend celebrations as they do for 4th of July celebrations.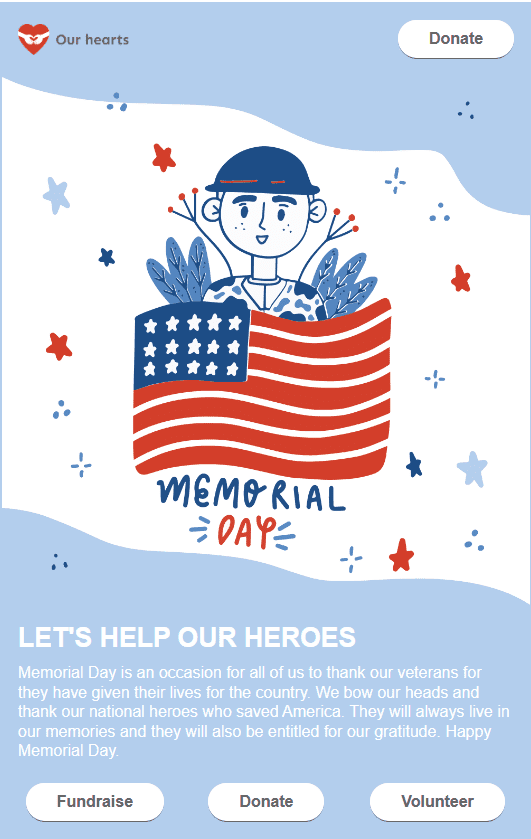 (Source: Stripo template)
Hence, consider the colors in the Memorial Day theme color Scheme palette while creating your Memorial Day email campaign:
American Blue (#3C3B6E);
Blue Yonder (#5E6EAF);
Azureish White (#D2DDEC);
Bright Gray (#E8EBF1);
American Red (#B22234).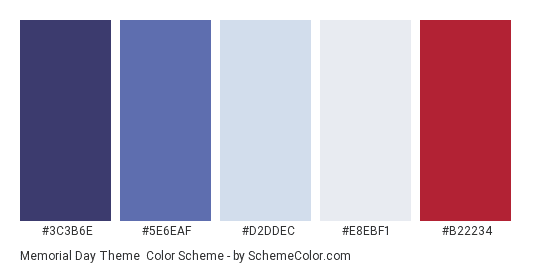 (Source: SchemeColor)
Although, some new color variations have recently been incorporated into the long weekend. Memorial Day is associated with military services, and militaristic colors have become color palettes for the holiday. As a result, you can confidently integrate military greens, yellow as the armor branch's official color, and purple to depict the purple heart of valor.
Try to harmonically add those colors to your Memorial Day weekend email campaign.
Content tips for Memorial Day email campaigns
1. Videos in Memorial Day email templates
Why not insert a link or even embed a video into your Memorial Day email template? For instance, all your colleagues may explain what this holiday means to them... Perhaps one of your friends or relatives selflessly served the country and can share their thoughts on Memorial Day.
Or you may include videos with some national parades. It's up to you. Or, in honor of the national long weekend, tell the story of a famous hero from your neighborhood.
How to add a video with Stripo:
pull the "Video" block into your Memorial Day email template;
paste a link to your video on YouTube or Vimeo;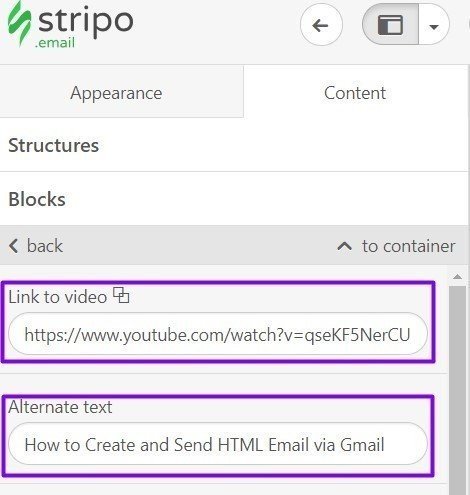 our system will pull in a respective video description and alt title;
choose the "Play" button color.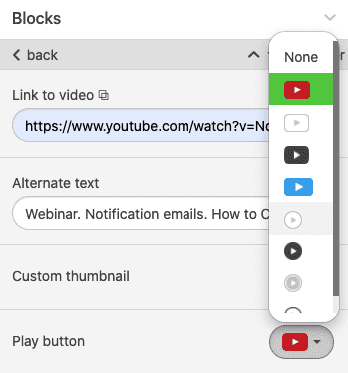 To show your appreciation for Memorial Day, include videos in your emails expressing your gratitude to heroes
Join Stripo
2. Valuable offers in a Memorial Day email template
With Stripo's free Memorial Day newsletter templates, creating an appropriate marketing campaign with a special value proposition won't take long. Our unique "Smart Elements" feature will help you create product cards within minutes. It could be your most valuable asset in the Memorial Day sale configuration.
Once you make all the necessary configurations and then simply insert the links to the necessary items — and voila — our editor will automatically add a description, title, price, image, and any other parameter of your Memorial Day email campaign.
For more information on how to build those smart elements for your Memorial Day campaign, please refer to our "Smart Elements" blog post.
3. Countdown timers in a Memorial Day email template
Email countdown timers are an excellent way to create a sense of urgency while encouraging your recipients to act after your Memorial Day email. It urges the target audience to make decisions more quickly due to this limitation.
A timer also boosts engagement and conversion rates, especially when customers understand they only have a limited time to take advantage of the upcoming Memorial Day sale. Once you've set a special offer and sent the Memorial Day time-limited message, your customers will find it difficult to miss such a perfect opportunity.
You decide whether to offer free shipping or a Memorial Day sale; remember that with Stripo, you can easily set a countdown timer for the Memorial Day holiday weekend.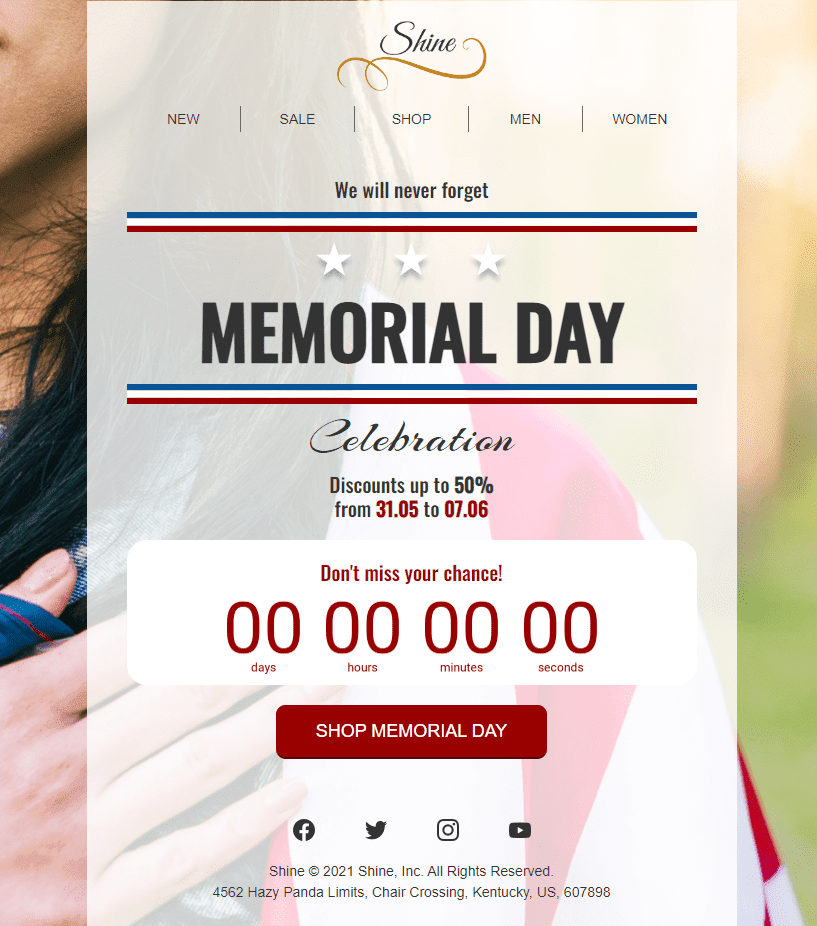 (Source: Stripo template)
To add a countdown timer for the Memorial Day sale, insert the basic "Timer" block into your Memorial Day template.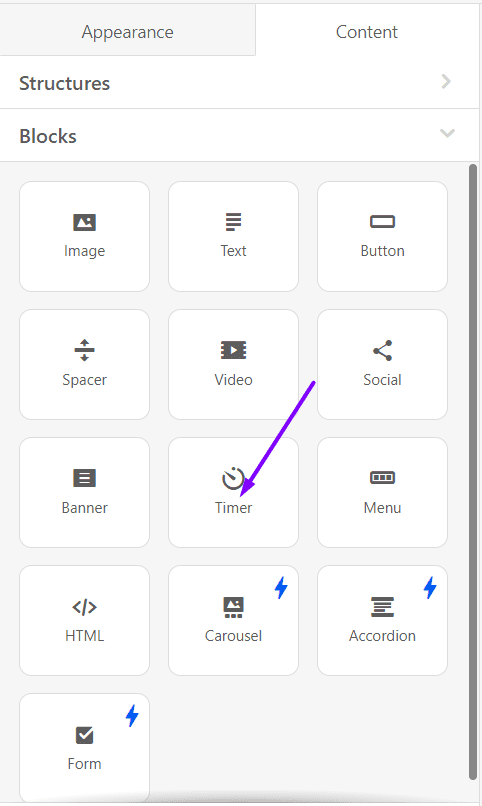 The next step is to choose a date for your happy Memorial Day offer; just set the sale's end date and preferred time zone along with the font, color, and size.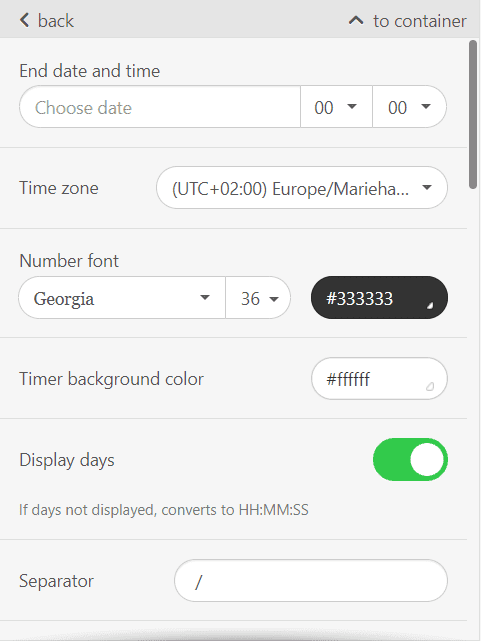 Stripo also allows you to select the "separator" between the numbers. It is solely up to you whether your customers see a dash "-" or a colon ":. " Convenient, right?
4. Eye-catching images in a Memorial Day email template
How can you draw your target audience's attention to your Memorial Day email campaign without an impressive subject line, heartfelt message, and relevant pictures that will be the best decor for your Memorial Day email templates? It would be almost impossible. A festive Memorial Day email campaign will be considered much more valuable than a long read without any visuals.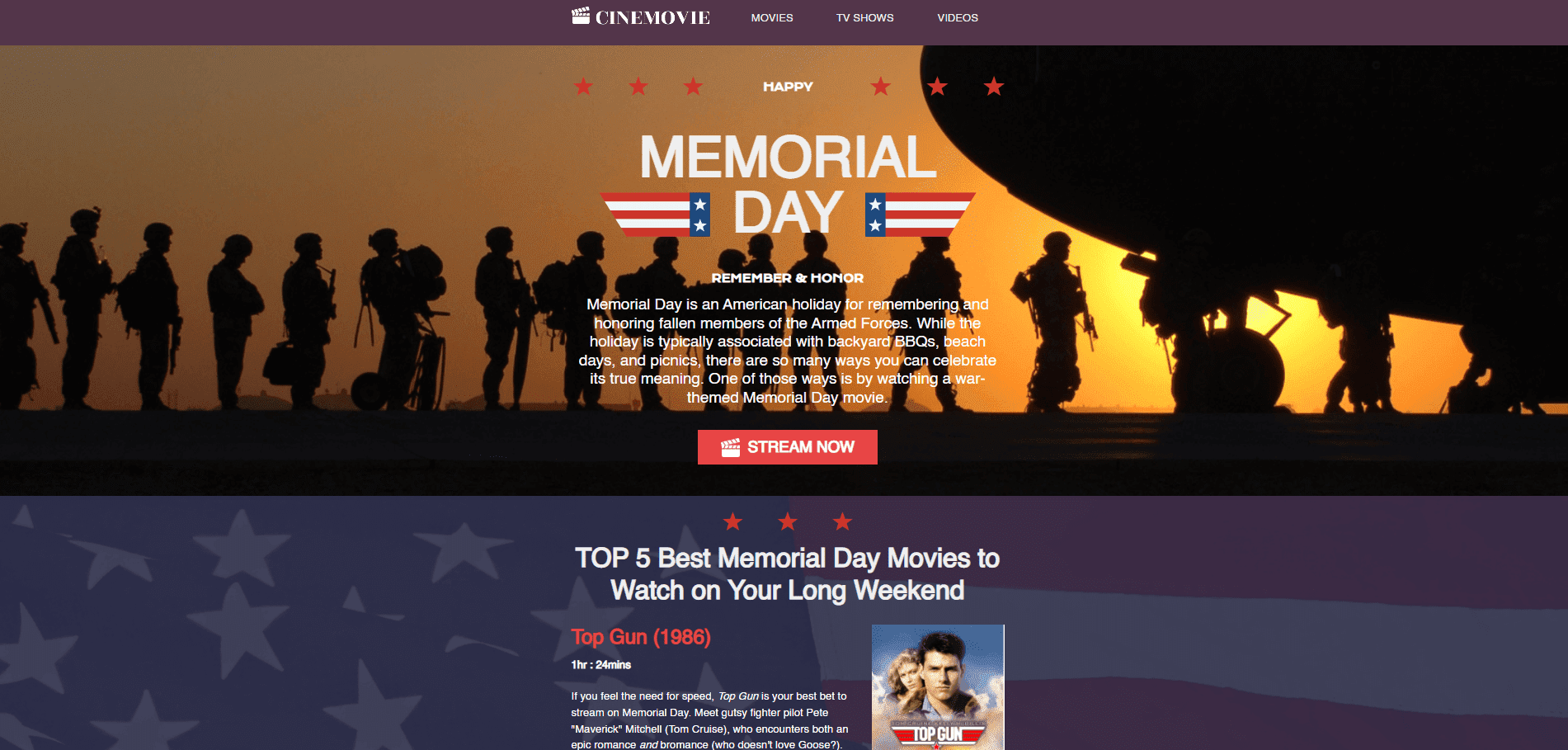 (Source: Stripo template)
You can choose appropriate Memorial Day symbols based on your business direction.
On Memorial Day, in addition to the Stars and Stripes, a red poppy is used to commemorate those who died while defending the country. The Bald Eagle represents majesty, bravery, faithfulness, strength, and dedication.
And don't forget the Memorial Day color symbols we mentioned earlier!
Wrapping up
The Memorial Day weekend is taken very seriously. No one will ever forget the ultimate sacrifice of fallen soldiers. As a result, your Memorial Day email campaign should be filled with gratitude, remembrance, and respect. Honor the soldiers who died for us!
Indeed, there are numerous lovely Memorial Day email examples. Do not hesitate to check Stripo's gallery to launch the best Memorial Day email campaign. Celebrate freedom!
Join over 950K users
Start for free — upgrade anytime