The highest season for email marketers starts on Black Friday and ends on New Year. It is important to reach out to customers with holiday, festive emails during the season, especially on Christmas and New Year to spread the holiday vibe. But how do you make your emails festive?
You either use our prebuilt New Year newsletter templates or implement your own design ideas. No matter which option you choose, we want to remind you that all New Year emails are divided into four major groups:
We've got free New Year email templates for any taste and every occasion.
Templates for Promo emails
Let's talk about its content and design separately.
Content of New Year email templates
As you know, a promo email is an email with lots of products we can buy for a price lower than usual. It means that you need to fill out a wide range of product cards. And here comes Stripo with its Smart Elements option to let you automate the product cards production. Yes, for the first time you will need to work a little on the card design and on its configuration.
But then, all you have to do is just insert a link into your "Smart" card in a New Year HTML email template, and our system will automatically pull in proper information like product price, name, etc. into the right fields.
Design of New Year email templates
Of course, you should make these email newsletter templates festive:
decorate them with deer;
add an image of Santa;
use trivial snowflakes as background.
Remember to include CTA buttons in your Happy New Year emails. Remember, with Stripo you can add emojis and icons to your CTA buttons to make emails even more festive.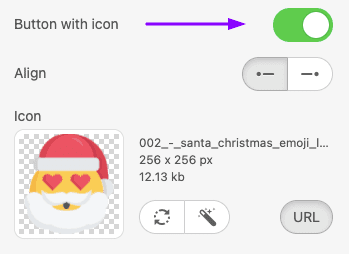 Making New Year Email templates festive is now easy as never
Get started
New Year Responsive email templates for Special Greetings
Aw, this is my favorite part, as it means sincerity, cheerfulness, happiness, and spreading love.
There are multiple ways to do that:
Building festive banners
You certainly may or even should make big bright banners. Easy to do with Stripo. Insert any cheerful holiday image, over it, write heartfelt wishes for your customers and wrap them in festive fonts. Set up the New Year vibe.
Adding video greetings
What is the best way to congratulate your customers? Right, saying it personally. In the 21st century, sending a video equals a personal greeting. What is the best time to do it? Right, the Holiday season is. The greatest solution would be to embed a video into our New Year email templates.
Easy to do both with Stripo. In the blog post, we share a brief manual on how to add videos to emails.
Use our free New Year newsletter templates to spread the love, and express your deepest gratitude to customers.
Final thoughts
New Year is one of the most wonderful holidays of the year. Maintain the holiday spirit in your customers with a festive email design. And our Happy New Year email templates are there to help you.
Join over 700K users
Start for free — upgrade anytime