The most important email marketing campaigns start on Black Friday and finish somewhen around New Year's holiday season. Every brand wants its promotional emails to stand out to attract new customers and make the best offers to existing ones.
Lucky for you, Stripo has a lot to offer! You can use our prebuilt New Year templates or experiment with your own design ideas. All of our templates can be customized as much as you want. And you need absolutely no coding skills to implement any of our features!
Now, let's figure out how you can make your New Year's email campaign great and profitable.
Templates for promo New Year's Eve emails
As you probably know, both content and design of New Year emails are essential. Here are some tips on how to get the best of it.
Content of New Year email templates
When it comes to a New Year email campaign, you should really make a difference to keep subscribers excited. It means that the email message has to contain essential information and be well-organized and structured.
To fill out a huge number of product cards, there is a Smart Elements option at Stripo which lets you automate the product card creation.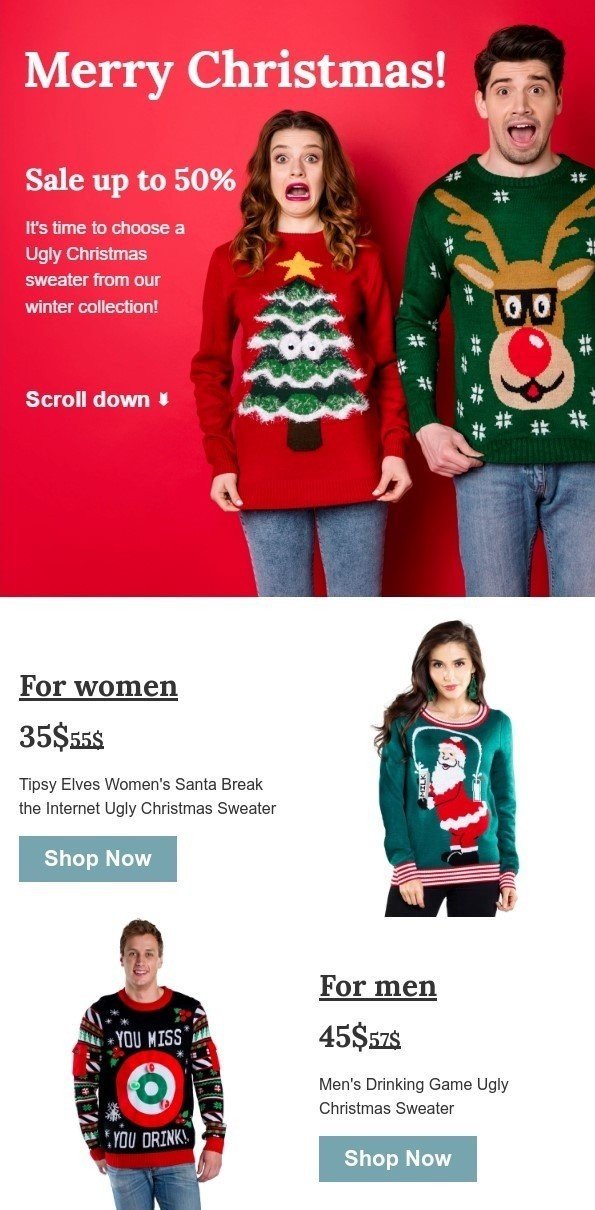 Yes, you will need to work out the card design and configuration for the first time. But then, all you need to do is just insert a link into your "Smart" card in a New Year email template, and our system will automatically fill in the sections with the proper information like product price, name, description, and so on.
Please read the article below to learn how to use smart elements in your emails:
Keep in mind that your email templates should also have a human touch. Make sure you add merge tags to your New Year email, and all of the discounts you provide are highly personalized.
You need to analyze the previous purchase or have a look at the search history of different users and prepare special offers for them.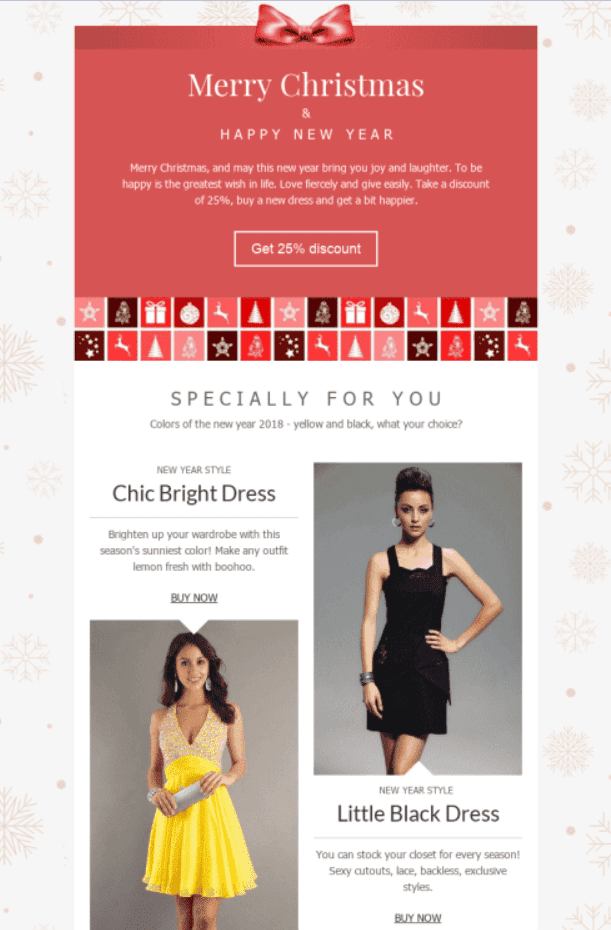 Apart from discounts, you can also make some sort of a summary of the past twelve months. It will be especially valuable for the existing customers that have been with you for a long time.
You can provide some advice on the trends for the upcoming year, re-engage your clients with the last sale and final chance to buy desired products at the most attractive price, and wish them a wonderful year ahead.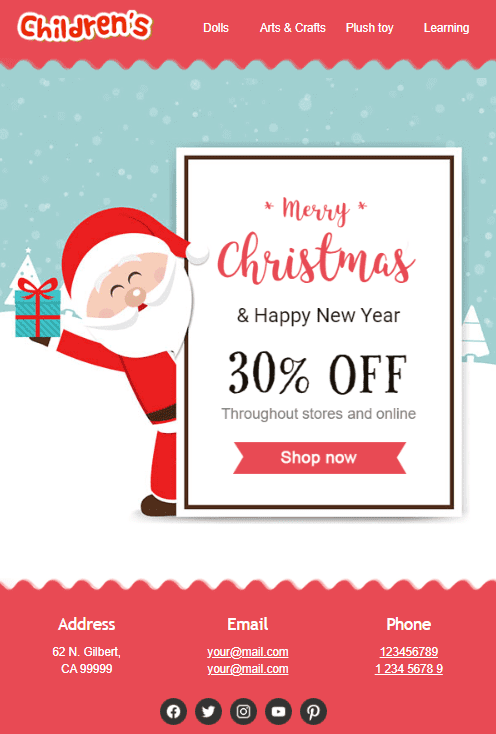 And don't forget about New Year email subject lines that will also increase the open rate of your messages.
In the article below, you will find over 100 email subject lines for your inspiration:
Design of New Year email templates
There are plenty of ideas to make your New Year emails festive and fun. You may decorate them with deer, add a picture of Santa, or use colorful snowflakes as a background.
You can also add different games, for example, to help Santa deliver some presents or to decorate a Christmas tree. There can be some puzzles to solve and win another discount or a gift.
It will definitely be a good idea to add a countdown timer to your Happy New Year email. It will create a sense of urgency and encourage customers to make decisions faster.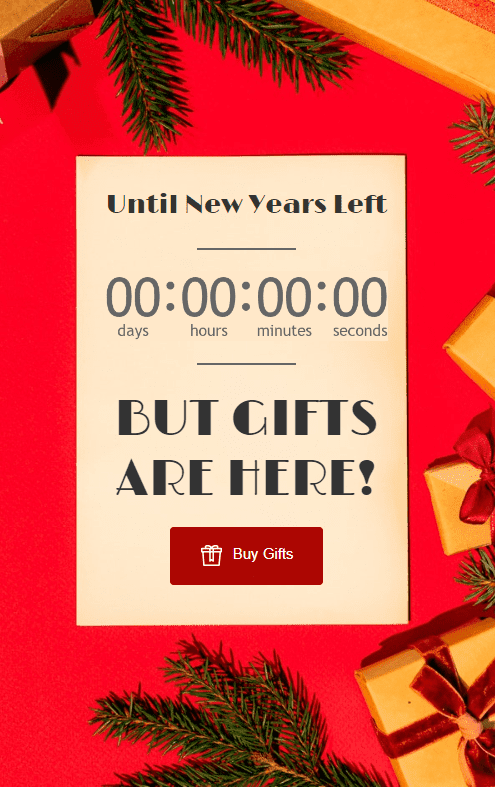 Please watch the video below to learn how to add a countdown timer to your emails within minutes:
Keep in mind to include CTA buttons in your Happy New Year emails. Remember, with Stripo, you can add emojis and icons to your CTA buttons to make emails even more festive.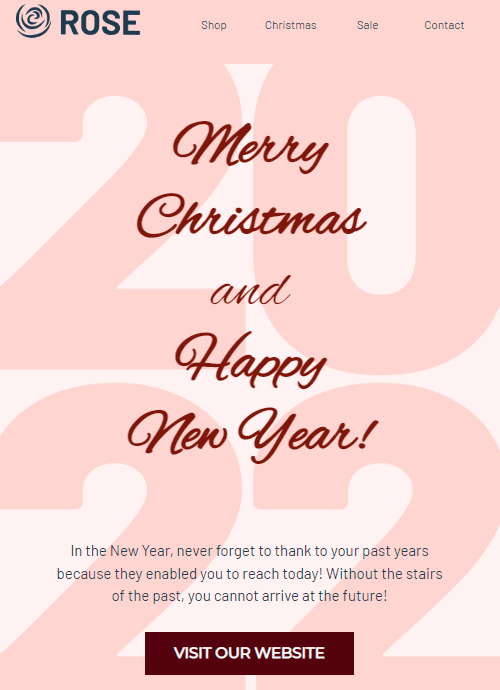 Important to note:
Don't hesitate to use bright colors and custom fonts in order to draw more attention to important parts of the email design.
And, of course, use colorful pictures, video greetings, and other visual content to create personalized messages and make your email campaign stand out from the bunch of others.
New Year responsive email templates for special greetings
It's extremely easy to create a New Year email template with Stripo and all of our pre-built templates. You can customize your Happy New Year email, add various elements, and help your subscribers celebrate this day.
Here are a few ideas on how to create cheerful, responsive emails:
Building festive banners for the holiday season
Obviously, you can't design a New Year email template without banners. It's the first element people see once they open your message, so it should be catchy and festive. It's essential to set the vibe of New Year's Eve.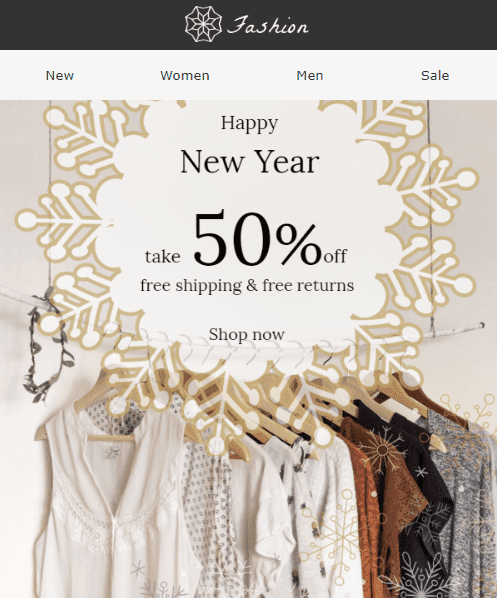 With Stripo, you can create banners from scratch within less than 10 minutes. Follow these simple steps:
drag the "Banner" block into your email template;
upload the images (you can use various sources, such as external links or our gallery with stock images);
add copy over the images (try any font you like and don't worry about how various email clients will render it - fonts will be considered as a part of the picture);
add other images (like logos or other details).
Adding video greetings for loyal customers
Customers should have a feeling that they are a valuable part of your business. And sometimes best wishes for the coming year are not enough. A little bit more of a personal connection has an impact on the entire New Year email campaign.
The best way to congratulate your customers is to say it personally. Not only using photos of your team but also sending a video. And the holiday season is a perfect time to create such greetings for your customers.
With Stripo you can embed a video into any of our New Year email templates. Check out the article below for a detailed manual:
In such videos, you can not only wish the subscribers a Happy New Year but also share some yearly goals you achieved and express gratitude for their support.
Inverting email elements for mobile devices
Email marketers usually use an uncommon product cards layout in their emails to make them look more diverse.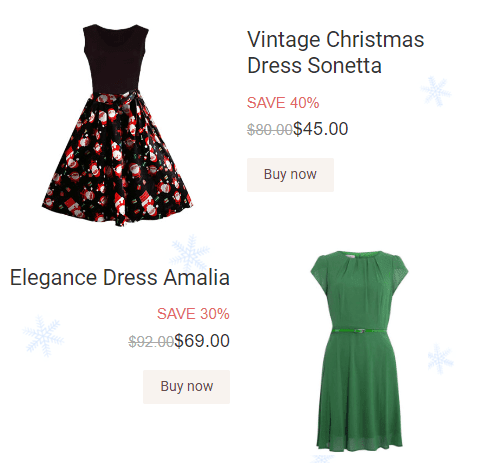 On desktop devices, such elements look amazing. But on mobile screens, they can look somewhat confusing as the element that is located on the left on desktop devices, on mobile screens will go above the element that is located on the right on desktops.
To make it right with Stripo, you only need two steps:
click the "Structure" icon of a necessary row;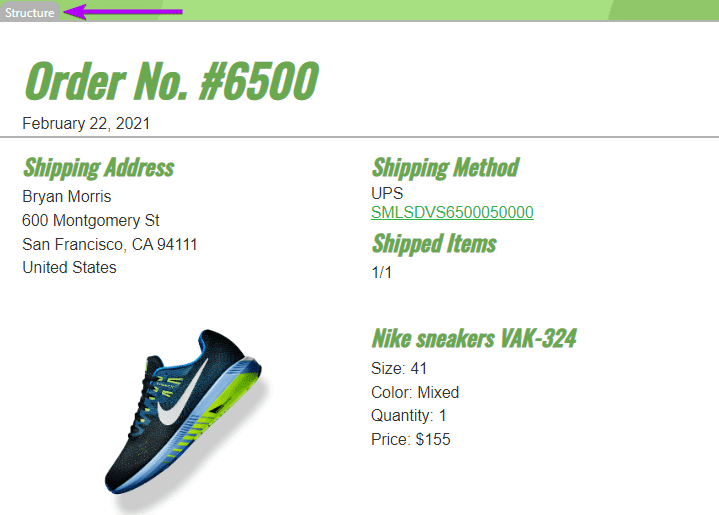 in the "Settings" panel, toggle the "Containers inversion on mobile" button.

Adding countdown timers
As we mentioned before, countdown timers encourage customers to make purchases and decide faster. That's why we think it's a must-have when it comes to the holiday season.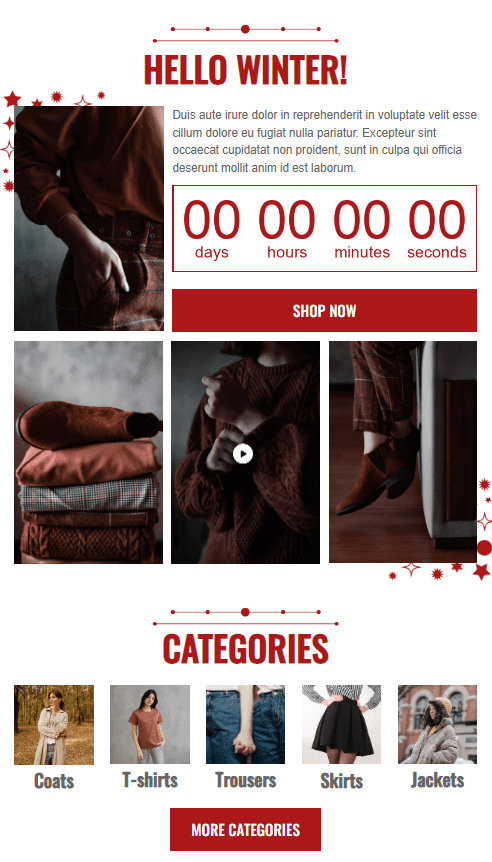 Luckily, you can embed them in emails with Stripo in literally no time! They render correctly on all devices and in all email clients.
You only need to:
select the basic "Timer" block and drag it to your template;
set the date and time (don't forget about the time zone);
set the font and pick its color and size;
choose whether your customers will see the number of days or only hours. For example, it can be "5 days 23 hours" or "143 hours 28 minutes" instead. Just use the "Display days" button;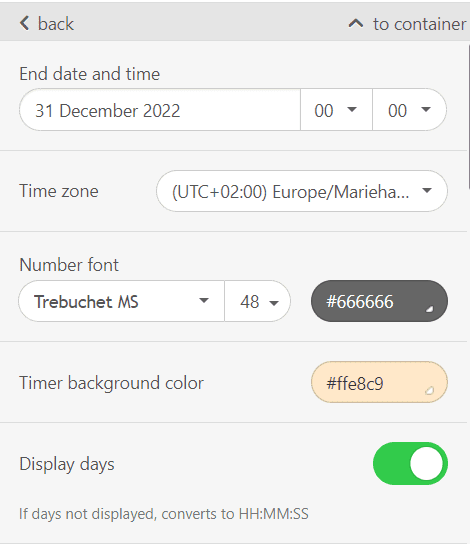 try the "Expired timer image" option and insert an image your clients will see in their inboxes once the sale is over. Thus, they won't have to wonder why they cannot use their discounts anymore.
Wrapping up
New Year is a wonderful time of the year. However, it can also be very stressful for your subscribers. So your task is to make their lives as easy as possible, while our task is to help your email marketing team with it!
Feel free to use all our ready-to-use email templates with your free account to maintain this festive mood and congratulate your subscribers on the upcoming year.
In case you need any help or assistance, our team is always there for you. We wish you the best sales and a great year ahead!
Join over 950K users
Start for free — upgrade anytime