AWeber is one of the world's top ESPs. 20 million people worldwide us it.
Of course, it provides its users with a great embedded email builder. But if you need some extra features that this ESP's builder does not provide you with, you will find them in Stripo.
What makes Stripo useful for AWeber users:
1. A set of ready-to-use HTML email templates
That's true. We offer about 100 free AWeber newsletter templates. They are conditionally divided by the following categories:
seasons — from famous holidays that are celebrated all over the world to national holidays that are celebrated locally in some countries only;

types — from promo and holiday emails with interactive elements to triggered and follow-up emails;

industries — B2B, B2C, eCommerce, jewelry, legal consulting, financial sphere, etc.;

feature — AMP, interactive, timers, videos, CSS-animations, etc.
2. Embedded tools and advanced techniques for designing AWeber email templates
We all know that design matters, especially when it comes to promo emails. We do need to make our emails appealing. To do so, quite often an average email template builder is not enough. And we have to use photo editors, to ask coders for help to make our emails interactive.
With Stripo, you can work on AWeber email design on your own, directly in the editor, with no third-party tools.
ability to place up to 8 columns in a row;

ability to easily build product cards with price, snippet, and description on one row. Apart from that, you can also copy these containers for further use — you will only have to edit them and fill in with proper content;

the basic button block allows adding buttons of any shape and any kind. You can build even CSS-animated buttons for your AWeber newsletter templates;

photo editor — to edit images and to build sophisticated banners for your campaigns;

the mobile view settings — this option allows you to set individual parameters for your AWeber newsletter templates to render on mobile screens. Font size for texts, font size for buttons, full-width buttons. Anything you need to make your emails responsive.
3. Tools for email production automation
Email production automation is the Stripo's priority #1. We aim to reduce the time email marketers spend on crafting emails. Which is why we provide our users with:
Smart-elements are there to help us build multiple product cards in literally no time. We need to design them for our AWeber HTML email templates just once. When building our next campaigns, we will only have to paste correct URLs that take to the product's page and Stripo will build a new product card for you automatically;
How does our library of Content modules work? You build and store the modules/any other email elements that you use across your campaigns. When crafting a new campaign, you will only need to drop this module form the storage into your HTML email template. And edit it if necessary.
synchronization of your social media pages and emails
For your business growth, it is critical to let your users follow you on social media channels.
Just once you choose the social media channels that you have accounts with, design them (yes, you can design the social media icons with Stripo) and paste correct links. You do all these settings in your account with Stripo.
When starting over a new email campaign, you will just need to drag the basic Social block into your AWeber HTML email template — and Stripo will add the set of social media channels that you have previously chosen, with correct URLs.
Frequently asked questions
How to create an HTML email template in AWeber?
We provide our users with 580+ AWeber email templates to enable them to design attention-grabbing and professional messages with no HTML skills.
You won't have to spend a lot of time getting started — look through our variety of templates, select the most suitable one, and click the "Use in Editor" button. Then, create an account in a few clicks and that's it! You are all set to start editing your template according to your brand design styles and campaign goals.
How to use AWeber email templates?
You are free to edit any component of your AWeber email template — from a background image and banners to interactive content like carousels and accordions.
In the "General Settings" section, you can set up the core parameters of your email template like general background color and image, message width, font, line spacing, and paragraph bottom space.
The "Mobile Formatting" section will enable you to let your recipients view your messages on mobile devices.
By using the "Blocks" section, you can equip your email template with elements like:
image;

text;

button;

video;

social media;

banner;

timer;

menu;

carousel;

accordion;

form.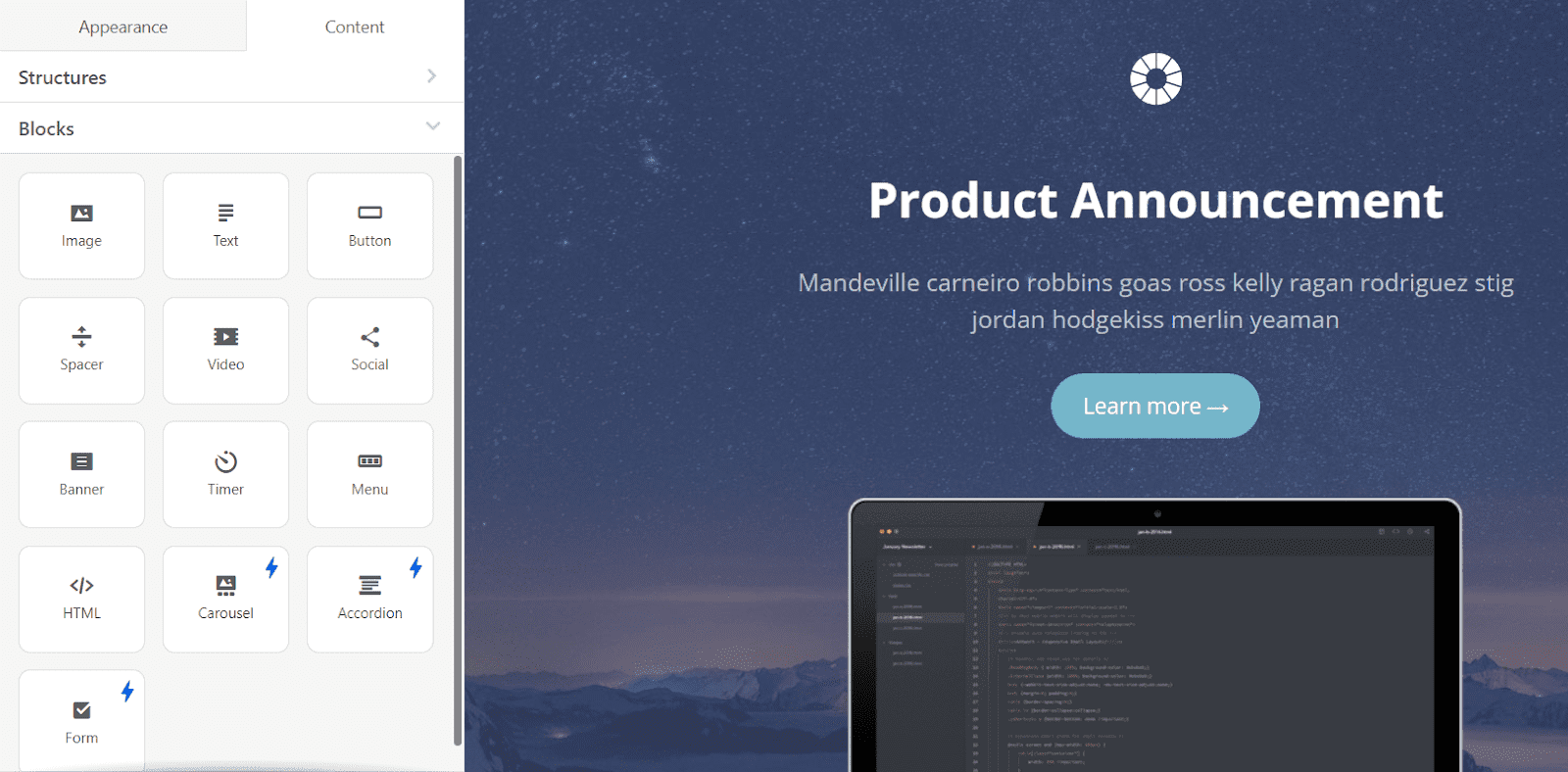 How to save email templates in AWeber?
When your email is ready, you can export it to AWeber in a few clicks:
hit the "Export" button;

pick the "AWeber" option from the menu;

click the "Export" button once again.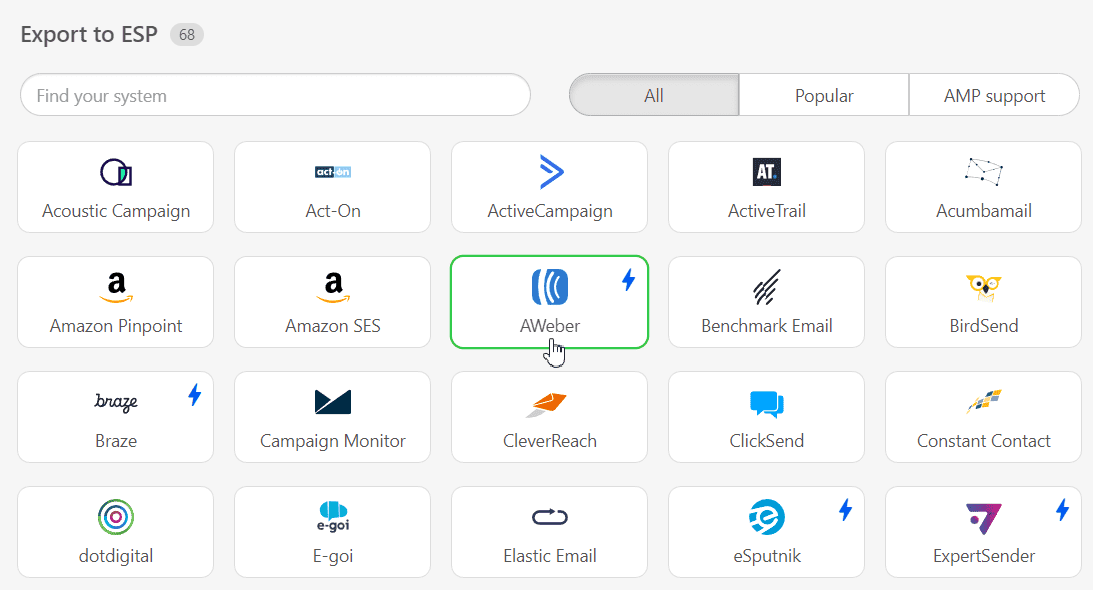 How to send HTML email templates with AWeber?
There are only a few more steps to complete your export:
enter the credentials to your AWeber account (no worries, we just need it to access the "Drafts" folder to deliver your email templates);

click the "Allow access" button;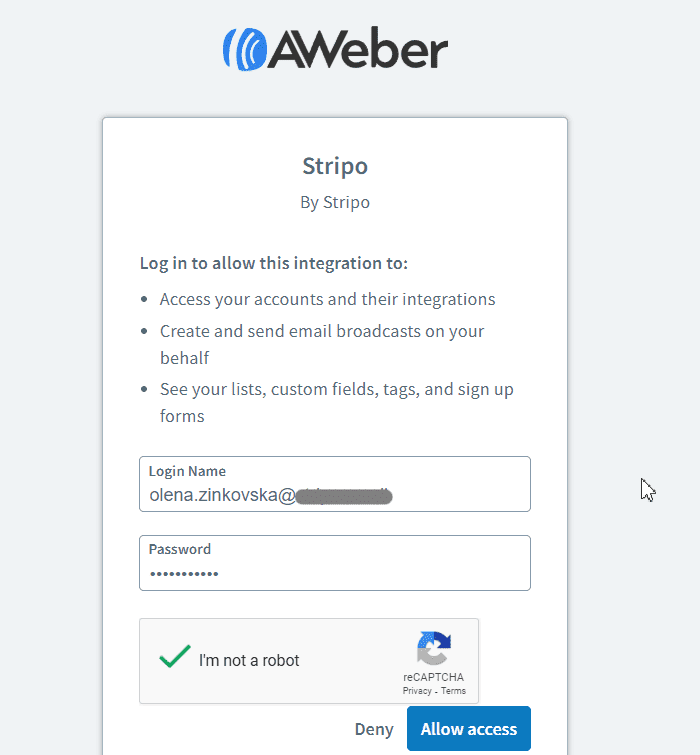 Where to find your email template in AWeber?
After a successful export, you can find your email template in AWeber:
open the "Messages" section;

click on the "Drafts" folder;

choose the "Blog Broadcast Drafts" tab.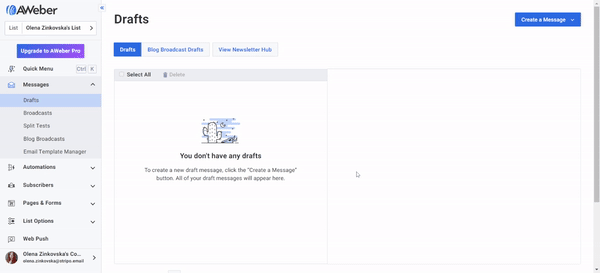 Now you can preview and test your message, schedule it, or edit your template if necessary.
How to add AWeber email templates?
Here is how you can find our AWeber email templates and add them to your dashboard:
Go to our website, open the "Email Templates" section, and find the most suitable AWeber template in the "Integrations" tab. Finally, click on the "Use in Editor" button and create an account to start designing your appealing message.
Are you already signed in to your Stripo account? Then, you can save some time and select one of 580+ AWeber email templates directly in the editor. Open the "Templates" section and choose the "Prepared templates" tab.
Have any other questions?
If you have more questions on our pricing and plans, contact us so we can help.
Join over 850K users
Start for free — upgrade anytime