Super Bowl is one of the most awaited events in the world of sport. Hence, there is no way you skip it and miss out on your chance to reach out to customers with promo emails.
So what makes a good Super Bowl email?
Three key ingredients do.
They are:
Proper design.
Proper content.
The right send time.
So, let's examine these ingredients.
1. Design of Super Bowl emails
Fonts
In Super Bowl emails, there's no place for Italic and other decorative font types, no matter if we're talking about banners or product cards. Be bold instead! Or use regular font type.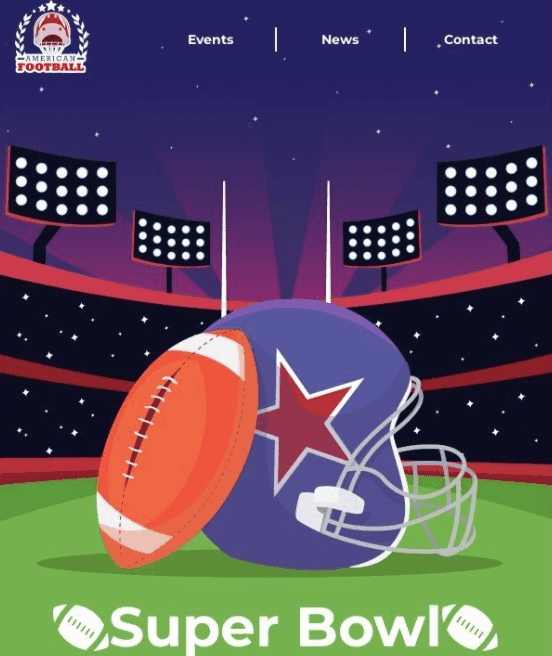 Use our prebuilt Super Bowl templates to design festive emails faster
Use it
Banners
Football is an emotional game. So why not add some emotions to your emails?
For our free Super Bowl email newsletter templates, we prepared big bright banners with shots of the memorable and bright moments of the game, with photos of the players.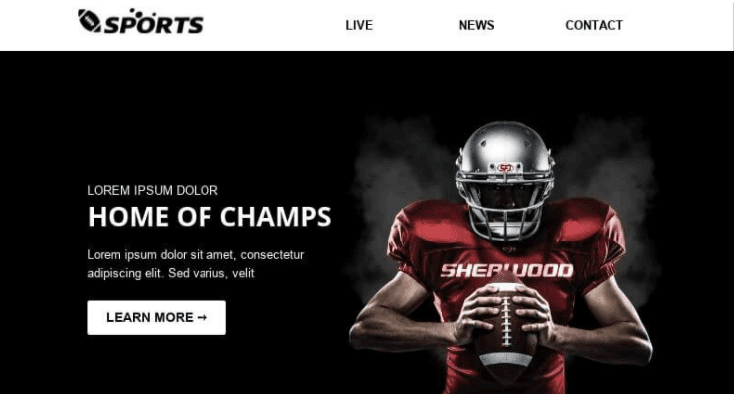 Banners are the heart of emails. Use ones built by professional designers
Use it
If you like, you can build one from scratch. And our short video tutorial will teach you how to.
Design thematic banners for your Super Bowl emails
Get started
Video
Videos of the most memorable and emotional moments of the previous season will remind your subscribers why they love this game.
Get the most out of your Super Bowl email campaigns with videos and GIFs.
2. Content of Super Bowl email templates
Length
The email depends on the day when you send your emails:
If sent on Day X
The shorter the better if you send them on Day X because:
customers tend to read these emails during the timeouts;

the emails are for the fans who anticipate the game, remember. They don't want to read your long reads.
If sent long before Day X
If you send emails before the holiday, they can be of any length you like.
Or you may even send a series of emails.
Quizzes/Riddles/Fun
Given that Football is a competitive game, we are convinced so are the fans.
Let them prove to you and others they are the most staunch fans. And as a reward, they will get the biggest discount.
How can they prove anything to you?
Add short quizzes in your Super Bowl HTML email templates. "What was the score in 2002?", "Who was the most resulting player in 2018?", etc.
Let the fans have some fun before the season starts.
Or let users solve some riddles, like in the Super Bowl HTML email template given below.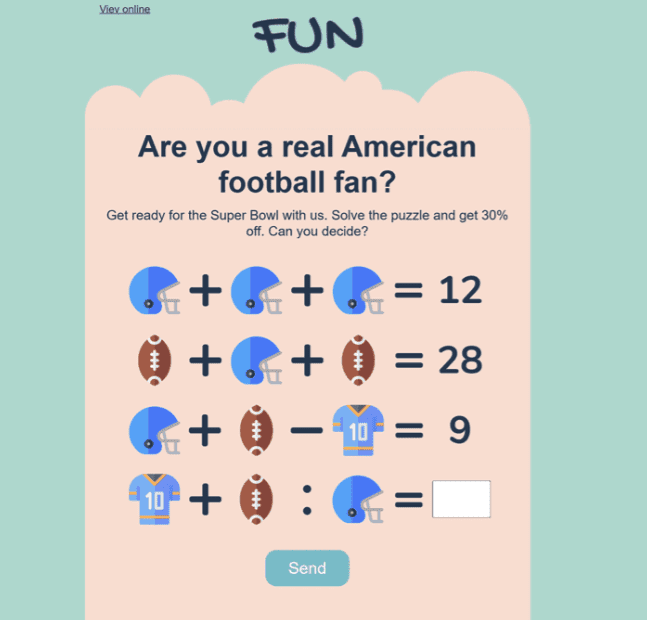 This template is interactive. What does it mean? It means that your recipients can solve the riddles right in their inboxes.
Annotations
How are you supposed to convince the Football fans to open your emails? Right, you can annotate your generous discounts in users' inboxes. Let them know you are offering generous discounts even before they open their emails.
These annotations work in Gmail on mobile devices only. But we know for sure that 30% of email users worldwide prefer Gmail over other email clients.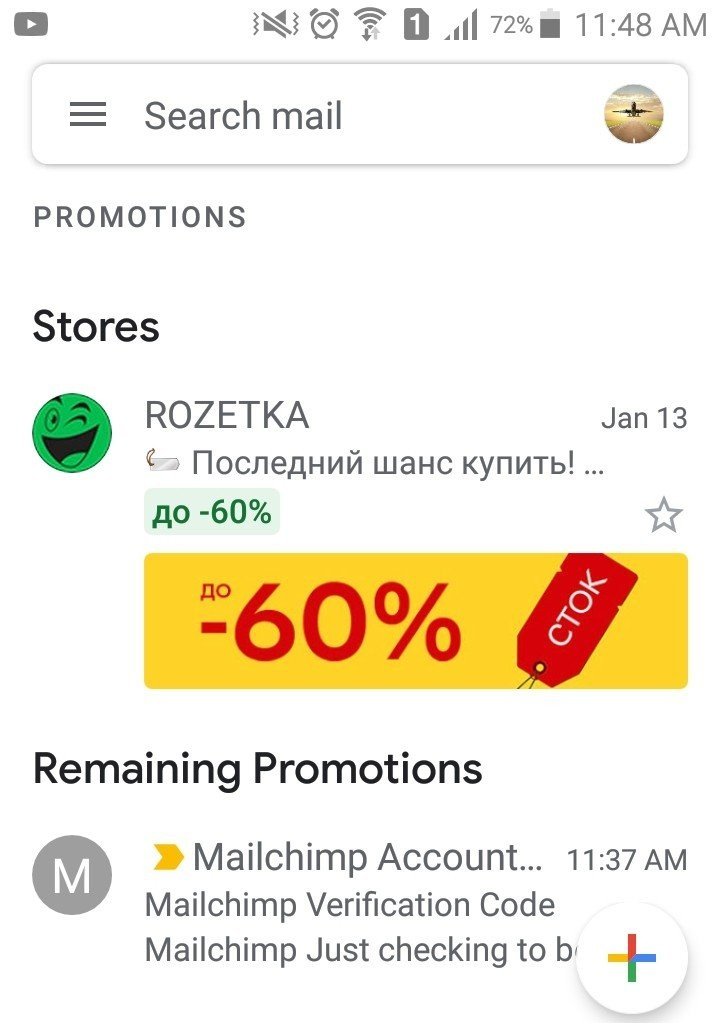 Wanna do the same for your Super Bowl email campaign?
Refer to our short video to learn how to build these annotations.
3. Send time
Exporting emails to your ESP
To send out your emails, you first need to export your Super Bowl email newsletter templates to your ESP. Happy to announce that Stripo is integrated with over 60 ESPs. Export your emails to a necessary one with just one click.
Now that you've pushed your HTML email templates for Super Bowl to your marketing automation system, you may schedule your campaigns.
Best send time for ticket sellers
If you sell tickets, you should start your campaigns on Black Friday.
Best send time for grocery shops
Selling our grocery? Start a few days before Day X.
This year with the Covid-19 lockdown, you may start your campaign even weeks before February 7th. It takes time for FedEx to deliver all those orders on time.
Best time for cafes and bars
If in your area it is allowed by local authorities to run cafes and bars, let users know a few days before Day X that you are willing to invite guests to attend your bar, and remind them on Day X that you still have some tables available.
Join over 700K users
Start for free — upgrade anytime