Christmas time is magical! Though, it requires thorough preparation.
We need to get ready for this holiday not only as email marketers but as regular people too — we need to buy presents for our families, set the holiday tree, decorate our houses, etc.
But quite often we are busy building Christmas email campaigns, which is why we either buy the last-minutes gifts or just give money to our kids and friends. We do not decorate houses. If this year you want to be a perfect family-person who has the time for children and relatives, who decorates the house on his or her own — our free Christmas newsletter templates are at your service.
Some of them even do not require deep customization. You just slightly edit their content and that's it.
What is so special about our Christmas email templates?
We paid close attention to Christmas email design when building them. So our templates already have:
Our templates have festive banners. You will only need to edit the text over banners to reach out to customers with personal greetings on this Holiday.
If you like, you can set your custom image as the banner one. And wrap copy in any of the 40+ decorative fonts.
CSS-animation is one of the email trends for 2021 and 2022. Be sure to use it in your emails to be ahead of competitors.
This Christmas HTML email template already contains CSS-animation - it has the effect of falling snowflakes. You can edit the background color behind the snowflakes, you can add your own text over this image. Do it with no coding skills, just in the settings panel.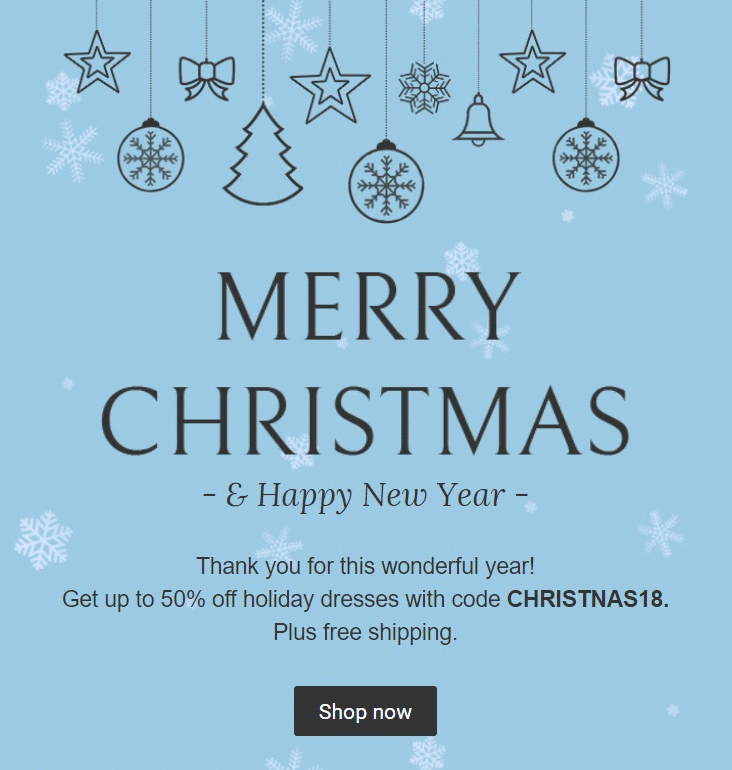 Send elegant interactive emails to customers on Christmas
Use it
We can decorate not only banners in our Christmas emails, but also decorate footers, headers, product cards. You can also apply festive backgrounds to the entire email. Many of our holiday emails are already "iced" from head to toe. You will only need to slightly customize their content — it all significantly saves time.
Video spreads the holiday spirit. In your Christmas email template, add a video where your entire team congratulates users on this day, or add your fav Christmas carol. Share your holiday mood!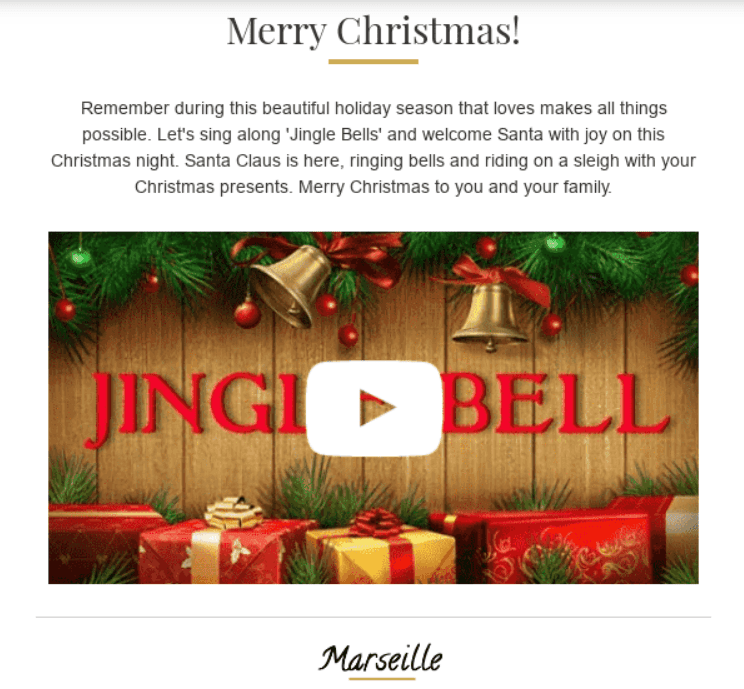 Send personal greetings to your valued customers this Christmas
Use it
AMP/Gamification Elements
AMP elements are meant to help you gamify your Christmas emails and WOW your customers.
Games, built with AMP, are cheap, require an insignificant amount of time on implementation, and render across all versions of Gmail and Mail.ru. Other users will be able to play the games in the Web Version of your emails.
Final thoughts
If you are full of your own ideas or want to implement them — use our free Christmas newsletter templates as the base for your future campaigns.
Get inspired by examples and follow the strategies that we share in our blog post on Guide to Christmas Email Marketing with Ideas and Examples for 2021-2022.
Merry Christmas, Everyone!