Where can you find new clients? Those questions are relevant to everyone who creates marketing strategies. Cold email marketing is an answer. We've covered best practices and the most common mistakes of email outreach. I hope it will be useful for your marketing and sales teams.
Peculiarities of the cold outreach process
Some specialists may argue that cold outreach doesn't work. But the thing is to choose an appropriate audience and relevant content and build an effective sales funnel. Let's take a look at the milestones of the cold outreach process.
Outreach marketing means advertising and communicating with new people. Those who don't know anything about your business. As they aren't interested in the brand yet, they are called "cold" potential customers.
These people have no idea about your brand. So, you need to pith them the primary information clearly and entertainingly. The goal is to inform them about your product or services in the first stage of the sales funnel. As a result, they may subscribe to your social media, visit a website, take a trial, or leave a phone number. Thus, the potential clients convert into a "warm" audience.
Four things to remember about conducting a cold outreach campaign
1. Reach a right person
If you aren't a newbie in marketing activities, you have some analytics about your customers. You can collect data about your competitors' clients by starting a new business from scratch. So, you can use this information to find an appropriate audience for the campaign. All possible details can be used for targeting an appropriate person: age, location, interests, education, and profession. Make lists of customers based on these details, and start your campaign of sales emails.
2. Keep in mind the portrait of your customer
Having information about your audience, now you can spend time analyzing their needs and preparing needed sales email templates. Include an individual offer for each category of customers; you should know every pain point of your potential clients.
Personalized ads show more value. It is crucial in the first step of the marketing funnel. Imagine, the person doesn't know anything about your brand. Prepare strong arguments, or emotional triggers, to make them do the target action. Creating a special offer requires more time, but the results are worthwhile. Use this offer in a subject line to interest subscribers.
3. Experiment with channels and their combination
Another marketing principle tells that multi-channel advertising campaigns are usually more effective. That's especially important for cold outreach efforts. Making new people know and recognize your brand takes time. The best solution is to reach the customers via different channels. They are ads on social media, sales emails, banners, and recommendations by influencers. Test different, even unexpected channels, and don't be afraid to combine them.
4. Don't forget about analyzing the results
Track the results of the first outreach campaign to understand what to improve. UTM links, Google Analytics, CRM, and other tools can analyze crucial metrics. Gather data about open rate, conversions, time on the website, number of new followers, or leads. This allows you to make data-driven decisions about future cold emails.
Tips for creating effective sales email templates
Among all cold marketing channels, emails remain the basics of the outreach strategy. So, let's focus on tips about cold email templates and ways of lead generation via this channel.
How to prepare an excellent cold email campaign?
1. Share information about yourself
Effective sales email templates contain the main details about the sender. They are name, company name, job title, and signature. People prefer buying something from other people, not just brands. So, it's crucial to represent the salesperson and look trustworthy to the recipient. Use a corporate email address with your company name, if possible. You can also add a link to your LinkedIn profile or mention mutual connections if you have them.
With Stripo, you can build a "Social media" block with 1 click.
In your profile or in the project settings, choose the necessary icons, design them, including color scheme and size and then paste relevant links. And that's it.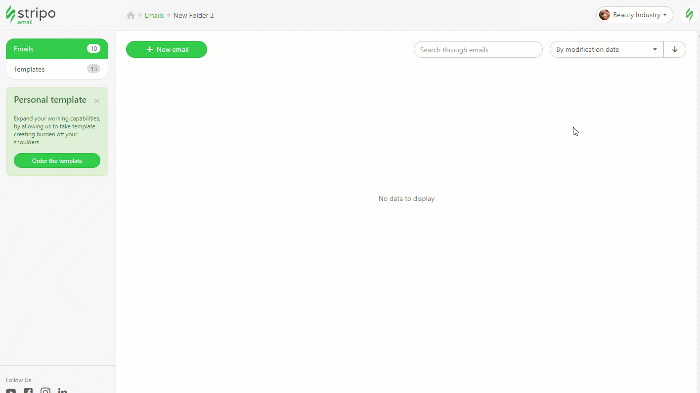 2. Provide solutions for customers' needs
Imagine that you're telling a startup elevator pitch to the stakeholders. Think about the main points and arguments. Then, use them in your sales email template. That may be unique features of your product, good value, special offers, or other benefits. Make the readers feel they can get something useful for a good value. Use the audience and competitors' research to make a win-win offer for everyone.
3. Use your creativity
There are many ideas to create fresh and catchy designs for cold emails. You can use some creative templates and add short videos, collages, or gifs. Everything that unexpectedly presents your brand.
4. Keep it short
Some marketing managers include as much information, as possible, in the sales email templates. But the truth is recipients won't spend much time on your email. The reading time should be up to 2-3 minutes.
5. Don't send spam
Many people hate cold emails because they look like spam. How can sales rep avoid this reaction?
There are simple rules:
use your real name and the accurate name of your organization;

send a personalized email taking into account the individual preferences and pains of a particular recipient;

include clear contact information;

don't sell anything from the first line.
6. Respect privacy
Keep in mind the law that protects personal data. Don't use contacts from stolen databases to create a cold email campaign.
Rules to create a relevant subject line
Even if you use only proven, the best sales email templates, the reader may not see them. The thing is in the subject line. Looking at it, the sales email recipients decide whether they open the email or send it to spam. That's why an interesting subject line is the shortest version of your sales pitch. It should be short, clear, informative, and intriguing.
Tips by sales professionals to follow
write subject lines that are relevant to the main body of your email;

mention sales rep name, if that's possible;

add a pain point;

use emojis if that's normal for your brand's tone of voice.
A/B testing helps you to see what type of subject line provides more conversions for your sales emails. We prepared a few ideas to help you.
10 ideas on how to start a cold sales email
"Free to talk about [customer's problem, need, pain]?"

"[Contact name], I'll be happy to see you at [offline or online event]!"

"You'll love this [video, whitepaper, research], [contact name]!"

"Best tools to help with [question, challenge, problem]"

"[Contact name], I need your opinion"

"Quick question about [press release, collaboration, project]"

"Have you found a solution for your [challenge, issue]?"

"Hi! [Contact name], check out this blog post"

"Hey! Let's talk about [relevant topic]!"

"Take part in the [contest, lottery, project]"
Take any of the best sales email templates we offer on this page.
Mistakes in creating cold sales emails outreach
The best email templates don't guarantee you a successful campaign. This type of marketing and sales effort has many steps. Some issues may occur in each of them. So, we will review the most common cold email mistakes and ways to avoid them.
What are the most common issues with a sales email template?
Mistake #1
Text errors
Misspelling the company's name, or the client's first name can spoil even a genius sales email. Grammatical errors, or wrong dates, make your message look suspicious to the recipient. Another common mistake is adding broken links to the CTA button.
Due to poor structure, lack of formatting, and paragraphs text is difficult to read. All these troubles occur on the last step of sales email preparation. They make design and marketing efforts just a waste of time.
Solution
Prepare content for the sales email templates in advance. Ask someone to check the text before adding it to the outreach email. Work in pairs, or in a team, to insure each other. Stripo offers multiple ways to preview emails and share them with the team for brainstorming and approval. Please find more details here.
Mistake #2
Vague offer
A perfect sales email template includes a summary and a clear call to action button. You should think in advance about the customer's next step. It may be participating in a lottery, following your brand on Instagram, booking a free quick call, and so on. Add only relevant content to the sales email and make sure it's valuable for your recipients.
Solution
Ask yourself these questions while preparing sales emails.
What is the goal of the sales email for my company?

(inform, engage clients, invite them to do a certain action)

What value does this message provide for the customer?

(quick chat, free demo, or another way to get a solution for their problem)
Answer them and check if the answers are clear for the reader.
Mistake #3
No automation and analytics
Sending cold email outreach manually takes too much time for your sales team. Ignoring modern analytical tools means spending money for nothing. So, ensure your marketing campaigns are effective by using up-to-date digital products.
Solution
Ask for a consultation if you don't know how to use some analytical or automation tools. It will give you a better understanding of your budgeting and marketing channels.
Stripo is the first step you can take to automate the email marketing process.
Mistake #4
No follow-ups
Some brands send the initial email and disappear. Don't hope the customer will remember your offer after just one message. They could just miss it or forget about it.
Solution
The successful strategy is to send a follow-up. It includes a question, and external information, related to the previous email. If you know that the customer visited your website, use this information too. Send them a recently published post, calendar link, or any other useful update.
Please find more information on follow-up emails in this post of ours.
Wrapping up
The art of crafting effective cold emails requires practice. You will train to convince the right decision-maker by creating catchy texts. Show an immediate value, and set up a brief call. You will also learn to choose perfect email templates for your company's needs.
If you want to read more about pain points, sales process, and email marketing, check the Stripo blog. Our team is here to make your sales efforts as simple as possible.
Try Stripo email template builder to craft a brilliant outreach campaign!
Join over 900K users
Start for free — upgrade anytime