Summer is said to be the most favorite season of the year. Customers take vacations, travel around the world, and enjoy their lives. And only marketers know they need to work harder than ever to convince customers to shop with them. And sophisticated summer email templates are of great use.
How to use Stripo to build successful summer email templates
Let Stripo work for you on summer season email creation while you will have more free time :).
1. Add a perfect banner to your summer email
The banners provided in the templates below are complex. They are cheerful and complement the summer email design. You can use them or create your own with a banner generator located in the "Banner" block.
Insert your image, adjust your copy and colors, place the value offer wrapped in a decorative font over the image, and apply filters — your banner is ready to surprise recipients!
2. Apply appropriate background to celebrate the summer season
Even if you run a type of business where photos of beaches, oceans, and summer sunsets are inappropriate, with Stripo, you can always add a cheerful background to your summer HTML email template. It will not affect the total perception of your emails and brand, yet it will remind clients there's summer out there.
3. Build products blocks for a beautiful summer email faster
Remember to make your product cards in promo emails festive if this summer design solution fits your email marketing campaign style. Apply additional images and stickers — we provide hundreds of them, and you can also upload yours.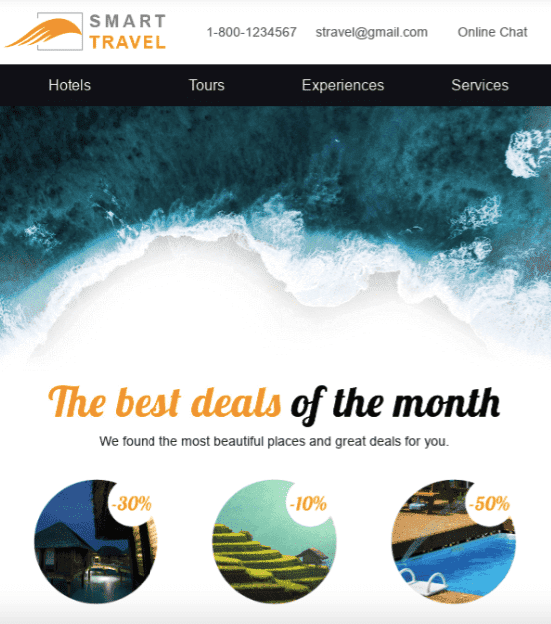 You can place snippets of the products over a photo of the sea or ocean, a summer field, etc., especially if you are making seasonal offers.
Note: due to our smart elements, you can build product cards for your summer newsletter templates in no time.
4. Highlight generous value offers and compelling copy to promote your summer sale
With generous discounts, you may convince subscribers to buy winter coats in summer. To make them eye-catching, remember to wrap your copy in a custom font. It will harmonically accompany your free summer newsletter template design and make your email remarkable.
5. Add interactive content to grab your subscribers' attention
Adding interactive content to your campaigns can enrich your email marketing strategy with increased engagement rates and recipient attraction. It comes in handy, especially during the summer holidays, since we have many activities to show during the summer months. You may create a dynamic and immersive experience for your audience by using features such as interactive quizzes or personalized surveys.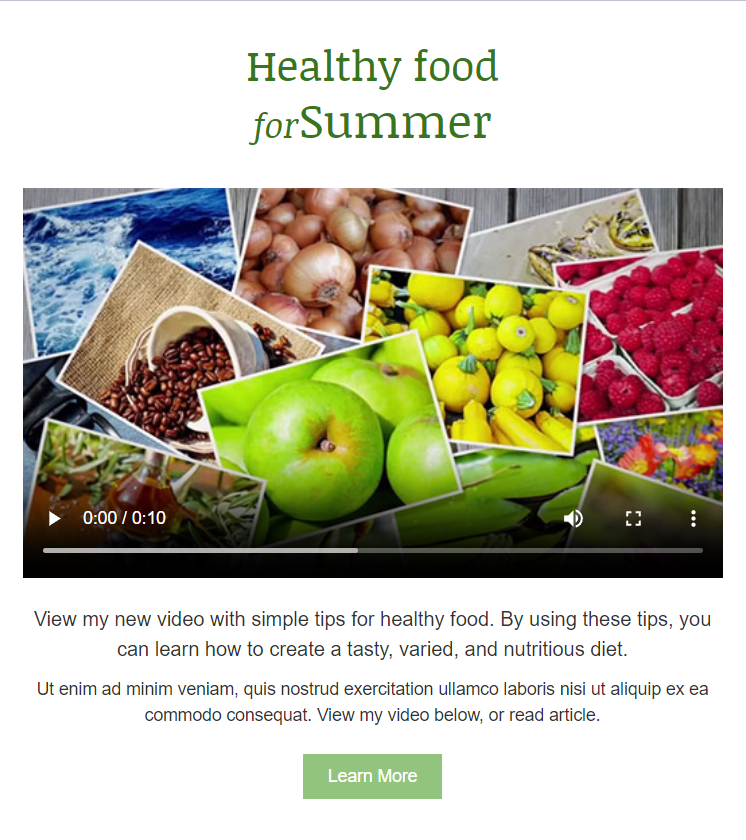 Share how you spend your summer free time with outdoor activities clips or animated GIFs since it's a perfect opportunity to grab your recipients' attention, enticing them to explore your services, promotions, and interesting summer theme content.
6. Use countdown timers to create a sense of urgency for time-limited offers
With the countdown timer, you may pique the attention of your users and prospects in your summer deals for the holiday season. A sense of urgency can be an effective push for making decisions. Stripo requires no third-party software or technical knowledge to add a countdown timer to your email. It is easy to do in our editor.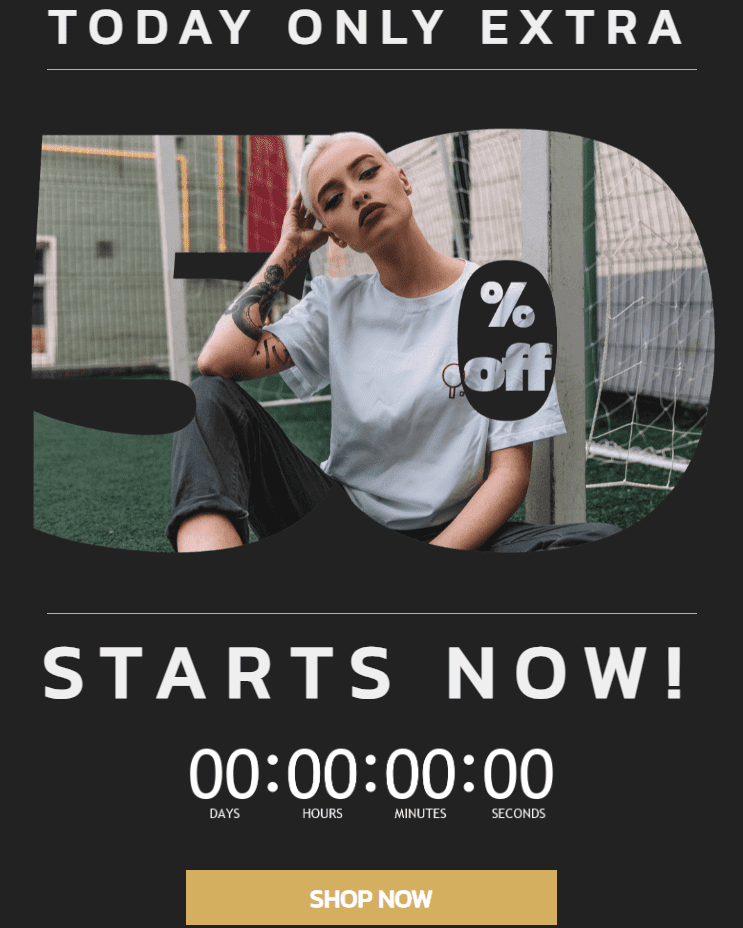 This method works best for campaigns that offer hot deals on your services or products and will entice your customers ;).
7. Benefit from modules to speed up the production process
A Content Module is a separate email template element that is designed and preserved as your personal style guide. Stripo's library has a wide range of email pieces that may be customized to meet any requirement. You can also make and store your modules or utilize our pre-built ones. Navigate to your summer season email Editor's Content area, click Modules, then Pre-Built, and scroll down our library until you find the needed item.
Modular email design enables you to reuse all of these modules for multiple email campaigns, combine them as needed, and build specific modules for various needs and even for other season.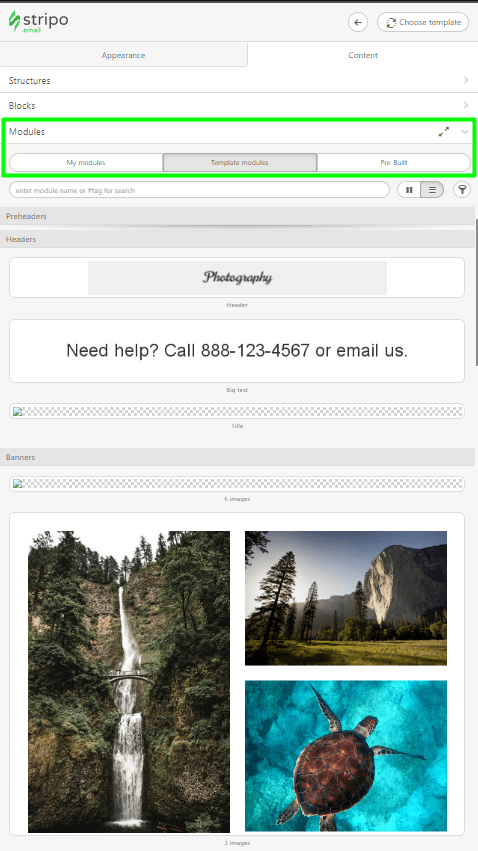 8. Come up with a brief yet catchy CTA
Use exact motivation for action and summer-related language in CTA buttons to navigate your clients and enhance your CTR. CTA buttons are critical components of your email campaign supply chain. A successful call to action is part of a larger customer attraction process in which the wording, design, and content all combine to entice the visitor to click the button.
With Stripo's editor, you can make your CTAs more visible, eye-catching, and clear!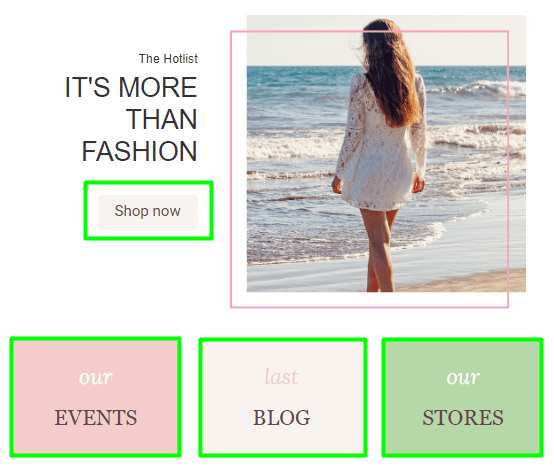 Top email design tips for your summer email template
Make every summer day a special one with Stripo's tips.
1. Use bright and bold colors for the summer season
Summer is associated with a bright and colorful palette. Hence create your email template based on those. Try to locate three main colors that correspond to your business and base your template on those.

2. Incorporate summer imagery
Combining vivid and seasonal imagery in your email templates can elicit good emotions associated with the summer period, catching your audience's attention and interest. Summer pictures may also create the tone for your commercials or content since they align with the season's cheerful and relaxing vibe. Finally, including summer images in your email advertising gives a sense of relevancy and excitement, improving your chances of engagement and conversion.
3. Keep your summer email template mobile-friendly
Because most of your recipients view emails on smartphones and tablets, making your email template mobile-friendly is vital. Adapt your template for mobile to ensure that your content is clear and accessible, resulting in an improved user experience. A responsive email layout boosts your readers' chances of engaging with your emails, increasing CTR and sales.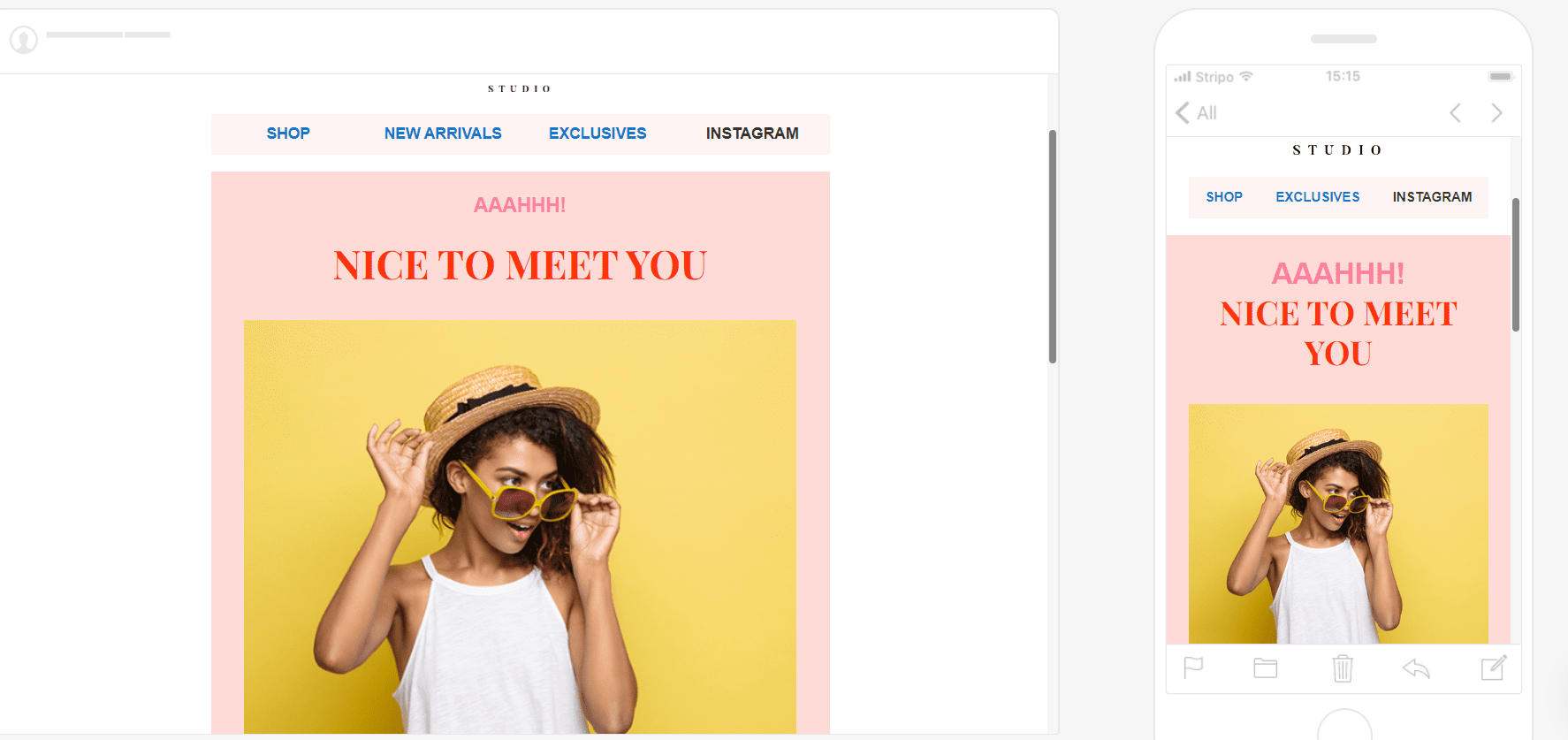 4. Benefit your summer deals from animated GIFs
A holiday is all about interaction, so add some animations to your email templates! A GIF may enhance your email's aesthetic appeal and capture your recipients' attention. GIFs are more dynamic and interesting than static photos for displaying products and conveying information. In addition to creating a memorable email, they increase the chances of sharing :).
5. Leverage social proof
Social proof can significantly enhance your summer sales email templates, such as customer testimonials, user reviews, or social media mentions. This will demonstrate your service's value and credibility. By creating social proof, you build trust with your subscribers, affecting their decision-making and increasing the possibility of engaging with your content and making a purchase.
6. Make sure your summer email template is simple and scannable
In order for recipients to grasp your message quickly, keep your email clean and uncluttered, use concise and easily digestible content, and benefit from bullet points or subheadings. Recipients can easily skim through a scannable email, quickly absorbing key information and taking the desired action. Try to make your newsletter precise, direct, and attractive!

7. Personalize summer sale email content
Personalized email marketing is the key to successful communication. At least try to address your recipients by their names. You can also personalize your subject line to enhance your conversions and have more chances for your email to be opened.
8. Test your summer email template
By using Stripo's test feature, you can ensure your preferred summer template is accessible on a variety of devices and email clients. Navigate to the top of the Email Editor and click the Test button on the right. You will see screenshots of how your email message appears on recipients' screens.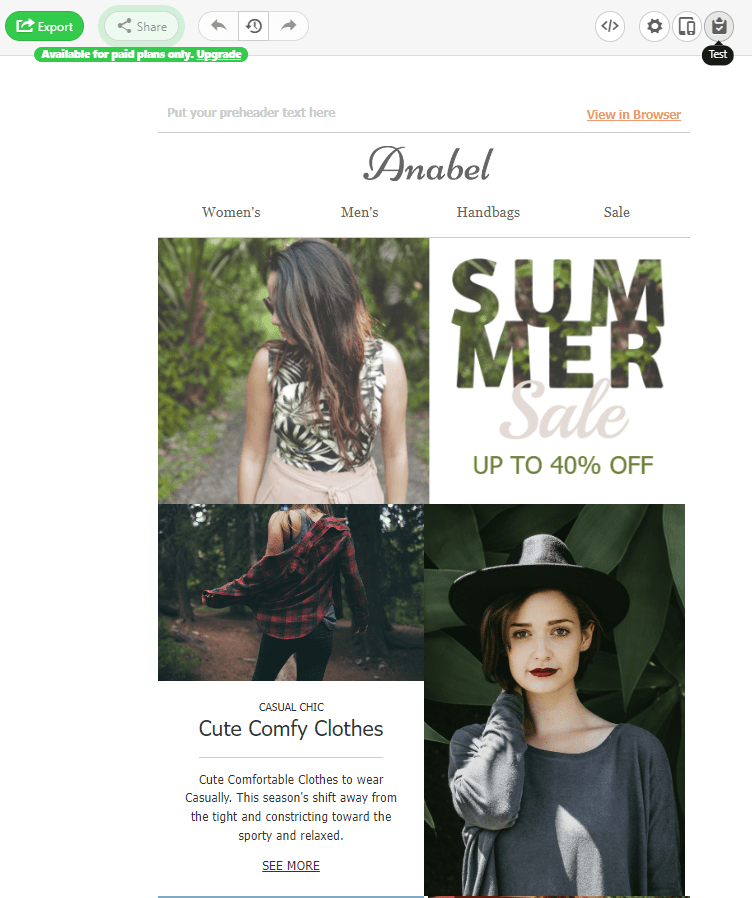 Wrapping up
We sincerely hope that by using any of our summer email templates, you will indulge your customers with beautiful personalized newsletters. As well as make your summer sale campaign more responsive. This will positively impact your CTR and overall ROI. Let's love summer together!
Join over 950K users
Start for free — upgrade anytime