Volunteering and fundraising have always been, are, and will be popular movements aimed at solving both local and global problems. Such organizations are trying, with all their might, to make their activities public. In this article, we will look at various fundraising email templates. In addition, we will talk about tips for creating a successful donation request.
What are fundraising email templates?
Charity simply cannot exist without publicity, and email marketing is one way for foundations to make themselves known. Fundraising email templates are a great way to create beautiful and functional emails that help various foundations boost their fundraising efforts.
Designing emails from scratch for every event is a pretty tricky process. These templates greatly speed up the production of fundraising emails and allow marketers to get inspired and create newsletters that will touch the audience's hearts.
Types of fundraising emails
Fundraising campaigns of various nonprofit organizations do not rely only on emails politely asking for donations to solve various problems or projects. Their email marketing is a whole range of different types of emails that accompany the audience all the way through interaction with the foundation. These types should be discussed separately.
1. Promo fundraising emails
This type of fundraising email template is the first thing that comes to mind when such organizations launch full-fledged email campaigns. Their main goal is to dedicate as many people as possible about the foundation, what problem it is struggling with, and the fact that an active collection of donations is taking place.
First, such emails cover the problem in detail, its impact on others, and how the recipient's donation will help solve the problem. And finally, do not forget that there is always a call to action in such emails. As a rule, a link hidden behind a button takes recipients directly to the foundation website.
2. Follow fundraising up-emails
The donated person definitely wants to know that his or her funds went to a good cause and help solve the problem. In order to keep donors informed, nonprofit organizations use follow-up emails. Usually, in such emails, marketers:
repeat the reason why the fund wrote to the donor before;

talk about updates and news since the last email;

politely ask to donate more;

sincerely thank the donor for participating in the charity campaign.
Such emails are extremely important in order to stay in touch with the donors and at the same time, increase the trustworthiness of the nonprofit organization.
3. Transactional fundraising emails
So, imagine that the first promo email reached the recipients, told them the right words, and encouraged them to donate. The money has already been credited to the organization's account. What to do next?
That's right, you need to notify the donator that the donation has reached its destination using a special transactional email. These emails often thank the recipient for the donation and notify them that the transaction was successful.
4. "Thank you" trigger emails
The last type of emails is worth mentioning since they are automatic emails sent to donators and are connected to various events. Their main goal is to thank the user for a particular action. For example, it could be either registration on the website of a nonprofit organization or a donation.
Fundraising email tips
Designing emails for a fundraising campaign is no easy task. Of course, it is possible to limit the entire design to a simple "Donate" button, but this is unlikely to be very impactful for the recipients.
As a result, it will be wise to use the following tricks in a fundraising email template.
Tell a story in your fundraising campaign
First, the fundraising email template should tell a story to show the issue's significance and make subsequent donation requests more impactful. It is important to describe the essence of the problem, its impact on others, and how donations will help to solve the situation for the better in the future.
You can do the same as we did in our Stop War email, where we talked about what is happening in Ukraine right now and then told how readers can help.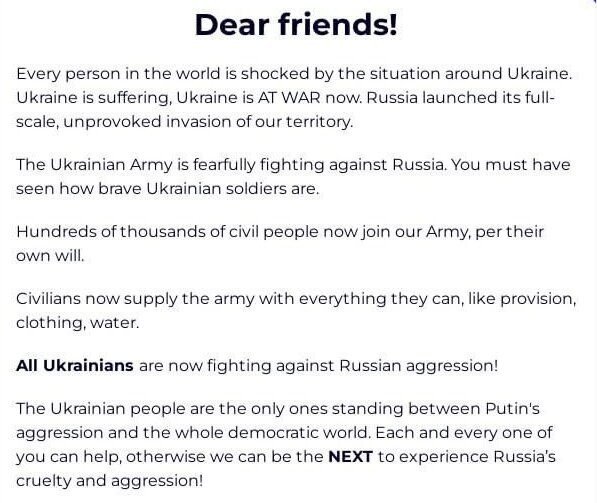 Use modular structure for effective fundraising email templates
A modular structure in the fundraising email template will allow you to divide the content into specific blocks. This approach is an effective way to present information and improve readability. An effective fundraising email can use a hierarchy to grab the reader's attention with different interest levels, thereby reinforcing fundraising goals with proper email structure.
For example, in this fundraising email template, all content is divided into blocks, where the benefits of trees are discussed at the beginning, followed by donation requests.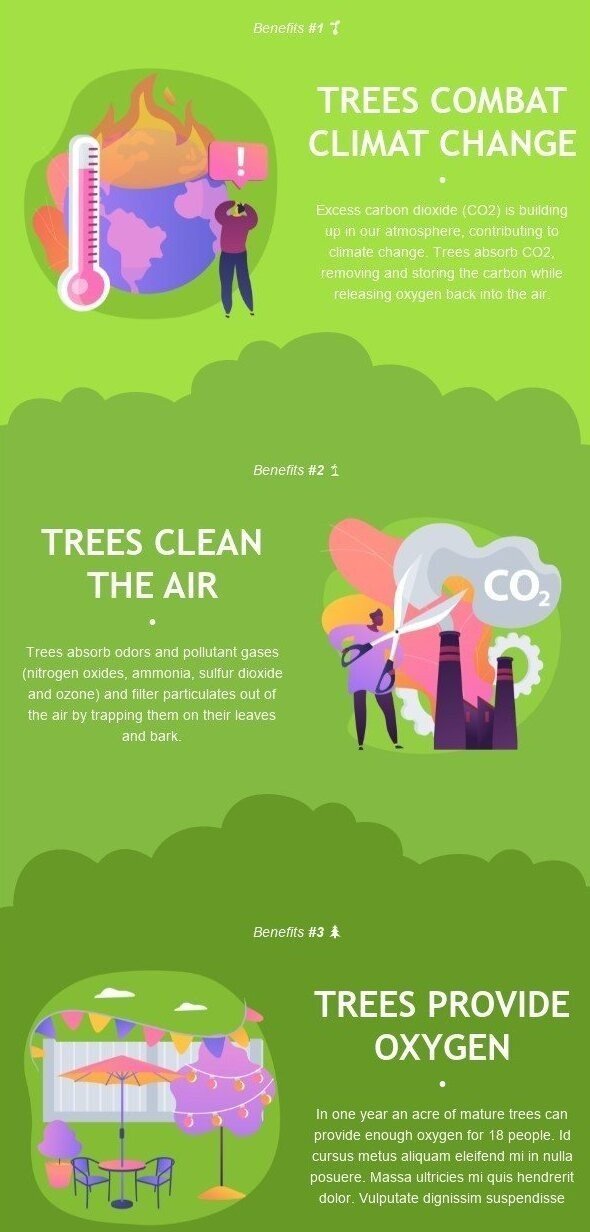 Experiment with typography
In order to draw attention to the fundraising campaign and a call to donate, it would be a great idea to use fonts that are different from the main ones. The experiment field is quite large, as you can change the font size, colors, font type, and more. Your call to do good deeds should immediately catch the eye and, at the same time, be impactful in itself.
For example, in our Support Green Petitions template, we used a different type of larger font to call for saving the planet from pollution.
Get personal to reach your fundraising goal
A final tip for boosting email marketing campaigns for fundraising companies is to add personal stories to email messages. An excellent solution would be to tell the foundation's story, past merits, and bright deeds that the fund has accomplished throughout its activities. This way, it will be easy to show why the organization is worthy of attention and drive donations from ordinary people.
In one of our templates, we have created a separate Our Story section, where you can describe in more detail the story of the nonprofit organization and the project you are applying to potential donors.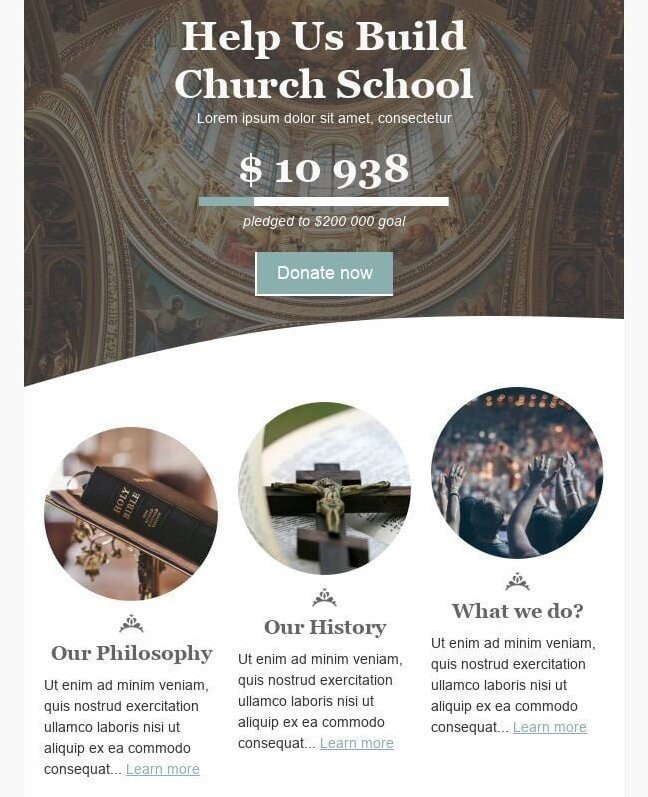 Popular topics for an effective fundraising email
To create a fundraising email, you should also choose the right event or topic that can touch the hearts of potential donors and raise money to solve the problem. We'll provide some fundraising email examples to give you some inspiration.
Giving Tuesday fundraising email
This day is the second most popular in the United States after Thanksgiving. Its main idea is to popularize the generosity movement, revealing the power of people and organizations to transform their communities and the world. On this day, people arrange events and raise funds for various needs. Preserving forests, helping animal shelters, solving ocean pollution problems - the occasion doesn't matter. This day unites all volunteers and caring people in a rush to do good deeds.
Accomplishment summary fundraising email
Another topic for perfect fundraising emails is the accomplishment summary. Such emails often sum up the fundraising campaign results, how the money raised helped solve the problem, express gratitude to individual donors whose donation was the largest, and much more.
We took this email option into account when developing fundraising email templates and added a special customizable template for such needs.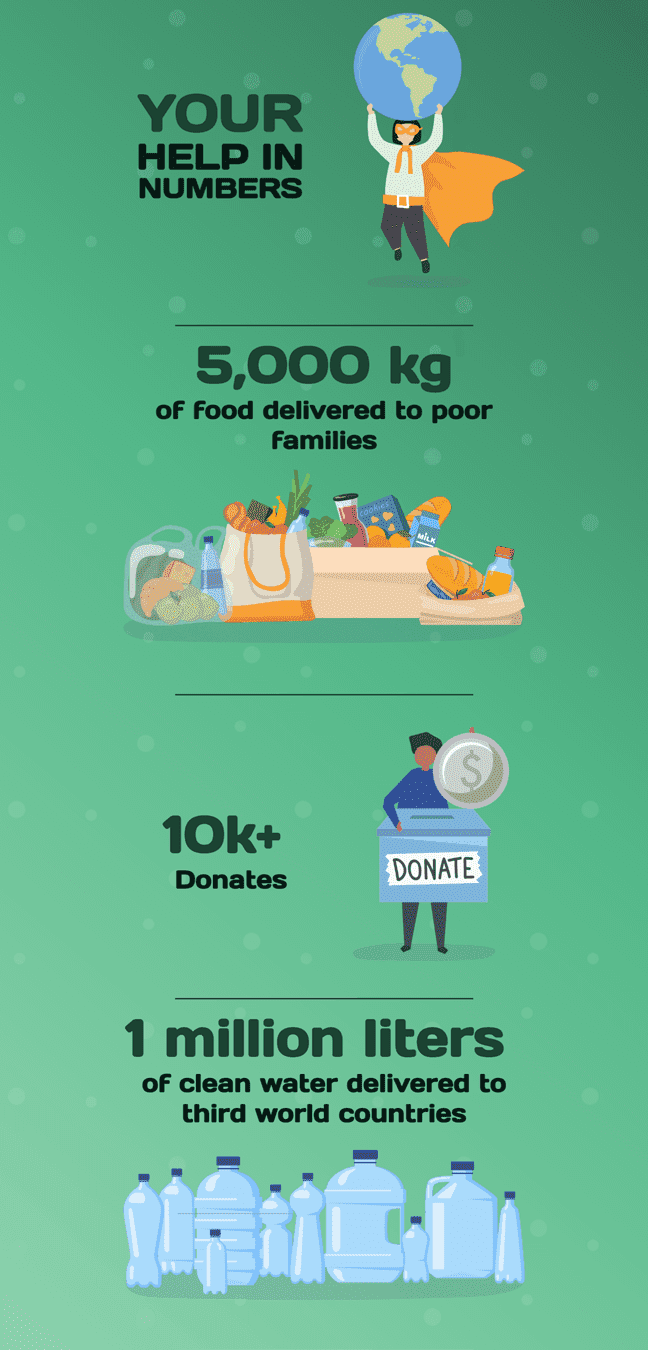 Black History Month fundraising email
This annual celebration, also known as African-American History, takes place in the United States. . This holiday is also a great opportunity to raise money using an email template with a donation request. We have created a separate template in which you can dedicate the audience to interesting facts about African-American history and raise money for good deeds.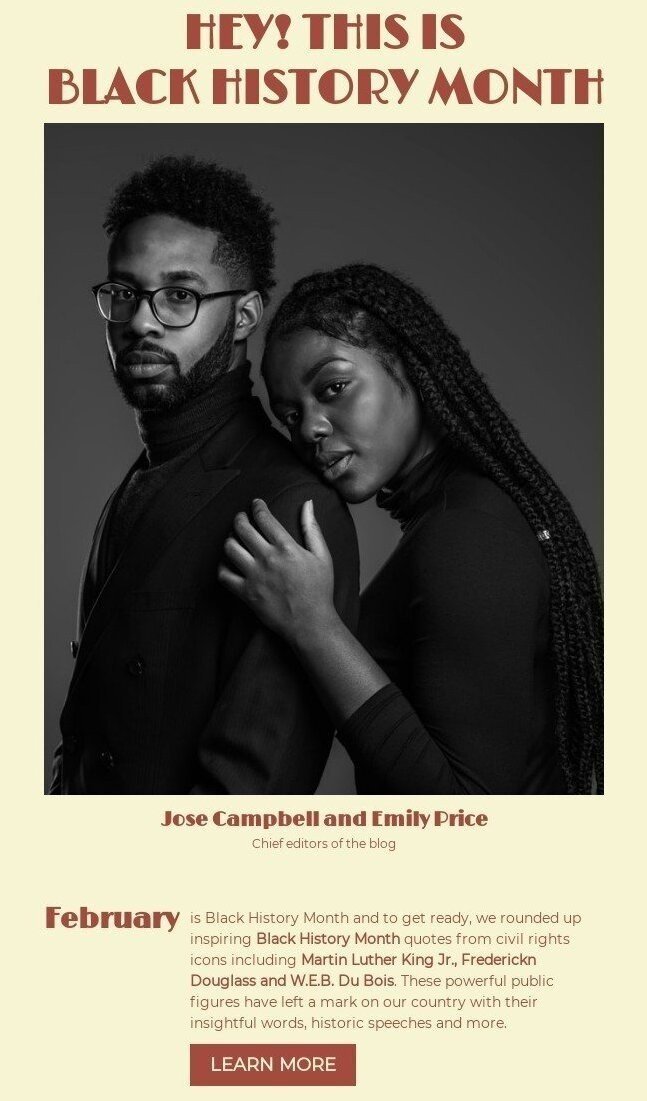 National Nurse Day fundraising email
On this day, it is customary to honor the junior workers of medical institutions, namely nurses. This holiday is often an occasion for various organizations involved in raising funds to give gifts to healthcare workers. You can also get in touch with it using the dedicated email template.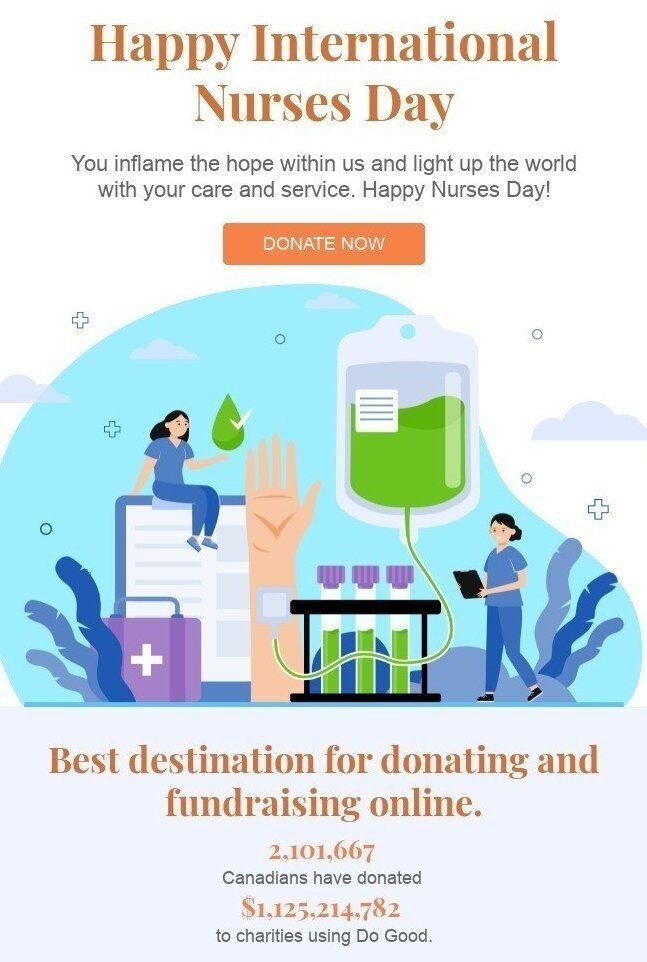 World Environment Day fundraising email
Preservation of nature is extremely important, and a whole holiday on June 5 - World Environment Day, was dedicated to this. On this day, various volunteer funds and non-profit organizations hold various raising funds campaigns aimed at protecting the environment. As a result, this is a great reason to use a special template in which you tell the audience about this holiday and offer to join the environmental protection.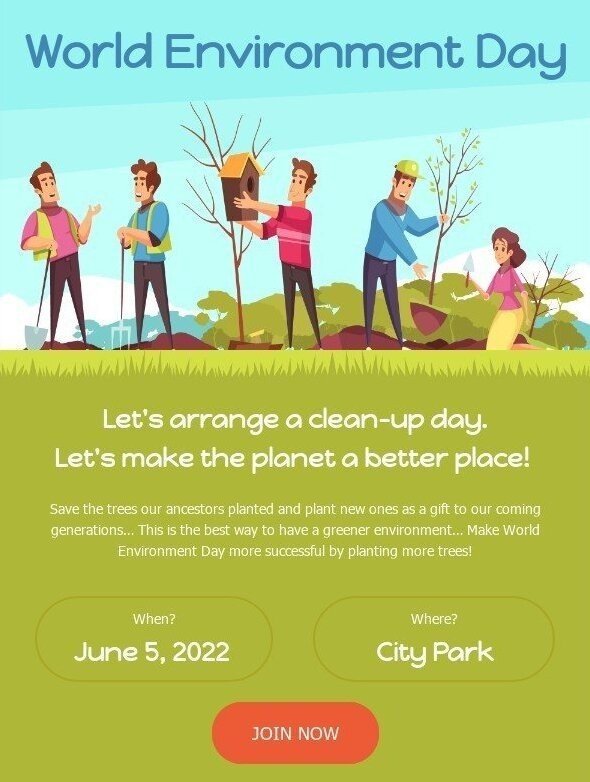 Wrapping up
Email marketing is an extremely important part of the various organizations that make a fundraising effort to raise funds for a good cause. Designing emails from scratch for different occasions takes a lot of time, and templates greatly speed up the design process and allow you to gain the necessary inspiration. Use our fundraising email templates to streamline your email design process for non-profit campaigns.
Join over 1 000 000 users
Start with free email template builder — upgrade anytime