Design of nonprofit email campaign templates
Non-profit organizations just like all other businesses use email marketing as the main channel for communication with their target audience.
Their emails normally appeal to our emotions.
This is why it is so important to pay close attention to their design. With this thought in mind, we designed a number of elegant, heartfelt email templates for nonprofit organizations.
However, there are only three things in the design you need to make stand out. Fonts, button shapes, and colors should be as "simple" as possible. No custom fonts, no CSS-hover for buttons. Don't distract recipients from the main point that you want to deliver in your email message.
Email banners
Banners are the core seed of all emails. This is the first thing your users see when they open the email. Here you may place the photo of the subject for who your help and charity are meant for.
Only when people see who they are asked to send money to, they are willing to do so.
Photos in emails
Photos are necessary. Banners set the mood, while other photos keep this mood in recipients' hearts.
Edit them, apply filters to choose the right shade, crop them to choose the best part of the image to add to free nonprofit email templates.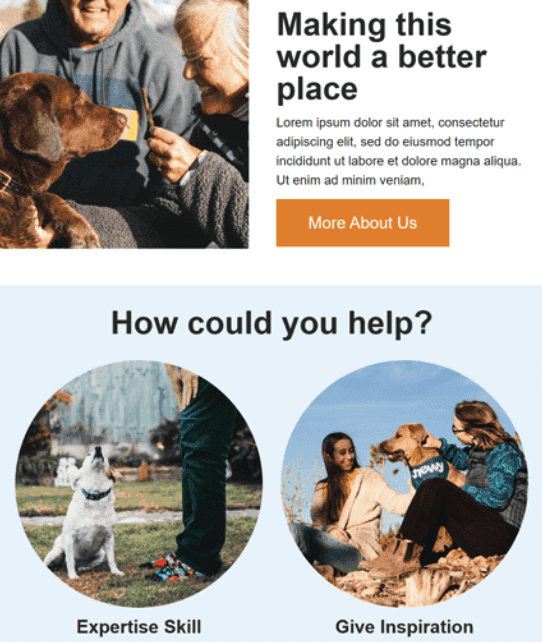 To edit photos with Stripo, you need to:
drag the Image block into your template;

upload a necessary photo;

click the "Edit image" button in the settings panel.

Edit photos and images for your emails right in Stripo with no third-party tools
HTML email backgrounds
Backgrounds complement the entire design of HTML email templates for nonprofit organizations. You're saving oceans? Let it be seen in every pixel of your email.
As you can see, even social media icons are put over the background. Such an approach makes the email design holistic.
Types of nonprofit HTML email templates
These are the most popular ones:
Promo emails — where you announce a launch of a new charity campaign.

Welcome emails — the one where you welcome newcomers, where you tell them about your company's goals and about your company in general.

Transactional emails — the one where you share results of previous campaigns, summary of a year.
As you must have noticed, Stripo offers a lot of ready-to-use email templates for nonprofit organizations.
Choose the one you like best and edit it right away!
Build your nonprofit email campaigns with Stripo in literally no time for our prepared templates
Join over 1 000 000 users
Start with free email template builder — upgrade anytime