Everything nowadays is done online, including your wedding invitation. Want to make it personal and work on it by yourself? We are here to help you with that and create the templates to settle your ideas and excite your guests. Let's see how you can do that.
Wedding invitations content
Although this day is considered "the day of the happy couple (actually, the day of the bride ;)" you also need to assess guests' comfort. Mention all the details about your wedding so you won't get hundreds of phone calls like "So when is the day?", "Should we come precisely on time or earlier?" etc.
Such type of email invitations must consider your names, the date and time of your marriage, the venue with the geolocation and the complete physical address, the max amount of persons who can be "plus one" per one invitation, the dress code, wedding schedule, some personal pictures of the beloved ones along with the possibility of adding RSVP button, which means "Please respond" in French.
Names and date of the marriage ceremony
The easiest part, but anything can happen, so don't forget to include the bride and groom's names. Not to inform guests about who you are; it's just a traditional part of the wedding invitation. And of course, add the date and time of the event, preferably to do it first thing after the greetings.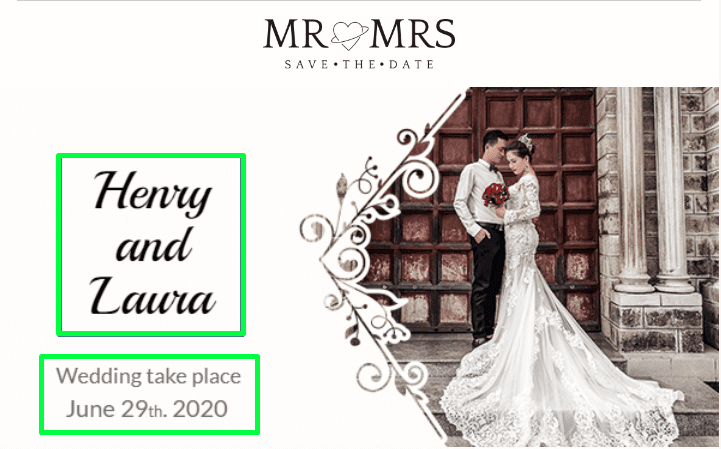 Map in your wedding invitation
Don't make your relatives and peers look up the location of the wedding on Google themselves. Be progressive — attach a map in the footer of your email and include a link to this map. But also remember that some guests may not be so good with the geo-technologies, so also add the address in a standard text format.
Cute photos that match your wedding theme
Show your love and share the warmth with the closest ones by including your lifestyle photos! Whatsoever you feel suitable for the event theme will be an excellent addition to your email invitations. Bring them to life and make them unforgettable.
This can be a picture of you two on a romantic picnic, or walk, made professionally or by yourself at home — it doesn't matter. Be happy on it, that's the only important thing.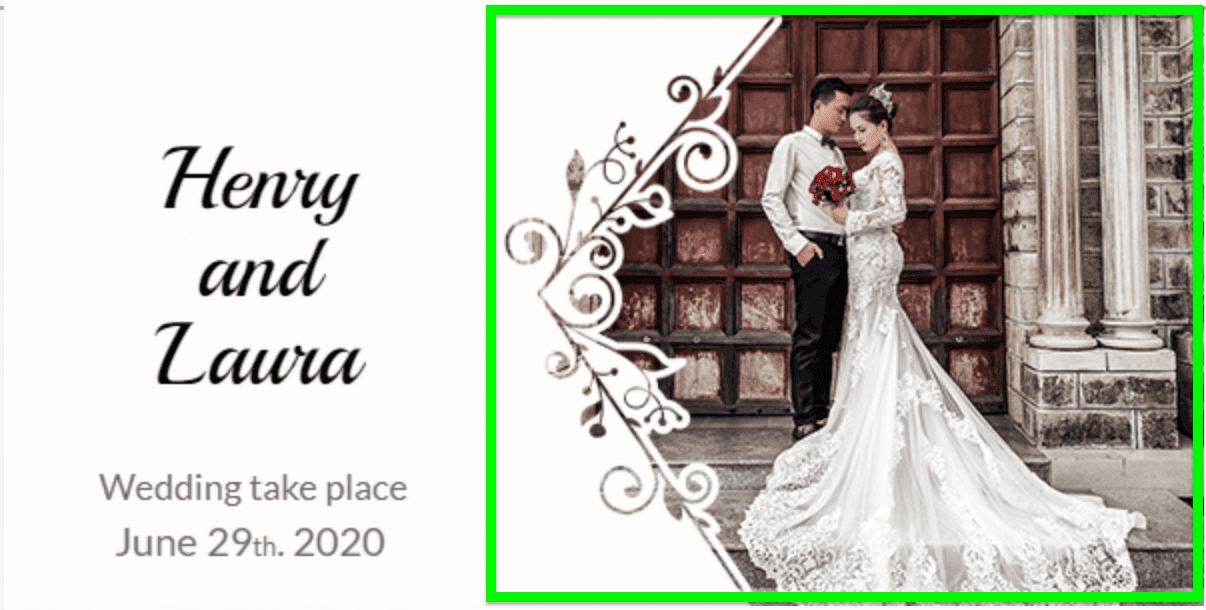 Wedding ceremony agenda
Guide your guests through the timetable you prepared for the celebration so they can plan their day and perhaps the day after in advance.
This is necessary as guests often have no idea when it is appropriate to present gifts, so they can feel pressured as they don't want to ruin your day with a clumsy interruption. True story, I've been there at every wedding, and I saw scared eyes of guests. Mind the nervous system of your close ones :)
Dress code for your guest list
Should it be black&white or blue&pink? Official or Hawaiian style? If you have any preferences regarding the guests' appearance, don't be humble and immediately add that to your wedding invitations.
CTA-RSVP button
Of course, you need to understand how many guests among the invited ones will be at the event. Add an RSVP button; guests, by clicking on it, will be transferred to a form where they need to write their names, whether they are coming or not, and if they have a plus one. Also, you can add a field for comments like if someone will be able to attend only the ceremony but will miss the wedding cake.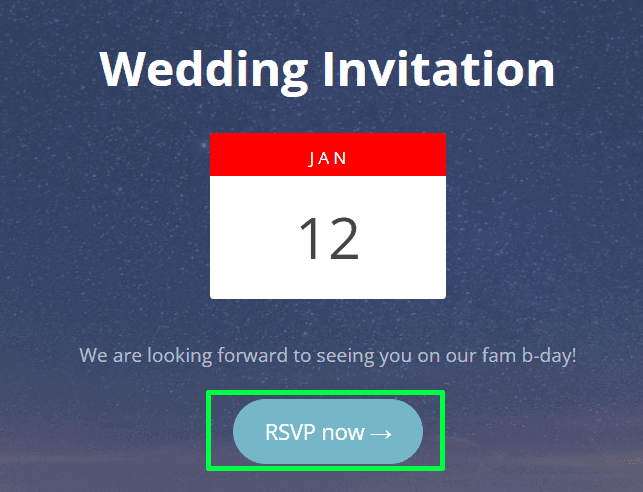 The number of guests you can handle at the wedding ceremony
If someone among your guests is officially single, still bringing someone with them to events is now quite common. To avoid misunderstandings, it is best to state whether or not there is a +1 option right away.
How to design wedding invitations
Special occasions require exceptional preparations. Search through our stylish wedding invitation email templates to find the one that is perfect for you. Fill in the blanks with your data. Email relatives and friends to invite them to your wedding.
Working on wedding invitation email template
You must find the best wedding invitation email template for your requirements if you intend to invite people via email. It is crucial to research and find different templates into which you can enter your data and pass it to your closest people. Consider the tone of voice you want to use and who you will send the email to before deciding on a wedding invitation newsletter template. We will discuss the most important design details to keep in mind and create your best email template.
1. Wedding invitation banners
A banner must be included in every email. It sets the tone for the rest of the email. It can be anything you want.
Moreover, as long as couples invite people to celebrate their joy and young family, it will be excellent to include a picture of the team itself. By the way, I t will make your wedding invitation emails more personal.
(Source: Email from Pinterest)
Overlay some heartfelt text on top of the photo.
You can also include the date and location of the event over the banner image.
Gratefully, Stripo includes more than 40 decorative fonts to help you finish your email design and make it less formal.
Navigate to the following link to learn more on how to make romantic wedding banners with Stripo to attract all those invited.
2. Photos as a critical design for wedding invitations
Fill your wedding invitation newsletter templates with as many personal photos as possible. To keep your email design consistent, you may need to edit these photos, apply the same filters to make them look similar, or even add funny stickers to these photos — where you'll place them is entirely up to you.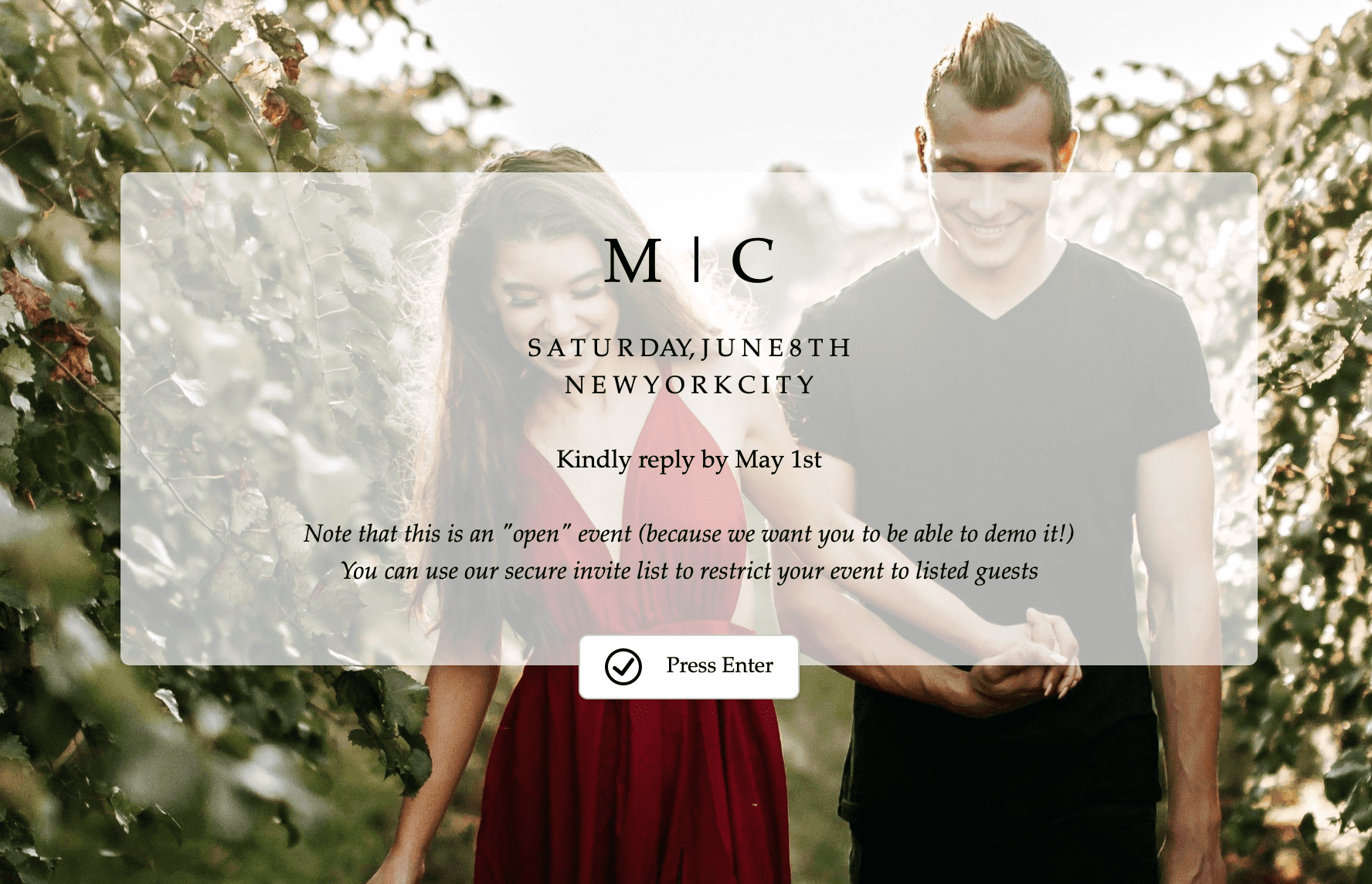 (Source: Email from RSVPify)
We just wanted to inform you that our email builder includes an embedded photo editor, so you can work on your wedding theme images directly in Stripo without using any additional tool.
3. Create wedding invitations by adding a video
Why not personalize your email message with your own wedding video?
You can easily insert a video into your wedding invitations HTML email template to invite everyone to your wedding party, notify guests about the date and location of your wedding celebration, and so on.
Make your invitations unique and memorable.
4. Bulleted lists and headings to make your wedding invitations look structured
Headings can be used to highlight the primary information in your wedding invitation email template.
Bulleted lists, on the other hand, will be handy for sharing the wedding celebration's agenda.
5. Wedding invitation backgrounds
Backgrounds round out the appearance of your emails.
A background image can be a background color or a framework image.
Stripo lets you choose either any free wedding invitation email template without having to edit the CSS or HTML code. If you use background images to animate your invitations, we recommend setting up the background color as a backup plan.
More information on how to set Stripo backgrounds can be found here.
6. Use maps
As we've mentioned earlier, a wedding email invitation should have a detailed description of how to get to the place of celebration. Thus your guests will be on time and in a good mood.
Include a link to the map in the footer of your email. When your guests click on the map, they will be taken to Google Maps, where they can easily find the location you previously assigned.
7. Personalize fonts
This is entirely optional. But we highly recommend using custom fonts for the text if you want your wedding invitation emails to stand out. Choose your couple's font: do you prefer formal style like Serif fonts or romantic like Calligraphy ones?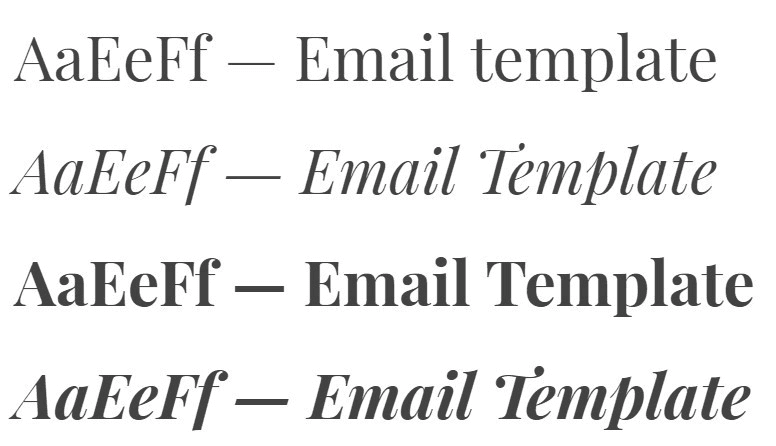 On our blog, you can learn how to upload and use custom fonts with Stripo.
Please remember that a subset of email clients only supports custom fonts.
All in all, most people want to announce their marriage ceremony especially. Wedding invitations online are the best option to customize your perfect email template and share it immediately with your guest list.
Create an elegant invitation to family and friends using our wedding invitation templates
Join over 1 000 000 users
Start with free email template builder — upgrade anytime