Amazon SES is a world-known ESP. But even here Stripo can be useful for its:
Email production automation
Yes, first of all, we do value your time and want to enable you to build emails half much as fast.
1. Amazon SES email templates
No need to build emails from scratch. Stripo offers a fair amount of prepared email templates — just pick the one that fits your requirements, work on it with our numerous embedded tools and send over only delightful newsletters.
2. Drag-n-Drop basic blocks
No coding skills required — you just drag any of the basic blocks in your Amazon SES newsletter template and fill it in with your content.
List of the basic blocks:
image — to upload and edit images;

button — to build buttons of any shape, any color. You can even design CSS-animated CTA buttons if you like;

menu — navigation menu is crucial for your emails as it takes customers to your site directly to necessary pages;

banner — banner is the first email element that your customers see. Make sure to build an eye-catchy complex one with compelling copy over them;

text — add this block in your Amazon SES email template, apply merge tags, bulleted list, etc. Wrap this copy in regular or custom fonts;

spacer — to visually separate email content modules from each other and to make your free Amazon SES newsletter templates more structured;

video — to insert videos in your emails. We also allow setting custom thumbnail image;

timer — this is to let your customers know how much time left till the end of the Holiday sale or how soon your event/webinar will start;

social — to let your customers follow you on social media channels. Synchronize your Stripo account with social media to add necessary icons and links in your emails with 1 click;

HTML — this is to let you embed custom elements in your Amazon SES HTML email templates in no time;

AMP-carousel — this is to build AMP emails in no time with no coding skills.
3. Smart-elements
Build product cards in no time.
With our smart-elements option, you design and configure your product card modules just once. When starting a new campaign — you just insert new links to products in your Amazon SES HTML email template and our system will retrieve and add proper information in necessary fields.
4. Personal content library
Tired of building similar or the same email samples from campaign to campaign? Well, you don't have to do that anymore. You build them once and use in all future campaigns.
How come you can reuse email elements? Footer, header, menu, contact information, signature normally remain unchanged.
You can save not only elements of your free Amazon SES email templates, but also entire templates.
For instance, HR professionals send similar emails to candidates — in such emails they can edit only job offer and leave the rest as it is.
Monthly reports and investor updates — their design never changes. Then why not save entire template and just update information, like monthly and your KPI results?
Tools to work on Amazon SES email design
Among the numerous tools that we offer, we'd love to highlight some here:
1. Embedded photo editor
You may now forget about Photoshop. Edit images for your email campaigns directly in Stripo.
To open photo editor, just upload your photo (or pick any from our bank) and click it directly in your Amazon SES email template. Then, in the settings panel, click the "edit" button. That's all.
2. Tools to build interactive elements
Apply hover effect to buttons, aka CSS-animated buttons, and rollover effect to images to make your Amazon SES email design more engaging and more up-to-date.
To implement this with Stripo, you do not need to possess any HTML coding skills.
3. Ability to upload custom fonts
Copy in emails is crucial no matter how beautiful your imagery is. Using a copy that complements entire email design and copy per se will only make your copy more compelling.
Which is why we now enable you to add custom fonts in your Amazon SES email templates.
4. Drag-n-Drop AMP blocks
There are four ways to build AMP emails with Stripo:
coding one from scratch;

embedding AMP elements in your Amazon SES newsletter templates due to our open HTML code editor and HTML block;

using AMP email templates;

adding AMP-carousel block (many more AMP blocks to come).
The last method does not require any coding skills — Stripo adds all necessary scripts and code elements for you.
All you have to do is just upload necessary photos. You can even edit them the way described above, add alt text and links to each slide of your image carousel.
Then you will only have to export your Amazon SES email template as AMP HTML file and import the code into your account with Amazon.
May all your email campaigns be efficient, powerful and engaging. With Stripo and our Amazon SES email templates, you will build such emails in no time.
Frequently asked questions
How to create an HTML email template in Amazon SES?
Our email design platform provides 500+ Amazon SES templates for your responsive messages. Pick one of the prebuilt templates, click the "Use in Editor" button, sign in to your account, and start editing your template to align it with your goals and brand design styles.
How to use Amazon SES email templates?
Once you have selected an Amazon SES template you like the most, you are all set to design your appealing email. In your Stripo account, you can modify everything super easily: from headers and banners to buttons and videos.
You can start with the "General Settings" section to set up an email message width, choose a font, and add a background image.
Then, you can go for the "Blocks" section to equip your message with the necessary elements like banners, images, videos, and countdown timers. Remember to check out the "Mobile Formatting" section to enable your recipients to interact with your email on smartphones and tablets.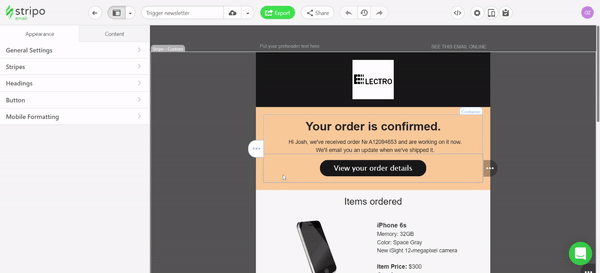 How to save email templates in Amazon SES?
Once you are done building your Amazon SES email template, you will always be able to find it in your account.
When your email is ready, you can export it to Amazon SES. Here are a few simple steps to make it happen:
click the "Export" button;
choose the "Amazon SES" option;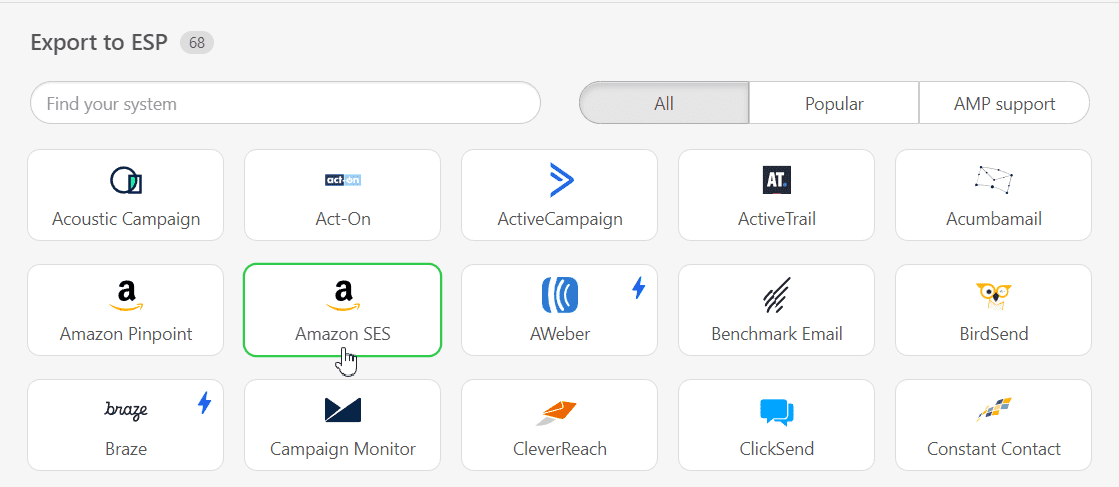 How to send HTML email templates with Amazon SES?
To export your email template to Amazon SES, you have to provide some extra information. Take a look at a few tips to make it effortlessly:
fill in the "Connector's name" field. You can enter your company name here;
then, you will have to provide your API key and Secret. Here you can find a brief guide to get this information;
pick your instance. Click here to get more information about your instance;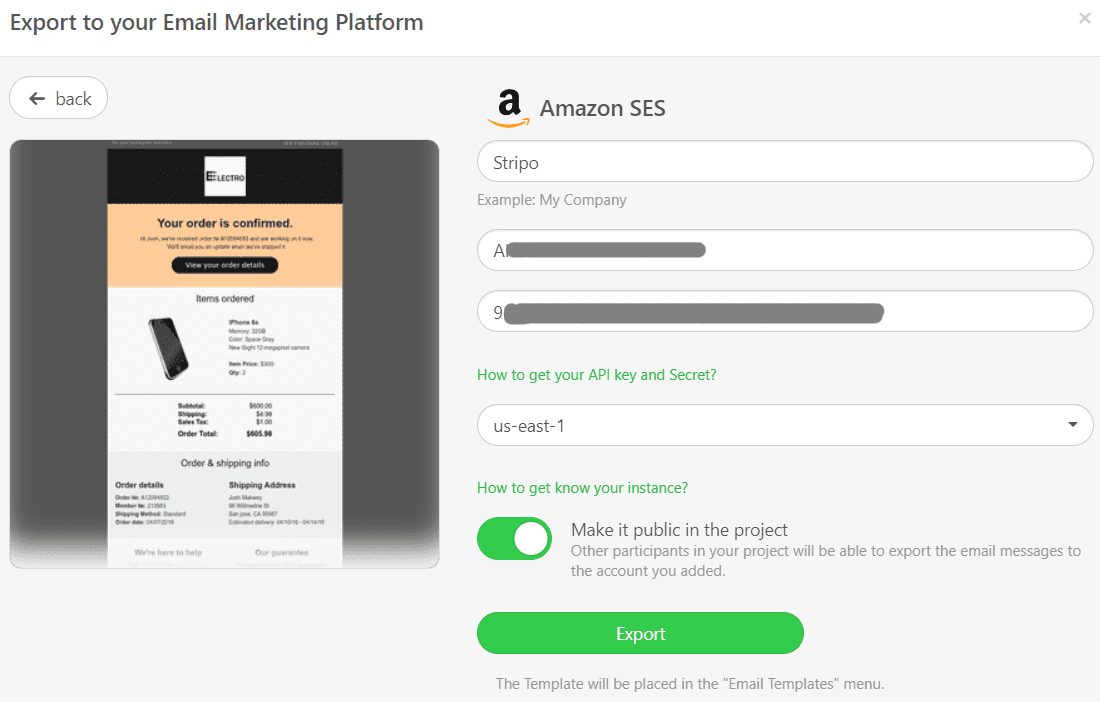 Where to find your email template in Amazon SES?
After a successful export, you can find your template in Amazon SES:
open the "Configuration" menu;
select the "Email templates" section.

Now you can open and edit your Amazon SES email template whenever you need.
How to add Amazon SES email templates?
There are two quick ways to find and use our Amazon SES email templates:
Open the "Email Templates" block on our website. You can find prebuilt Amazon SES email templates in the "Integrations" block. Pick the one you like best and hit the "Use in Editor" button. Then, create an account to start designing your email.
If you already have an account, you can choose one of 500+ Amazon SES email templates in the editor. In your Stripo account, go for the "Templates" section and click the "Prepared templates" button.
Have any other questions?
If you have more questions on our pricing and plans, contact us so we can help.
Join over 800K users
Start for free — upgrade anytime