Salesforce Marketing Cloud is a world-known ESP, a product of Salesforce. Its share of the market is 26%.
Of course, this system provides its clients with an embedded editor. Yet, some prefer Stripo email template builder over that tool.
Which is why we integrated Stripo.email and Salesforce Marketing Cloud (SFMC) to enable you to export emails to this ESP easily.
After export, you can edit the HTML code and the copy of the Salesforce Marketing Cloud newsletter templates.
The features and embedded micro-tools make Stripo helpful and convenient:
1. Blocks aka modules
Stripo offers 10 basic blocks. You just pull them into your template, modify according to your needs.
We also implemented the countdown timer block. Pull it in, modify, set the design preferences. Your timer is ready to go!
No need to use any third-party tools.
2. Work automation
We strive to make the email creation process as simple and fast as possible:
a. Saving elements for further use
Stripo.email enables you to save simple elements, blocks, modules and even containers to your personal library of blocks.
When designing a new campaign, just pull this element from the library into your Salesforce Marketing Cloud template.
b. Prepared templates
We offer 1300 prepared HTML email templates you can use at any time. Our templates are grouped according to their goals, industries and holidays. Choose any, work on your Salesforce Marketing Cloud email design to match your brand book and export to your favorite ESP.
c. Fully responsive
All the free Salesforce Marketing Cloud newsletter templates are fully responsive. Consequently, you do not need to worry about how your emails look like when opened on mobile devices.
d. Smart-elements
Our Smart-elements allow creating product cards within minutes just by inserting appropriate links into templates. Due to our API you can create up to 64 emails a minute.
3. Interactive elements
Interactive elements double conversion — this is a good reason to add them.
Due to our open HTML code editor, you can insert the embed code into you Salesforce Marketing Cloud HTML template.
Also, we provide our users with the countdown timer block to urge your customers to buy from you and image rollover effect to create more dynamic newsletters.
Also, our open code allows embedding Live social feed in emails. The idea of adding this social feed is: the social feed is synchronized with your social channels' accounts. This way, you provide subscribers with just updated information (every 15 minutes).
Final thoughts
Using the Salesforce Marketing Cloud email templates, you do not need to be a professional coder to create unique emails, to add interactive elements, and according to numerous tests, we reduce the time you need to create an email by 60%.
Frequently asked questions
How to create an HTML template in Salesforce?
Stripo has 531 Salesforce email templates for making your email design unique and effective. When you come to our website, you have to click the section "Email Templates" and choose "Salesforce Marketing" in the integration block.
You will be offered to create a new account if you work with Stripo firstly. Fast login is available via Facebook, Google, and Twitter.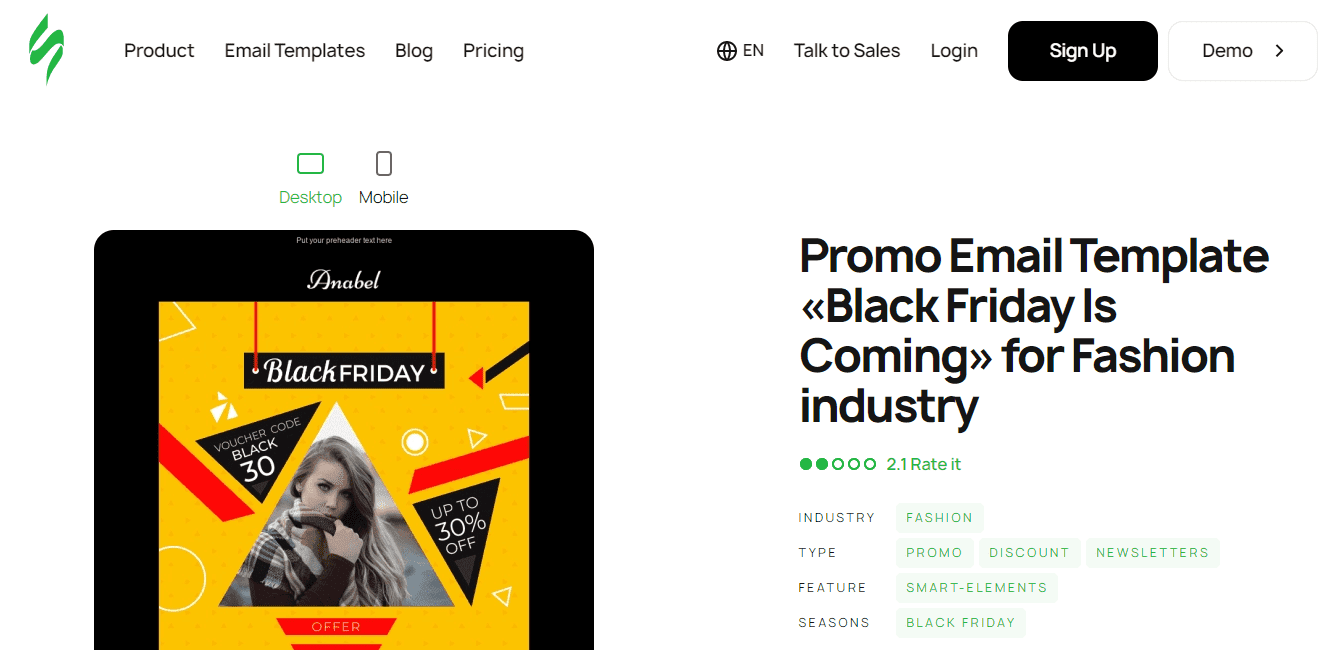 How to use Salesforce email templates?
When you made your choice among hundreds of Salesforce email templates, you are ready to apply many settings to get the email design you wish. It is possible to transform a lot of objects using Stripo tools.
There are 2 main blocks on the left side of the editing screen called "Appearance" and "Content".
In the "Appearance" block, you can work with "General Settings", "Stripes", "Headings", and "Button" for giving your email a suitable structure, locate the objects in the way you wish, set the fonts and backgrounds, etc.
When you switch to the "Content" block, you will notice 3 sections. "Structures" will help you choose various shapes for detailed work with structure and location in your design. "Blocks" enable you to find different types of content such as images, videos, banners, text, etc. "Modules" gives you the possibility to implement ready-made sections, for example, a timer.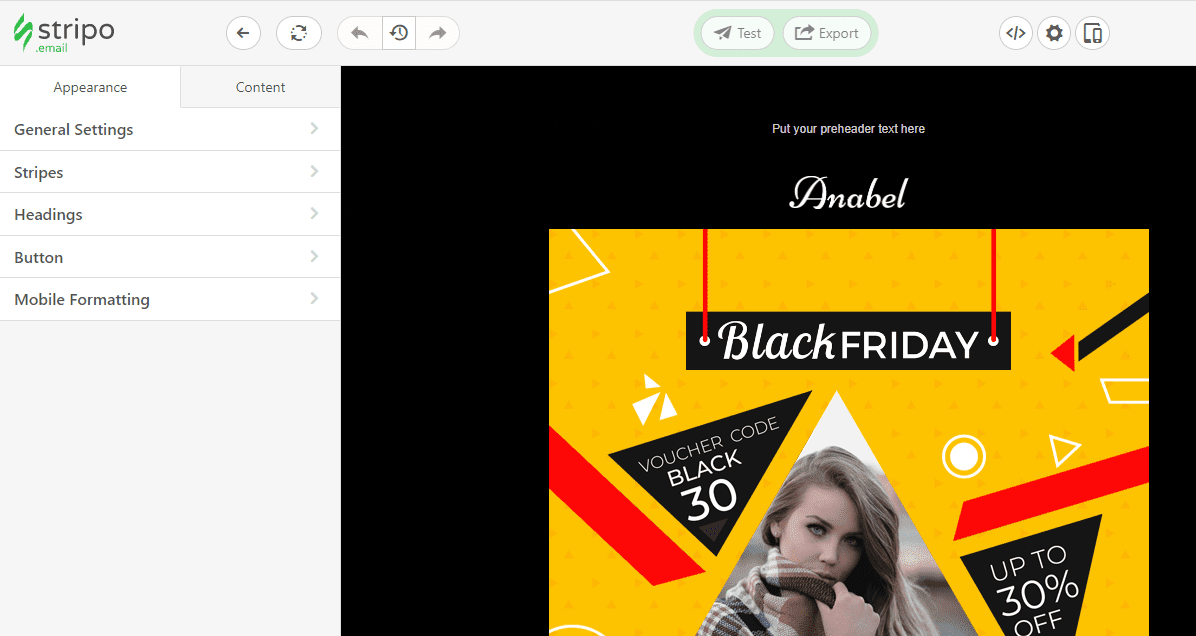 How to save email templates in Salesforce?
When you get the email design that you wished for, you can export it from our platform to Salesforce Marketing. Follow the steps to make it happen:
open your email template and click the "Export" button;
then you need to choose the "Salesforce MC" icon;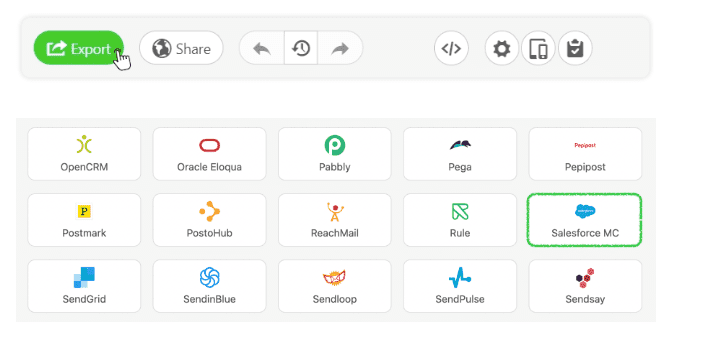 fill all the necessary forms such as Connector's Name, Account ID, Sub-domain of Authentication Base URL, Client ID, and Client Secret to implement the synchronization between Stripo and Salesforce, then click the "Export" button;
in order to create a package with the API integration, open the account menu and choose "Setup". Then click on "Platform Tools" → "Apps" → "Installed Packages" and press the "New" button on the right side of your screen;
click "Add component" and choose the "API integration" component, the connection type must be "Server-to-Server";
in the next step, you will have to select the necessary permissions for the connection;
to get the Account ID, switch to the "Settings", then "Company Settings" and find "Account Settings" on the Setup page.
Your email template will be stored in the "Content Builder" where you will see your designs in the "Stripo-Emails" menu.
How to send HTML email templates with Salesforce?
During the process of composing an email, apply an email template to accelerate the sending procedure and become confident that you are using the right content for your audience.
When you use the email template that contains attached files, you have to have the access to include them in emails that you send from that chosen template. If you do not have access, Salesforce will inform you.
find and open the record form from which you want to start sending emails;
click the "Activity" block and open the "Email" section;
click the "Templates" button to insert the template. Then, select the template you wish to use and see how the relevant content will appear;
finally, edit your email if necessary, preview and send it.
Where to find your email template in Salesforce?
Once you exported the email template, you can freely find them via the following instruction. If you need to access your email templates see the next steps:
having permission to edit email templates, find the "Setup" menu, select "Classic Email Templates" located in the "Quick Find" block, then click "Classic Email Templates";
in the case when you do not have this permission, switch to your personal settings. Write "Templates" in the "Quick Find" box and choose "Email Templates" or "My Templates".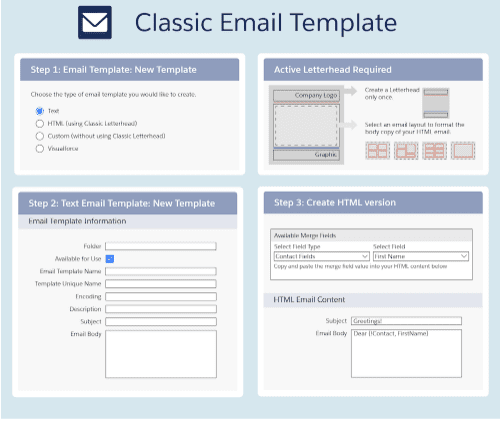 Click here to get more information.
How to add Salesforce email templates?
Here we have a few methods to find and implement Salesforce email templates:
you can click the "Email Templates" button on our website homepage. Then find the "Integrations'' block and scroll down to find the "Salesforce Marketing Cloud" option. Select the email template and click "Use in Editor '' to start creating the design, or click "Preview" for learning details before editing. Here you will be asked to create an account in Stripo.
the second way is suitable if you are already signed in to Stripo, in this case, you can freely use 531 Salesforce email templates. Find the "Prepared templates" in the "Templates" section to start.
Have any other questions?
If you have more questions on our pricing and plans, contact us so we can help.
Join over 900K users
Start for free — upgrade anytime