A holiday weekend is a good chance to create an email marketing campaign with sales and special offers. The employees' Labor Day is one of them.
All kinds of businesses can use it as a perfect occasion for boosting their incomes at the end of summer. If you plan to follow their example, let's look at the best Labor Day email templates for your successful campaign.
What is the Labor Day weekend?
Americans celebrate Labor Day, or Workers' Day, every year, on the first Monday of September. Labor Day marks American workers' contributions to the United States' prosperity. The holiday emphasizes the nation's social and economic achievements.
When is the Labor Day weekend in 2022?
People like this holiday, as it's an excellent chance to have a long weekend during the warm season and enjoy great sales. Labor Day will be celebrated on the 5th of September in 2022.
How to organize a resultful Labor Day marketing campaign? We'll see that step-by-step in the article below.
Ideas for Labor Day email templates
Email marketing managers consider Labor Day an opportunity to sell the summer collection before the new fashion season. But there are many ways to do Labor Day campaigns.
Here are several ideas for your Labor Day campaign:
back-to-school sale with a guide to students' stuff;
discounts for the sport or adventure items on the last summer days;
3 for 1 sale of everything needed for parties, picnics, beach, and barbecue;
special bonuses for the loyal or, opposite, new customers;
free shipping during Labor Day weekend;
honoring people of special occupations and selling professional items.
A great strategy combines several of these points, depending on your audience and business domain.
How to design an email for the Labor Day sale?
In creating a unique Labor Day email campaign, pay attention to the newsletters' design. The most effective are bright and colorful designs that make pleasant associations and a feeling of good vibes.
Choose some photos with relaxed and smiling people. Don't forget about the symbolic details of your Labor Day template: sun, beach, waves, children, or even the US flag.
The most important thing is to write a clear, catchy subject line and add a CTA button in your email. Using Stripo, you can choose a nice-looking responsive design and customize it to your business needs.
The best time to send a Labor Day email
Let's imagine you have already prepared a premium Labor Day email template. When is the best time to notify your subscribers about the upcoming sale? This is a crucial question for all marketing managers.
It is considered that morning is a better time to send promotional emails. It would help if you informed customers about the Labor Day sale.
It's a good idea to create a chain of several emails that show the urgency of the limited offer. The first should be sent around 5-7 days before the holiday weekend.
You can also make an A/B test to find the time to send emails with a better open rate or conversion results.
Labor Day Email template examples
1. Labor Day sale with promocode🌲⛺ - Adventure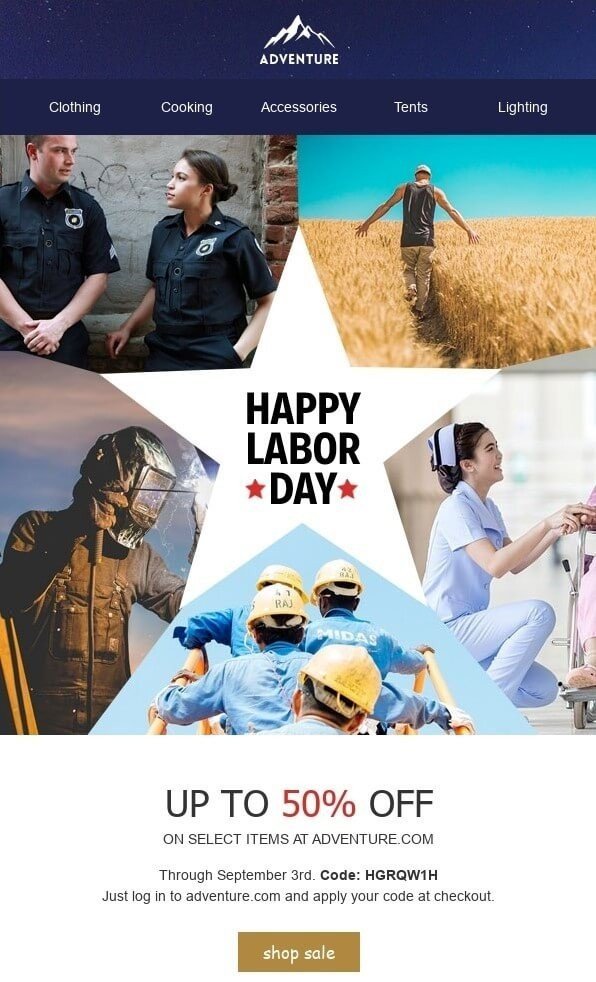 (Source: Stripo template)
Look at the stylish banner by the Adventure! The stylish banner causes good associations with the brand. The original collage shows the most recognized professionals. Police, farmers, doctors, constructors, and industry workers perform crucial societal functions.
The online shop offers a massive discount of up to 50% for selected items. You can see that the Labor day email sale lasts till the 3rd of September. So, it causes a sense of urgency to spend your Labor Day savings and buy items for the best price.
Notice that the sale covers only selected goods, which may be less popular during the cold season.
2. Labor Day Sale! ⛵ - Postable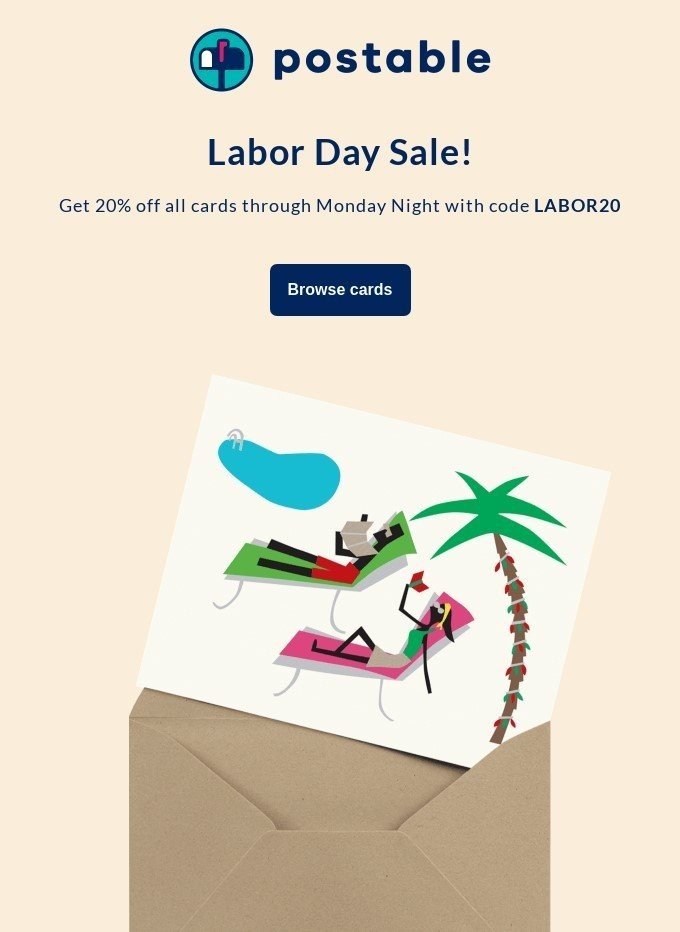 (Source: Really Good Emails)
The colorful email by Postable wishes you a Happy Labor Day. Looking at the design, I feel the relaxing summer vibes. You can copy this style in the Labor Day design because it's one of the most universal campaign ideas.
Send a "letter" to your customers, notifying them that it's the last call to enjoy summer days. Add some playful elements and make a reasonable offer for your audience. You should separate new customers from loyal clients to make the best Labor Day offer to both categories.
Be sure that the tone of voice of the message is friendly because the design looks very cute.
In this email, you can see that the discount expires at midnight. So, it's a good idea to add a countdown timer till 00:00. Stripo email builder allows you to do this in a few clicks.
3. Getaway this Labor Day - GetAround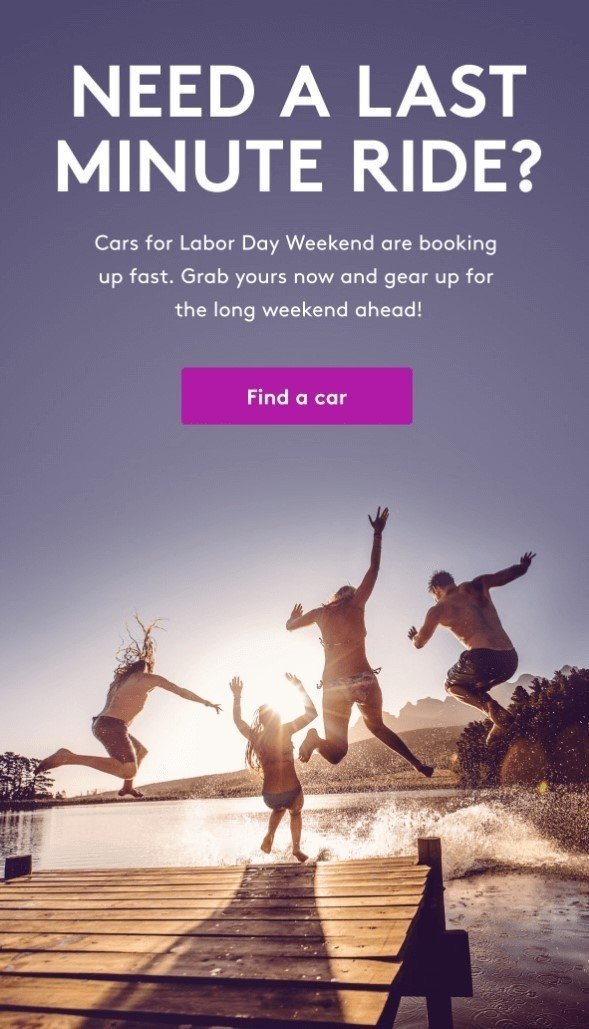 (Source: Really Good Emails)
The three-day weekend means having a good rest after hard work. So, emphasize this desire to take a rest in your Labor Day email campaign. Invite summer lovers to have a trip or make an emotional purchase of something pleasant.
Focus more on emotions than on the practical side of your product.
I love the picture on this template. It's dynamic and shows you what feelings you will miss if you ignore the Labor Day offer. Everyone wants to catch the last chance of fun and joy before the long school and office working days.
4. 25% Off for Labor Day Weekend - Tattly

(Source: Really Good Emails)
The bright background of this Labor Day email template looks like the sun, orange, or send on the beach. It creates a strong association with the summer holidays. The marketing manager decided not to put all items with discounts on a special landing page. Instead, all goods are shown inside the Labor Day email. They have high-quality photos and links with information about discounts.
This is a good email marketing strategy because users may become interested in a special item. Not at the general discount at all. So, you have a better chance to get more clicks to the website and more sales.
5. Wedding season's here. Win at Gift Giving with 15% off. - BioLite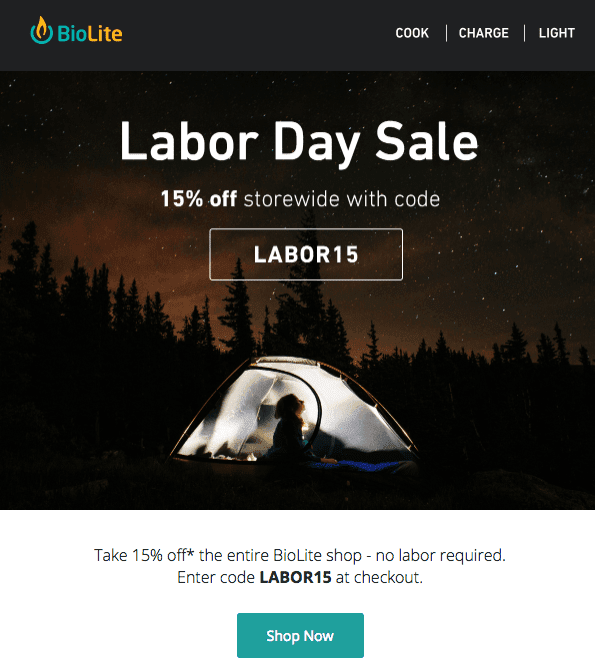 (Source: Really Good Emails)
How to write the best subject line for the Labor Day season?
Add some intrigue and creativity! Get inspiration from the newsletter by BioLite. The online shop reminds customers to prepare presents for the wedding season. It also offers several gift ideas with a 15% discount.
The email content seems useful for subscribers and differs from tonnes of other Labor Day sale email campaigns. The customers will be grateful for such a kind reminder.
As a result, you get a win-win situation for everyone.
6. Labor Day Sale begins - Reverb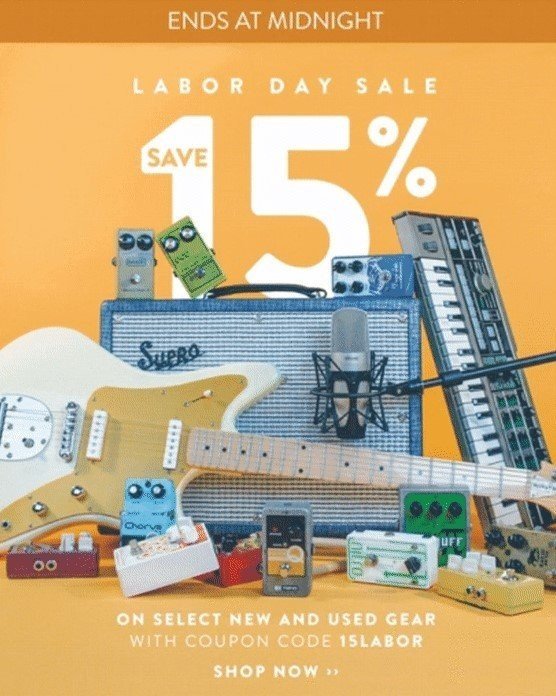 (Source: Really Good Emails)
Another Labor Day email design with an offer that ends at midnight. The promotional email creates a sense of urgency and shows many online shop categories. The sale covers lots of different goods, so subscribers have a wide range of items to choose from.
I like the design of the main banner, which shows plenty of things and the big discount number. The promotional email design shouldn't be messy and include too many details.
Here we can see the main information and the coupon code to use the offer.
All other sale details are on the company landing pages.
7. Bright email for Happy Labor Day Weekend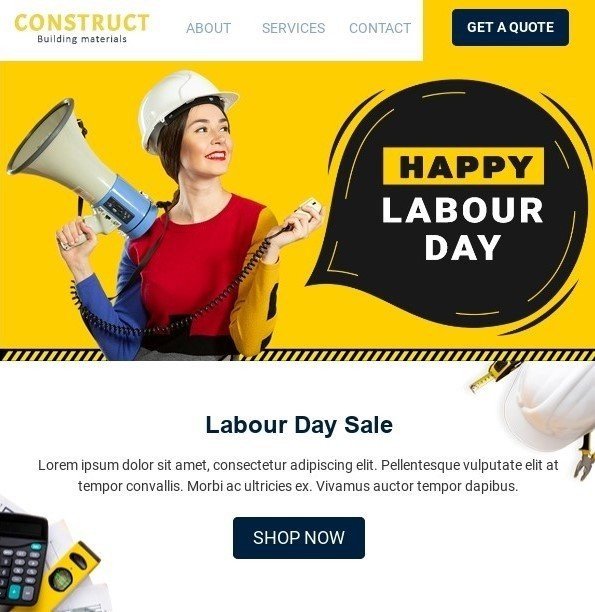 (Source: Stripo template)
A classic Labor Day message includes customers' greetings on the contrast banner with a CTA button. The call-to-action is essential for all promotional emails, regardless of the holiday or season.
This is an example of the Labor Day campaign for a construction company. It includes sales information, other updates, and blog posts.
Subscribers like informational emails with some value. So, you can combine a blog post and a promotional message in one newsletter.
The woman on the banner makes the email template more attractive because big companies are used to creating boring, faceless ads. This trick helps to stand out from the competition.
8. Work Hard and Play Hard - Tea Shop email ☕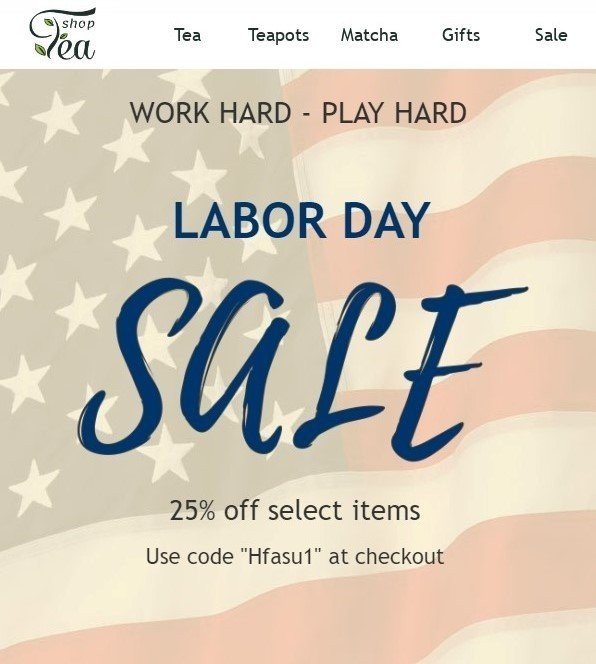 (Source: Stripo template)
The US flag is a simple Labor Day symbol suitable for any company or online shop. If you have no idea how to greet your subscribers with the holiday, add national symbols to the banner.
On the Labor Day sale email by Tea Shop we can see an important reminder. The newsletter includes information both about online and offline shops.
The brand also offers gift cards for its subscribers. Which is a popular type of present for family members and friends.
Holiday sales aren't limited to discounts. Customers like different bonuses.
Examples of holiday bonuses:
promo codes;
free shipping;
giveaways;
gift cards.
9. Lego Workers - the Labor Day template for kids' shop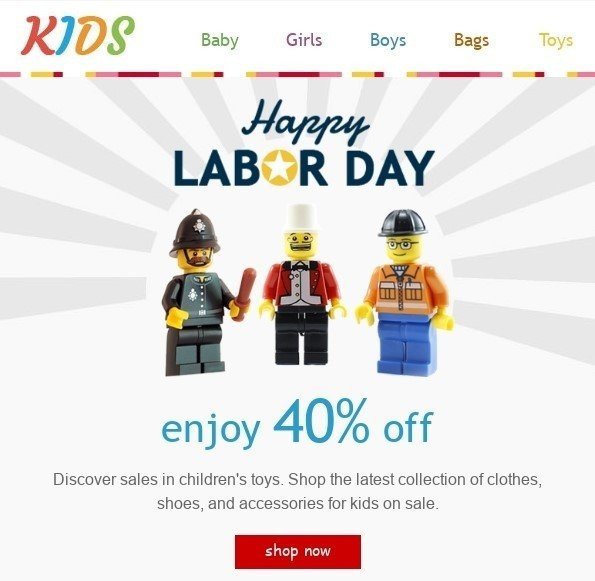 (Source: Stripo template)
One of the most interesting email designs is created by the online store for children. They used lego toys to honor people that have popular and important occupations.
This banner attracts attention and makes subscribers check the details. The message "Enjoy 40% off" catches an eye and causes interest to get more details.
Below you can find the category to choose from and save your money on the kids' stuff. The navigation is clear and useful for customers.
10. Taxi discount 🚕 - for easier working days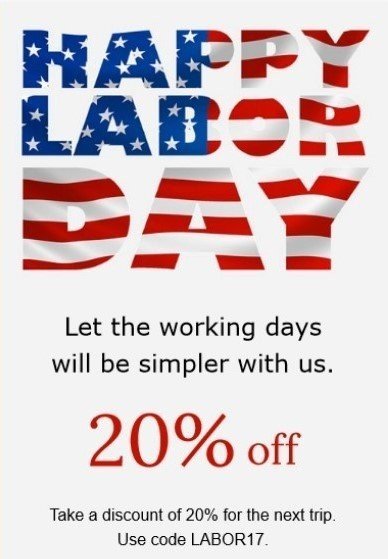 (Source: Stripo template)
Creative fonts are helpful when you have no idea how to make your email catchy. Take an example from the marketing campaign by the taxi service. The slogan "Let working days be simpler with us" looks logically in the Labor Day email.
The customers easily understand the message because the newsletter is minimalistic and simple. At the same time, it includes logo and brand colors, which is important for any business.
Final thoughts
The article listed the best practices for creating successful Labor Day email campaigns to boost your sales results. I hope these examples as an inspiration to create an outstanding promotional newsletter.
Consider several simple rules to ensure your email marketing campaign will be effective.
8 tips for the Labor Day sale:
Send multiple emails with the information about your sale.
Add a creative banner, clear message, and bright CTA button.
Be friendly with your audience and create good vibes.
Show the urgency of the offer. Invite people to catch the last chance.
Use the context of the last summer days and the new school year.
Offer variable types of the best deal: discounts, cashback, and free shipping.
Use American national colors and symbols. Honor professionals.
Add checklists, guides, tips, and other valuable content to the emails.
Labor Day email templates by Stripo
Labor Day emails could vary depending on your business type and goals.
Analyze what you can offer to the audience and tell them about your sale with the Labor Day templates by Stripo. We prepared a good choice of bright emails for variable industries. Check the catalog, choose one that you like, and customize it.
Get the best email marketing results with Stripo!
Join over 950K users
Start for free — upgrade anytime