People all over the world like St Patrick's Day, no matter whether they are Irish or not.
This is why we all should reach out to our customers prior to this holiday, congratulate them in advance, and let them know we can make this holiday even better for them.
But how do you build a St Patrick's day email?
We got your back!
Stripo offers a wide range of St Patrick's Day email templates. Not only these templates are built precisely for this holiday, but also using them will significantly speed up email production for you.
You can use any of them for your future email campaigns.
If you are going to build a St Patrick's email on your own, we suggest that remember that in holiday emails we pay close attention to the visuals, and design it accordingly.
Of course, given that these are holiday templates, we paid close attention to their design.
Design ideas for the St Patrick's email newsletters
1. Go with the classic green, shamrocks, and Leprechaun's hat
As long as this is a holiday, St Patrick's Day email template design is supposed to be festive and visually related to the holiday. Green, shamrocks, and Leprechaun's hat are the best solutions here.
Feel free to use them everywhere, including footers, headers, backgrounds, and banners.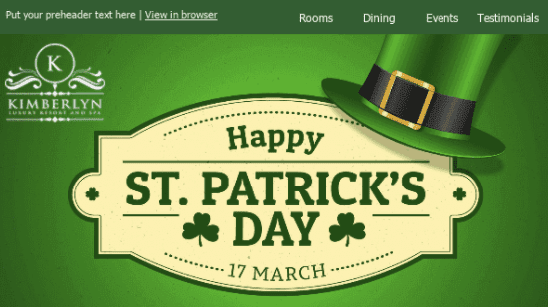 2. Sell green
But email design is not about shamrocks only. If your brand style does not allow you to use decorations a-la St Patrick's day, just use green colors wherever it is possible. Especially for buttons and product cards.
And of course, be sure to sell/demonstrate only green product items on this day.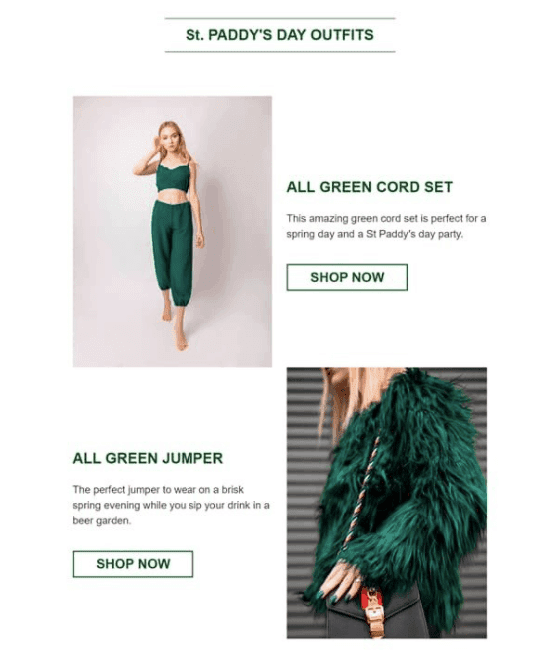 Build your holiday emails faster with our free St Patrick's newsletter templates
Use it
3. Share photos of people celebrating
St Patrick's Day is strongly associated with fun. Add some fun in your emails.
This email design idea works best for companies from the HoReCa industry.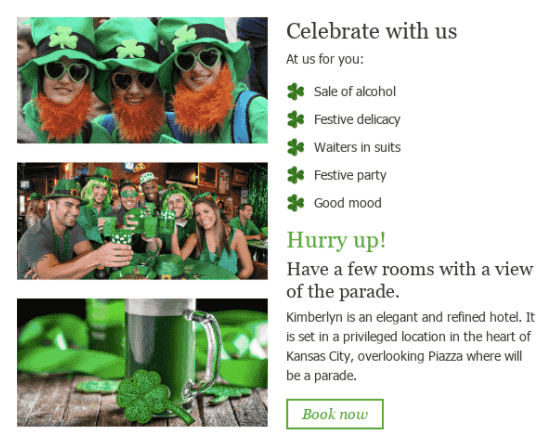 Stripo offers a wide range of prebuilt St Patrick's Day email templates
Use it
4. Use some interactivity
One more way to grab customers' attention is to add interactive elements. Embed those into your St Patrick's Day HTML email templates. These can be image carousels, video greetings. But the best idea here would be embedding a short game to entertain the customers.
Be sure that next time your customers will be excited to get newsletters from you.
In our "Gamification in email marketing" blog post, we show in detail how you can build a game for your St Patrick's day HTML email template. Or else you can use our prebuilt email templates that already contain elements of games.
For instance, with this template, you can ask users to draw a card (a Leprechaun, a Leprechaun's hat, or anything else) for you and win a prize.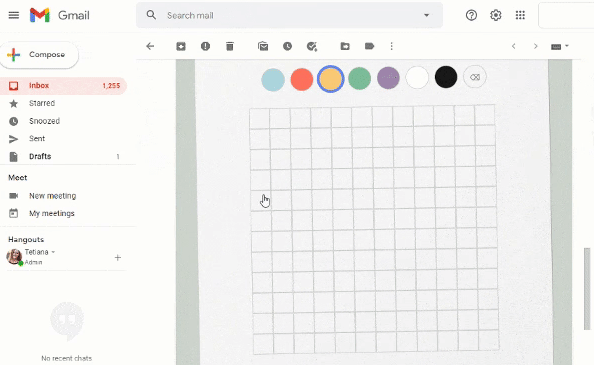 Utilize gamification in your St Patrick's Day emails
Use it
If you use this template, you will not have to cope with HTML email. You will only need to replace existing content with yours. And no code. That's it.
Final thoughts
Use Stripo's prebuilt email templates for St Patrick's Day to reach out to customers with festive emails that you build in no time.
Join over 700K users
Start for free — upgrade anytime