If you care about our planet and run numerous campaigns related to the Green Movement, you might want to share this with your subscribers. Why? First, they might want to join you. Second, to show your social awareness. Third, to improve subscribers' knowledge of a given topic.
And this is when you could use our free email templates for Earth Day.
How to make your Earth Day email marketing campaign a success?
Earth Day email campaigns draw users' attention to serious matters, such as environmental issues. Your Earth Day messaging should raise awareness of global pollution and climate change and highlight and encourage people to become more eco-friendly through using a sustainable product line. And here are some Earth Day email examples and advice from Stripo to help you make an impact on your readers and get them involved.
1. Work on an engaging subject line for your Earth Day email campaign
Keep your Earth Day campaign subject line attractive and to the point. Use strong action verbs, personalization, and relevant emojis to encourage your audience to open your email.
Here are some examples of Earth Day subject lines:
Celebrate Earth Day with us: Join our mission for a greener planet!
? Our planet needs your help! Take action for Earth Day.
Every Day is Planet Earth Day?.
Happy Earth Day! Let's celebrate with eco-friendly tips and deals.
?It's time to go green: Explore our eco-friendly products?.
2. Create positive and motivational email copy
While concentrating on the environment and reducing waste points, you still have to keep your Earth Day emails bright and attractive to your subscribers.
Share and show how your audience can positively impact nature within your Earth Day campaigns. Despite earthy colors, it can be done with nice visual content like images and animated GIFs. You can create a simple and short scheme for your brand's Earth Day involvement explanation and display directly how your customers will be implicated in our planet's healing.
You can also motivate your email subscribers with an Earth Day sale on your services or goods and promote a sustainable product line within a topic-oriented gift, for example.
3. Evoke emotions with images to celebrate Earth Day
Images can be used to invoke emotions and connect with your audience. Use high-quality visuals, such as photos and videos, to demonstrate the benefits of your sustainable products to customers.
Think about the emotional impact; for instance, faces are extremely effective at arousing emotions, as well as pictures of arms digging soil and planting. Use images of real people to evoke empathy and connection. Don't forget that different colors can also elicit various emotions and moods. Greens, for example, can represent growth and renewal, whereas browns can represent stability and trustworthiness.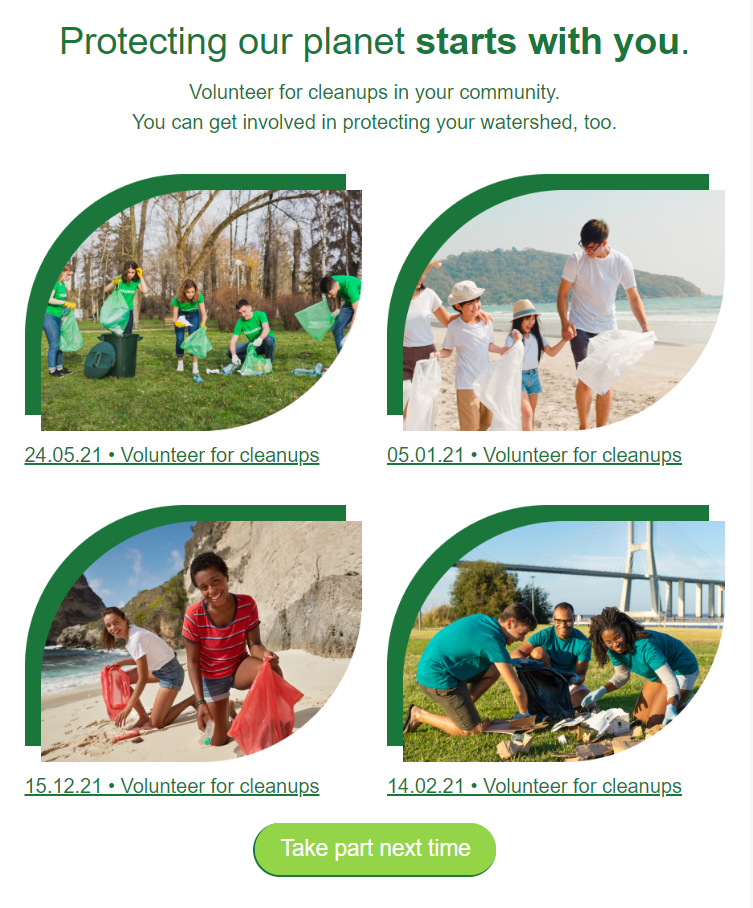 4. Use an earth-tone color palette for your email design
Using planet Earth tones in your email design can help reinforce your brand's commitment to sustainability while creating a visually appealing and cohesive email marketing strategy. Your Earth Day email campaign colors should reflect your brand's values and eco-friendly messaging. An email design and main idea should be simple and easy to understand.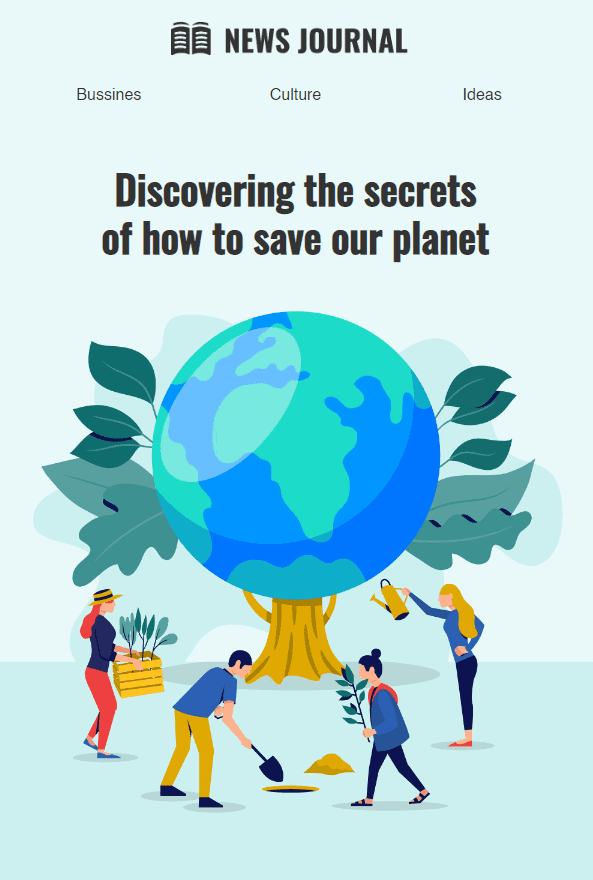 5. Promote sustainable products
Promoting sustainable products is an important step towards developing a more environmentally friendly brand and encouraging clients to make eco-friendly decisions.

Highlight the sustainable products' environmental benefits, such as reduced waste, less greenhouse gas emissions, and natural materials. Educate your customers on green options, and offer an exchange of planet-unfriendly goods for better alternatives to celebrate Earth Day together.
Create a guide with the Earth Day useful digests and inspirations to make readers believe that the clean atmosphere starts from their own wise consuming.
6. Highlight your company's commitment
Share your company's commitment to your actions, demonstrating environmental protection's importance. How is your company reducing its environmental impact, what sustainable practices do you support, and how can the client get involved in your initiatives?
Earth Day is a great possibility to become closer to your subscribers by showing an open and friendly tone of voice and the planet-saving practices you promote as a business.
The recycling program, green-heating systems, eco-friendly facilities, responsible consumption — those and other similar initiatives could become a great company commitment ground.
You can ask your coworkers for help to gather what each of them solely makes to help the planet, and depending on the replies, you can implement an official company Earth Day program. Just don't forget that Earth Day is every day ;).
Why should you use Stripo templates for Earth Day email campaigns?
Make your Earth Day campaigns responsive, easy, and informative with Stripo!
1. Every Earth Day email template is mobile-optimized
All the templates that Stripo offers are fully responsive as they are prepared by professional designers and coders. If you like, you can set custom mobile styles for your emails on your own, including the font size on mobile devices that differ from the desktop one. You can also set button width for mobile screens and hide/disable certain elements of your Earth Day emails.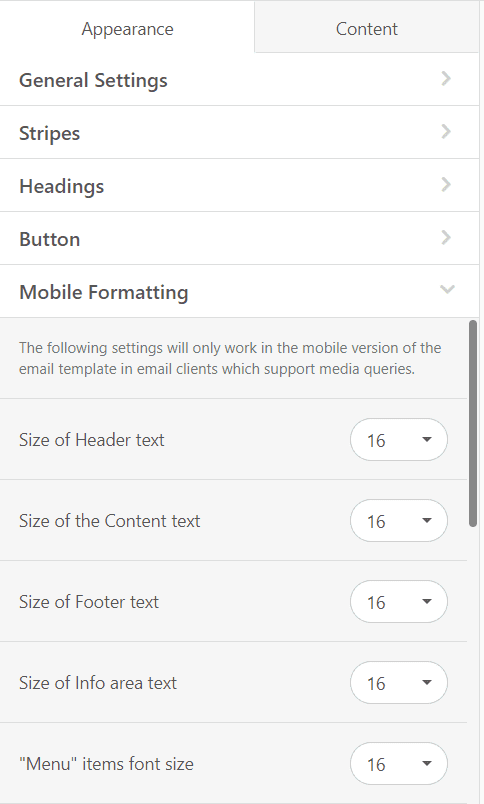 Set custom mobile styles for your Earth Day HTML Email templates
Join Stripo
2. Bright banners in Earth Day newsletter templates
With holiday emails, you need to appeal to subscribers' emotions, so attention-grabbing banners can be a good way to do that.
We offer a great variety of prebuilt email templates with vivid banners. So, you will need to fill out your contact and brand information where necessary, and your email is ready!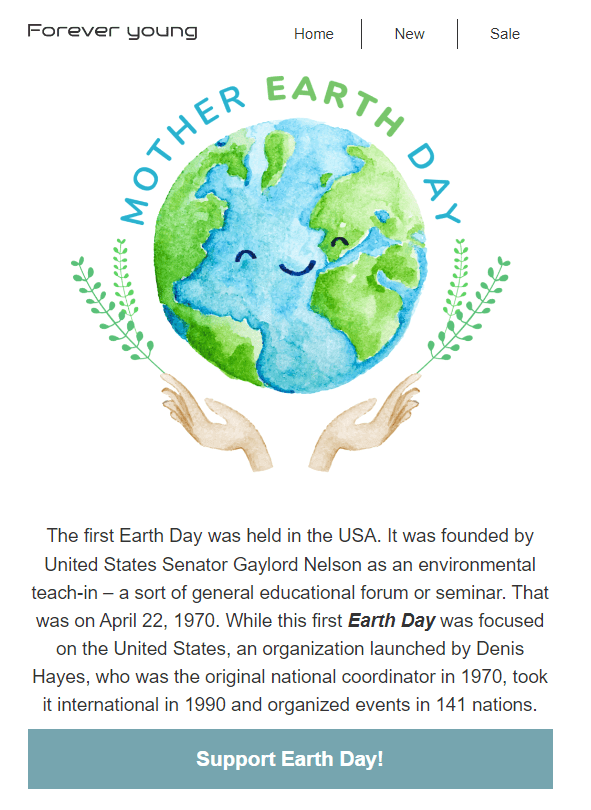 Use this Eart Day email template for your campaigns
Use It
3. Attention-grabbing email backgrounds
We recommend using bright, colorful backgrounds that complement your email idea. The HTML email template for Earth Day email campaigns below already contains a bright background across the entire email.
Every little detail of this template is meant to show your attitude toward Mother Earth to your subscribers
Pick It
Please be advised that backgrounds render on desktop devices only.
In our "Earth Day Email Examples" blog post, we also share ideas to spice up your holiday emails to convince your clients to join you and protect Mother Earth together.
4. Reusable content modules
Reusable content modules are pre-designed pieces of content that can be easily reused and repurposed across various marketing campaigns and channels. Furthermore, reusable content modules can boost efficiency and productivity by simplifying the Earth Day content creation process and reducing duplication. Reusable content modules can help businesses save time, money, and resources while maintaining brand consistency.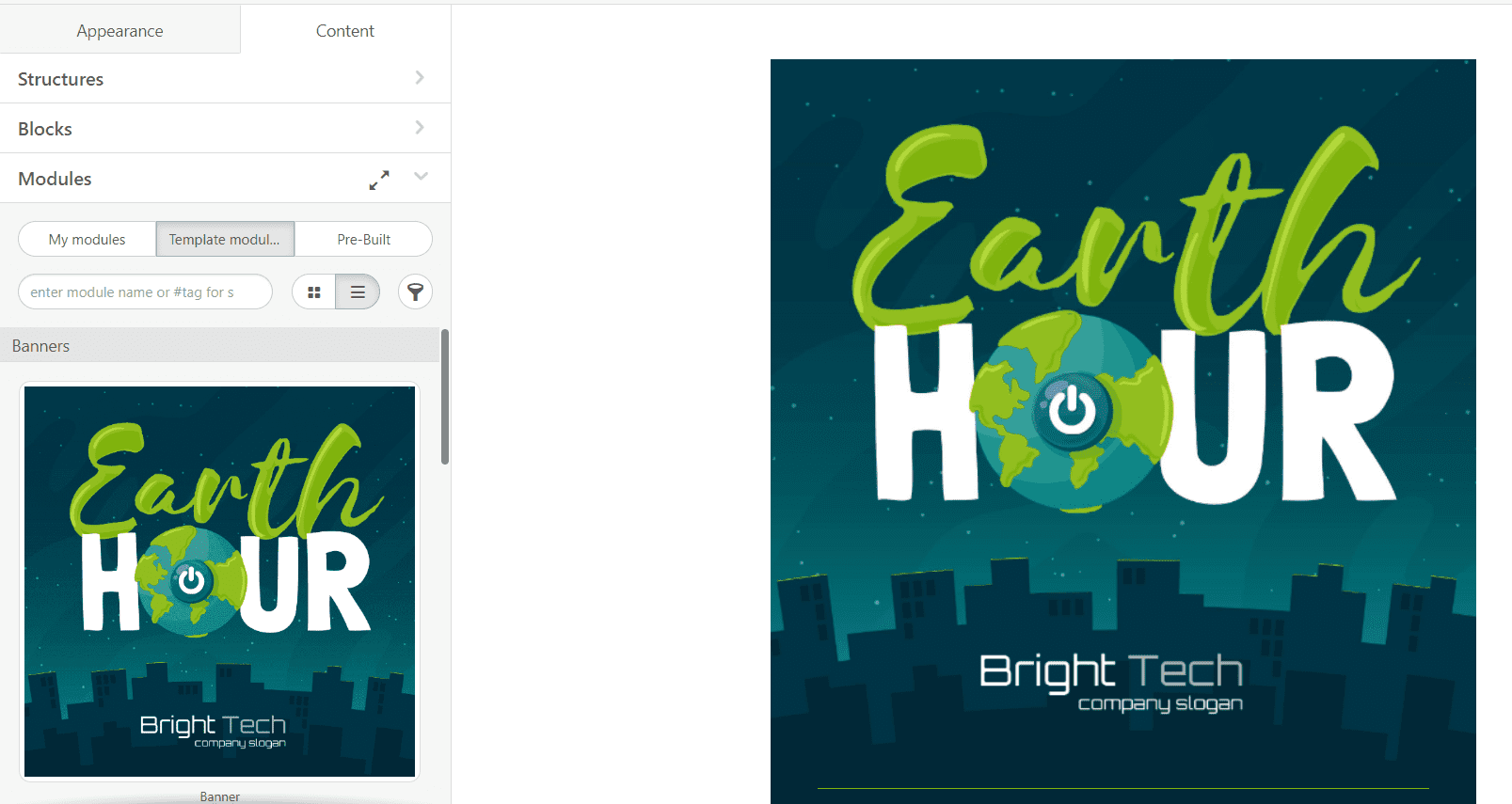 5. AMP-powered email templates
Email templates powered by AMP are a fantastic way to create engaging email experiences for your audience. Not all email clients support AMP technology, so having a fallback option for users who can't view AMP content is essential.
We offer a variety of pre-designed templates that already contain elements like AMP accordions, carousels, and forms. With Stripo, you can easily build AMP-powered email templates without any coding skills.
Wrapping up
Celebrate Earth Day with our best email templates to build an effective holiday email campaign with little effort. Choose and customize a high-quality template or create one from scratch with Stripo's assistance. Go green, spread your idea with Earth Day email campaigns, and benefit from our best editor features.
Join over 1 000 000 users
Start with free email template builder — upgrade anytime