Whether you want to collaborate with an influencer or are looking for a platform for guest posting, you will have to reach out to a responsible contact person to make it happen. Here you will find the best tips and templates to make your outreach emails professional and attention-grabbing.
Outreach emails: the core rules to follow
1. Detect outreach prospects
Determining your target audience is essential for effective outreach. The first rule of writing a perfect outreach email is to know as much as possible about your recipient. You should do enough research to determine the best writing style and tone for them and find a few personal details to make the message more unique.
Overall, the better market research you make, the most profitable guest post you will get, and the fewer broken link URLs you will end up with.
2. Collect email addresses
Once you've identified potential outreach prospects and your target audience profiles, you'll need to collect the email addresses of future advertisers of your product or service. Build your email list by using social media or email-finding software. With such an email list, it will be easier to find partners to collaborate with.
3. Come up with catchy and brief subject lines
Email subject lines play a significant role in determining whether or not a business owner or influencer opens your outreach email. They are usually full of other requests and don't have enough time to open every email they receive.
Keep in mind that your initial email will be a cold outreach. As a result, your subject line must inform subscribers about what they can expect to find in the email's body. Try including a question, emoji, or special offer in a subject line for better results.
4. Clarify your request and get to the point
An outreach email should be brief and include a personal message for your recipient. Be clear and concise about what you're pitching. Avoid being wordy and work on the structure of your message. Briefly mention all the points you'd like to discuss and ask for feedback at the end.
5. Personalize your pitch
Use information about your prospects to tailor the message specifically for them. It enables you to send messages with relevant content that your recipient will be interested in it.
Get more backlinks, as they can check your website's ranking in search engine results pages. Your prospects will be able to navigate between the pages that are relevant to both of you in this manner. Personalization through positive link-building strategies will get you a higher response rate!
6. Avoid being spammy
You might be surprised but it's really easy to end up in a spam folder.
An unsubscribe button or link is required for honest collaboration and an off-spam list. Check all your backlinks and ensure they work properly because broken links can also lead to a spam folder. Make sure your email outreach templates are only sent from the domain the user signed up for, as anything else may confuse your clients and cause them to mark it as spam.
In this article, you will find more tips on how to prevent your emails from getting to the spam folder.
7. Add a clear call-to-action button
CTA is a bright button that urges a recipient to act quickly. These buttons are intended to inform subscribers that their problems can be resolved with a single click. Instead of closing your email, the goal is to get users to perform the desired action.
8. Use a well-designed signature
A well-designed signature is essential for your outreach campaign. It is a block at the bottom of your emails that contain your contact information. The email signature includes important details for the email's recipient: the sender's full name, job title, company name, phone number, office address, work schedule, and social media links.
9. Monitor your performance
Keep track of email deliverability performance. With Stripo, you can export the created email to 75+ ESPs. It's also possible to preview your email outreach templates on most devices, test your messages, and edit them after export.
You can measure your performance with Google Analytics, and by implementing all of the above stages, you can ensure that your email campaign metrics remain high.
Types of outreach emails
Depending on your goals, you can use email outreach for the following purposes:
1. Link-building email request
Backlinks serve as an online quality mark. Each backlink shows search engine algorithms that your page has value for the specific term. Thus, backlinks and link-building outreach email templates are an important part of SEO.
Outreach for link building entails seeking out and requesting links from website owners. A link from a company's website, a blog, or a forum is usually used here. You can provide a guest blog post, infographic, or opinion piece in exchange.
Here are some tips to create effective link-building request emails:
work on a catchy yet informative subject line;

shortly introduce yourself and your company;

include some information that highlights you know their followers' needs and can provide relevant content;

offer them to collaborate with you.
All in all, explain why the link to your piece of content is valuable to the site owner and, more importantly, their audience!
2. PR blog post outreach email
Contacting appropriate influencers, media sources, celebrities, bloggers, and other third parties to promote your company, products, or services is part of public relations outreach. This will increase your company's influence, visibility, reputation, and link-building.
Keep your outreach email brief, use a catchy subject line, and personalize the email with the influencer's name and other relevant data. For example, you can refer to the recent blog post highlighting what you found helpful and why you can be useful to each other.
3. Guest posts outreach email
Composing guest posts is a common link-building strategy to obtain links from trustworthy sources. This sort of email outreach templates entails content creation for various online platforms, blogs, or other forms of media. The most important factor to consider here is that the most valuable links come from websites with higher domain authority. Thus, to get the best results from your guest post, choose the resource page link carefully.
4. Collaboration outreach email
When you want to work with a specific influencer, we recommend you make a clear and expressive introduction and explain how this collaboration will benefit both parties. Like in a guest post request, you need to introduce yourself, present your offer, and explain how you want to cooperate.
Collaboration can be a long-term or a short-term process, thereby you need to describe what kind of cooperation you require and specify your vision of the partnership. Don't forget to refer to the resource page of the product or service you are speaking about. Remember that even a few broken links can damage your possible collaboration with a blogger or business owner, so test all the links before sending an email.
5. Product promotion outreach email
Do you have any new products or services that you would like to spread globally? Here's where an email product promotion outreach comes in handy. Such outreach email templates should evoke the interest of your target audience. This email is intended to tempt a media figure or an entrepreneur to learn more about your latest release. As a result, they will recommend your services to their target audience.
How Stripo can help you build effective outreach email templates
A variety of customizable templates
Stripo offers various ready-to-use templates for your outreach campaigns. You can adjust any tiny detail with the Stripo editor: personalize your message, use dynamic content, benefit from the modular email architecture, and change your email appearance as necessary.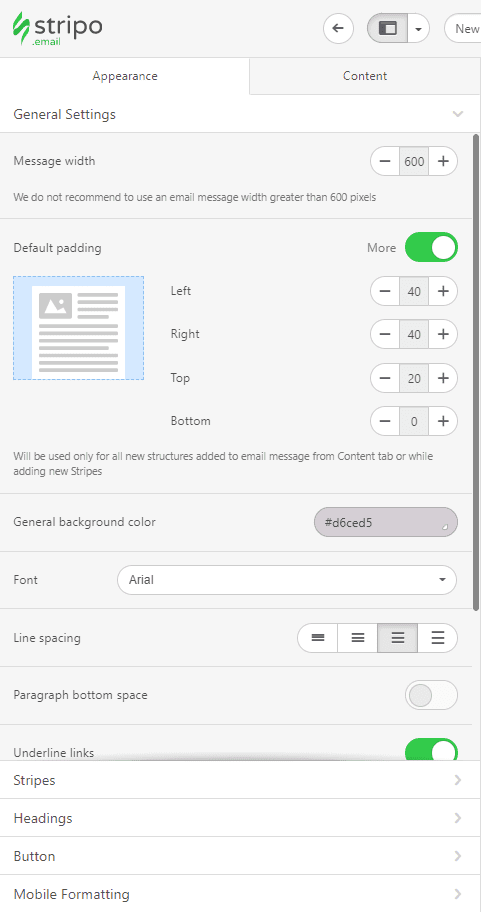 Mobile-friendly email design
Did you know that 41% of users read emails on mobile devices? Thus, Stripo took care of the perfect email appearance on both laptops and phones. You can test and adjust both versions of your email. Wanna make CTA buttons smaller or hide a certain image on a mobile version? Easy! A few clicks and your responsive email is ready.
Stripo's user-friendly email marketing service includes several collaboration tools, such as user roles and access levels (owner, admin, designer, writer, proofreaders, and viewer), multiple users for collaboration, and a link to your email web version to share with clients. As a result, everyone will be able to adjust only their field of work, while you trace their progress. All of this is manageable in the "Users" section of your profile.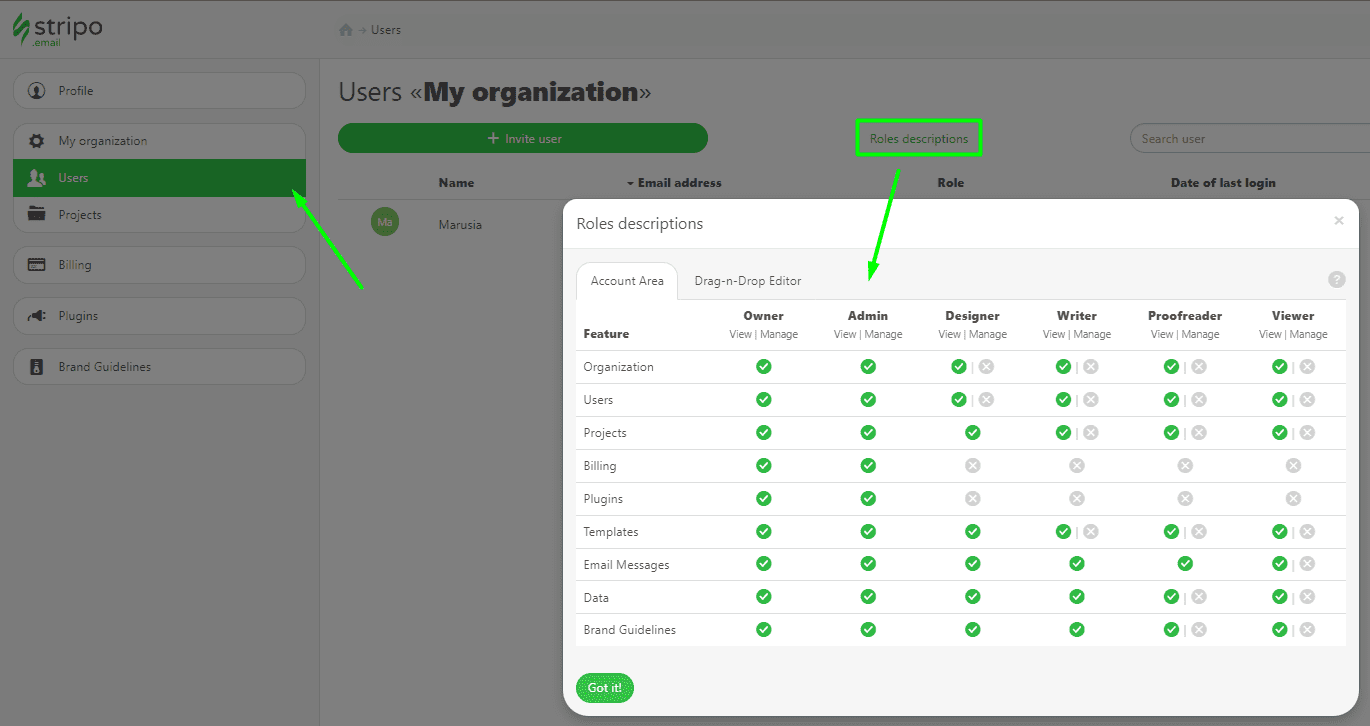 Branded email template generator
The branded email template generator is a special tool that will help you create email templates based on your website data in a few minutes. Yes, you read it correctly, there is no need to design your email templates from scratch because Stripo creates them for you!
Here are 3 easy steps to creating your own branded templates:
in your Stripo account, open the "Brand Guidelines" tab;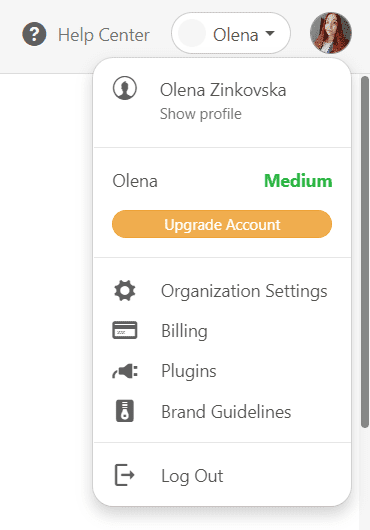 click the "New Brand Guidelines kit" button;

provide all the necessary information;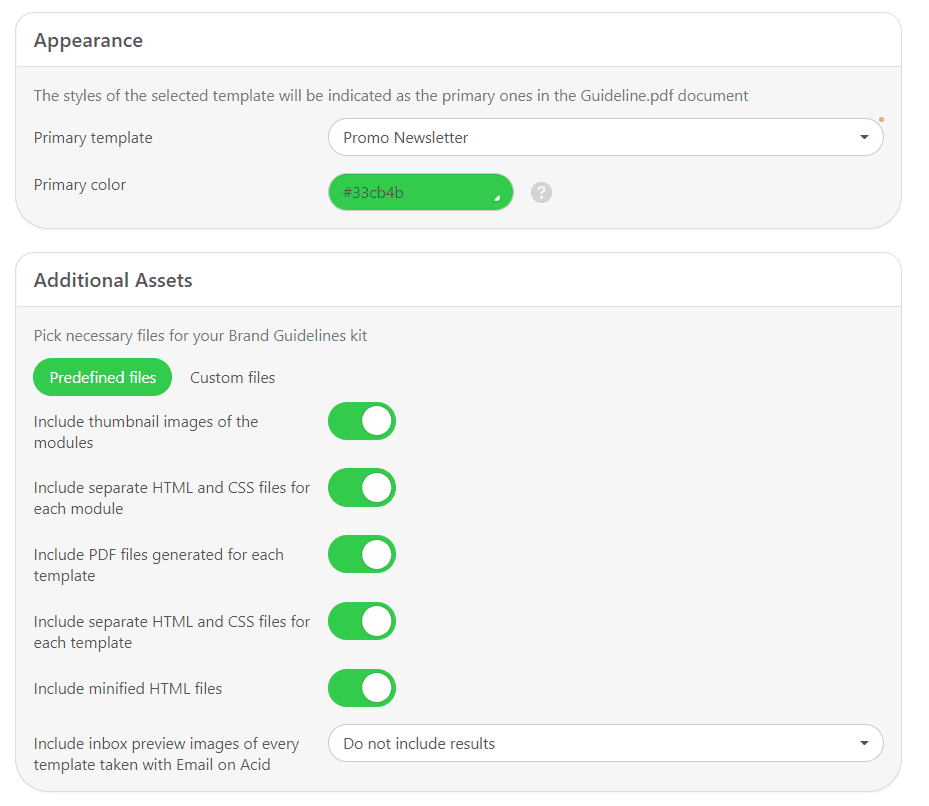 click the "Generate" button;

download your Brand Guidelines kit.
You are all set! Yeah, it's that easy :). Read this article to find more info on how to create branded email templates within a few clicks.
Wrapping up
The primary goal of email outreach is to contact potential website owners and influencers with great leadership in the needed marketing field. These outreach campaigns make use of backlinks. Thus it's very important to avoid broken link-building and set your cooperation only with trustworthy resources. Stripo will help your build attention-grabbing email templates to impress your cold contacts or potential business partners and motivate them to respond to your message.
Join over 1 000 000 users
Start with free email template builder — upgrade anytime