Design ideas for the St Valentine's Day newsletter templates
Here, we are sharing the most effective ways to jazz up your holiday emails:
1. Add interactive elements to your St Valentine's Day email templates
Interactive emails are one of the hottest trends of 2022.
You can implement an image rollover effect in your newsletters with ease.
To do so, just drag the "Image" block in your new St Valentine's Day HTML email template. Once you've uploaded your image, toggle the "image rollover effect", the system will ask you to upload the second image. That's it!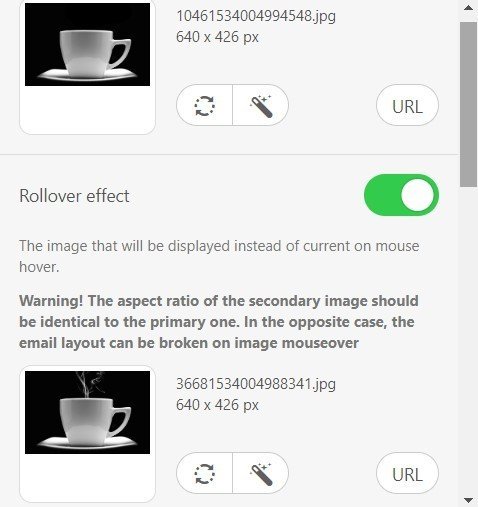 By using this option, you can create a perfect teaser email, you can also sort of "play" with recipients. For instance, hide the coupon behind the hearts. Or do quite the opposite — once recipients mouseover a heart, they will see the coupon or a wish!
2. Decorate banners
If you are not ready to utilize interactivity yet, you may spice up your St Valentine's Day email templates by building bright banners. Insert additional images, add festive frames over your banner images. This will make your Valentine's Day email design look way more festive. Also, by using the Stripo banner block, you can even place romantic poems over banner images. Wrap the former in a decorative banner font to make it complement the entire template.
3. Decorate headers and footers of your St Valentine's Day HTML email templates
You may run that type of business when bright banners are quite inappropriate. In this case, you may just spice up footers and headers with tiny hearts. By doing this, you'll let your clients know you are well aware of the upcoming holiday.

Be sure to add hearts to footers and headers of your promo emails only. Never decorate your transactional emails even for this season!
4. Add festive backgrounds
You think that decorating just the Valentine's Day email body is not enough. Add a festive background then. It will make the email design look complete.
5. Use videos in emails
Remember that funny video by Heineken from 2012? Some still admire and discuss it.
In case, your products are like Heineken's beer, or you are a SaaS, and you find hearts inappropriate, why not add some videos where you and your team just congratulate customers on this romantic holiday? Put love in the air!
6. Utilize custom fonts in emails
As the cherry on the cake, you may wrap all copy in your St Valentine's Day emails in a custom font. This will make your email more notable and way more romantic.
Jazz up your Valentine email templates with decorative fonts
Join Stripo
Final thoughts
You'll find many interesting ideas in our blog post dedicated to the most romantic holiday of all time. Here we've pulled together the most exciting examples for your inspiration. Implement them in our free St Valentine's newsletter templates — indulge your most demanding customers, stand out among other companies, and will save lots of time due to our work automation features.
Join over 700K users
Start for free — upgrade anytime