Valentine's Day is the perfect time to boost your business's promotional activity. Loving couples buy flowers and gifts, arrange surprises, and visit restaurants and cinemas.
It is a commercial holiday, so many shoppers are looking for the best presents online. Valentine's Day spending reached $23.9 billion in 2022, compared to $21.8 billion in 2021. According to National Retail Federation data, online continues to be the most popular shopping destination for Valentine's Day — 41% of Americans bought presents online in 2022.
However, Valentine's Day is not only an occasion to sell your products. It's also the perfect time for companies to express gratitude to their subscribers with a thoughtful Valentine's Day email campaign that strengthens their relationship.
Email campaign with a perfect Valentine's Day gift
On this day, you have the opportunity to come up with something interesting so that your Valentine's Day email and the profits from it don't pass you by.
Here are some ideas for you.
Valentine's Day email with a gift guide
You can create a gift guide as a little help for your email subscribers, where you can offer different options for purchase according to gender, age, hobby, budget, etc. Wouldn't you agree that options for a 25-year-old girl who is fond of dancing will be completely different from a 40-year-old man who likes hiking? :)
You can start sending this guide 2-3 weeks before Valentine's Day so that your customers have time to order presents and get them delivered.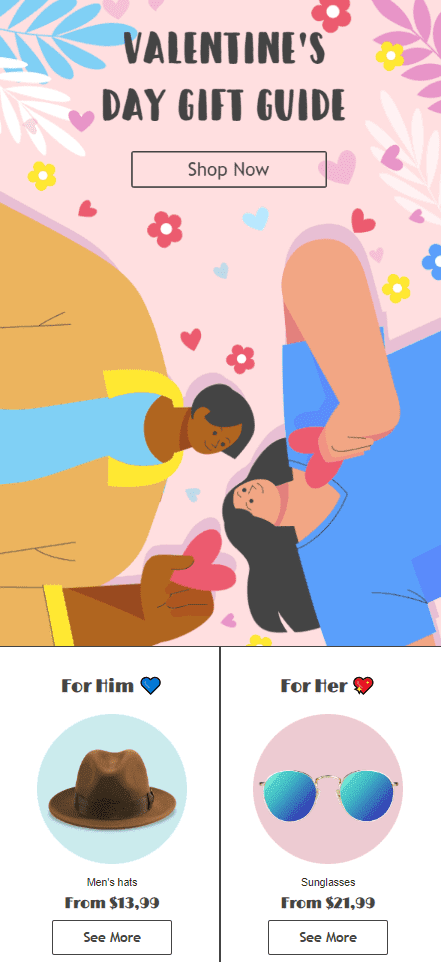 (Source: Stripo template)
These pre-Valentine's Day email templates help subscribers find the right gifts for everybody based on their interests. So make sure to customize your ideas by interests or budget and don't overwhelm shoppers with a long list of random products.
Valentine's Day email templates with invitations
If you run a café or a restaurant, you can send an email to your subscribers and invite them to visit your place. Dedicate this invitation to Valentine's Day to make it special. Offer visitors to treat themselves to a themed dinner night and encourage them to celebrate love.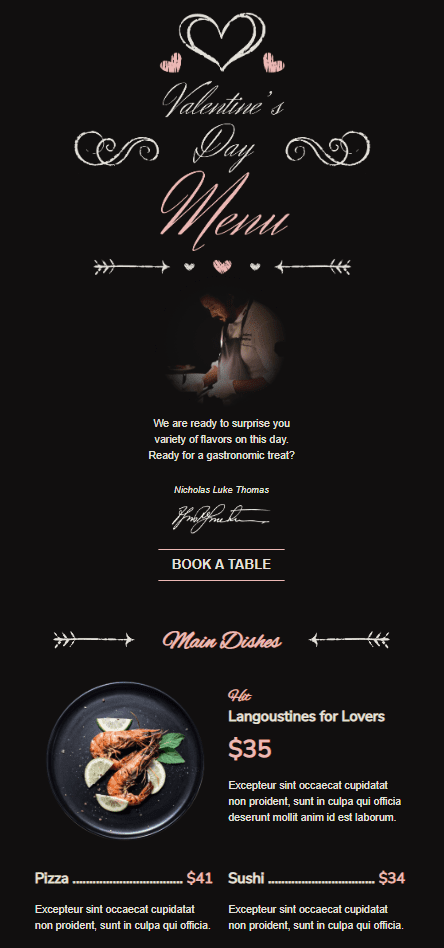 (Source: Stripo template)
Real-time booking for your Valentine's Day email campaign
Create an email template where you describe the benefits of celebrating Valentine's Day at your place — a SPA day, a special dinner at a restaurant, or a private movie session at the cinema.
In such a Valentine's Day email template, subscribers can choose the desired activity and book it directly from your email in just a couple of clicks. Such a reservation will be updated in real-time, and each customer will see available slots only.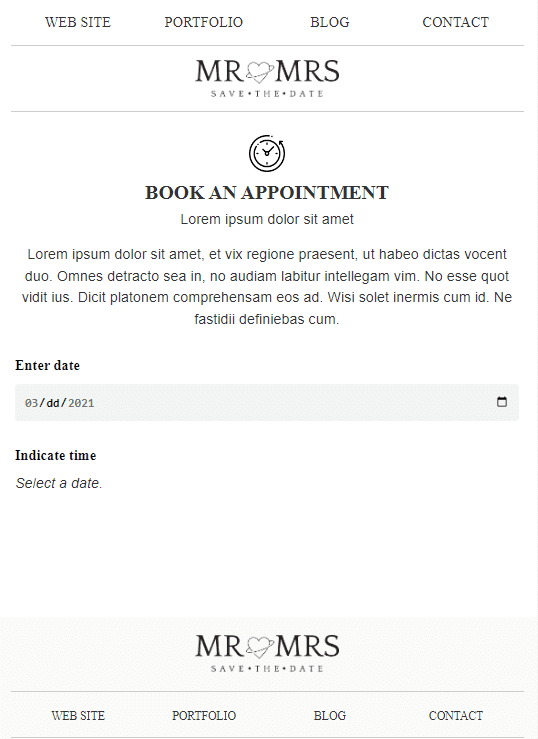 (Source: Stripo template)
If your business is related to the service sector, be sure to offer a discount for couples. Such a feature is available in the Stripo editor. You can read more about how to create one for your business in this article.
Gift cards in Valentine's Day email templates
Another fantastic idea is a gift card. First, it's always a great solution for last-minute shoppers who remembered about February 14th at the last moment. Secondly, in this case, a person will be able to choose exactly what they prefer.
When designing your email template and a gift card, think about colors. Guess how many emails there will be in a pink-and-red color scheme. Try to pick other colors for your email campaign. For instance, you can create a romantic palette by using white and gold colors.
Experience as a present for Valentine's Day to celebrate love
The new trend in the world of gifts is not material things, but emotions and unforgettable impressions.
If your business offers them — Valentine's Day is your prime time. A photo session for a couple, a visit to a quest room, which will definitely bring special emotions, a candy-making workshop in confectionery, and so on. These deals are a great way to celebrate Valentine's Day. Use them for inspiration!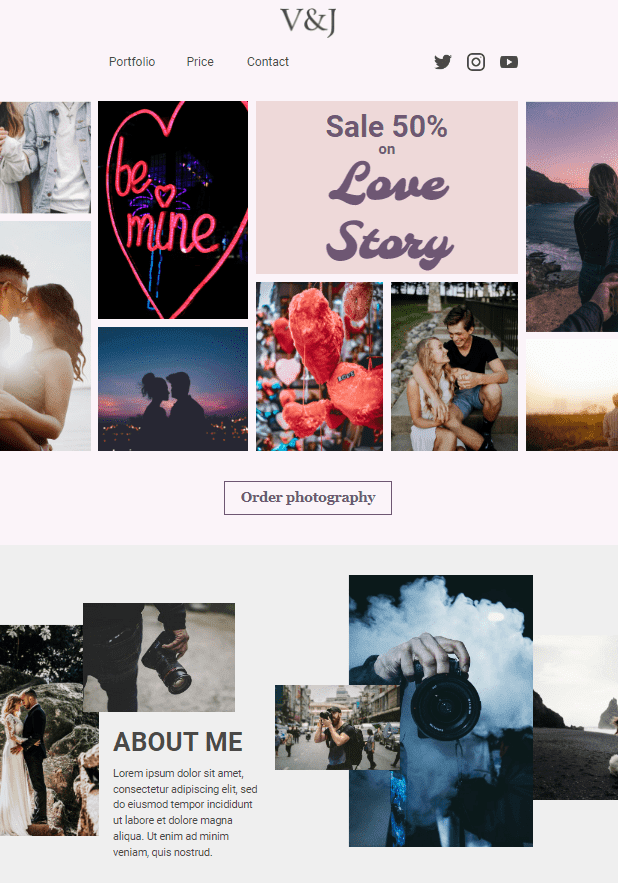 (Source: Stripo template)
If you don't provide these services, you may want to collaborate with a brand that does and thus offer your customers an extraordinary opportunity for Valentine's Day. Depending on what you sell or what services you offer, think about who you can partner with to give your customers something more.
Make this email bright — for example, add a video and create a subject line that will immediately draw customers' attention to your offer.
Love letter in Valentine's Day email templates
Valentine's Day is a perfect occasion to use an email to strengthen the relationship with customers and let them know you have what they're looking for.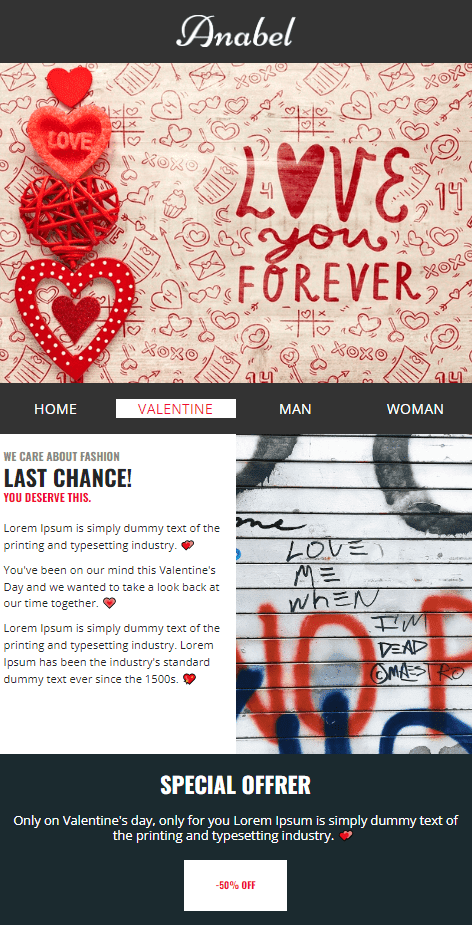 (Source: Stripo template)
Tell your customers how you appreciate them and their choices in your goods or services. Remind them about special purchases they made during the year. Thank customers for their trust and loyalty and offer a small discount. Send this great email to your customers, and don't forget to check the conversion after.
Valentine's Day email sale
You can make a sale or special 14% discount for certain goods. However, be careful when choosing products for your promo campaign. If it's something completely irrelevant or leftovers that have been lying around in your warehouse for a long time, the trust of buyers will come to an end. It is better to choose those things that are suitable for the season and appropriate for the event.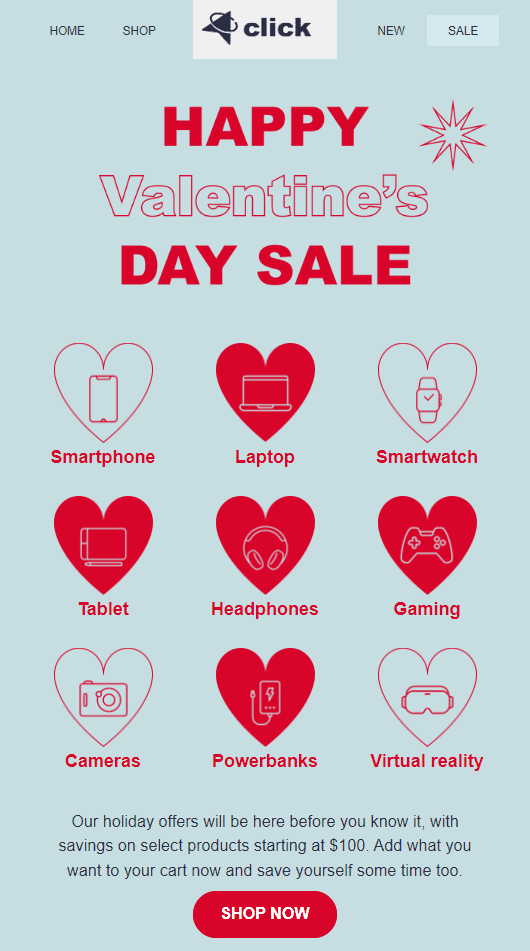 (Source: Stripo template)
Landing pages to promote your Valentine's Day email marketing campaign
Create a landing page for Valentine's Day where your customers can write a little love letter or do any other DIY ideas. You can send an email leading to it. On this page, you can also share stories that your clients tell about your brand on social networks. Come up with a unique hashtag and benefit from user-generated content on Valentine's Day.
Design ideas for the St. Valentine's Day email templates
Take a look at the most effective ways to jazz up your holiday emails:
1. Add interactive elements to your St Valentine's Day email templates
Interactive elements in email templates are one of the most relevant email marketing trends.
You can use an image rollover effect in your newsletters. It will enable you to show products from different angles, demonstrate a close-up, draw attention to CTA buttons, and more. For example, hide various discounts behind hearts or other graphic details. Or vice versa — by hovering over the heart, readers will see a discount or a greeting.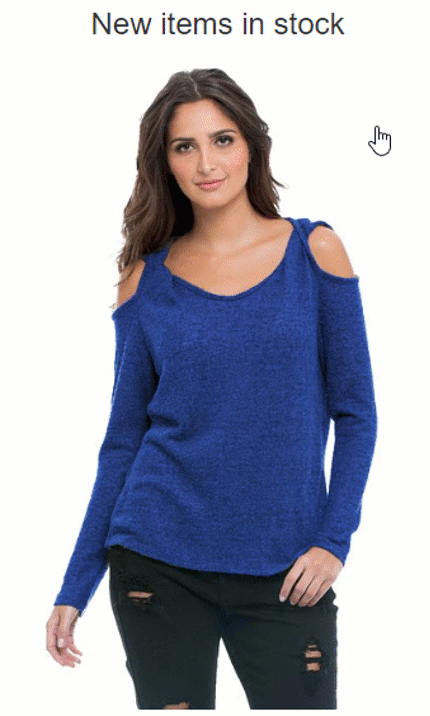 2. Decorate St. Valentine's Day email banners
Besides using interactive elements, you make your Valentine's Day email special with expressive banners. Decorate a banner with images and bright frames and add some hearts or roses to spread the festive vibes.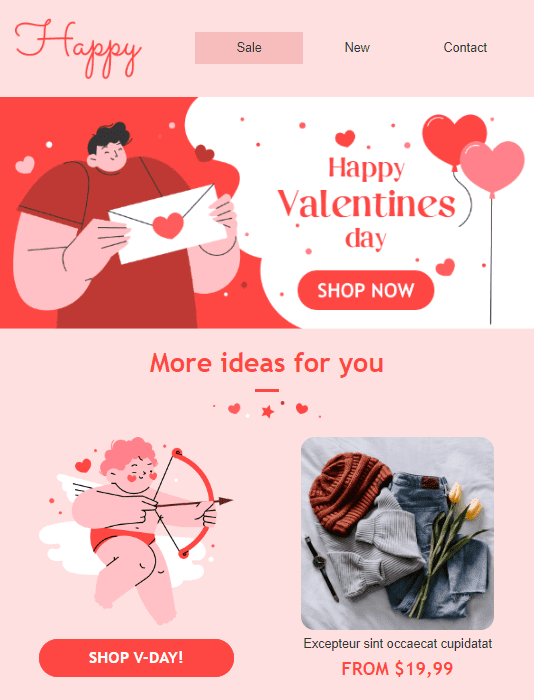 (Source: Stripo template)
With the Stripo's "Banner" block, you can even write a poem over the image. Don't forget to add a custom font to match your email template.
3. Decorate the headers and footers of your St. Valentine's Day email templates
If you prefer a more moderate and conservative design, you can slightly highlight headers and footers instead of decorating the entire email. Add some tiny hearts or glitter to spread the romantic mood. This unexpected gesture will surprise your loyal readers.
(Source: Stripo template)
4. Add festive backgrounds to St. Valentine's Day email templates
If decorating footers and headers and adding banners is not enough for you, you can also go for a festive background.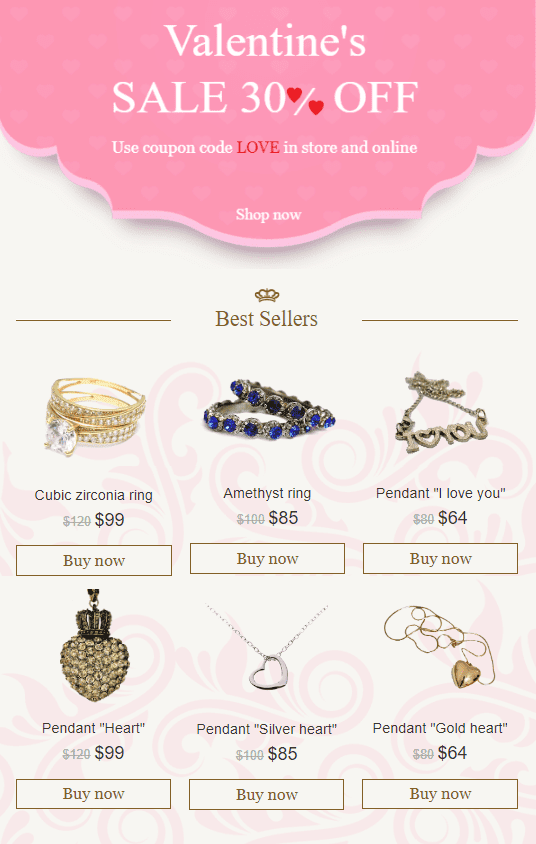 (Source: Stripo template)
Design it in your brand colors or put a thematic image. This will make your Valentine's Day email templates vivid and memorable. Remember that email marketing is also about being visible and recognizable.
5. Use videos in St. Valentine's Day emails
If you don't like hearts and sparkles, add a video to your email template. It can be a video where you and your colleagues greet customers, some non-romantic video about friendship, or love for animals or children.
After all, Valentine's Day emails are not only about love or gifts for partners. Give your recipients smiles and fun, and make customers feel joy and gratitude.
6. Utilize custom fonts in Valentine's Day emails
You can add custom fonts to your Valentine's Day emails. Choose soft italics if the email is written in the form of a love letter. Or a font that looks like a 1950s newspaper if you have a stylized restaurant.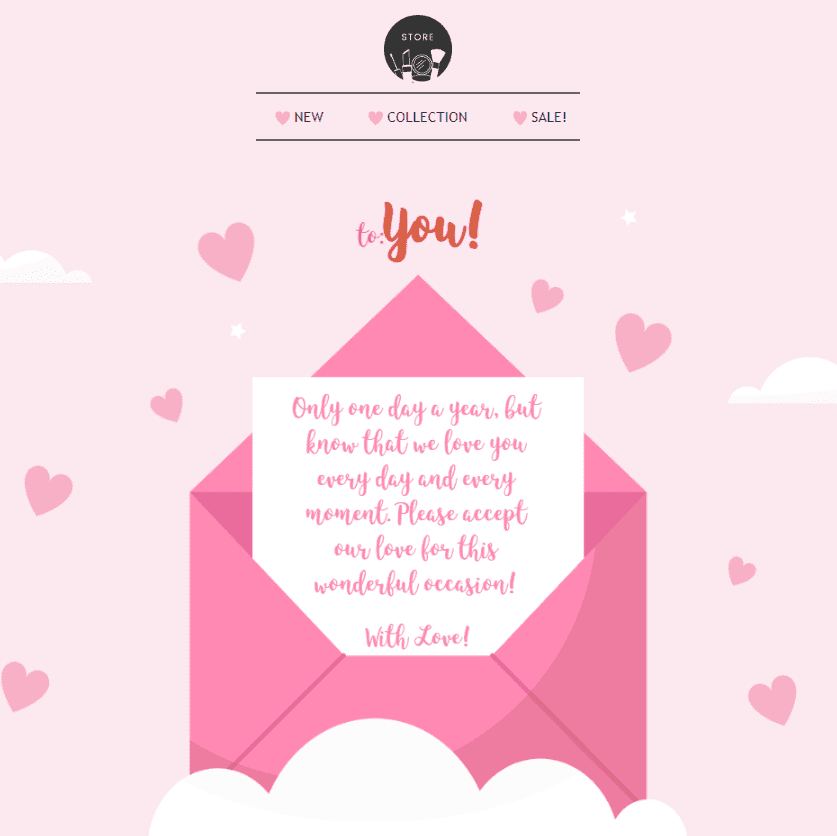 (Source: Stripo template)
With the help of special fonts, you will be able to stand out and make your Valentine's Day sale successful.
Wrapping up
Here you will find many ideas and ready-to-use Valentine's Day email templates. Use these tips to create catchy Valentine's Day email templates — gain your subscribers' attention, stand out from the crowd, and generate higher revenue with the help of email marketing.
Join over 1 000 000 users
Start with free email template builder — upgrade anytime