Stripo will come in handy for your holiday email marketing, whether it's Cyber Monday, Merry Christmas, or a spooky Halloween email template. Holiday emails should be colorful and gamified, but they should also include a unique and valuable offer for your recipients. Let's look at how to make your holiday email templates more appealing and responsive ;).
Why should you send holiday emails?
The holiday season is ideal for festive emails with a special offer, a fantastic holiday discount, and a greeting message. Send holiday email campaigns to your subscribers to show the amazing deals and value you're providing, especially during the festive season.
How can you make your free holiday email templates more appealing?
Spread the holiday spirit with the respective decorative elements! Holiday email templates are brighter and more festive than regular ones. To emphasize the positive attitude, use special holiday emoji in the subject line.
Then, when someone clicks on your email subject, the first thing they see is a banner with the main message of your email. As a result, banners must be both appealing and informative. Change your regular font to a decorative one, use holiday colors, and include relevant images, GIFs, or videos.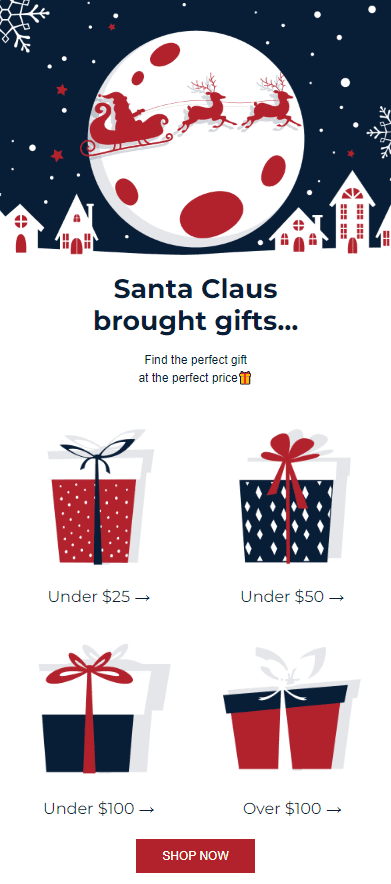 (Source: Stripo template)
Analyze and vary your holiday marketing campaigns for the continual excitement of your consumers. During the holiday season, it's vital to make some special offers for your clients to show them your loyalty and appreciation. And it's always a pleasure to get your orders delivered for free, isn't it?
Hence you are always welcome to mention it in a separate line of your email template: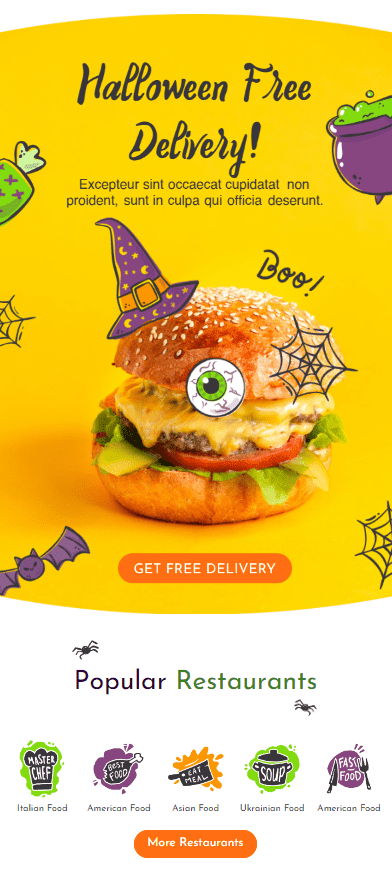 (Source: Stripo template)
Share the relevant holiday products or ideas
Depending on your industry, it's vital to provide some useful information for your subscribers. You can link the holiday myth to your products or service, share some facts, or make a holiday catalog of the appropriate items from your store. You choose to be serious or funny, but helpful information will always be appreciated!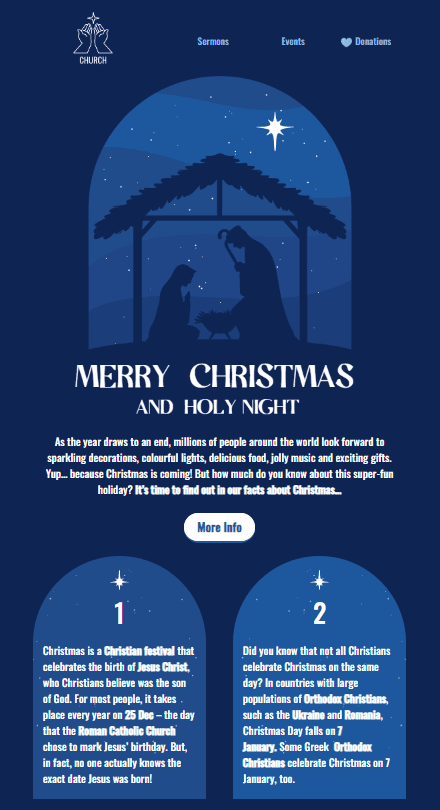 (Source: Stripo template)
Whether you want to tell recipients about a holiday history and connect it to your business or create a special festive collection of your products — both ideas will suit your holiday email template.
(Source: Stripo template)
Announce a special lottery
Everyone enjoys receiving something for the holiday season! Aside from the fact that your subscribers might get something special for free, the thrill of succeeding in any sort of lottery is a win-win strategy. This can benefit your email campaign in a variety of ways. Customers will try again and again to win their prizes and share your email with friends.
Such email campaigns will work for the Cyber Monday sale, Black Friday email templates, Halloween email templates, and all of the winter holidays.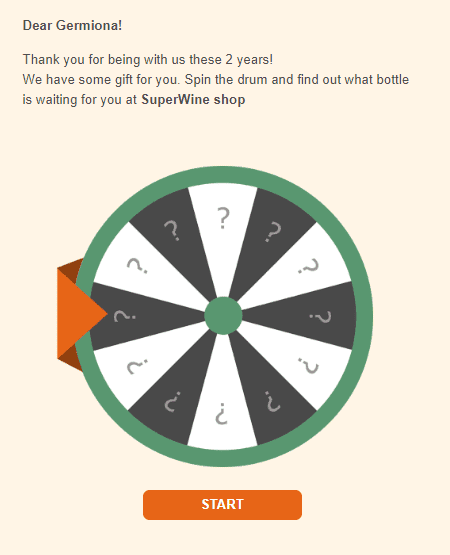 (Source: Stripo template)
Recall your past achievements together
All of your marketing efforts and triumphs should not go unnoticed. Mention in your holiday email templates what you and your customers had gone through the past year, what had changed, what did they purchase with you, or how much time they spent with your services — any statistic will be beneficial for your business. Write down all the numbers and let Stripo help you with email designs.
(Source: Stripo template)
Stripo features to make your holiday emails flawless:
1. Gamification
Everyone is looking for joy in emails during the holidays. Gamification is a great entertaining option for your holiday emails. Creating some miracles for your recipients is useful for your holiday email marketing and enjoyable for them.
However, the best practice is to offer your customers the opportunity to win something by playing a short thematic game. It will raise your brand awareness and boost ROI. Customers will forward interesting emails to their friends and family, making them viral and memorable. Hence make beautiful holiday email campaigns with a gamified gift guide email template: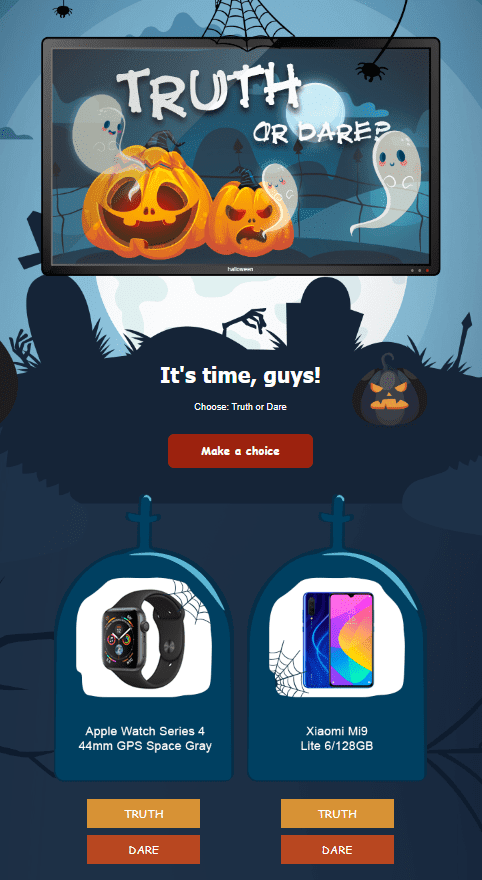 (Source: Stripo template)
2. Email header design
The email header is the first thing your recipient will notice about your message. And if your email header doesn't grab their attention, why open your holiday email template?
The newsletter header section consists of three essential parts:
sender information;
the subject line and preheader;
email header itself.
Needless to say, working on your subject line and preheader is crucial. The more interesting they are, the higher your CTR will be in the end. You can set them up in your ESP, but we have such options in Stripo for your convenience: just click the "Settings" button above the template and fill in the subject line along with the preheader text: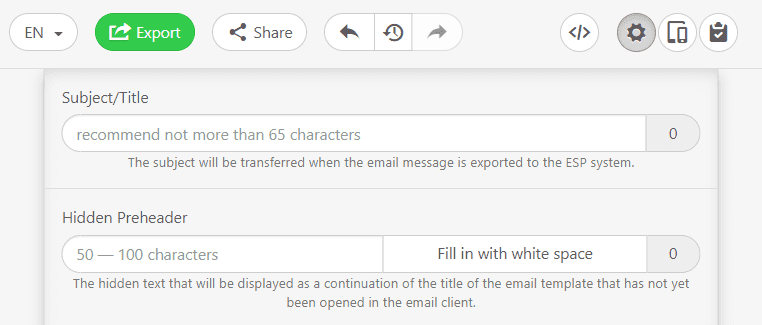 3. Countdown timers
When a subscriber sees a letter with a timer, they feel a sense of urgency. An automatic countdown timer encourages the reader to take the desired target action as fast as possible.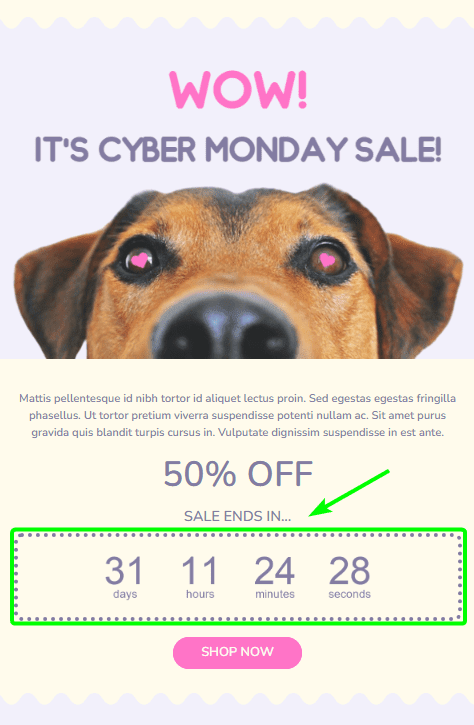 (Source: Stripo template)
You can do it in our editor as well :). Go to the "Content" section, then click on "Blocks", find the "Timer" block, and drag it over the necessary container of your email template.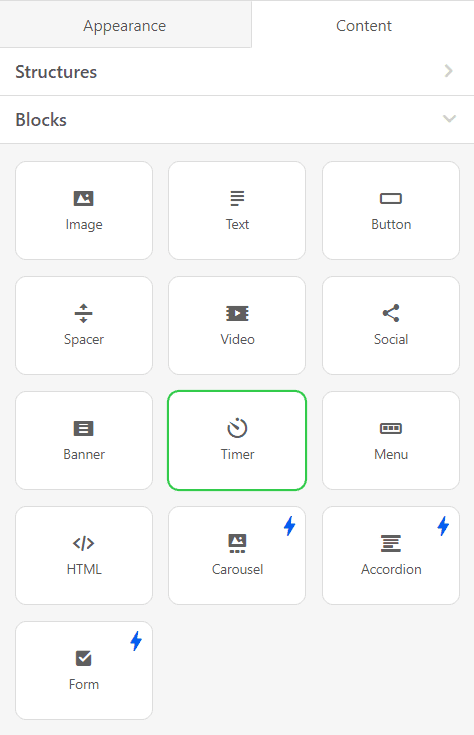 Then enter the end date and time. Remember to select the correct time zone. Of course, you can change the fonts and colors.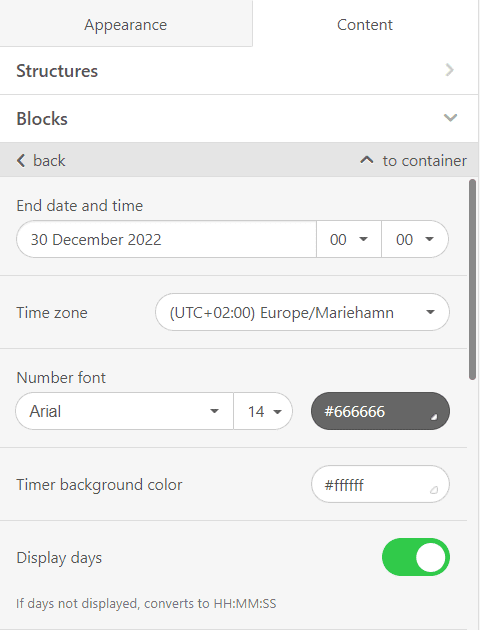 4. Animated GIFs for holiday email campaigns
GIFs in emails grab subscribers' attention, evoke positive emotions, and can quickly express the main concepts of your email template.
Images have far more impact than words alone. They evoke emotion almost immediately, and even these days, you don't usually expect to receive a GIF animation via email. This surprise point works on your brand identity in a highly efficient manner that does not consume too much of your readers' time.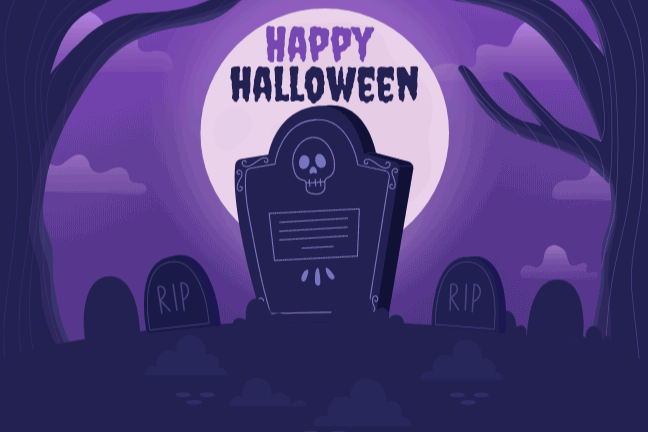 (Source: Stripo template)
You can diversify your holiday email templates by uploading GIFs straight to your email template: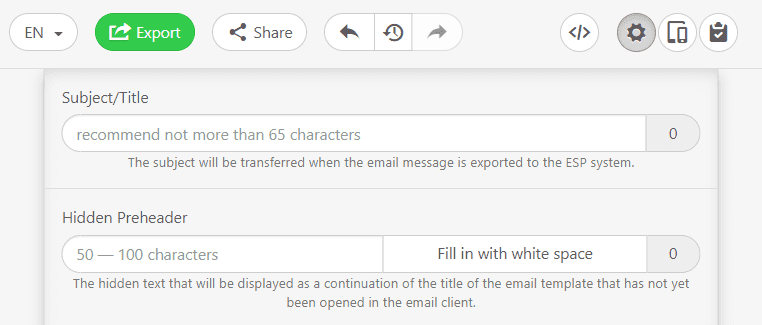 5. Customized promo codes
Find out how your brand can be associated with the upcoming holiday, make up stories for your marketing campaigns, and motivate your recipients to buy your product or service. Who wouldn't melt after a magical story and a special promo? Improve your holiday sales with a coupon code to increase CTR and drive revenue.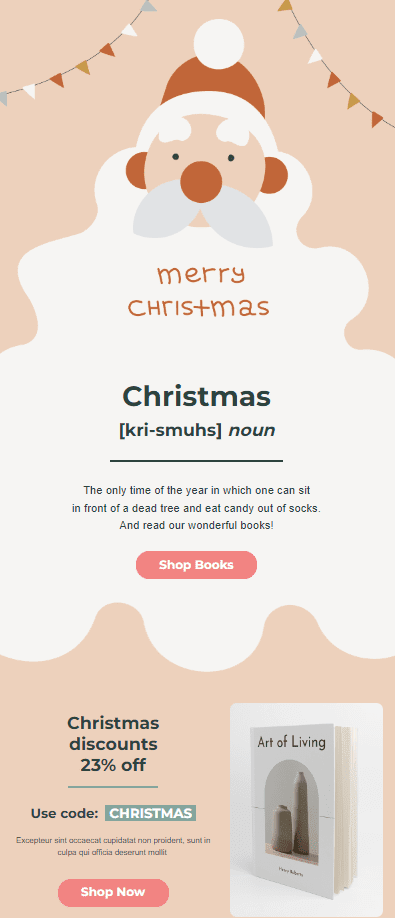 (Source: Stripo template)
Wrapping up
Feel the holiday season and share it with your customers through email marketing! Whether you are looking for vivid Cyber Monday email templates or want to wish your subscribers Happy Thanksgiving, we are here to help! Check Stripo's free holiday email templates and make the best use of them ;). Dive into our template gallery for nice holiday campaigns, marketing tips, gift ideas, and free templates.
Join over 800K users
Start for free — upgrade anytime