Halloween is an increasingly popular holiday all around the globe. Every year on October 31st, it comes back to bite us. As a result, consumers are in a boozy spending mood, so every company tries to hog the blanket this holiday season. Stripo will gladly share with you some Halloween sales tips through the email campaigns.
1. Utilize Gmail Promotion Annotations
An annotation is a method of emphasizing your emails in the Gmail Promotions tab by applying important information to them.
Why is it significant to have it? Because this text appears as a preheader (actually straight after the subject line) in your email and because of the annotations in Gmail promo tabs, your subscribers will be aware of the offers, discounts, and pricing that you offer far before they open your emails. By utilizing it correctly you will increase Halloween sales and save time for your readers.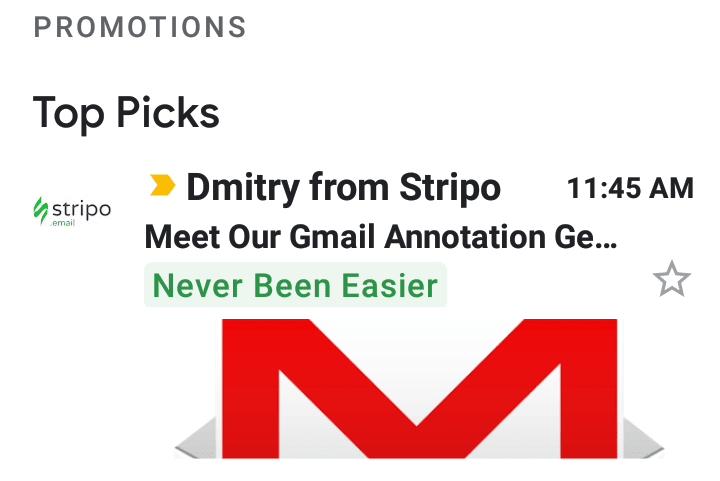 What represents an annotation?
You may include any information that appears to be useful about the current product offer; however, we recommend that you include the following:
brand logo with company name;
subject;
deal badge;
coupon code with expiration date mentioned.
We understand that deciding what to include in your Halloween emails' annotation and how to customize them can be difficult. But don't worry, Stripo will provide you with a ready-to-use Gmail Promotion Annotations Builder.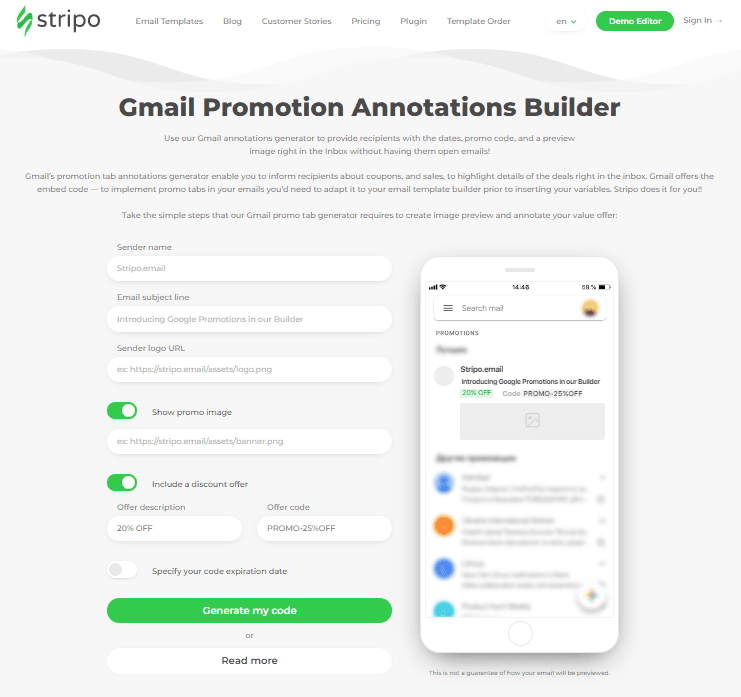 So your Halloween campaigns will be at the top of the list ;). Still uncertain? Try it out for free by following the link.
2. Design email header
The email header creates your first massive impression on the audience. Show the real spooky vibe and grab the whole attention of your subscribers straight in subject lines. However, keep in mind that the email header contains far more than just a fun and catchy subject; it also includes sender information, message preheader, and the header itself.
Let's check each part precisely now, as you might know, the devil is in the details ;).
So, the sender information is typically composed of:
the sender's name;

the name of the recipient;

the "from" email address;

the "reply-to" address;

date;

optionally you can insert your website logo.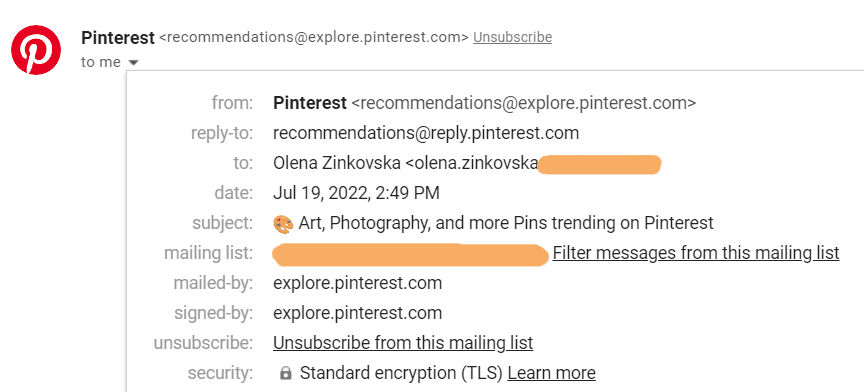 A Subject line along with the company name is the reason your recipients open your emails.
47% of your recipients decide whether to read an email based solely on the subject line, and 69% send emails to the spam folder for the same reason, making it critical to create a unique wording full of Halloween spirit and nice business offer straight in your email title.

Make a scary good deal in your title your Halloween email strategy's strongest point.
Preheader or preview text informs customers of the email's cause.
It appears after the dash "-" in the subject line on desktops, and below the subject line on mobiles. Notify your consumers about what they can expect in the extended version of the email campaign.
Set an email template preheader with Stripo via 2 clicks by entering a subject line and preheader text by clicking the "settings" button above the template:
And here are some Stripo tricks, but shh, don't tell anyone ;).
add the "My Account" button so that your subscribers can continue using Stripo/your tool by pressing it:
Apply the "Do it now" option
"(Do smth) now" is a great CTA button because it literally inspires your consumers to take some actions. Especially cool to use it with discount codes within your Halloween email campaigns.
Use GIFs for Halloween email campaigns
These nimble images have taken over the world of email marketing. They are more interesting than static images and weigh less than videos. I'm sure you guessed by now that we're talking about GIFs.
Why are GIFs used in emails? Because they are eye-catchy, credible, and ROI-enhance tools.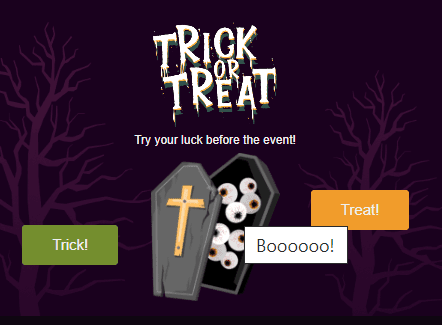 As an alternative, you can use the rollover effect: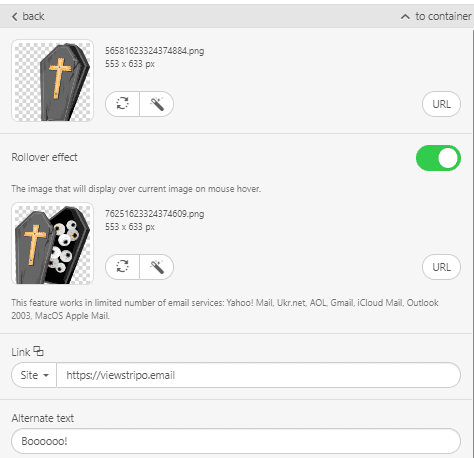 Alternatively, you can upload the existed GIF straight to your Halloween template: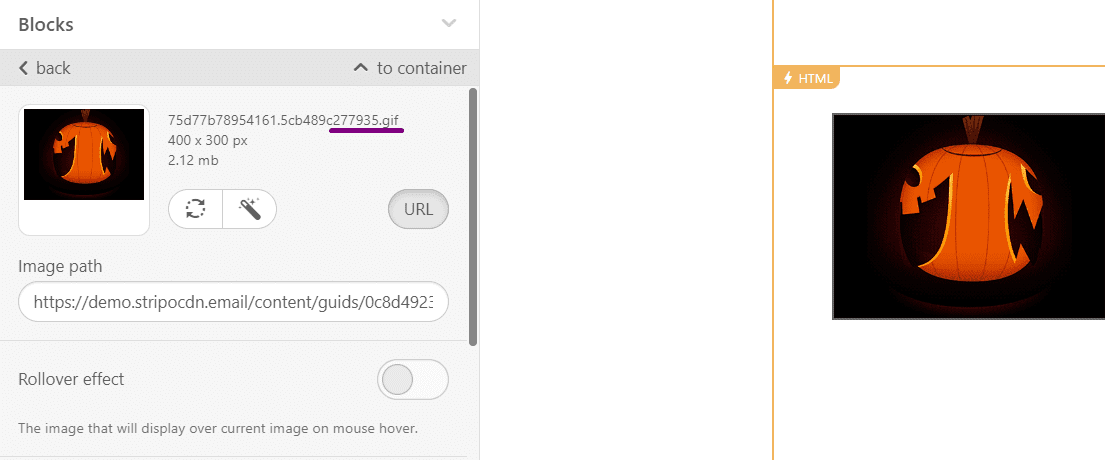 Add some bright colors and details, customize your landing page with the Halloween GIFs - bring some fun to your audience via email decorations. But do not exaggerate as even the most beautiful emails shall initially rely on sales points ;).
Design coupons
Email marketing coupons are what they sound like. They are online vouchers that you can send to your audience as a discount limited offer on a specific product or occasion as well as an overall purchase. Email coupons are one of the most effective methods for involving your audience and boosting sales.
Why should you use email coupons and promo codes?
Email marketing has such a high ROI because customers react effectively to email-based promotional offers, especially those with discounts and coupons. Moreover, promo codes can increase your brand awareness, and build loyalty with the existing clients as well as attract newcomers.
Implement email coupons as:
All treats, no tricks special offers

Who doesn't like discounts? Let us agree that if we get a good deal, we can even buy something that isn't necessary for us. So create such an offer to your consumers and take full advantage afterward!


Time-limited offers

Use a limited-time offer to amuse consumers' fear of missing. Offering an email coupon that is only valid for a limited time taps into human psychology, causing us to act quickly. Make a discount code that is accurate only upon specific timeframes.


BOGO (buy one, get one for free)

A BOGO (buy one, get one free) coupon or discount benefits customers by providing them with a free or discounted second ( third, etc) item. During the deciding phase, sending an email with a complementary product can be a beneficial way of attracting prospective users. It may lure them to visit your site or make an online purchase that they would not have made if they had not received such an offer.


Free shipping offer

Shipping costs might be unbelievably high, that's why the free shipping option is always a heartbreaker and good sales booster.

Write a pre-header text in a halloween email template
The email preheader is the first piece of info that shows up in an inbox just below the sender and the subject line. It appears above the header in the body of an email; that's because the preheader literally emails preview text. But in fact, a preheader is a continuation of the subject line.
Every email user has a character limit for the number of letters that can be displayed in an email subject line. Gmail, for instance, can show up to 70 characters on the PC and around 30 on mobile, whilst Yahoo Mail can only display 46 characters on the desktop. As a result, a preheader equals a noticeable summary.

You can try to trigger your readers with questions or emojis. But if your email already gets right to the point and you have nothing to say in the preheader, you can leave it blank. Simply go to the email settings and click the "Fill in with space" button.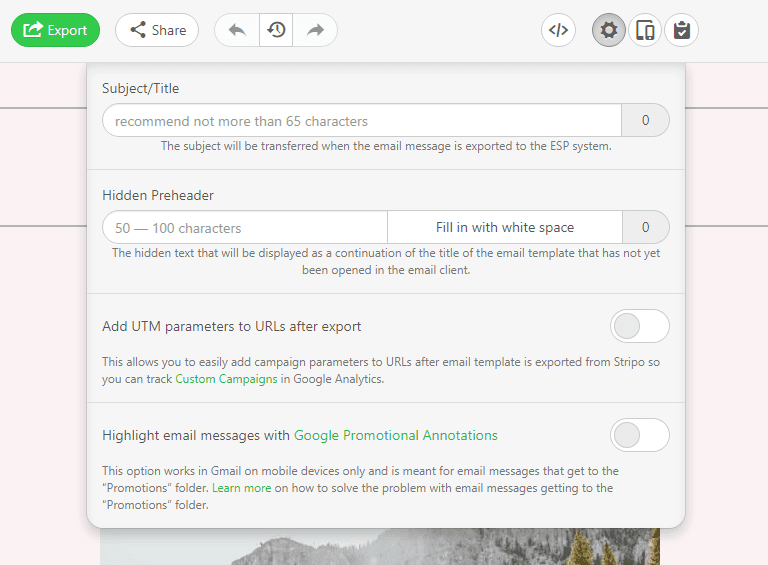 Festive banners in Halloween emails
Banners are the essence of all Halloween newsletter templates. If they are catchy enough, the chances that recipients will scroll down are high enough.
When we are speaking about Halloween, it is not necessary to add photos of products to banners. It can be anything: an image of a witch flying on her groom, pumpkins, mysterious cats, thunder over woods, etc.
On top of this banner image, you are welcome to place the details of your sales.
Wrap that in any decorative font.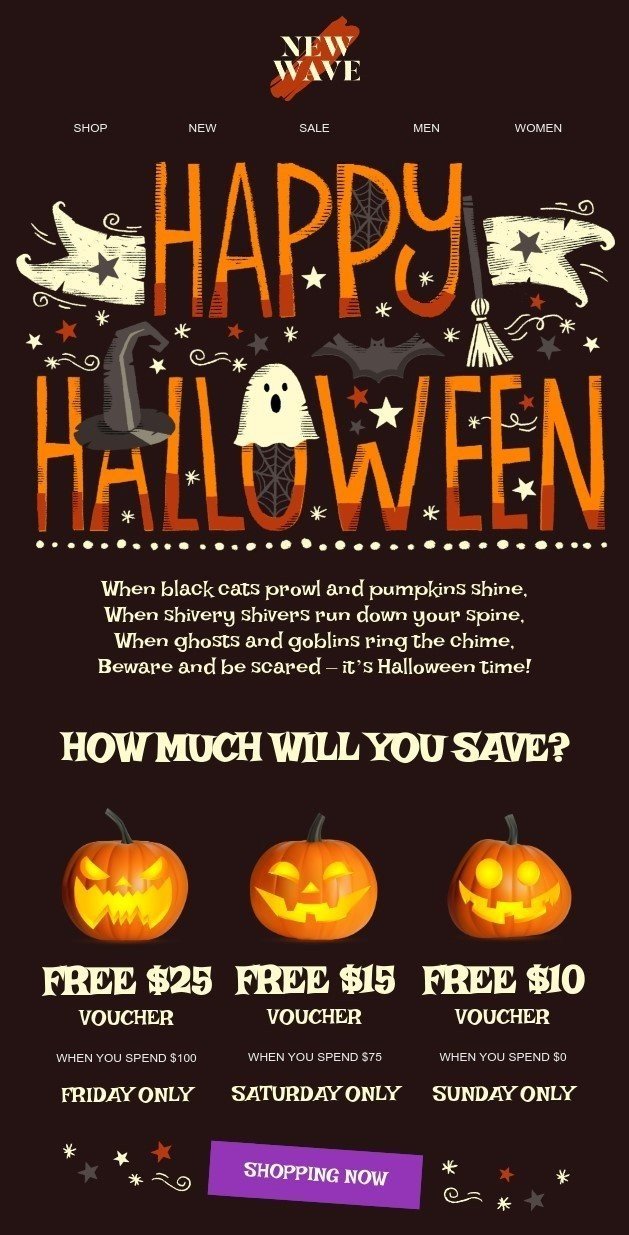 Backgrounds and decorative elements in Halloween email templates
A bright banner is enough to convince customers to scroll down. But a decorative "spooky" background or element will add some holiday spirit to an entire email campaign.
Remember that Stripo allows adding backgrounds to individual containers, and structures, and to entire free Halloween newsletter templates.
As for the decorative elements in the Halloween email template, you can add them in between logical sections in emails.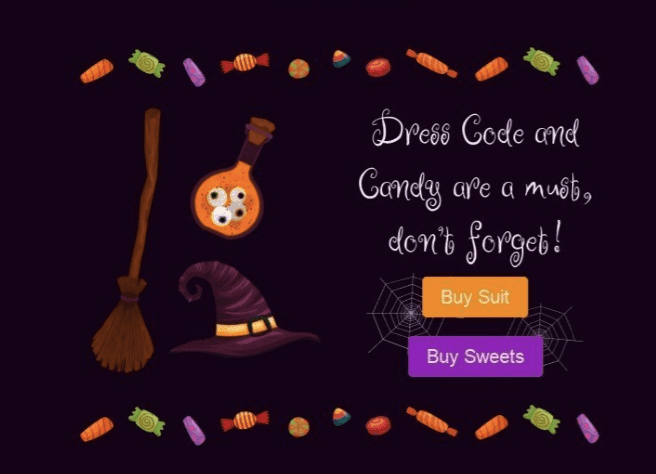 Countdown timers for a Halloween newsletter
Add countdown timers in your Halloween email template to let customers know how soon the sale expires.
Yet, with Stripo, you can also add an "Expired timer image".
It can be anything.
McDonald's used a hand of the skeleton which held a sign in his hand; the sign said, "Poof! Trick. Treat. Win! Is Gone".
This was really unusual, and, no wonder, it was widely discussed on email geeks forums.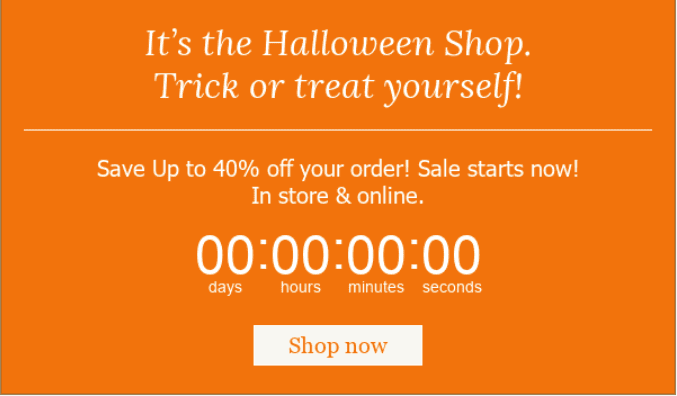 (Source: Email from McDonald's)
Add timers to your Halloween newsletter templates with no coding skills
Join Stripo
Gamification
Gamification in emails is something people are looking for during the holidays.
You can apply a rollover effect to product snippets in Halloween HTML email templates.
You can, say, hide discounts behind pumpkins. Or else, you can hide GIFs of ghosts behind some product snippets.
It could be funny. Maybe it will not improve your CTR, but will definitely have a positive impact on your brand virality. Customers will share engaging emails with their friends.
For instance, in 2020 on Halloween Stripo asked its users to play a game: Users were supposed to catch Spam emails. The amount of the discount for annual subscriptions depended on the number of emails users had caught.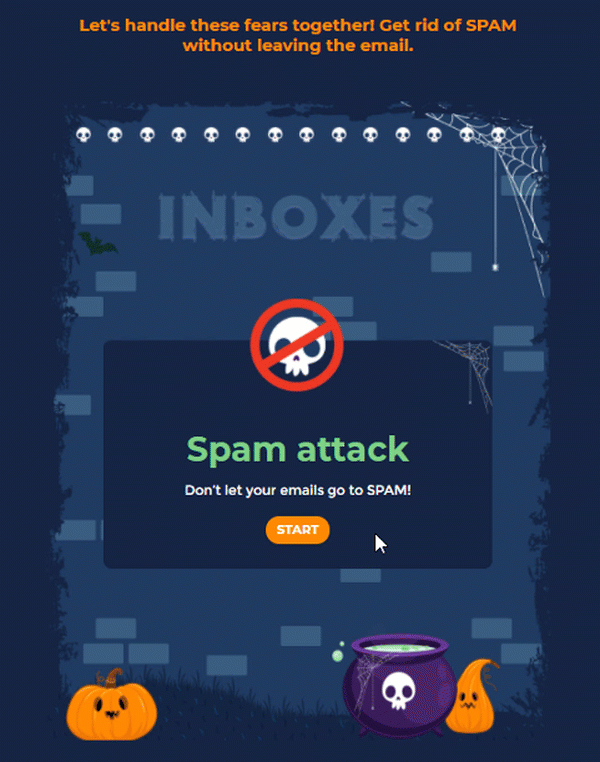 Word of advice
Halloween is a holiday when you are welcome to use all your rich imagination and implement your weirdest ideas. And Halloween email design matters a lot.
Prior to sending your Halloween newsletter over to recipients, be sure to test your emails with our embedded email testing tool.
Please refer to our blog post for more ideas.
Use our prebuilt free Halloween Email templates to build powerful holiday newsletters in no time
Celebrate Halloween with Stripo editor.
Join over 900K users
Start for free — upgrade anytime