Spring Email templates ought to be a much-needed refresher. They are empowering. These days the audience is aching for warm and bright plans that envoy changes in temperament, life & stereotype environment. Everybody anticipates something great, so it's really important to give your contacts what they need by utilizing perfect email templates.
How about we plunge into the enchantment of Spring email templates and give you the best supportive tips and ideas that can make your email campaigning efforts thrive and bloom.
When it comes to such warm and awakening after winter dream season, and you are crafting a new campaign, pay close attention to Spring email design. Additionally, these emails will in general produce about 15% more income than conventional messages, as you have a wide range of chances to contact your endorsers.
Best samples of spring email templates — a game changer
Other than the undeniable occasions like Mother's Day Stripo likewise provides exciting templates for such holidays like Memorial Day, Easter and Women's Day and many more.
These things give the audience the chance to change their way of life, take on another side interest, or revamp a home venture.
Spring email template examples
Before you browse out some motivation thoughts, you should realize how to make a mission that spikes your supporter's consideration.
Design your unique spring emails with Stripo
While many people can identify with springtime occasions and subjects, that doesn't mean you can disregard personalization. Your followers are for the most part unique, in attributes as well as in area, innovation, and conduct.
Use innovative spring email design patterns or symbolism
Spring is the ideal opportunity to investigate your present email templates and discover approaches to revive it with forthcoming patterns.
The more captivating emails you make, the chances to attract new subscribers.
Offer discounts in spring email templates
In case you're hoping to increase traffic through email marketing, incorporate a motivator that can help convert your endorsers into clients.
A lot of shoppers will buy from another brand on the off chance that they get a markdown code, and almost 57% of buyers are affected to hasty purchase with a rebate code.
You can remember the accompanying motivating forces for your spring email templates:
one-month free subscription;
reward points;
coupons;
first-time free shipping;
hidden gifts through scratch cards.
With Stripo builder you're able to create an appealing coupon in several minutes:
Step 1. Adjust Banner block in emails
The initial step is to adjust the Banner block in your email. The choice is yours, it can be dropped at any place you need in your template. In any case, typically according to email design standards, banners go just after the header (logo) of your email.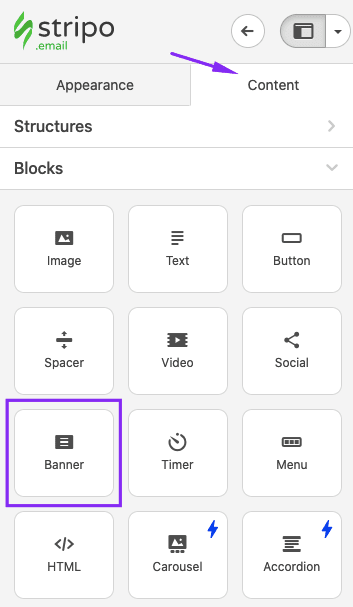 Step 2. Upload pictures
There are 4 different ways to add pictures to your messages with the help of Stripo:
Dragging pictures into the "Banner" area.
Embedding — glue outer connection to a picture that closes in .jpg & .png.
Utilizing one from our collection — click the "Stock" symbol and pick a picture you like from many of our accessible totally free pictures.
Utilizing one from your past emails — click the "Email" symbol and select any picture that you have recently utilized.
Step 3. Add text over pictures
to utilize the latter, see over the HTML email layout that you are currently building, in the settings bar, one can see the "text" symbol;
click on it to initiate. Choose where you want to place the text on the banner image; set the textual style type, text size, and its color, and so on.
Final thoughts
As the Spring season commences, you should make a seasonal schedule to grasp the imagination to bring new subscribers to the table. In case you're currently sending regular/usual emails to your contacts, try to utilize seasonal email templates that astound your audience.
To make your email campaigning worth users' attention, remember to:
Fragment your spring email templates depending on your endorser's area to grow more customized targeted groups.
Spruce up your email plan and symbolism with the latest trends.
Utilize promotional offers to steadfast new clients.
Ready to create your Spring email with Stripo?
Join over 950K users
Start for free — upgrade anytime