When it comes to SaaS products, email marketing communication is crucial for interacting with clients, increasing sales, and building lasting customer retention. If you want your SaaS sales email templates to have the most possible impact, you need to design emails that will really speak to your audience.
Here are a few tips for creating successful SaaS email marketing templates
From the subject line to the friendly tone of voice, there are many factors to consider when writing an effective SaaS email template to keep recipients interested, convey the email copy effectively to potential customers, and motivate them to act.
1. Come up with a catchy subject line
Your email's first impression starts with the subject line, ultimately impacting whether the message is opened. Create an intriguing subject line that compels the reader to click through to the email.
2. Focus on the target audience
The key to successful communication is knowing who you're talking to and creating a personalized email template for the right person. Focus your emails on their needs, problems, and goals. Highlight the benefits your SaaS product features will offer to their unique scenario using language and examples that will resonate with them even through outreach emails.
3. Keep your tone of voice professional yet friendly
Keep your emails professional, but add some warmth and wit to make them more personable. Ensure your email template is easy to read and understand while being useful and interesting. As a result, you'll get higher conversion rates, more leads, and more deals.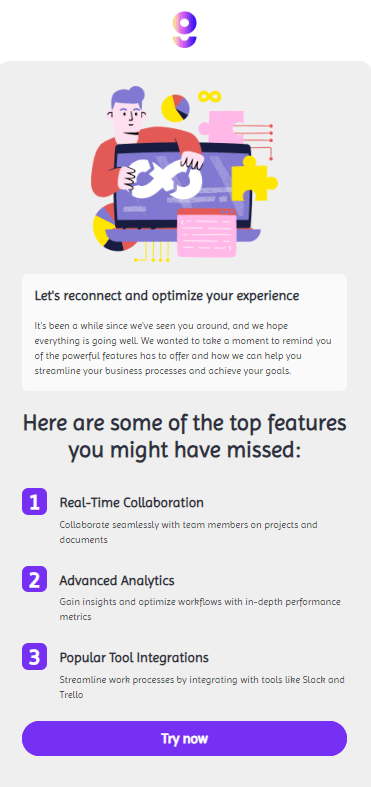 4. Work on a clear and concise email body
The body of your email should be straightforward and to the point, as people's attention spans are short. Improve readability by using brief paragraphs, bullet points, and headings. Give them data and a value proposition, and customer engagement will hit a new level.
5. Provide some information about your company
Highlighting awards, accomplishments, social proof, or famous clients is the right direction to demonstrate your competence and credibility. However, keep this part brief so that it doesn't distract recipients from the main purpose of email campaigns.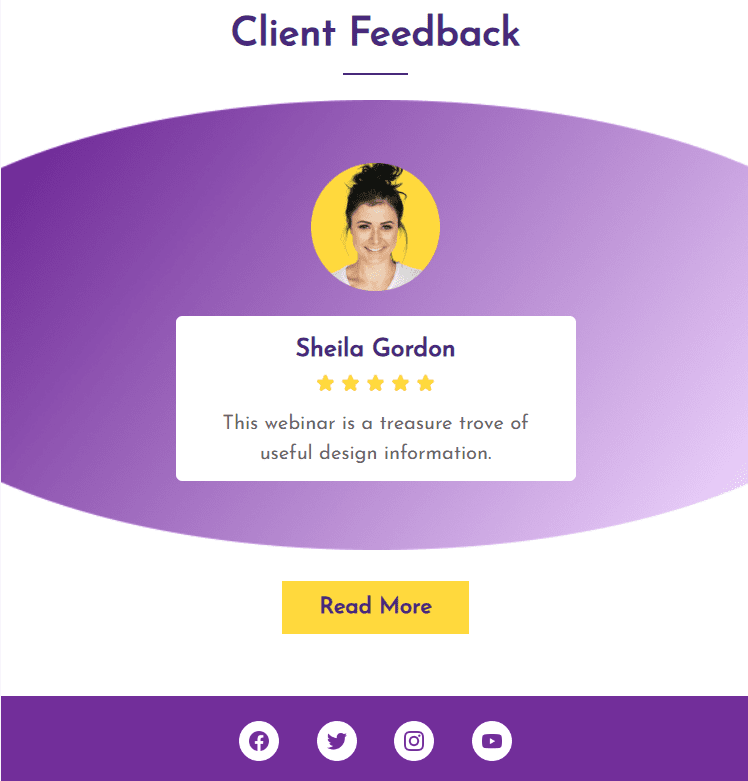 6. Use a single call-to-action per email template
You should only include one CTA (though several buttons) for each email template to increase click-throughs, whether you're trying to get them to hit reply, schedule a demo, make a purchase, or sign up for a free trial or an annual plan.
7. Make your emails personalized
Establishing meaningful connections with clients requires an emphasis on personalized email marketing. Send emails to specific groups of customers based on their interests and requirements using data and segmentation.
SaaS email template examples
Let's explore a collection of SaaS email templates that cover various stages of the customer journey, from welcoming new users to announcing product updates.
Welcome emails
Introduce your business, thank subscribers for their attention or purchase (with a billing page email), and briefly explain your SaaS offering. Incorporate into welcome emails a prominent CTA that prompts people to take action, such as creating an account or checking out high-value features.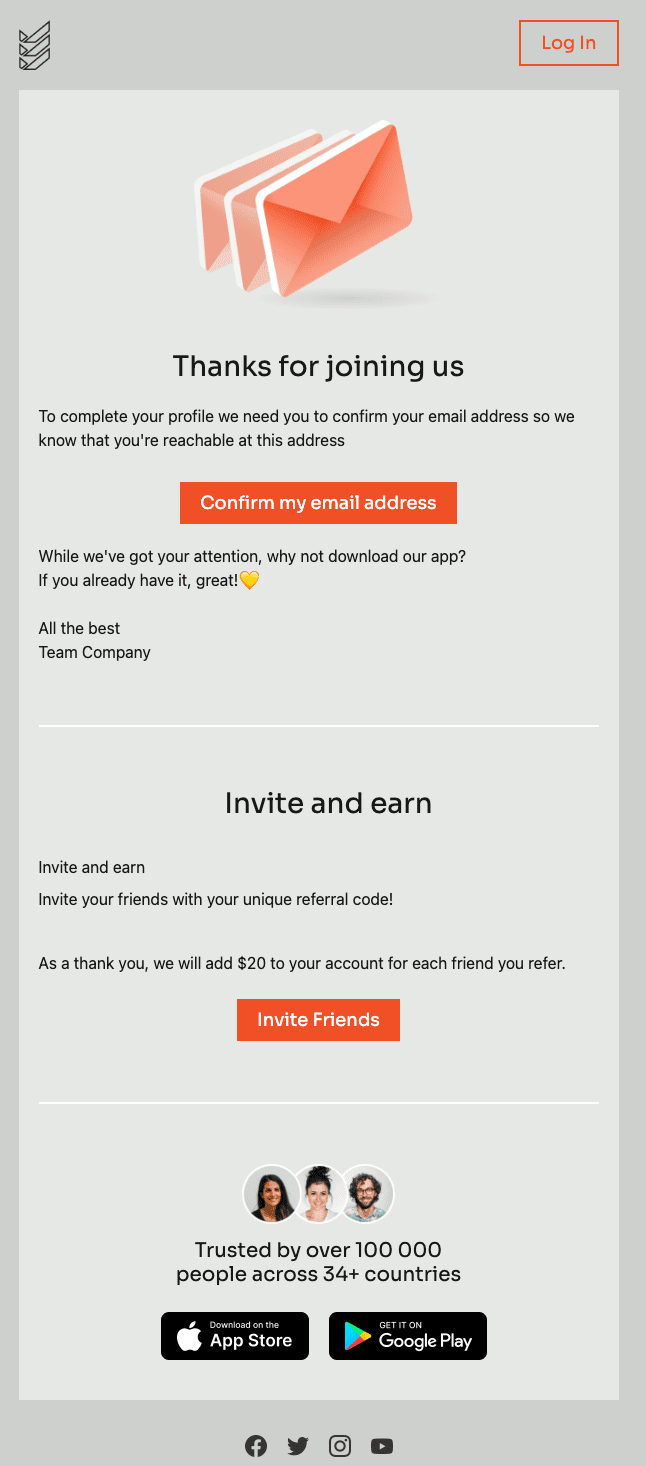 Onboarding personalized emails
Provide links to documentation, tutorials, or short videos and GIFs demonstrating how to set up, use, and maximize your SaaS service. Make the most of these email communications to highlight your product's advantages and value proposition and motivate subscribers to move forward.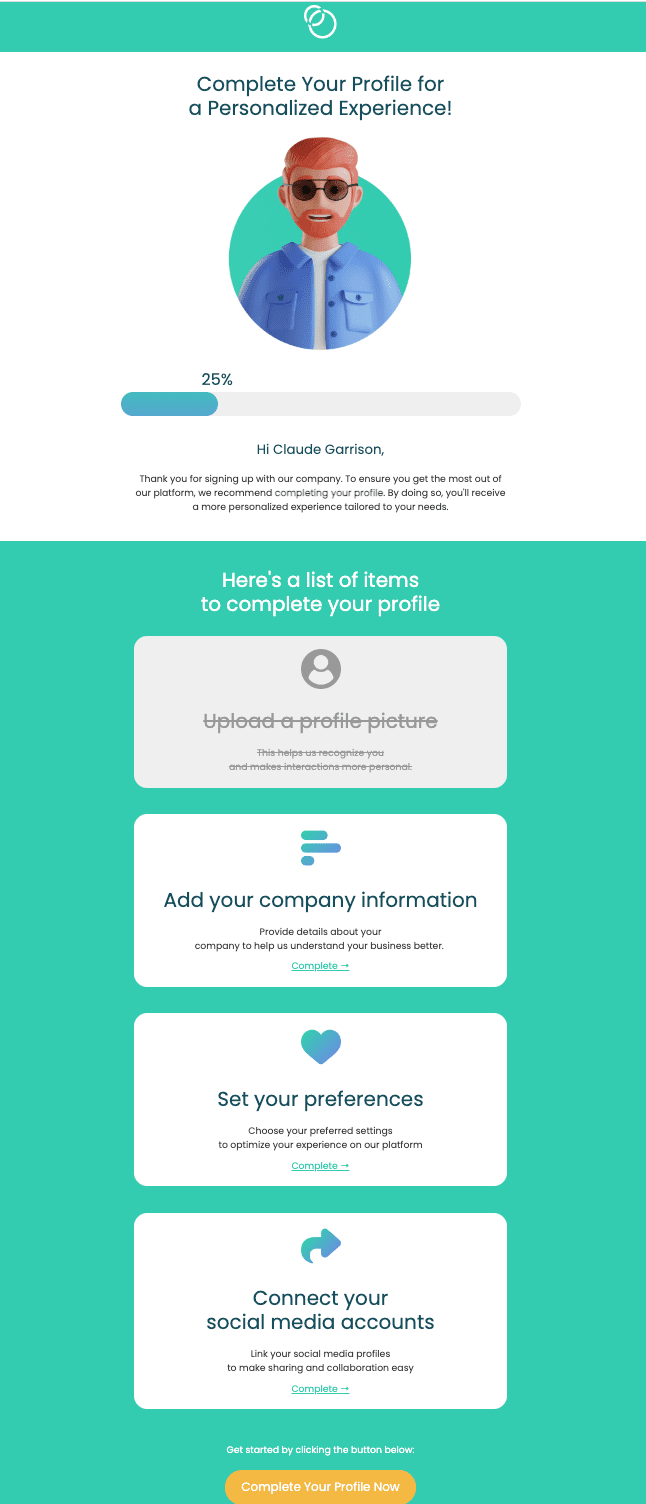 Survey invitation email template
Sending out a survey invitation email is a great way to get customer feedback and insights on high-value features. Ensure the survey is easy to use and quick to complete by including a clear call to action.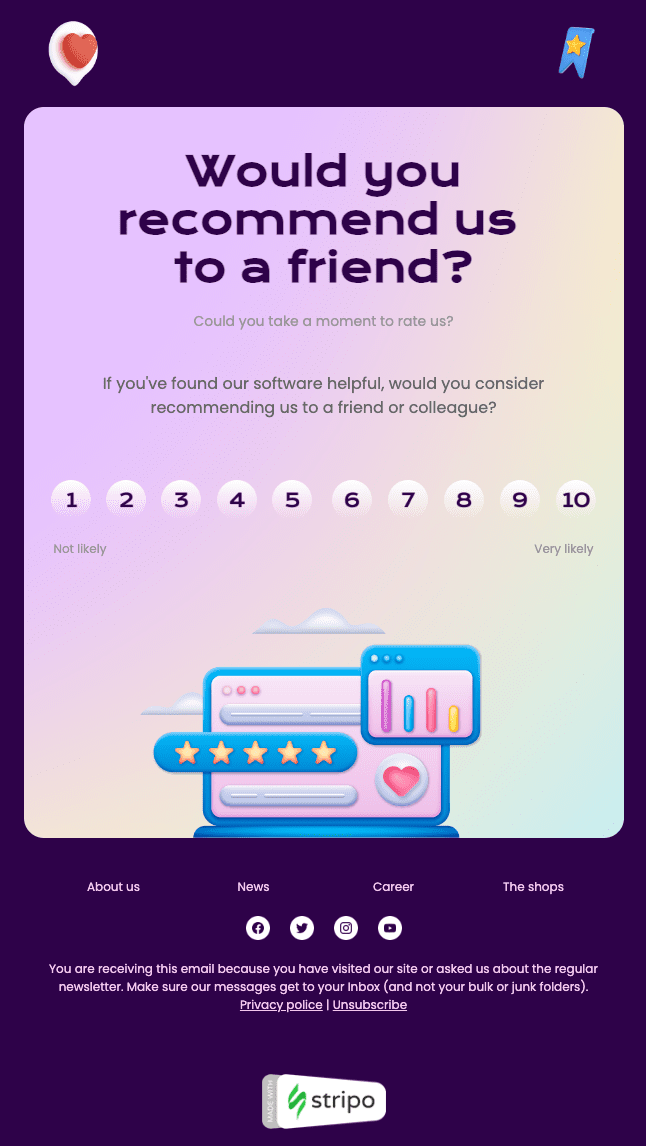 Promotional (sales) email templates
Get the message out about the deal's worth, emphasize its best features, and share exclusivity to boost sales, like on a premium plan. Put in a strong call-to-action that makes recipients want to take advantage of the sales emails offer, like upgrading product features.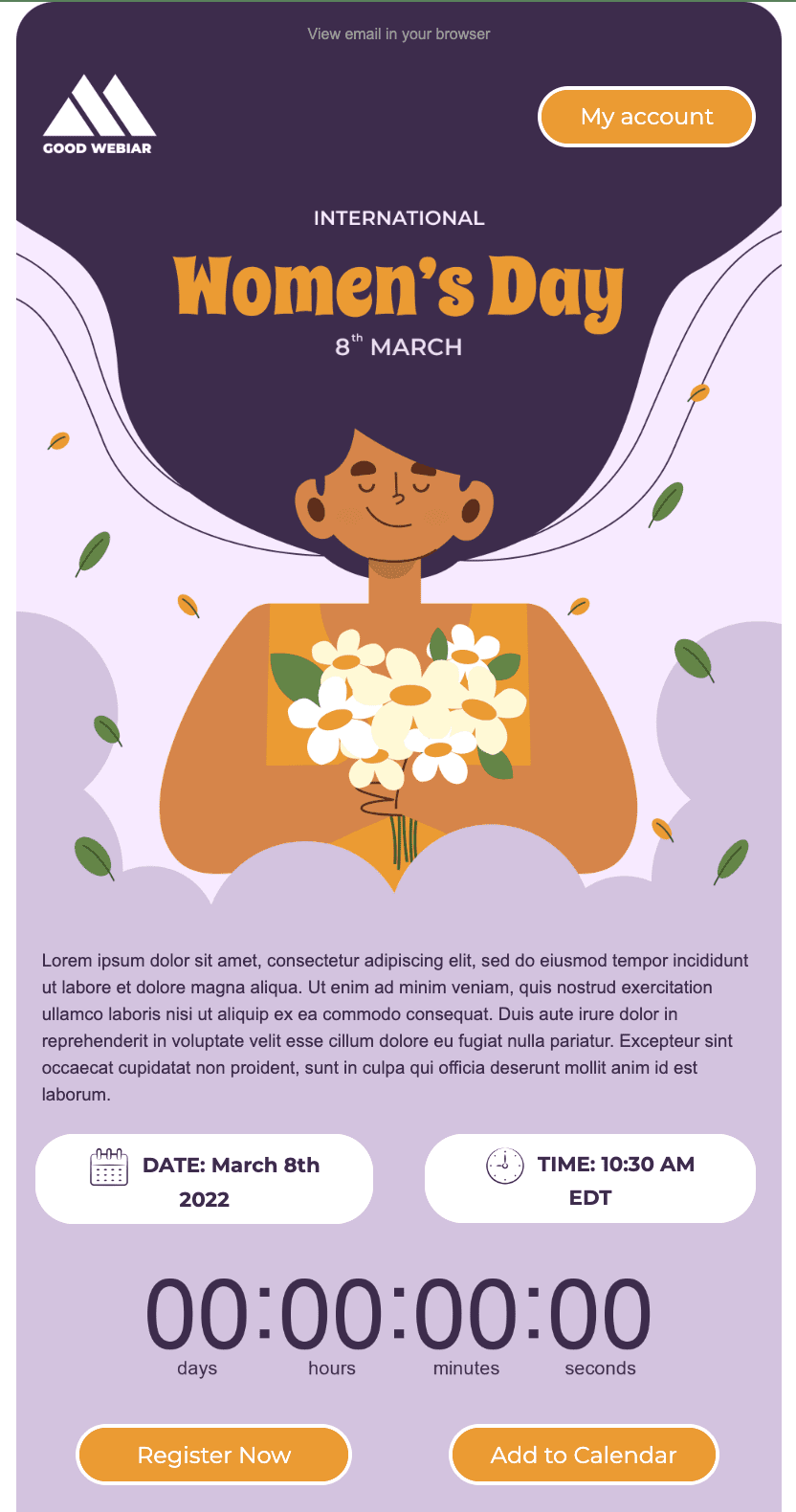 Product update email template
Sending out product update emails is a great way to let customers know about any major changes or fixes you've made to your product in a quick note. Ensure users understand the updates, how they will benefit them, and what they can do to prepare.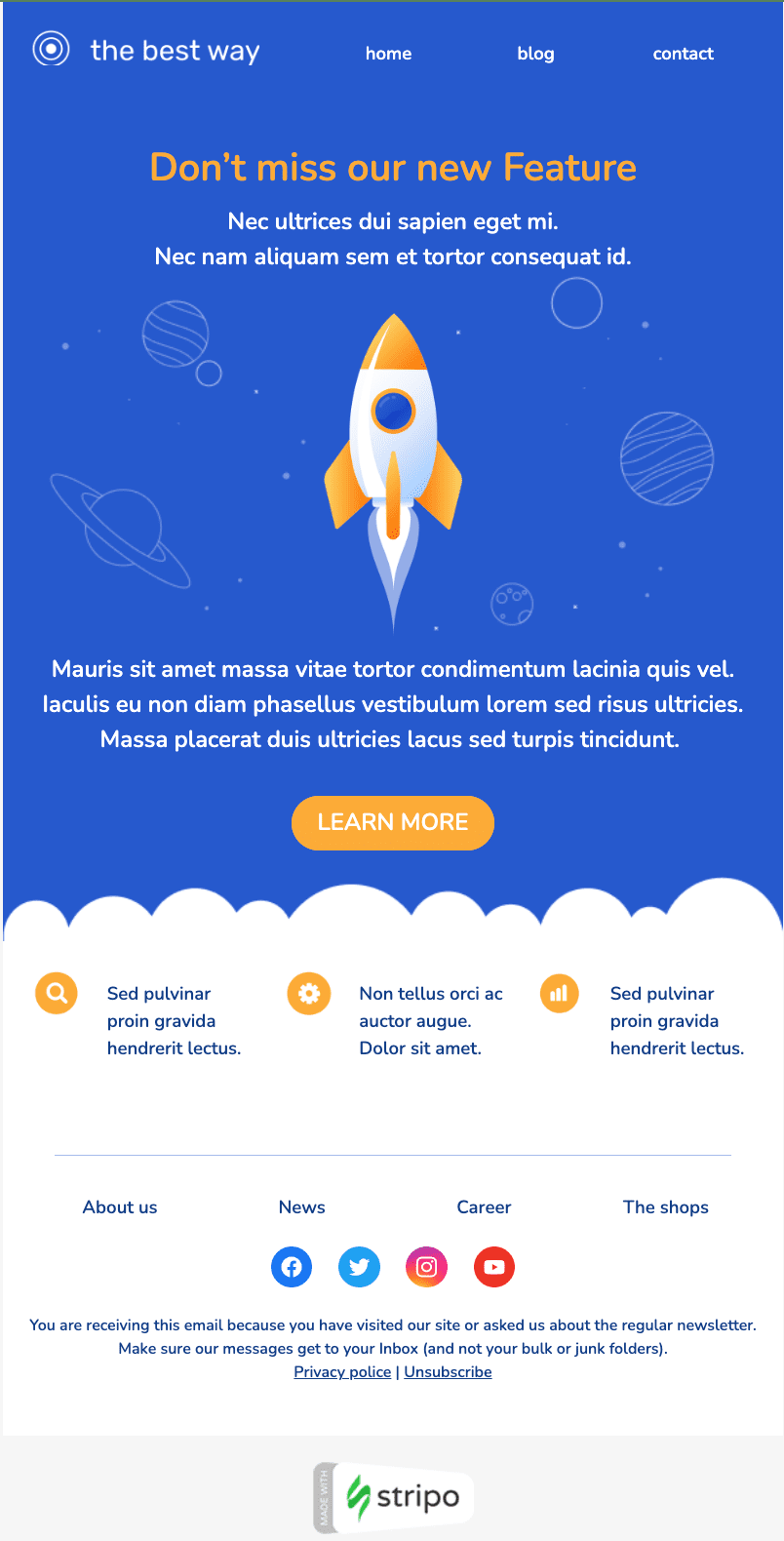 Review request email template
Sending review request emails to customers is a great way to get them to write testimonials and ratings for your business. Make reviews simple for customers to share their experience by emphasizing the value of their opinion.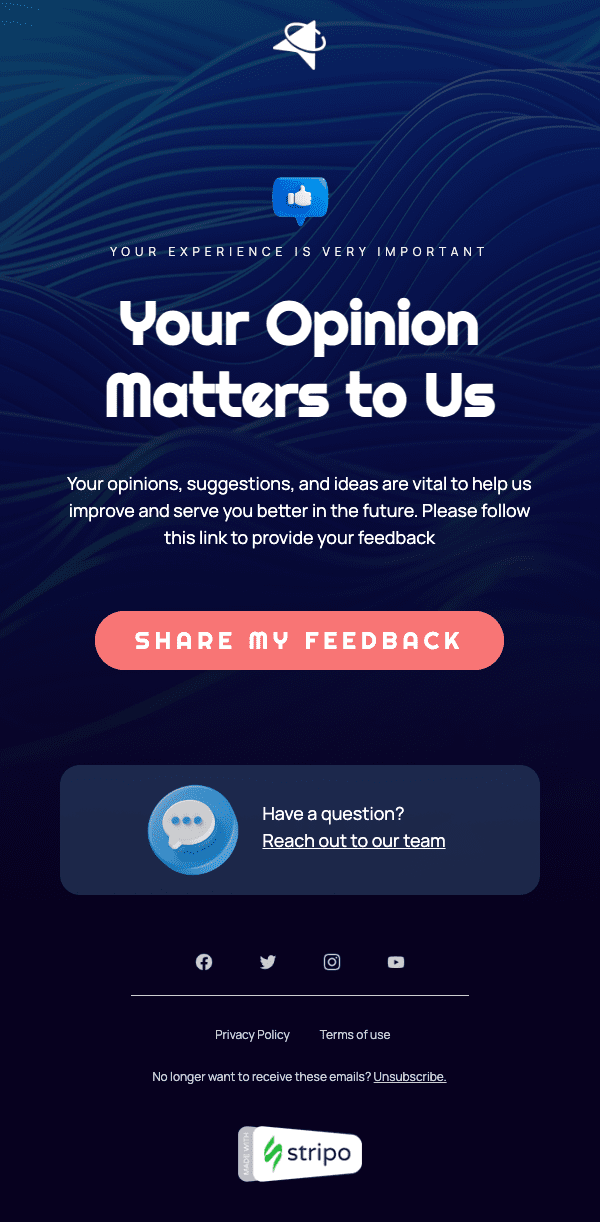 Using Stripo to create powerful SaaS email templates
SaaS companies can quickly create compelling email templates that attract new customers with Stripo's drag-and-drop interface, extensive library of pre-designed blocks, and customizable personalization settings. Our editor's most popular features are below.
1. Use merge tags
Using merge tags, common scripts (like "Dear first_name>" or "Dear last_name>") can be dynamically inserted into a document.
When you send the crafted email template from your platform, the tag's variable will be updated dynamically to reflect the specific recipient's data in your database. While using Stripo to make your campaigns, you can easily include them.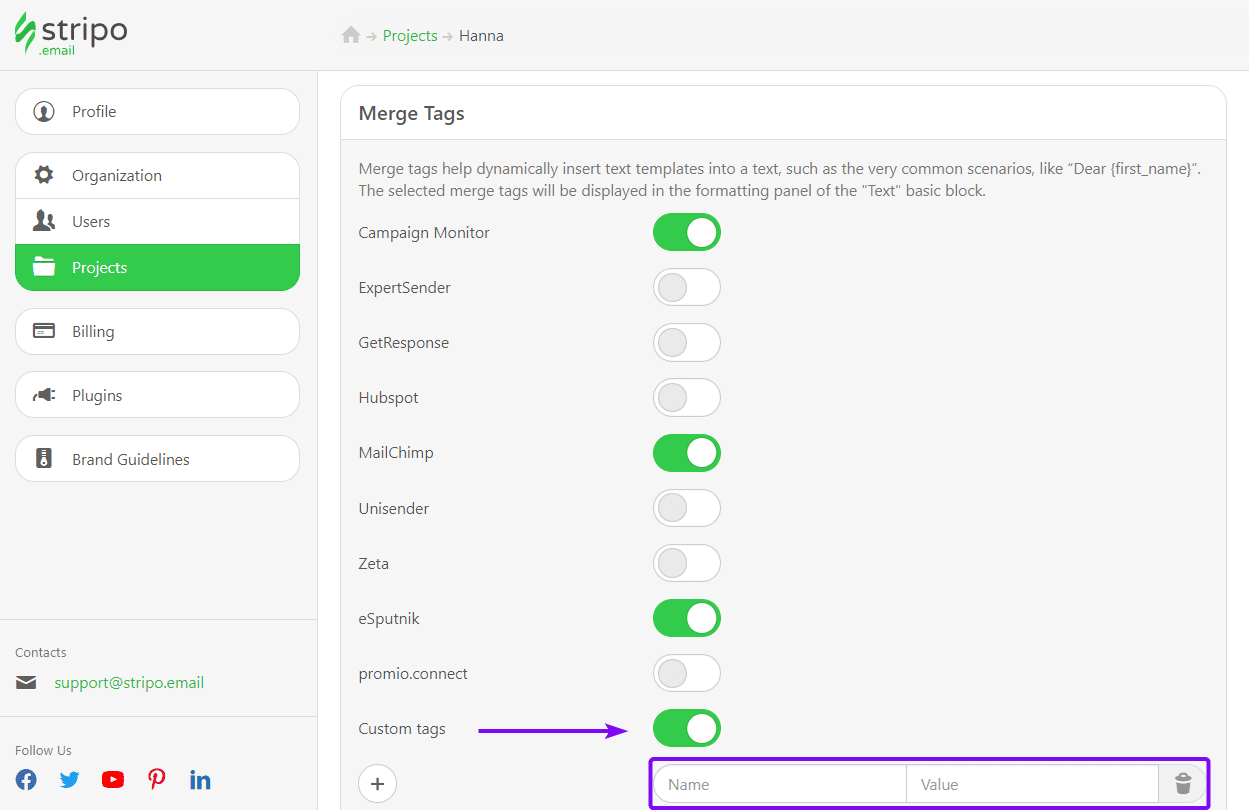 Learn more about the merge tags in our article.
2. Grab recipients' attention with banners
The banners in your newsletters are the primary means of conveying the message you want your customers to take away.
Therefore, it is essential that we make them as interesting and educational as possible. The Stripo banner maker has all the tools you need, such as ornamental typefaces, the ability to layer photos on top of the main banner image, a variety of filter options, and many more.
3. Design a professional signature
Adding an email signature is essential for maintaining brand identification and advertising your organization, services, or you as a person. And with Stripo, creating and adding a signature's never been easier.
Learn how to add your email signature with our detailed guide.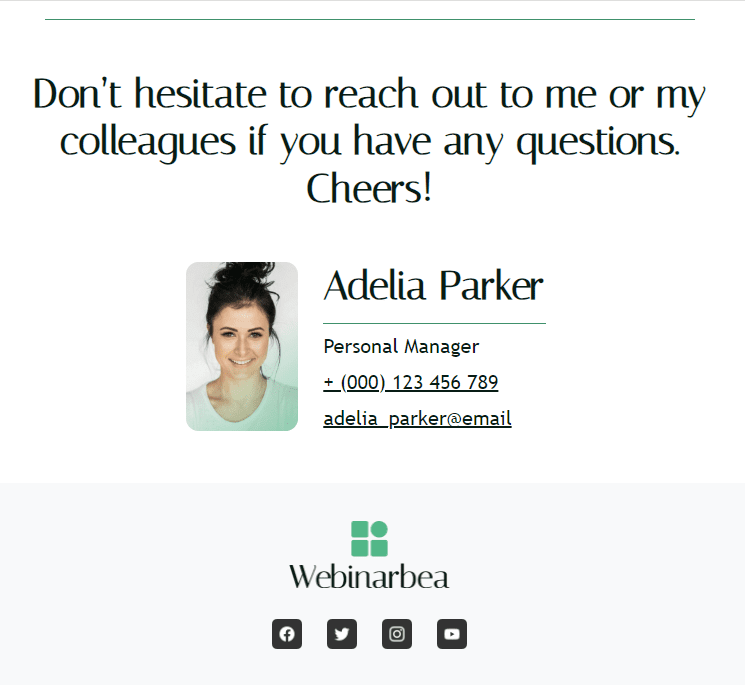 4. Stay on-brand with our Brand Guidelines option
When you work with us, we'll develop a Stripo Brand Guidelines kit detailing every aspect of designing emails for a brand. For instance, you can construct newsletters that are in keeping with your brand identity regardless of the agency or email designer you end up using to construct your future campaigns.
5. Benefit from Stripo's AI tools
With our AI tool for generating texts, you can create a copy in a few clicks and optimize it if necessary (e.g., fix grammar, make it shorter or longer, translate it, change the tone of voice, or add emojis).
Stripo also offers to benefit from AI for smart elements, making it easier to create a product card with the design you like effortlessly.
Wrapping up
These guidelines and examples can help you design effective emails that convert, build relationships, and help your SaaS business grow, whether it's a cold sales email or a follow-up message.
Join over 950K users
Start for free — upgrade anytime