Visual elements are the core here. Thus, you should pay close attention to the design of all travel email templates that you build.
1. Working with banners to create travel email templates
No text will help you win new customers. Only high-quality photos of breathtaking views can.
Once you have these photos, you may proceed to building a banner, as it is the heart of any travel email template.
Drag the banner block into your template, upload your photo — and apply filters that suit your banner image. And then write a short enchanting text that complements the photo per se and the entire email design. Wrap this text with any of Stripo's 40+ decorative fonts.
Refer to our post for more information on How to build banners with Stripo.
2. Utilizing AMP carousels for the travel industry
If one single banner can help you with winning new customers and appeal to their emotions, just imagine how powerful and effective a bunch of banners can really be.
Instead of sharing one single photo of the place you are inviting people to, let them see 5, 10 or even 15 breathtaking photos of that lovely place.
This is a short manual on how to utilize an AMP image carousel for your free travel email templates with Stripo.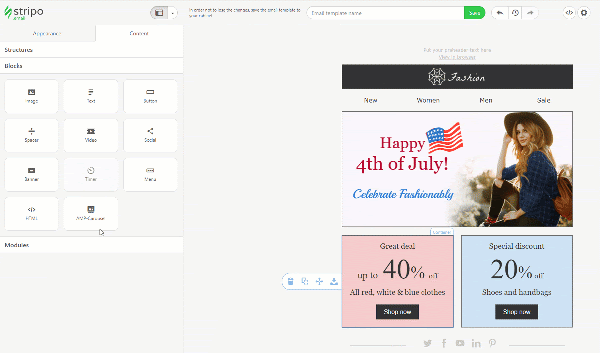 More details find here.
3. Editing photos for professionally designed email templates
Like we said above, imagery is the heart of all email templates. This means you might need to be able to edit one when building your email template for a travel agency just to make it complement the entire email design.
Once you've uploaded your photo, you may enter the editing mode by clicking the "Edit" icon: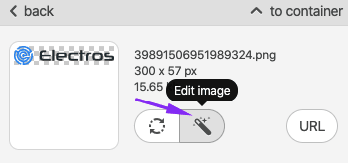 4. Adding videos to make your travel email templates stand out
Here's one more idea on how to promote available resorts — take a short video about them. Did you know that with Stripo editor you can either insert links to the videos stored on Youtube and Vimeo or embed your own videos right into the travel HTML email templates we offer?
5. Building product cards for your travel email template in no time
Our smart-elements allow you to build multiple product cards for your templates in literally no time. You design product cards for your newsletters just once. Next time, when building a travel agent email template, you just paste a URL to the page with all the necessary data, and Stripo automatically retrieves all the necessary data and inserts it in proper fields.
Final thoughts
With our orderly-structured email templates for travel agencies, you will easily convince prospects to buy tours to the far-far-away land and will save time on email production.
And, the less time you spend on email production, the more time you have left to analyze the effectiveness of your marketing campaigns and to implement your brave ideas.
Join over 950K users
Start for free — upgrade anytime