SendGrid is a platform that helps you to send your messages without the need to maintain email servers. With Stripo, you can use various SendGrid email templates, customize them according to your brand's style, and easily send them to your recipients.
What are the advantages of using a SendGrid account?
SendGrid is an intuitive platform that provides users with time-saving automation, integrated testing, and Email Validation API.
This email service provider ensures a high sender reputation which means that the chances of your messages being marked as spam or bounced are extremely low so that the subscribers will actually receive your promotional emails.
Why SendGrid email templates from Stripo are the best choice?
Here are a few reasons why you should try out the advantages of SendGrid integration with Stripo:
use the Drag-and-Drop feature and HTML builder to create professional email templates 60% faster;
try different embedded tools to design engaging templates with no coding skills required;
link your contact information and social media throughout all the email templates in one click;
find inspiration in our collection of 1400+ ready-to-use email templates;
use our template builder to adapt modules to various campaigns and create a responsive email.
Additional Stripo benefits for SendGrid email templates
1. Social networking accounts to speed up the creation of SendGrid newsletter templates
When using Stripo, you only need to fill out your contact information, including links to social networking accounts, once.
Then, every time while creating a new campaign, you just pull in the "Socials" basic blocks into your SendGrid email template, and the system automatically adds all the right links to the appropriate social icons.
No extra clicks — just pull the block into the SendGrid HTML email templates, and that's it!
You can also read our blog post below to learn how to add social media icons to your emails.

How to Add Social Media Icons to Your Email Signature and Email Footer
2. Banners to enhance your SendGrid newsletter templates
Banners set the tone for entire campaigns. According to the rule of 3 seconds, readers need this exact amount of time to make their decision to go on reading or delete the email.
This is why mentioning the most important information on the main screen is essential.
You definitely choose the best images for your campaigns. But keep in mind that the right phrase on your banner can make your message way more powerful.
Wrap the text in any font you like — Stripo provides 42 of them — to make the SendGrid newsletter templates more effective and emotional.
Please watch the video below to learn how to create appealing banners within minutes.
3. Content library to store your SendGrid email templates
A personal content library is another step towards automation while you create a new template.
Save any element, block, or entire email template to your favorite ones for further use.
Once you've created and saved any content, you will simply need to pull it into a new SendGrid free email template you're working with when starting a new campaign.
This is just one of the examples of how Stripo decreases the time needed for email creation by 60% — start for free and check it yourself!
4. Library of prepared SendGrid email templates
Looking for ideas to modify your SendGrid email design? Stripo is here to help!
Get inspired by our 1400+ responsive email templates. To save time for your email marketing team, we divided them into categories so that you can find the most suitable templates in a minute.
5. Texts from right to left to make your SendGrid newsletter templates legible for more users
We don't mean to boast, but we have users from different countries and cultures. Of course, we do care about our clients. And our priority is to provide support and care for everyone.
That's why we added the RTL option, which will make your templates suitable for those who speak Arabic, Hebrew, or Urdu.
Please read our blog post below to learn more about the RTL option and how to use it.
6. Brand Guidelines generator for professional SendGrid email templates
If you've ever customized free email templates from scratch according to your brand design styles and had to deal with the same things again and again, you can sigh with relief now.
Our Brand Guidelines generator will do the job for you. This tool scans the email template you choose and generates the Brand Guidelines kit for your company within minutes. The feature lets you create beautiful responsive email templates in a blink of an eye!
7. Interactive content for engaging SendGrid newsletter templates
With Stripo, you can add any interactive elements to your emails, and there's still no need to code! We provide tools for you to create image rollover effects, CSS animation buttons, countdown timer blocks, image carousels, accordions, and plenty of others.
Your marketers can simply drag various modules, customize them as needed, and save them to the content library for further use.
8. Export SendGrid email templates in one click
You have already learned a lot about the useful features of Stripo.
But that's not it, either. After designing everything you need, you may literally export the newly made email template to SendGrid with one click. Click here to find the detailed instructions.
Final words
We hope that by using these two perfect tools — SendGrid and Stripo — you will boost sales and strengthen your bond with subscribers. Try for free straight away!
Remember: you can export emails you created with Stripo to SendGrid in a few clicks. All the beautiful responsive HTML templates are totally editable in this ESP after export.
Frequently asked questions
How to create an HTML email template in SendGrid?
Our designers created 480+ responsive SendGrid email templates to enable our clients to build professional emails fast without any HTML skills.
You can get started within a few clicks — browse through a wide range of SendGrid email templates, choose the most suitable one, and click the "Use in Editor" button below the template. Create an account and start working on your eye-catching email straight away.
How to use SendGrid email templates?
Our templates are fully-customizable, so you are free to modify any component of your SendGrid email templates, from basic blocks like footers and headers to interactive content such as carousels and AMP forms. Just click on the component you want to edit and make the necessary changes in the menu.
In Stripo, you can set up your message width, fonts, background color and image, text direction, buttons, videos, animated GIFs, etc. Mobile formatting is also available to make sure your email is displayed correctly on smartphones and tablets.
How to save email templates in SendGrid?
When your email is ready, it's time to push it to SendGrid:
click the "Export" button;

find the "SendGrid" icon in the list of ESPs.

How to send HTML email templates with SendGrid?
Now, you need to take a few more steps to complete your export:
enter the connector's name (it may be your company name);
select your email type ("Dynamic template" or "Single send");
enter your API Key. If you are not sure how to generate a key, please check this guide;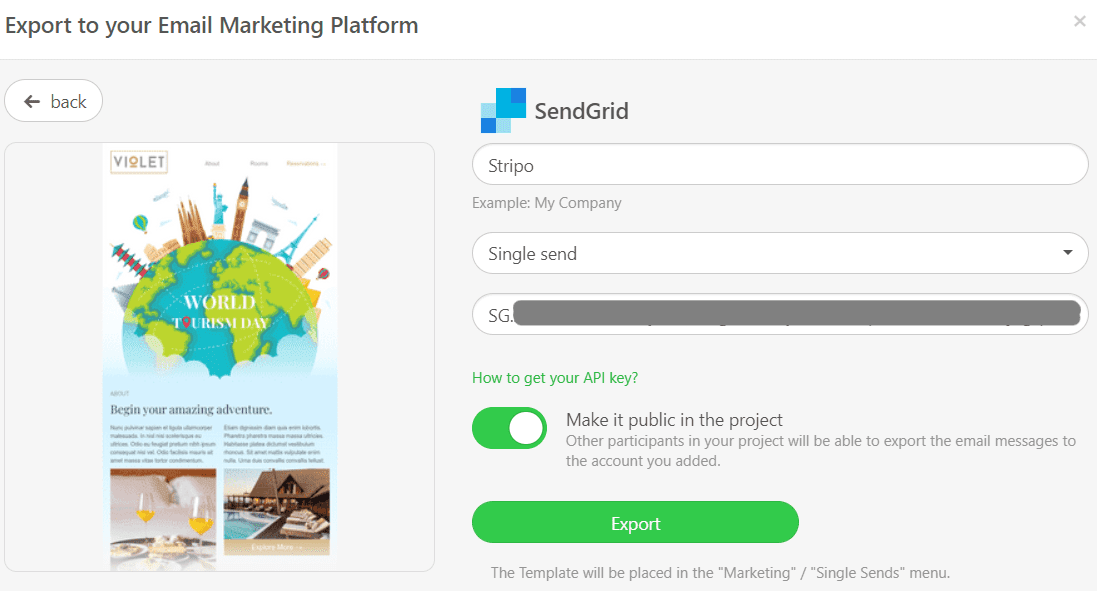 click the "Export" button.
Where to find your email template in SendGrid?
Now you can find your email template in SendGrid:
if you picked the "Single send" option, open the "Marketing" section in SendGrid and opt for the "Single Sends" tab;

if you selected the "Dynamic template" option, please open the "Email API" section and go for the "Dynamic Templates" folder.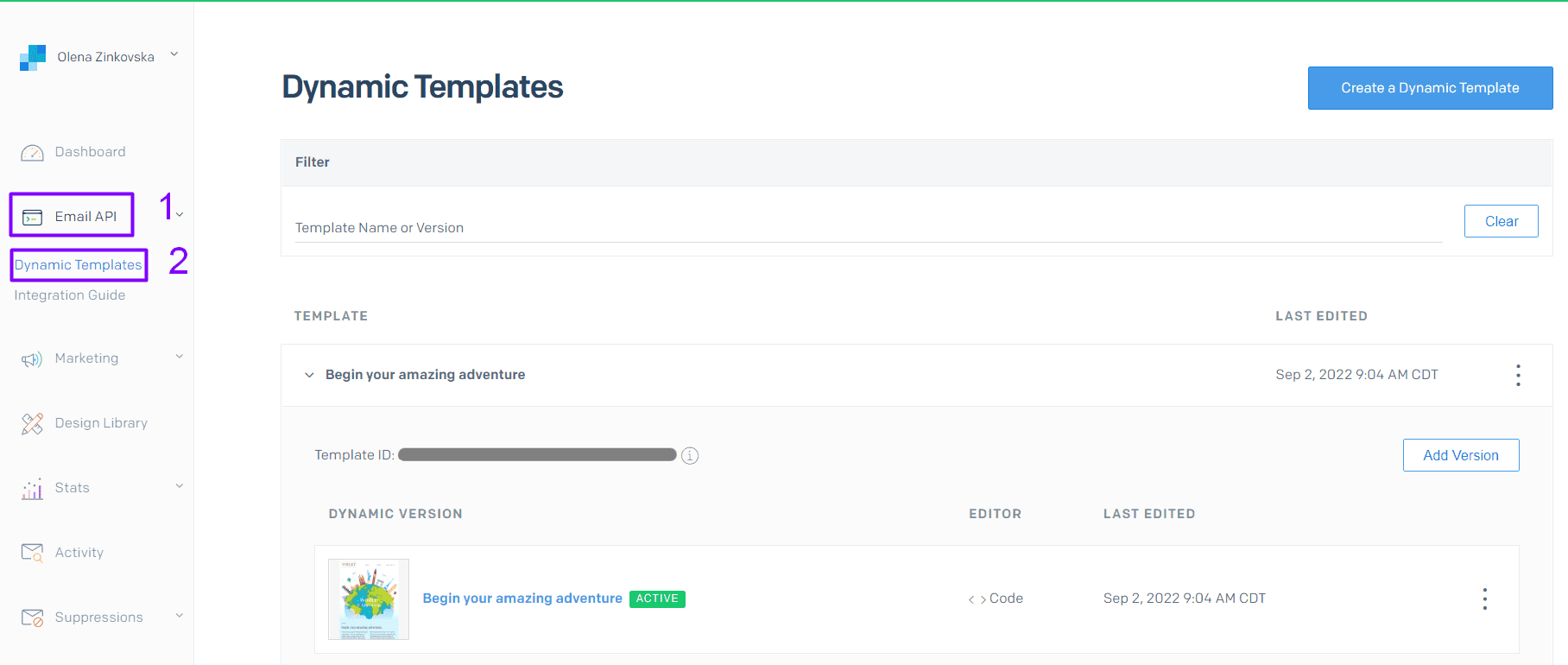 Done! Now you can edit your email templates directly in SendGrid if necessary.
How to add SendGrid email templates?
You can find our prebuilt SendGrid email templates and add them to your dashboard in 2 simple ways:
On our website, open the "Email Templates" page and find SendGrid in the "Integrations" section. Choose the template you would like to edit and hit the "Use in Editor" button. Get started with a Stripo account and you are free to design your appealing SendGrid email templates.
If you already have an account, you can choose a SendGrid template without having to leave the editor. Opt for the "Templates" section and select the "Prepared templates" tab.
Have any other questions?
If you have more questions on our pricing and plans, contact us so we can help.
Join over 950K users
Start for free — upgrade anytime