What is a fundraising campaign?
A fundraising campaign is an activity that is supposed to help charity foundations, startups, politicians, or other organizations collect money to support their initiatives, projects, or service. It usually happens during a specific period of time and has a clear goal. Also, such campaigns can raise awareness about some problems and increase the number of supporters, meaning ambassadors.
How to launch a crowdfunding campaign with Stripo
You know, people are not eager to spend their money on something. To achieve success, your crowdfunding campaign has to be appealing and eye-catching. Before launching it, look at tips on managing email templates with Stripo and raising more money for your organization.
1. Use email annotations for Gmail
Annotation is the first thing people see in their inboxes. Without a good one, the recipients can never open the message, and all your efforts for raising money will be wasted. In the annotation, you can briefly describe the mission or maybe even mention the advantages for supporters.
This feature works on mobile devices only. But, as most people check their email on mobile quite often, it's still an excellent opportunity to motivate more people to support you.
2. Set up a subject line and add white space to preheaders
After exporting your email to a particular email service provider, you can forget to enter the subject line and preheader. However, these things can significantly impact the open rate of your crowdfunding email.

We recommend you do this in Stripo before pushing emails to your ESP.
In addition, if you don't set the preheader text, most email clients will show the first textual part of your email (it can even be ALT text from the first image in your email!). On our platform, you can add whitespace with one click in the settings.
3. Create a responsive email layout
It's essential to send email templates that are shown correctly on desktop and mobile devices. Stripo allows you to include both designs in one email, and the correct orientation will appear on the device used.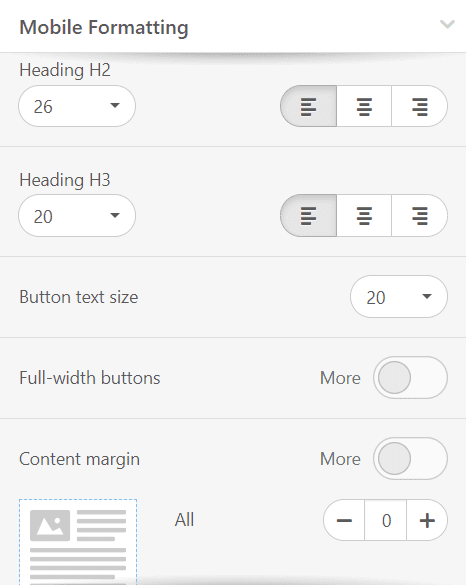 Also, you can do the "Containers inversion" to have all the images placed correctly on mobile screens and desktops. It can be done in just one click.
4. Set display conditions for better targeting
A personalized approach is always a good idea, even for fundraisers. You can personalize content by user's gender, age, geolocation, and preferences.
Usually, you may create separate emails for different groups and send them out. But the Stripo team came up with some other ways. We enable our users to set "Display conditions," which help prepare content for potential supporters.
You can find more detailed information in this article.
5. Design attention-grabbing banners
A banner is a key for any campaign page, not only a fundraiser. It's the first thing a person will see when they open an email. That's why it should deliver the right message.
With Stripo, you can create banners within minutes. You may choose from various fonts, place images, apply filters, and many other things with our generator.
6. Add accordions to your crowdfunding emails
Accordion is the best way to structure the email, as there are plenty of details that might or might not be interesting for various people.
Therefore, you wrap the content into separate blocks and let the recipients choose what's the most important for them to know — they only see the names of the sections and open the desired ones.
With Stripo, you can create an accordion using pictures, buttons, descriptions, etc. And you can do this without any coding skills!
7. Use countdown timers
A sense of urgency can make a difference. Especially if you, for example, suggest a raffle gift among all the donors.
A countdown timer is a good reminder for potential donors that time will be up soon. And with Stripo, you can create one without any third-party tools. Another good news is that it works across all email clients, so feel free to try this feature.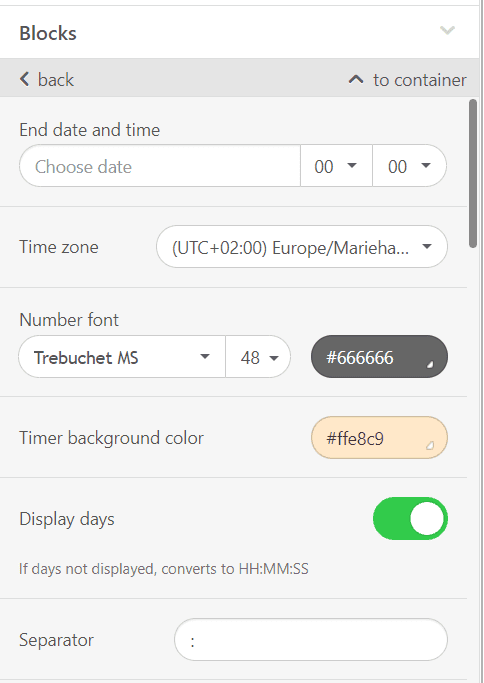 8. Build the "Follow us on social media" email module in one click
It's essential to keep the audience and donors involved. And what can help you more than social media?
But when it comes to several email templates during the fundraising process, it might take quite a lot of time to create this block from scratch every time. However, with Stripo, it's not going to be a problem.
In your profile or project settings, you only have to do the following steps: choose and design the icons, paste respective links, save, and voila! Your module with social media icons can be dragged into any crowdfunding email template. Please check this article for a more detailed guide.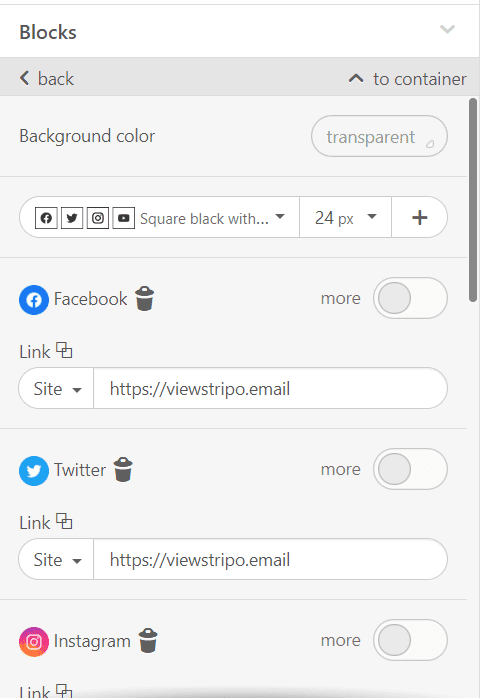 9. Enjoy the autosave option
We can't imagine any interaction with content without auto-saving. It can save you plenty of nerve cells!
On our platform, you don't need to worry that the piece of the template you just created can disappear forever. We won't let it happen because Stripo autosaves your progress after every edit you make. Also, it notifies you the email has been autosaved.
Best practices of a crowdfunding campaign
Let's look at a few templates to help you fundraise with fun and productivity.
Suggested donation amounts
It's much easier to donate when you have several options with different donation amounts to choose from. With Stripo, you can build such templates in a few clicks.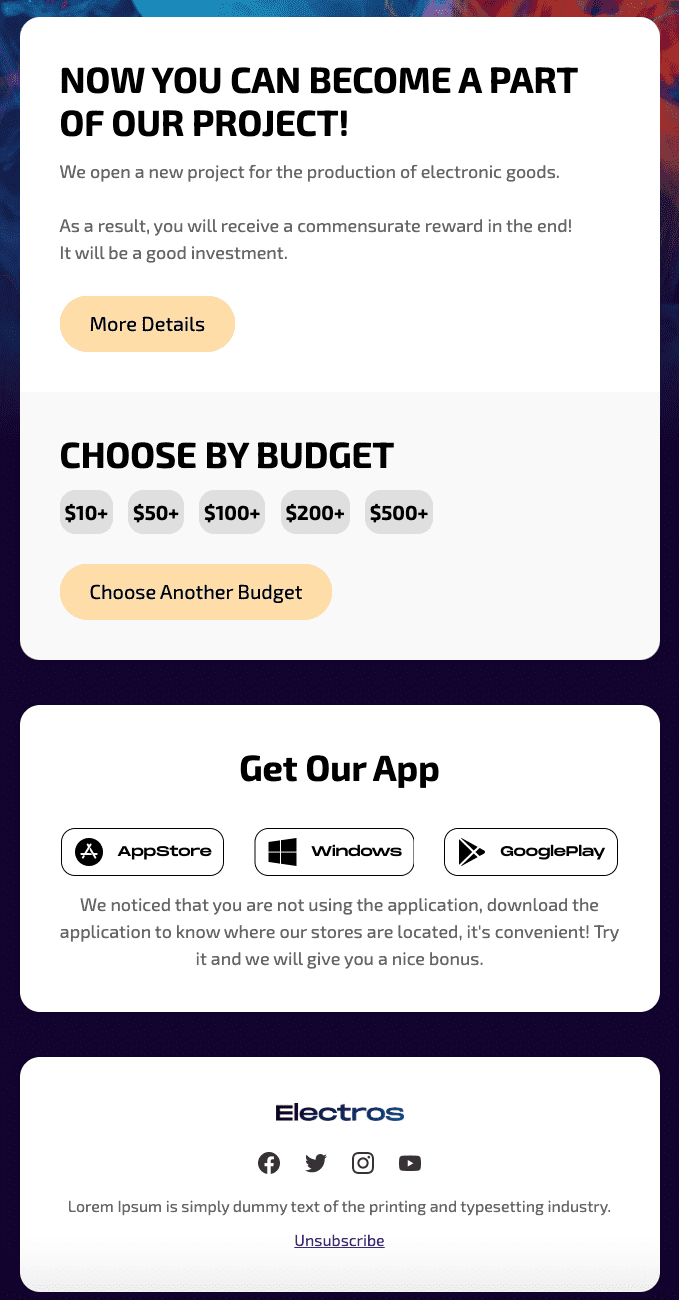 (Source: Stripo template)
Content modules to tell the whole story
This is an email template from a crowdfunding platform, so it contains various fundraisers.
You can see there are popular categories among other supporters, some numbers to encourage people to contribute, and the invitation to start your personal fundraising page and encourage others to donate by sharing a campaign link.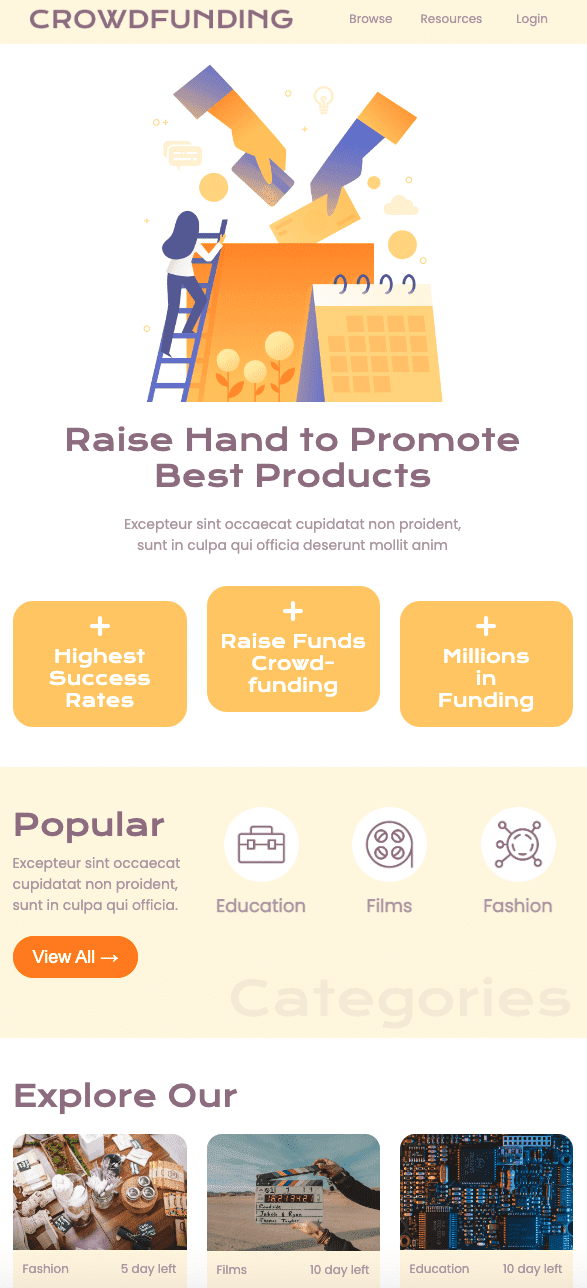 (Source: Stripo template)
This example shows simple instructions on joining the crowdfunding platform and turning your business ideas into reality.
The interesting thing about the template is the VML button. Buttons tend to lose their style unless they are written in VML. With Stripo, you can toggle one button in the settings and make sure that an ESP will display your CTA buttons just the way you want.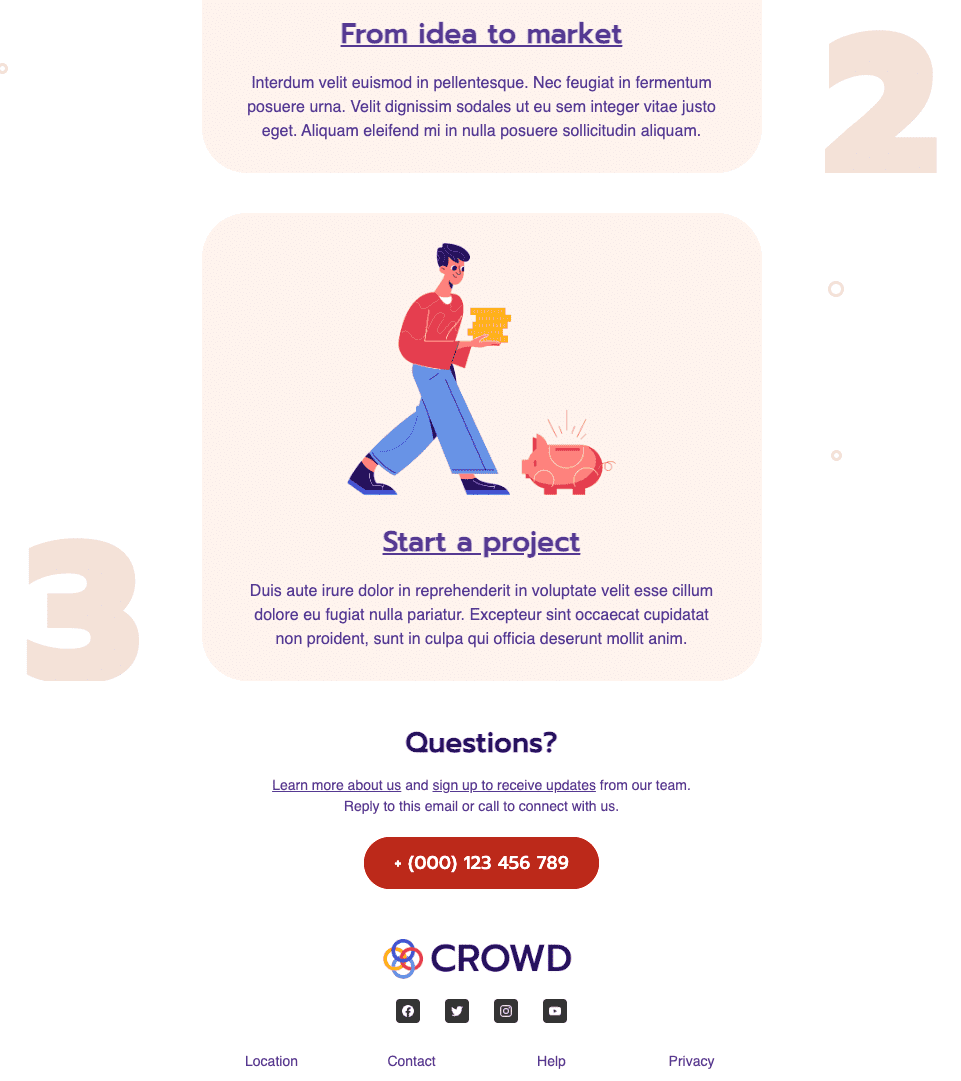 (Source: Stripo template)
This template helps you to stay involved all the way to the finish line. You can see how much time you have to raise money to reach the fundraising goal.
Also, there are some funny numbers. It's just an example of how custom fonts can be used for your fundraising campaign.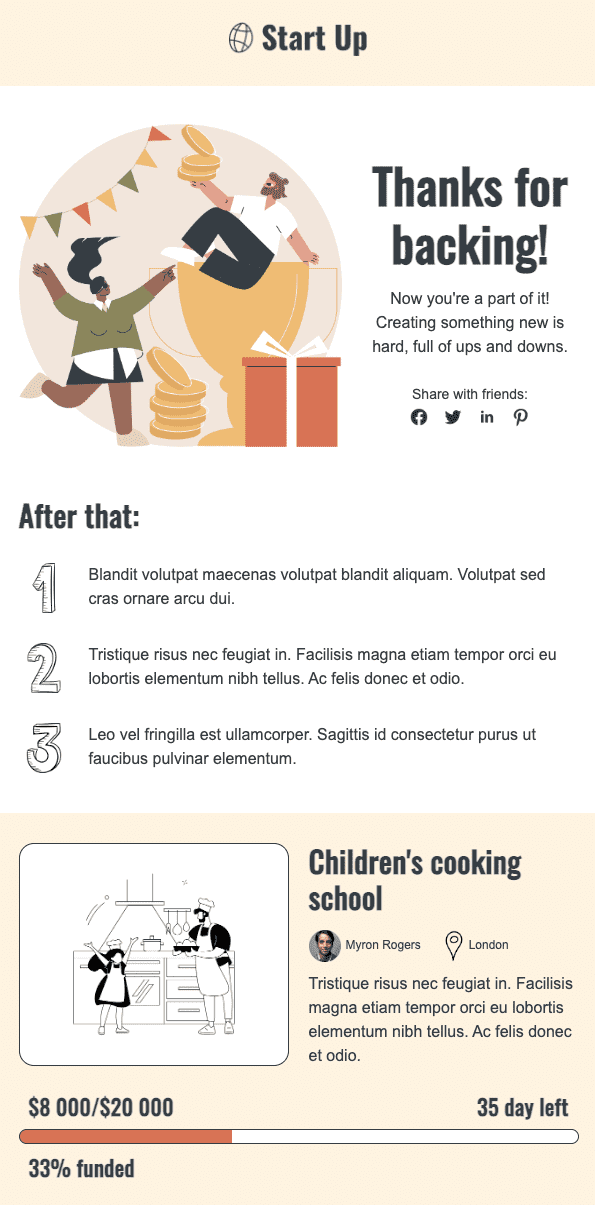 (Source: Stripo template)
Social media is one of the best ways to connect with a supportive community and raise money without much effort, even in the first few days. Also, you can share donation reports and tell about your plans on social media. With Stripo, you can add social media icons to your email signature in a few clicks.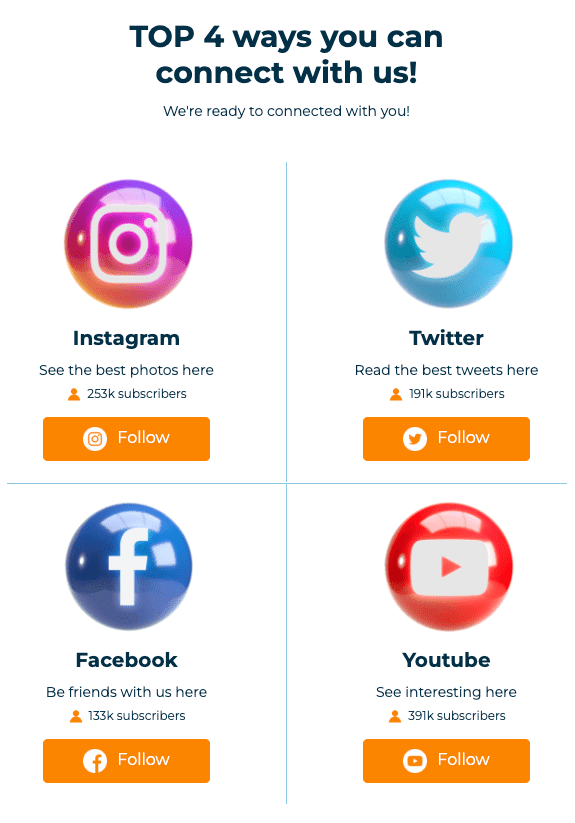 (Source: Stripo template)
Wrapping up
To launch a successful crowdfunding campaign, ensure you understand your potential donors and encourage them enough. We hope our ideas answer some of your questions before you start.
Here are a few tips on how to make your crowdfunding campaign lit:
work on a subject line;

mention the fundraising goal;

explain that a small donation also matters;

ask your colleagues and friends to support your crowdfunding campaign;

share important campaign updates with donors to keep them involved;

encourage the donors to share the campaign details within their community.
May your fundraising efforts be a success!
Join over 900K users
Start for free — upgrade anytime