Frequently asked questions
How to create an HTML email template in SendGrid?
Our designers created 480+ responsive SendGrid email templates to enable our clients to build professional emails fast without any HTML skills.
You can get started within a few clicks — browse through a wide range of SendGrid email templates, choose the most suitable one, and click the "Use in Editor" button below the template. Create an account and start working on your eye-catching email straight away.
How to use SendGrid email templates?
Our templates are fully-customizable, so you are free to modify any component of your SendGrid email templates, from basic blocks like footers and headers to interactive content such as carousels and AMP forms. Just click on the component you want to edit and make the necessary changes in the menu.
In Stripo, you can set up your message width, fonts, background color and image, text direction, buttons, videos, animated GIFs, etc. Mobile formatting is also available to make sure your email is displayed correctly on smartphones and tablets.
How to save email templates in SendGrid?
When your email is ready, it's time to push it to SendGrid:
click the "Export" button;

find the "SendGrid" icon in the list of ESPs.

How to send HTML email templates with SendGrid?
Now, you need to take a few more steps to complete your export:
enter the connector's name (it may be your company name);
select your email type ("Dynamic template" or "Single send");
enter your API Key. If you are not sure how to generate a key, please check this guide;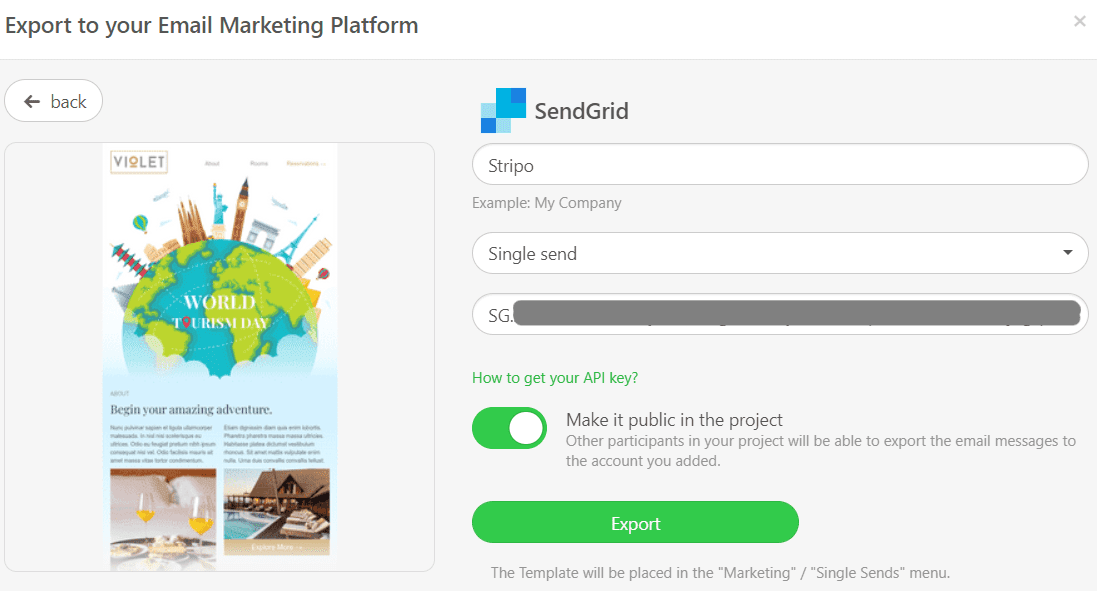 click the "Export" button.
Where to find your email template in SendGrid?
Now you can find your email template in SendGrid:
if you picked the "Single send" option, open the "Marketing" section in SendGrid and opt for the "Single Sends" tab;

if you selected the "Dynamic template" option, please open the "Email API" section and go for the "Dynamic Templates" folder.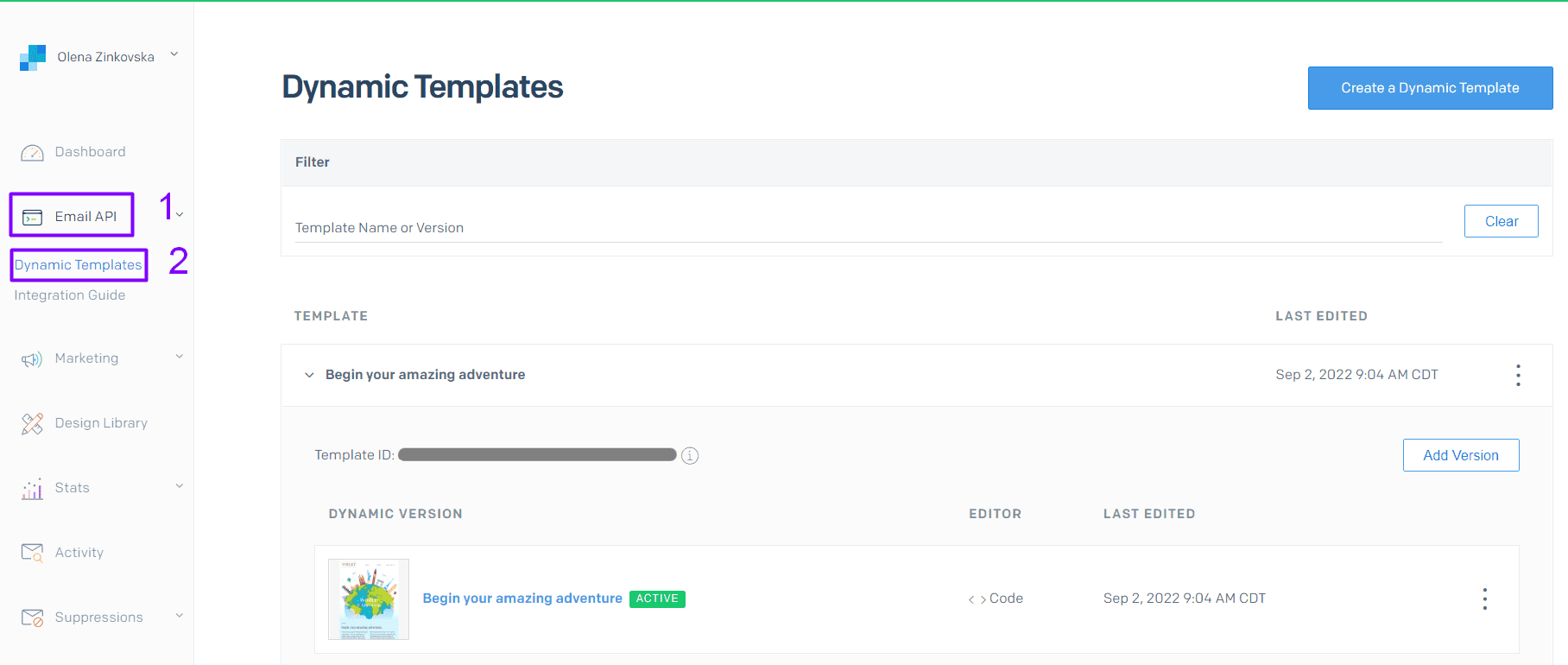 Done! Now you can edit your email templates directly in SendGrid if necessary.
How to add SendGrid email templates?
You can find our prebuilt SendGrid email templates and add them to your dashboard in 2 simple ways:
On our website, open the "Email Templates" page and find SendGrid in the "Integrations" section. Choose the template you would like to edit and hit the "Use in Editor" button. Get started with a Stripo account and you are free to design your appealing SendGrid email templates.
If you already have an account, you can choose a SendGrid template without having to leave the editor. Opt for the "Templates" section and select the "Prepared templates" tab.
Have any other questions?
If you have more questions on our pricing and plans, contact us so we can help.
Join over 1 000 000 users
Start with free email template builder — upgrade anytime