Frequently asked questions
How to create an HTML email template in Mailchimp?
With 750+ Mailchimp-compatible email templates, it's easy to design eye-catching messages to impress recipients. Whether you want to showcase new products, send an invoice, or congratulate your subscribers on special occasions, we are here to help.
Just choose one of our prebuilt templates, click the "Use in Editor" button, sign in to your Stripo account, and that's it! You are all set to start designing your first Mailchimp email template.
How to use Mailchimp email templates?
Found the perfect template but not sure how to use and customize it? No worries, Stripo enables you to edit each template element to align it with your brand design guidelines and campaign objectives.
In the "Blocks" section, you can equip your template with elements like images, text, buttons, videos, banners, animated GIFs, countdown timers, carousels, AMP forms, etc. You can always edit them as necessary.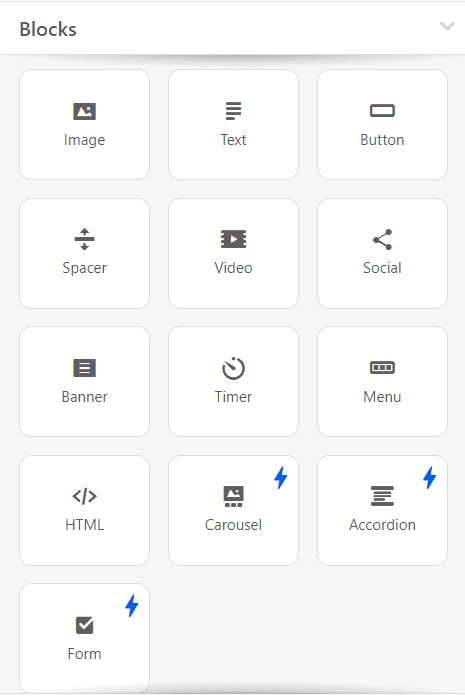 Check out the "General Settings" section to set up the main parameters of your message like its width, background color and image, and fonts.
Don't forget to open the "Mobile Formatting" tab to optimize your email template for mobile devices.
How to save email templates in Mailchimp?
Your Mailchimp email templates are always available in your Stripo account, so you can edit and test them as necessary.
When your email is ready, you can export it to Mailchimp:
click the "Export" button;

in a pop-up menu, select the "Mailchimp" icon. You can also choose the "Popular" tab to find this ESP faster.

How to send HTML email templates with Mailchimp?
in a pop-up window, click the "Export" button;

log in to authorize your Mailchimp account;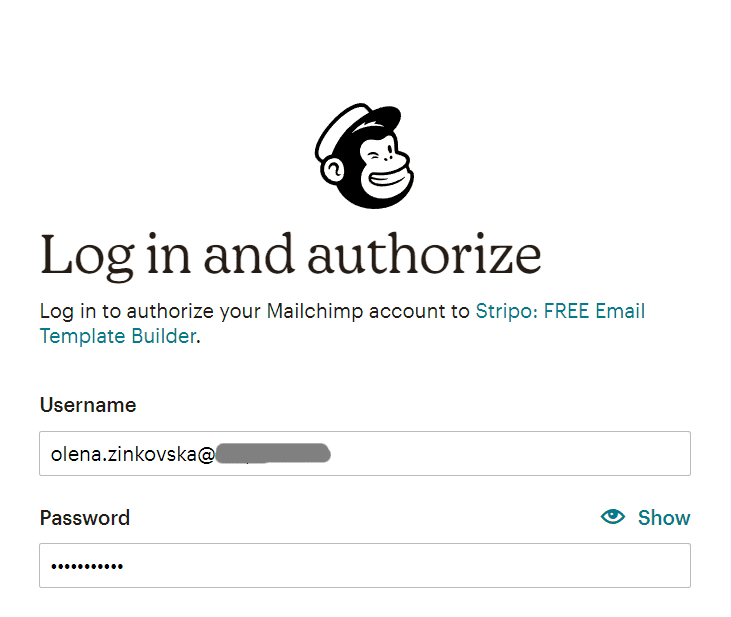 connect Stripo to your Hubspot account by clicking the "Allow" button. Please note that we don't store your Mailchimp account password;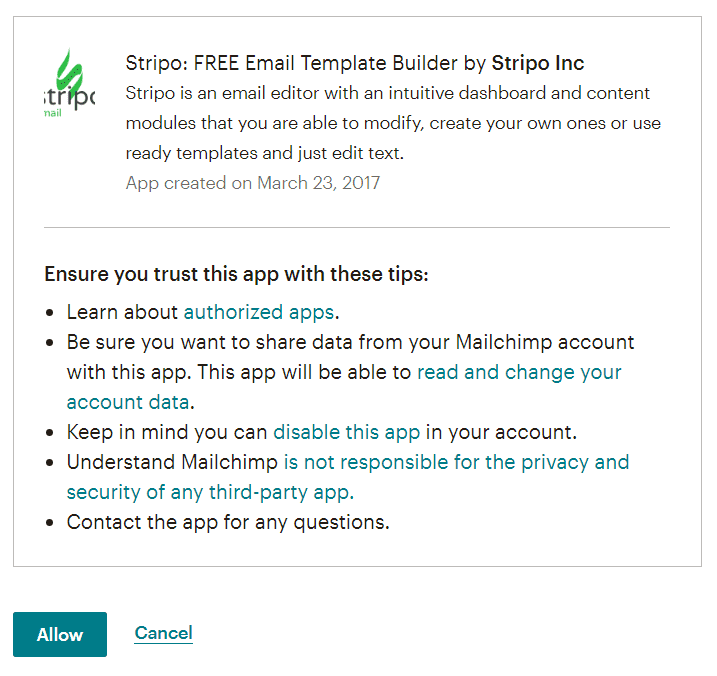 then, you will be redirected to your Stripo account once again. Toggle the "Minimize HTML" button if necessary and choose a client folder in a drop-down menu;

click the "Export" button.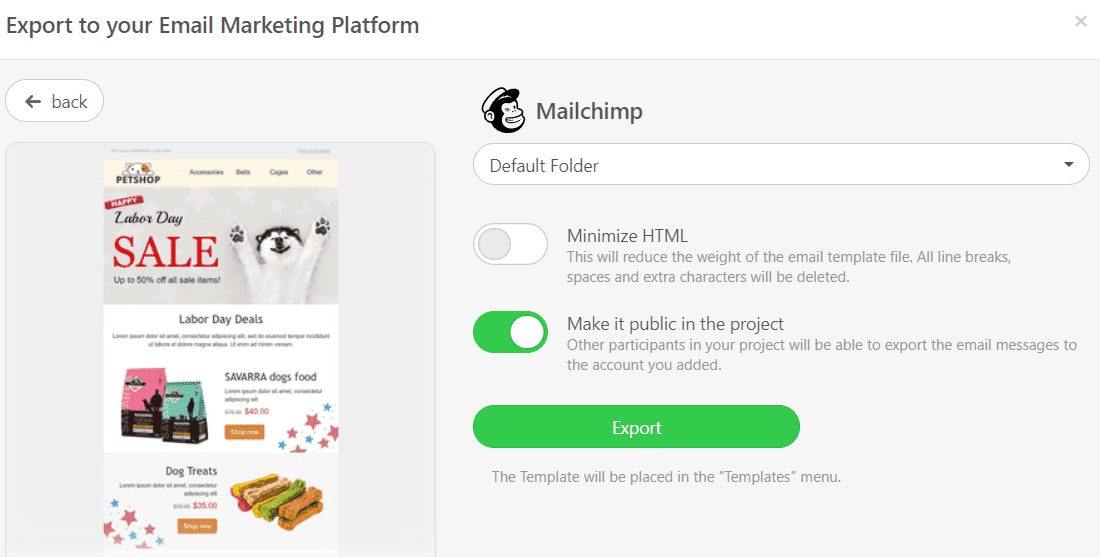 Where to find your email template in Mailchimp?
Now you can find your email template in Mailchimp. Here are a few simple steps to make it happen:
in your Mailchimp account, open the "Campaigns" section;

choose the "Email templates" folder.

Edit your template if necessary:
in your Mailchimp account, click on the template you exported;

click the "Edit Design" button to edit visuals, text design styles, etc;

if you want to work on your code, click the "Edit Code" button.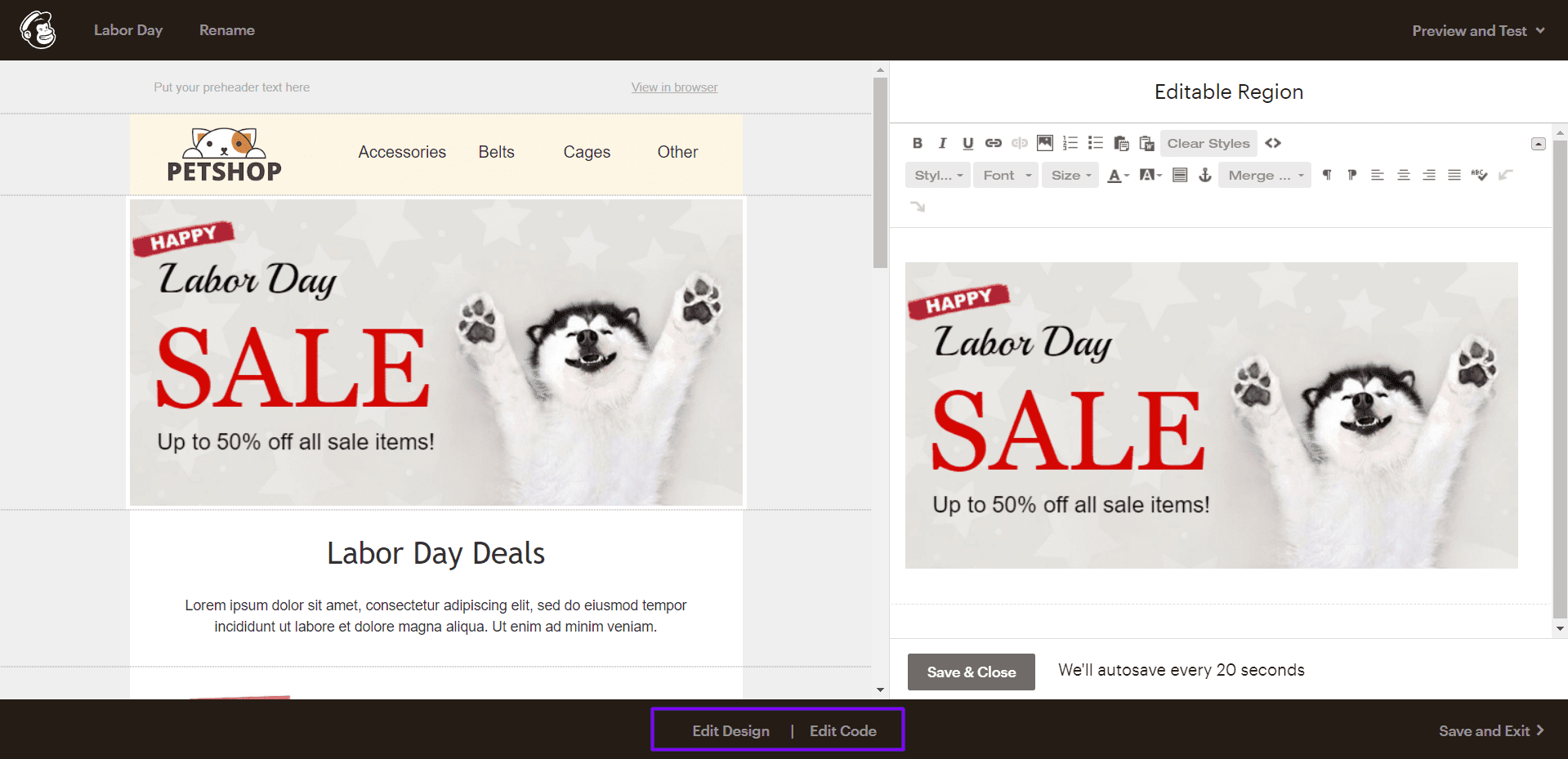 How to add Mailchimp email templates?
There are two simple ways to find our prebuilt Mailchimp email templates and add them to your dashboard:
Find the "Email Templates" section on our website. Then, select Mailchimp in the "Integrations" block. Now you can browse through 750+ Mailchimp-compatible templates to find the one that suits your requirements. Finally, you just have to click the "Use in Editor" button and create an account to start designing your beautiful message.
If your account already exists, you can choose a Mailchimp template right in the editor. Select the "Templates" tab in your Stripo account and go for the "Prepared templates" option.
Have any other questions?
If you have more questions on our pricing and plans, contact us so we can help.
Join over 1 000 000 users
Start with free email template builder — upgrade anytime