13 July 2018
Stripo Plugin, and How to Install It
Currently, 60% of our users download their designed templates as HTML-files. Why would they do it when our editor is ESP-friendly and allows exporting emails to over than 30 email clients and email service providers?
Their tools' editors do not keep up with the times, neither let create comprehensive emails. So, these users need to create an email with our editor, then download it as an HTML file and finally import/insert it into their tool for further work. That's a pretty complicated process.
In order to facilitate these people's lives, we launched our plugin. From now on, you can install it on your website, CRM, ESP or any other tool that requires a modern email builder.
So, who may need our plugin and who are those people that download created emails as HTML files?
Our plugin is a good solution for different kinds of SaaS products (Software as a Service):
a) Start-ups;
You are a young product. Do not waste your time and money to develop your own editor as it is not your key area of responsibility. Apply ours, as we took into account all subtleties, and neutralized all issues that may occur while developing and launching one.
By integrating with Stripo email editor plugin, you make your tool complete and complex. Impress your new customers or investors with a compelling tool (we have cases when integration with Stripo plugin helped take investments to the next level).
b) Businesses;
For companies whose primary activity is only slightly connected with email newsletters. They typically host webinars, provide online education courses, run a recommendation engine, etc.
These companies' clients do not create a high amount of emails, yet they keep sending thousands of similar ones per day, and these emails have to be well-designed. Provide them with a good tool — embedding plugin may be the best solution.
c) Professionals.
Businesses and all kinds of SaaS products, where creating emails is the core activity. Many companies use CRM for contacting customers and partners, as all order confirmation emails, subscription confirmation, and all other types of triggered emails sent via CRM are plain text ones. Other companies use ESPs who offer out-of-date email editors — they all need a complex comprehensive email editor.
Stripo plugin features:
Please, be advised that our plugin is not an embedded editor, but a component that helps your users and your colleagues create HTML emails easier and in no time. We do not process your data and emails, we are just a component built to process your codes.
So, what we offer:
1. Advanced customization
a) blocks to display;
You choose which basic blocks are available for your users.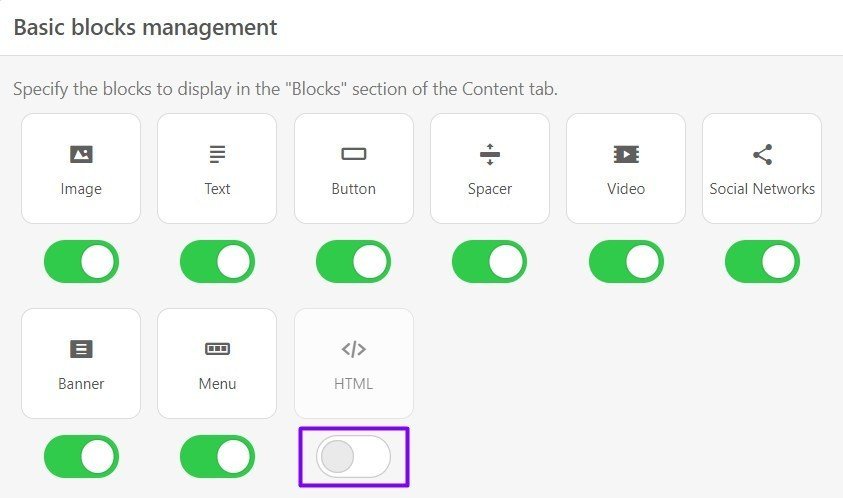 b) custom controls;
For your clients' convenience, you may enable advanced controls in basic blocks.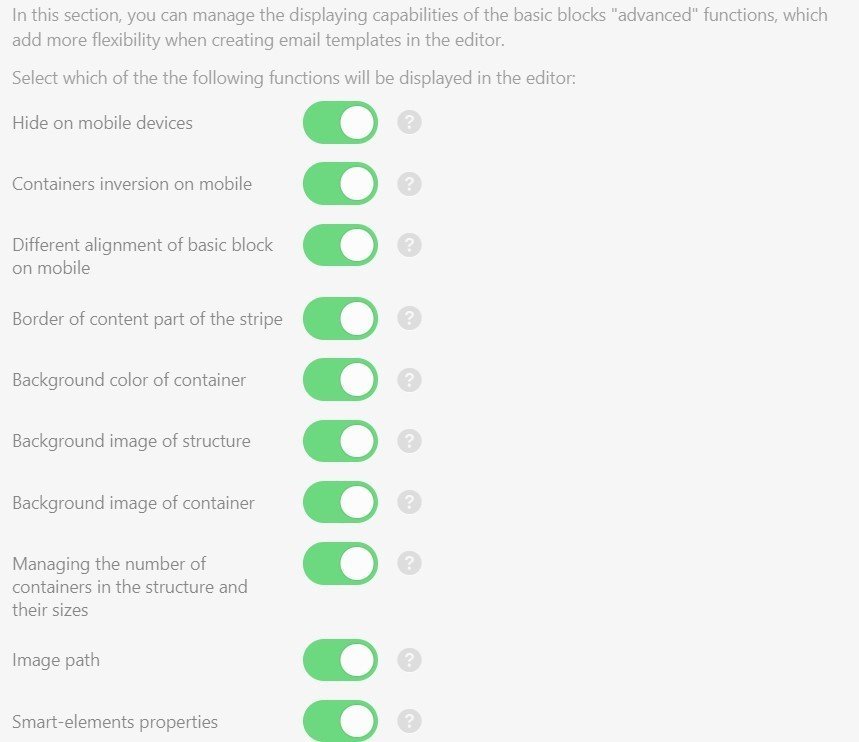 On users' screen, it will look this way:

c) stock images configuration;
Provide your users with free beautiful images. You only need to insert access keys to image provider's API.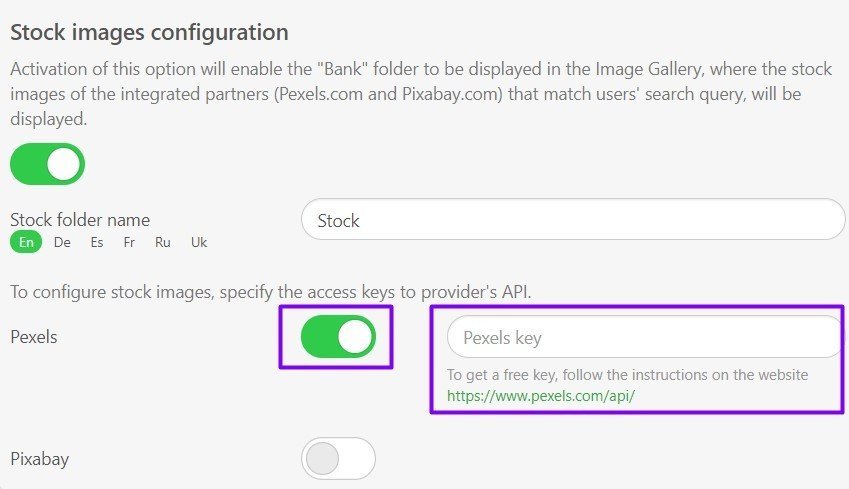 d) image size;
You set image max size. Standard image size does not exceed 2 MB.

e) library of blocks.
This feature is essential to have for email creation automation. Users create blocks, like footers and menus, just once — and then only insert those blocks into emails. Let your clients create email in no time.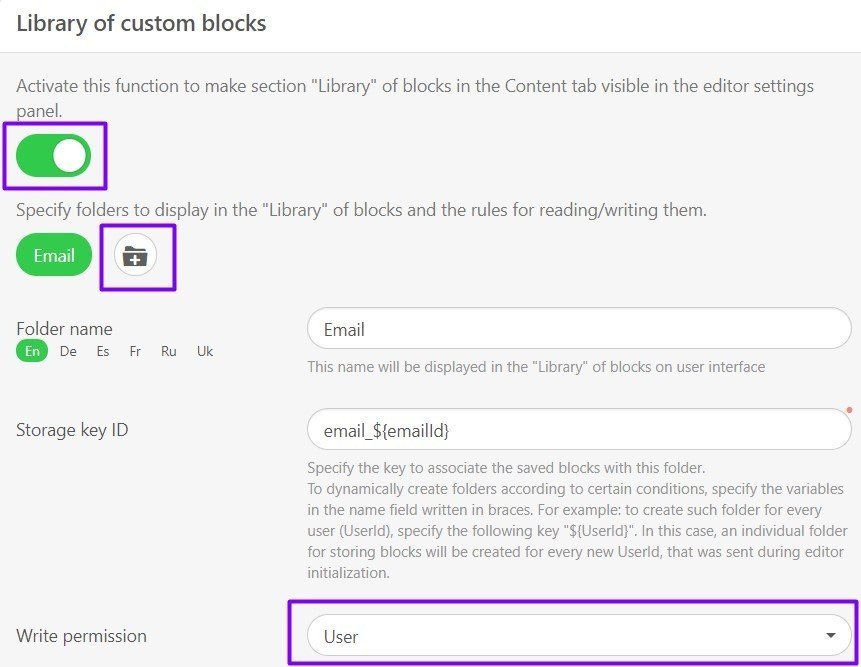 For your users' convenience, enable them to create folders on their own.
2. Merge tags
Merge tags, also known as data tags, are to make your emails personalized. Let your clients use merge tags in their marketing campaigns for all emails they send out to valued customers. Easy to use these tags right in the editor.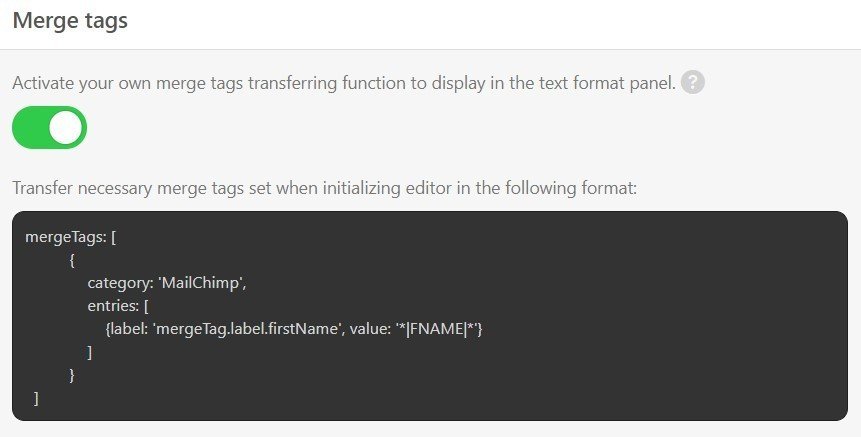 Note: you when configuring the plugin, may set your categories.
On users' end it will look this way: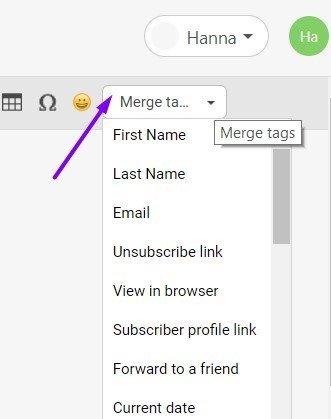 3. Unlimited number of users
Unlike most email editors, we do not bound you to the number of users. You only need to care about the number of emails your customers create/edit per month.
This is very convenient, as some users may need only one or two emails per month.
4. Optional storage servers
You decide whose servers to use for stock images storage — yours or ours.

5. Stability and reliability
We are a high-quality control system that guarantees constant service availability and stability. And we do our best to fix bugs as soon as possible if any occurs. Besides, we provide you with instant technical support.
6. Plugin for no cost = totally free
Yes, we do offer a free version of our plugin so you can try it out prior to purchasing.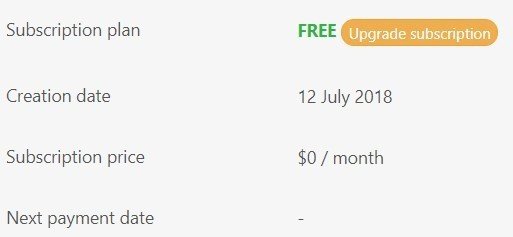 Integrate your business with our tool in less than 5 minutes and enjoy it!
How to embed Stripo plugin
Our descriptive video that shows every little step it takes to embed our plugin:
Three easy steps to integration:
1. Get registered and provide us with basic info for plugin initialization;

2. Setup configuration — adjust our tool for your business needs;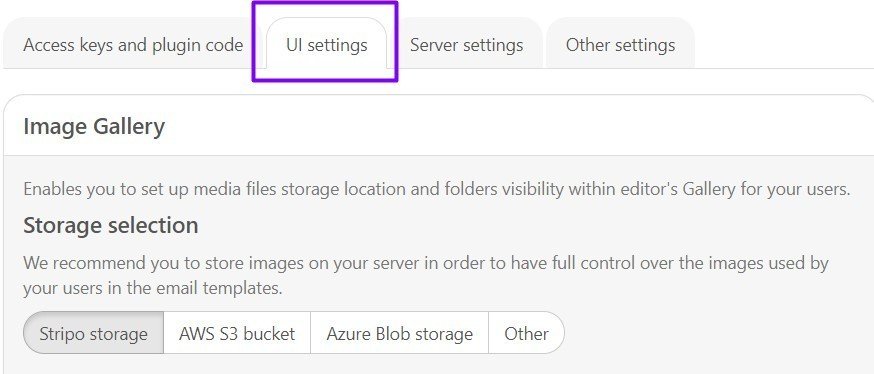 Customize this application to every little detail.
3. Paste the embed code into your website HTML;
On your UI, there will be two <div> areas: settings panel and preview area.
you need to define two containers;
insert the embed code/script;
initialize plugin.
Read the detailed manual on configuration and installation in this document.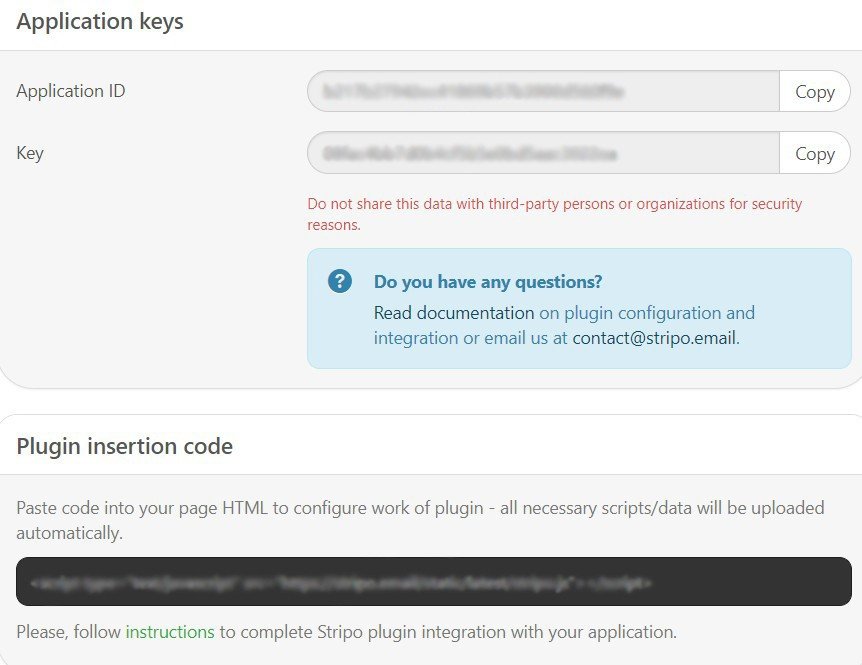 Done!
When developing our tool and our plugin, we took into account all the subtleties of email creation. Don't waste your time trying to create a new one. Leave it to professionals — enjoy email marketing and let your customers create modern sophisticated emails in no time.
Install our plugin now. If you have any questions or concerns, please email us at contact@stripo.email or find us on Facebook.