FreshMail is a framework for sending email messages that innovatively trigger the audience. It offers a scope of advancement devices, extended reports, and functionalities that engage advertisers to make viable missions. It gives a few highlights including formats altering, informing, auto-reacting to endorsers, and mass-emails.
How does Stripo make FreshMail email templates more valuable?
By offering a great collection of free FreshMail email templates and designs
Isn't it a great way to reduce time on email designing routine by using our pre-built templates? Especially when they are already neat, top-notch and mobile friendly.
Make responsive, outwardly engaging emails by utilizing our drag & drop editor that doesn't require any coding abilities. Additionally, we have a collection of content modules in the Modules library, where you can get the best ideas to customize your HTML email templates as per your needs. Plus we have a great collection of more than 100,000 images for your design needs.
By personalizing FreshMail email templates
Keep in line with your brand style and mission by personalizing our ready-to-use templates! You have every feature you need to create an appealing and effective newsletter.
By enabling you to preview FreshMail email templates
With a free inbox preview, you can be sure that your subscribers with different email clients will see a perfect email. If you notice some inaccuracy, just make all the needed adjustments and you're good to go. No stress with our preview.
By providing 13 Drag-n-Drop blocks to build FreshMail email templates faster
Building FreshMail email emails has never been simpler as Stripo offers 13 simple in use blocks that can be used to build a neat and amusing email. You simply maneuver them into your FreshMail Email templates and alter content immediately.
Some content blocks that Stripo offers:
1. Image
here you can transfer pictures from your PC. Alter these pictures as you like.
To customize your email, you may require a photo editor to chip away at your visual part of email. You might need to resize them, apply a few filters, and put stickers on them, and so forth.
Today there's no compelling reason to alter those visual components with third-party tools, and afterward transfer those adjusted scraps to utilize in an email. Stripo permits you to do it with no additional moves — easily in our photo editor.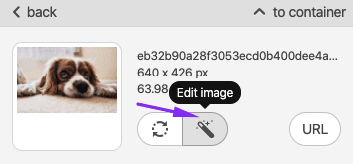 When you're finished altering, make sure to tap the "Save" button.

2. Text
You can pick textual styles that fit your FreshMail email configuration and create custom text styles, according to your needs.
3. Button
You do have the option to include square-formed buttons to your emails, apply CSS-styles, and shadow impact to your email templates.
4. HTML
It permits you to install custom email components that you work with some third-party devices yet with no HTML aptitudes.
5. AMP
You can utilize inventive email components for your email campaign missions. Building this template requires no coding abilities by any means.
Last but not least, Stripo assists with building complex FreshMail emails easily & quickly. Ready to try?
Join over 950K users
Start for free — upgrade anytime