Email marketing is quite a complex subject, and campaign management requires a lot of knowledge. Whether you're an aspiring marketer in a start-up company or a seasoned veteran of a huge corporation, you'll want to get actionable and proven advice from popular influencers in the industry. In this article, we have collected the most famous and, in our opinion, worthy opinion leaders in email marketing, whose advice and knowledge will help you create exceptional marketing campaigns.
1. Mark Robbins
The first of the top thought leaders we would like to mention is Mark Robbins who is quite popular in the industry. Mark Robbins is dedicated to making email as accessible as possible to businesses and marketers of all levels. He was one of the first to get into email accessibility and he is an excellent programmer. One of his main fields of action is the gamification of email marketing. However, he does not develop it through AMP like many others but uses CSS technology. You can often see his articles on the subject of email marketing, and he is also a frequent guest on various podcasts.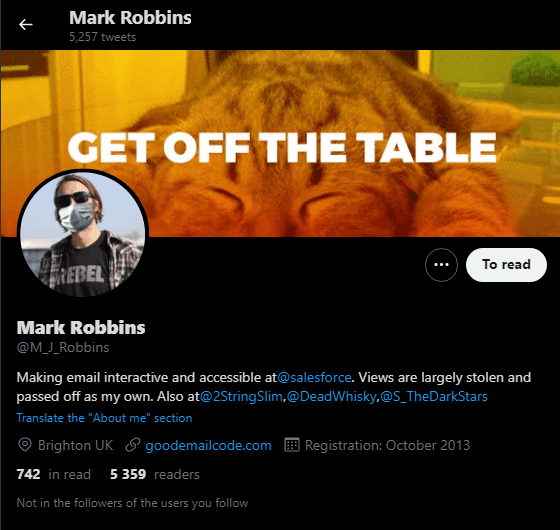 2. Jordie Van Rijn
This independent consultant and email marketing thought leader has been helping businesses and marketers across industries reach the heights of email marketing for over 10 years. He has worked with leading brands such as Heineken, Unilever and AEGON, and many others. He maintains his own email marketing blog which is constantly updated with expert articles, tips, and the latest industry trends. However, his blog is not the only place where he appears. Jordie is a frequent visitor to reputable websites such as SmartInsights and Econsultancy.com and you can often see his articles there. Besides that, he is one of the moderators in DDMA, a regular speaker, and ambassador of these events. Do not forget about various live events related to email marketing.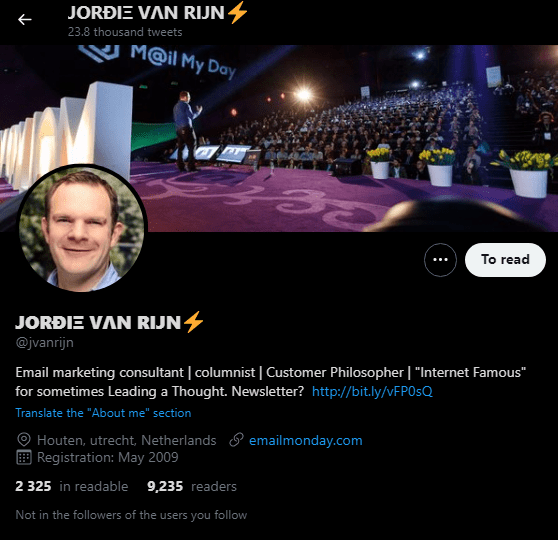 3. Jeanne Jennings
Jeanne Jennings is one of the email marketing leaders of opinion who owns her own consulting company "Email Optimization Shop by Jeanne Jennings". For over 20 years, she has brought her wisdom and knowledge to the email marketing industry, helping businesses create exceptional email marketing campaigns. Jeanne is revered in marketing circles as she is a professor of marketing at Georgetown University who nurtures new marketers who are ready to create and bring value to businesses. In addition, she is the voice and manager of the Only Influencers email marketing community.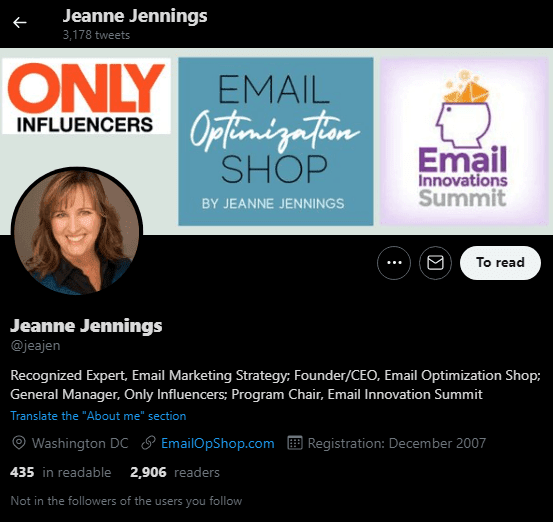 4. Neil Patel
Neil Patel is one of the top opinion leaders in email marketing who has been running his YouTube channel for more than 5 years, which covers all digital marketing in general and email marketing in particular. However, this is not his only merit. He's the founder of Quick Sprout and has built an incredible reputation as a master of digital marketing. Neil Patel's knowledge is often used by large companies like Amazon, NBC, GM, HP to increase revenue and upgrade their marketing companies. Patel successfully combines collaboration with several companies, consulting startup owners, and blogging. He is revered in the industry, he is always up to date, and according to Forbes, he is one of the top ten online marketers in the world.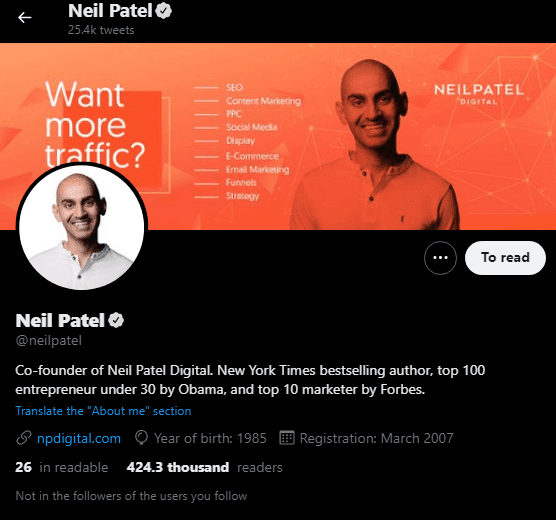 5. Ann Hadley
Next on our list of digital marketing thought leaders is Ann Handley. As head of content at MarketingProfs and author of the Wall Street Journal bestselling book Everyone Writes, it's no surprise that Handley knows how to write and share the best content that attracts and retains customers. She was named the most influential woman on social media by Forbes and co-founded ClickZ.com, one of the first sources of interactive marketing and news commentary. She tweets and talks about a wide range of digital marketing topics, such as encouraging buying behavior, email campaign strategies, and creating great content. Follow her on social media and other platforms to take your email campaigns to the next level.
6. Chad S. White
Chad White is a renowned email marketing thought leader with over 3,000 expert articles on email marketing where he shares the latest trends, experiences and knowledge with marketers around the world. One of the highlights of his career is The Rules of Email Marketing, which is a must-read book for anyone starting their email marketing career. It contains the best practices for creating effective email campaigns for businesses. Chad currently works as Head of Research at Oracle.
7. Kath Pay
Despite the fact that you most likely know her, we simply could not help but mention her in our article. Kath is one of the most influential marketing thought leaders in the UK. She is listed as one of the top 50 email marketers in the world by Vocus due to her innovative approach and vast experience in the industry. Keeping an eye on her social media and activities will help you gain valuable knowledge whether you're a beginner marketer or an experienced one. Her articles are published on websites such as Emarsys, Smart Insights, Pure360, DigitalSummit, and many others. So it's much easier to stay up to date with industry news and trends.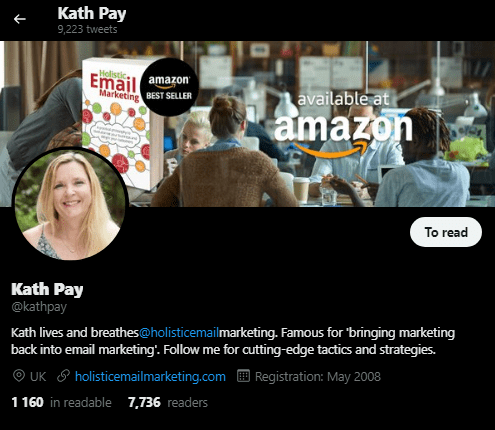 8. April Mullen
April Mullen deservedly ranks among the top thought leaders in email marketing. She has over 15 years of experience in the industry behind her shoulders. She is also an Adjunct Professor of Digital Marketing at the University of Missouri-St. Louis and she pioneered the initial email marketing curriculum, and it attracts more and more students every year. However, this is not the only achievement in her career. April is a co-founder of Women of Email, the network which is committed to bringing change to the industry to help more women achieve professional growth in email marketing faster and easier. She has more than 50 expert articles and dozens of speeches at events, webinars, and so on. Every email marketer should have her social media bookmarked.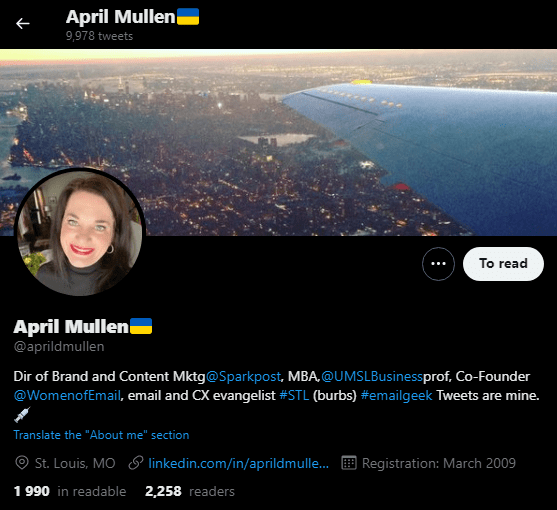 9. Justine Jordan
If you follow Litmus, you've probably heard of Justine since she was VP of Marketing for over 8 years. One of her greatest accomplishments is her hard work building a strong community of email marketers worldwide. She maintains her own website, where she often shares insights, thoughts, and knowledge from the field of email marketing. In addition, she is extremely active on social media, where you can also find a lot of useful information for creating effective email campaigns.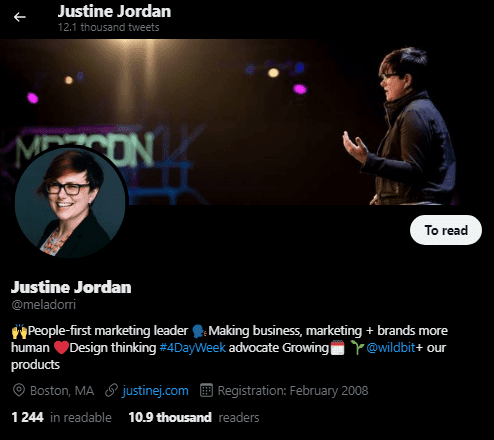 Final words
We have put together this list of digital marketing thought leaders so that you can rip off a database of experts whose knowledge you can turn to in difficult times. Their experience and advice will help you create over-the-top email marketing campaigns, and Stripo will help you design your emails.
Was this article helpful?
Thanks for your feedback!