We continue to share awesome examples for inspiration before the start of Christmas email campaigns. In this post, we have collected examples of Christmas email newsletters.
1. 6 weeks lead time
Sender: Tom Raffield
The brand Tom Raffield reminds subscribers about Christmas gifts 6 weeks before the holiday. In addition to a bright design, this example has a strong marketing sense — the courage to start Christmas sales much earlier than others.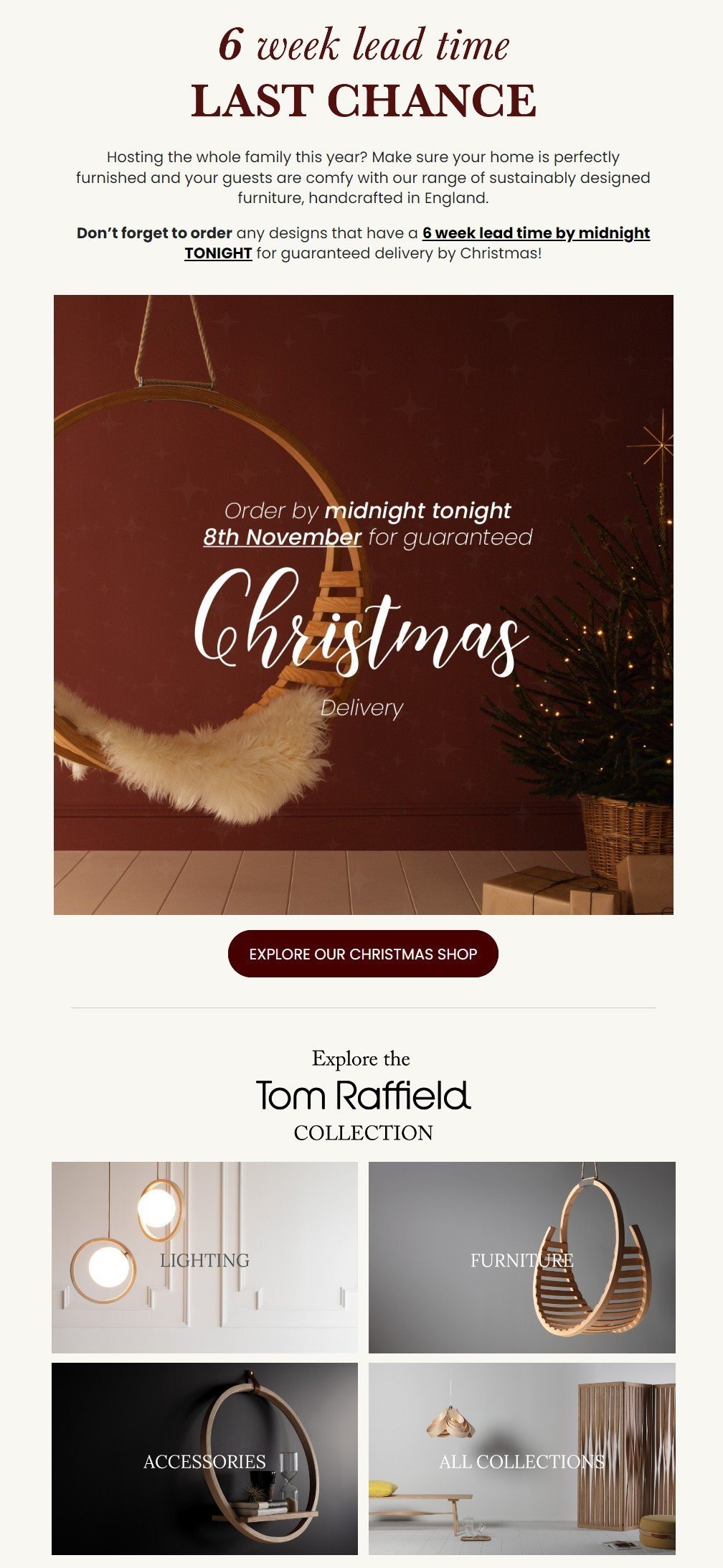 (Source: Email from Tom Raffield)
2. All She Wants for Christmas Is…
Sender: Brighton
Every year, the Brighton brand holds a Christmas marathon "12 days before Christmas" for subscribers — they talk about what gifts to choose for 12 days. Such a marathon is a way to create a Christmas mood for your subscribers and boost open rates.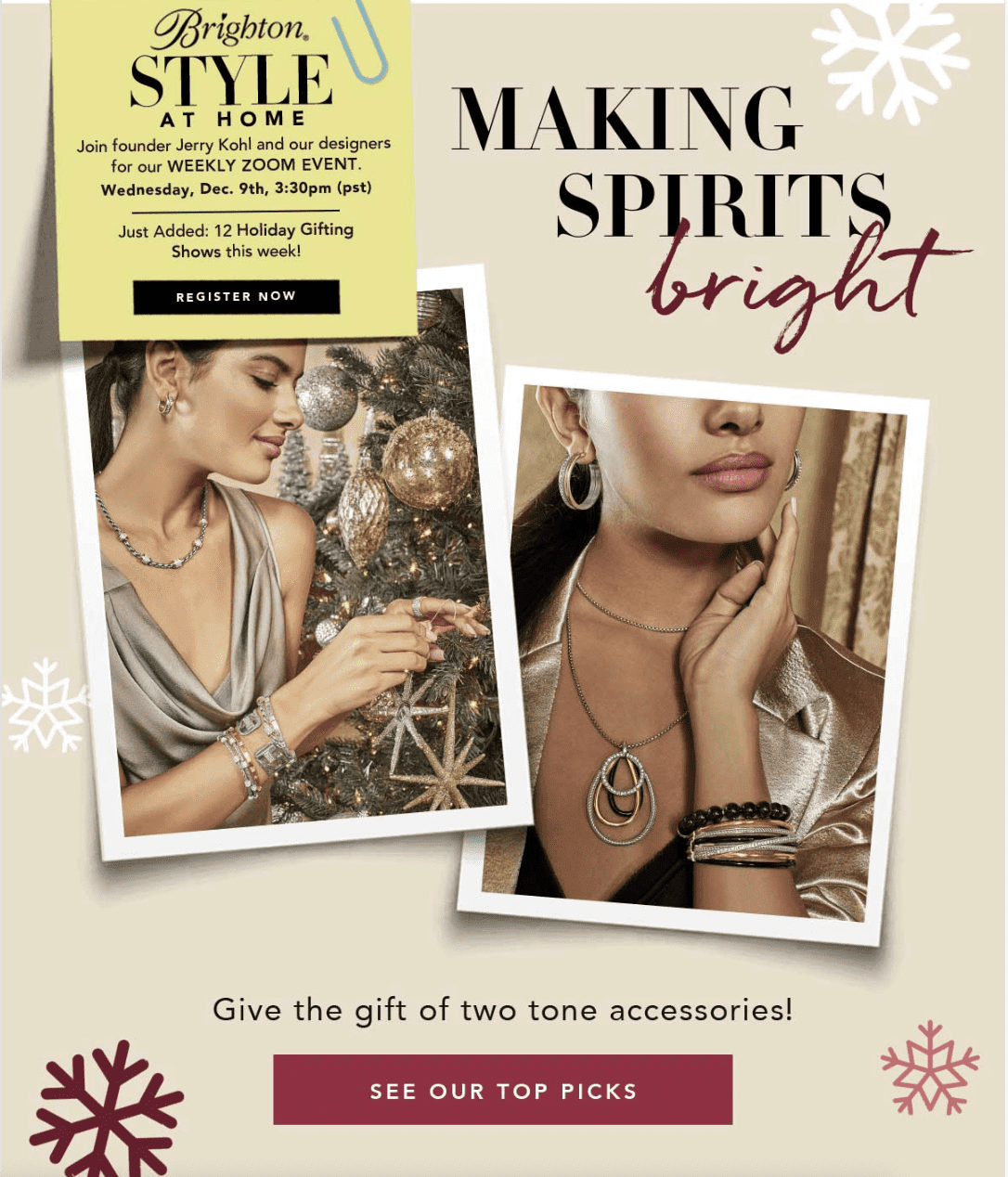 (Source: Email from Brighton)
3. Day #11 Colorful Gifts In Store
Sender: Brighton
This is one of 12 emails that contain products in the same style — Christmas colors and a mood-creating design. The color name, "merry red," evokes positive emotions and makes these products perfect gifts for Christmas. The wrapped gift emoji also makes the Christmas subject line more noticeable and festive.
(Source: Email from Brighton)
4. The 2022 Gift Guides
Sender: Moments
This email is an example of a guide from a platform for photographers. The good thing is that they made a selection of gifts for only one audience group — creative people.

(Source: Really Good Emails)
5. GET IT BY CHRISTMAS This is your LAST DAY for FREE delivery by 12/24 + $10 jeans!
Sender: Old Navy
A combination of holidays, family looks, and shopping can be a good Christmas email marketing strategy for a clothing store to sell to all family members at once. Look how creatively the brand uses a GIF file to draw attention to the clothes in the Christmas style.
(Source: Email from Old Navy)
6. A Perfect Pair for Every Holiday Occasion
Sender: Stance
Christmas party socks are fun and practical at the same time. How do you resist buying something so stylish and festive?

(Source: Really Good Emails)
7. More 1 of 12 Own the festive season with top-brand clothing
Sender: TK Maxx
In this example, the brand surprises us not only with a Christmas discount but also does it brightly and cheerfully, combining values, Christmas colors, and fun in one offer.
(Source: Really Good Emails)
8. Party styling spotted at the British Fashion Awards
Sender: Monica Vinader
Look how great this brand uses animated GIFs to showcase jewelry. It helps to show the play of light and shine. After looking at such an email, it is tough to resist and not choose something truly festive as a gift for your loved one.
(Source: Email from Monica Vinader)
9. Expert Tips for Holiday-Ready Lips 💄
Sender: Maybelline
Before every holiday, Maybelline advises subscribers on creating a festive makeup look and offers their cosmetic products. Look how they do it before Christmas — a bright and memorable image from the brand ambassador and celebrity.

(Source: Email from Maybelline)
10. Time to celebrate Christmas at Prezzo
Sender: Prezzo
Prezzo starts the email with a cheerful message: "Christmas better together" to immediately tell subscribers that the brand is ready to take on some of the Christmas hassles. Then Prezzo offers holiday menu options, remembering to indicate a special price offer.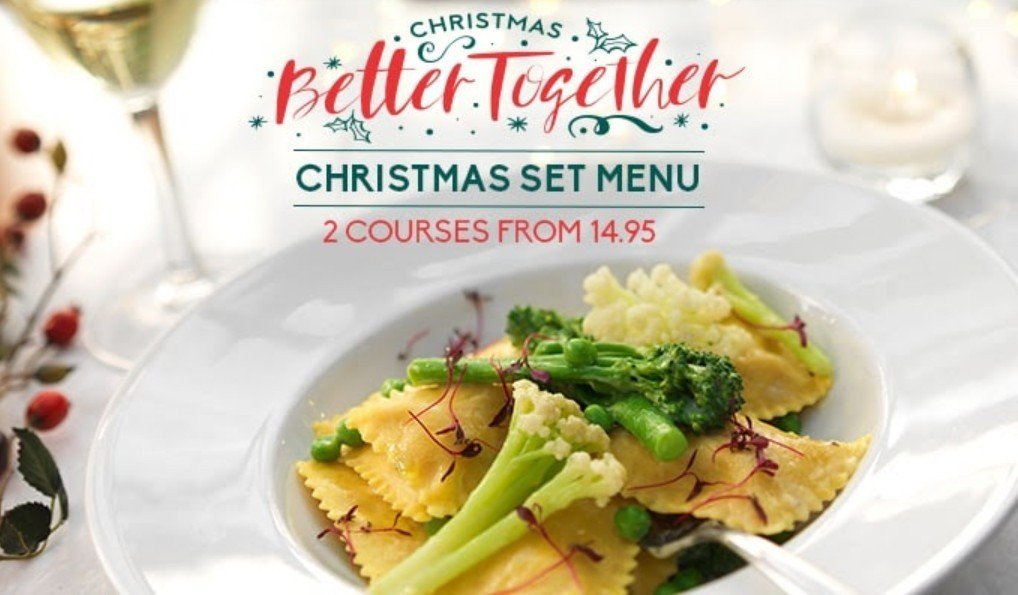 (Source: Email from Prezzo)
11. Christmas is Coming! Are You Ready?
Sender: D'Artagnan
This email offers to place an order ten days before the holiday to definitely get a chic dish for the festive table and check off one more task from the list. "Hurry up, our stocks are limited" — this pre-Christmas trick always works perfectly.
(Source: Email from D'Artagnan)
12. A stylish holiday at home
Sender: H&M Home
In the email from H&M Home, you can see how they picked up every detail: festive colors, decor details and entire interiors, and products from different categories. All this will become a source of ideas for the subscriber and a reason for purchases.
(Source: Really Good Emails)
13. The gift every home will love
Sender: Nest
Sophisticated climate technology is an excellent Christmas gift for your home. This is not a decor but also something necessary for the winter holidays. Сomplex home appliances can also be sold with a bit of humor and festive spirit.

(Source: Really Good Emails)
14. 🎅A certain Mr. Claus gets his gift ideas from us🎁
Sender: Uncommon Goods
The original offer with eye-catching texts, humor, and holiday mood is what I liked in this Christmas email. A fancy text immediately immerses you in the atmosphere of Christmas where everyone gets from Santa what they always wanted.

(Source: Really Good Emails)
15. There is still time for Christmas gifts
Sender: Monica Vinader
This email is for those who still need to buy a gift. The email was sent on December 22 with the promise of guaranteed delivery by December 23. This is all required for a quick purchase, especially if you know you are already on the verge of failure. In addition to a strong marketing offer, this email has a bright design — you can immediately see that the gifts will be perfect.
(Source: Email from Monica Vinader)
16. Christmas Is Tomorrow! Send an E-Gift Card
Sender: Victoria's Secret
On the last day before Christmas night, Victoria's Secret sends a vivid and colorful email filled with GIFs. They thought out every detail in the email, including the selection of colors (red and gold), Christmas decorations, golden dust, and a special offer that works only on the last day of Christmas.
(Source: Email from Victoria's Secret)
17. Dog people give the best gifts
Sender: BarkBox
This is how a brand that sells boxes with treats and dog toys offers do not forget to buy gifts for your pets. Look how much warm humor you can find in this email example. Especially if you're a dog person, you definitely can't refuse.

(Source: Really Good Emails)
18. Have low alcohol, low stress, Christmas
Sender: Mary
The brand uses humor and plays on the theme of the race for gifts in an original way and offers a solution to this stressful situation. So that the choice of gifts does not turn into stress, there are recipes for excellent cocktails.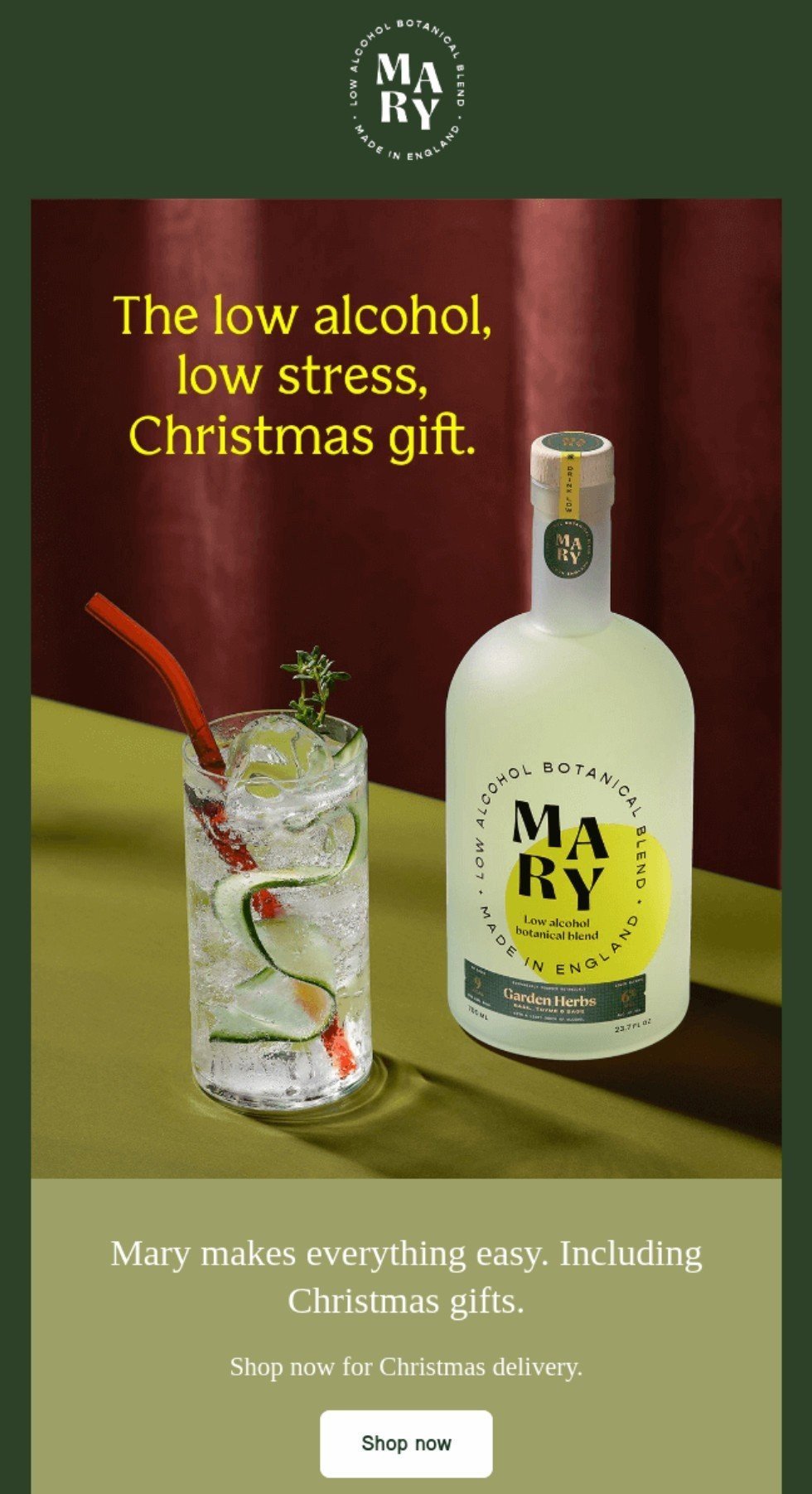 (Source: Really Good Emails)
19. The perfect last-minute gift ☕?
Sender: Starbucks
Starbucks invites customers to double the marry as they order a double espresso. This example is good for just that. It is designed to cheer up subscribers before the holiday and relieve stress from choosing gifts and organizing Christmas parties.

(Source: Email from Starbucks)
20. Wishing you a Happy Winter Solstice!
Sender: Curate Labs
In this email, you can find warm wishes and a sweet personal signature at the bottom. It creates a very personal feeling and festive emotions.
By the way, we wrote about how to generate an efficient signature for emails in this article.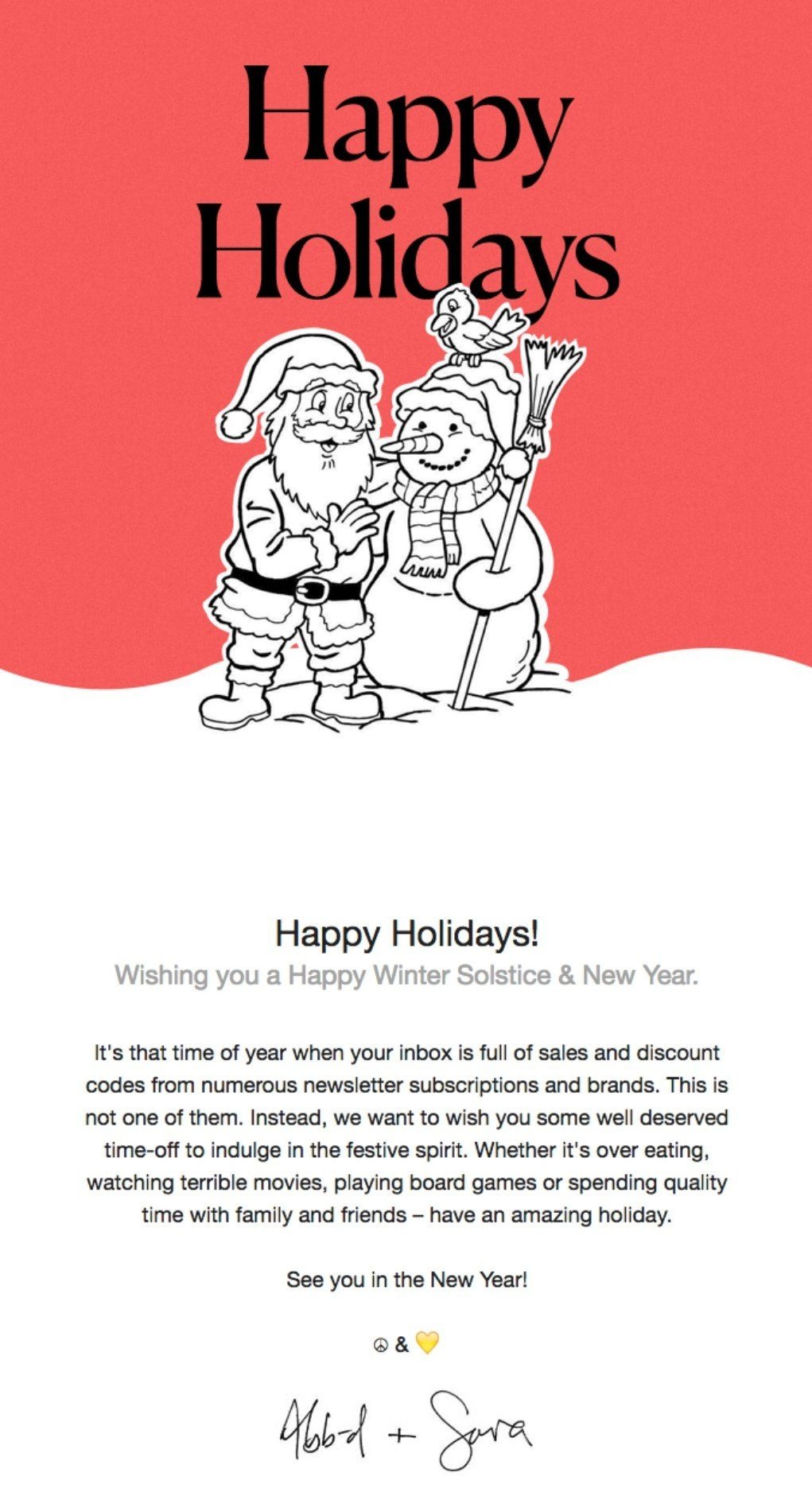 (Source: Really Good Emails)
21. Happy Holidays
Sender: World Wildlife Fund
The company conveys warmth and care for animals, as well as gratitude for the support from subscribers. See how sincere the email sounds.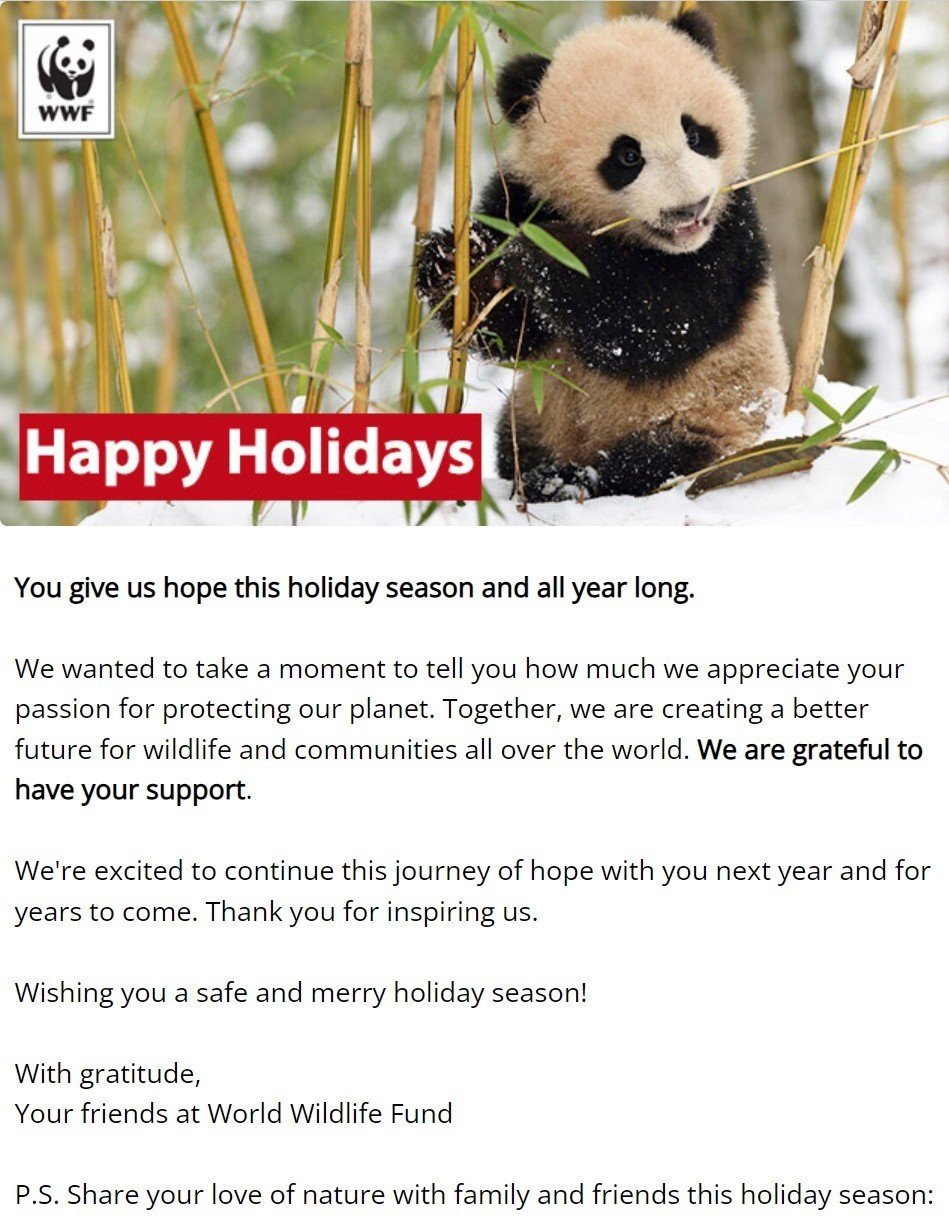 (Source: Email from World Wildlife Fund)
Wrapping up
We hope you got some holiday inspiration and are ready to start your successful and profitable email campaigns. While we're collecting new ideas for you, check out our Christmas email templates.
Was this article helpful?
Thanks for your feedback!