19 Methods for Generating Ideas for Blog, Social Media, and Email Newsletters
27 August 2021

Table of contents
How to find fresh content ideas
How to come up with content ideas on your own 
Final thoughts
1.
How to find fresh content ideas
What should you do if you are running out of ideas for posts, articles, and newsletters? How should you develop the content strategy, and where should you look for inspiration? Let's find answers to these questions here and now. In a nutshell, there are three main content-generating options: finding fresh content ideas, coming up with content ideas on your own, and rewriting/optimizing content that already exists. Let's deepen into details, shall we?
How to find fresh content ideas
In this section, we'll show where to look for fresh content ideas.
Good statistics service by Google. It shows the search queries number for any topic and stores the search queries history for 5 years. Also, it has a popular news' search.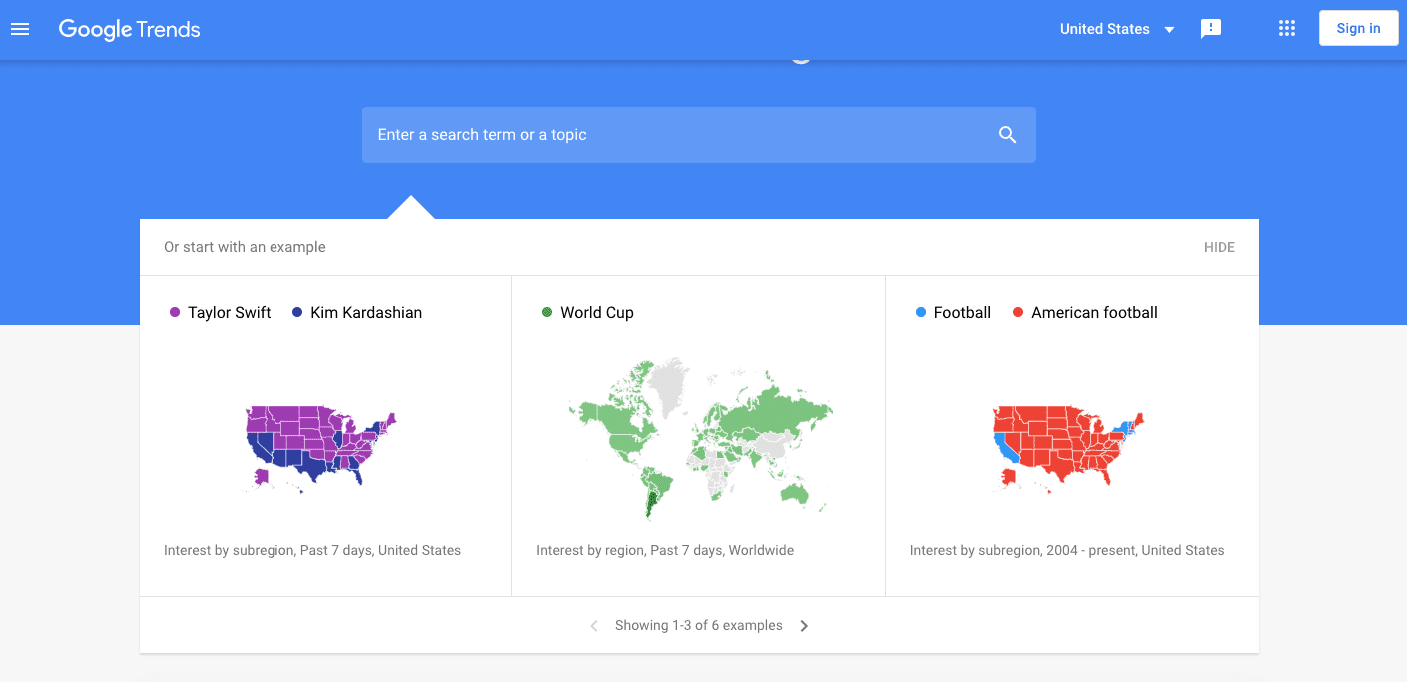 (Source: Google Trends)
For example, we write the "World Cup" and see how often this event was mentioned on the Internet over the last week, with dynamics by day.
You can look at "Recently trending" to see what people are searching for at the moment.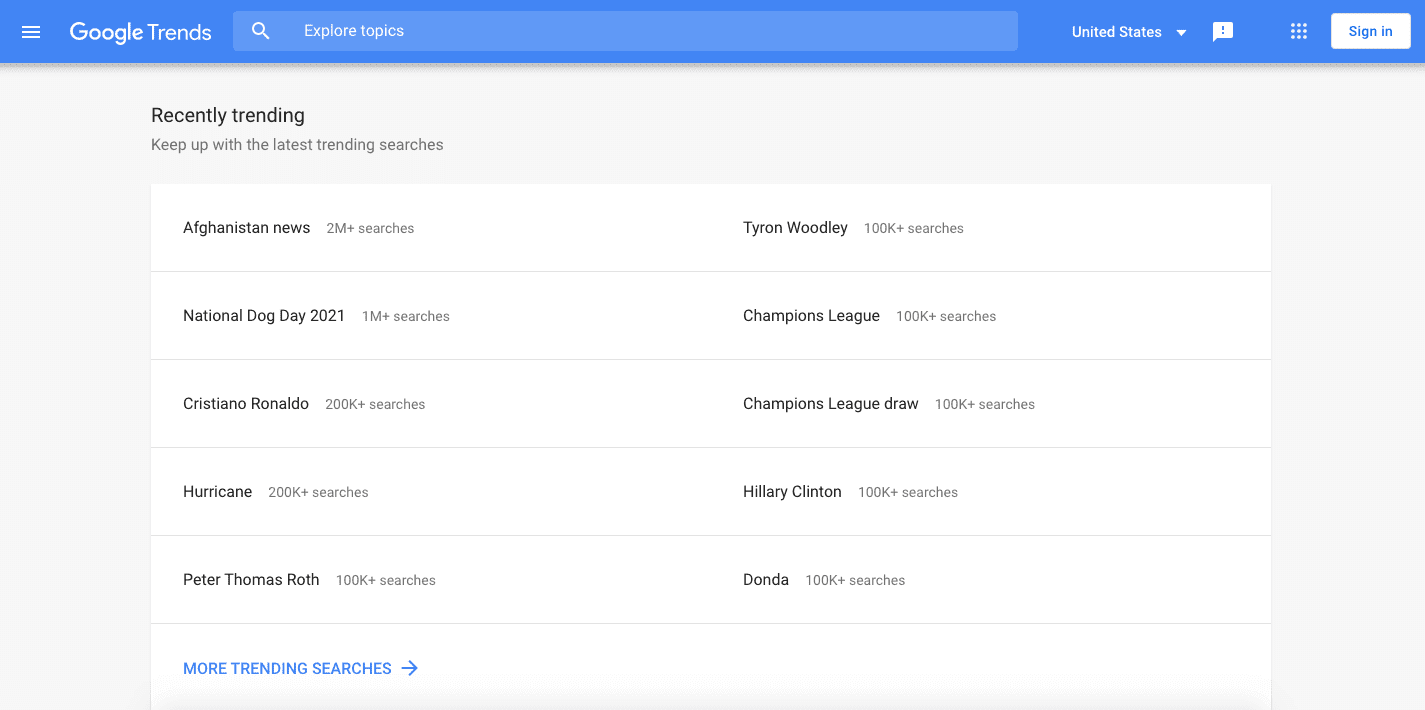 (Source: Google Trends)
If you switch to the "Year in search" tab, you can analyze the most popular queries in the selected country over the last year. This option is for long-term interests.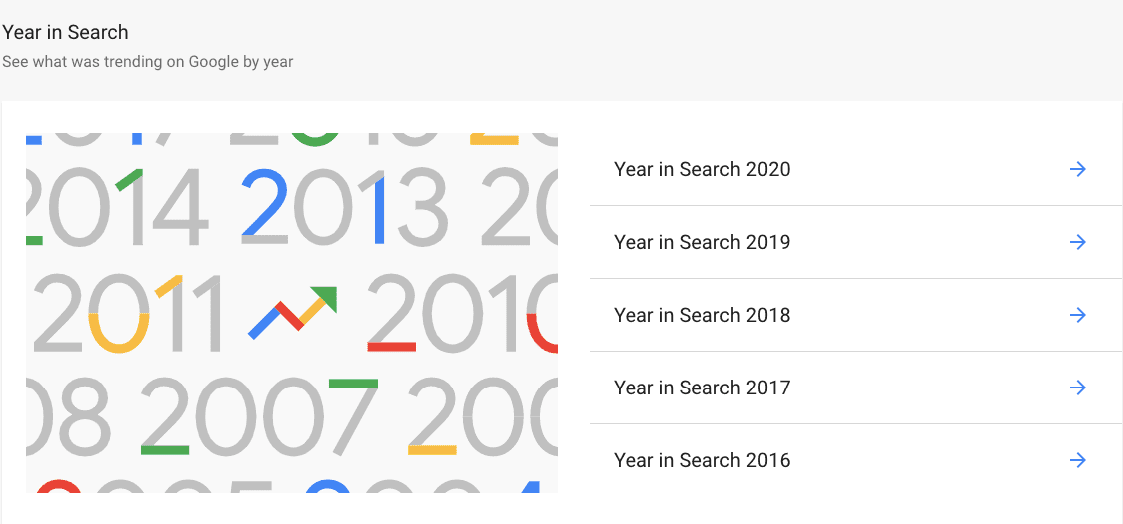 (Source: Google Trends)
You may think about how to connect these topics to your business in order to get audience engagement and traffic.
2. Google tips
Start typing any phrase related to your topic on the Google homepage and you will see what tips it will offer you.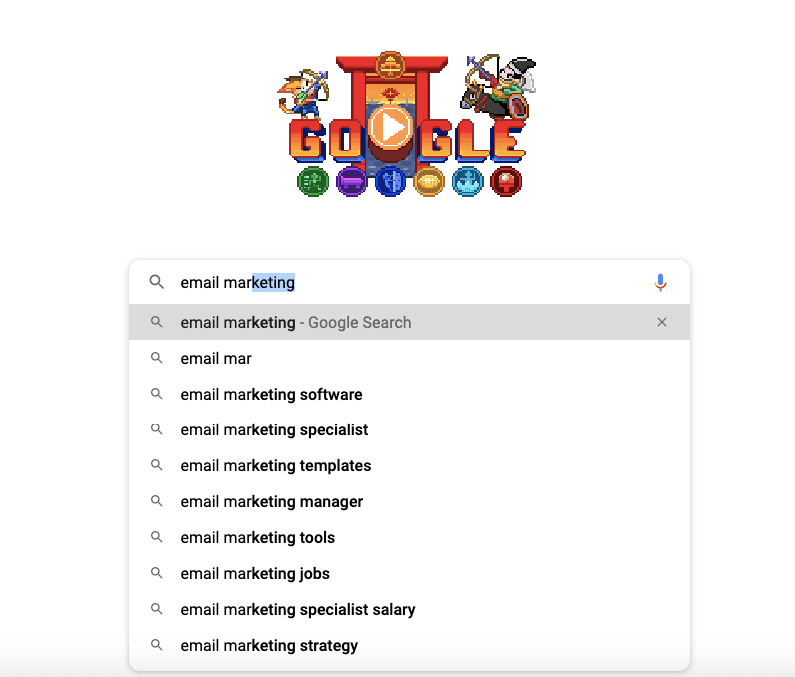 (Source: Google Search)
This is a list of possible topics for a content plan.
3. Feedback on any topic of your business
You can effectively use rereviews from your customers and competitors' customers as well. As a rule, negative reviews are more informative, because they are written with emotions and from the heart. Look at what users write in such services as G2Crowd, Trustpilot, and Capterra, what questions they care about, and then write a post, article, or a newsletter with answers to these questions.

(Source: Capterra)
4. User-generated content
(Source: Stripo)
Ask users to write a story about using your product or service, promotion, or brand. You can run a contest for the best stories with a small encouraging prize. It will give you material for several articles and for many posts. User-generated content is often well received by the audience.
HubSpot is famous for its blog. And now they help others maintain their blogs successfully.
You enter the major topic you are interested in. And HubSpot generates 5-250 blog ideas for you. You can use the first 5 without registrations, and download all 250 after registration. Those topics go with SEO tips.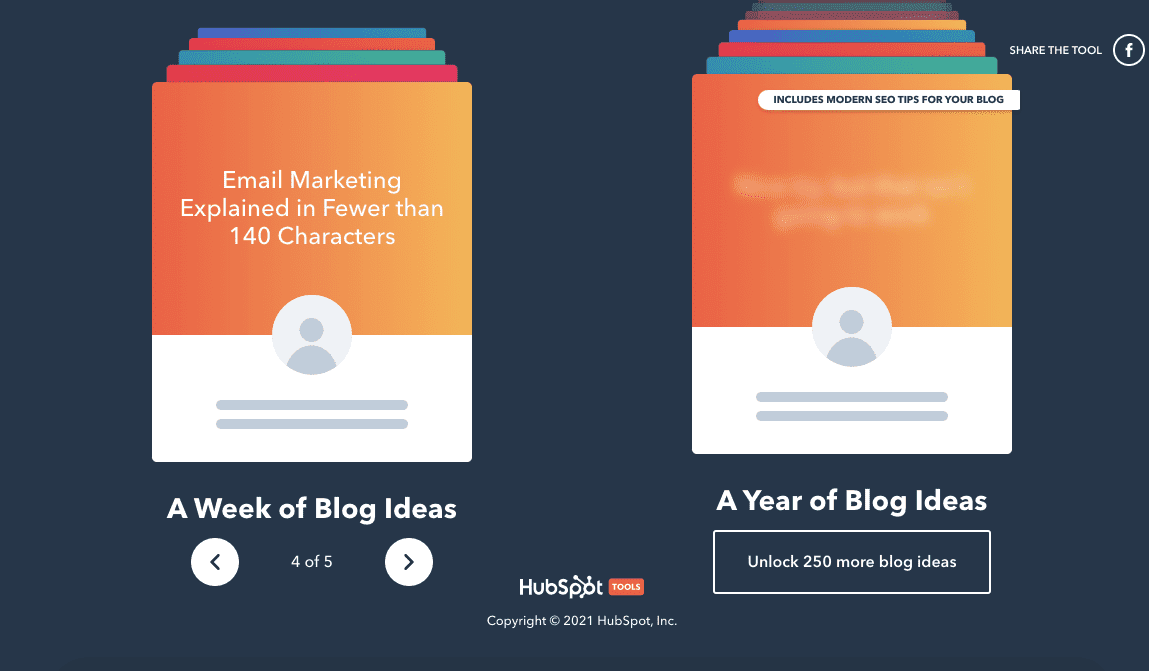 (Source: HubSpot)
The tool is totally free.
It's hard to find a marketer that hasn't heard about Neil Patel. He is a famous writer, and his site is always on TOP.
His tool Ubersuggest generates topic ideas that will have a positive impact on your website SEO.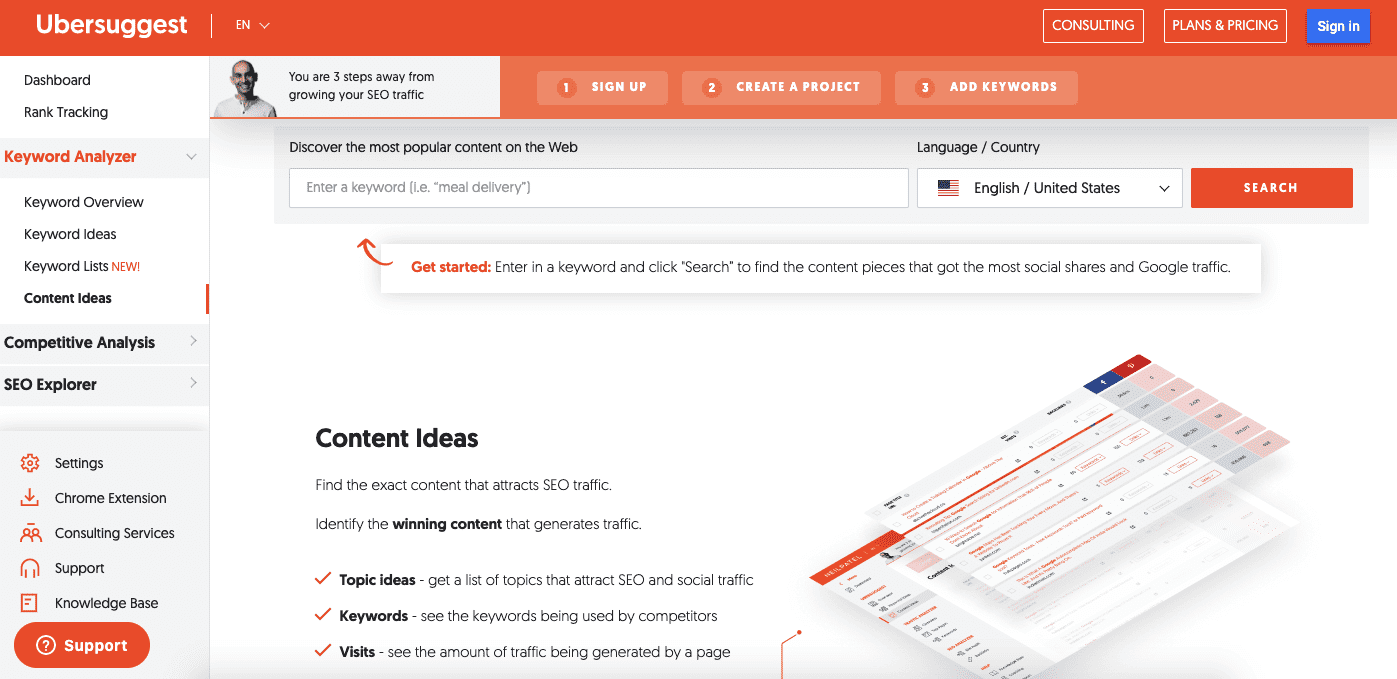 (Source: Neil Patel)
This is a paid tool, but has a 30-Day Money-back Guarantee.
How to come up with content ideas on your own
Almost everything in this section is about working with a team. But let's start with a third-party service.
This service is free and very popular around the world. It seems to be specifically created to find inspiration and new ideas for content.
When registering, you can choose 5 topics that are as close as possible to yours, and the site will show the desired content.
But even if your topic is absent, just enter a query in the internal search bar and Pinterest will pick up ideas that can inspire you.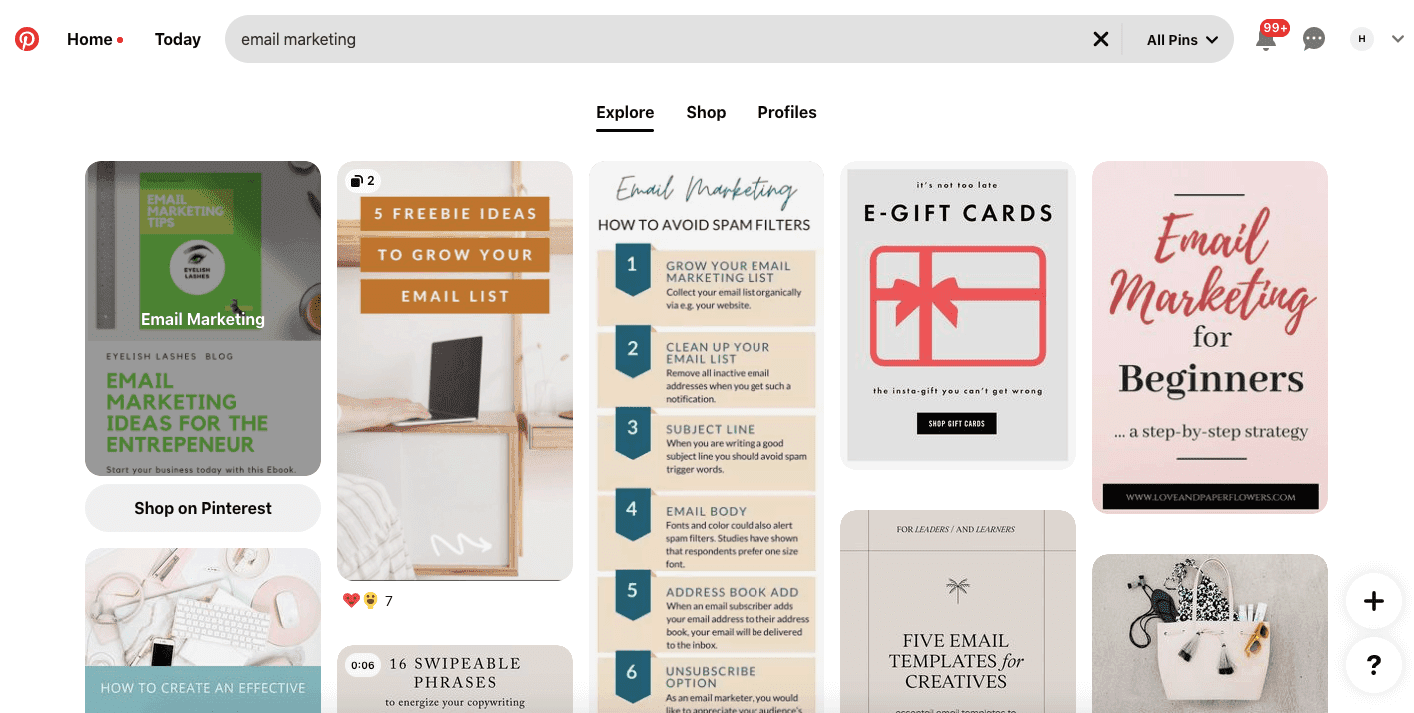 (Source: Pinterest)
All ideas are clickable — look, read, think, and use.
8. Conduct surveys
Run a survey to find out what feature articles, posts, or emails your audience is interested in. A direct question can be confusing. But if you conduct a survey like "What personal data is especially important for you to protect?" or "What business data are you most worried about and why?" you can get a lot of ideas for your content plan.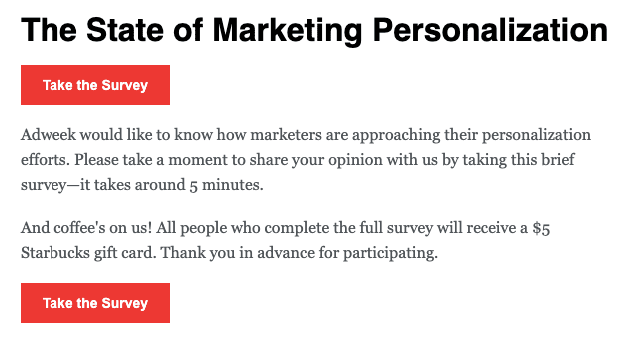 (Source: Email from Adweek)
It is always advisable to use a Social Media Calendar to visualize your content strategy.
9. Team brainstorm
A common technique where an office or remote team gathers to generate ideas. The principle is there's no such thing as a good or bad idea. The brainstorm moderator collects a complete list of ideas from all participants, and then the people in charge of the content choose working ideas., those ones that can be used for an article, a post, a newsletter.
10. Interview your teammates
At least the team-leading specialists have something to share with the audience. The interview format is very lively, it shows a person well, such content is interesting to read. Give the floor to the people inside, ask the team members what they can tell subscribers on social networks, on the blog, in the email. Most likely, they will have some interesting ideas.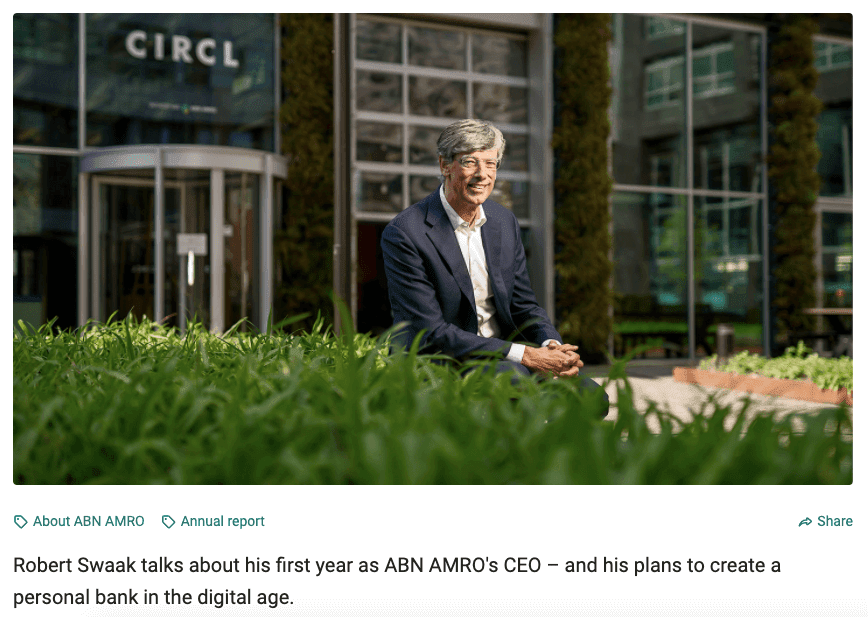 (Source: ABN AMRO)
You can start with the CEO, then talk to the heads of other units and other specialists.
The bigger the team, the more content ideas you will generate in this way.
11. Author columns
As a rule, there's more than one person who works on content in big companies. Start an author column on your blog or run a series of emails with an author's note in it. Point out a common broad topic for all authors, and ask them to write (briefly) their thoughts on any issue within this topic.
All people are different, opinions will also be different. This is a good option for generating unique and non-trivial content.
12. Statistical data
If a company runs a blog, there is data on its attendance, audience, and reactions to articles. The number of subscribers changes if a company has groups or pages on social media. The subscriber's geography, age, or social status may also change. These facts are all good content ideas. Maybe not enough for a whole article, but quite enough for a post or a newsletter. For example, "How the audience of our blog has changed in 2021", "What unites people from 28 countries that read our page on Facebook in 2021".
13. Newsbreaks
Follow the news in your industry — this is an endless source of newsbreaks, each of which can be described in an article, email, or post on a social network.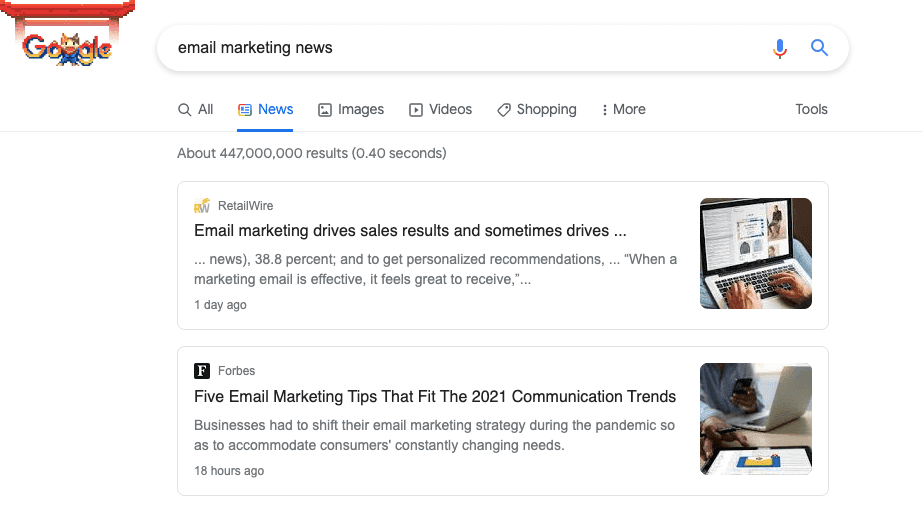 (Source: News on Google)
One item can be described in different ways, generating several topics for content at once.
How to rewrite/optimize content that already exists
We give a second and third life to the content with the benefits for the company and the audience.
14. Combining articles, posts, and newsletters into a compilation
For example, you sent out 10 emails with the stories from your clients. Combine them into How Our Subscribers Speed Up Email Production.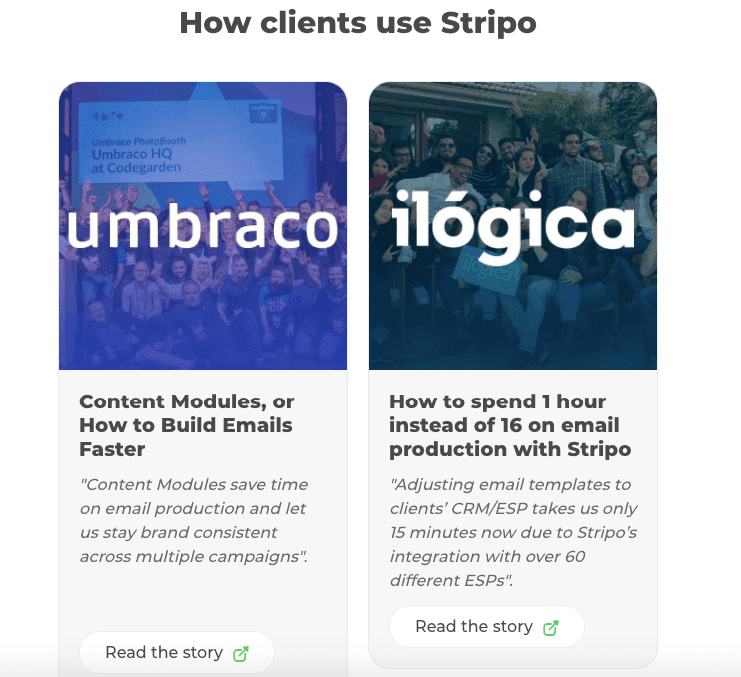 (Source: Email from Stripo)
15. Digests
This can be an email, post, or article with a short story about all publications (both yours and third-party ones) that came out during the week on the topic "Data protection on the Internet and beyond."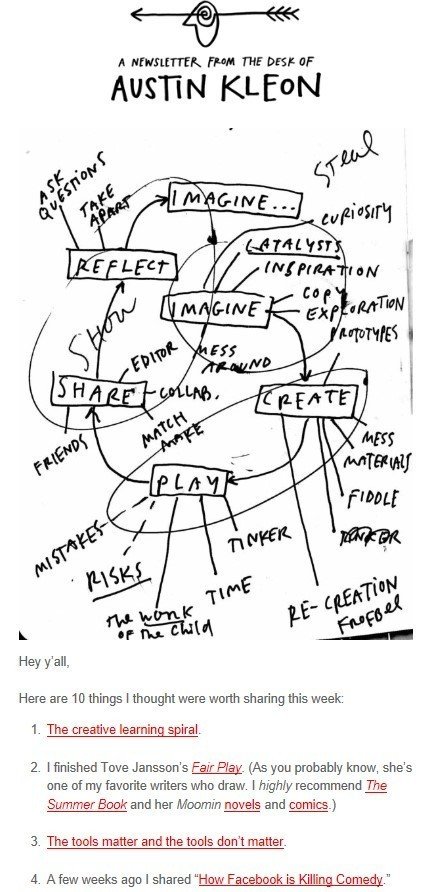 (Source: Email from Austen Kleon)
Digests posted at the end of such significant periods like a month, quarter, and year are pretty logical.
16. Content "Optimization"
You can take an article of yours that was written for narrow specialists and rewrite it in simple words for a wider audience.
17. Slicing content
From a long-read article of yours, you can "cut" 3-5-7 posts for social networks, the same number for the email newsletters. You can make a series of how-to videos for your website or social networks from the recording of the webinar.
18. Format change
Here's what you can do:
record a podcast for the article;

shoot a video of the posts on social media;

"transcribe" the webinar video to text, to later turn it to the article for a blog;

turn an article into a presentation for email;

make some cards for social media posting or Q&A for the FAQ section based on the information in the article.
These are all proven working methods to give content a second and even a third life.
19. Articles updating
You described the functionality of an online service years ago, but over the years some functions have gone, but new ones have appeared instead. Do not show outdated content to your audience. It would be better to rewrite the material so that it becomes relevant.

(Source: The Stripo Blog)
Also, updating an article is a ready-made subject for a newsletter email.
Be sure to optimize your blog articles with SEO. Either hire an in-house specialist or hire an SEO service.
Final thoughts
Generating ideas for content is quite a chore. There is no need to wait for the muse, inspiration, and other supernatural things when we have clear content creation methods.
Get new ideas from Google search, competitors, subscribers, and your teammates. Don't forget about repackaging options. Thus, you are unlikely to find yourself in a content dead end with the question "What else can you write about?".
Was this article helpful ?
Thanks for your feedback!