03 April
Gmail New Promotions Tab Guide
Meet our Email Annotation builder for Gmail Promotions Tab.
Due to this feature, recipients will be aware of the deals, coupons and sales even without opening your emails.
Generate the embed code with us in less than a minute!
Important: the annotation code does not distort the appearance of your emails in other email clients, as well as in Gmail, when seen on desktop.
What is Gmail promotions tab and why do you care?
This February, Google announced the launch of the New Promotions Tab in Gmail. This means that from now on email marketers can highlight their value offers in customers' inboxes. Recipients get to see your brand name, items that are on sale, email preview image, the size of the sale and its end date.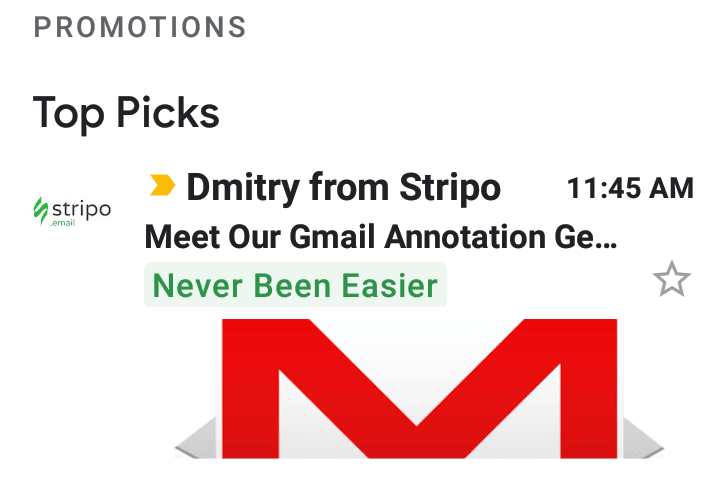 Such annotations certainly grab customers' attention. The chances are many more recipients will see your value offer.
And if they like the data provided in the email preview, they will open your emails.
Please remember that

In other words, Google gives us more opportunities to be heard and seen. But it totally depends on us whether we use this opportunity properly and endear recipients to our emails.
The chances that such emails get lost in among other emails in recipients inboxes significantly decrease.
How to generate Gmail annotation code for your emails with Stripo
The entire process is as simple as that.
Go to the Stripo Promotion Annotations Builder, where:
Why would you do it, when your sender name has already been set in the ESP(s) you constantly use? As long as Gmail annotations generate a totally new header element for your emails, this data is required.
We enter "Stripo.email";
Yes, same here. This data is also required. And it cannot be replaced by the subject line you are about to enter in your ESP. The best practice is when the subject line you enter in our annotations generator repeats the subject line you are about to use for the entire campaign;
Insert a URL to your logo
It will appear next to the email of yours in Gmail's Inbox;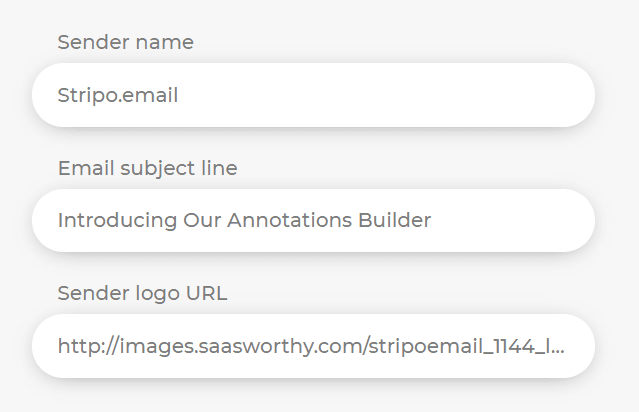 Insert a URL link to promo image
Toggle the "Show promo image" button. Then in the field that appears, paste the link to your promo image.

Specify the amount of discount
Toggle the "Include a discount offer" button. Then specify the size of your discount and specify the code to get the coupon.


Note: if you do not want to use any codes, just leave this field empty. And recipients will only see the amount of the discount;
Toggle the "Specify your code expiration date" button. In the dropdown calendar, choose the necessary date, where current date will be highlighted with yellow, and the expiration date will be highlighted with green. Then set the time zone;
Check out what your annotation is going to look like
To the right from the settings panel, you see the email annotation that you've created;

If you like the gmail promotion tab email example that you've built, click the "Generate my code" button;

Copy either JSON format or Microdata format — they both work well in our editor;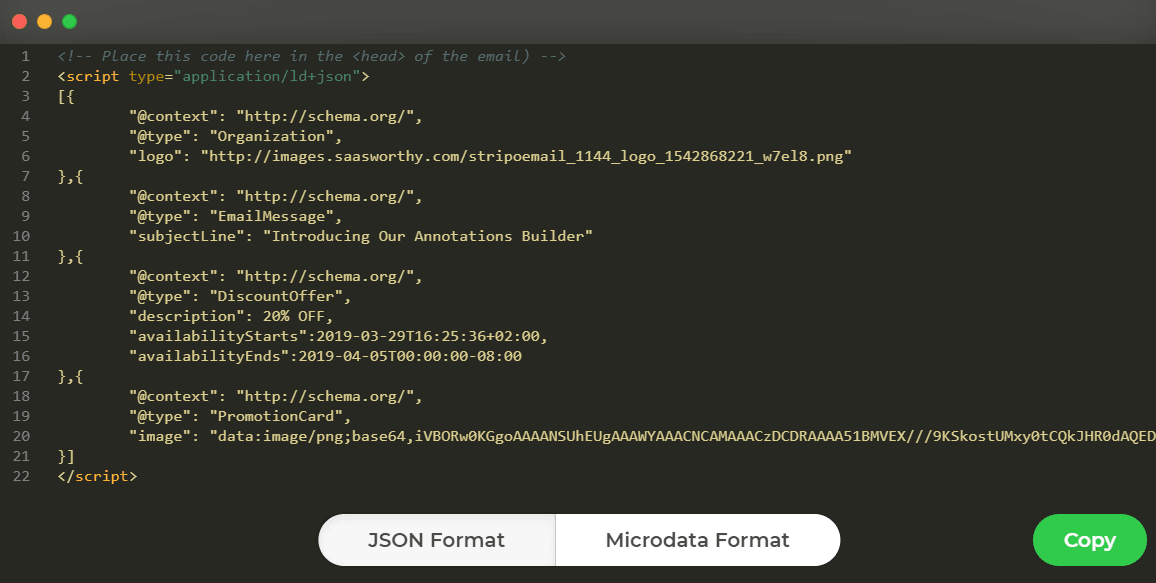 Paste the code in your email template
To paste the embed code in your email, you need to open HTML code editor;

Then insert the code right after the tag <head>
Done! Your email is ready to go!
Here's what I get in my Gmail inbox.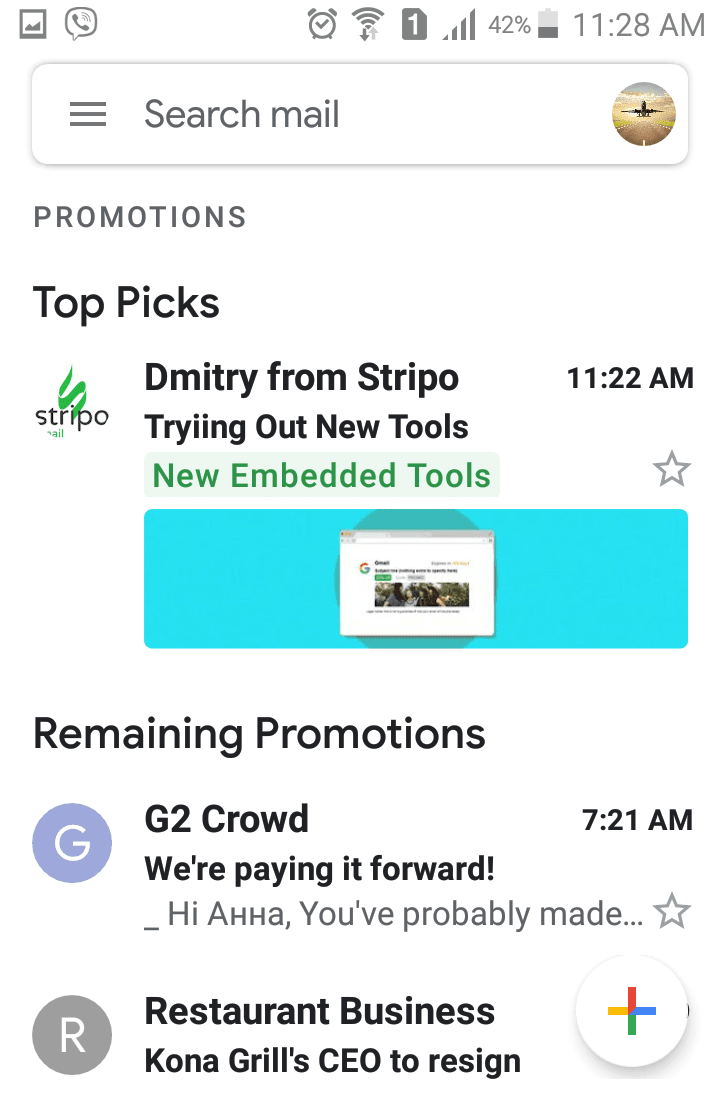 As we see, Setting up Gmail promotions tab with Stripo is simple. But where the annotations work and who of recipients will see them in their inboxes?
How to enable annotations in Promotions tab Gmail
We know that 27% of internet users worldwide prefer Gmail over other email clients. But it does not mean they all will see your brilliant encouraging offer annotations in their inboxes.
Here's the list of mandatory conditions:
first of all, it should be an HTML email;

it has to be a Promo newsletter, read "bulk emails";

your ESP reputation matters. Only emails from reliable sources appear in Top Picks;

recipients' inboxes should be categorized;

newsletter emails should be delivered to the Promo tab (annotations are never shown in the Primary or Inbox folders);

it should get to Top Picks;

actual dates — emails get to Top Picks twice: on the day they were sent and 3 days before the expiration date;

annotations work on mobile devices only.
Some say that if your email has been opened, it will not appear in the Top Picks section again. False! It does appear as a reminder over and over again along with other emails.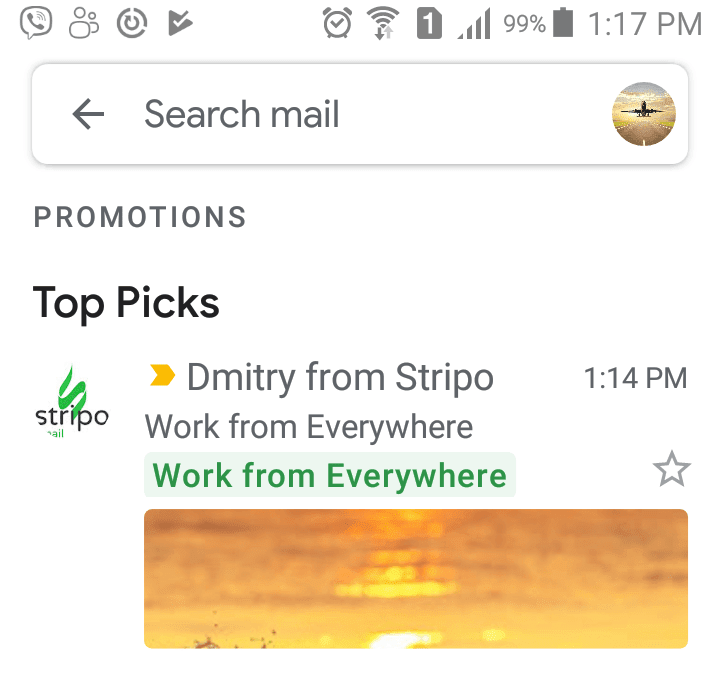 How do your emails get to the Promo tab?
It is said that bulk emails due to a number of links, images, the unsubscribe options get straight to the Promo folder. However, there are still some chances that your emails will go to the Primary folder. Which is also great :) When your email gets delivered to this folder, it is more likely to be read.
Remember, when Gmail just announced its Promo Tabs in 2013, the world went obsessed. Everyone wanted to deliver emails directly to the Primary Folder. But these new Promotions tab in Gmail is actually a good reason to stop worrying where your emails get to: the promo or primary folder. Only when we do everything right, our emails bigger chances to be opened.
Email annotations best practices
Google thoughtfully provided its users with new promo tabs guide, where we found the following best practices.
Requirements for the annotation image
Your email gets more chances to get to the Top Picks when the annotation goes with the product image. Its size has to be 538 x 138 px, or stick to the 3.9:1 ratio.
Do not reuse annotation images, as the image may be disregarded for being duplicated.
Requirements for the dates
If you set dates that already expired, your email will not appear in the Top Picks. Luckily, Stripo takes care of it — it is impossible technically to set old dates.
Requirements for the deal badge
Just 6 words: short and straight to the point. This is your call to action.
And your duty to encourage customers to open email after reading this call to action.
Requirements for the logo image
It should be square, preferable size is 144x144 px.
Final thoughts
To enable email Annotations in Gmail, you need to generate the embed code with our tool — our code is already adapted to the Stripo.email editor. Paste it in your email template. And your email is ready to rock!
The great news is that there are no restrictions on ESPs — none of them cuts this code off.
Gmail gives us the great opportunity to stand out in recipients inboxes. Let us use it right!
Generate the code with Stripo right away and check out the Power of the New Promotions Tab.