5 types of business presentations and pitches
04 January

Table of contents
How to choose the right type of presentation
5 types of business pitches
Must-have slides for business pitch deck: best practices and best examples
How to send a pitch deck to your potential partners or investors 
Wrapping up
1.
How to choose the right type of presentation
Presentations and pitches have firmly entered the business world because they are needed at different stages — from the first steps of startups in the search for investors to the presentation of a finished product or service to potential customers.
We will tell you which pitch decks are best for different occasions and share tips for creating effective presentations.
How to choose the right type of presentation
Before you begin creating your business pitch, answer the questions from the list below. They will help you to understand the duration of the future pitch correctly, choose one of the presentation types, and not overload it with information.
Here are 3 main questions:
Who are you pitching for? Who is your target audience — investors, competition jury, or clients?
What is the purpose of your presentation — to attract attention, make an appointment, or sign a contract?
How much time do you have for the pitch?
Depending on the answers, choose the type of business pitch and consider its features when preparing.
5 types of business pitches
1. The investor pitch
The investor pitch is a presentation type shown to potential investors to attract their attention and convince them that your business ideas are strong and will provide a breakthrough in some area. So, they deserve financial support.
Is your goal to get funding for project development or to find a strategic investor? Then you need to prepare a short presentation format — the investor pitch.
Don't expect investors to make a funding decision right after seeing your pitch deck. Presentation is only the initial stage of getting to know you, and a good result is to receive an invitation to a meeting where you can show detailed materials about the project.
When preparing your presentation for investors, keep in mind that different types of investors are interested in different points, so amplify this particular part of the pitch:
Strategic investors will be interested in your position in the market, your strengths and weaknesses because they make your project part of their business.
For venture investors who often invest in risky projects, it is crucial to understand what kind of team you work with, whether it has the experience to cope with failures, and the size of the market you are entering.
If you are looking for support from state funds, indicate the value chain in your presentation and tell about your reputation and partners.
Tips for preparing a killer investor presentation:
tell a short story about how you found your unique idea, how your business name was generated, and how you received the first confirmation of success;
show figures and facts that inspire confidence in the future;
give information about the business model and revenue model;
remember specificity and simplicity;
show everything that you can deliver — visualize information in graphs, charts, and images;
offer to continue the acquaintance at a meeting with you or your team.
The optimal volume for investor presentation type is 10-15 slides; the presentation time is 20 minutes. What slides are a must-have for such a presentation? We will describe it below.
The first example is the classical investor pitch deck that the company used to raise $270k for the startup Castle.
(Source: SlideShare)
The SEOmoz pitch deck that Rand Fishkin used when raising funds. This is a good example of how many more than 15 slides can be in a presentation when you have something to show and tell.
(Source: SlideShare)
2. The elevator pitch
Now, compress your entire investor presentation to 30-60 seconds, and you have an elevator pitch, a short presentation of your company with key points about your product, service, or business. Keep your elevator pitch short and compelling.
You can use this presentation during an elevator ride with a potential investor, at the beginning of your speech at a conference, while communicating with new employees, or in other situations.
Here are what you should include in the elevator pitch:
introduce your product or service;
tell what key problem it solves;
show your big vision — how you solve the problem, what distinguishes you from everyone else, your insight and solution;
call to action — for example, invite investors to a meeting.
If you imagine the elevator pitch in the form of slides, you will get from 3 to 5 slides of the presentation for investors.
Tips for preparing an effective elevator pitch:
select the essential information;
be friendly and accommodating;
do not try to speed up — you should not be in time in 60 seconds due to too fast speech;
speak clearly and concisely;
make the elevator pitch intriguing to motivate a potential investor to make an appointment with you.
Look at this introduction for JustPark, a parking app that won the Pitch to Rich contest with Richard Branson and deserved the top prize of £250,000.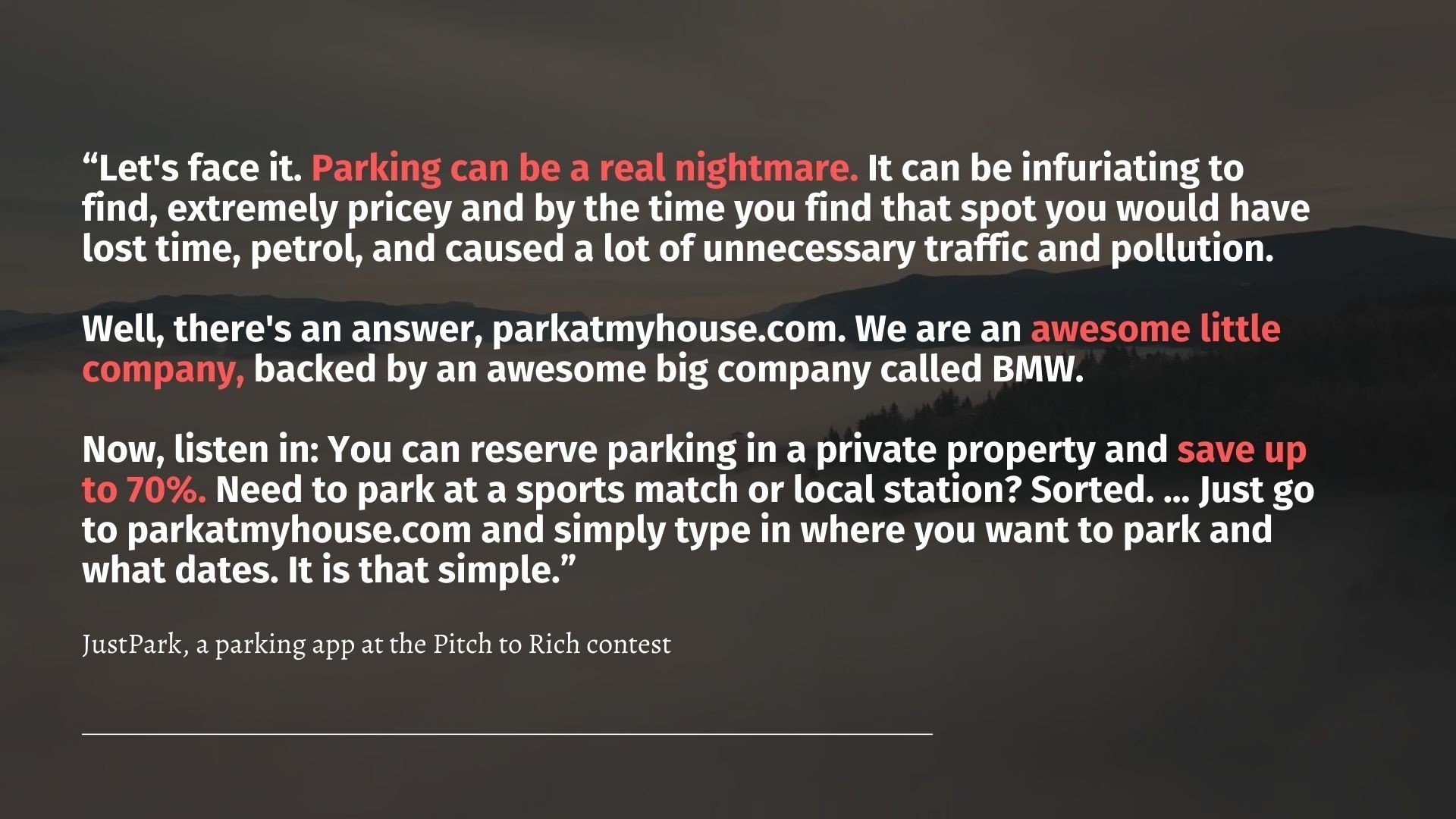 (Source: JustPark)
3. The sales pitch
If your task is to present your product or service to a potential client or buyer, you must prepare a sales pitch. In this presentation type, you'll talk about how you can solve a customer's problem, how valuable your solution is, and why it's better than your competitors.
A sales pitch can be of different duration and contain various slides. This is influenced by the business scope, the warmth of the potential client, and the situation in which the pitch takes place. But first of all sales pitch must sell.
Tips for preparing an effective sales pitch:
show that you understand the challenges and problems that your potential customers face;
prepare several sales pitches for different audience segments;
talk about the value of your solution;
show the unique selling point, features, and benefits of the product;
show your portfolio and business cases;
gather social proof to build trust;
call to action — convince to make a purchase;
remember about visual design — show pain points and solutions with illustrations and graphs.
See an example of a sales pitch — MEOM Sales Deck by Katya Kovalenko. The key feature of the MEOM sales deck is the simplicity and ease of each slide. The brand facilitates the perception of information and does not overload the presentation but chooses points that the potential client will remember.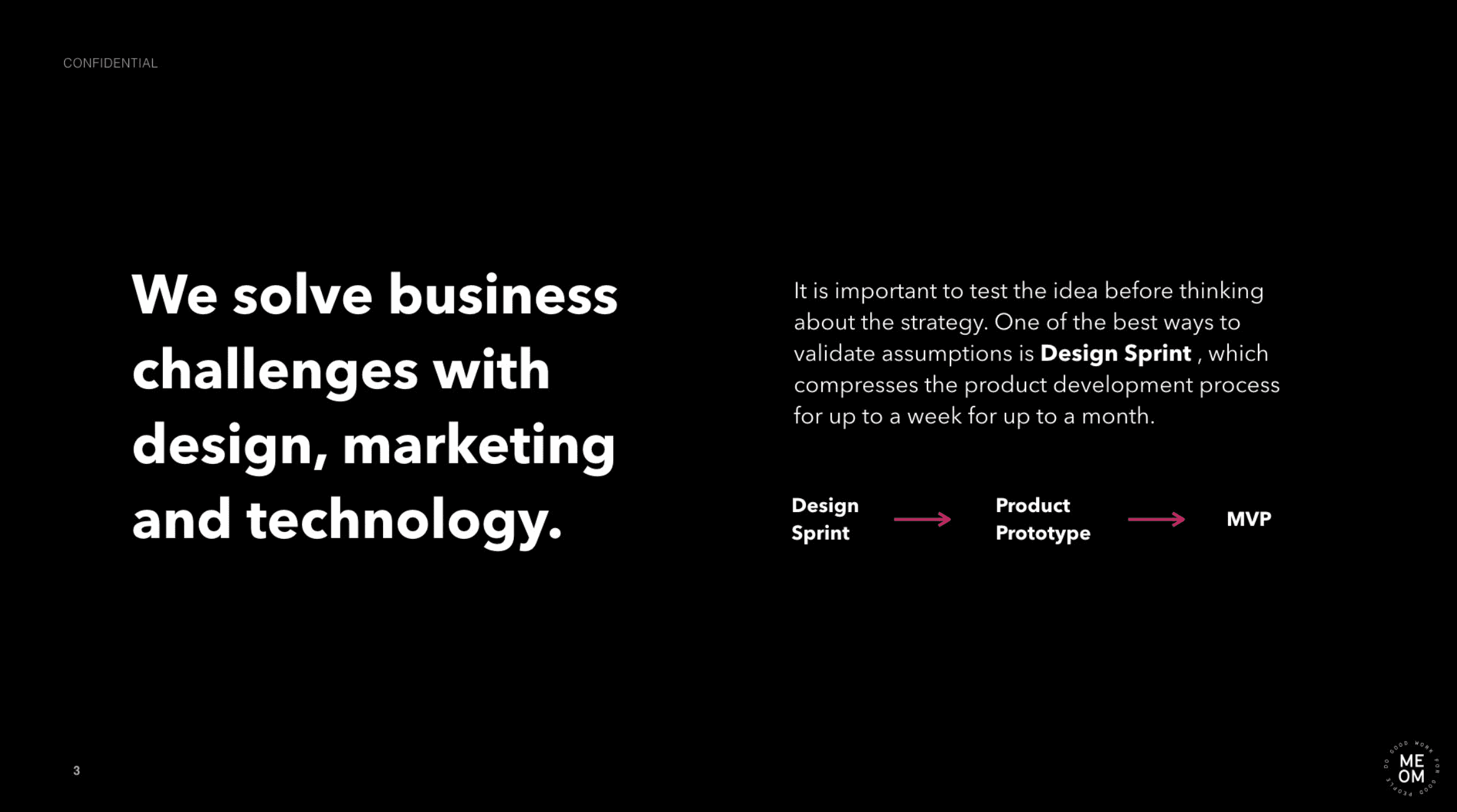 (Source: Katya Kovalenko)
4. The product pitch
The product pitch is a type of presentation that is similar to a sales pitch as it also focuses on the product. However, in the product pitch, more attention is paid to describing the features and functionality of the product itself, explaining how its new features will help customers.
Another feature is usually a large-scale and mass presentation of products that are used by a large number of people. Think of Apple's product launches by Steve Jobs, for example, or the Tesla Roadster launch. Another good example is the presentation of Tinder: it was carried out at the stage of the product idea but immediately for end users rather than for investors.
Are you introducing a new or updated product to the market and want everyone around you to talk about how cool it is? Prepare a bright product presentation that will allow you to increase audience awareness, stand out from competitors, and become a source of external PR because people will write and talk about you.
Tips for preparing a bright product pitch:
demonstrate live all the functions you are talking about; then people will definitely believe you;
show your passion for your product — your task is not to instruct how to use the product but to arouse a desire to own it;
show features that no one expected or could only dream of to create hype around the product;
give a bonus at the end — for example, a secret code that can be used by those who watched the presentation to receive a discount or a gift upon purchase.
Check out an example of a Mastercard product presentation made for potential clients where they focused on the new features of their banking products.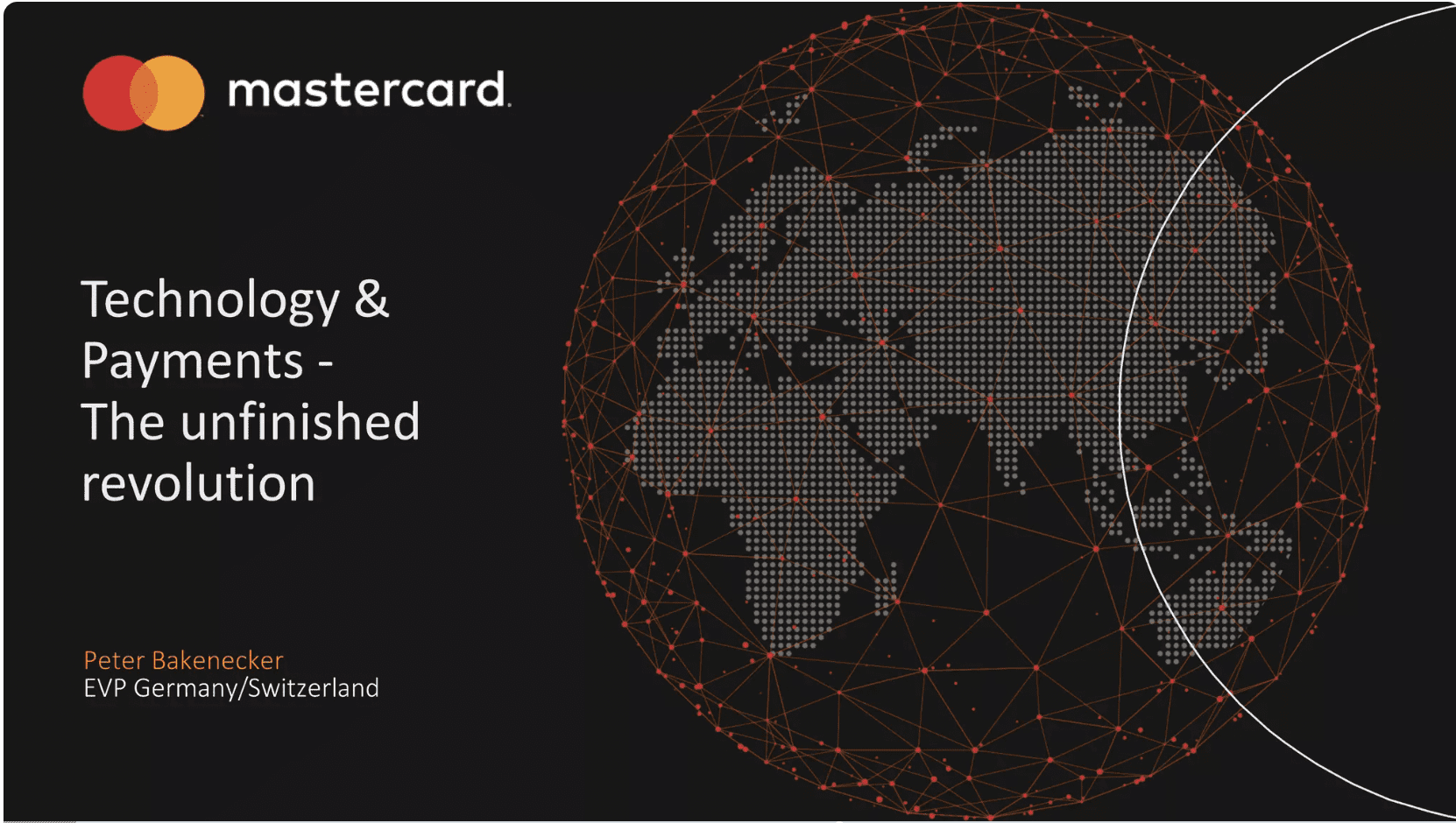 (Source: SlideShare)
5. The informative presentation
An informative business presentation is the most common type of business pitch when you show the general plans of a company or some direction, collect information about success for a month or a year, and talk about a new product or work method.
Apart from exchanging information between employees, the purpose of the informative presentation is to form a general mood in the company, motivate the team, and strive for common goals.
The content and length of your presentation will depend on many factors, but try these tips:
make a powerful and memorable start — a story or quote works well;
include an outline of what you want to discuss today;
be brief and only say what really matters;
be prepared to hear opinions and discussions.
One example is Pinterest's annual report. The business presentation consists of 12 slides that show a picture of the company's earnings in 2021 in pictures and charts.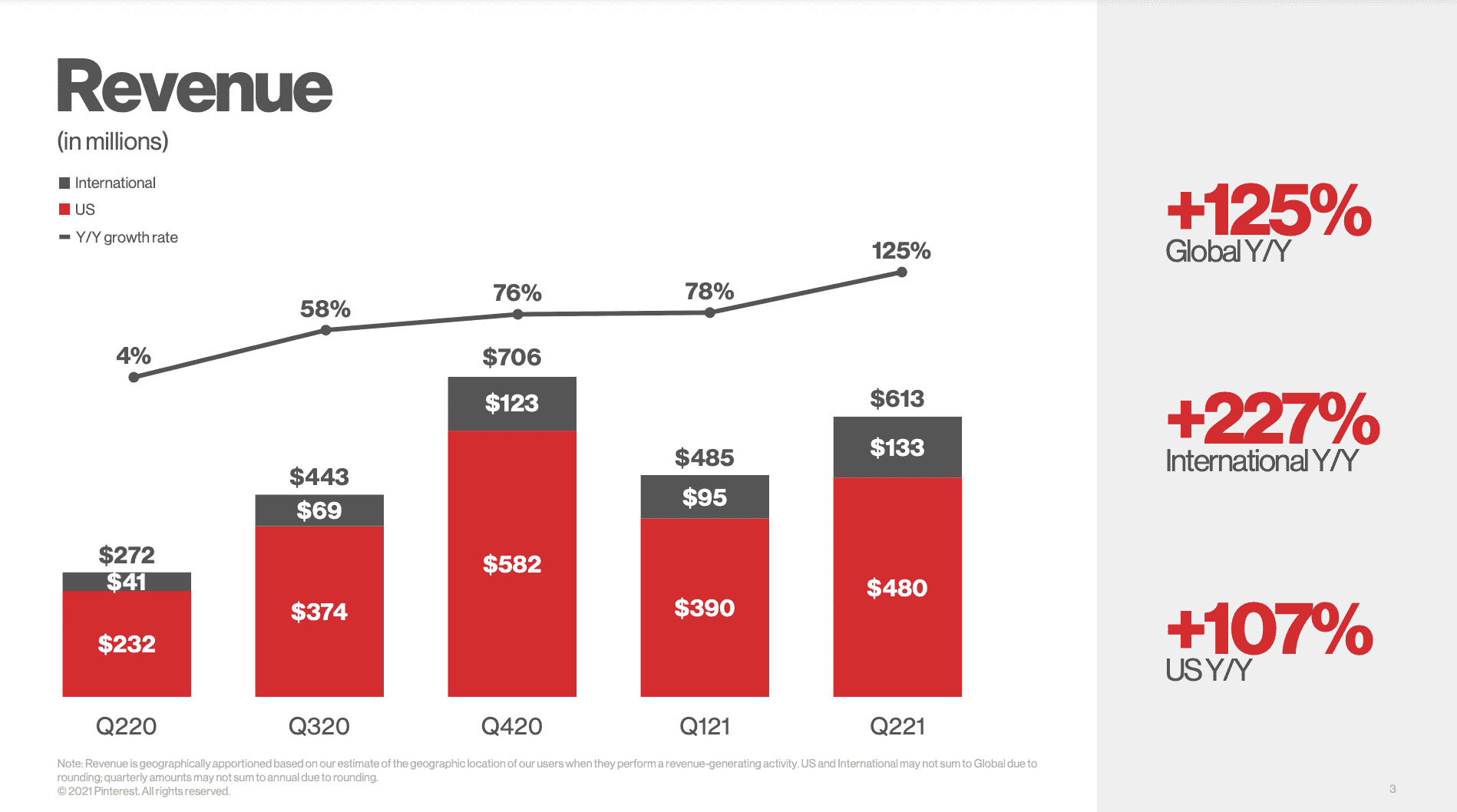 (Source: Pinterest)
Must-have slides for business pitch deck: best practices and best examples
The "golden rule" of business presentations
To prepare pitch decks for venture investors, Guy Kawasaki formulated the 10/20/30 rule for a good presentation:
no more than 10 slides in the presentation, and this is enough to show the principal thing;

no longer than 20 minutes to keep attention on the report;

at least 30 points font size to write only short vital thoughts that will be immediately read and visible at the end of the hall.
We collected 12 basic slides that Guy Kawasaki and other established entrepreneurs consider critical for a business pitch deck. Their task is not to overload investors with information and focuses the speaker on the most important.
Tip: When preparing your business pitch deck, take these must-have slides as a base and, if necessary, add the ones you need for your type of presentation.
1. Introduction
Make the first slide of your pitch deck your chance to make a great first impression. This opportunity only comes once, so use it wisely. Make a short slide on which you tell who you are, what you do, and why you are here — intrigue with a value proposition. And keep in mind the visual appeal of the slide.
Look at this example — the first slide of the presentation by Valentin Stalf, Co-Founder & CEO of N26.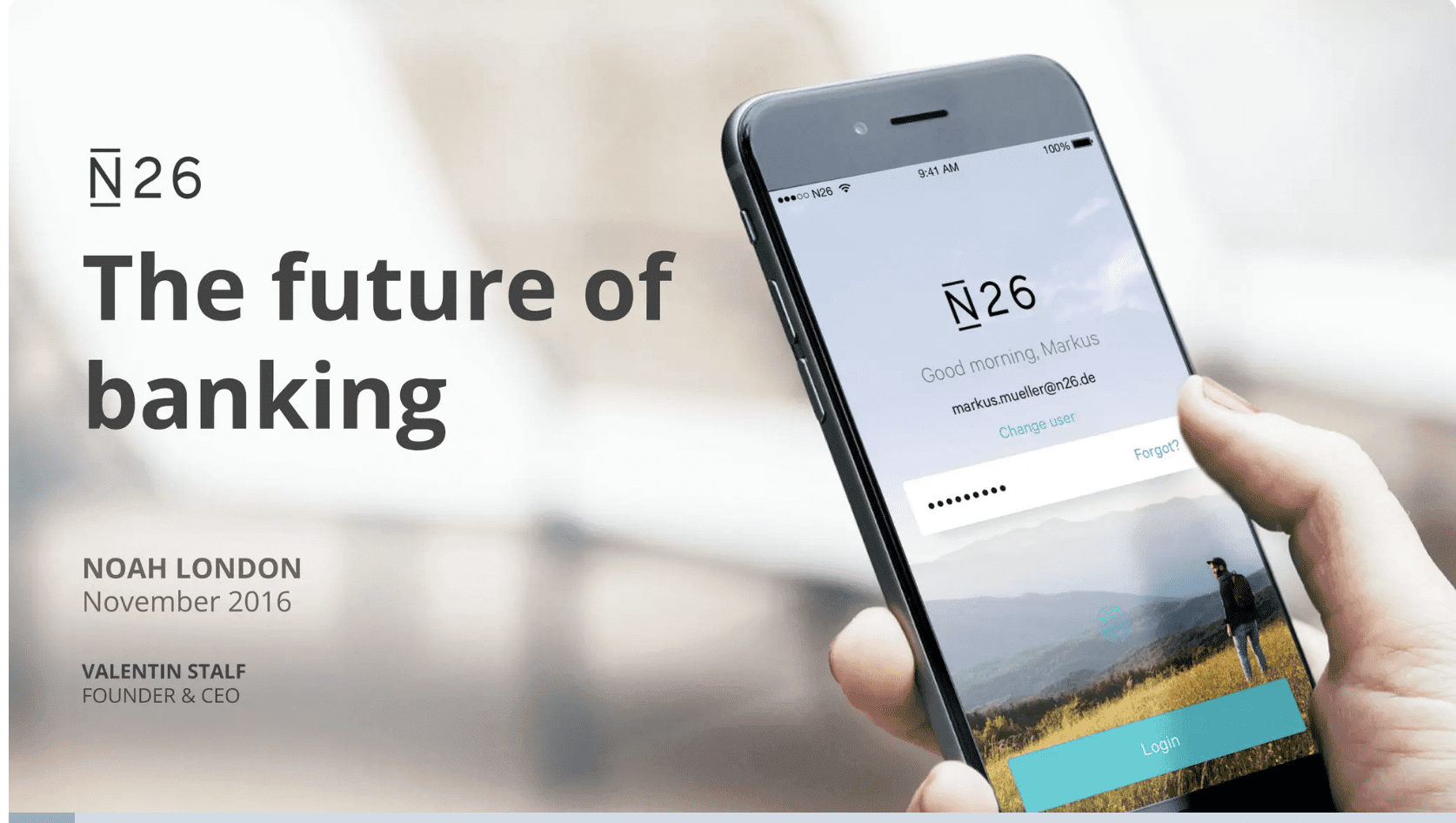 (Source: SlideShare)
2. Problem
Show what problems your target audience has. Pay special attention to those for which there is no decent solution yet. You can show 2 or 3 of the most critical real problems your business idea will solve.
State them concisely and clearly so that investors understand your goals immediately. An example of a problem story is Airbnb's slide from its first pitch deck.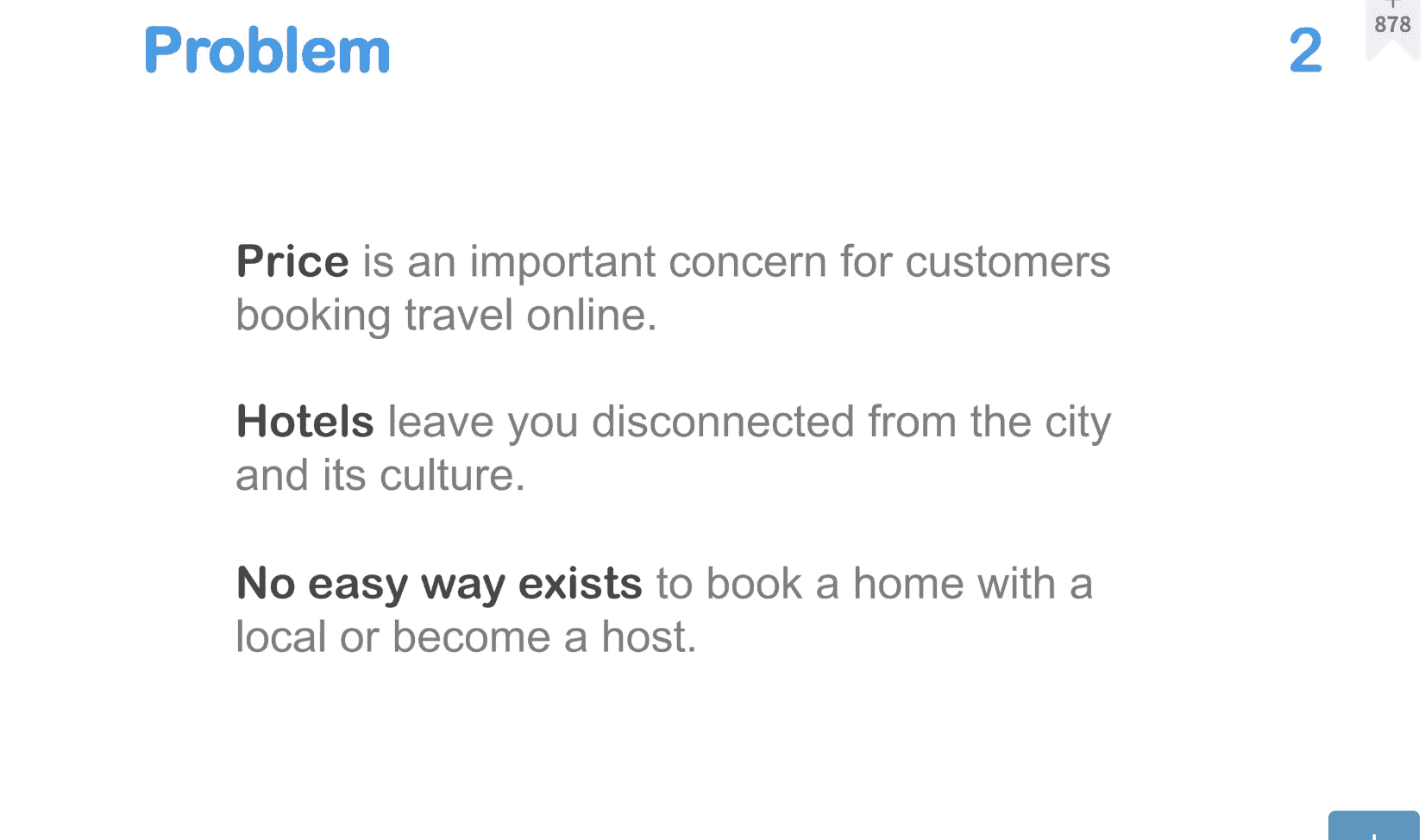 (Source: SlideShare)
Sometimes, a killer phrase can be used to dive into the problem. For example, this phrase is from the presentation of online banking.
(Source: SlideShare)
3. Your solution
Now show how you solve the problem — briefly and clearly. It is an excellent option to discuss several strategies and then move on to yours as the most profitable and promising one.
Do not make loud statements like "we are the only company in the market that can do this." This is likely not the case, and you will immediately lose confidence.
For example, this is how Datorama declares its solution to a shared database of reliable data for marketers.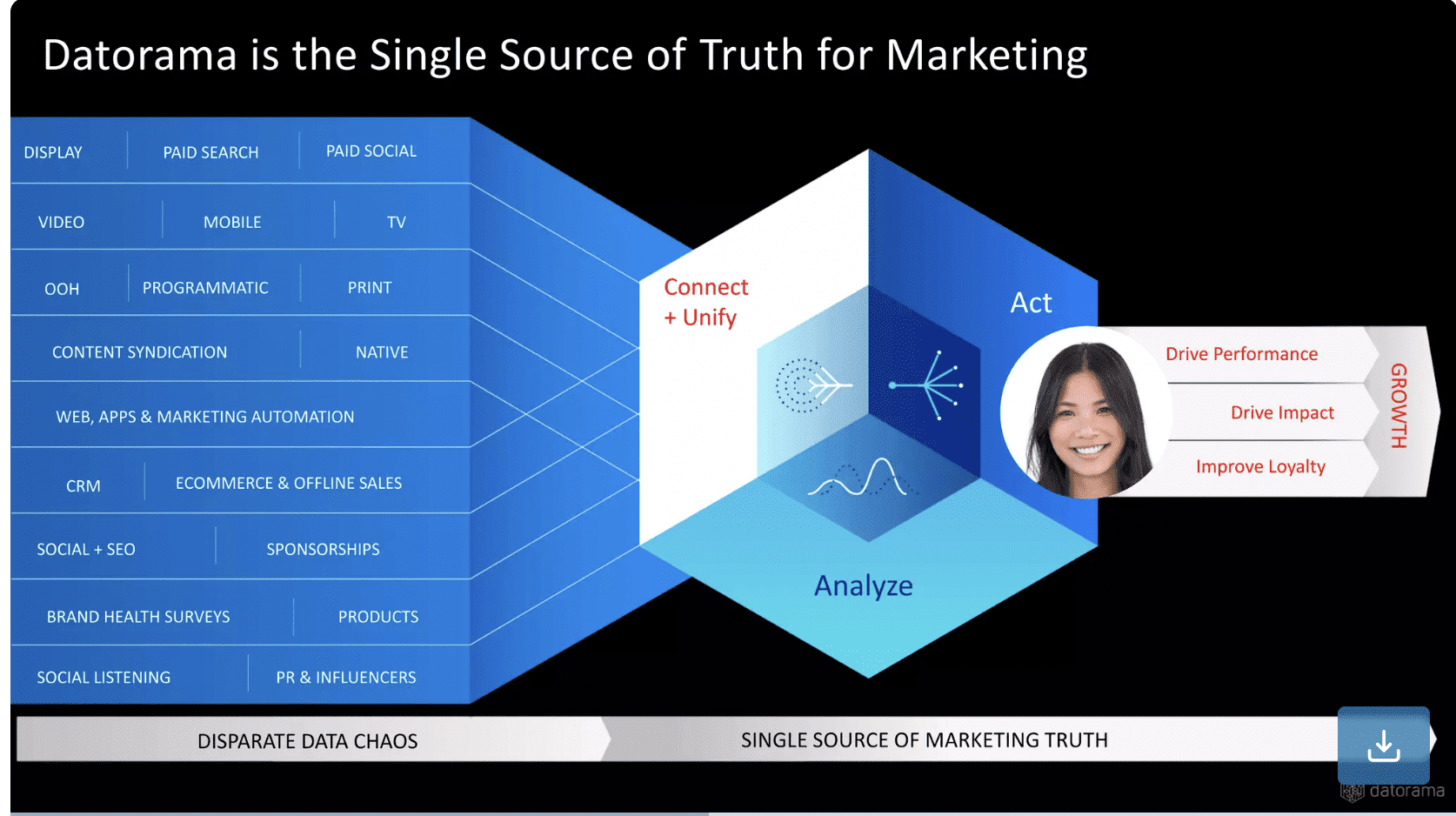 (Source: SlideShare)
4. Market size and opportunities
Investors need to understand the market size to assess when they can expect a return on investment if they will get it at all. Your research data must show the growth of the market and the high potential of your product or idea.
Here is a good example of such a slide from Mint's pitch deck. Notice how clearly the size of the market and the potential of the product are shown.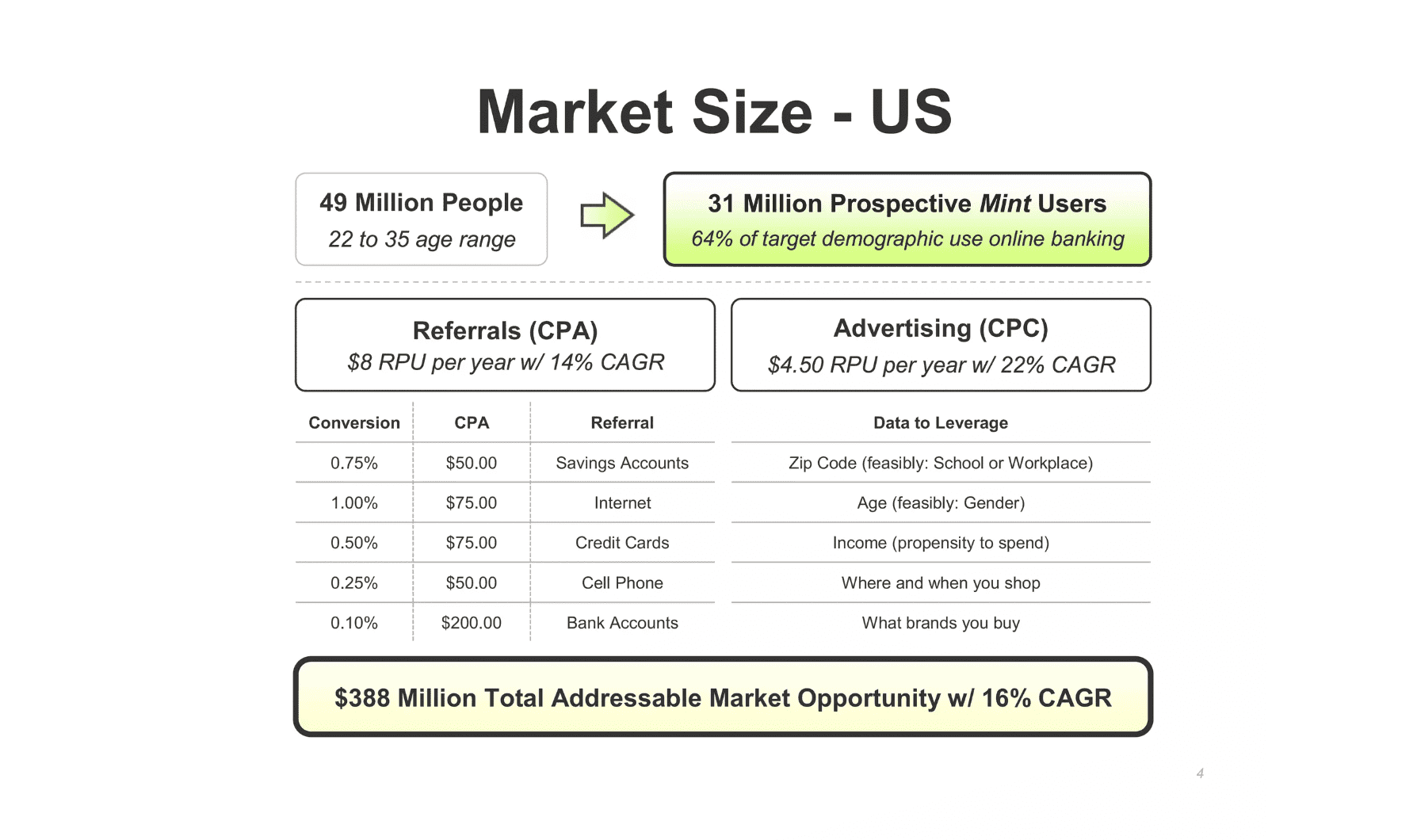 (Source: SlideShare)
5. Underlying magic technology
Guy Kawasaki called this pitch deck slide "hidden magic." It is about your product and what specific features it will solve the problem with. Here you can present a line of products or services.
If it's about a product, be sure to include images of it from different angles. If you're offering an app or service, showcase its unique features with screenshots.
We got an example from the collaborative labor marketplace Ooomf investor presentation that used them to raise 2 million dollars. Look how in one or two phrases, you can show the idea.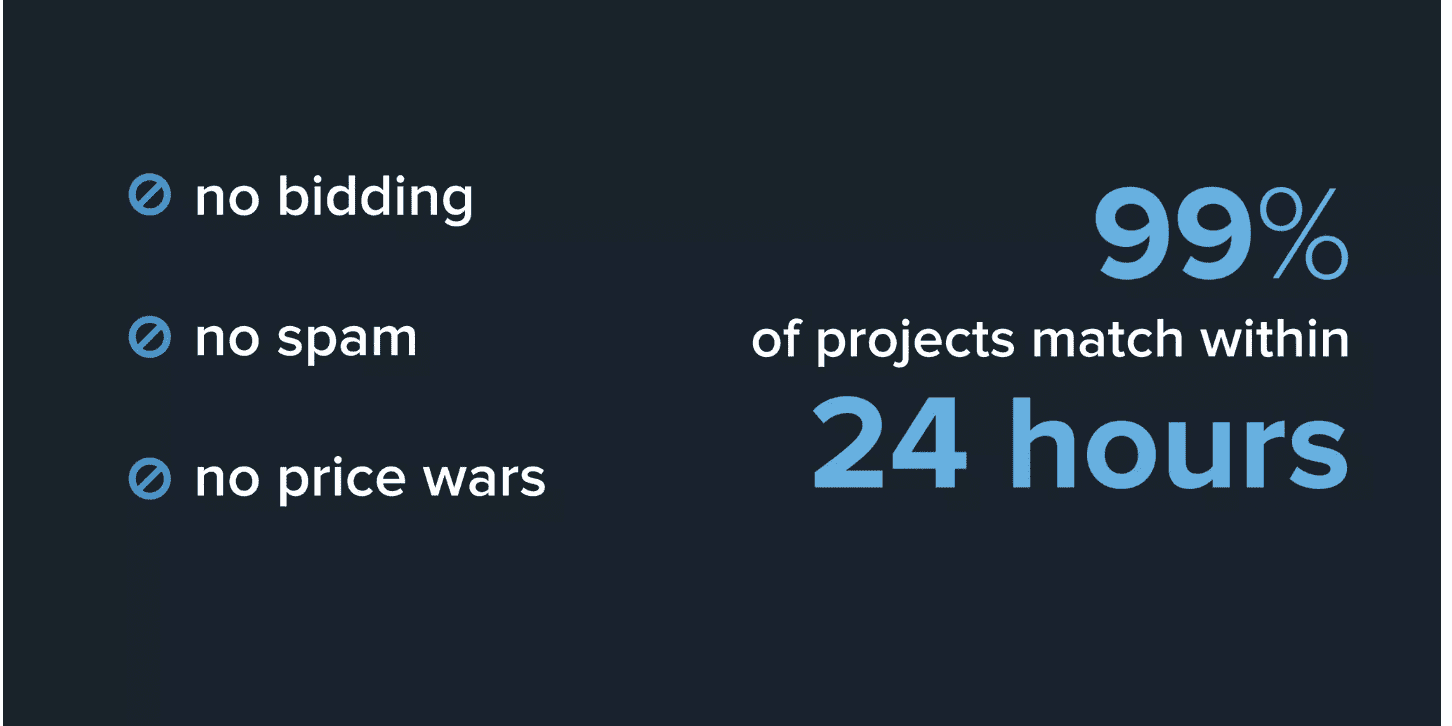 (Source: SlideShare)
6. Business model
Now that you've discussed your business and market opportunities, the next step is to examine the income and finances associated with it. Include revenue plan, pricing model, customer acquisition channels, and costs.
See an example of this slide in Buffer's slide deck that help them to raise half a million dollars in investment.
(Source: SlideShare)
7. Financials
This pitch deck slide will probably interest your investors more than others. Demonstrate your company's financial growth opportunities for the next three to five years. Make a forecast based on the business model of your development and current performance. Information will change and be corrected. However, investors want to see your approximate development plan right now.
Look at the example in Enlive's pitch deck; this slide shows the estimated income.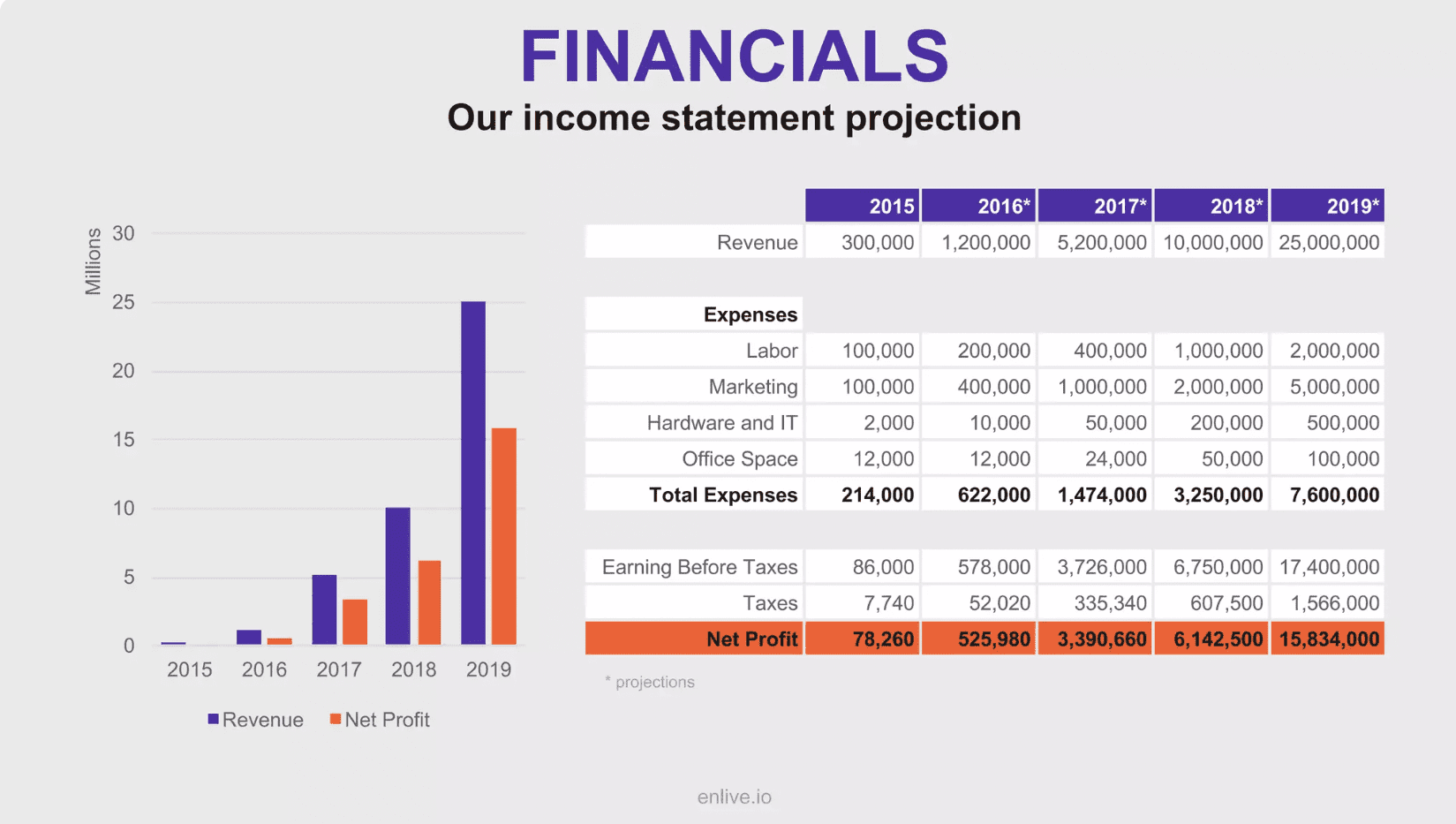 (Source: SlideShare)
8. Marketing and sales
Speak about your market plan. Show how you plan to sell to your audience and what channels you will use to attract customers. On this slide, the investor should see how your business will continue to grow. Show the number of sales, audience, and growth potential of these indicators.
An example of market adoption is Airbnb's slide from its first pitch deck.
(Source: SlideShare)
9. Competitors
You should talk about your competitors and how they differ on this slide. Show that you know your competitors very well. This will explain your uniqueness. Also, here you can show how you will use the strengths and weaknesses of your business and competitors to your advantage.
A good example is in the Buzzfeed pitch deck. They show that they are ready to offer the services of several of their competitors at once from one source.
(Source: SlideShare)
10. Team
Highlight your team's strengths, tell its story, and share the facts that make you a dream team in this area. Remember that your investors, clients, and customers want to know the company's brains. Photos of all employees or key players and their work experience will help you.
See how Mapme, a service of map creation, shows the team — the investor immediately sees what experience the founders have. Using this pitch deck, they could raise a $1M seed round.
(Source: SlideShare)
11. Investments and use of funds
This slide is significant for an investment pitch deck. Explain to investors precisely what funding you hope to receive and how you will use it. Name the amount and tell us how you plan to use these funds: for what stages of your development are needed. Such a slide will build confidence that you know what you are doing and are ready to work transparently.
Guy Kawasaki writes that this slide is where you give your audience hope. You are here to draw a line under everything you have said before and say directly how much money you need to make it a reality.
Look at the example from Intercom's first pitch deck.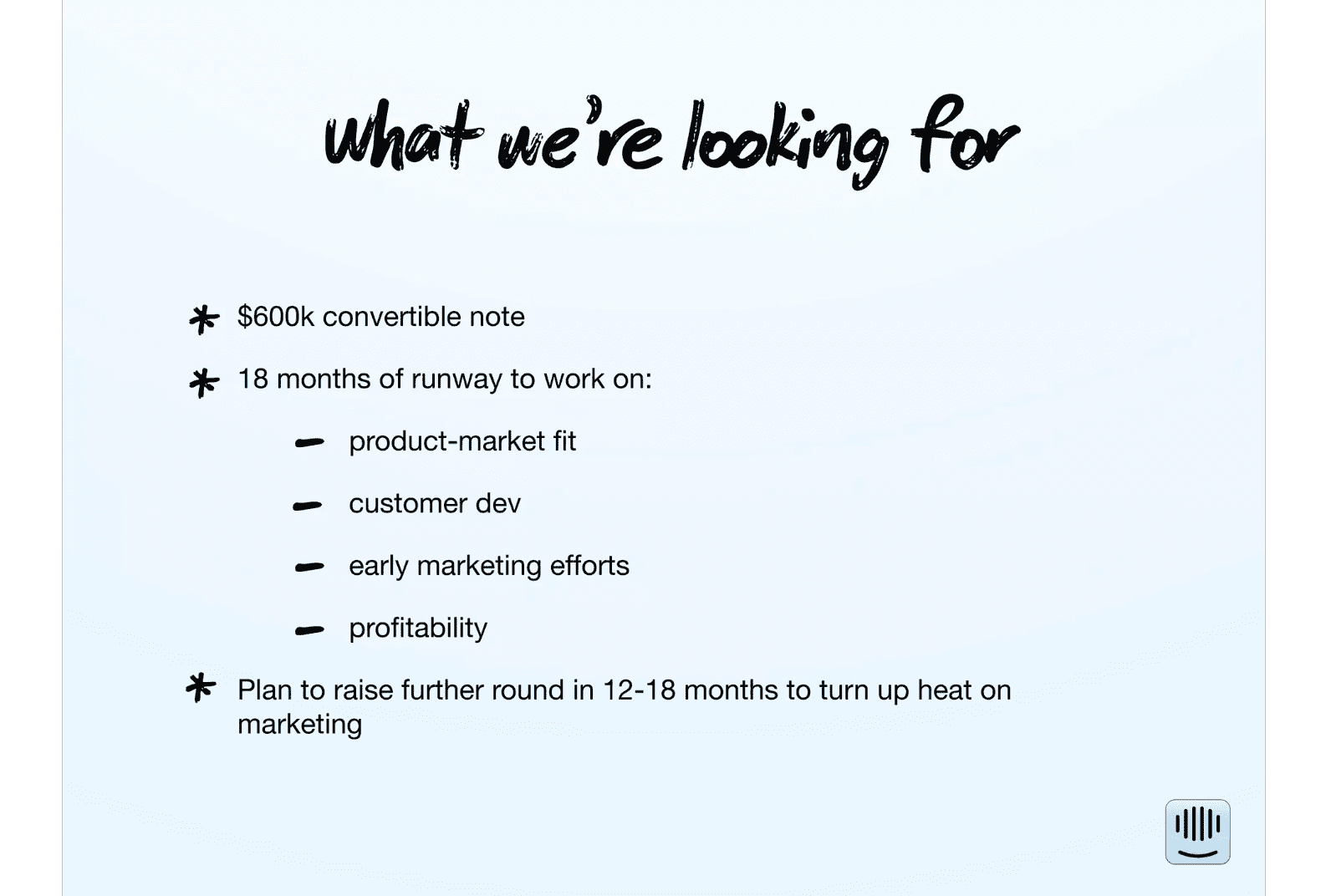 (Source: SlideShare)
12. Summary and call to action
Do not cut off the presentation mid-sentence — give a clear call to action. In the article, we talked about different types of presentations. For each of them, it is crucial to choose a clear call to action that meets that presentation type best to help you achieve your goal.
For example, for a master card product presentation, it was important to attract new users. And here's how they did it.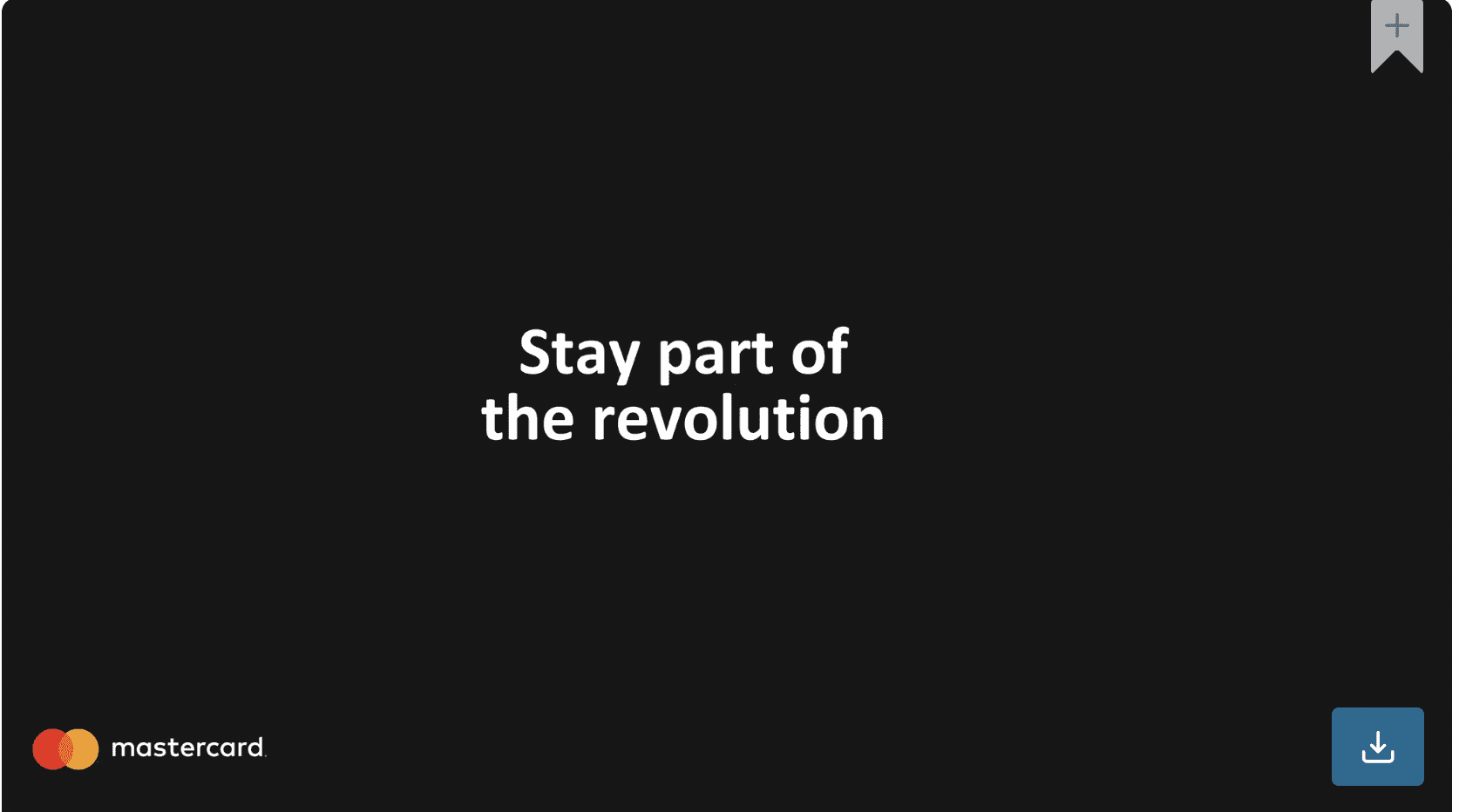 (Source: SlideShare)
One more great example from SeoMoz pitch deck.
(Source: SlideShare)
Remember to provide your contact information. Give all contacts on the last slide so your audience can reach out to you. You can add the company website and social media channels on the first slide to increase its visibility.
How to send a pitch deck to your potential partners or investors
If during the first communication with a potential partner or investor, you only had time to conduct an elevator pitch and exchange contacts, use this chance to send your pitch deck by email.
There are several options for further interaction.
Way 1. Send it in digest to investors interested in your product
Send contacts from the list of potential partners and investors a regular digest, which will contain information about new achievements, product updates, financial growth, and successes of your company.
For example, we in Stripo send such a digest once a month. We share the growth indicators of our project, and at the end, we remind that more detailed information can be found in our actual pitch deck.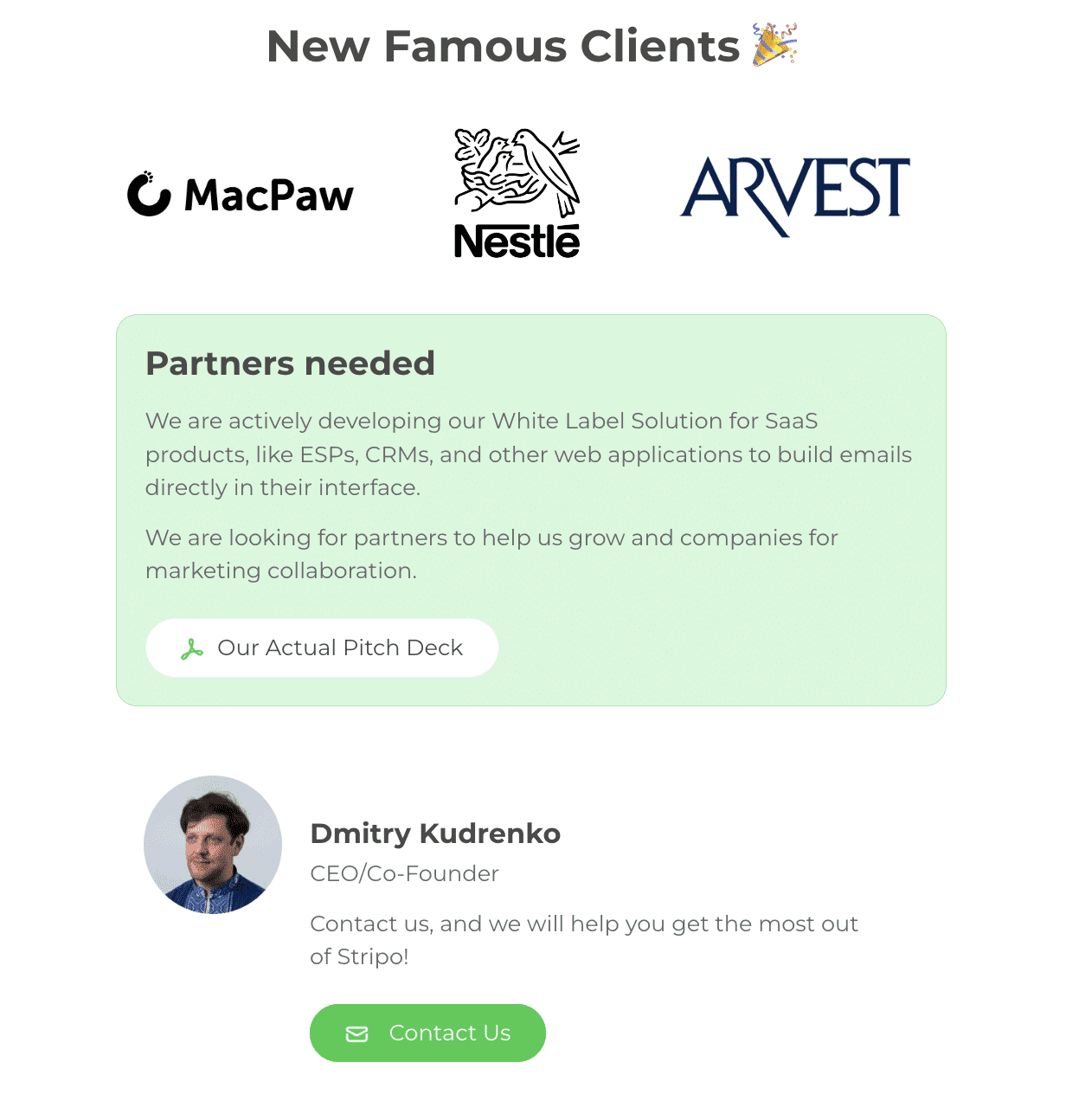 (Source: Stripo Monthly Update Newsletter)
Way 2. Add to follow-up emails
When you meet potential partners and investors at events, it will be very appropriate to send a follow-up email where you mention the name of your company once again, describe where you met and why you agreed to email each other, and add a link to the pitch deck.
Way 3. Add screens of infographics from the pitch deck to emails
You can use your presentation's most revealing infographic slides to power up your sales emails. You add them to the email body. Such an illustration will definitely grab the reader's attention.
Wrapping up
Use the type of pitch you need at events — conferences, competitions, and quick meetings held by investors. Use our tips and create a cool presentation that will definitely help you achieve your goal.
Was this article helpful ?
Thanks for your feedback!