Table of contents
When and why use animations in email?
Animated GIF in emails and its alternatives
Types of emails to animate
GIFs in email best practices:
Final words
1.
When and why use animations in email?
We all receive lots of emails every day and no wonder it gets harder and harder for marketers to come up with something unusual and surprising. However, using good old animation can help catch the readers' attention better and entertain them at the same time.
(source: email from GAP)
When and why use animations in email?
With the help of animations, you can significantly increase brand awareness and loyalty. For example, if you make an animated logo or animated email header, users will recognize you among hundreds of other emails.
When is it necessary to use animation?
Animation is just an option for your email marketing channel. However, these days it becomes one of the crucial ways of user engagement. Stripo showcased 16 awesome examples of animated email and we can claim that the best performing types of animations are:
A hero image is an email cover and the first thing the user sees when they open your email. There are so many ways you can animate a hero image. Fade-in, add sparkle, rotate, and more effects to make a solid statement and get noticed.
Works especially great for sale offers. With the help of animated text, you can highlight the most significant parts, like a discount or your brand's USPs and get a better chance to catch user attention.
(source: email from GAP)
This type of animation perfectly works for eCommerce, as it allows users to better understand what you're selling on real examples. Combine several photos of your products into animation and show the best-selling items or what's on your new collection.
(source: email from Victoria's Secret)
Business benefits of animated emails
While email animation is a perfect way of showing more and taking less space at the same time, there are also distinct business goals of it to consider while creating this miracle. Keeping these points in mind will help to create animations that really work wonders for your business:
catch the reader's attention;

entertain the reader;

highlight the best business/service/product features;

put a solid focus on a specific offer or message;

convert a reader into a buyer.
Animated GIFs in email are not just used to sell more. Their main mission is to brighten up the reader's day. Beautifully designed animations can increase the esthetics level of your emails and gain user loyalty. If your target audience opens all of your emails, reads them, and clicks on the animations and buttons — you're doing the right thing. If not, consider experimenting or completely changing the strategy and updating the design of your email templates.
Animated GIF in emails and its alternatives
You can implement an animated GIF in email and it will work just fine, but there's another option to try if you have time, resources, and desire to experiment — CSS animations. Let's figure out what's the key difference.
GIFs in email
GIFs are frame-based animations, created from images in a specific sequence. So far, GIFs have proven to be the easiest way of adding motion to emails.
Implementation of GIFs in your emails may end up in higher conversion rates but also in tons of sudden unsubscription. The thing is, we don't always know everything about our target audience. Some of the users may have a slower internet connection or problems with their specific email client app. In such cases, GIFs can be a huge pain in the neck and can lead to unsatisfied users.
In order to avoid this, always remember to design emails neatly and not to overpack them with tons of pictures and animations. Also, there's always a web for this. If you lack space in your emails to do something super-creative and bulky, just create a separate landing page with your offer, and link to it from a more minimalistic version of it, which is logically the email.
CSS animations in email
When it comes to animations in emails, we usually think about GIFs. The thing is, there's another option and it's a CSS animation. Even though programmers didn't tend to pack HTML emails with CSS just a couple of years ago, there's no reason why they shouldn't at least try to do it these days.
Litmus survey states that only 30% of all brands use CSS animations in their email, and it's a pity because such animations' major benefit over GIFs is that they allow emails to load much faster. Moreover, emails with CSS animations are more interactive as the movement depends on the user's actions. For example, with the help of CSS, you can create button hovers and do smooth transitions between the states of the element.
​​Whatever your business does, with the smart implementation of CSS in emails, higher user engagement is guaranteed.
Video in email
Video is another alternative to GIFs in emails. Videos either better present your products as you can show and describe all the unique features of the latter, or educate as on videos you can explain how to use your tool.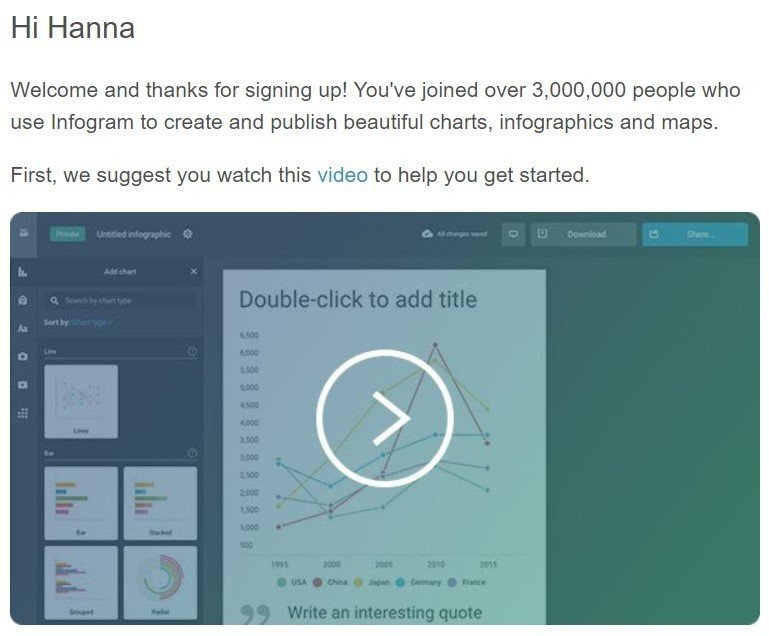 (source: email from Infogram)
For more information on how to add or even embed videos with Stripo, please refer to this blog post.
Types of emails to animate
Animations can't help you get higher conversions if they're put in wrong places. Now, let's figure out the perfect email types to bring that motion in:
Of course, discounts are the best way to sell more. It concerns not only clothing brands but also any other type of business that sells something. Throw a sale at the end of summer, on Black Friday, and in winter, and let your users know about it via email with cool animations.
(source: email from GAP)
Another price fall or just a kind email with greetings — is up to you. The key thing to remember is that people love holidays and they love to be congratulated. St Patrick's, Thanksgiving, Christmas, and other important holiday emails are perfect places to put cute animations into.
(source: email from Hipmunk)
Again, no matter what your business is about, users need to be informed about the important things. Explained: they may be wondering how to use this or that feature, how to match the clothes you're selling, or what are the real benefits of your service over others. This type of email can help your audience get closer to you and animation is the best way to show unique selling points.
(source: email from Monica Vinader)
GIFs in email best practices:
To stick to the email accessibility requirements and make your newsletters accessible for all readers you need to:
always add meaningful Alt Text to your GIFs — to help those who use screen readers to get a clue what's in the GIF;

choose GIFs with no more than 2 flashes per second — to prevent photosensitive seizures among some readers;

one GIF per screen — same reason;

put the most meaningful image in the first frame — as some old versions of Outlook do not render GIFs — they just show the first frame.
Final words
Animations in emails are no longer a short-lived trend, they're a must if you want to keep your target audience interested, entertained, and simply subscribed to what you're sending. Remember to regularly update your email templates to keep up with the latest email marketing and digital design trends. Create emails that are helpful, interesting to read, and pleasant to look at. Thoroughly test each element in emails before sending, not only animations. Follow this simple but working strategy and the success of your email marketing channel is guaranteed!
Was this article helpful ?
Thanks for your feedback!