GIFs in emails will be of great use if you want to showcase your product, draw users' attention to certain elements, or just slightly decorate your text.
This article has provided some of the best email gif animation examples.
Examples of animated GIFs in emails
Here's a compilation of the best examples with GIFs in emails. Each GIF in email campaigns fulfills its mission.
1. Adidas
(Source: Email from Adidas)
Adidas used email animations to show what color options they had. Looks neat and simple, yet awesome.
GIFs do save you lots of precious space in promo emails.
2. Stripo
(Source: Email from Stripo)
Animations for emails are more than just something to cheer your users up and catch their attention with brightness. For example, Stripo used a GIF in the email to tell about the product's new features.
3. Ghirardelli
(Source: Email from Ghirardelli)
As we previously said, you may use GIFs in emails to showcase various products. Instead of building 2-3-8 big bright banners, you may put all photos of necessary products in a GIF. This is a good way to keep emails short yet full of useful photos.
4. Chubbies
(Source: Email from Chubbies)
Chubbies always finds a way to stand out, even when it needs to demonstrate how to turn their new jackets inside out. I think it's interesting and, at the same time, useful for the potential audience.
5. Forever 21
(Source: Email from Forever 21)
This a wonderful example of Black Friday discounts. Looks stylish and intriguing! What else do you need to get the customer's attention?
6. CB2
(Source: Really Good Emails)
CB2 used a fun way to promote its services. They sell furniture and home decor, and by using this animated GIF in email, they informed customers about free shipping. The GIF meets the requirements for emails, and this funny dog will definitely make a user who opens the email smile.
7. Quartz
(Source: Really Good Emails)
Do you like reading? Quartz ensured you could see the book's content immediately when you opened their new email! Here you will see if the font of this book suits you, and also, you will understand if you like its content. The purchasing decision becomes easier when you see every detail of the product.
Important: if the animation were a bit slower, the GIF would be even better.
8. Monica Vinader
(Source: Email from Monica Vinader)
While videos are proven to increase conversion, one more fact to consider is that customers do not always have time to watch them. Monica Vinader found an alternative and animated the picture to show both their product and how it looks in real life on the model's hand.
9. Alit
(Source: Really Good Emails)
Alit demonstrated a great way to introduce their new product by using an animated GIF in their emails. Had they not used GIFs in their message instead of the usual text, the product description would have been boring to read. And most of their subscribers would not have noticed this new wine.
Thus, you see that at some stage, it is pretty reasonable to animate text for a brief introduction or a manual. This will make the recipients watch your message to the end.
10. Loft
(Source: Pinterest)
A few months ago, we posted an article on how to create an effective teaser email campaign. And GIFs play an essential part in it.
11. Stripo
(Source: Email from Stripo)
Timers themselves do draw users' attention. But you might want to add email GIF animations near the former to ensure users notice the latter.
12. Lyft
(Source: Really Good Emails)
That's how funny Lyft portrayed its product with an electric scooter. The animation simply and gracefully complements the important text, and you can also see the vehicle itself from all sides.
13. Everlane
(Source: Email from Everlane)
When you want to draw customers' attention to a problem you raised in a message, you need to ensure the text will be noticed. Animating the latter in the email is kind of a guarantee it will be read. Everlane succeeded!
14. Charity Water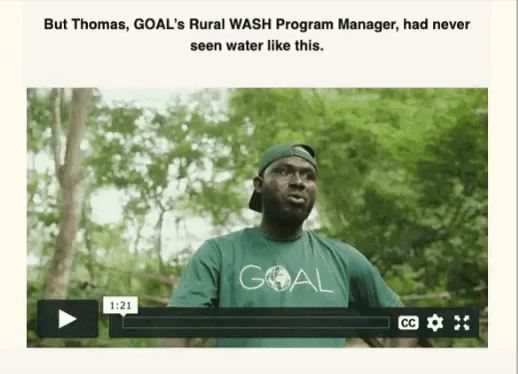 (Source: Email from Charity Water)
In this animated email, Charity Water used GIF as a thumbnail image to the video to ensure users will notice the how-to video in the email.
Important:
With Stripo, you can add any custom thumbnail images to your videos.
For the manual, please refer to the blog post given below.
You might also like
How to Add Video in Email with Stripo

15. Chubbies
(Source: Email from Chubbies)
Chubbies used this cute GIF to draw users' attention to their huge sales. A good alternative to big banners with the amount of discount on them.
Requirements and recommendations for GIFs in emails
There are just a few of them, but they are very important:
Size
The optimal image file size of a GIF image for an email varies from 500 KB to 1 MB. If the GIF size is larger, it can take a GIF a while to load. So, it is recommended to compress the file before adding it to the email.
Speed
Don't make your animated GIFs too fast — three frames per second, max. Otherwise, GIFs can cause seizures for people who suffer from photosensitive epilepsy.
Important:
It is not necessary to animate entire banners. You can "revive" only some elements of the image. And the GIF will not lose its beauty.
(Source: Really Good Emails)
Quantity
Don't use more than one animated GIFs in email:
to avoid epileptic seizures;
to make the email not that heavy and fast-loading;
some versions of Outlook have just started supporting GIFs. If there are more than 3 GIFs in an email, Outlook will not animate them automatically. It will show just the first frame of the GIF with the play button over each of them.
Remember that the email should have one main idea, which the GIF displays. Do you want to sell? Show the main advantage of the product with the GIF. Want to inform? Make your text stand out with an animated background.
Alt text
Did you know that some users deliberately disable the display of images and, as a result, GIFs? And sometimes subscribers have slow internet. As a result, they don't see a GIF itself, but they see the all-text. It is important that it accurately and concisely describes the image's content.
It is also important to add alt-text for email accessibility reasons. You can do it in an email builder or your email marketing software.
First frame is the key one
Because some email clients do not support GIFs but instead display only the first frame of your GIF, meaning they show GIFs as a static image, it is important that the first frame delivers the main idea of your email campaign.
Email clients that have support for GIFs
Major email clients today support GIF images. However, there are exceptions: Microsoft Outlook 2007-2016 and Windows Phone 7 do not display animations; instead, they show the first frame of the GIF. Design GIFs with this in mind — remember that the first frame should deliver the main idea of the GIF.
Email clients that support animated GIFs:
Desktop clients
Lotus Notes (6, 7, 8);

Outlook 2000-2003;

Outlook for Mac;

Apple Mail;

Windows 10 Mall;

Outlook 365.
Webmail clients
Gmail;

G Suite;

Yahoo!Mail;

AOL;

Outlook.com.
Mobile Clients
iOS Mail;

Android (native);

Android (Gmail);

Blackberry.
Final thoughts
GIFs in email marketing are a way to:
showcase your product from different angles or in all its diversity;

show the ways of using it;

draw attention to the main idea of the email;

animate a CTA (Call To Action) button;

just cheer up your client.
Get creative and spice up emails with bright animations!
Was this article helpful?
Thanks for your feedback!