HubSpot is an outstanding world-famous email client that helps companies communicate with customers and deliver high-quality services.
This means, that creating email templates is an important activity for the users. This platform has its embedded email template builder.
If you opt to use templates to create your future newsletter, Stripo offers some extra embedded tools for free to create emails easier.
1. Blocks
Most editors are block-based ones. Yet, Stripo offers some unique blocks and all of them are free to use. These blocks allow you to customize your email the way you see fit.
a. Banner block
Banners are the hearts of all newsletters. They appeal to customers' emotions.
Image perfectly fitting the situation, builds the atmosphere, makes impression on your recipients. While copy placed over the pictures may strengthen this impression.
Stripo enables its users to place copy over banner images right in the editor, takes no third-party tools.
Also, you can insert additional images to make banners for your HubSpot newsletter templates more sophisticated.
b. Image block
Not only does Stripo allow uploading pictures, which now is mandatory, but also allows applying rollover effect to all the images uploaded through the image block.
You can embed this interactive element in all HubSpot HTML email templates, it takes absolutely no HTML skills — you need to turn "rollover effect" on and then upload another picture. For example, you can implement and picture in your email which shows what your email is all about.
Note: our rollover effect is web safe, it is rendered correctly in almost all desktop email clients.
c. Countdown timer block
Wanna urge buyers or notify them about how soon the Hubspot sales ends or how soon the event starts? Then you will need our countdown timer block.
Just drag it into your HubSpot email template, set design preferences, and set the time. Done!
d. Menu block
With our menu block, it's much easier to customize a navigation menu for your free HubSpot newsletter templates.
You just drag it in, design, and input appropriate links — easy-peasy! This way you can create a functional template that can lead to various content for your website.
2. Personal content library
Templates elements like menus, contact information, footers, video blocks etc. — they all can be stored in your Stripo personal content library. You just need to save these samples to the library. Then, when starting a new email campaign, you pull these content elements into your new email template. Done!
For example, you need to add a new form that your customer must fill in. Just choose and paste a previously created one, tweak it and add to your email. And that's it. You can send questionnaire emails to your clients.
This option saves you a significant amount of time! Create once — use often . Creating templates has never been that easy.
3. Custom fonts
Yes, fonts for emails should be legible and web-safe. But why not try a decorative one for holiday email templates with text made with the special festive font? Or make a noticeable subject line with slightly bigger text?
Stripo allows adding custom fonts to make your template design more festive with apporiate text.
4. Open HTML code
Sometimes it's critical to have access to an email HTML template to embed various interactive elements or tweak the email body to your liking. As we know, interactive content gathers more leads as well as double the conversions.
With Stripo, you can either have access "under the hood" of the template or just add HTML block to the email template to insert the HTML part.
5. Stripo email translate
Working in other markets means that you need to localize not only your website but also the emails you send to your customers. Emails localization takes a lot of time and money, and these requirements increase depending on the number of languages ​​​​into which translations are needed.
Stripo provides a convenient way to localize your emails. You have more than 100 different languages ​​in your arsenal, and all this is wrapped up in a convenient integration with the most popular tool for translation - Google Translate. You can translate your emails directly in the editor, which significantly reduces the time for localization. In addition, you can provide a copy of the email to the proofreader using the convenient and secure system of invites and roles, which gives access only to the content of the email and nothing else.
If your email translation process is streamlined and you have a team of translators, you can add XLS and JSON files of localized emails directly to the editor.
Final thoughts
Implement your bravest and the most creative ideas by using these two complex tools in order to amaze your customer with a unique email template in their inbox.
May your HubSpot email newsletters be compelling, effective, and deliver your business services to your audience with style.
Did you like this article? Was it helpful to you? Let us know in the comments section below.
Frequently asked questions
How to create an HTML email template in HubSpot?
We have 450+ HubSpot-compatible email templates for any industry and purpose. Find a template you like, click the "Use an Editor" button, and you will be prompted to sign in to your Stripo account and build your email. All of our templates are fully customizable, so you can edit them until they match your brand design and look the way you imagined.
How to use HubSpot email templates?
Once you've picked the perfect HubSpot email template and signed in to your Stripo account, you can start designing your responsive message. Each template element is editable so that you can customize everything from banners and GIFs to footers and product cards.
In the "General Settings" section, you will find parameters like message width, background color and image, font, line spacing, and text direction.
Pick the "Mobile Formatting" section to design your email for mobile users.
In the "Modules" block, you will find prebuilt content blocks like headers, product cards, info on orders, etc. You can customize these modules to match your brand design guidelines and save them to your content library for further use.
How to save email templates in HubSpot?
Your email templates are always available in your Stripo account.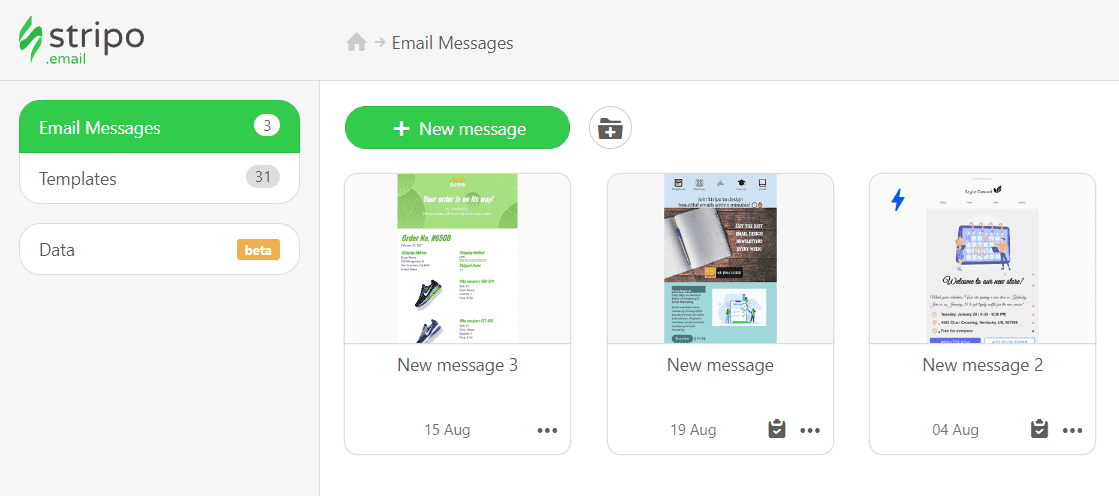 Now, you can export your template to HubSpot within a few clicks:
hit the "Export" button;

find the "HubSpot" option in the list of ESPs.

How to send HTML email templates with HubSpot?
To export your email template to HubSpot, you have to connect Stripo to your HubSpot account:
click the "Export button" once again.

if you are already signed in to your HubSpot account, just pick it from the list in a pop-up window;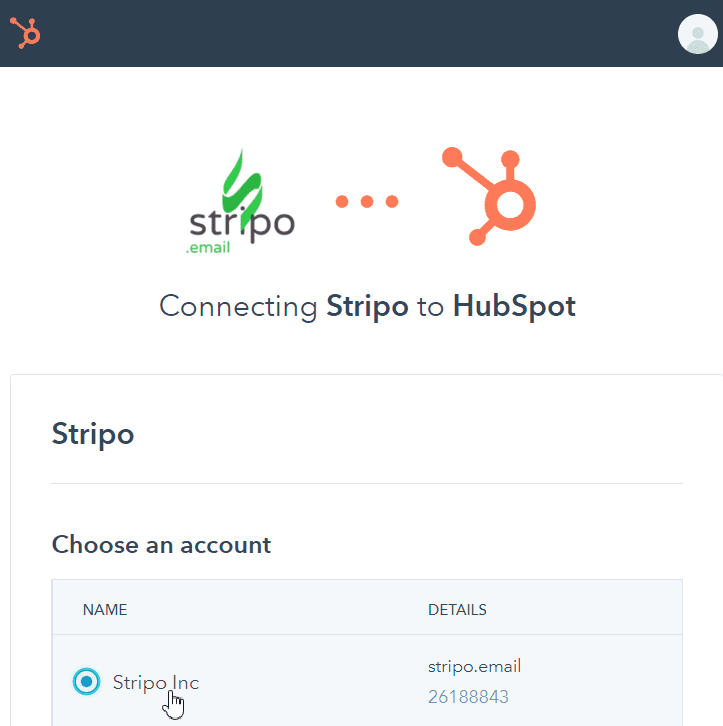 click the "Connect app" button.
Where to find your email template in HubSpot?
After a successful export, you can find and edit your template by taking the following steps:
open the "Marketing" section;

choose the "Files and Templates" option;

go to the "Design Tools" tab;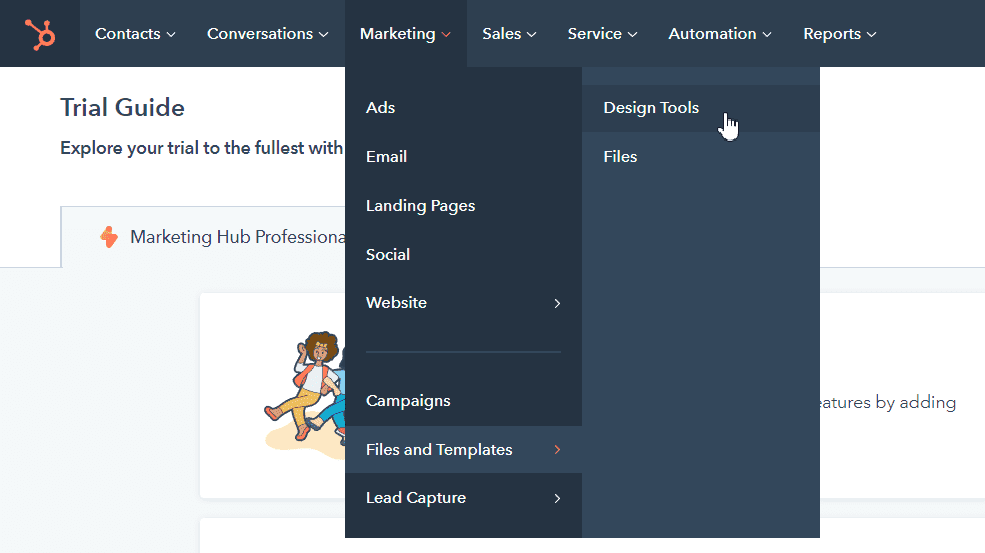 find your template in the "Stripo Templates" section.
Please note that the "Files and Templates" section is available for the HubSpot Marketing Professional and Enterprise packages only.
How to add HubSpot email templates?
You can find and use our HubSpot email templates easily and hassle-free:
Go for the "Email Templates" block on our website, pick the "Integrations" block, and find the "HubSpot" option. Choose the perfect template, click the "Use in Editor" button, and create your account in a few clicks to start designing your email.
If you already have an account, you can save some time and find our HubSpot template directly in the editor. Sign in to your Stripo account, choose the "Templates" section, and hit the "Prepared templates" button.
Have any other questions?
If you have more questions on our pricing and plans, contact us so we can help.
Join over 900K users
Start for free — upgrade anytime