Each of us has met with cross-selling at least once in our lives. Suffice it to recall how McDonald's will always offer you to take fries with something (with additional sauce and so on). This is a great example of cross-selling. However, it is applicable not only to fast food restaurants but also to eCommerce businesses and, at the same time, can bring significant benefits. For example:
personalized recommendations based on a customer's purchase history and preferences can increase conversion rates by up to 915%;
cross-selling can increase the lifetime value of a customer by up to 14%;
businesses that use cross-selling techniques see a 20% increase in sales compared to businesses that don't use these techniques.
One of the weapons of cross-selling is emails, and in this article, we'll take a closer look at them, as well as provide examples and templates to help you develop your own email campaign.
What are cross-selling emails?
In order to properly apply cross-selling in your business, you should know its basics. Cross-selling is the offer to the customer of a product or service that accompanies the product or service that the customer intends to purchase (or has purchased already). For example, a customer wants to buy a computer mouse, and you offer to buy a new mouse pad or keyboard in addition. This approach is cross-selling.
One of the basic cross-selling rules is that the products or services you offer must complement each other. If your client is buying a set of clothes for the gym, don't offer to buy jackets or shirts.
Benefits of cross-sell emails
The cross-selling approach provides significant benefits for those who adopt it. It's time to talk about them.
Significant sales growth. Properly implementing cross-selling strategies can increase your sales by as much as 20%. This is a fairly significant figure, which for most companies can be crucial.
Customers value your products and services more. By making more personalized offers to customers, you ensure their higher satisfaction with interacting with your company. After all, clients crave an individual approach to themselves because it shows clients that they and their interests are really important to the company and that each client is unique.
Increasing customer loyalty. By satisfying all customer needs, you make them more loyal to your company. They will definitely come back to buy other products from you because they know they will find everything they need.
These benefits are incredibly useful for any business and should definitely not be missed. In addition, cross-selling is used by many popular brands in their email strategies, and you can always learn from their experience.
Best subject lines for cross-selling emails
Whether it's a single email or a small block within an existing one, cross-selling requires the right subject line. Your task is to attract attention and encourage the recipient to open your email.
And your subject lines could be something like this:
How about adding this to your collection?
We also recommend you this item.
You already bought [Item name]. How about trying [Another item name]?
Tell us what you like to make your shopping experience more personalized.
Customers who bought [Product name] are also interested in.
Give yourself a present.
We have something special for you. Check it out!
[Product viewed by customer] is great, but we have something better!
These are just sketches of what cross-selling email subject lines can be, but we think you get the pattern. You should note in the subject line that this email will be a recommendation, and you have caught the client's tastes and are also ready to help with future purchases.
Cross-selling email examples from famous brands
There are many real examples of cross-selling strategies used by big-name brands. Let's look at a few examples from other companies to see how they send cross-sell emails to increase their revenue.
Cross-selling email by Nike
Sports always require certain equipment, and who is better than Nike to specialize in clothing for sports? When making a purchase, the company sends emails to customers that always contain a cross-selling block with additional products that best match what is already in the cart. How do you like this shirt and sweatpants? Match well with sneakers that await in the checkout process.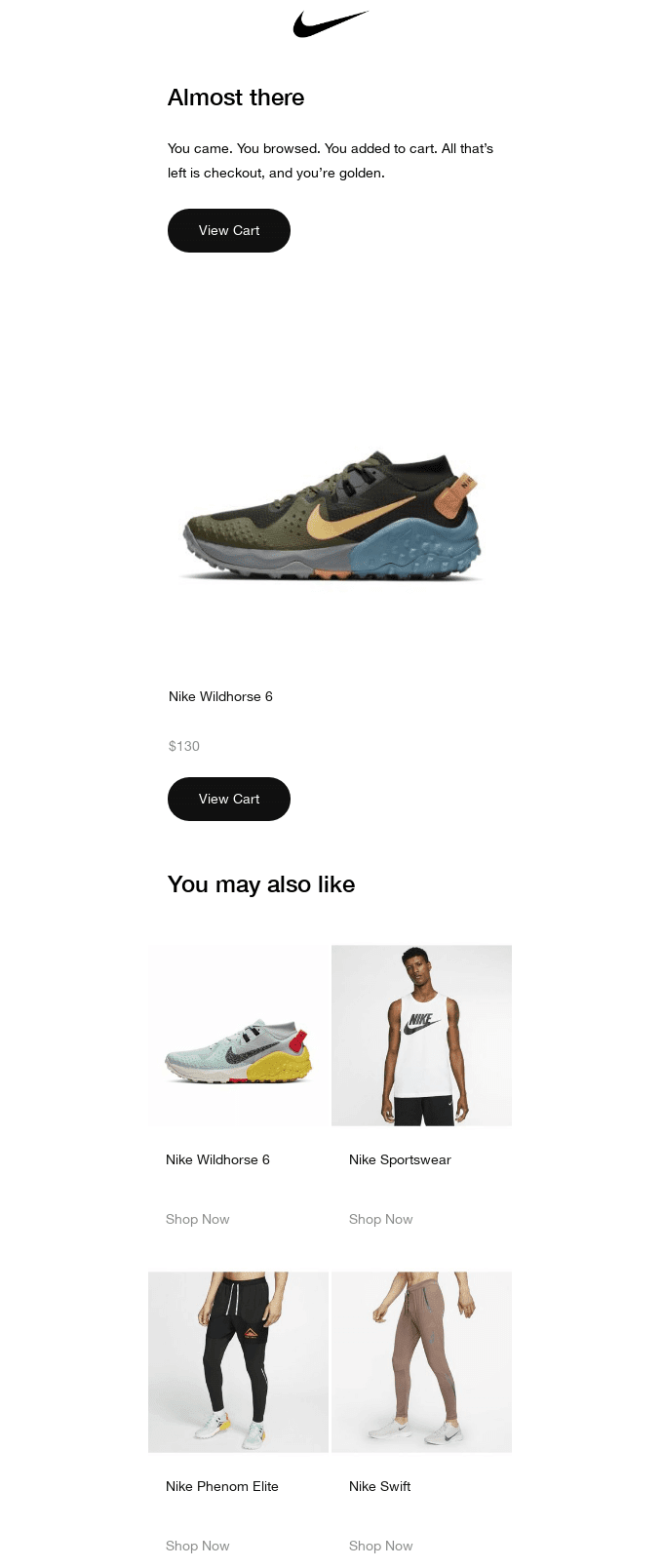 (Source: Really Good Emails)
Cross-selling email by Dollar Shave Club
We dressed up, and it's time to take care of shaving because choosing the products accompanying a regular razor is quite complicated. Dollar Shave Club helps with the selection by offering a huge list of matching items in their emails that you can add to your order before it ships. Looks nice and definitely useful to the recipient.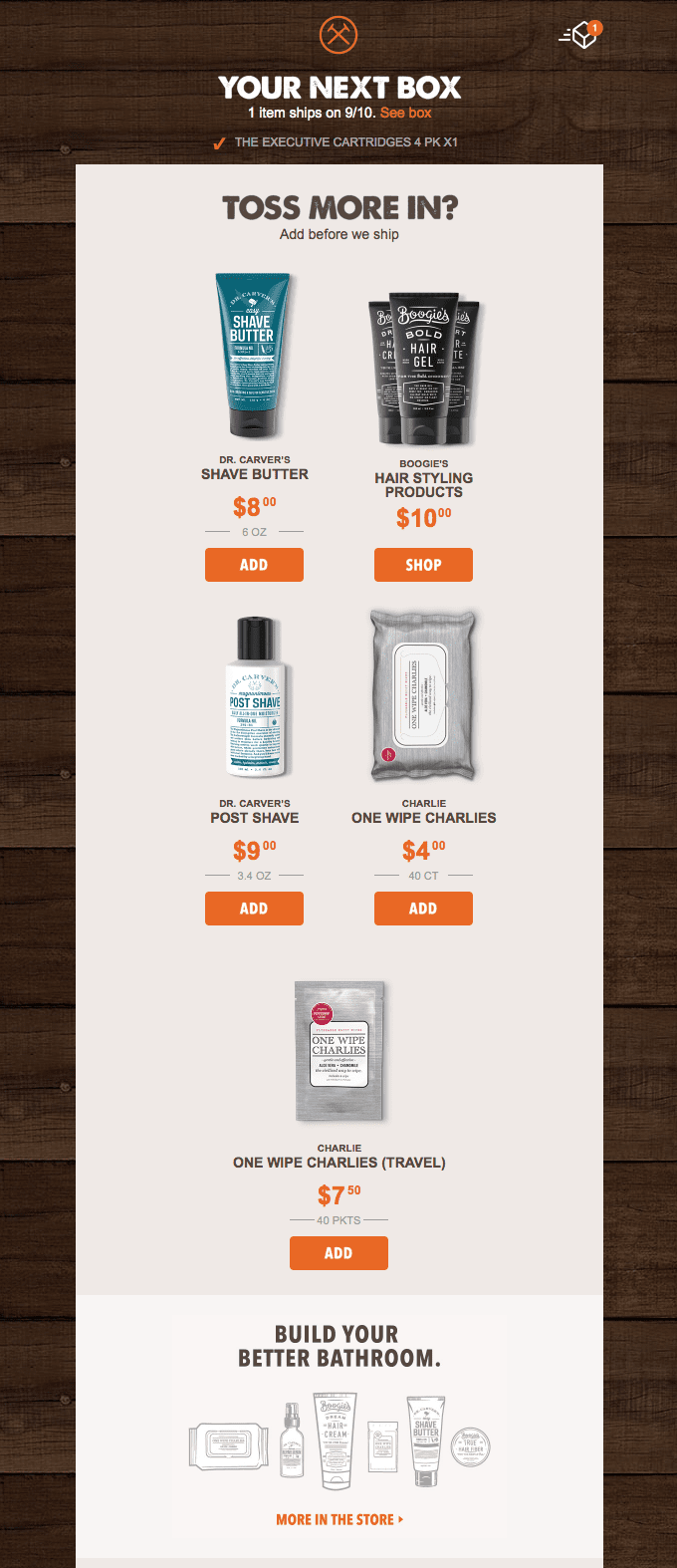 (Source: Really Good Emails)
Cross-selling email by Barnes & Noble
Everyone's book tastes are different, but book websites keep trying to create customer recommendations based on their preferences. Barnes & Noble often sends out individual book selections to their customers with a promo code for a discount. Thus, they cross-sell various books and increase sales through promotional codes.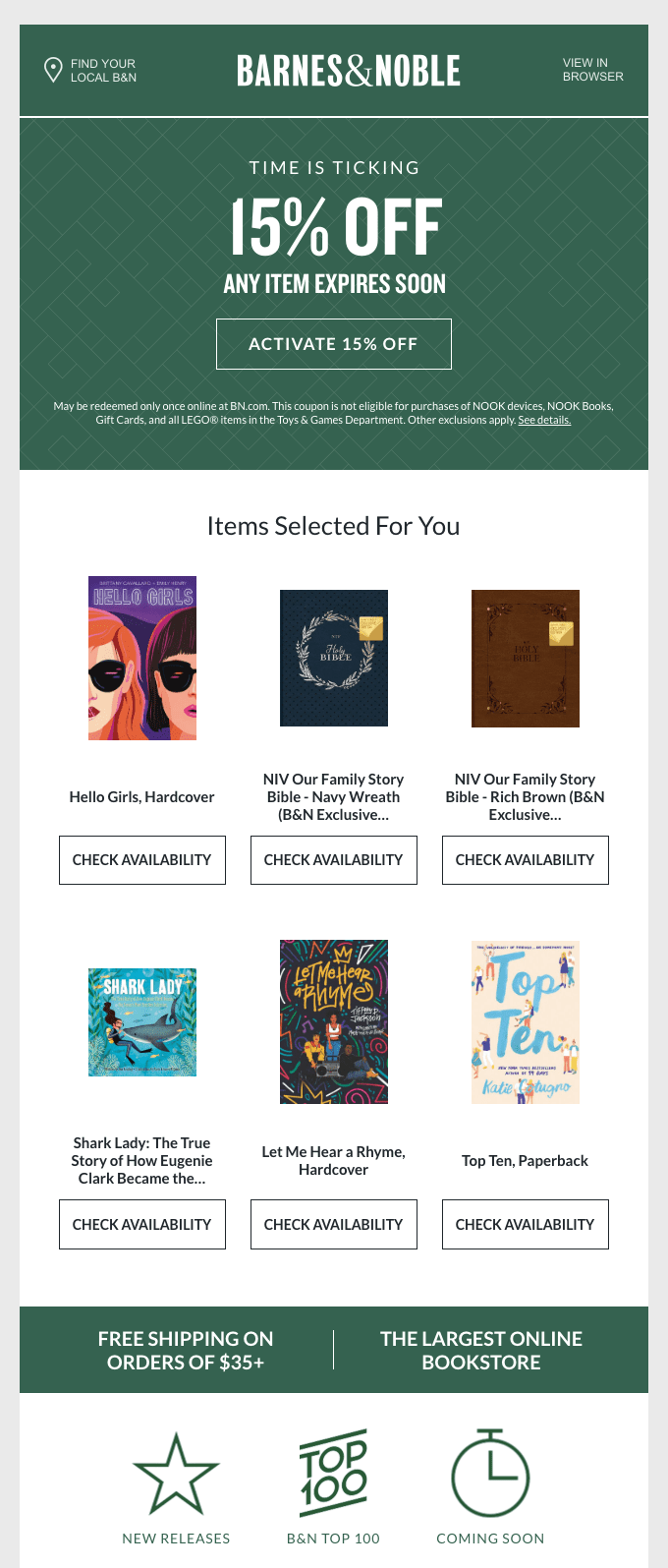 (Source: Really Good Emails)
Cross-selling email by Brooklinen
The choice of bed linen is always a headache because you need to buy a lot of things: sheets, pillowcases, duvet covers, and much more. How not to forget everything? With cross-selling recommendations from Brooklinen, you won't forget anything and buy everything you need, as they recommend exactly what is right for you.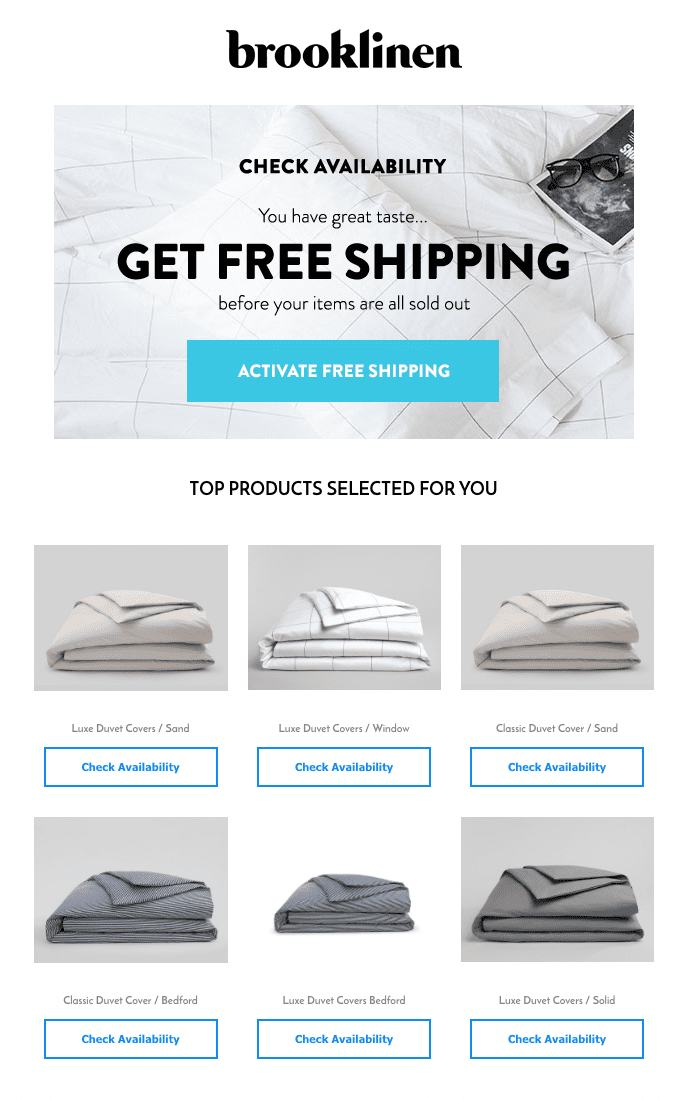 (Source: Really Good Emails)
Cross-selling email by Crate&Barrel
Post-purchase referrals are one of the main cross-selling strategies as for relevant product recommendations, you need to know the buyer's tastes. Crate&Barrel makes a separate block in their emails for proactive recommendations based on the recipient's past purchases. An extremely useful strategy to follow.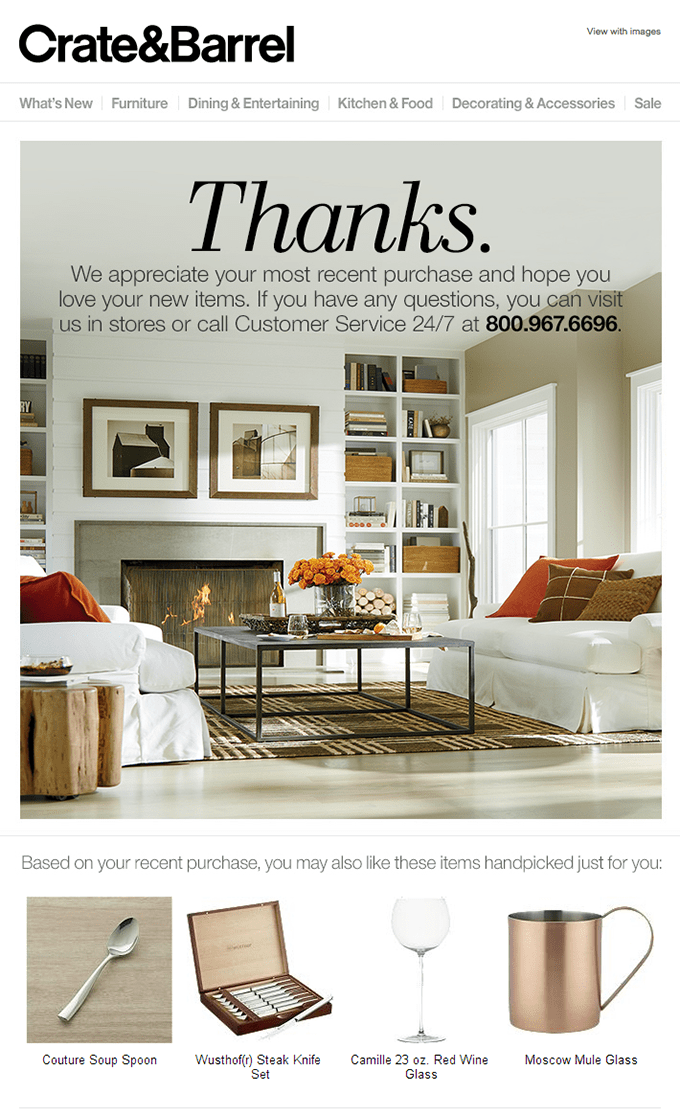 (Source: Really Good Emails)
Cross-selling email templates
If you want to create a single cross-selling email and not a small block in existing emails, then you need a proper copy. Our team has drafted several templates that you can use and customize to suit your design needs.
Cross-selling email template #1
Hi there [Recipient name],
We noticed that you left your shopping cart full of great products.
We think you could add a few more things to make sure you've got everything you need for [Items in the cart].
Here's a list of products that you might want to consider adding to your cart before you complete your purchase:
[Block with product cards]
We hope this helps!
Cross-selling email template #2
Hello [Recipient name],
You recently bought [Product name] from us.
Since this is just a part of our [Product line item name], we thought you should know that you can get additional products to make your experience with [Product name] even better.
Here's what we have for you:
[Product list with pictures]
Think about it and let us know if there is anything else we can do for you.
And remember that you can test our products for 30 days and return them if you are not satisfied with them.
[Button] Check out our return policy.
Cross-selling email template #3
Greetings,
We noticed that you've been using [Name of the product or service] for quite some time. We're super grateful that you trust us to help you [Thing you are helping with].
We are reaching out today with a small tip about the upgraded version of [Product/service].
By purchasing [An upgraded version of the product or service], you'll get [Value the new version brings to the recipient].
Have a nice day!
Wrapping up
Cross-selling emails are a necessary strategy for any business that provides products and services. This approach grants great benefits both financially and in terms of brand-customer relationships. This is why you should consider creating such emails or adding a cross-sell block to your current email lists. Besides that, Stripo will easily help you with this task.
Was this article helpful?
Thanks for your feedback!