In today's world, when an ordinary person has a lot of tasks planned for the day, it is very easy to miss an event or activity. Therefore, email calendars where everyone can add a reminder about the email calendar invite have become real helpers in such situations.
Email marketing often involves events, and you definitely don't want your target audience to miss them. Therefore, many email clients allow you to insert links to add an event to the calendar.
In this article, we show you how to include the "Add to calendar" link in HTML email using 2 methods: with Stripo brand new Calendar Link Generator and the standard method through Gmail, Outlook, Yahoo, and Apple Mail. We choose these email clients because they are the most popular ones (according to Litmus statistics) with a market share of:
Gmail — 27.21%;

Outlook (desktop) — 4.42%;

Yahoo — 2.91%;

Apple Mail — 59.81%.
The Stripo Calendar Link Generator
Finally, we can present you our solution for creating calendar links for your emails. We made sure that the flow of the generator was as user-friendly as possible and you could easily integrate the generated links into the email clients of your choice.
So how it works:
go to the the generator page;

fill in the details of the upcoming meeting, such as the name, start and end date, time, timezone, location, an additional description, and link to your webinar;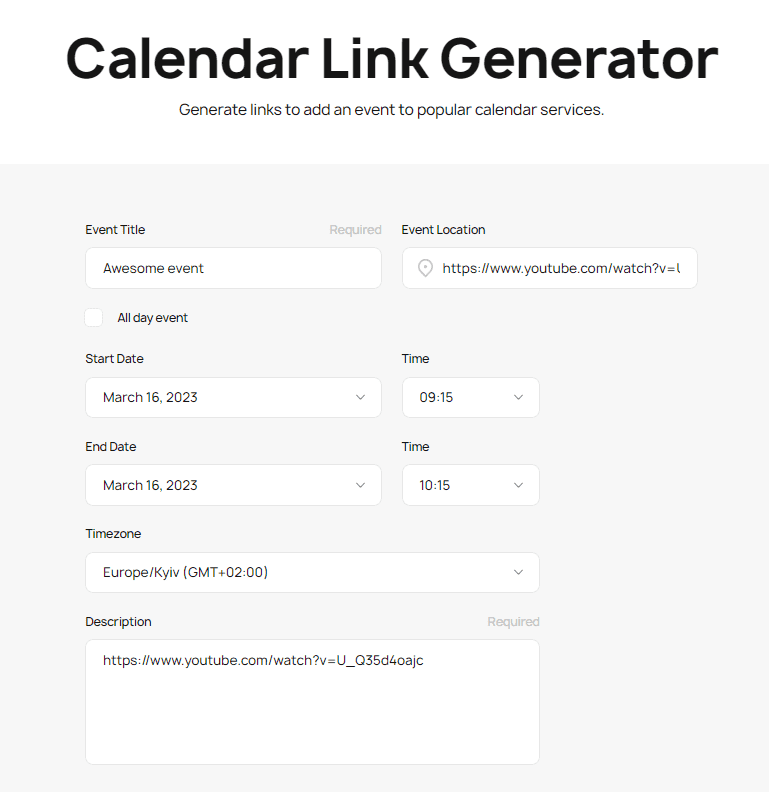 you will have 3 links in front of you, which you can either copy and add directly to the email or open in a new window to make sure the event location and dates are OK and to add the event to your calendar, so you don't miss anything. Meanwhile, we'll stick to Google Calendar for our guide);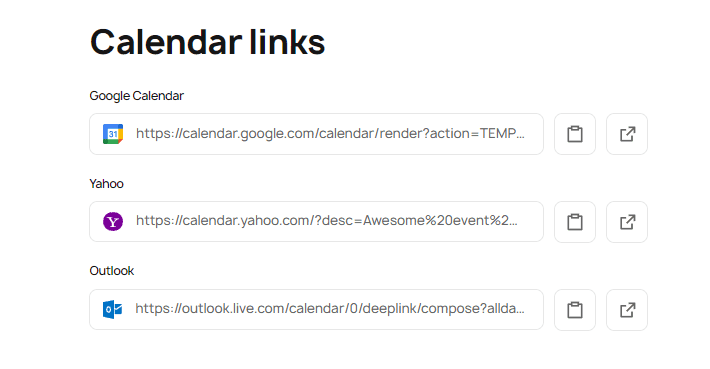 click on button with tablet to copy event link to your clipboard;

now, let's add this link to your email (we'll paste this link to a special button in email). Click on the button and paste event link to a respective field;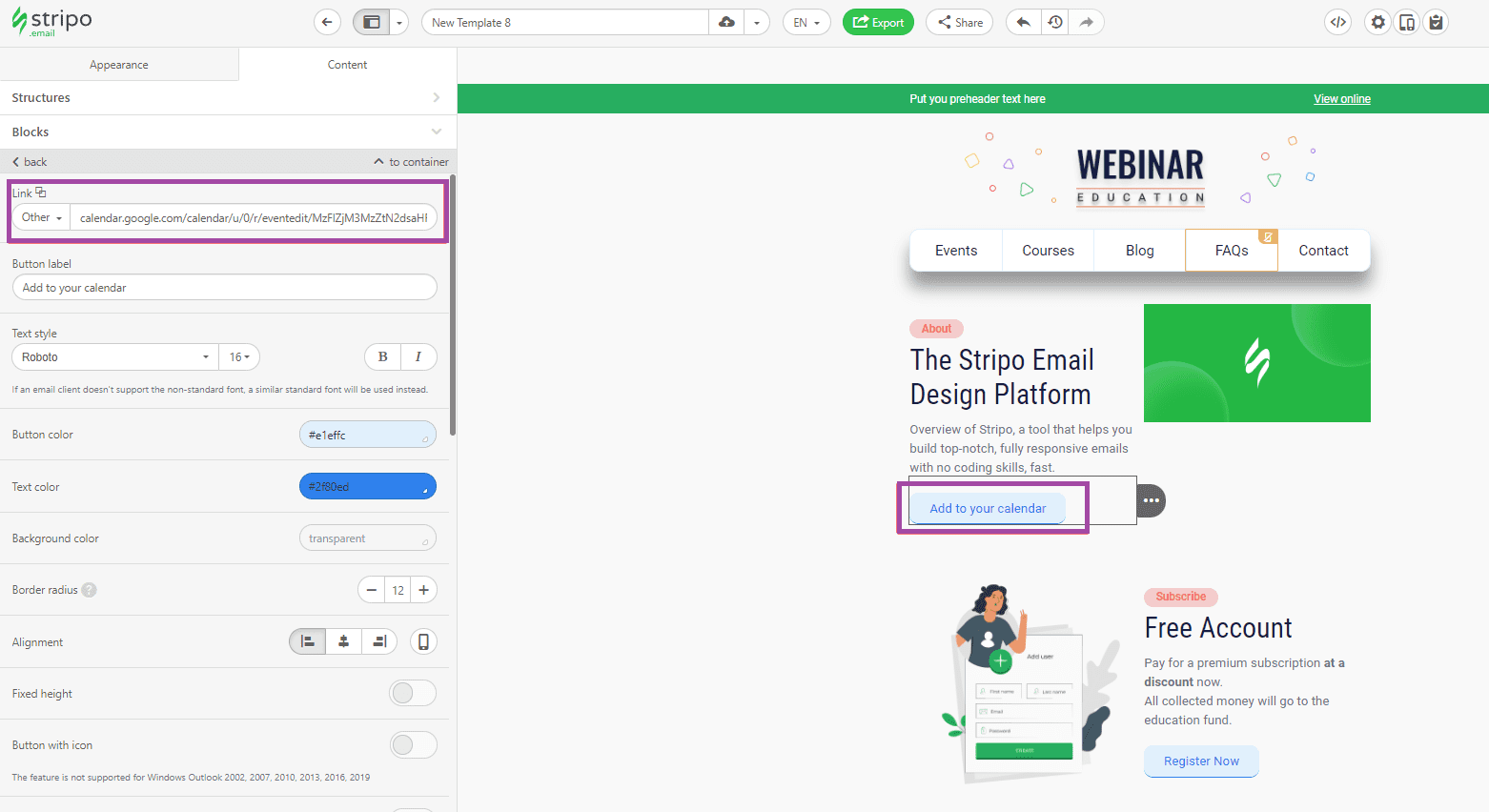 once you open an email and click on the button, it will automatically load an event page so that you can save the event to your calendar;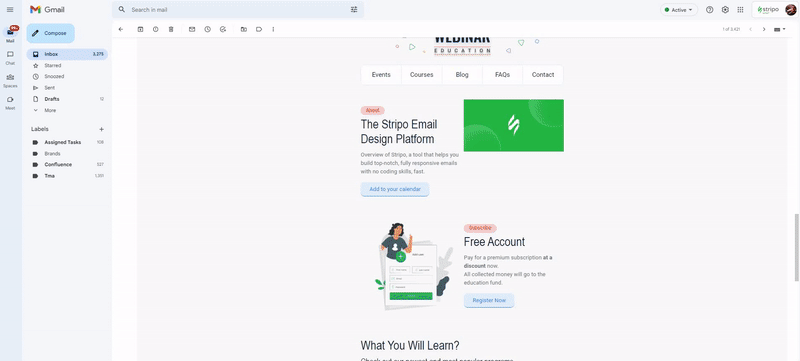 besides, you can add various links to Event Location field (for example Youtube webinars and so on), so your recipients can simply click on the webinar link and watch it right away;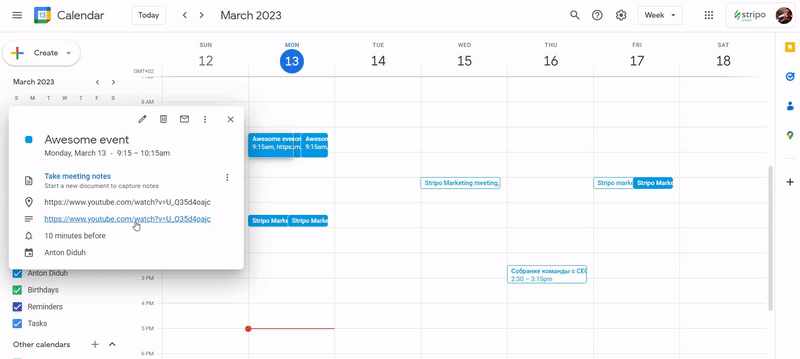 Apple Mail deserves a special mention. Since this email client does not provide any options for adding a link other than the ics file, we have the ability to save this file on the server in order to later copy the link to it and paste it into your Apple calendar.
As you can see, our Calendar Link Generator is easy to use and will allow you to create an event link for your HTML emails.
The "Add to Google Calendar" link in an email message: Step-by-step guide
So, we will start talking about putting the "Add to calendar" button in email, and the first service is Gmail. First, you need to create an event in the calendar.
create the desired event on the calendar by entering its name, location, and time;
attach additional tools (for example, Zoom or Google Meet, YouTube broadcast). All this information can be placed in the "Location" field of the conference;
set the visibility status of the event to "Public"
save the event;

then open the calendar in a new tab;
on the left, click on the three dots menu next to the name of the owner of this event;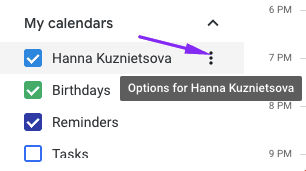 enter the "Settings and sharing" menu;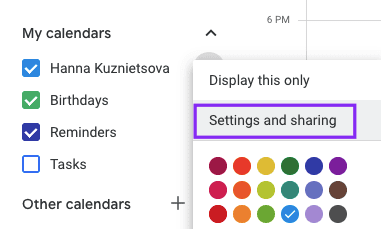 in a new tab, click check the "Make available to public" option;
copy the "Shareable" link.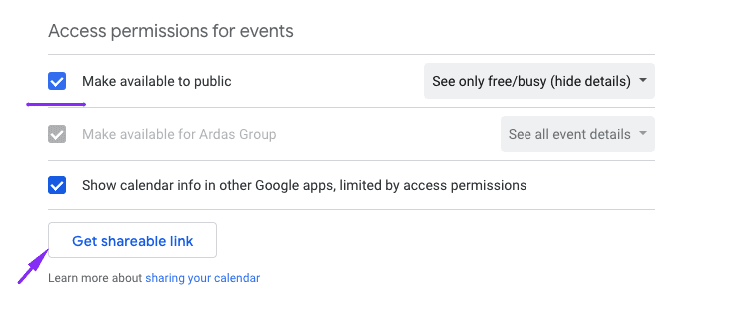 Now, let's move on and put in the "Add to calendar" link in the HTML newsletter;
open your HTML email template;

add the "Add to calendar" text;

highlight this text and click on the "Link" icon;

paste the link.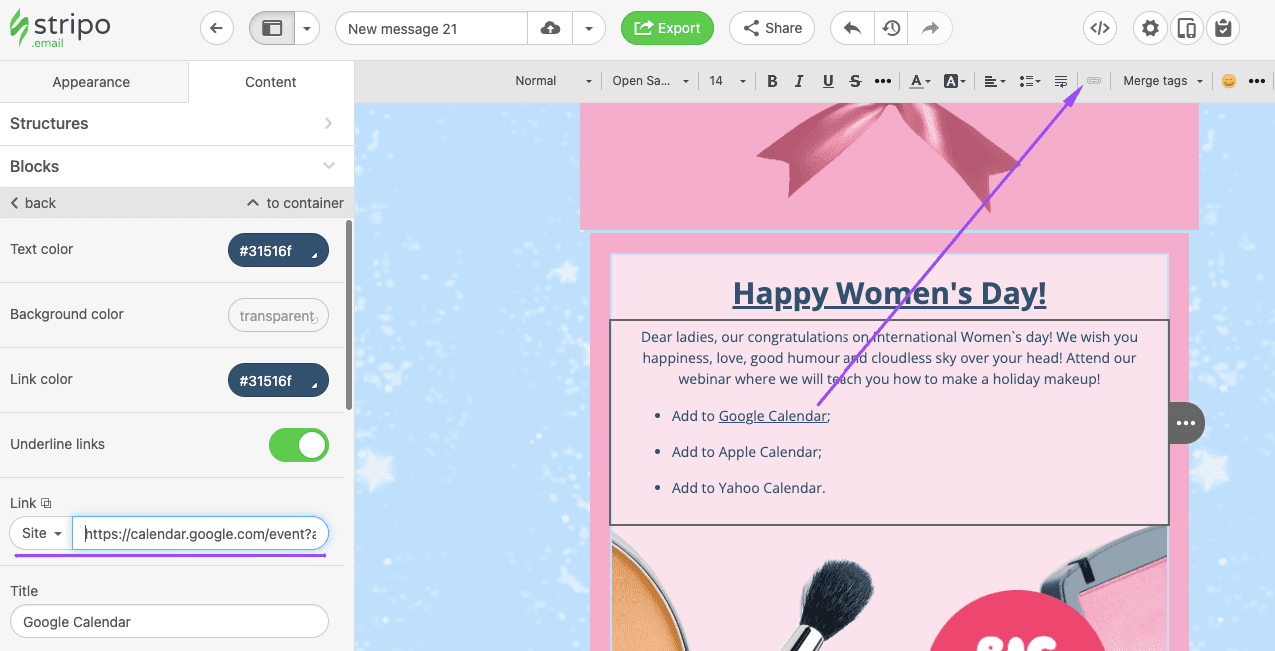 And that's pretty much it. You now have a working link to your event in your email that your recipients can use by simply clicking on it. After that, the event window will open with all the details, which the recipients can add to their calendars.
You can invite your audience to an event or webinar not only with a link but also with the magic of email design. In our Webinar Invitation Email: Examples, Best Practices article, we've gathered all the information you need to create top-notch invitation emails.
You might also like
Webinar invitation email: Examples, best practices

The "Add to Outlook Calendar" link guide
As for Outlook.com, it does not allow you to simply copy links to events from the site. Therefore, you can easily create an event and link to it using our generator. The sequence of actions is quite simple:
open link calendar page;

create an event by filling in the main fields (event name, location, date, time, additional description);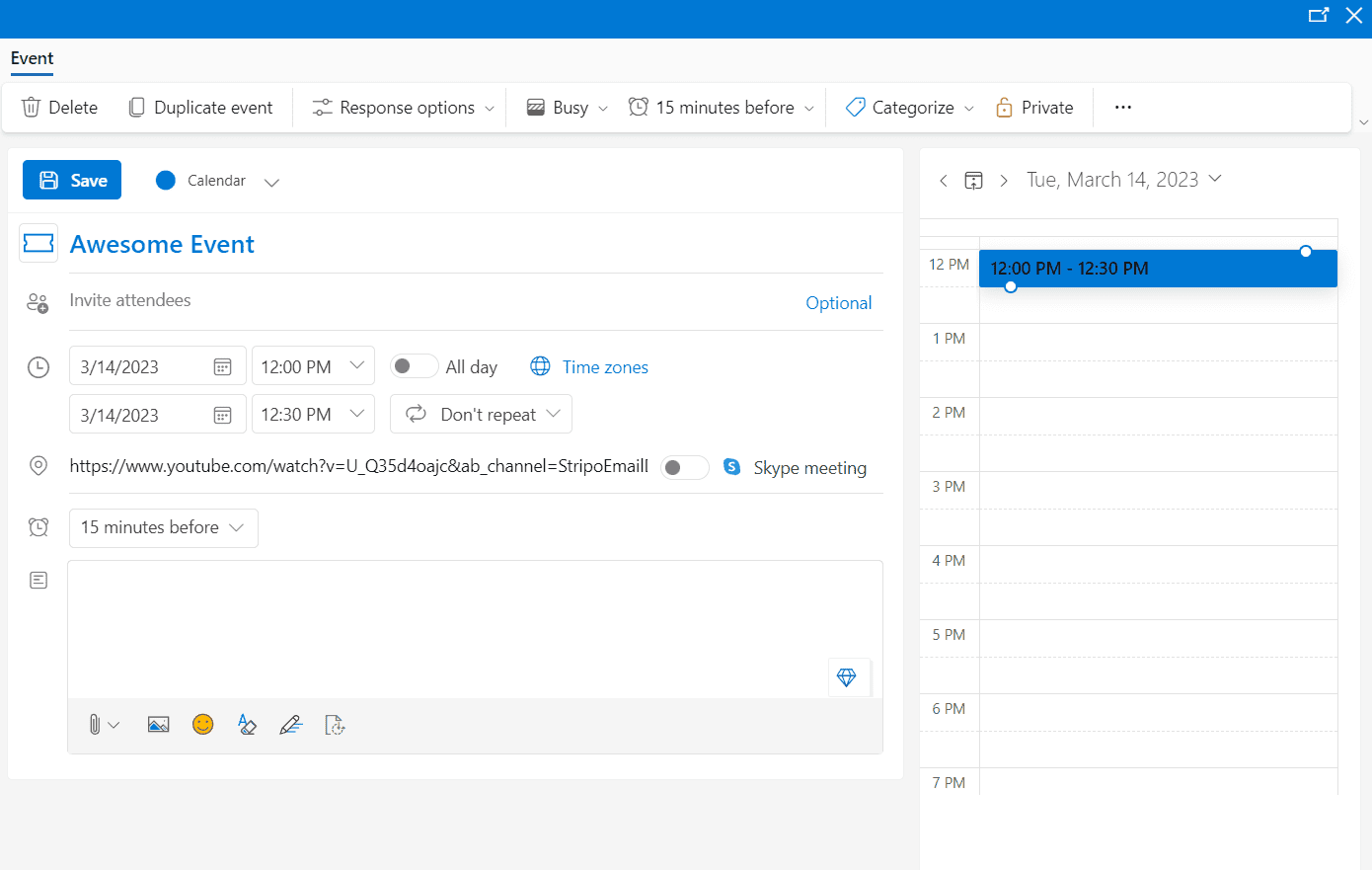 copy event link to clipboard;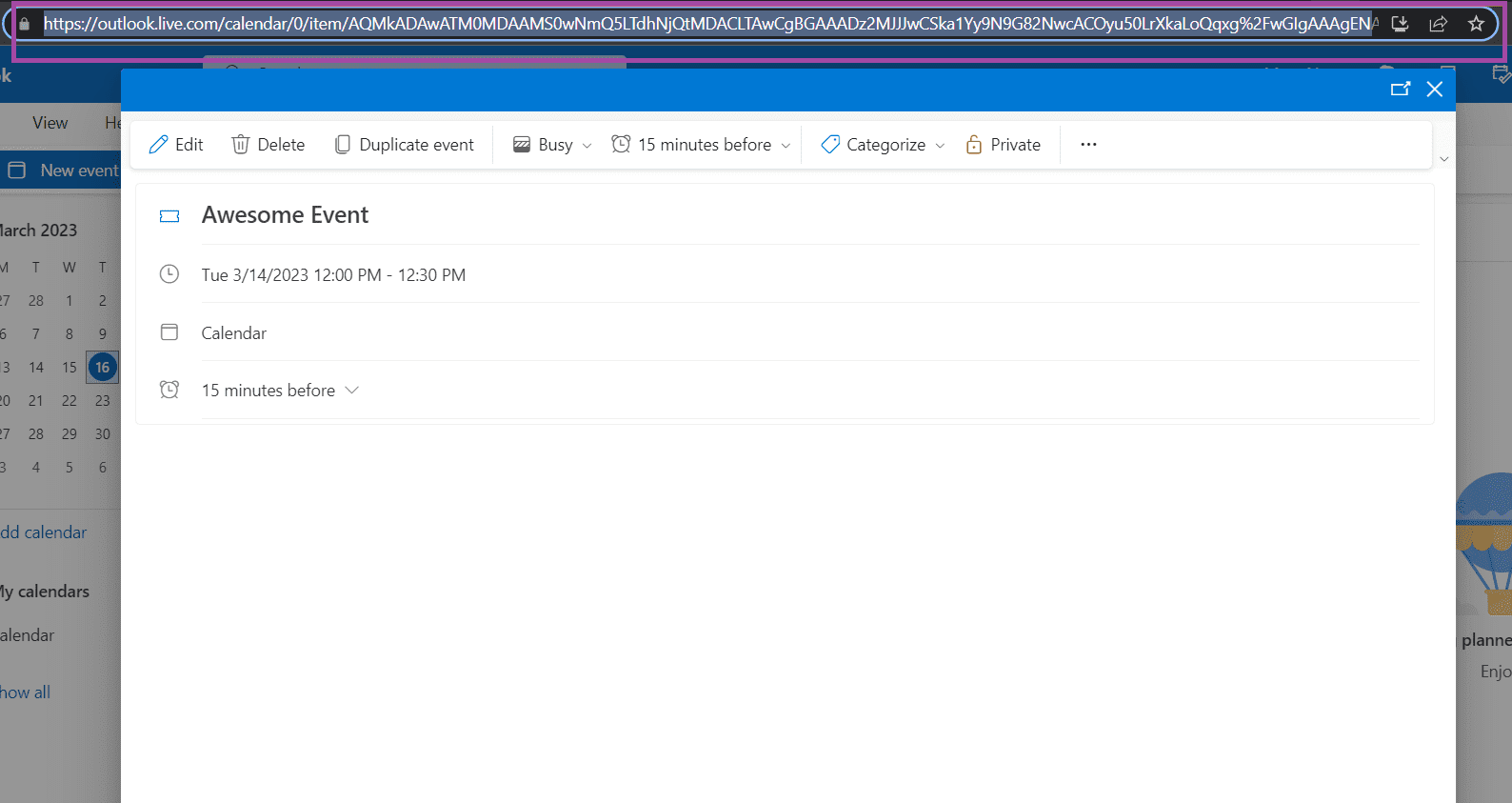 after that you will be able to add a link to the event in your email. Recipients just need to click on it in the email to open the event page and add it to their calendar.
The "Add to Yahoo Calendar" link guide
So, it's time to talk about the latest email service provider — Yahoo. Creating email events in this system requires using a third-party service that provides links to them. And so, let's get started.
Open Digital Inspiration online tool for creating events.

Enter needed information about an event (name, time, additional details).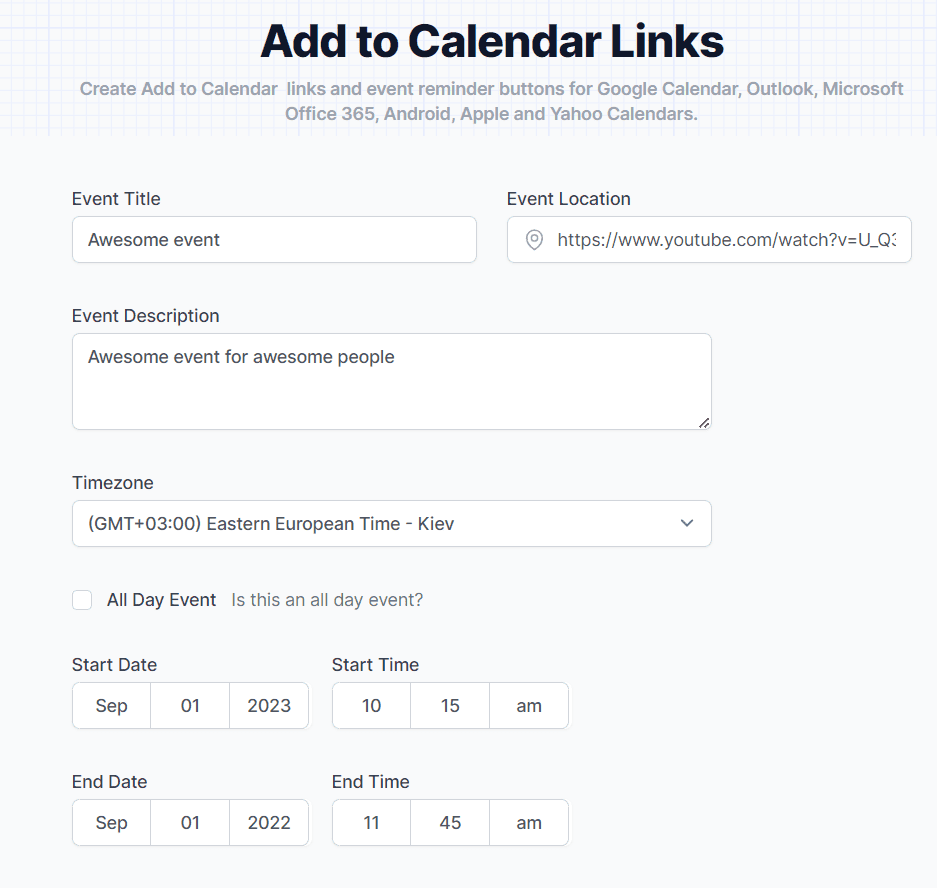 In the Calendar Links section, select the Yahoo! Calendar. Then, copy the link from the Add to calendar field.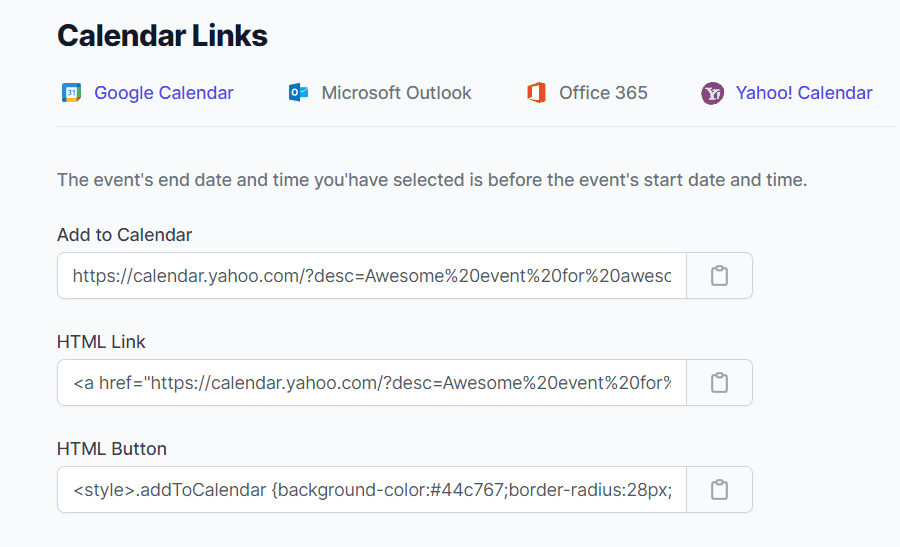 Select this text with the mouse, click on the Link button and paste the link that you copied from the Digital Inspiration service into the appropriate field.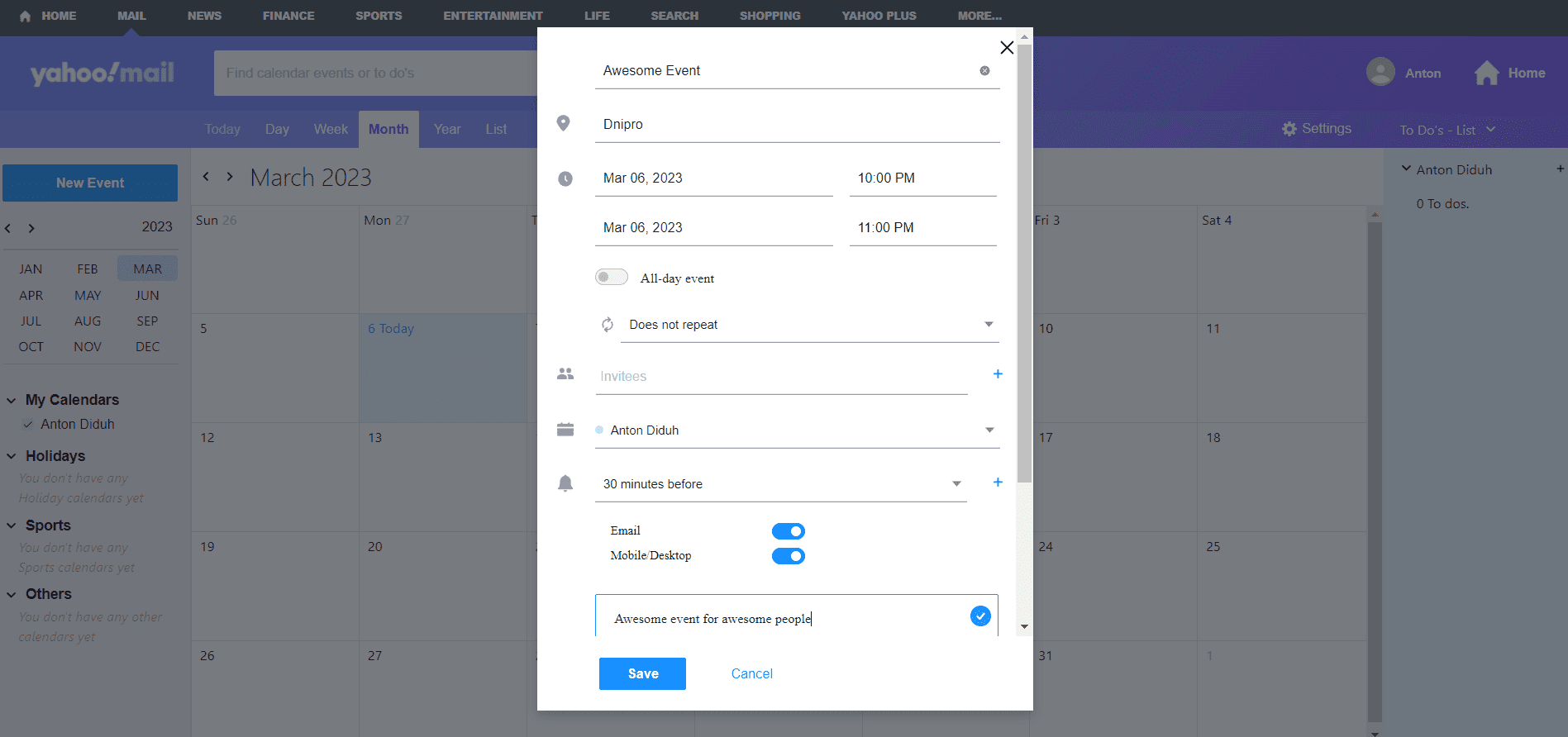 And that's pretty much it. You have a working Add to calendar button that allows recipients to add your event to their Yahoo calendars.
Apple Mail and Outlook app
We have combined these 2 points into one since they have a common inconvenience. Apple Mail and Outlook app do not allow you to simply copy and use event links. There is simply no such functionality, so the .ics file system was implemented.
At its core, this is a file/link, by clicking on which a calendar with the necessary event will be opened. For each individual event, you can generate 1 file. It would seem that there is a ready-made solution, take and use the files, but everything is not so rosy here.
Adding such files to the bulk email is not an OK practice, as it is difficult to beautifully implement them into the email design. In addition, not all email design platforms and ESPs allow you to add such files to emails. For example, Hubspot allows adding such files to templates.
The way out is you should stick to ESPs that can work with this kind of file and have a dedicated manual for it, like this one. Besides that, you can use third-party link generators for creating .ics files for your newsletters (just like our Link Generator does with .ics files for Apple Mail).
Buttons or links?
As much as you'd like to add all of these elements to your emails, you should still choose one. We decided to do some research and created an email newsletter. Each email contained an invitation to a webinar, but it was executed in different ways. We created 3 types of emails to which we added:
calendar icon;

standard add to calendar link text (like add to Outlook calendar and so on);
All of these elements were designed to do one thing — to help recipients add our webinar to their calendar. And we were surprised when we saw the results of this small campaign. The regular text calendar link generated more signups than the other options.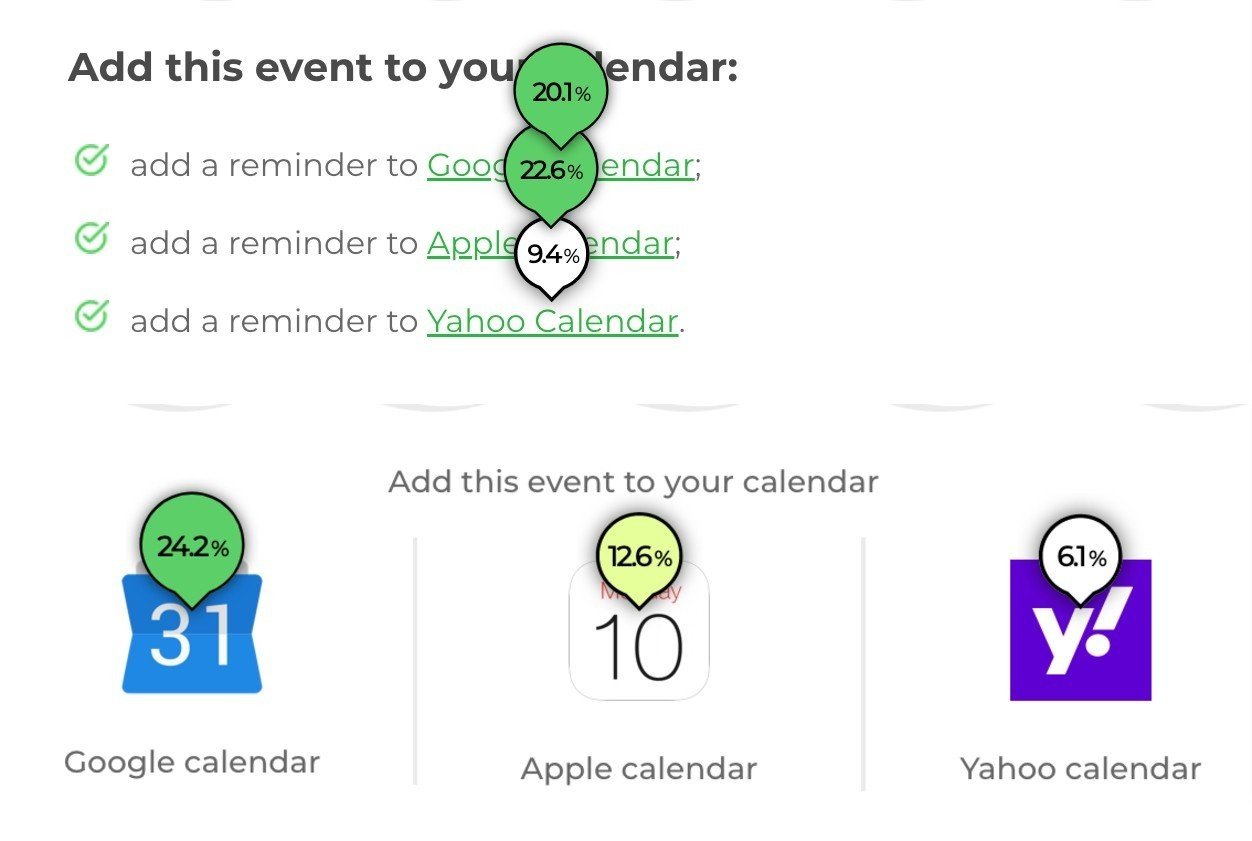 The results were:
The CTOR of regular text links to Google Calendar, Apple Calendar and Yahoo calendar was 20.1%, 22.6% and 9.4% respectively.

The CTOR of buttons with Google Calendar, Apple Calendar and Yahoo calendar icons was 24.2%, 12.6%, 6.1% respectively
However, the gap is not very large and should not stop you from choosing what you like best. If you think a calendar icon in your email would look prettier than text, then go for it.
Final words
In order for as many people as possible to attend your calendar event, you must notify and invite them of these events. Leaving a calendar reminder is a powerful and easy way to retain your customers, and popular email clients help you share your event calendar links with just a few clicks. We hope this blog post was helpful to you, and our marketing hack for adding calendar links to your emails will come in handy.
Was this article helpful?
Thanks for your feedback!