23 February
St Patrick's Day Emails: Examples and Subject Lines
Spring is almost on the doorstep and it is full of various holidays and occasions that are great for email newsletters. This is the moment where you need to show your creativity to be victorious in the fight for clicks and the open rate of your emails. St Patrick's Day is no exception.
This holiday is celebrated annually on March 17, not only in Ireland but already throughout the world. And this event is not to be missed. In this article, we will take a closer look at the experience of famous brands and their St Patrick's day email marketing campaigns, examples of subject lines, and also advise you on some top-notch templates in the Stripo email design platform.
St Patrick's day emails: Real-life examples
In order to understand how best to design an email for St. Patrick's Day, you should first look at the experience of other companies and the creativity of their marketing departments. We've rounded up the top ten emails you should take a look at.
1. Postmates
The extremely well-known food delivery service Postmates decided to hold an action using email, pushing its audience to order Irish beer with other dishes, thereby celebrating this holiday. Their email turned out to be quite colorful and they did not forget about one of the attributes of St. Patrick's Day — a rainbow, at the end of which an elf with a pot of gold is waiting for everyone.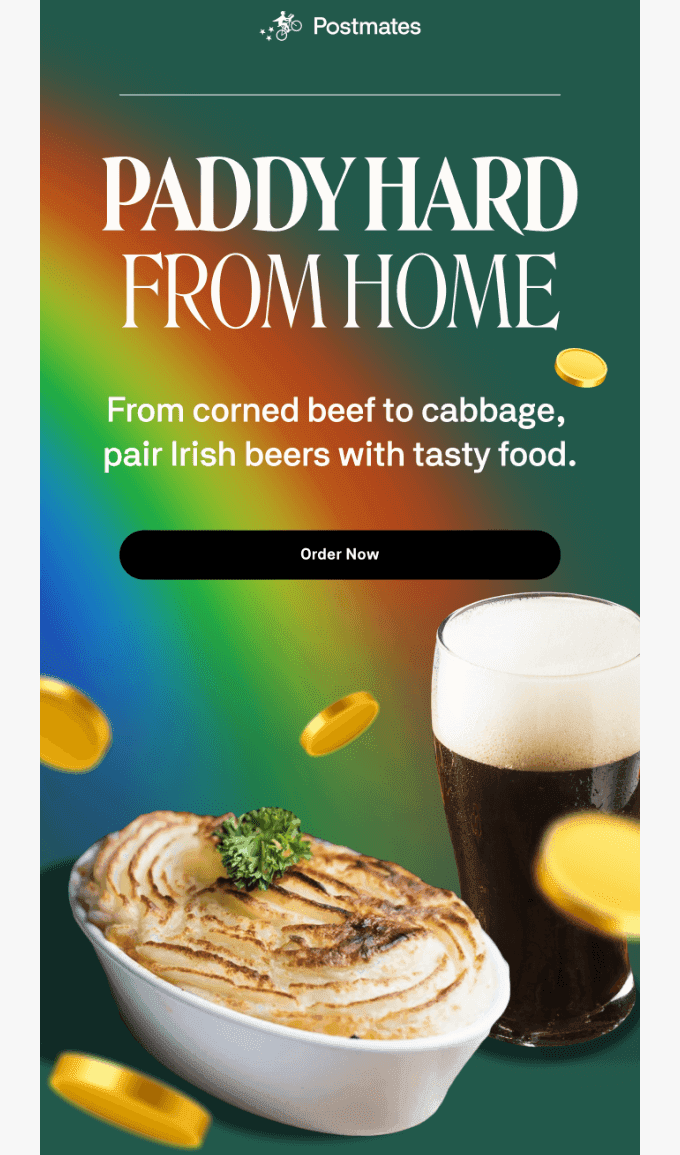 (Source: Really Good Emails)
2. Uber Eats
Such a fun holiday cannot do without delicious food, and Uber Eats understands this. On this holiday, the company in a themed style decided to introduce new users to the benefits of the platform, using simple and bright images with the main symbols of the holiday.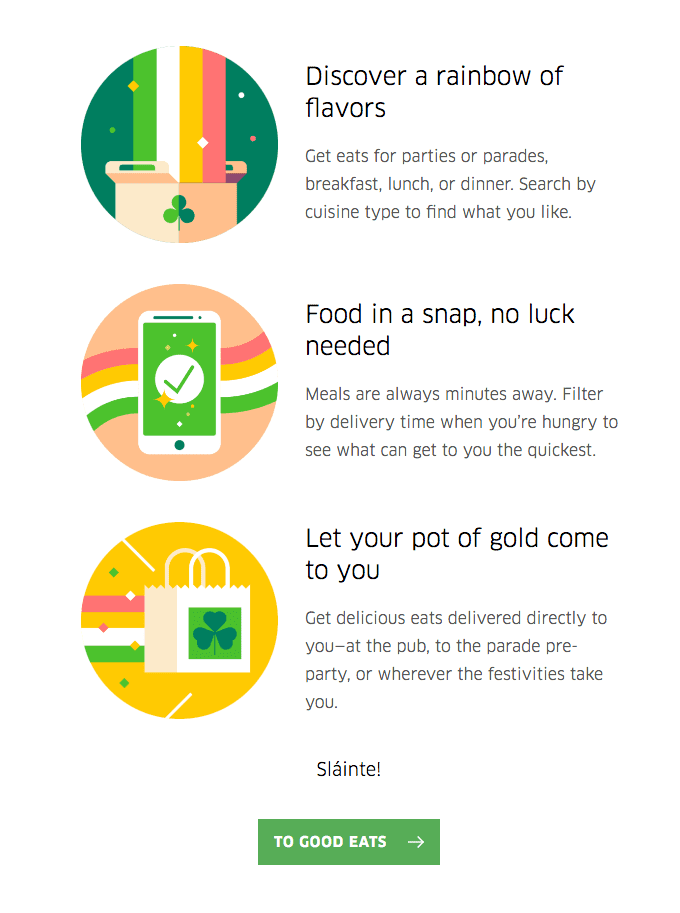 (Source: Really Good Emails)
3. Harry's
An integral attribute of St. Patrick's Day is fun. It's a celebration of humor and it's worth showing in your newsletter, as did Harry's, a brand that sells shaving equipment and personal care products for men. In their St. Patrick's Day email campaign, they gave a funny statistic about the amount of beer in a man's mustache going missing on St. Patrick's Day. This approach is funny, it emphasizes one of the hallmarks of the holiday and also offers to buy shaving products.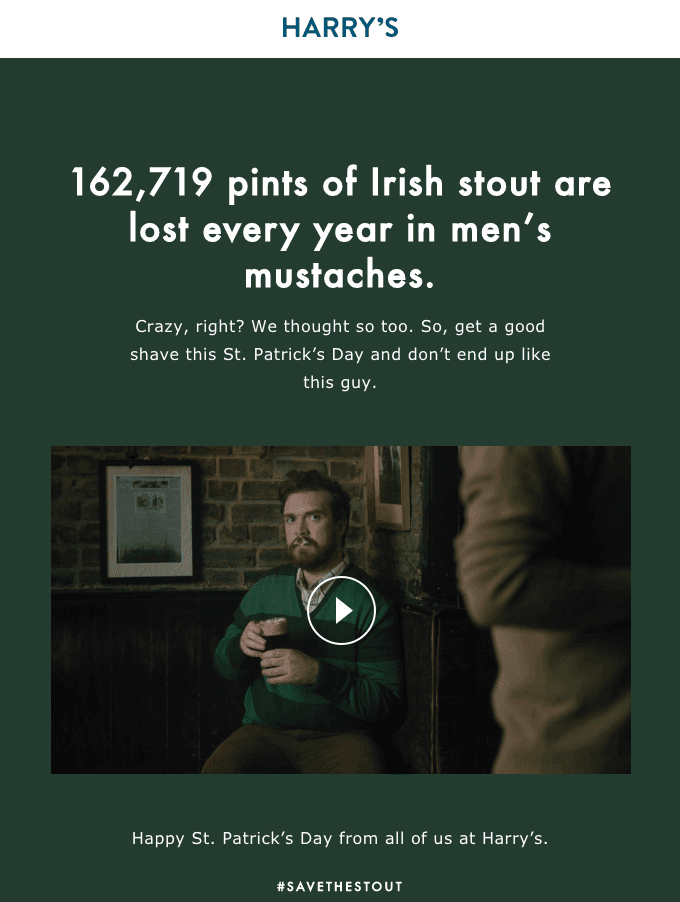 (Source: Really Good Emails)
4. Leesa
Knock-knock jokes are pure classics that can be generated endlessly and adjusted to fit different needs. Mattress manufacturer Leesa decided to use one in their email newsletter, depicting a cut-out dialogue in the messenger that congratulates St. Patrick's Day and unobtrusively advertises the brand's products and their quality.
(Source: Really Good Emails)
5. Pulp & Press
Green is the color of St. Patrick's Day. What else do we associate this color with? That's right, with organics and nature. Manufacturer of cold-pressed juices Pulp & Press used a themed St. Patrick day email marketing campaign to notify its audience about the sale of freshly squeezed green juices. Along with this email, the brand also congratulated everyone on the holiday and explained the beneficial properties of such juices.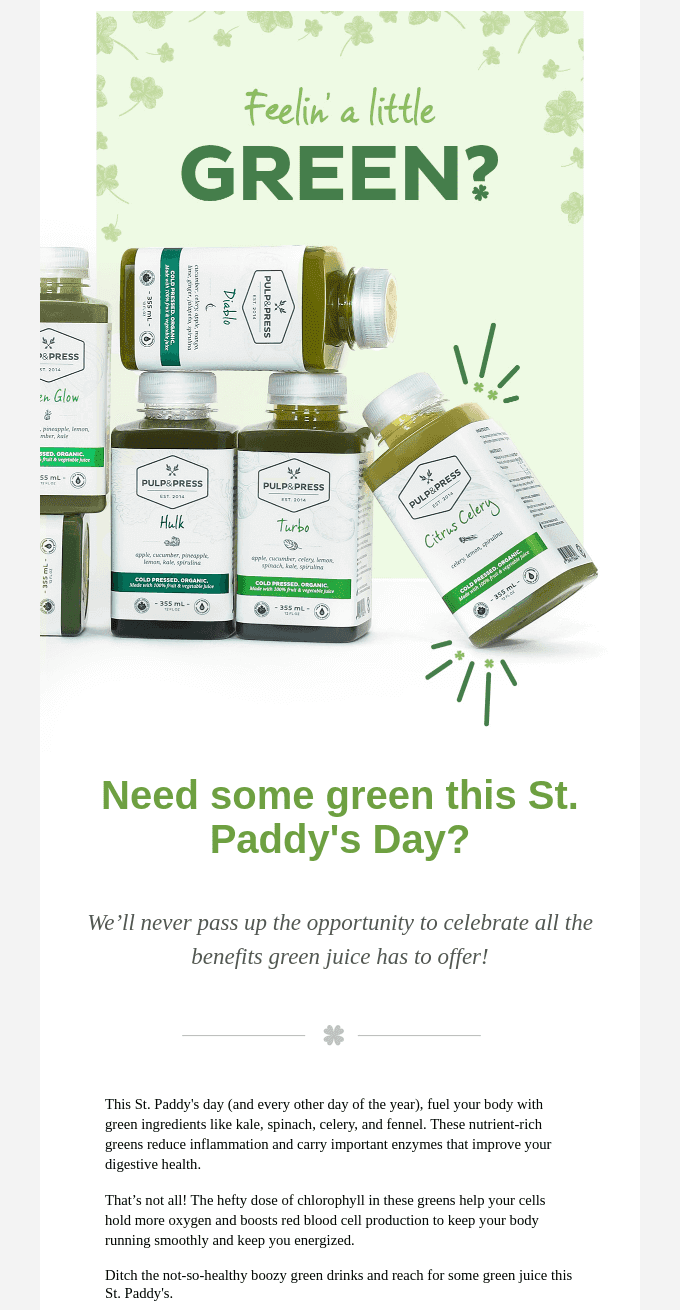 (Source: Really Good Emails)
6. Sandals Resort
Travel companies also do not bypass this holiday and try to be creative in the design of their email newsletters. Sandals Resorts has given its customers a St. Patrick's Day Sale. All this is wrapped in a shamrock, which is another symbol of this holiday.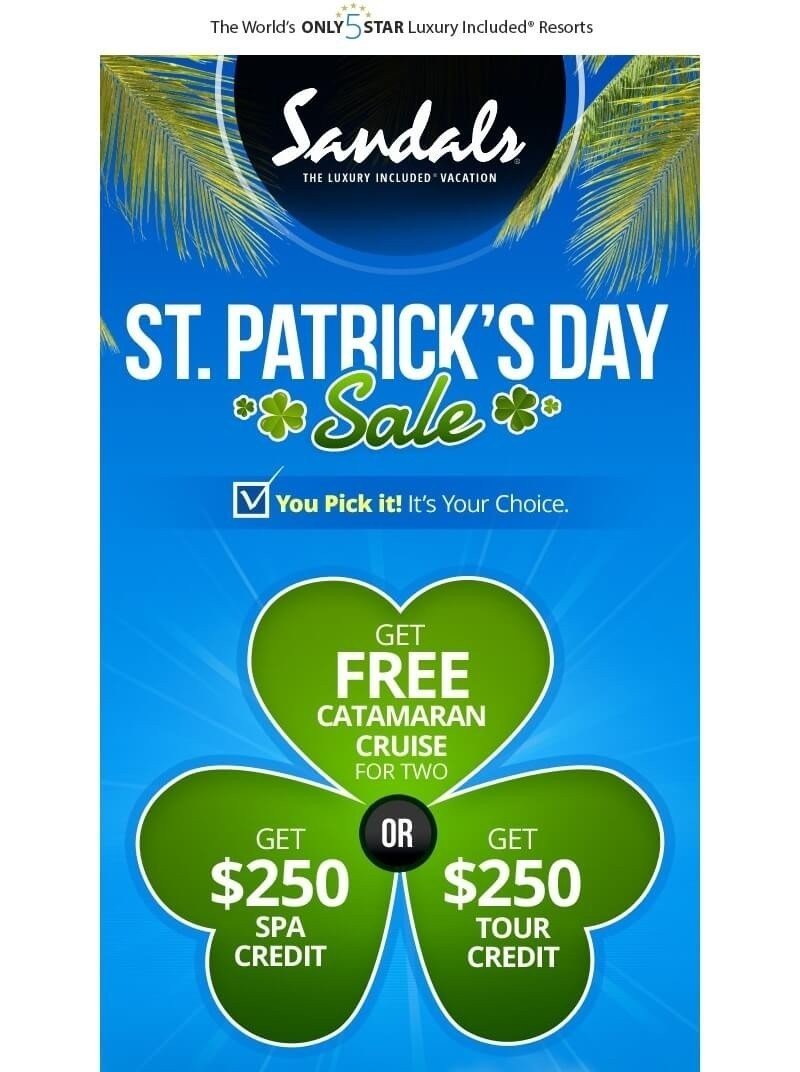 (Source: Email-competitors)
7. Curvissa
Clothing brands also seize the opportunity to give a piece of the holiday to their audience, and emails are a great way to do this. The women's clothing boutique Curvissa, in the form of a "lucky" email, provides its customers with a promo code, by entering which each recipient gets a secret gift. Intriguing, isn't it? A pretty good strategy to use.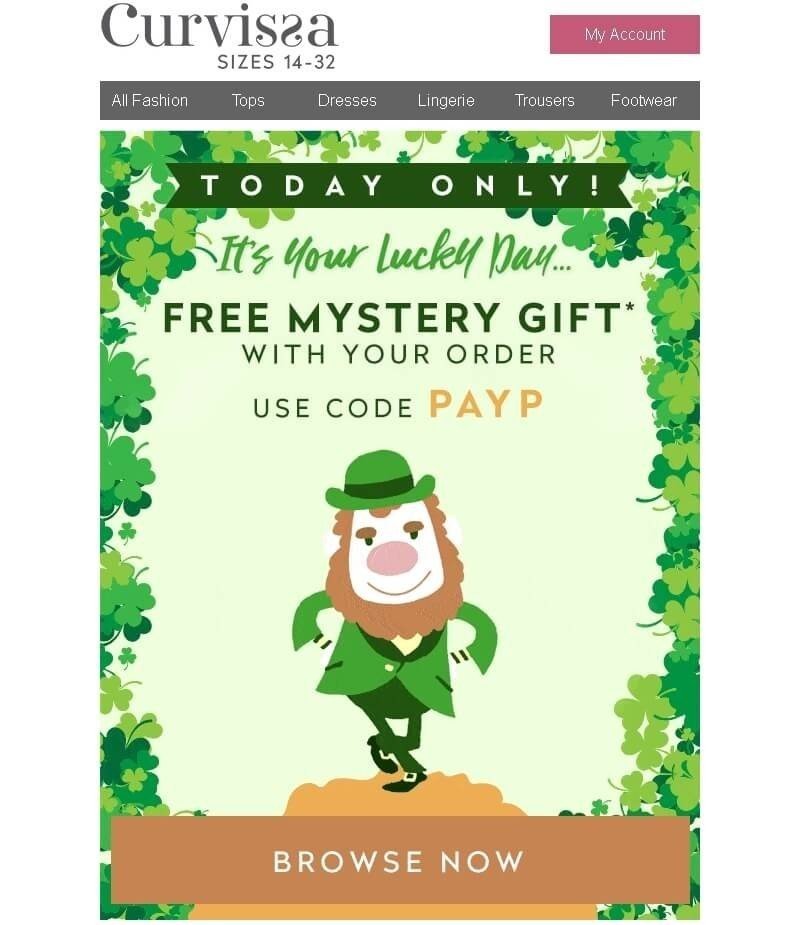 (Source: Email-competitors)
8. Kahlúa
Another tradition on St. Patrick's Day is drinking whiskey, and the special term Patrick's cup was coined for this. The liqueur manufacturer Kahlúa did not miss a chance and advertised an interesting cocktail based on Kahlúa liqueur and Jameson whiskey, which will perfectly complement St. Patrick's Day. In addition to the festive design, this email offers value — anyone can download the recipe for such a cocktail with a click and surprise their friends.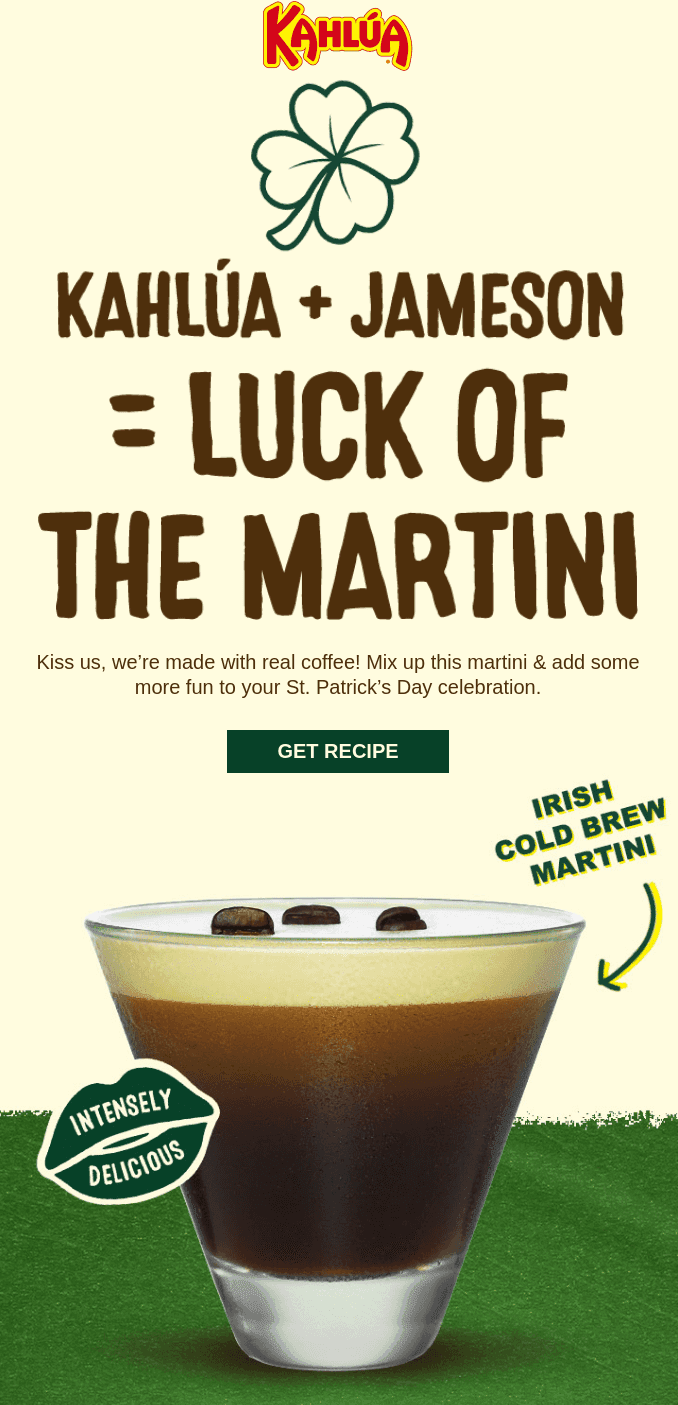 (Source: Really Good Emails)
9. Better Homes & Gardens
St. Patrick's Day is celebrated not only in bars and parades but also in the family circle in the comfort of home. Better Homes & Gardens is a themed blog about recipes, home improvement tips, and much more. On this holiday, they made a thematic newsletter of useful articles about St. Patrick's Day, holiday recipes, and much more that will be useful to housewives.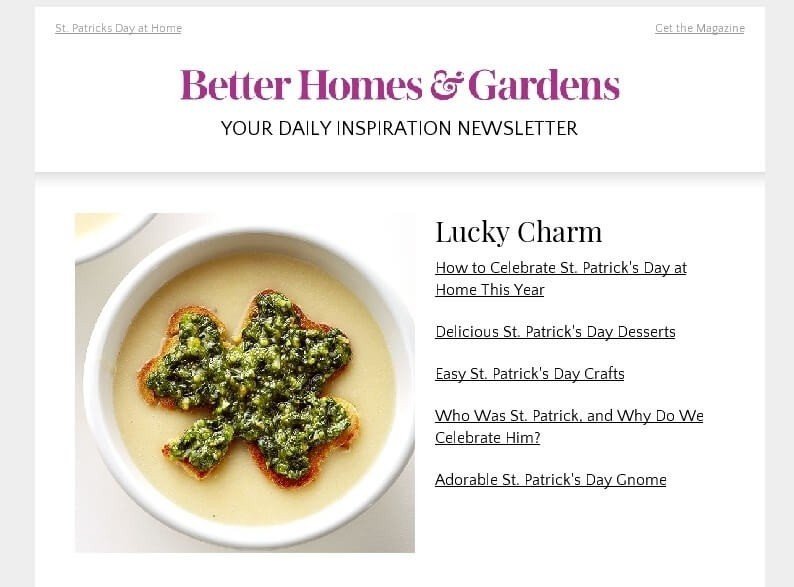 (Source: Email-competitors)
10. Rugs.com
It would seem that only a few relevant industries can celebrate St. Patrick's Day in their email newsletters. But what if we tell you that carpet manufacturers also do not mind delighting their audience with a holiday email campaign? The Rugs.com brand provides huge discounts to its customers on St. Patrick's Day. The entire email is made in the theme of good luck that this holiday brings with it.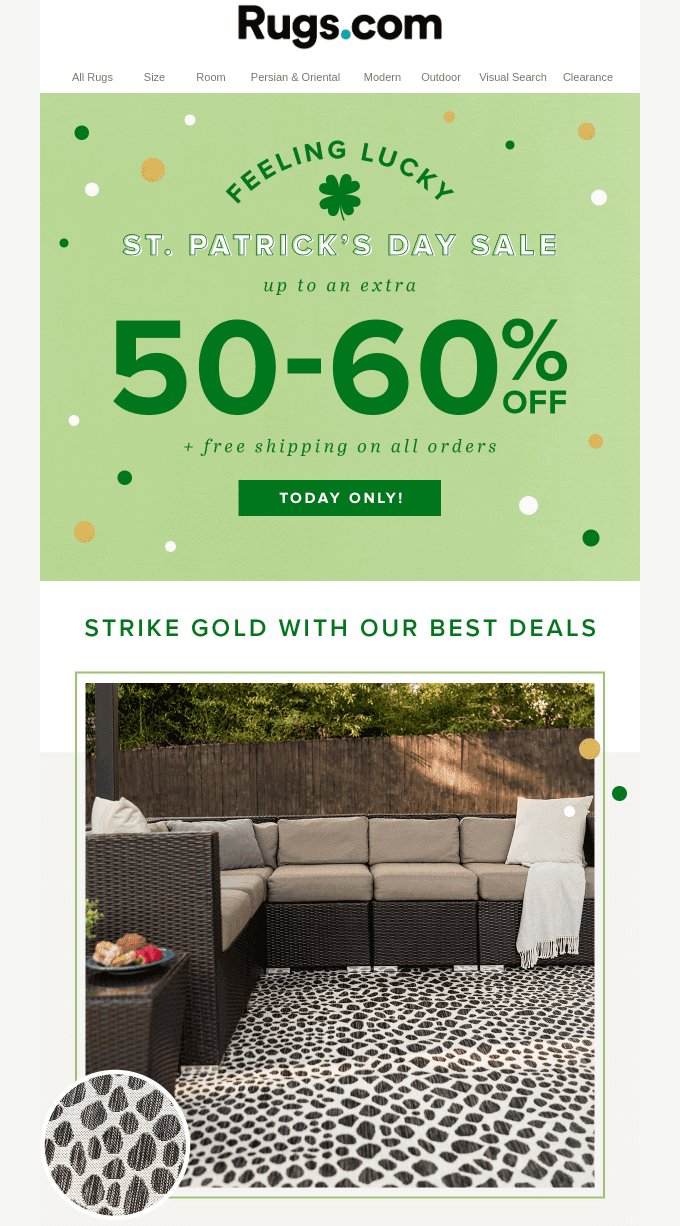 (Source: Really Good Emails)
Best St Patrick's day email subject lines
So we've discussed examples of real campaigns and their St. Patrick's Day emails and hope this helped you to paint a picture of your future newsletter. However, without catchy subject lines, your creativity may be missed in the flow of other emails. We decided to make a small selection of subject lines from real companies that we already mentioned today as well as a few new ones to bring you St. Patrick's day marketing ideas.
You're In Luck With St. Patrick's Day Savings 🍀 – Rugs.com

Open Me, I'm Irish ☘️ – Postmates

Did someone say nutrient-rich greens? 🥬 – Pulp & Press

Celebrate St. Patrick's Day at Home This Year – Better Homes & Gardens

Our Lucky Shamrock Will Shine on You with Special Gifts – Sandals Resort

Lucky you! Our St Patricks Day Special is on… – Curvissa

Celebrate St. Paddy's Day with Uber Eats – Uber Eats

🔥🔥 St.Patrick's Day Sale - Ending Tonight – Pen Boutique

Happy St Patrick! Last Chance for your 10 Off* Sitewide 🍀 – Allurez

☘️ St. Patrick's Day Sale Ends Today! ☘️ – BetterWorldBooks.com

Happy St Patrick Day | 10% discount – Baracuta

A gift from St. Patrick: Up to 70% off designer everything – Saks Fifth Avenue

The St. Patricks Day Sale 60% Off Ends Tonight! – Ami Clubwear

☘️ LUCKY YOU: 17% OFF TONIGHT – Victoria's Secret

What's That at the End of the Rainbow? – Reverb
Email templates for St Patrick's Day
Still undecided about what email to do for your St. Patrick's Day newsletter? Then templates are what you need. For your convenience, we have collected 5 favorite templates from our Stripo collection. You can combine them with St Patrick day email subject lines to craft a perfect email for your campaign.
Template for the Hobbies industry
Want to tease and invite your audience to a big St. Patrick's Day event? This template is perfect for such needs thanks to the built-in countdown timer and the ability to tell future guests about the schedule of any event in detail. And emerald colors will add brightness and a festive mood to your newsletter, so this template is worth adopting.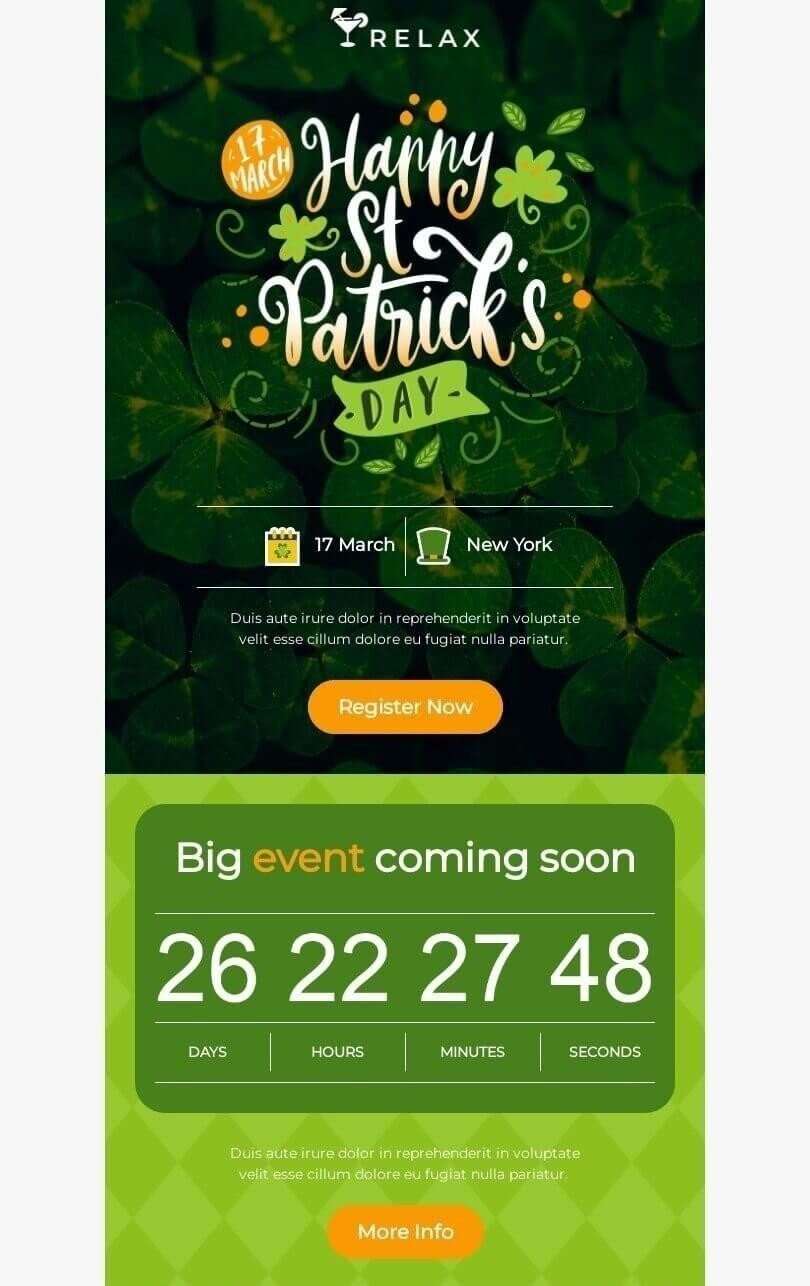 Template for the Hotels industry
The celebration of St. Patrick's Day is attended not only by local residents but also by tourists who are happy to join interesting customs and cultures. Advertise your hotel or hostel with this template. You can easily describe all the advantages of your hotel, its hospitality, and wrap it all in a festive atmosphere of St. Patrick's Day.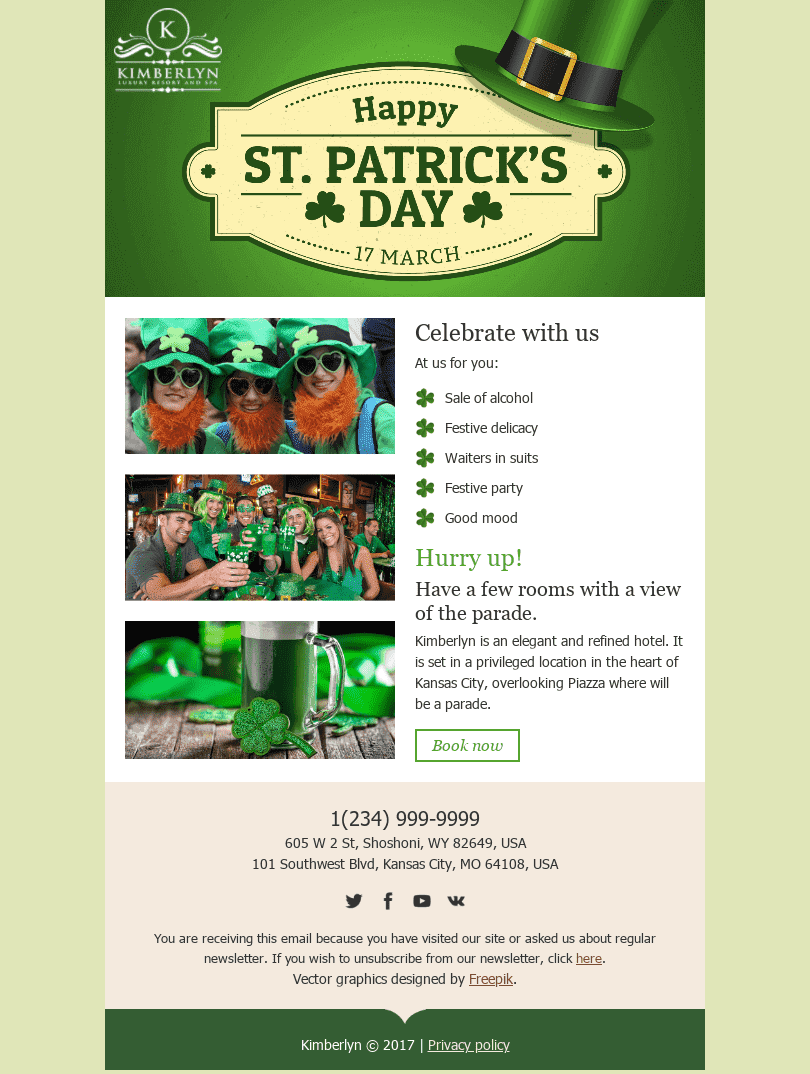 Template for the Finance industry
Even if your business is as serious as possible and cannot offer festive events, congratulations on the holiday will still fall into the heart of your audience. Choose warm words and add a pinch of creativity when designing a St Patrick's Day email, and your audience will be happy.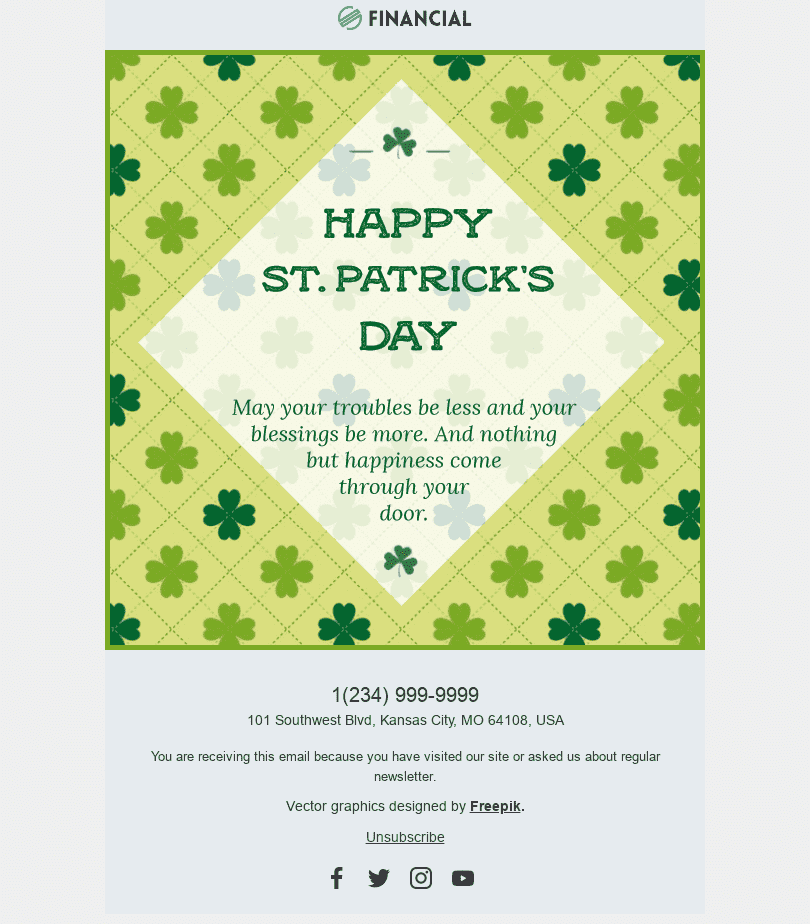 Template for Beauty & Personal Care industry
St. Patrick's Day is a great occasion to please your audience with various discounts and promotional products. We have developed a special template for cosmetics stores that will help businesses inform recipients about the start of the holiday sale. Add high-quality photos of products and don't forget about CTA buttons to go to your website to buy products.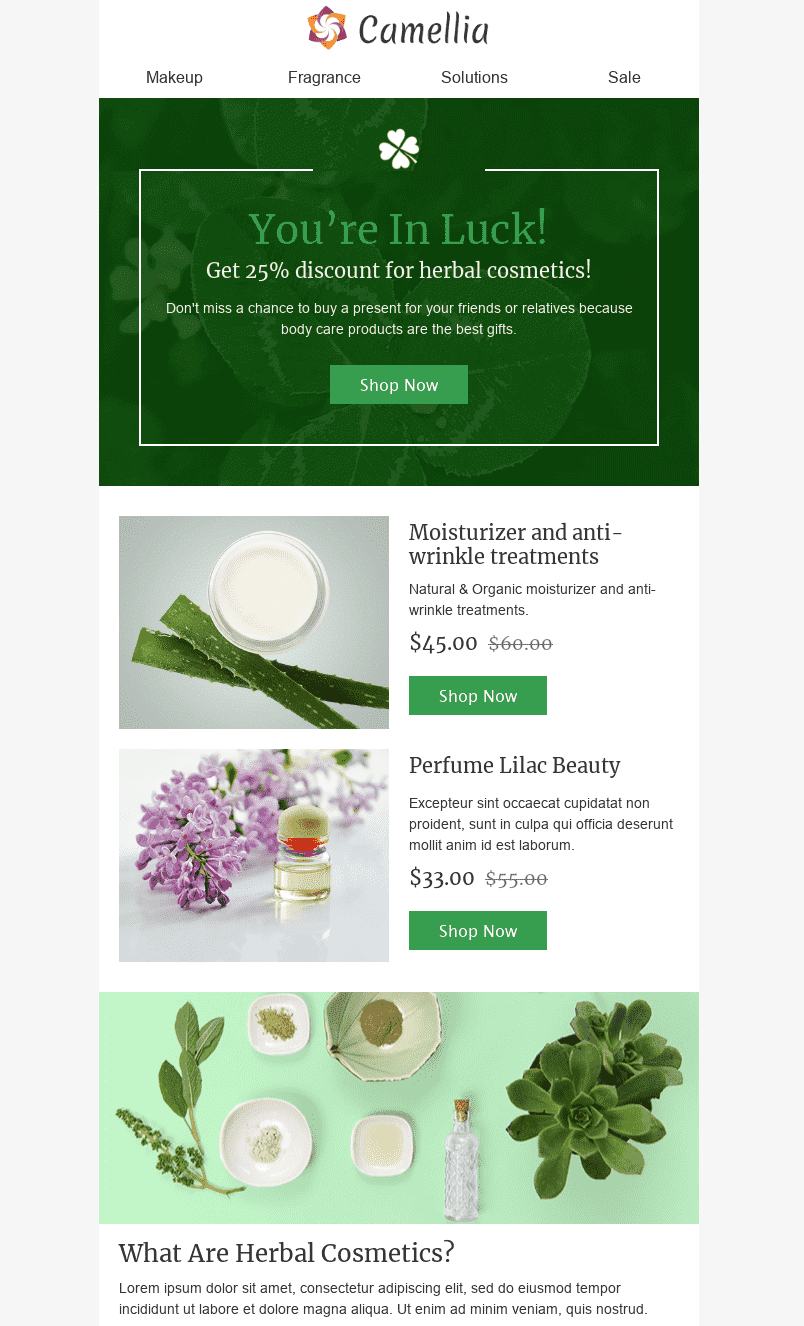 Template for the Fashion industry
Green clothes are an essential part of St. Patrick's Day and should not be missed. You have a great opportunity to start your green clothes sale, and our exclusive St Patrick day email template will help you with this. Customize it to suit your store and bring the holiday into your customers' inboxes.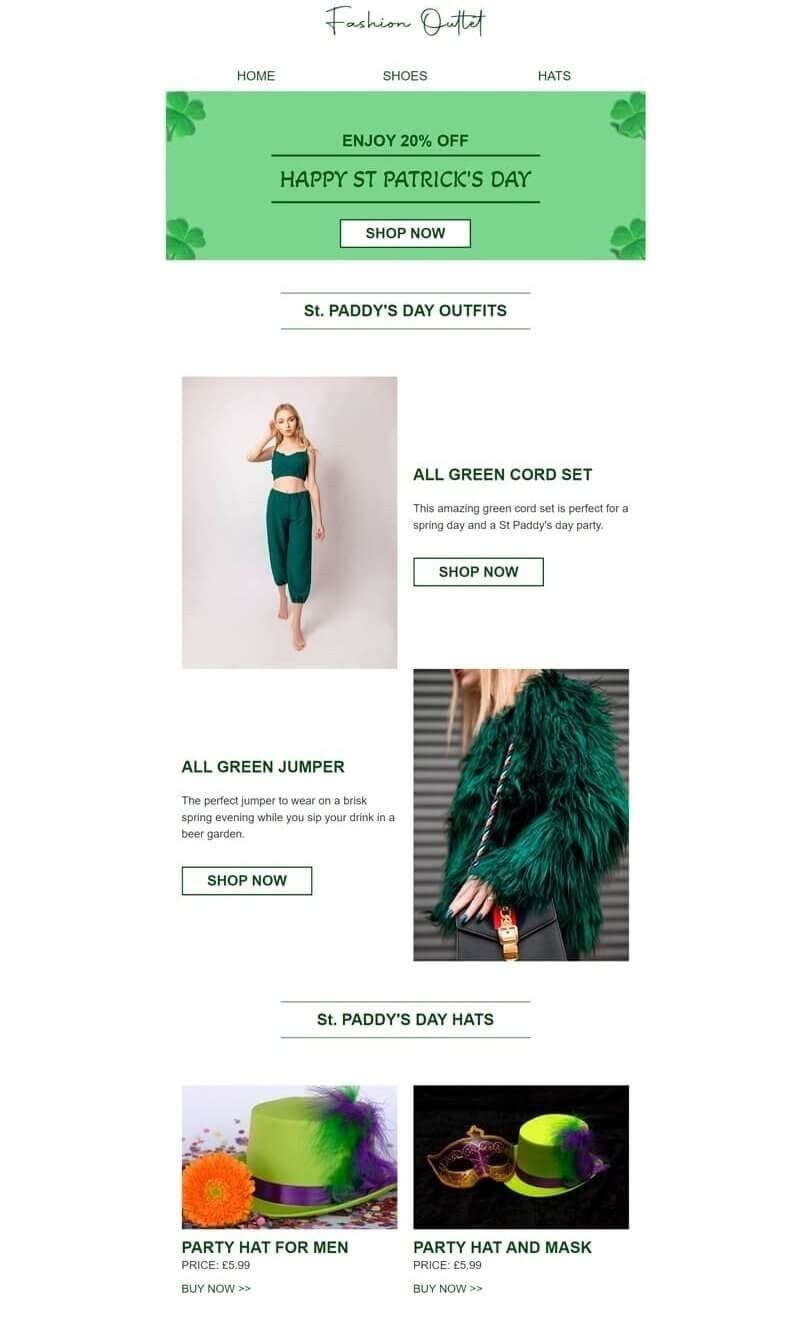 Final words
St. Patrick's Day is a special holiday that requires creativity from marketing departments. Not only should emails be useful to recipients but also contain the essential attributes of this holiday. We hope this article has given you some inspiration and you are ready to design your unique emails. And the Stripo email design platform will help you in this process.