Table of contents
Why use emojis in emails
What makes emojis so popular now
Ways of using emojis in email marketing
Ways of using emojis in email subject lines
Best examples of emojis:
Emojis for email — where to find them
How to add images in subject lines with Stripo
Tips and best practices
Summary
1.
Why use emojis in emails
In the modern world, where the White House uses emojis in its reports, some brands still find it inappropriate or inessential to use emojis in their email newsletters.
But those who already use, they know that emojis in email subject lines increase open rate by 3.29%. Why does this happen?
Why use emojis in emails
Emojis in email subject lines:
Save room in the email subject line — we know to keep it short, within 26 characters for mobiles;
Make your newsletters more emotional;
Are capable of evoking the sense of emergency in recipients;
They grab customers attention (not easy to notice your newsletter among tons of others. I counted — normally we see 16 emails in one screen).
These 4 aspects lead to higher open rate.
Before we dive into emojis in email marketing, let us remind you who else needs them.
What makes emojis so popular now
Among numerous reasons, we decided to highlight only the most astonishing ones:
1. They are becoming a part of the language
All non-native English speakers are probably familiar with the Dictionary website. And during this Fall, I received 5 emails about emojis. At first, it was "Are emojis ruining the language?". But their conclusion was that emojis are becoming a part of any language. Then in later emails, they even suggested that I test my emoji translation skills.
Try it yourself if you please ?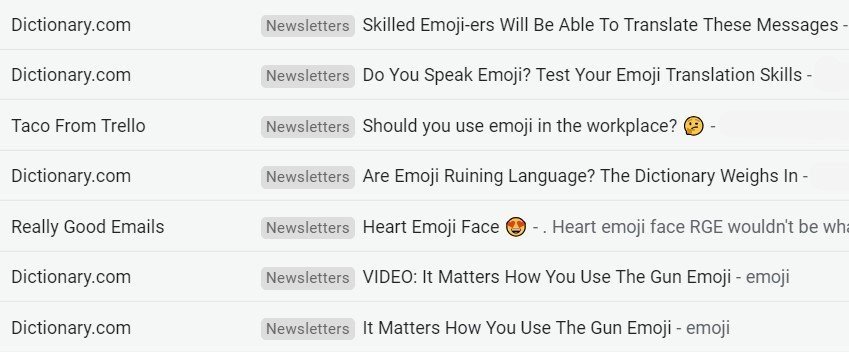 2. The Olympic Channel
The Olympic Channel seems to be a pretty serious company, but they also use emojis in their tweets on twitter. Even there emojis save us some room and express emotions.

3. Google talks emojis
Google's CEO Sundar Pichai started his speech at the Google developer conference in May 2018, with an apology for the incorrect hamburger emoji.
I don't really find it important where the cheese is located on the emoji, but we all remember the issue of this cheese ?
4. Emojis in business emails
Yes, you may not believe it but the Wall Street Journal and lawyers discuss emojis.
5. The White House uses emojis
The 44th President of the United States also used emojis in his reports to reach out to millennials.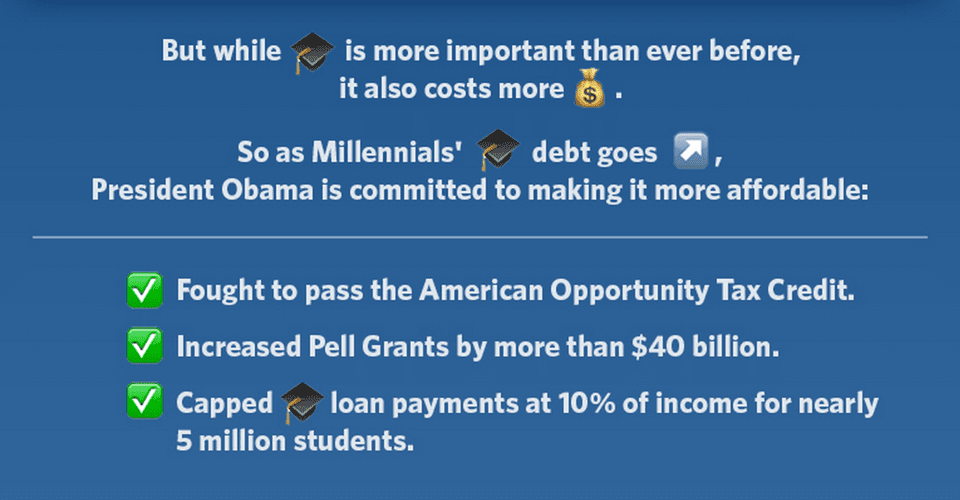 (Source: Yahoo.news)
This is actually a good reason why we should add emojis to emails. Because millennials grow up, subscribe for our newsletters. And those who start using their language in emails first, will win their hearts and will have millennials as loyal customers.
Ways of using emojis in email marketing
We've mentioned that emojis in subject lines increase open rate by +3.29% — and this is the main reason why more and more companies are now considering using them.
But how can you do it?
Ways of using emojis in email subject lines
There are 5 ways of using emojis in emails:
Way 1. When emojis reflect the very subject line
It goes without saying that if you decide to put emoticons in an email subject line, they are to match the content of the email body. But why not let the emoji represent the very subject line? You're talking about treats — add candies. Talking about dollars — add the dollar sign.
Let the emojis complement the subject line.


Way 2. When emojis replace actual words and save some room
Emojis are meant not only to complement the subject line, but also to save us some room. Which is why you should think thoroughly when picking the right one.


Way 3. When emojis appeal to emotions
Sometimes, emojis need just need to be bright, expressive, beautiful.

I did not recognize this emoji, so just out of curiosity, I had to click it.

By showing the muscle, they let me know that my emails are gonna be more powerful ?
Way 4. When emojis tell a story
Yes, you can tell your readers a story in the subject line by only using emojis.
⏰ ? ?
This says "Time's running. Hurry to buy new shoes".
Way 5. When emojis are to grab attention
Sometimes, emojis are used to draw our attention to the copy. That can be anything — an emoticon, a ball, a lightening, pointing fingers, etc.

Best examples of emojis:
For our convenience, let's divide email emojis into 5 groups:
1. Those that build a sense of urgency
These can be timers, watches/clocks, sandglasses, running people, lightenings, even emoticons with frown faces. They normally go with sales and promo emails. They are seldom used for the teaser campaigns.
a) Brooklinen — only hours left! ?
b) Designmodo — Black Friday Sale Starts… NOW! ? (35% Off Everything!) ⏰
c) Banana Republic Factory — ? THE BIGGEST BESTEST SALE OF THE YEAR ?
d) McDonald's — ? Oh no! Trick. Treat. Win! is ending
e) Forever 21 — SELLING OUT FAST ?‍♂️
2. Those that show the importance of the copy
In fact, every email is supposed to deliver quite important information and you are to demonstrate it in the subject line. While emojis, in their turn, are to emphasize the importance.
Here, it can be anything a loudspeaker, clapping hands to even sirens and fireworks.
a) Banana Republic Factory — ? ENTIRE STORE 60% OFF + new doorbusters
b) Banana Republic Factory — ? 60. PERCENT. OFF. (And MORE!) ?
c) Banana Republic ⚫️ 50%. OFF. ENDS. SOON. ⚫️
d) Forever 21 — ? 24 HRS ONLY ?
e) Forever 21 — ✨ 50% OFF! ✨
f) Forever 21 — STOP ? You'll Miss This: 50% OFF
3. Those that appeal to emotions
They are not supposed to be meaningful, actually, neither complement the copy of the subject line. Absolutely, not. But they have to evoke any emotion in readers — be it laughter, astonishment, like "Oh my God, what is this doing here?" or "What's it all about?", or even sadness.
Emojis are incredibly helpful, but don't be afraid to incorporate all the emoticons you need in your marketing emails.
a) Forever 21 — ? 24 HOURS ONLY ?
b) Forever 21 — Oops! You almost missed 30% Off E-V-E-R-Y-T-H-I-N-G ?
c) Forever 21 — ? You've Helped Us Make A Difference
d) Maybelline — This Pumpkin Spice Look Is Anything But Basic ❤️
e) Forever 21 — ? 50% OFF! ?
f) IKEA, USA — You're the newest member of the family ?
Some companies prefer dogs, cats, flowers, hearts, clouds for this purpose.
4. Seasonal emojis
Seasonal emojis are those that are related to holidays and events. By using snowflakes, we let them recipients know we promote apparel for winter; by using pumpkins we emphasize the email is dedicated to Halloween.
Some companies use fireworks and bottles of champagne to inform us that an awaited product has been launched.
a) ReallyGoodEmails — Holey Sheet ?
b) Prezzo — Less than a week until Christmas ?
c) Old Navy — ❄️ $15 FROST-FREE VESTS ❄️
d) Email on Acid — Introducing: Campaign Precheck! ?
e) Andrian, Designmodo — ? Cyber Monday Countdown. 24 Hours left! 50% Off
f) Old Navy — ☃️ The $8 winter investment you NEED
5. Those that are related to an industry
a) Old Navy BLACK FRIDAY — ?️ THE DISHES CAN WAIT — get 50% OFF your ENTIRE purchase NOW
b) Forever 21 — ? Cue the holiday music + free shipping!
c) Brooklinen — introducing brooklittles ??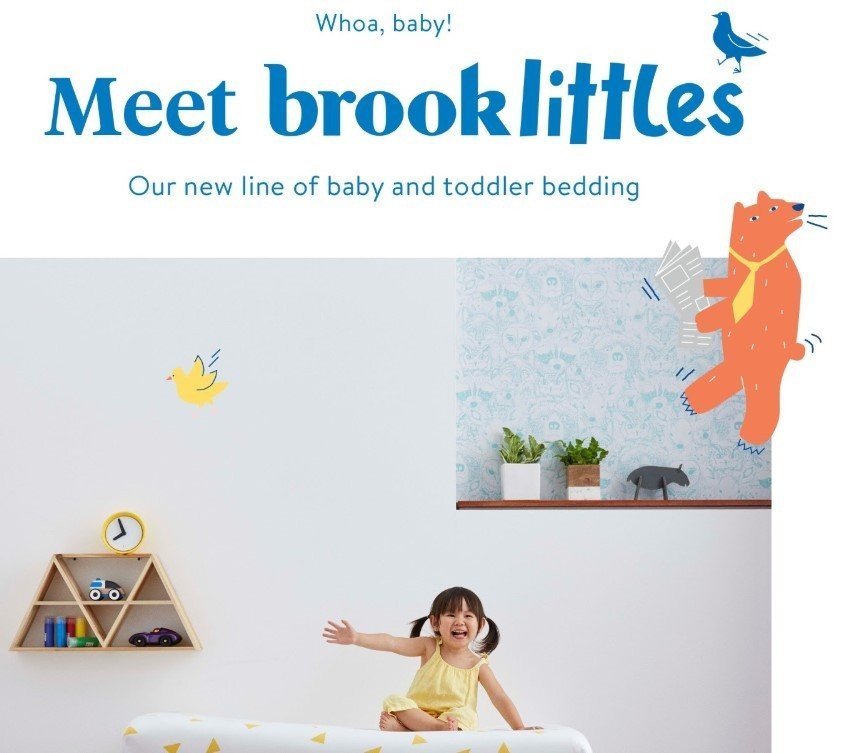 (The email body)
Emojis for email — where to find them
I have accounts with the top world's famous ESPs. And I tried them all to see if they can transfer emojis in the subject lines, how they will be displayed in email clients and various devices and most important — if they provide you with emojis and emoticons to add to the subject line.
Well, some do provide, some don't. But they all deliver emojis.
So, if your ESP does not provide you with emojis for adding to subject lines, if the available ones are not enough for you, you can copy and paste the emoji or emoticon you like.
Websites to find emojis:
Emojipedia — not only do they provide you with emojis, but also show the way the chosen ones will be displayed in major email clients;
Fsymbols (Facebook Symbols) — can't say there are many of them, but they all are commonly used;
GetEmoji — in addition to numerous emojis for emails, they offer informative blog posts on how to use emojis in different systems and tools, including DropBox and Google Docs.
How to add images in subject lines with Stripo
In order to add emojis to Subject lines with Stripo, you should:
click the "Settings" button above the template you are working with;
in the drop-down menu, enter your subject line and paste the emoji you have just copied on any of the aforementioned sites;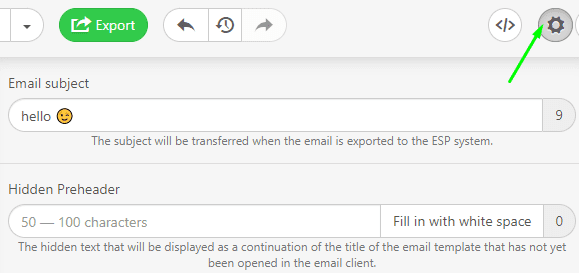 send a test email to see what it looks like in your Inbox.
Important to note:
For your convenience, our system shows how many symbols including emojis you have entered (the winking face takes 3 symbols).
Tips and best practices
emojis should complement the content of the subject line and of the email;
put emojis within the first 20 characters for mobile devices;
be polite — avoid using rude or ambiguous emojis;
add spaces between emojis, otherwise, they will be displayed as "???";
just 3 emojis at a time, as most ESPs will show only three of them. If you want to tell a story by using let's say 6 or 7 emojis, then make sure to alternate three emojis and a word. This way it will work;
test your subject lines to see what it will look like in most email clients;
perform A/B testing to see which emojis work better for your audience;
justify customers' trust. When you decide to add a flash of lightning to your subject line, you must have something really urgent and important to say. If you use the emoji of a present, be sure to provide recipients with satisfactory discounts.
Summary
Lately, subject lines in our Inboxes have got more expressive for emojis and emoticons in them — and this brings better results to companies. But as long as many brands are still afraid of using them or simply neglect for other reasons, you have all chances to stand out among others in recipients' Inboxes.
We hope that your future campaigns will impress you with their effectiveness — higher open rate and CTOR.
Choose any of our free responsive email templates that are already predesigned for your convenience, customize it in accordance with your brand needs, create an effective subject line and add emojis in it ?
May your email newsletters be successful. I wish you all the best!
Was this article helpful ?
Thanks for your feedback!