User Onboarding Emails: Full Guide
09 July 2019

Table of contents
What does onboarding mean?
Types of onboarding emails
What to do if the goal wasn't reached?
Final thoughts
1.
What does onboarding mean?
According to the Intercom statistics, from 40% to 60% of users who use a trial version of your product leave you after a couple of visits. They might have different reasons for leaving but the most frequent one — the one that is actually under your control — is not understanding the product value. You can decrease this number with powerful email onboarding.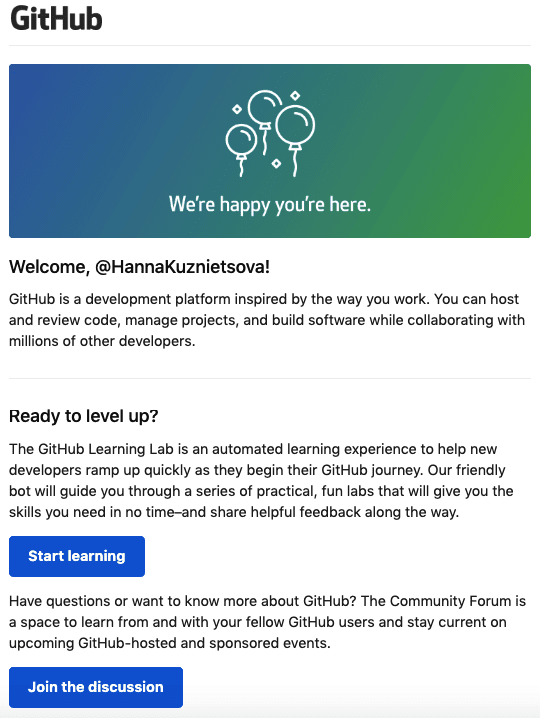 What does onboarding mean?
Onboarding is a process of engaging a new user into your service. The onboarding strategy includes several methods, such as using popups, video tutorials, interactive guides — all depends on your imagination and technical capabilities. Subscription form that you offer during registration is one of the onboarding elements that help you teach and "tame" your users.
What is an onboarding welcome email?
Onboarding emails are emails that help a client get used to the service. Those could be welcome emails, and recommendatory emails which depend on the user's actions or inactions.
So, why email? Most of the times, registration requires an email address. After registration, the client is probably expecting to get a welcome email.
Secondly, regular newsletters remind users about your product and its value, thus help with habit development.
The well-planned strategy of onboarding emails allows you to increase customer engagement and decrease churn rate. Let's take a look at what emails we should send to drive interest in your product.
Types of onboarding emails
We're going to enumerate only the most common ones:
1. Welcoming newcomers
A welcome email is an email that every customer expects. It is sent right after registration to greet a new user.
Each welcome email should have a clear message (one goal per email)
offer to fill out the profile;

download the mobile app;

create the first project or template, etc.
Follow the etiquette rules when you decide to create onboarding emails:
send an email under your company's name;

include your email, so the recipient can reply and ask questions.
LPgenerator includes a guide on how to create a landing page. They also attach a book about building a highly converting landing page.
What I liked about this email: well-done CTA and a pleasant bonus — book.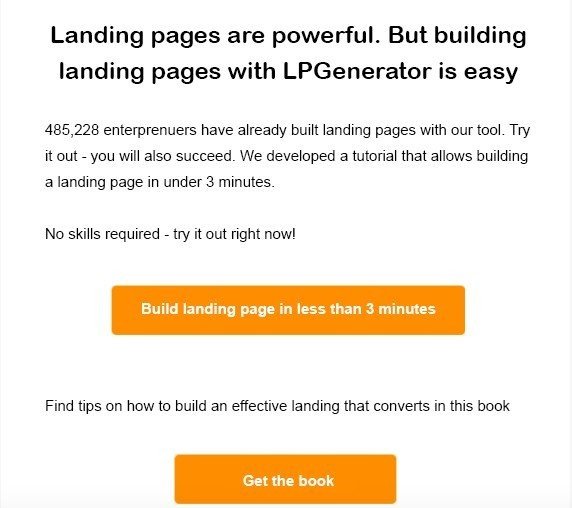 Twist, in its welcome email, shares recommendations on how the tool.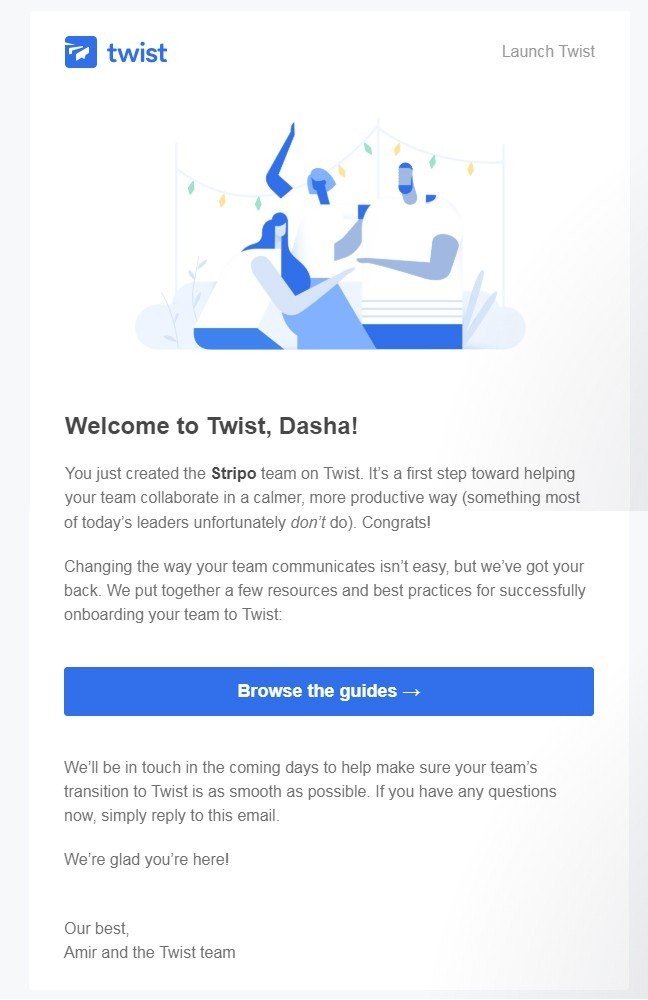 What I liked about this email: nice greeting, attached instruction.
The instruction opens in a new tab and takes the browser language into account. If your browser language is, say, Russian, then the instruction will be in Russian, too.
Right after registration, Netflix tells you about the mobile app and offers you to watch your favorite movies or TV shows on your preferred device.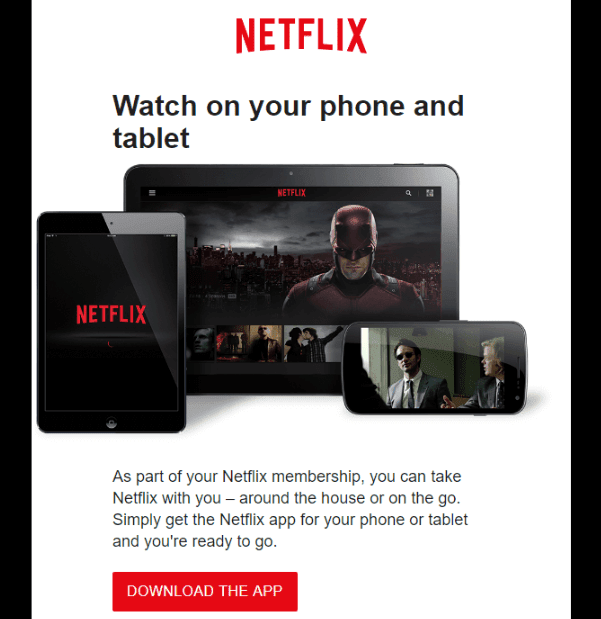 Please be advised that each user onboarding email contains only one CTA button.
Funnelytics stuck to another, yet the not less effective approach to getting your attention — they write personal emails from real people, not companies.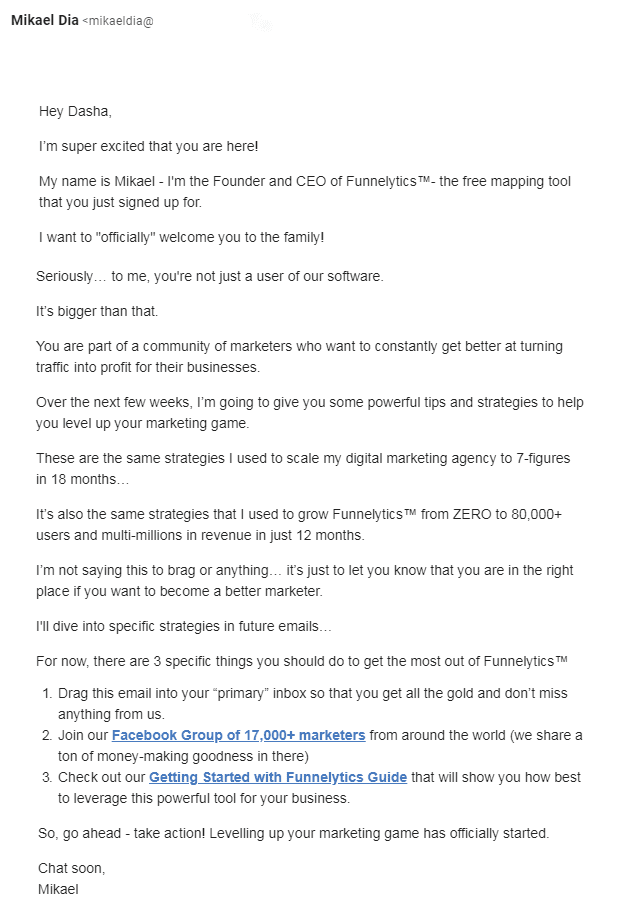 Email seems really personal and warm. CEO of Funnelytics is introduced as a person who is actually talking to you in the email. Thus, the recipient gets a feeling that the conversation is going one-on-one. This strategy is pretty effective, especially considering that most people feel comfortable buying something from a person, not a company.
2. Introducing your product to recipients
Such emails introduce your product and explain how it can be used. Introductory emails are usually sent after welcome emails and have a few functions — demonstrate, educate, and remind.
Don't overload your email with all the info you have to share. To craft the best user onboarding emails, you need to break this information into pieces for several campaigns: one piece of advice at a time. Tell your client what he or she should expect, for example, "You will get N lessons during N weeks".
The Australian agency «Marketing Results» offers a free video course "Double Your Leads In 30 Days" for attracting new clients. The series consists of 9 emails.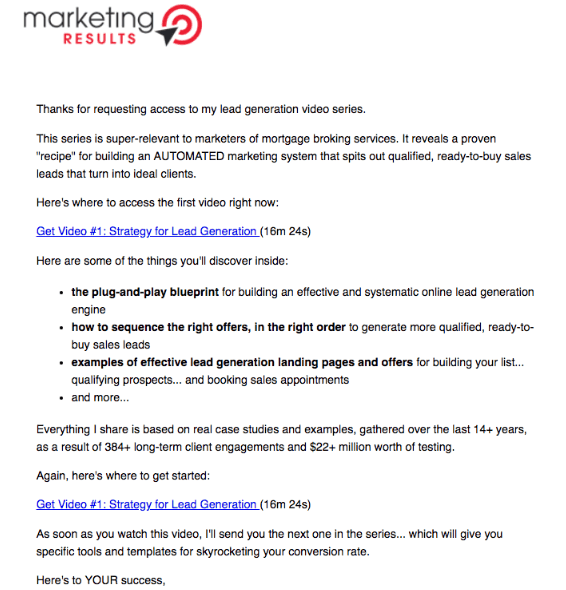 What I liked about this email: it's super clear how many emails I am going to get and how much time I'll spend on watching these videos.
3. Sharing other users' experience
When I am looking for a hotel, yoga app or landing page builder, the first thing I pay my attention to feedbacks. I think I'm not the only one who is looking for reviews prior to acquiring something. That's when former and current users are coming to the spotlight. If you have reviews that you are proud of — include them in your campaigns.
Airbnb demonstrates reviews of the client who has been using their service since 2013.
In my opinion, Airbnb makes a good impression on customers about the service with these user onboarding emails.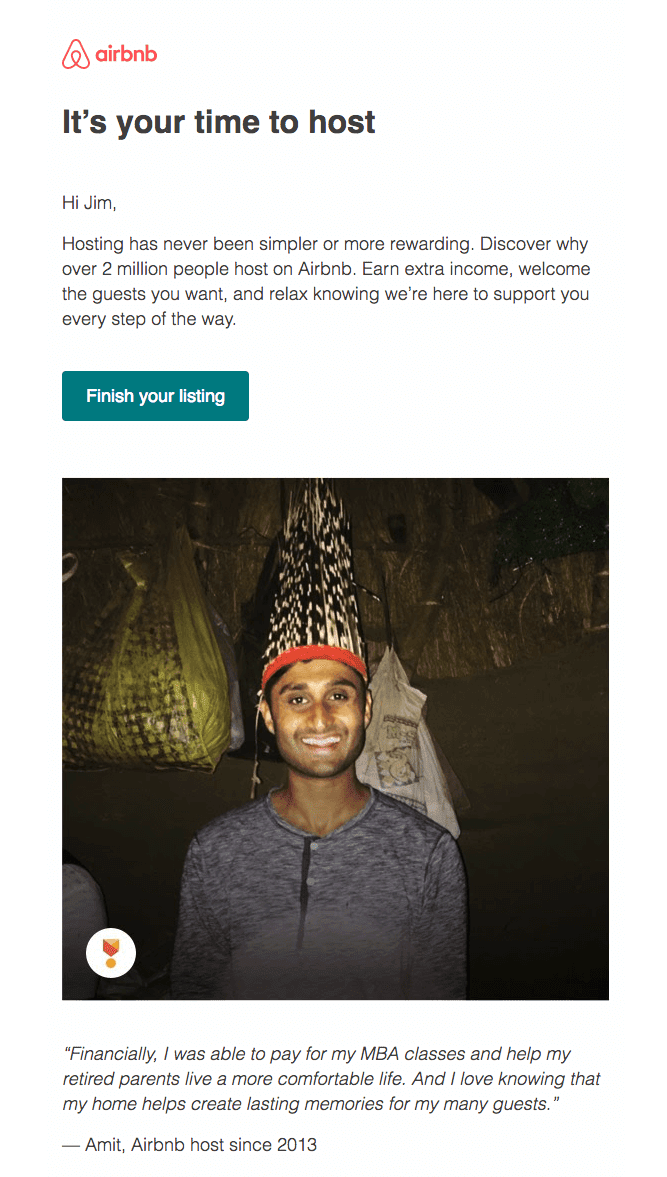 4. Facilitating new users' experience with your tool
Analyze your incoming emails — what are the most common questions that you are getting? You can prevent new users from facing these troubles by sending them an email with answers. It can be either a single email or a series of them.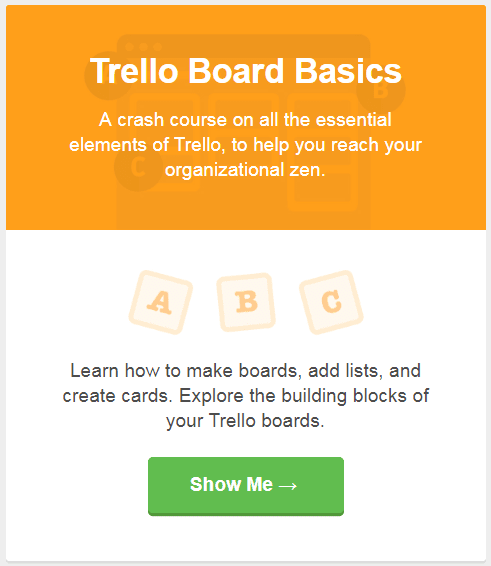 What I liked about this email: design, CTA button.
5. Provide users with bonuses
Studies show that users are more likely to make a purchase if before a purchase proposition you offer something for free. It can be a free trial period, recording of the webinar, etc.

To insert your webinar recording into your best onboarding emails, you need to:
drop the basic "Video" block in your onboarding email;

insert URL link to your video;

replace the thumbnail image if you like.
Important to note:
You just insert the link, and Stripo retrieves the following information — alt text, title and thumbnail image — on its own.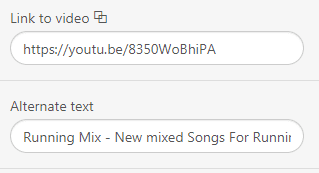 You can set the play button's color:

That's what your video will look like in email: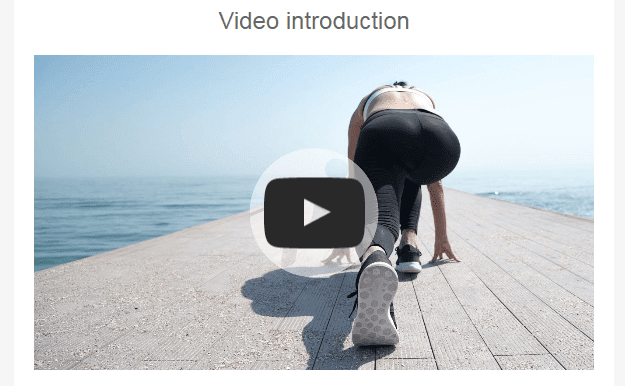 6. Sharing user's accomplishments
This email is based on a client's activity after registration and should be as personalized as possible. Demonstrate the client's progress in working with your tool: share some statistics, say what he or she has already achieved and what he or she will get by moving further forward.
Zapier, for example, sends users Metrics: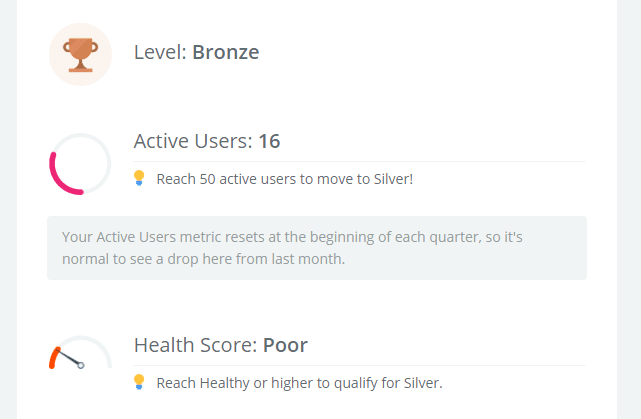 Share your recommendations on how to improve results and praise for the already achieved ones. In these emails, you can introduce new functions that the user hasn't tried yet.
7. Offering to buy your product
After you've already talked about the product advantages and offered a trial period, you can finally suggest that they buy the product. Here you can show the whole price or make a discount for it: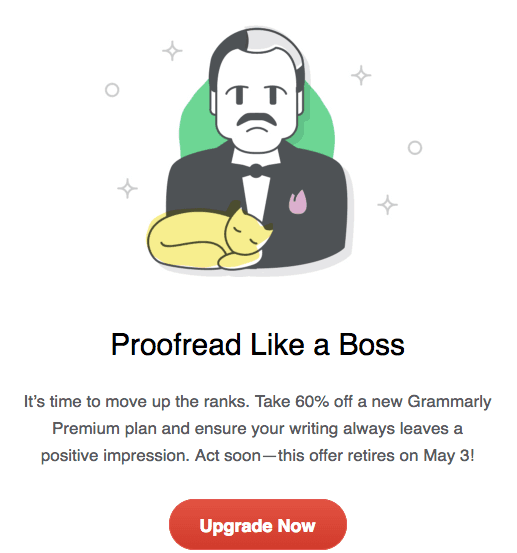 What to do if the goal wasn't reached?
Even if you have implemented all the aforementioned onboarding emails best practices, the chances are some new clients get lost. In this case, you will need to build a sequence of onboarding emails.
Let's figure out who is the lost client.
For instance, the person who started a trial version of your product but never bought a plan. You can define who is considered to be called the lost client, but usually, it's a person who didn't come back to the service during 15-30 days after the trial had ended.
For such users, emails should be turned into a weapon to counter the churn rate.
Netflix reminds that trial is about to expire and offers to purchase a subscription: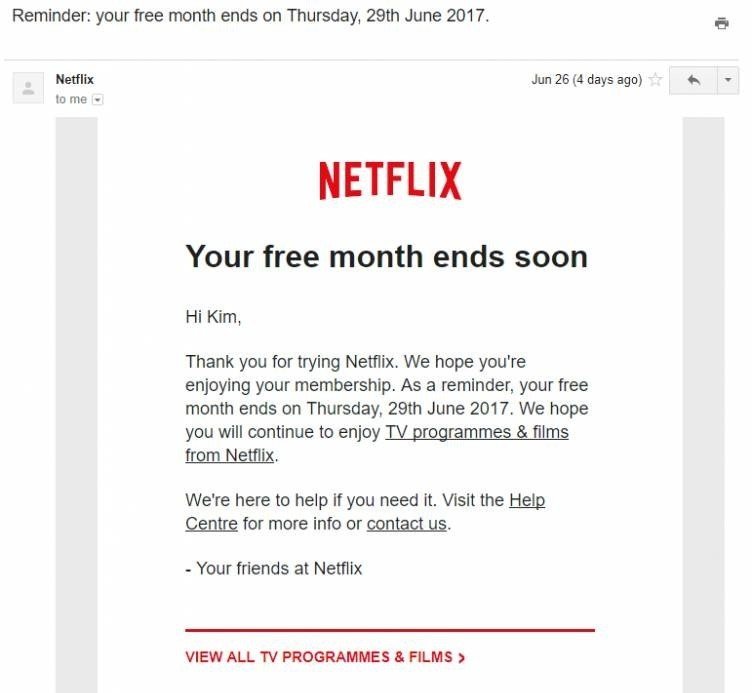 The next email is to inform that membership is about to get canceled.
However, even in the last email, Netflix allows you to change your mind and restart membership.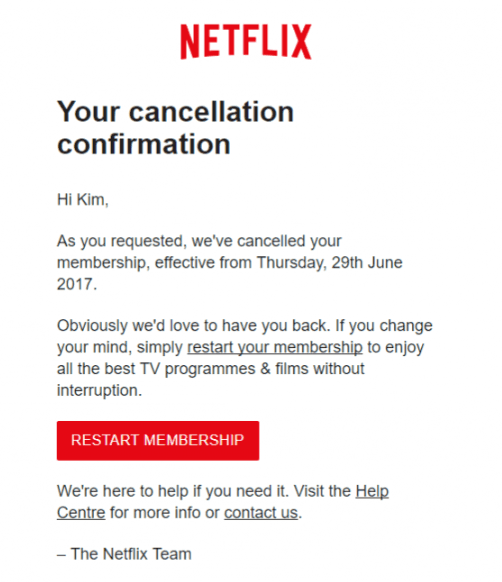 Unbounce segments clients according to their actions. If a user doesn't act as expected, he or she'll get this sequence:
an email with a video guide, where they show how to create landing page fast: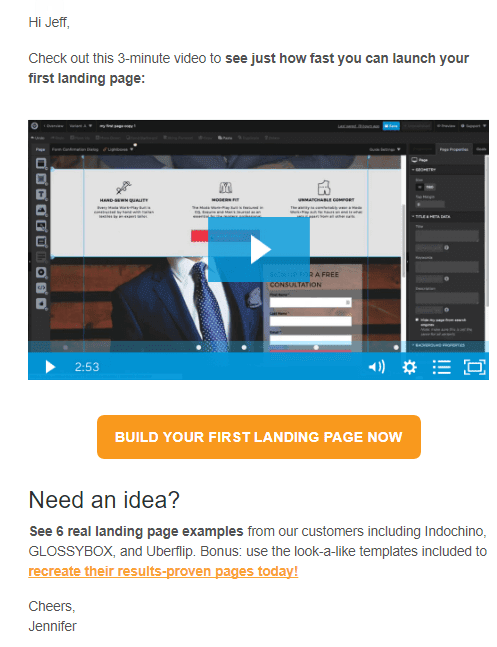 the next email is to inspire the user to create a landing page with successful examples: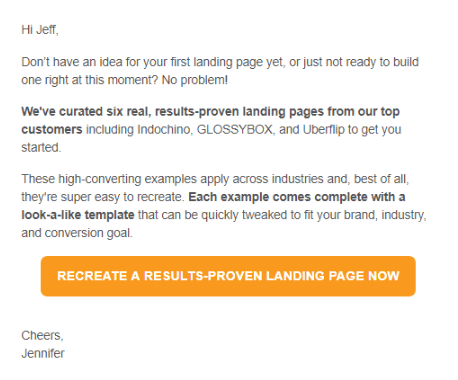 the next onboarding email is to remind users about the 30-days trial period is expiring and that nothing has been published yet.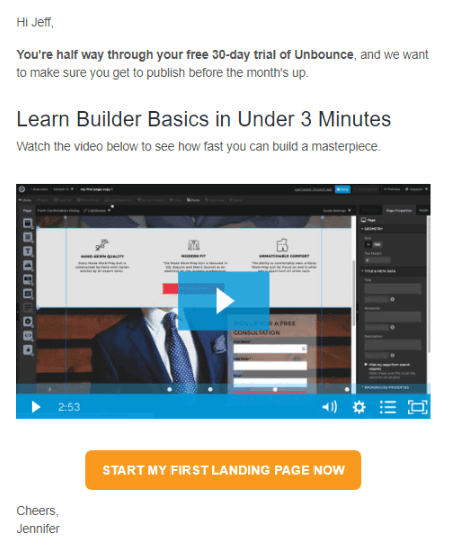 in the last email, The Unbounce is trying to understand the needs of the client by offering him or her to take the 30-seconds survey. The email is written as a plain text to stand out from all other emails.

Final thoughts
Tell people what issues your product resolves: helps with saving money/time, increases income, etc.

Appeal to positive emotions: your writing should be easy to understand, think through interesting topics.

Segment your contact list. Make a few different groups of clients, analyze their needs and send targeted campaigns to each segment: one sequence for active users and another sequence for those who still haven't tried your product out.

Motivate clients to act the way you need: offer a free trial, referral bonuses for inviting friends, promo codes, access to the limited functions, etc.

Stay updated. Your product and your clients are changing, so the emails that were relevant and effective a year ago, probably won't work now. Review your campaigns, update them and analyze your results.
We hope you find these onboarding email examples quite inspiring for building. But remember, there is no magic formula for perfect onboarding — test and experiment with emails, check your supposition and make your campaigns better.
Good luck!
For your convenience, we've prepared a bunch of onboarding email templates. Pick the one you like, edit it and send over to your new subscribers to comfort them.
Was this article helpful ?
Thanks for your feedback!