21 May 2021
Content Modules, or How to Build Emails Faster
Meet our today's guest Lars Skjold Iversen. In this story, Lars shares which Stripo tools he uses to save time on email production.
Q: Hello, Lars. Our pleasure meeting you. We appreciate your coming here. Would you like to introduce your company?
A: Umbraco is an open-source CMS platform with a high degree of flexibility and an intuitive content editing interface for end-users. It is used by more than 500 000 companies and web solutions around the world, from small business brochure sites to complex multilingual corporate websites. Umbraco is based in Denmark, however, we have clients from all over the world.
Q: Lars, you've been using Stripo for almost three years now. What makes you stay loyal to our tool all these years?
A: Saving time. I don't build emails from scratch anymore. I just drag and drop the previously saved Content Modules.
Content Modules save time on email production and let us stay brand consistent across multiple campaigns.
A: A few years ago, when I found your tool, we ordered a few email templates from your designers. They added the created templates to my account, and also added the Modules of the templates there. And now I just drag and drop the necessary ones when working on a new email. So, I have to build or even edit only those elements that change from campaign to campaign. It helps us to stay brand consistent across all emails.
Note:
You can also save content modules, like headers, footers, product blocks that you build on your own to your personal Modules library. Or order emails that go along with Modules from our designers.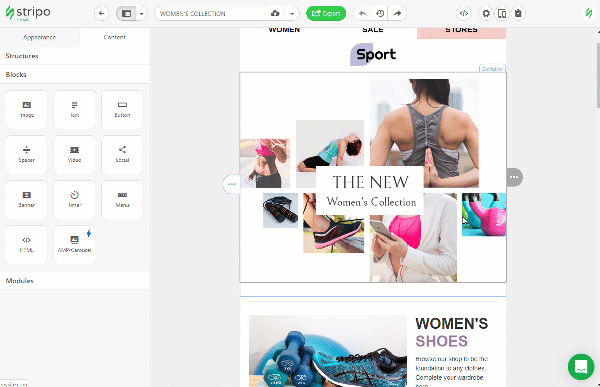 Save time on email production due to Reusable Content Modules
Join Stripo
Q: Why did you choose Stripo in the first place?
A: Before Stripo, I had been using an ESP and its embedded email editor. The editor was not flexible enough. So, I went searching. When I ran across your tool, among a number of others, I liked that the integration process that you had with my ESP was super easy. I did not have to set up my email after export there. I build an email, 1-click it to your ESP, and that's it. My email there requires no adjustments and no setups.
Due to the direct integration with my ESP, my emails after export do not require any set-ups.
Q: What other benefits apart from direct integration with your ESP, brand consistency across all emails do you see for yourself?
A: The preview link. I use it to share a new email with colleagues quite often.
Q: What features do you think we're lacking?
A: Tools for A/B testing. And also, I'm not sure if that's possible, I would like to have something like a side-by-side editor. So, I could make a variation, something like working on two emails at once. Because now, when I work on A/B testing, it requires me to have two screens and switch between the two when making edits.
Q: Thank you for sharing your honest opinion with us. We will forward this information to our PM, and tech department. Lars, what can you say to our clients and to those who are just considering using us?
A: The aforementioned Content Modules and direct integration with your ESP do save time.
Note:
Stripo is integrated with over 60 ESPs. If we're not integrated with your ESP yet, please email us and we will add it ASAP.
Save time on email production with Stripo, then export those emails to your ESP with just one click