17 August 2018
8 Epic Email Newsletters with Killer Content to Inspire your Email Marketing Efforts
Having a compelling email newsletter that really grabs the attention of the reader, without them being forced to hit the delete button has become increasingly important. In an age where you're now competing with Snapchat stories and Instagram videos for a viewer's attention, it has become even more pertinent for you to ensure you're delivering the best email newsletter experience possible to your subscribers.
And you all know how important for your business growth it is to write a good email newsletter as 68% of companies rank email marketing as a key business channel for generating sales.
This begs the question: what drives email newsletter open rates? Is it the use of attention-grabbing, awe-inspiring copy? Is it the frequency of GIFs and interactive elements included in an email newsletter? Or is it the way some brands are effectively able to leverage special occasions or trending topics to grab the subscriber's attention?
Well, we think it's all of the above! When writing an email newsletter, whether it's a B2C one or a B2B one or even an internal newsletter catered towards employees, always ensure there are four core ingredients in it:
Brilliant and clever copy.
Exceptional design elements.
Responsiveness.
Use of interactive and engagement elements including videos, GIFs and more!
If you're stuck on how to incorporate the above elements into your email newsletters, have no fear. We are about to go over 8 awe-inspiring newsletters created by stellar brands that will give you amazing ideas on how to incorporate epic content into your newsletters so that your subscribers start to love receiving your emails!
Inspiration from 8 awe-inspiring email newsletters: how to write newsletter content that people will actually read
1. Keeping it simple
In an age where one is constantly bombarded with information overload, sometimes the best option is to keep things simple. General Assembly, an organization offering professionals training in tech, design, business, and more, gets this right!
They've kept their newsletter simple yet it stands out vividly. Instead of deploying a never-ending newsletter style, they've kept theirs short, fresh, and simple. It conveys all the important information in simple language.
Yet, it stands out because of the vivid pop of colors within the illustration right at the top. They've also utilized the inverted pyramid formula, ensuring they're able to write engaging emails. The quote at the end in the purple box also gets across an important point and looks visually attractive. Any subscriber reading this email would get all the significant information immediately without having to scroll down and lose interest.
The social icons at the bottom are strategically placed to entice the reader to interact with General Assembly on social. This is a great example of a newsletter with minimal content that totally captures the subscriber's attention!

2. Attracting readers with suspense
Sometimes the best newsletter content aims to grab the attention of the reader through vivid, dark imagery.
This epic House of Cards newsletter is a case in point. The use of Frank Underwood's animated image is quite clever. If you are interested in incorporating GIFs or animation into your newsletters, be sure to also check out these great examples on incorporating GIFs in newsletters.
You're not expecting him to suddenly turn around and look you directly in the eye. Even the animated copy on the newsletter is quite arresting, keeping the reader engaged with suspense.
This is a great example of how an animated image in a newsletter can be used to create content that strives to keep the subscriber wanting more!
The use of colors is also exceptionally noteworthy here. The entire imagery is in black and white, which is totally in line with the suspense and dark thrill of the show as well as the emotions the newsletter is trying to evoke.
But the splash of red at the top as well as the red call-to-action button towards the end immediately stands out, compelling the reader to press the button for more.
This is an exceptional example of how to use dark imagery to create suspense and play with bold colors to entice the reader to click for more!
3. Let the words entice your audience
If we're going to talk about epic newsletter content, we definitely cannot overlook The Hustle.
This is a prime example of how you can simply rely on the power of the written word to grab the attention of subscribers.
This newsletter is not only great for marketers to draw inspiration from, but is also an amazing example of how to write email newsletters for internal communications folks looking to create epic content without having to rely on visuals and designs.
The copy is slick and makes even the most mundane events around the world sound interesting
Internal communications folks, look at the copy on this one to figure out how to spice up company news in order to bolster employee engagement.
And external marketing folks, this one's a great guide for you on how to make your customers love your products. The Hustle has more than 500,000 subscribers so they're clearly doing something right!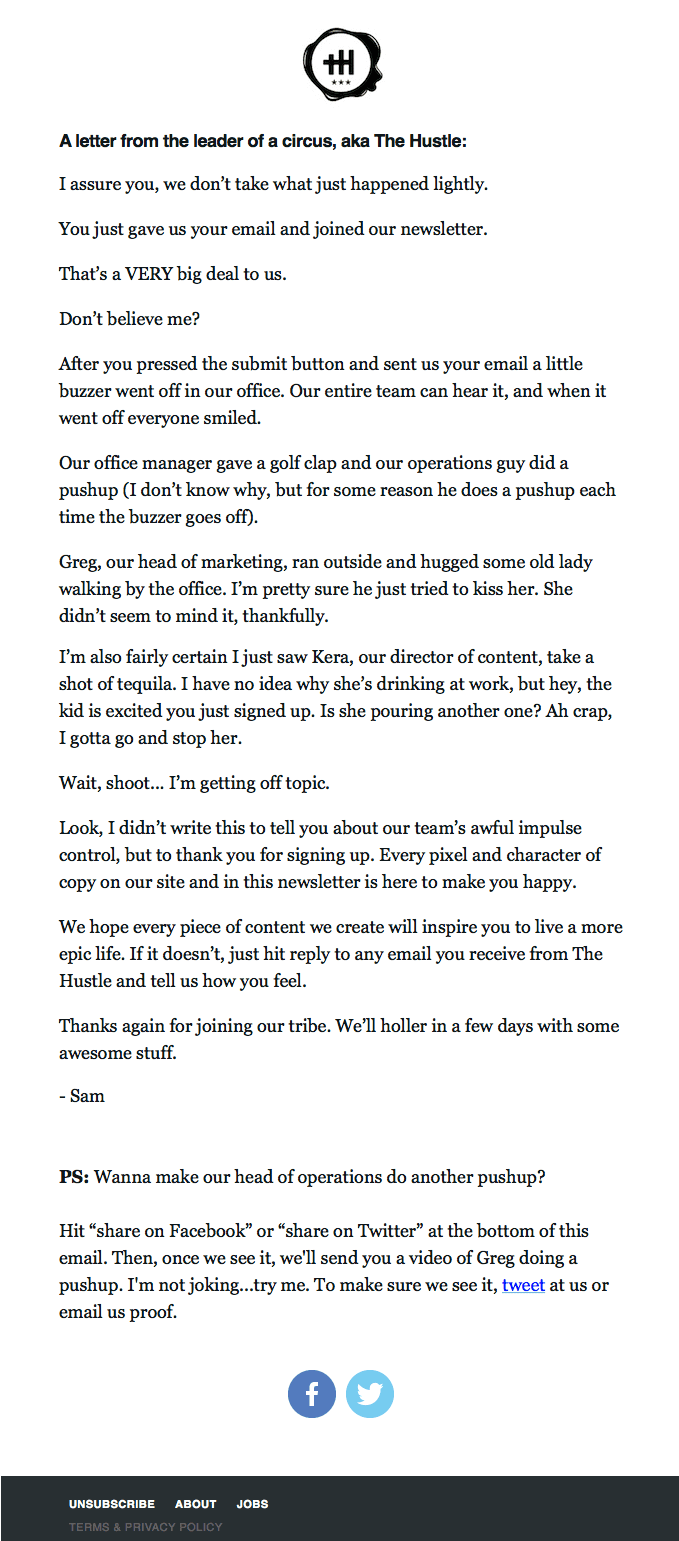 4. Fresh, snazzy and fun!
Really Good Emails is all about showcasing the best email design resources on their website and have more than 3,300 hand-picked collections featuring the best email examples out there.
Therefore, it should come as no surprise that their newsletter is on this list of epic newsletters with killer content to inspire your marketing efforts.
They utilize clever and witty copy to keep the subscriber engaged from the moment they open their email.
They also break up their updates into different sections so that the reader is able to skim everything with ease and choose to click on whatever they find interesting.
The cute illustrations and simple icons placed strategically throughout the newsletter also provide the reader with a reason to keep scrolling down. They make sure to use snappy copy on all their call-to-action buttons, enticing the subscriber to click the buttons.
In terms of design, they have a clean and minimalist approach. They haven't overdone it with either visuals or text and have kept a sharp balance between the two. This one's a great go-to resource for both internal communications professionals as well as B2B and B2C marketers!

5. Grab attention with vibrant colors
If you want to write a newsletter with content that blows you away, we must survey Litmus.
Litmus is an email testing company that creates supremely compelling newsletter content. Their newsletter design is especially noteworthy.
They use different colors to make various aspects of their content stand out on its own.
Moreover, their vivid colors are aesthetically pleasing to the eye, making you scroll down continuously for more.
You just can't get enough with Litmus. They definitely have a keen eye for good copy, exceptional design, and vibrant colors.
Their call-to-action buttons are especially noteworthy. "Get up to speed" and "Achieve #NoFailMail" are definitely not your standard CTA buttons.
By using creative copy within their emails and their call to action buttons, they're really able to ignite the viewer's curiosity, getting them to click on the buttons to learn more. Now, that's what I call some exceptional content marketing!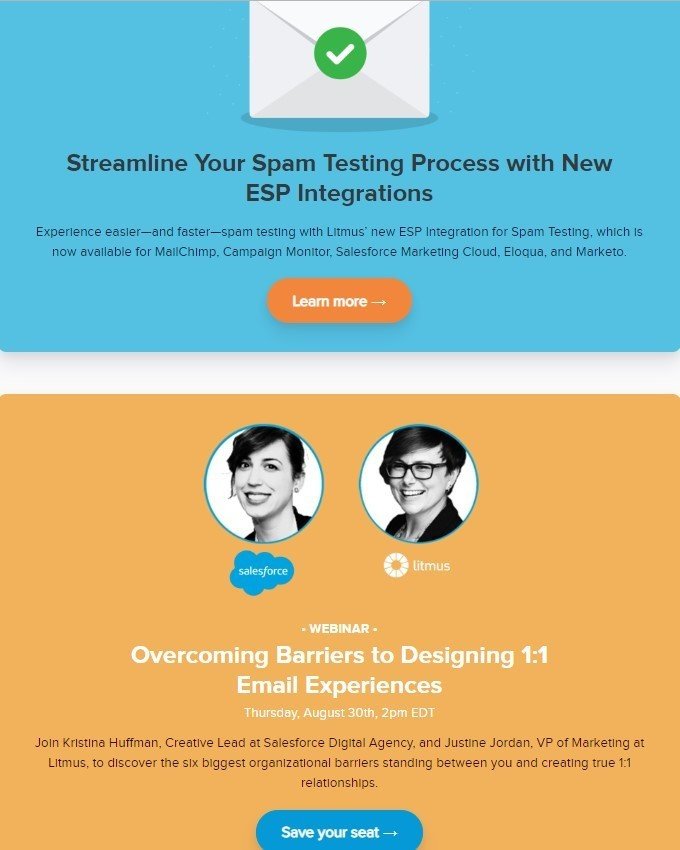 6. Being playful with your products
If you're a fashion marketer, look no further than Kate Spade for some creative flair when it comes to crafting content that aims to speak primarily through visuals.
By using creative imagery such as cats sitting on a luggage, this newsletter is able to draw the viewer in through sparking curiosity.
And let's face it, who doesn't love anything with cats or dogs on it? They definitely inspire higher click-through rates.
This newsletter is also able to speak volumes with minimal text through its creative use of imagery, witty copy and pastel colors.
Different aspects of Kate Spade's business are also emphasized through the use of content blocks. By breaking up the content into different blocks with various colors, the newsletter is able to achieve a vibrant yet minimalist look at the same time. This one's great for those who have a flair for design and want to keep their copy crisp and concise.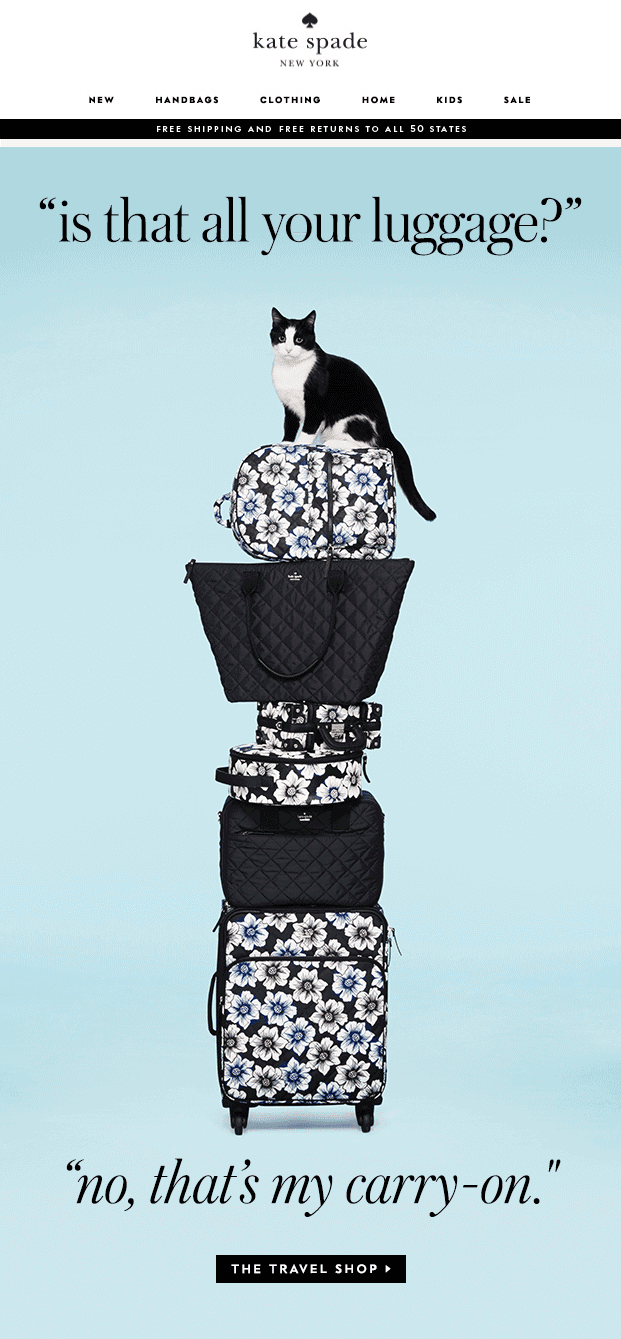 7. Enabling your products to stand on their own
If you're looking into how a free stock image sharing platform advertises its email newsletters, the last thing you would expect them to do would be to keep their newsletter design to a bare minimum.
Yet, Unsplash does exactly that and somehow still ignites the viewer's wonder. By keeping their newsletter design and content super simple, they're able to draw attention to what truly matters – their breathtaking photography.
They let their visuals speak for themselves. No need to spend time crafting legendary content or focus on exceptional design. Their photos can stand on their own.
Talk about having confidence in the product or service you're selling! Unsplash achieves this victoriously!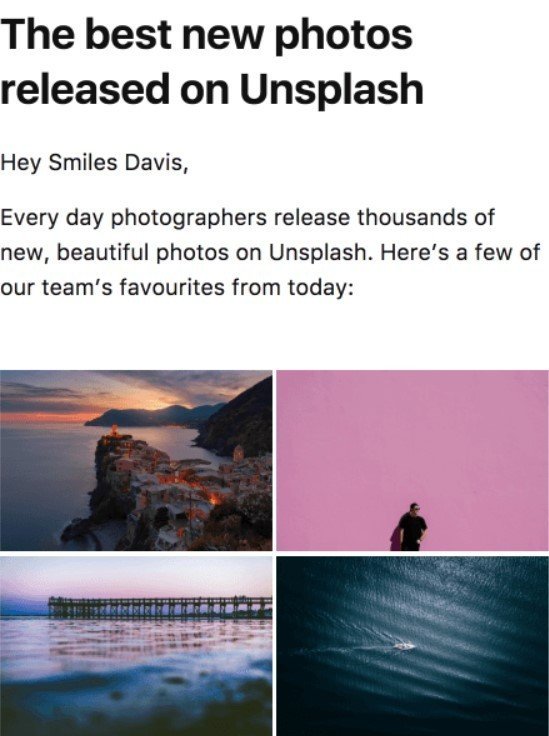 8. Presenting content as a visual map
Visually is the perfect source for any kind of marketer. Whether you're an external or an internal marketer, this is one resource you need to check out.
They offer videos, infographics, reports, presentations and more. It's essentially a visual haven for any kind of content creator and their newsletter really brings their vision to life.
Styled as a sort of infographic, this animated newsletter is the perfect example of a modern, attention-grabbing newsletter that is perfect for inspiring the viewer to really take notice.
Not only have they created a brilliant landscape within their visual, they've also broken down the content wisely, presenting them as interesting statistics so that the viewer is able to digest the material and take in all the data one at a time.
And showcasing all the highlights of a specific year while wishing readers Seasons Greetings is a wonderful way to garner engagement, excitement as well as hope and joy for what's to come.
I can't peel my eyes off of this one. This is an awesome newsletter for the visual designer who wants to perfect their craft by playing with various interactive elements in an email newsletter.
Inspired by the above examples to write newsletter emails that showcase epic content, inspire your readers to click on your call to action buttons and leave them yearning for more? By ensuring you're utilizing slick copy, creative visual design and interactive elements, you're sure to keep your readers inspired and build a relationship with them that will lead to sales.
If you're worried about where you can actually find brilliant and responsive email templates to create epic newsletters, look no further than Stripo.email.
And if you're an internal communications professional sending newsletters to employees, you must ensure you're able to track and optimize every single email open and link click. With ContactMonkey, you're able to send to mass distribution lists and track every single email you send as an internal communications professional.
Whether you're an internal communications professional or a B2B or B2C marketer, with Stripo you can now create newsletters that your audiences will love!