15 B2B Email Marketing Best Practices & Examples
23 July 2022

Table of contents
What is the difference between B2C and B2B email marketing strategies?
A bit about the buying cycle
How to create a B2B email campaign: Tips and practices
5 examples of B2B email campaigns
Final thoughts
1.
What is the difference between B2C and B2B email marketing strategies?
Email marketing is considered an effective marketing strategy for developing any business. Also, it's proven that email marketing has great potential because many marketers agree this channel impressively increases ROI.
In this article, you will learn how to use different marketing tools in your B2B marketing strategy and get a few essential tips on how to make your B2B emails attractive to potential business partners.
What is the difference between B2C and B2B email marketing strategies?
Let's consider key details about the distinguishing features of B2C and B2B email marketing strategies.
B2C vs. B2B: Different target audiences
B2C means business-to-client proposition. In other words, the goal of such email marketing campaigns is to convince individual customers to purchase from your company. In this case, you need to bring the value of your brand to clients, find a personal approach to everyone and keep them engaged.
(Source: Email from M&M's)
B2B, as you can probably guess, means business-to-business. Simply put, it means exchanging information and different offers between brands or companies to sell products, services, or data to each other.
(Source: Email from TekDelta)
B2C vs. B2B: Requirements for email content
We're here to provide you with a few crucial features that businesses expect from the content of B2B mailings.
According to the study conducted by The Economist Group Content Solutions in association with Peppercomm:
85% of managers prefer well-structured text rather than video or audio content;

75% of business owners will more likely respond to the email which offers a business idea but not only promotes a product;

61% of managers value unique content which might help them improve their workflow or other processes.

(Source: Email from DealMatrix)
Traits of a good B2B email campaign
1. Benefit-driven
While marketing teams in the B2C sector try their best to keep the email content entertaining and engaging, B2B email only has to be informative and immediately deliver the product's value to its recipient. There's no need to come up with videos and funny GIFs to catch the eye of a reader — present your advantages in the most straightforward way possible.
If you have several different offers related to separate fields of operations, prepare a few documents or try to divide these ideas somehow. Keep in mind that your email needs to be structured and brief.

(Source: Emil from GoodFirms)
2. Professional
It doesn't mean that you need to express yourself formally and strictly, just like official letter examples in a school book. It would be best if you didn't write long reads with lots of difficult words, and there's no need to write short messages similar to instructions.
Remember that, even in the case of B2B email marketing, you're still dealing with real people. Therefore, keep your emails alive and human-oriented.
I think speaking respectfully when addressing your potential business partners is essential. Use polite expressions, try to be as laconic as possible, and don't hesitate to add some professional wit to freshen up the conversation.
Finally, your email should be genuine so that it appeals to its readers and encourage them to keep the communication going.
With that said, avoid writing too much, and don't make your message longer than it should be.
3. Focused on the main topic
There are many things going on when you're a company manager. You have plenty of responsibilities, deadlines, and people who need you. That's why executives learn to make the maximum use of their time.
Unlike the B2C sector email subscribers, they are not interested in stylish templates and bright colors. They won't be distracted by your marketing emails unless you stay focused on practical tips to improve the business.
4. Shows understanding
Again, for B2C communication, it's essential always to keep customers excited, amazed, surprised, and so on. However, it's not going to work with B2B email marketing.
Your email recipient only wants to be heard and understood. Basically, you can say that such a relationship requires more empathy to establish a trustworthy connection, and that's true.
With that said, try to analyze what might possibly trigger your desired audience and offer a solution. Consider the most crucial pain points which touch your email recipient and show how your product or service may help to make their life easier.
You don't need to get too emotional, though. Your potential clients are looking for a professional who knows perfectly the details of their domain, the needs of their target audience, and the most challenging aspects to deal with. And usually, such partners don't have to write many words about their competence because their actions speak louder.
5. Written in a professional language
You can use the fact that you're talking to people who perfectly understand your field of operations. They are fully aware of complex terms, laugh at professional jokes, and appreciate numbers and data more than long sentences with generic expressions.
The best way to convince someone to buy your product or service is to provide them with proven facts of your competence. Could you show the potential customers some statistics, case studies, and achievements that will encourage them to maintain confidence in their choices?
6. Personalized
In addition to the valuable content you attached to the email messages, you should pay attention to the fact that everyone would appreciate it if they received a personalized email. It would help if you did the audience segmentation to filter out different types of email subscribers and prepare the most relevant content for them.

A bit about the buying cycle
When it comes to B2C cooperation, there's a concise customer journey. New customers usually follow these steps: open a welcome email, click the Call-to-Action button, visit a website, and buy an item.
However, in the B2B world, it takes much more action to make decisions. Also, it requires more marketing efforts to generate leads.
Why is the buyer cycle longer in B2B? In general, B2B sales are about vast amounts of money and lots of items, and parties must consider many pros and cons (including offers from competitors) to sign the agreement. That's why the process of drawing a potential client's attention has to be thought over in detail.
How to create a B2B email campaign: Tips and practices
B2B email marketing campaigns may be slightly more difficult to release than others; however, we are here to help. We would be happy to provide you with a few main tips and 15 best practices to take into consideration while developing your marketing strategy and engaging content.
1. Review your lead generation strategy
It's essential not only for your future sales but also for a present budget to check your lead generation strategy from time to time.
If you redirect users from an email to a landing page where you describe the benefits of your product in detail, let them easily subscribe/buy from you.
A lot of email marketing tools allow you to add customized forms. It would be best if you kept in mind that a perfect form should consist of no more than two or three fields.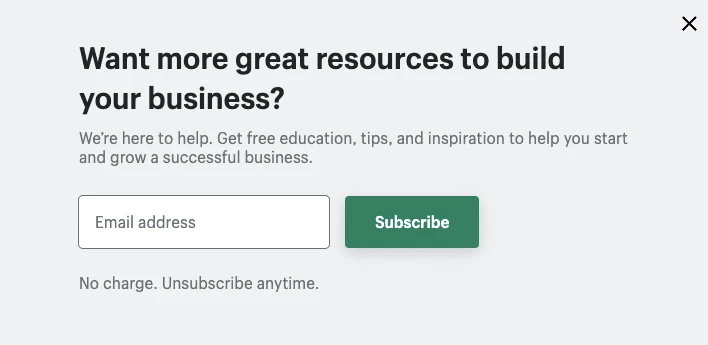 (Source: Shopify)
Another piece of advice for you is to hire an outsource sales team in case you don't have a professional one in your company. They will take care of your email marketing campaigns due to their expertise and knowledge, so you won't need to worry about digital marketing at all.
2. Nurture the leads effectively
Suppose you are going to ignite your prospects' interest. In that case, you'd better run several emails according to their awareness of your brand, consideration of pros and cons, and making a decision about buying a product.
At the awareness stage, it would be best to provide the subscribers with educational content related to the problems that might concern them. Just so you know, all you need is to gently make your prospects recognize the issue.
Then, after customers realize the problem, they will seek a solution. Here comes your chance to show your best and share some of your premium features to attract potential clients. Let them know as much as possible about potential ways of solving the problem (of course, taking into account your capabilities), such as useful webinars, case studies, or even books.
Finally, when your prospects are about to make a decision, present to them how your particular product can do the job. You need to encourage them to accept your offer. However, don't be too pushy and let your customers believe they came to the decision themselves.
3. Try to avoid jargon
Another awkward thing that might happen is that you can decrease the trustworthiness of your brand. Jargon is not for everyone, you know. That's why you'd better avoid any flowery language not to mislead your audience.
However, this does not apply to the industry jargon. You may use a few words of professional language in order to make some bonds and show the prospects that you're one of them.

4. Use email service providers
Apart from the opportunity to send bulk emails, email service providers also let you segment your audience, send promo actions, maintain email marketing automation, track different metrics, and so forth. Why not make use of such capabilities?
Please make sure your emails look good on mobile devices and try to predict any other pain points that concern your potential or existing clients.
You can create your email marketing campaigns considering the different factors you looked at while setting up your email marketing strategy.
5. Test the email deliverability
Why does email deliverability matter here? All of the rules and tips won't work unless your email campaign reaches the recipient's inbox. Your email messages may end up in a spam folder or they can be bounced. And you have to maintain your sender reputation to keep abreast of your emails passing lots of spam authentication tests and filters.
Another thing you should pay attention to is the time for sending your email campaigns. As you can guess, perfect timing for B2B and B2C prospects vary. The best time to send out a B2B email is within working hours. However, try to avoid sending any email campaign on Mondays or Fridays, because people are usually too busy or too tired to make decisions. They will more likely leave it to consider later and then forget it.
6. Work on your email content
As we have already learned, there are plenty of differences between B2B and B2C email marketing strategies. However, there's one thing in common — you anyway need to keep your subscribers engaged and bring value to them.
When it comes to business, managers usually tend to be the best. That's why they are looking for the best providers and partners. And that's why they need you, right?
Your email campaigns should strongly convey that you're a leader in the industry and provide the most effective solutions. Along with some interesting content, in the best case.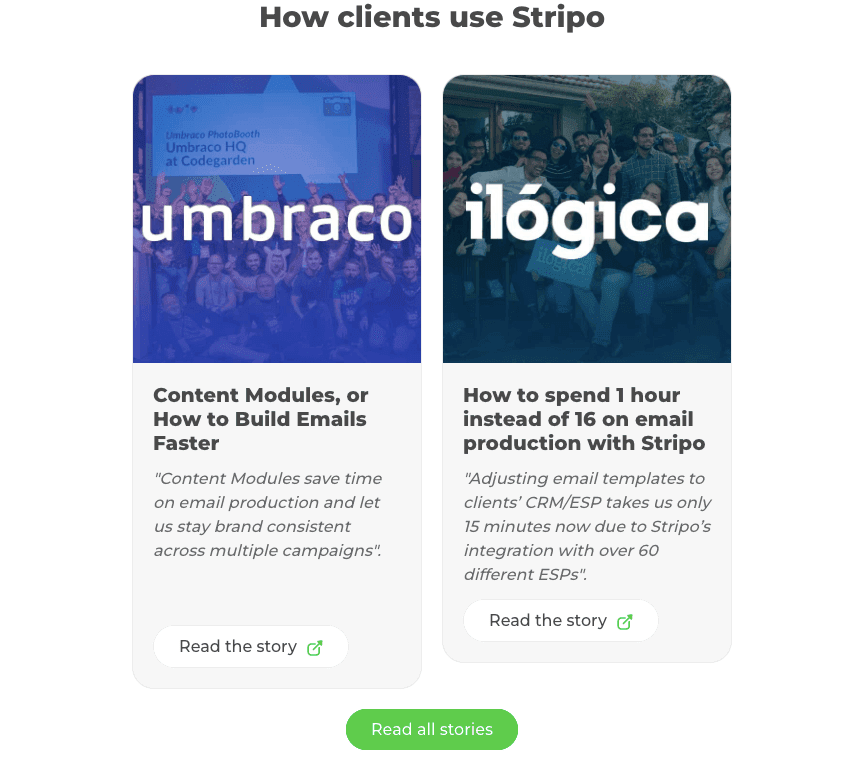 If you're unsure what new feature you should use, try A/B testing to prevent yourself from wasting time and money. I'd appreciate it if you could collect and analyze accurate data from your customers and prepare the most relevant content according to their needs and pain points.
7. Work on your subject lines
Email subject lines have to be appealing enough to encourage a recipient to open a message. Remember that a good subject line is brief, clear with your idea, and intriguing. You should also try and use personalized subject lines to express and highlight the importance to your clients.

Keep your subject line simple and short, otherwise, a recipient won't even have a chance to read the full sentence. Consequently, they will be less likely to open and read the email content.
Also, please remember to use different subject lines, even though you've come up with a few which work best. You will never reach new customers with the old approach. Please feel free to reach out to your existing customers or teammates to get some inspiration or ideas.
8. Email content and subject line should be connected
You can't just use a good subject line that is not relevant to the context just because it's funny and catches the eye. Remember that you have to maintain the trust of your subscribers. Otherwise, you can get lots of unsubscribers or even spam complaints.
However, if you intrigue a customer with a subject line, don't spill the beans right away in the body text. Start with an appetizer, add some news, and pictures, and only then share a promo code or details of a special offer.
9. Personalization is a must
We've already mentioned that personalization is a key in different industries, especially in B2B email marketing. Here's a piece of advice on how you can actually personalize your marketing email.
You can simply add the recipient's first name in the B2B email body.
You can also look through a few examples of hyper-personalized emails to get more ideas on how to make your email campaigns more individual-oriented.
10. Segment your audience if you send bulk emails
It's impossible to create a message which will appeal to the entire list of your contacts. And if your email doesn't generate any sentiment, you may consider it a failure in content marketing.
In other words, every B2B email has to be engaging for its recipient. To ensure that, you must segment your target audience according to different criteria. For example, it might be the industry they operate in, their location, buying pattern, etc.
Just set your guides and watch your click-through rates increase.
11. Use images
You've probably noticed yourself that it's pretty hard to read plain text, especially when it's about business and is supposed to make you come to a decision. Hence, you should add some images to illustrate the offer and draw attention to important aspects.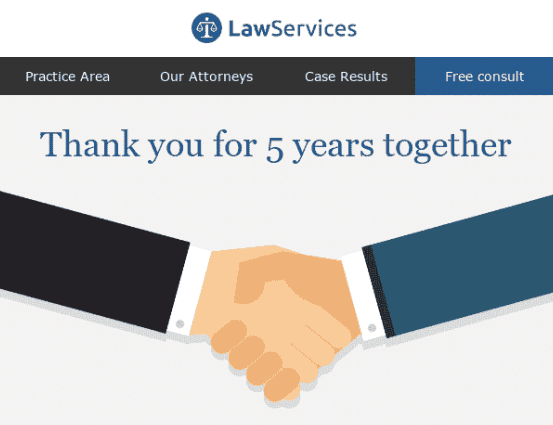 If you're going to use some of the email templates, you only need to insert pictures in the fields. Also, we suggest you compress the images in order to decrease the load time — it will improve the probability of your subscribers reading the email.
12. Add Alt-text to images
Sometimes, when it's a poor Internet connection or something goes wrong with an email service provider, recipients cannot see the images in a message. Also, the images might be critical for the proper understanding of the context. In such cases, Alt-text will come in handy.
All you need is briefly describe what's going on in the picture to get all the recipients the main idea. Some HTML editors like Stripo are able to fill out Alt-text by default (this feature will be released with our new editor, soon).
13. Stick to your brand guidelines
Brand awareness is basically a key to success. If your subscriber can within seconds identify and distinguish your email from others, you're doing it right. Therefore, make sure that your logo, fonts, and other details respond to the brand characteristics.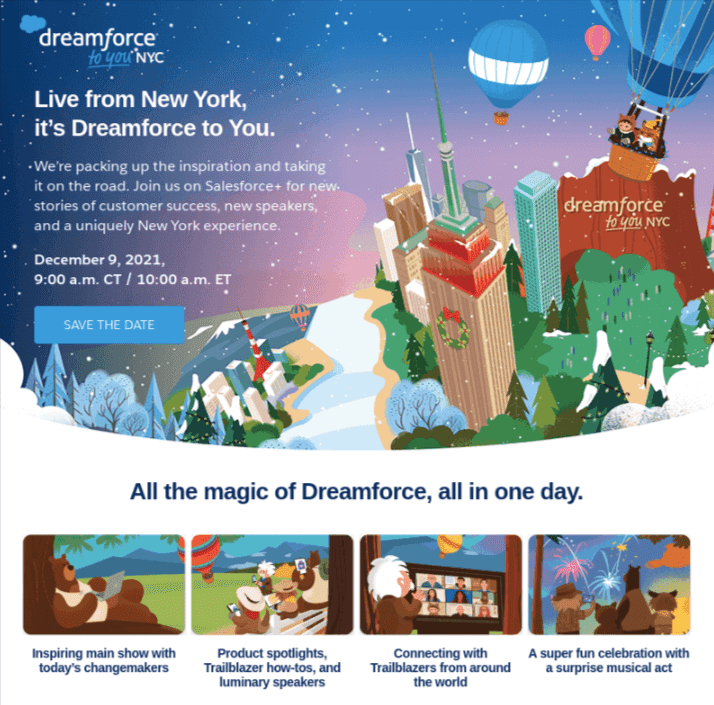 (Source: Really Good Emails)
Actually, it's quite difficult to always keep the guidelines, but it brings success. We're pretty sure you would recognize the brand when you see a big yellow letter M as in McDonald's, or four intertwined rings as in Audi.
14. Share your social media profiles
Nowadays, anything important finds its place on social media. People like following brands that post useful and beautiful content, they want to be re-posted by favorite and popular accounts and it's the best platform for your promotion, even for free by word-of-mouth.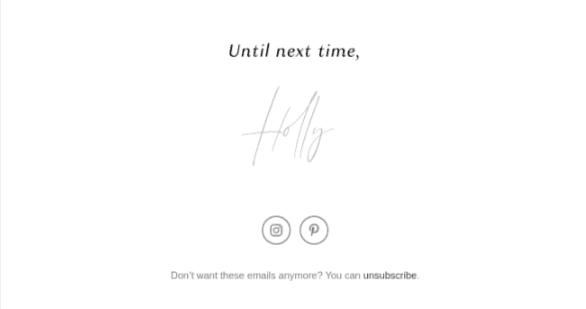 In the B2B sector, it works as well. Because it's rarely enough to read an email before making a huge purchase. Your potential customers might check your followers, read some reviews and get an overall impression. With that said, don't deprive yourself of new fans and followers.
15. Insert Call-to-Action buttons
The main purpose of your marketing email is to encourage the prospect to interact with your company: visit a website, leave a comment or buy something. To reach this target, you need to add an appealing Call-to-Action button.
Call-to-Action, as you can get from its name, is supposed to make you do something, but not in a pushy way. Such features should make the customers believe they really need to do what you desire.
5 examples of B2B email campaigns
We have clarified plenty of tips that might be helpful for you while creating your B2B email marketing campaigns. However, it's always better to understand something when you see it with your own eyes. We would like to share 5 appealing examples of B2B emails and hope you will find them useful.
1. These offers are fresh
From the opening line, this template makes you believe you're dealing with the leaders of the market. They offer you the full spectrum of products you might possibly be interested in.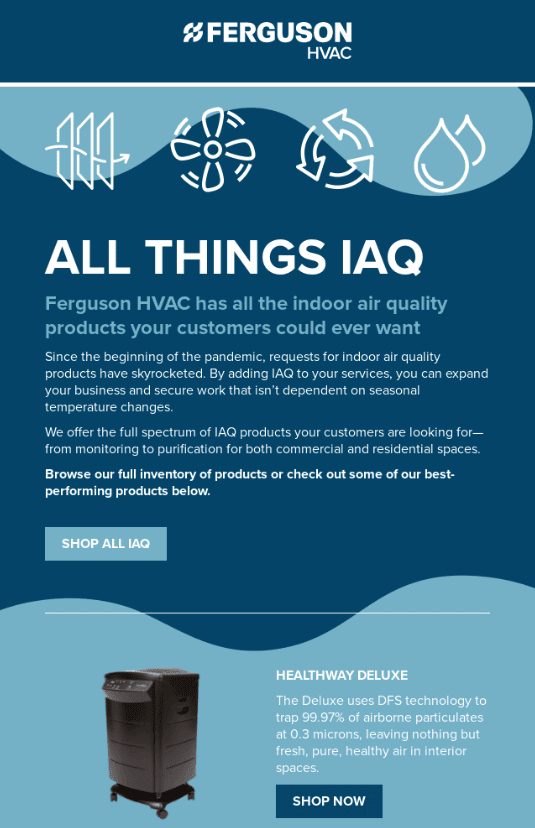 (Source: Really Good Emails)
The email leads you straight to the website. However, if you still need something to convince you, there's a list of items that may attract you with all their advantages.
At the bottom of the template, you may find all the helpful links, such as location, online shop, and social media. If you're looking for something, you can simply open the message and follow the necessary link.
2. The Data Activation Platform — it's here!
Here's a great example of an introduction of a new feature, product, or service.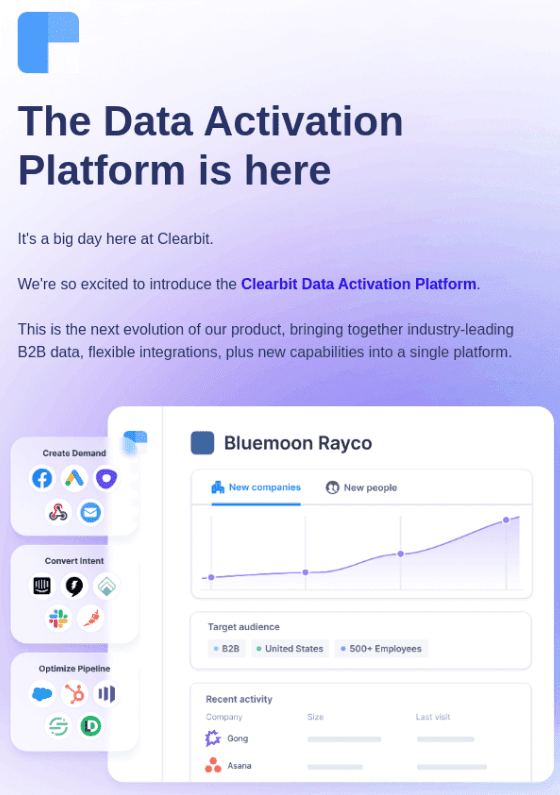 (Source: Really Good Emails)
First of all, they provide a nice visualization that helps you briefly look at the innovations they implemented. You can see new integrations and capabilities which are now available.
Then, there's a list of key components that describe the new platform in more detail. They also attach a link for the blog where a customer may find plenty of useful information about the platform.
Finally, they add a Call-To-Action button with the line "Explore the platform" that strongly encourages a recipient to click and get to know more. At the end of the day, they don't even mention the price or subscription — you only need to learn more. And who knows what happens next?
3. Join our free Pardot webinar!
This email sample is for indecisive ones. Just kidding.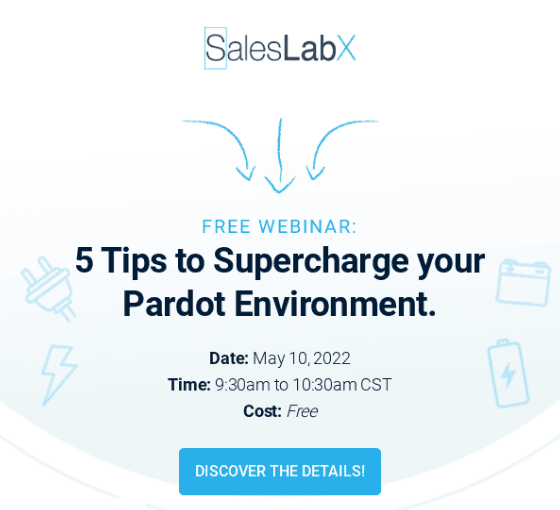 (Source: Really Good Emails)
It's an invitation to the free webinars. And we all know that free webinars are meant to draw prospects' attention in order to make a further purchase. That's why this email immediately delivers a message about some tips they may provide to the customers.
Another key component is their strong encouragement for you to get to know the details and take part in the webinar. Remember that being genuine also is helpful when it comes to building trust and getting loyalty from your clients.
4. 7 Ideas to Grow Your Landscaping & Lawn Care Business
The creator of this email knows how to intrigue prospects! They promise to you help increase profit and encourage you to discover the possible options yourself, by following a Call-To-Action button.
After that, they sling their hook with another interesting topic and, again, invite you to visit their website and read a blog post. They also attach some reviews on their services, including big and colorful pictures which make you better acquainted with the brand.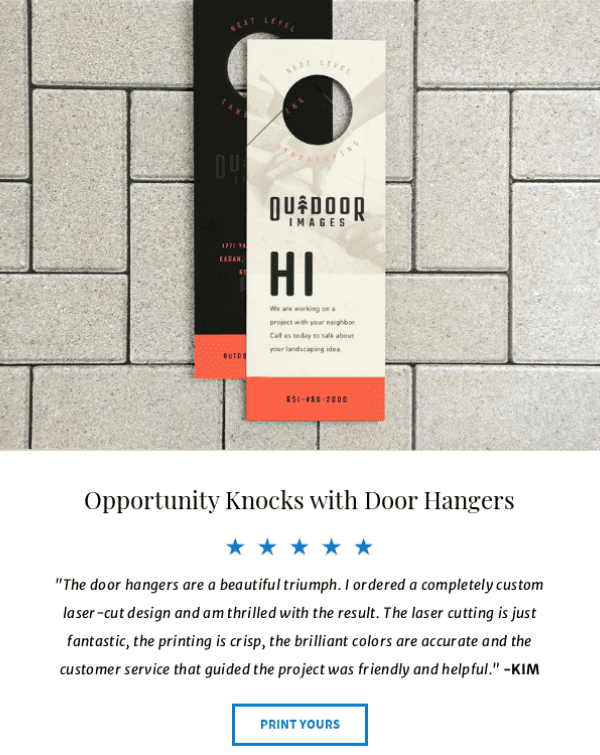 (Source: Really Good Emails)
While you're scrolling through the email, you may click a button and create your own design, order your prints or just learn more about the company.
5. Your Postscript Results for March
This is a great example of how you can keep your subscribers engaged or re-engage them if they haven't interacted with you for a while. Postscript sends this monthly recap and immediately asks for feedback to keep the conversation going.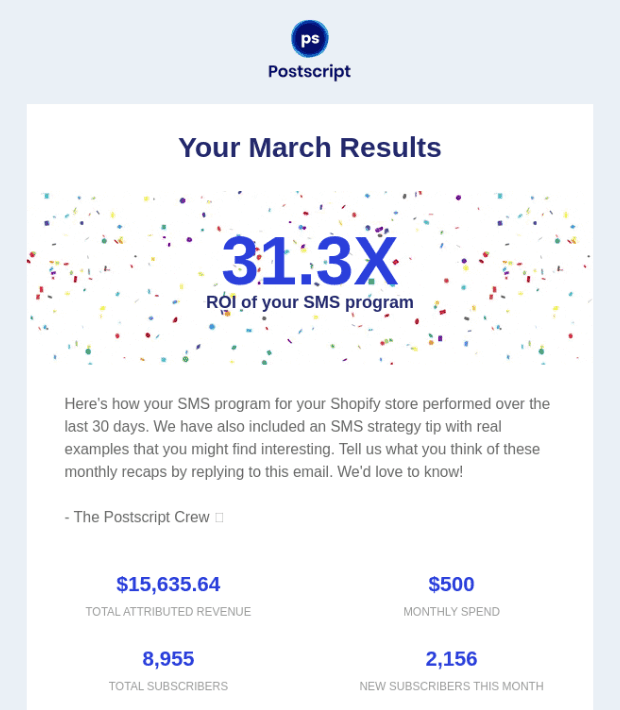 (Source: Really Good Emails)
Then, according to the results, they provide you with a monthly tip that may help you achieve your goals. And they share a link for their mega guide which requires you to visit the website.
At the bottom of the message, they attach a screenshot as an appetizer for the subscribers to better motivate them and give them a boost to read a blog post.
Final thoughts
You can see now that there are lots of things that differ between B2C and B2B email marketing campaigns. We do hope this comprehensive guide helped you clarify some tips and come up with ideas that work for you.
A few final thoughts to wrap it up:
1. Be precise and laconic
Keep in mind that people (especially, managers) don't spend lots of time reading emails that are not related to their needs. Also, they often check their inbox via mobile devices, which means it should fit the small screen perfectly to make the best experience for the recipients.
2. Do some research
If you analyze the market and the prospects carefully beforehand, it will definitely increase your opening rate and success chances. Find all the information possible and prepare the most related suggestions for the potential customer.
3. Keep your balance
Find the golden mean between a long blog post and a short dry message with no emotion. Combine your sincerity, friendliness, and professionalism, add some intrigue and maintain the interest in your prospects.
4. Work on call-to-actions
Your entire email marketing strategy is built to make a customer become engaged. Therefore, you have to take into account all their pain points and come up with a certain appeal that will encourage a client to interact with your company.
So, we challenge you not to wait for the best moment and try to implement what you've learned right away!
Was this article helpful ?
Thanks for your feedback!