12 April 2021
15 Earth Day Email Examples
Today, public interest in environmental problems has only grown and we cannot but talk with you about the upcoming Earth Day. Precisely, about the email newsletter for this date: What is inappropriate in such emails, and what should be included, how to make the email unique. We will also analyze 15 interesting Earth Day email examples from different businesses.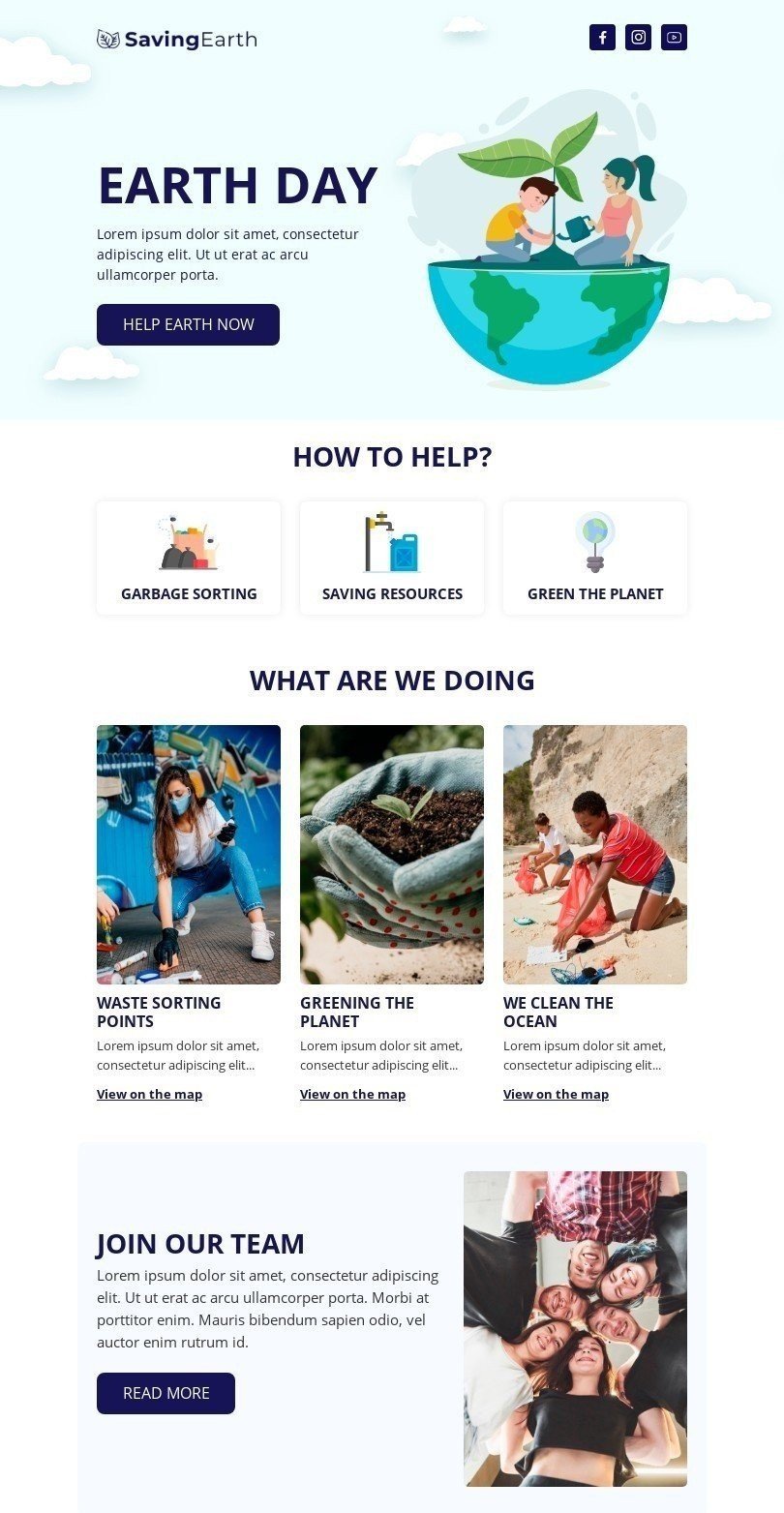 Earth day newsletter ideas to consider
There are many factors to consider when creating an email campaign. You already know them: the email template design, the list of offered products, a catchy CTA, and so on. But there is one more important element that should be paid attention to — the news feed, the informational cause, which the email is timed for. The goal of the news feed is to make the email interesting for a wide audience so that people would like to open and learn more about this holiday and form an attitude towards the company.
Thinking through Earth day email marketing, it is better to skip a direct offer to purchase your company's products. If recipients want to buy something, they will just go to the website and get acquainted with the products.
The purpose of the emails sent on the eve of April 22 is to demonstrate social and corporate responsibility. Make it clear to the clients that the business is socially responsive, responsible for the eco-production of its products, and cares about the environment.
How to deliver this message in a short email to thousands of users? Of course, you can write plain text, "We are smart and sensitive, so we worry about planet Earth." But if such a statement is not supported by actions, it will not work. Here are a few Earth day email ideas to showcase the environmental awareness of your business:
talk about an environmental event you are organizing and even invite clients there, for example, planting trees or cleaning up a city park. Clarify why this is important, add a photo of how employees of your company went to the cleanup the last time;

(Source: Email from Everlane)
inform about the "earth hour" initiative — 60 minutes with the lights and other electrical appliances off. Encourage your readers to join this action with you;

show how your team treats conscious consumption, for example, there is no extra furniture in the office, but there are many plants and a few boxes where employees can bring unnecessary clothes and other things to charity. Don't be afraid to be honest: Customers love to see real people behind the brand;

emphasize that you do not use plastic bags when packing goods, only biodegradable and environmentally friendly paper;

carry out a campaign. For example, for Earth Day, all purchases will be packaged in eco-friendly bags that can be reused.
Such a newsletter may include discount coupons. For example, if you have a brand of tableware, set a discount on reusable coffee cups — this way you will attract the clients and encourage them to abandon plastic cups in the coffee shop. For clothing brands, you may follow the trend of making new models from the fabric of past collections. If you have joined this initiative, tell clients about it, or even better — offer discounts on such things.
15 interesting Earth Day email examples
Designer tip: Use green in your Earth Day newsletter. It is not only the color of nature and growth but also balance and calmness. Psychologically, green acts as a hopeful, trustworthy color.
1. Eco-Initiative BAGGU
The BAGGU brand informs us that for several years now they have been celebrating not just a day, but a whole month of Earth. The company says it cares about the home, the planet, and its customers.

(Source: Really Good Emails)
In the email, BAGGU also shows an environmental initiative: For every bag made from already used fabric, they donate money to clean up the ocean from plastic. Thus, BAGGU itself is engaged in charity and encourages customers to join them.
The email is executed in "natural" colors: the paragraph about the month of the Earth is placed on a green background, and the text describing the charitable initiative, which the brand is joining, is delivered on a yellow background, the color of the action.
2. Interactive email from BBC
In this email, BBC shows us how powerful and beautiful our planet is. It enchants us with its calm nature, captures us with the unprecedented beauties of the aquatic world, but often frightens us with formidable volcanic eruptions, deadly hurricanes, and the incinerating sun.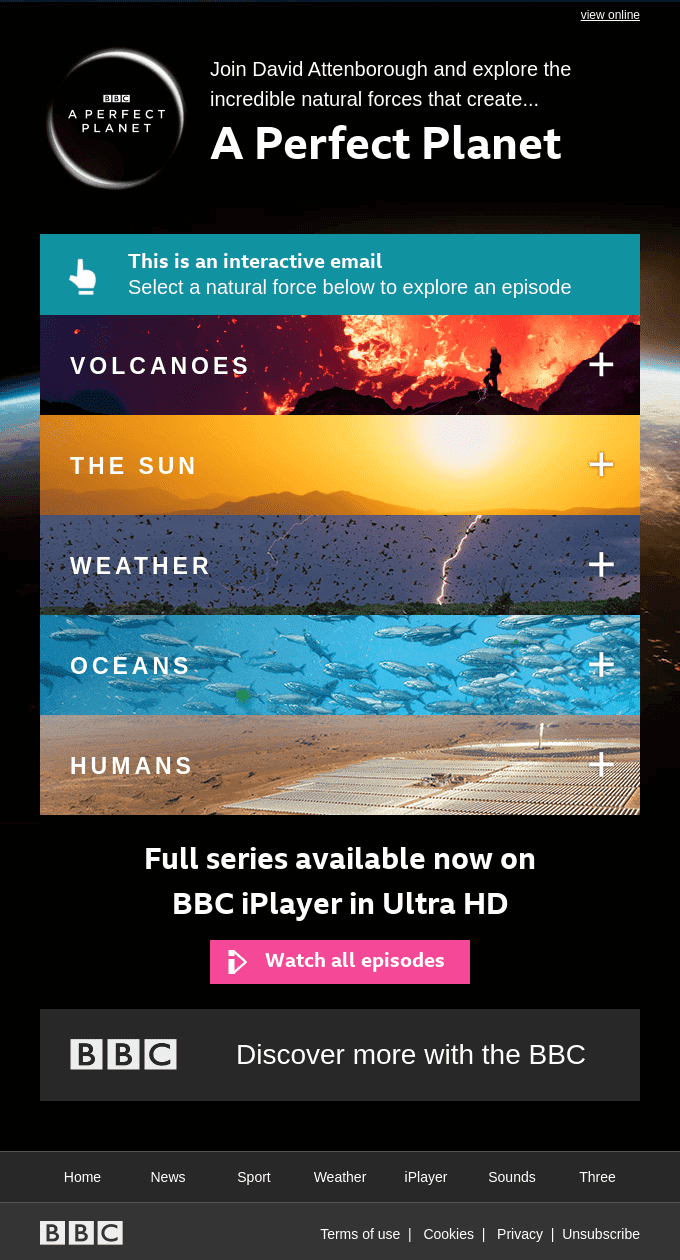 (Source: Really Good Emails)
BBC invites us to click on one of the elements to select an episode to watch. And as usual, their digest contains the main thing — quality content on the environmental theme.
3. Great cleaning with EcoFood
The EcoFood brand on Earth Day decided to remind its customers how much waste humanity produces and how harmful it is to the environment. The company offers a solution — everyone can help make our planet cleaner. For this, clients are offered to become volunteers for a garbage collection campaign, which will last several days and in different locations.

4. Environmental awareness from Leaf Shave
The exact opposite of the email from BBC is Leaf Shave's one. In this example, there is neither interactivity nor even simple images. There is only one thing between the company and the reader — the text, stylized as a typewriter. So how will such an email attract the client's attention?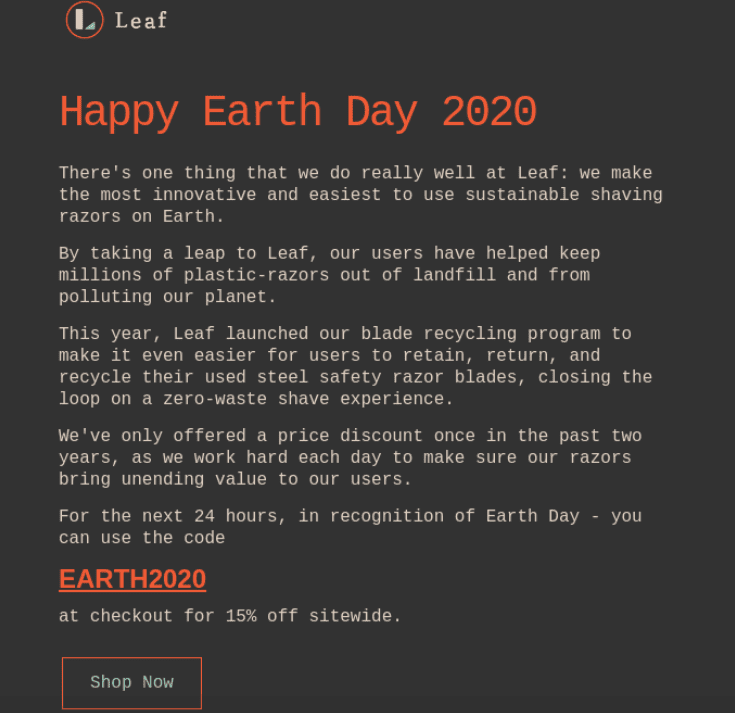 (Source: Really Good Emails)
With the meaning that is embedded in the email's letters, Leaf reminded that their razors are both innovative and environmentally friendly. And not only do the company's customers satisfy their needs by using these products but they also join in saving the planet by not throwing away plastic razors.
Leaf also revealed that it has launched a new blade recycling technology, creating a zero-waste shave cycle.
Finally, in the email, Leaf presented a discount coupon, the first one in two years. It's hard not to take advantage of it, especially since it only works on Earth Day.
5. Earth hour by Bright Tech
In this example of Earth Day emails, the company invites us to join the Earth Hour initiative — to spend one hour without electricity. Not only will this save energy but will also unite all environmentally conscious people and businesses, as well.
Also, the company recalls simple rules on how each of us can take care of nature. For example, use recycled plastic, start sorting waste, and so on.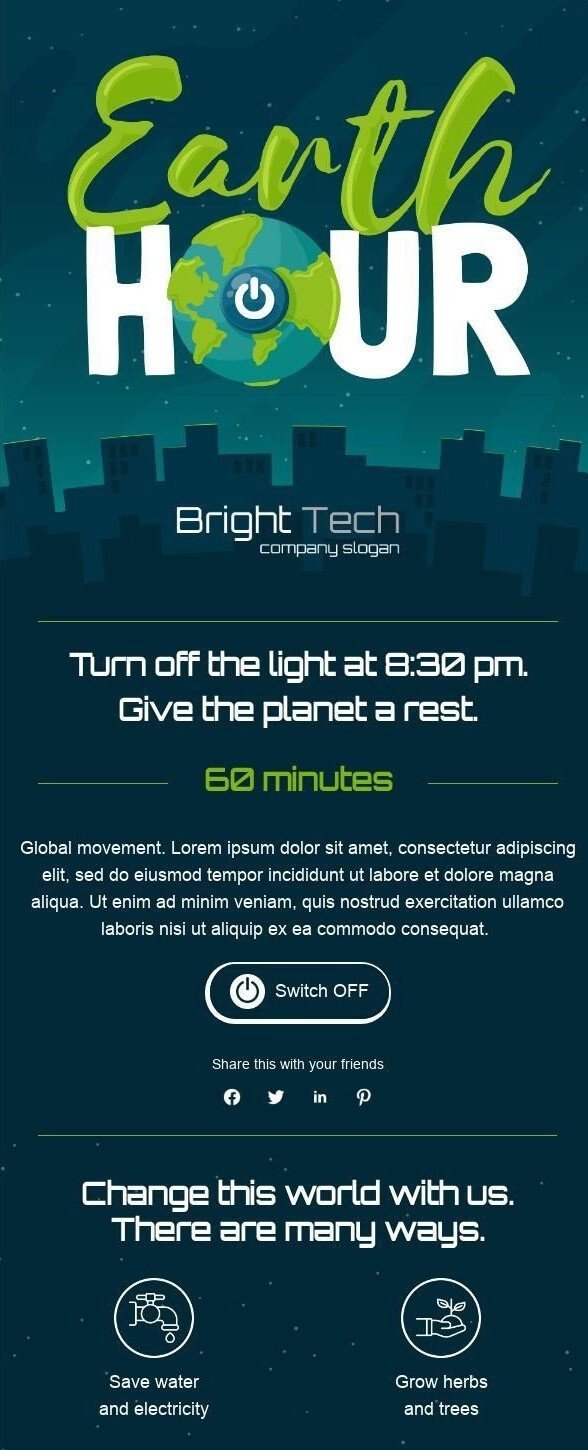 6. Foresight by Much Better Adventure
The email from this brand was sent back in the fall. "So why is it on this list?", you will be surprised. It fits perfectly, and I'll tell you why.
Environmentalists have long been talking about the dangers of Black Friday for our planet. Crazy discounts lead to unnecessary purchases and, consequently, tons of things go to landfills. Instead of joining this coven, Much Better Adventure gave customers a 10% discount on their services. And for every booking, the company doubled its rainforest donation.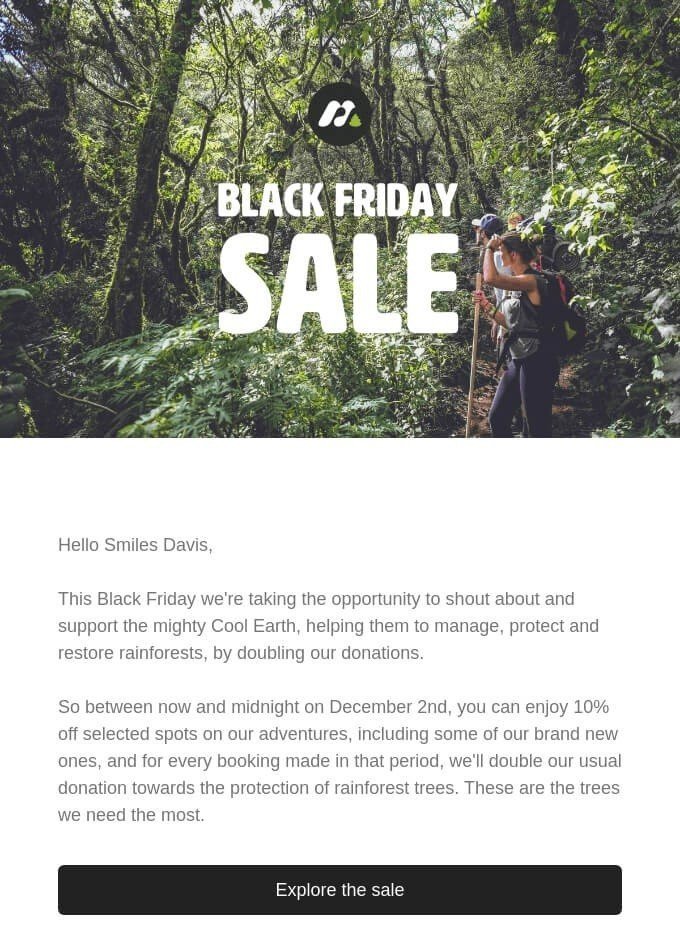 (Source: Really Good Emails)
7. Big sale of plants from Natural
This template from Stripo is aimed at furniture, interior, and decor companies, as such industry can create some great stories to tell about saving the environment.
In this case, not only does the business salute the client on Earth Day but also arranges a big sale. The company offers to buy indoor plants, saying that caring about nature starts with small steps.

8. Floyd's global mission
In this Earth Day email, Floyd said they were concerned about how furniture consumption has increased over the past 6 years. They confirm the stats with a graph.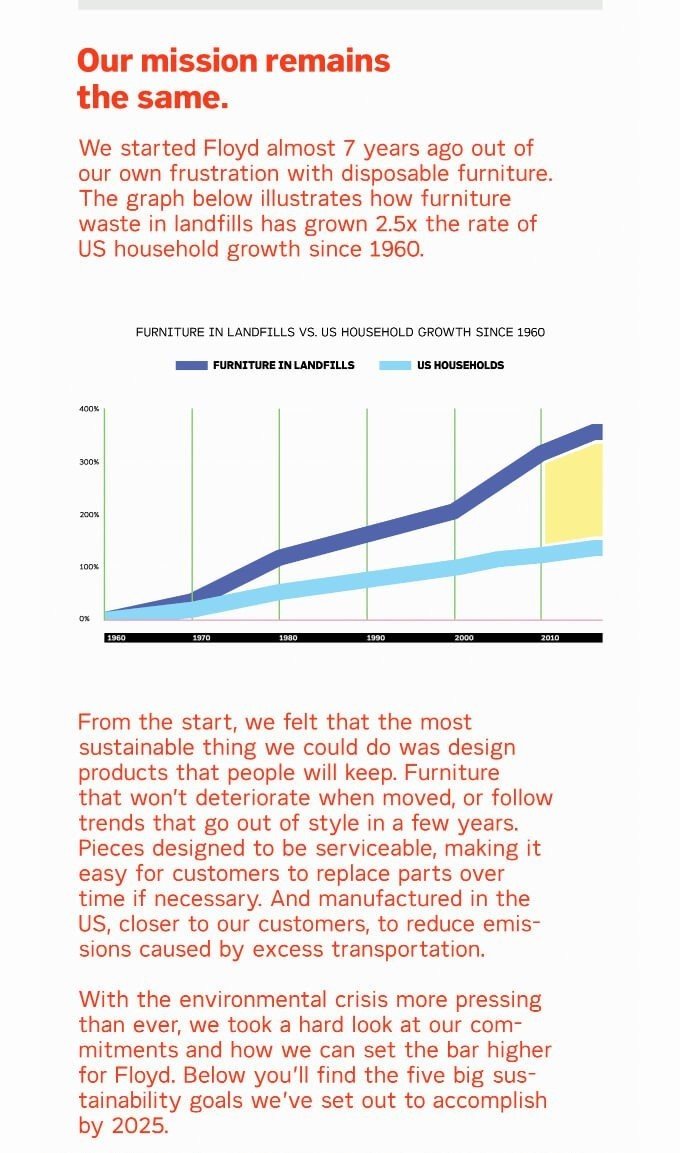 (Source: Really Good Emails)
Therefore, the company shared its mission with clients. Even at the start, the business put a goal to create high-quality products that people will use for many years, and in the future, they will be able to recycle these products. Therefore, the business developed a plan on what they can do for the environment by 2025.
The Floyd newsletter is a great example of how to express and share corporate social responsibility. The email does not contain a call-to-action for purchasing, coupons, and promotions, but there is lots of relevant and useful information in it.
9. Planting trees is a holiday for Earth. Stripo Template for the Jewelry Industry
One of the best ways to celebrate Earth Day is by planting trees. Moreover, every client of a jewelry company can join the action, and they do not have to buy a shovel and seedlings. It is enough to buy an ornament, and a share of the money from the purchase will be transferred to planting one tree. To demonstrate the benefits of this action, the company provides statistics: Over 5 years, more than 100 thousand trees have been planted in 10 countries.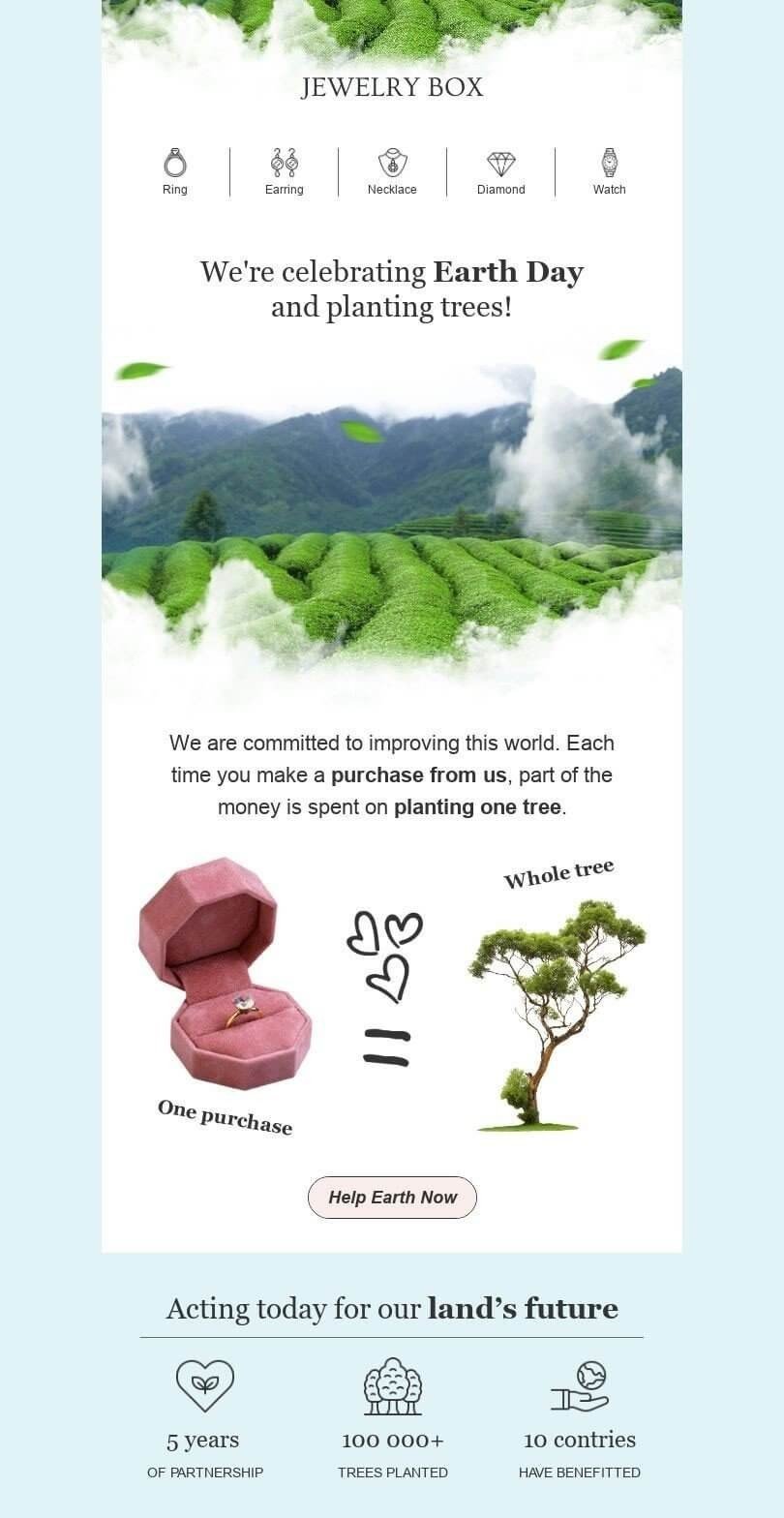 10. Easy ways to be eco with Xfinity
Xfinity encourages people to remember about ecology not only once a year, on Earth Day, but also to take care of the environment every day. Through an easy-to-understand diagram, the company explains to us how we can join the conservation of nature without much effort.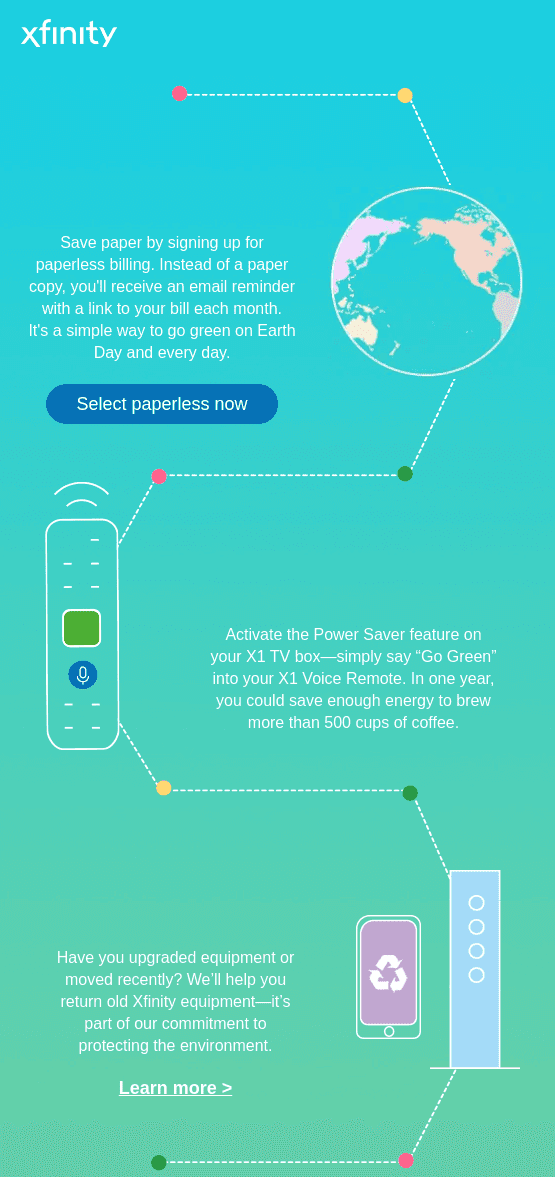 (Source: Really Good Emails)
For example, Xfinity offers to subscribe to an email newsletter so that they don't send paper letters, to save paper, and conserve trees. The business also talks about a function in the TV box that will help save energy. And finally, if a customer has moved or replaced equipment, Xfinity promises to take the old one for recycling.
This email from Xfinity is a good example of how simple actions help with taking care of our planet.
11. Taking care of nature from Stripo
In this email, the media business also shares with its readers simple secrets on how to save our planet. The advantage of this example is that it schematically and with cute illustrations tells us about common ways of caring about nature (sorting waste, recycling plastic, planting trees), and mentions the not-so-obvious ones. These include, for example, teaching environmental science and environmental awareness. They provide a link to the website with detailed information.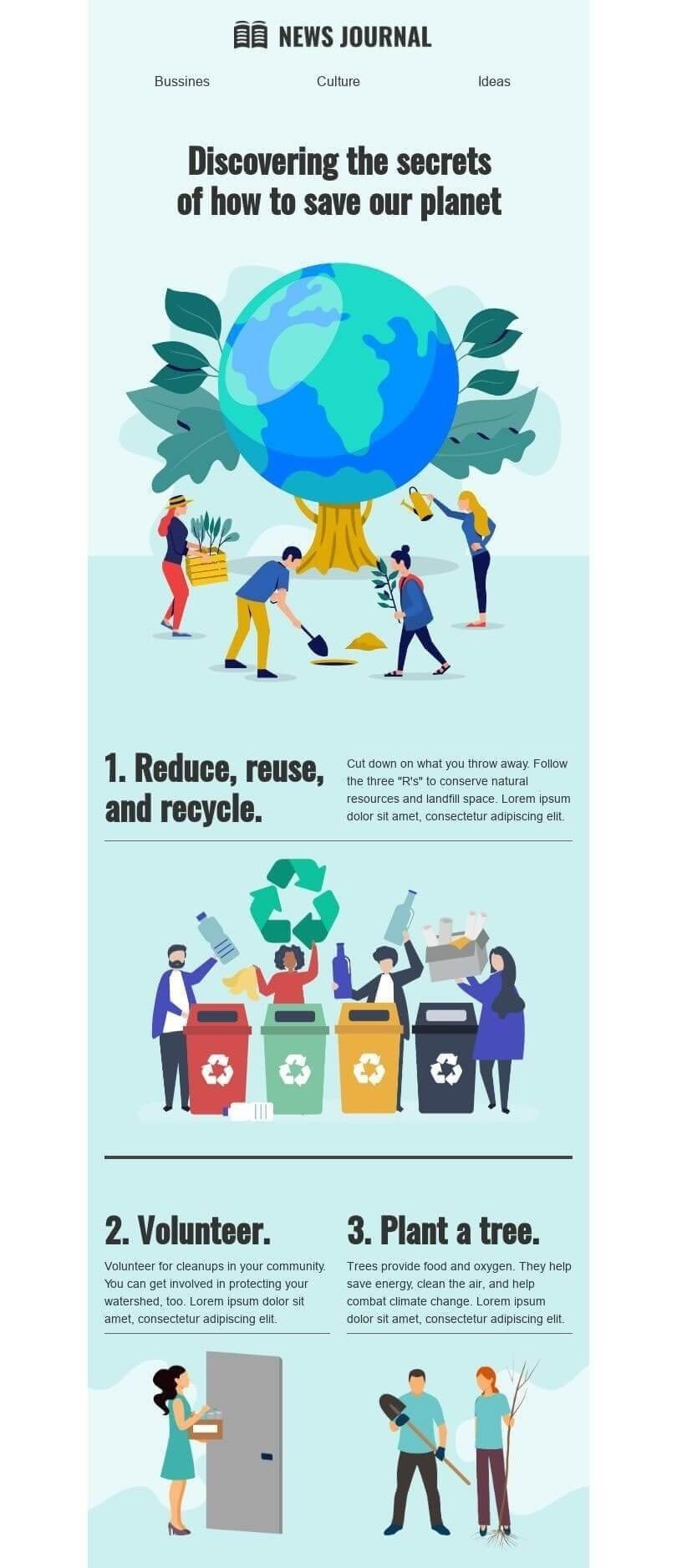 12. Planet Dog: 100 trees and dog toys
In the Earth Day email, Planet Dog combined business with pleasure. To begin with, they said that they had carried out an environmental campaign — they planted 100 trees. And then they proceeded to talk about their products.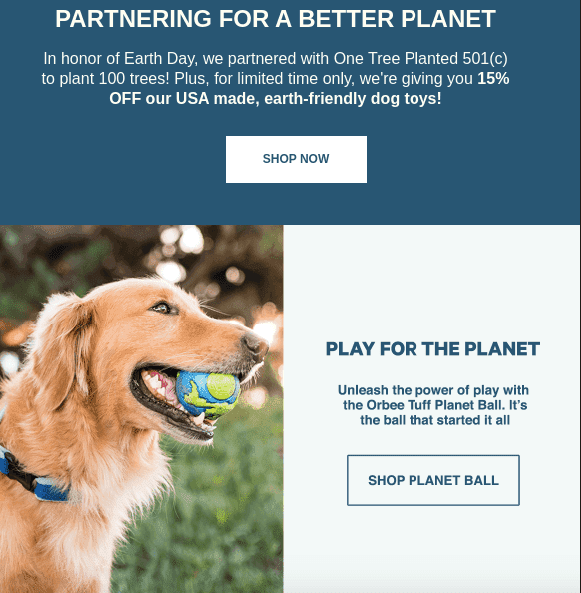 (Source: Really Good Emails)
For the holiday, Planet Dog gave their customers a discount. Not for all products, but only for eco-friendly toys for dogs. Finally, Planet Dog asked the recipients to share their thoughts on how they can celebrate Earth Day with the pets. Feedback, — check.
13. Tasty Earth from News Journal
An Earth day email template from Stripo not only brings a festive mood to recipients but also shares a cupcake recipe. And not an ordinary cookie, but a branded one, timed to coincide with Earth Day, in the shape of our planet. Delicious, and the theme of celebration!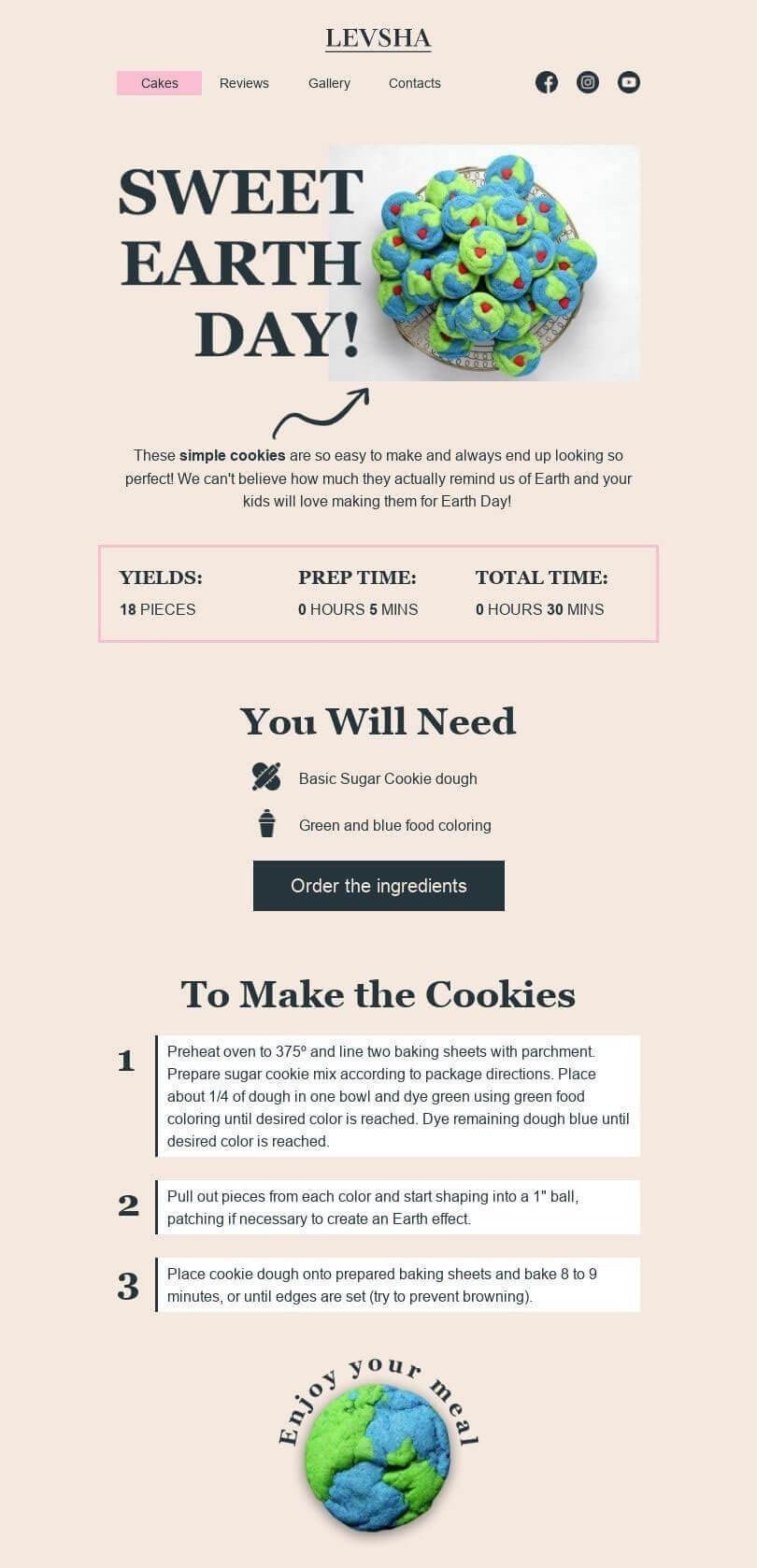 14. Gifts from Forever Young
On Mother-Earth Day, as this holiday is called in this email, it is important to remember its history. This task was taken over by the Forever Young brand. And after the useful information, the company also surprised with a present. For purchaseses in the online store, the client will be given an eco-bag.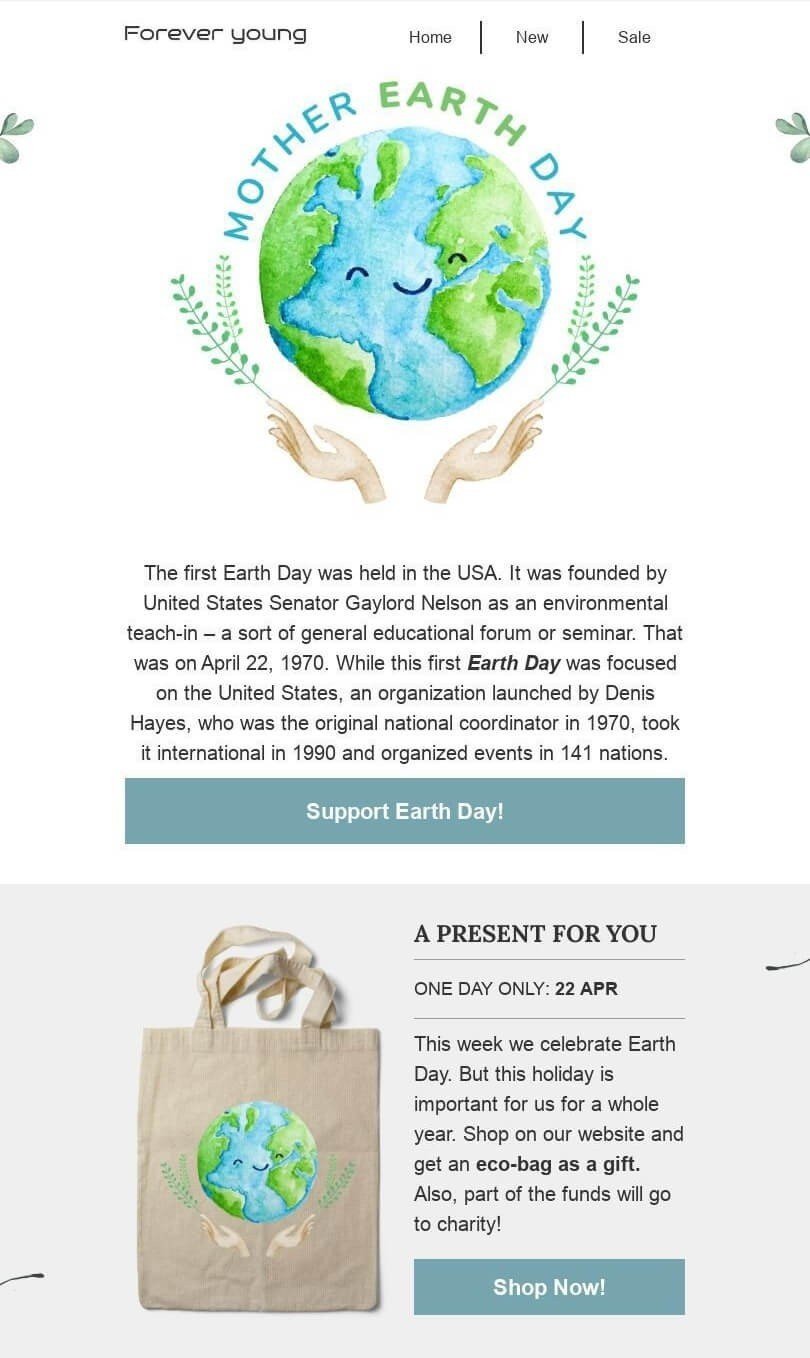 15. Eco discounts from Fashion, the Stripo template
Clothing manufacturers are large-scale environmental pollutants. To reduce the negative impact, brands use sustainable materials or recycle fabrics. On Earth Day, many of these companies remind about the existence of "eco" collections and give discounts on them. This is the path taken by Fashion, an example of which you can see below.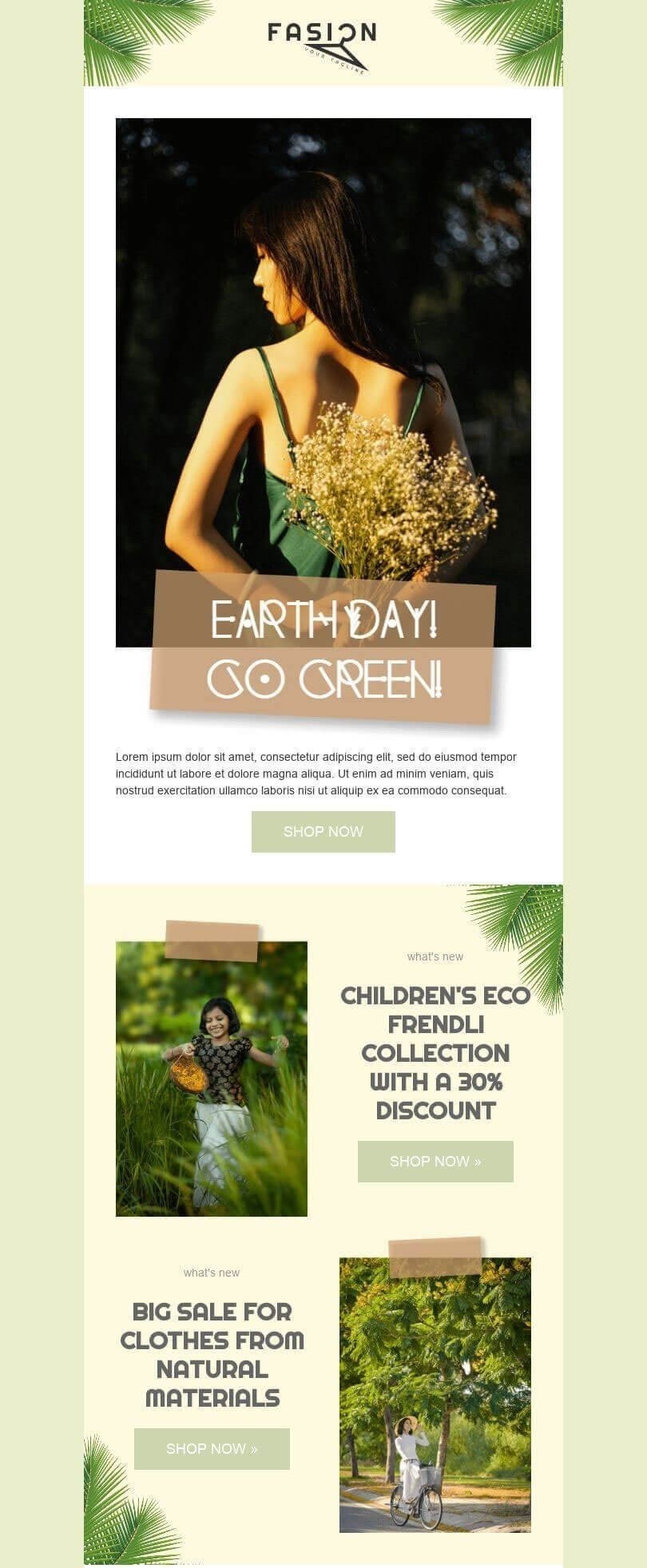 Wrapping up
It is always a great idea to time your newsletter to coincide with a significant date. Especially if your goal is not just to remind recipients about the holiday and write a few lines of pleasant wishes in the Earth day email campaign, you can demonstrate your social and corporate responsibility, remind clients of your eco-principles, and encourage conscious consumption. And to stimulate orders and sales, run eco-promotions, give discounts or just share useful information.
We've reviewed 15 good examples of Earth Day emails, and now you know how to create your email. Use Stripo prebuilt responsive email templates to make your newsletter work 100%.