Being an eco-activist myself for the past 10 years, I can say for sure that people are becoming more and more eco-conscious. Earth Day presents marketers with an opportunity to connect with email subscribers about this day of environmental awareness and volunteering. That is why marketers can not neglect the power of Earth day email — not only can it be a good promo campaign, but also a great way to show the company's values. As always, we are here to share with you best practices for holiday emails — the best earth day ideas, examples of subject lines, and email designs for Earth Day promotions.

Earth day email examples
We have collected 10 effective, interesting, and attention-grabbing Earth Day email examples. Some of them are ours, and they are ready to use, you just need to choose the one that you've liked the most and customize it for your Earth Day email campaign.
But before we get back to them, we have an important message to say.
Russia threatens to use nuclear weapons, which are already using phosphorus bombs, seizing our nuclear power plants. This can lead to the most unfortunate consequences. The explosion at the ZNPP will be 6 times more powerful than the explosion at the Chornobyl nuclear power plant in 1986. Be sure to inform your audience about it in your Earth Day emails. In this blog post of ours, you'll find more details on what you can do to prevent this catastrophe.
1. A proud story from Bellroy
A simple yet always effective strategy: we asked our audience, they expressed their will, we've listened to it, and here it is, a proud story to tell so your customers see that they've been heard and their values have been shared with the brand they like.
Earth Day is a good opportunity to show how sustainable and responsible you are, and it won't look like you're just bragging about it.
Tell as many facts and show as many proofs of your eco-work as possible — this can unite you with your audience.

(Source: Really Good Emails)
2. A worldwide event with Bright Tech
If your company wants to make some impact on Earth Day but you don't know how to organize an eco-event on your own, you may join the one that's already been out there for years. For example, offer your customers (and your team workers also) to turn off the lights for an hour on a specific day to prevent climate change. Also, try to explain in your email why it is important to save electricity and how to do that on an everyday basis.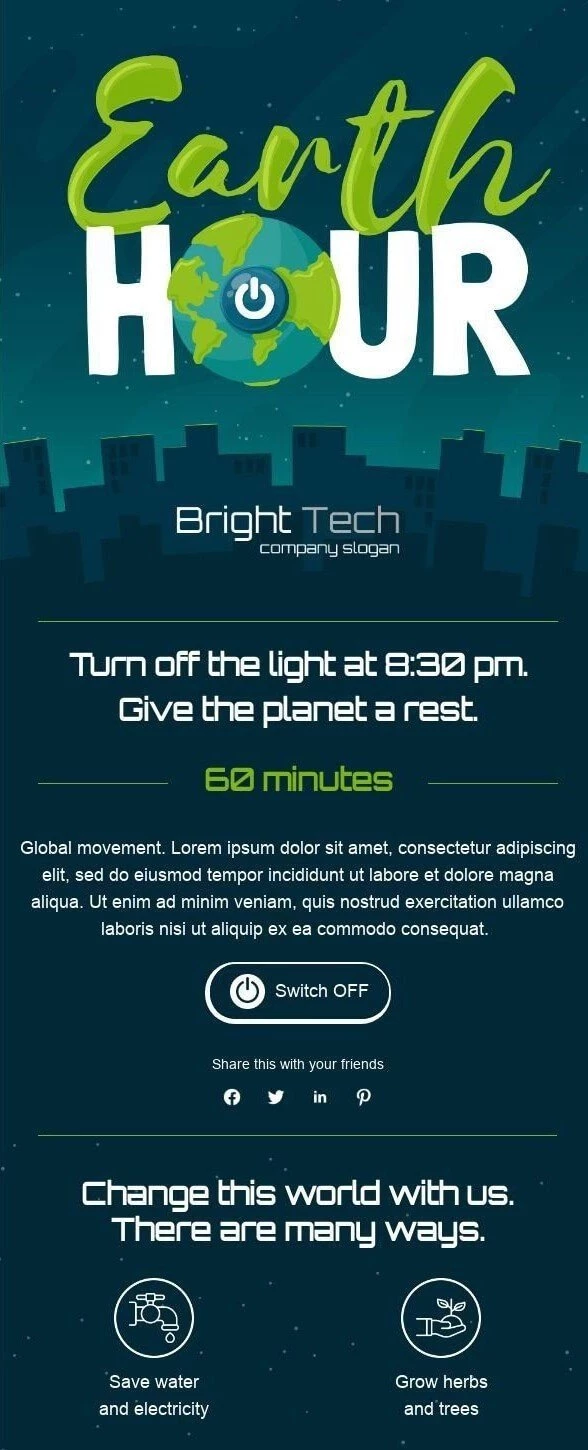 3. Big clean up with EcoFood
"Show your values, and we'll decide whether to buy your products or not," say customers. Well, it's not an official proverb yet, but you can definitely see the tendency. EcoFood, in their Earth Day campaign, proved that they're true believers in eco-lifestyle and tried to bring volunteers together for a good purpose. Clicking on links, subscribers can choose the most suitable clean-up event and register for it, simple as that. For those, who won't be able to make it on these dates, EcoFood offered a chance to sign up for another clean-up some days later using a cute green CTA button.

4. Mobile banking with Ando
Here is another Earth Day email example in which a banking company, Ando, shows how their feature, mobile banking, can be eco-friendly. Basically, in one email, you can also present (or remind) about your product that can be both useful for customers and eco-friendly. Just educate your readers. Promotion through value is not a "dirty" marketing trick, this is a good way to declare your advantage, so use it.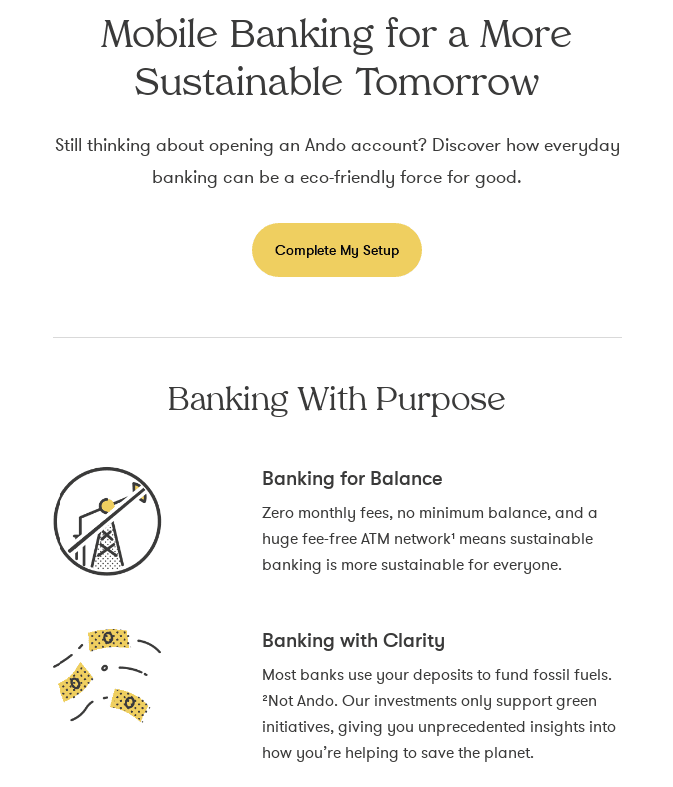 (Source: Really Good Emails)
5. Savings with Nest
Nest showed the advantage — with their thermostats, customers not only save their money but also save the planet Earth for future generations. Can your product do both? If so, tell me about it! Also, don't forget to add pictures of it, let the potential customers imagine how they are using your product, and let them live through this picture. Offer a nice Earth Day discount or explain how exactly customers can benefit from buying your product, and you have an engaging Earth day email.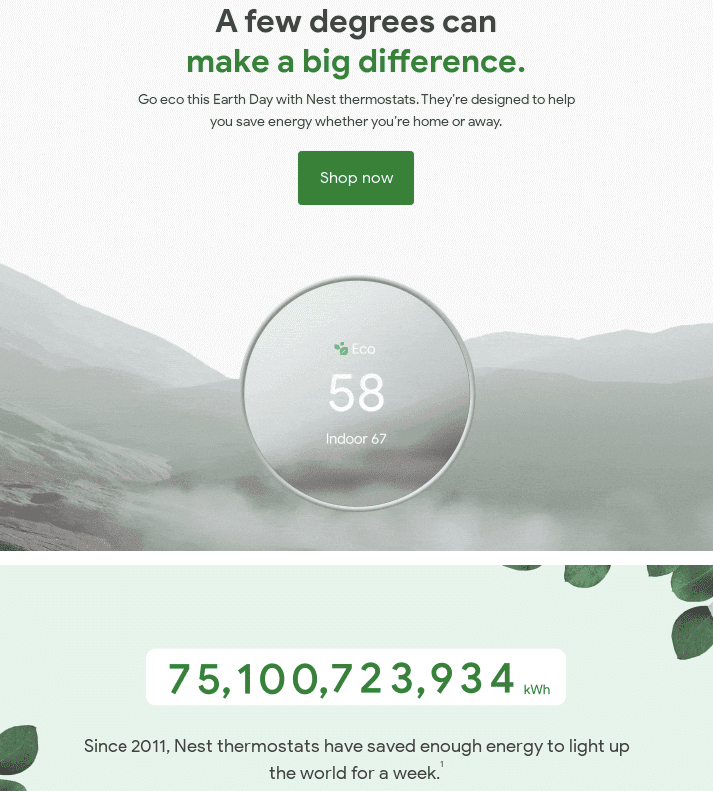 (Source: Really Good Emails)
6. Climate coverage with the Washington Post
If you're a media company or you have an interesting blog, create thematic articles about environmental problems, green energy solutions, advice on eco-lifestyle, or a list of eco-brands. And, of course, you can share them with your audience through emails, just like the Washington Post did. Add simple links to articles, or use AMP in your emails to pull fresh information in your emails to provide readers with only up-to-date information. You update some info in your Google Doc, and your emails will inherit these changes right away.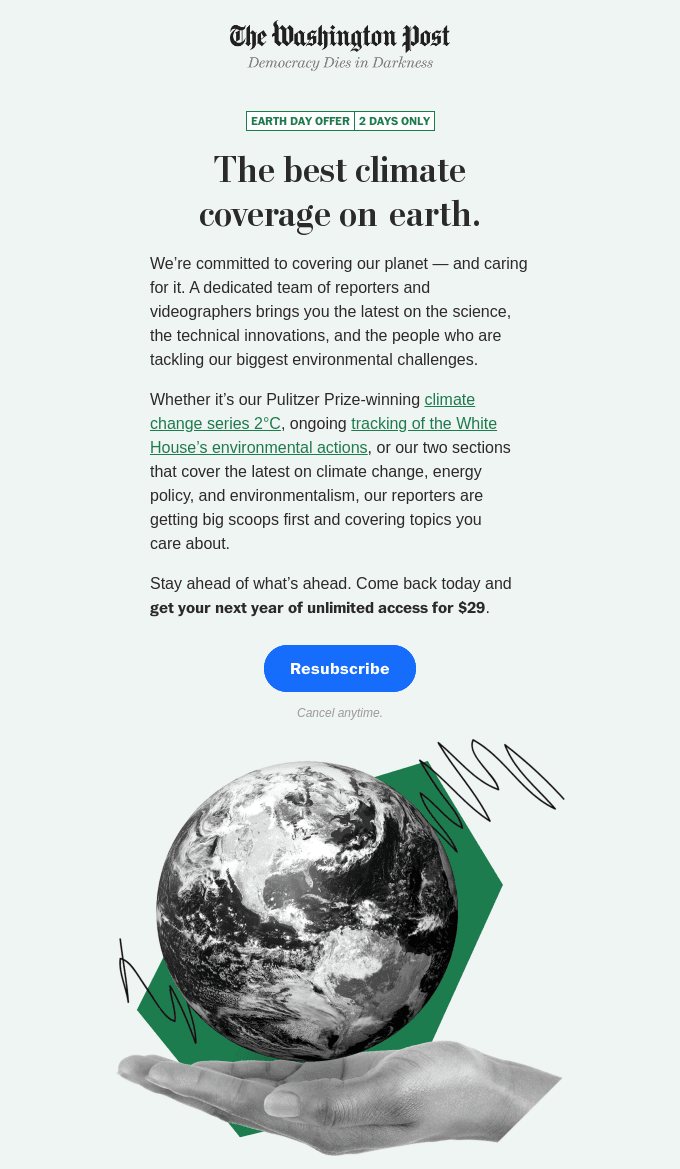 (Source: Really Good Emails)
7. Positive impact with SG
One more good example among Earth Day emails shows how a company makes a positive impact on the environment through its community, partners, workers, and users.
Remember that in your Earth Day campaign, it is not necessary to sell something — invite your subscribers to follow your social media profile so they can learn more about your business, your working process, your advantages, and the products you offer.

(Source: Really Good Emails)
8. Eco clothing with Levi's
If you're a clothing brand, we have a couple of options for your Earth Day email campaigns:
show in your email a capsule — a gathered look with a few of your items that can be easily combined. Capsules are getting more and more trending as they prevent textile waste, help to save money live a minimalist lifestyle, which is really popular nowadays;

explain how fast fashion can be harmful to nature and people, educate your audience through blog posts;

show how you minimize the negative impact on nature. Perhaps you create clothing from recycled ones? Or do you reduce the amount of water and electricity that are used to create material for clothing?

see the example from Levi's — they informed their clients about the eco ways of how they produce clothing and also added links on these eco-collections.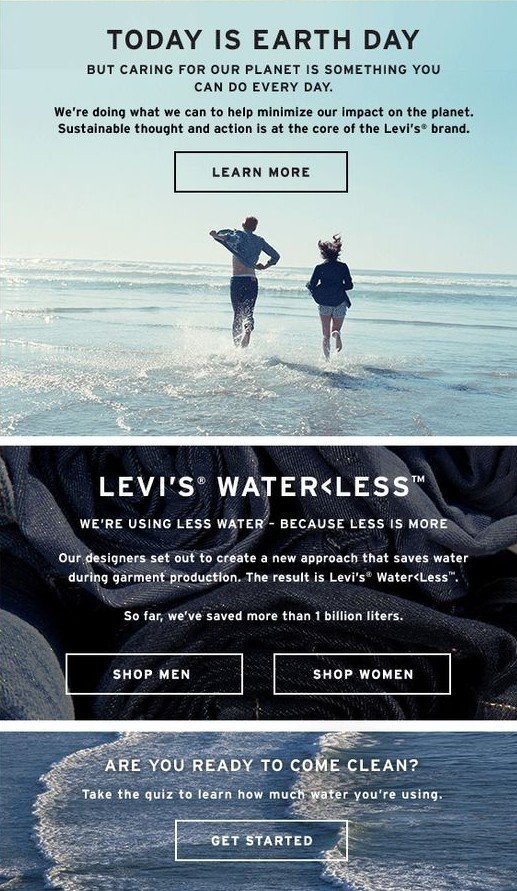 (Source: Pinterest)
9. Simplicity with Honest Co.
A relevant GIF, discount, and CTA phrase with a button — sometimes, it really is all it takes to create an email. If you have already proved that you're being eco-friendly, you bear social responsibility, no need to tell your audience about it again and again. Give your customers the present they deserve for being as responsible as you are.
(Source: Really Good Emails)
10. A world of eco-beauty with bareMinerals
An email design with a solid background and pictures of eco-friendly products is also a good choice. In this case, it's really pleasing for the eyes, it shows the components that are used for creating makeup, and it's in line with the brand and nature itself. Show the benefits of your product, add a nice offer, and highlight the CTA button — and you have an Earth Day email.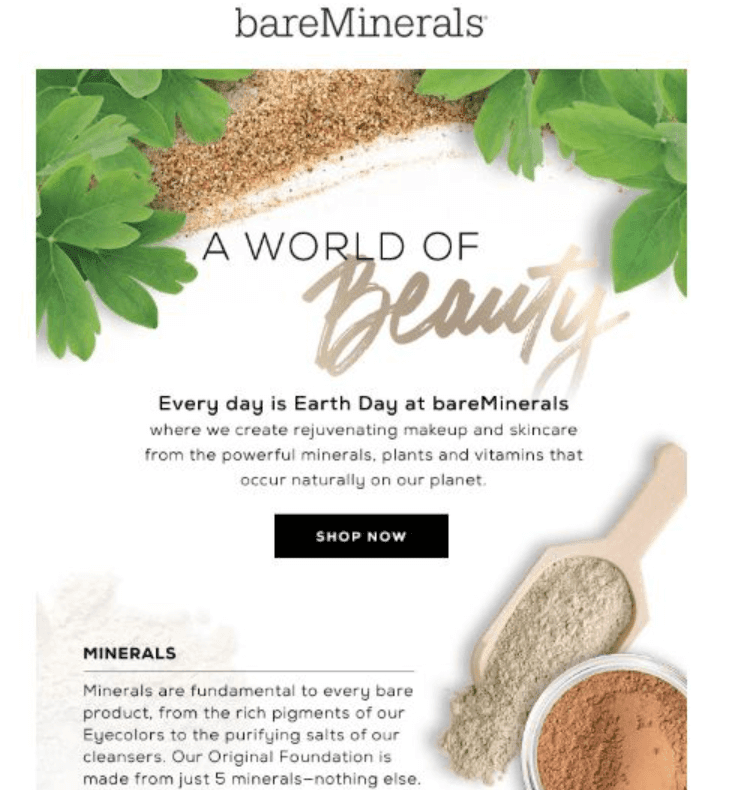 (Source: Email from bareMinerals)
Please be advised that for your convenience, Stripo has prepared a bunch of Earth Day email templates. Feel free to use any. Customize it down and use it in your future Earth Day email campaigns.
15 earth day email subject lines
As we've promised before, here are a few engaging examples of subject lines for earth day messaging. You may use them as inspiration. See how the lengths of subject lines may vary? So the only thing you should carry in mind while thinking over your line is this — try to show as much value for the subscribers in it as possible and you'll obtain success.
Earth Day resolution Sale Ends Tomorrow - Get Your FREE Trees To Plant 🌱 — Bulbs.com.

Earth Day Sale: Last Chance to Save Up to $5 On Used Books! — BetterWorldBooks.com.

⚡ LAST DAY ⚡ Buy 2 Get 3 Free for Earth Day! — Vitamin World.

Happy Earth Day Earthlings! 💛🌎 — Guayaki Organic Yerba Mate.

Celebrate Earth Day — Banana Republic.

💜 50% Off Our Wellness Essentials For Earth Day — Julep.

Happy Earth Day from Gantri 🌎 — Gantri.

How Your Company Can Celebrate Earth Day — business.com.

Celebrate hope, climate action (and🦗🦗) with us this Earth Day — Camfed.

Happy Earth Day, Girl. Grab your free eco-friendly gift 🌎 — boohoo.

✅ Small Ways To Make A Difference For Earth Day 🌍 — Adorama Camera.

Celebrate Earth Day by donating shoes 🌎 — DSW Shoes.

Celebrate 🌎 Earth Day with organic sheets & towels! ** Click here to access your coupons. — Bed, Bath and Beyond.

Happy Earth Day! Save some green today! 🌿 — Purity Products.

♻ Happy Earth Day: Shop 100% Recycled Envelopes! (+deal inside) — Envelopes.com.
Final thoughts
Now you have 10 good examples of Earth Day emails to have something to build your Earth Day email marketing strategy on. Use the Stripo email design platform to make your Earth Day messaging fast and easy.
Was this article helpful?
Thanks for your feedback!