Cold email marketing is efficient for reaching out to potential clients or partners. Getting backlinks from related websites is a great way to boost your website's SEO performance, and email outreach is an amazing tool to make it happen.
One of the most common link-building strategies is email outreach for SEO. Here we will examine how to increase your search engine rankings through email marketing.
What is email outreach?
One of the most successful strategies for gaining backlinks is email outreach. It is common practice for businesses and bloggers to conduct email outreach campaigns involving guest posts and link building. Actually, outreach emails are a necessary part of the majority of link-building strategies.
Networking via email is a great way to connect with experts in your field. Partnerships, interviews, invitations to contribute to blogs, and other opportunities may arise due to these connections.
Even though sending an outreach email can be challenging, the payoff can be substantial if done right: you get to initiate conversations on your own terms, build meaningful relationships, increase brand awareness, and potentially turn relevant leads into loyal customers.
Why email outreach is vital for a successful link-building strategy
Backlinks improve a website's SEO indicators, resulting in more traffic and ranking in search engine results. According to Lukasz Zelezny, Director and Co-Owner of SEO. London, it is highly doubtful to rank high in search engines without using backlinks.
So, how do you get as many natural links as possible to your site? There are numerous approaches to link building, but many of them involve outreach. That is why SEO specialists, marketers, and other experts are so interested in email outreach. Let's take a closer look at the various link-building methods that require outreach.
Broken link building
Sometimes links on relevant websites in your field appear to be broken and no longer work. It's possible to detect such links with the help of specialized tools (like Screaming Frog or Ahrefs). You must compile a list of suitable websites and use these services to check the 404 backlinks on those resources.
The next step is to get in touch with the website's administrator and suggest that they include links to your page instead of broken ones. You get a functional link, and they get actual content, so it's a win-win situation.
Guest posting
Here you have to look for popular platforms relevant to your subject, and then you ask the platform's owner or administrator to publish your article.
You can manually search for relevant websites and contact their owners with services like Serpstat and Semrush. You can also use the Collaborator guest posting service as it makes it simple to find the right websites, and posting articles only takes a few days.
Link exchange
Going for this approach, you may offer a platform owner to trade links. Such reciprocal linking is easy to implement and practical in many situations.
Create a list of websites from which you would like to obtain backlinks. For example, you can do this with Google by simply typing the keyword you want to rank for into the search box. You can also use services like Linkody or Serpstat to conduct backlink research on competitors.
In either case, proper communication with website owners is required for this method to work. How can you do it properly? Keep on reading.
How to outreach to get your emails answered
It's important for your company to send outbound emails that recipients actually want to read.
Check out these helpful tips for improving your outreach emails. Although these guidelines and outreach email examples are designed for link-building, you may use them for other types of cold emails, such as when trying to sell a product, start a collaboration with an influencer, or pitch yourself as a guest on a podcast.
Step 1. Find the right websites
It is necessary for you to conduct research and locate websites that will provide links. For instance, you should analyze your competitors, do keyword research, and look for broken links.
If you're looking for competition for a blog or an eCommerce store, looking for websites that rank for a particular keyword may not be the best way to proceed. This is because you are most likely targeting hundreds or thousands of keywords and topics across multiple websites.
So it's a good idea to research competitors' backlinks. You can view these backlinks in Ahrefs Site Explorer:
Site Explorer > Enter domain > Referring domains
(Source: Ahrefs)
These are domains that link to other businesses in your industry. Select the most relevant websites and reach out to them.
Step 2. Gather relevant contacts
The next step is to identify the key decision-makers behind the URLs you've collected. The old saying "Contact the right people, with the right offer, at the right time" holds true today.
The highest response rates come from blog editors and content managers, so you should try to focus on attaining one of these roles. To make this process easier and more efficient, use a quality email finder tool to always get valid email addresses.
Searching for email addresses via Linkedin
One of the most simple and time-efficient ways to find an email address is to go to the company's page on LinkedIn, go to the "People" category and search by a job title for marketers, content managers, editors, and so on.
You can find the email addresses you require on their personal pages in the contact info.
For example, if you want to contact Collaborator, you should probably speak with Margarita Nesterenko, who is the company's marketer.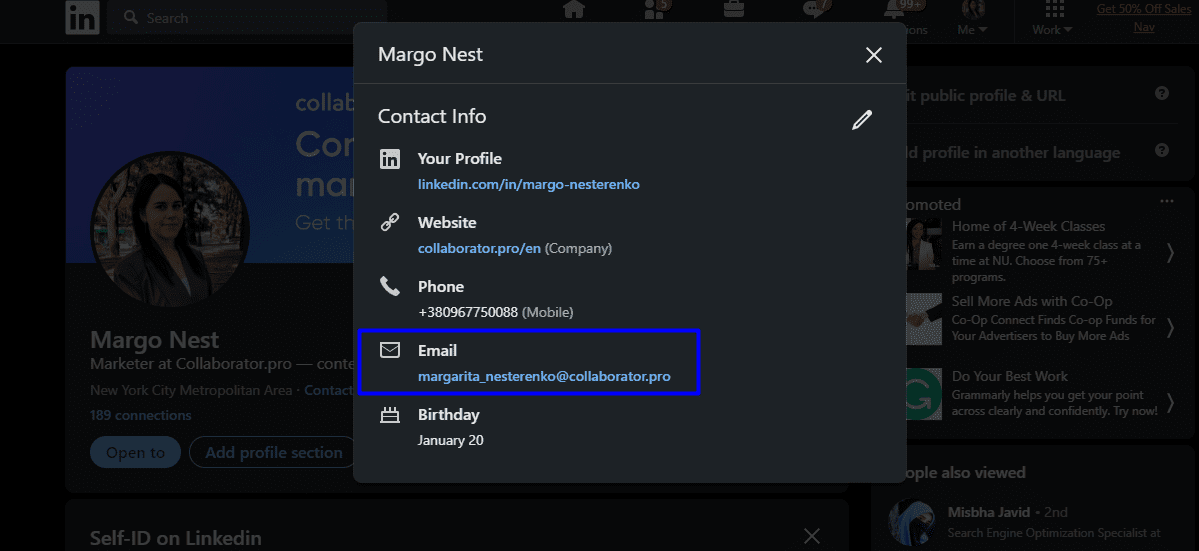 (Source: LinkedIn)
Manually selecting contacts
Examining the domain of the email and trying other forms of the name under the email is another possibility. For example, if the other party knows that Margarita Nesterenko is a marketer and that the company email address finishes in @collaborator.pro (you can check this on the website by looking at the helpdesk address), you can try different combinations of the domain.

(Source: Gmail)
There is already a suggestion available, and it is quite likely to be the appropriate email address:

(Source: Gmail)
Using services for collecting contacts
Let's look at alternative approaches to collecting email addresses for outreach. If you want to be faster and more efficient with email outreach, here are some of the best apps, add-ons, platforms, and tools to add to your arsenal:
you may utilize Author Finder to simplify the process and find the verified email addresses of the writers. You only need the article's URL to get the author's email address;

services like Hunter.io, SignalHire, or ContactOut Email finder tool make it possible to build a database of contacts. These services may also be used to acquire email addresses for outreach purposes. For instance, with SignalHire, all you need to do is locate links to the profiles of the relevant people on Linkedin.
You can also contact the helpdesk and submit a request to locate the email you are looking for. Alternatively, contact a LinkedIn user who can put you in touch with the right person.
Outreach workers frequently make the error of collecting everyone's email addresses and then, on the same day, writing to other people (such as Sales, Co-Founders, etc.) regarding outreach. As a result, they increase their risk of receiving spam and lose the ability to retrieve the link.
Once you have collected all the contacts, put their email addresses into Google Sheets with company names, links to materials, and ideas for guest posts.
Step 3. Benefit from A/B testing, follow-up emails, and the best time to send outreach messages
You can compare your campaign performance with the help of A/B testing. Let's begin with the fundamentals of A/B testing before moving on to how to use it, various tests, and the best practices to follow.
Why do you need A/B testing?
Marketers, SEO specialists, and editors receive dozens of outreach emails daily. And your email will likely remain unread and end up in spam. If you want to draw attention to your message, you need to build a relevant and eye-catching email, and it is best to create several options to track the reaction to these emails.
What's more, A/B testing gives you the following benefits:
you won't have to rely on guesswork when making decisions;

you will be able to detect a successful campaign based on the actual response of potential partners.
How to do A/B testing for cold email campaigns?
Split the list of leads you need to contact into two groups. Make sure both groups are divided equally and randomly. They will get two versions of your outreach email.
Now you can start sending your emails. Work on two different subject lines — the first group will get an email with a Subject Line A, and the second one will receive a message with a Subject Line B.
Find out which version achieves better results by comparing open and response rates. Besides subject lines, you can do the same test with email body, visuals, and CTA buttons.
The picture below shows the test pattern.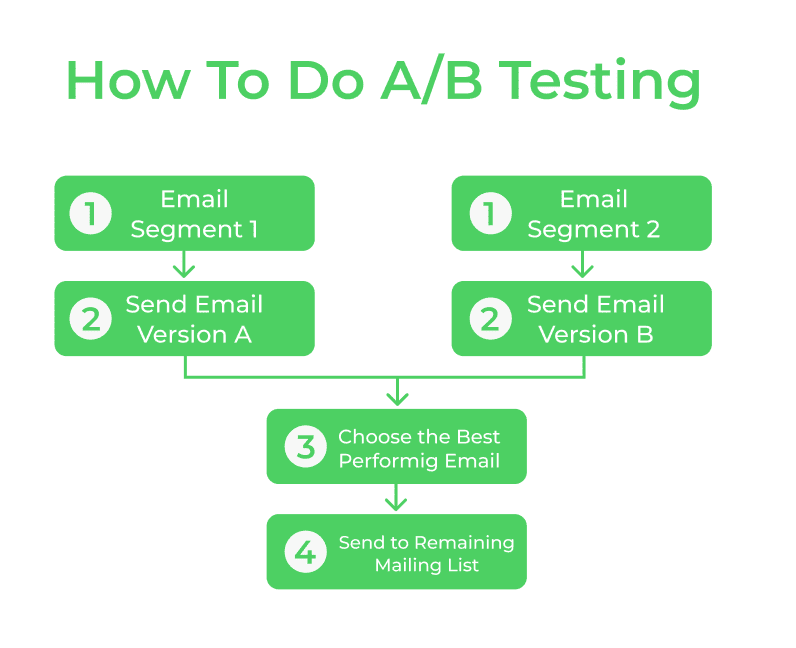 Step 4. Send follow-up emails
A follow-up email is an email or a chain of emails in response to an action performed. It's an effective way to close a deal and communicate with prospects.
Benefits of follow-up emails:
increase conversion rates;

help build trusted business relationships;

automate email marketing.
When the person you want to engage with is busy, it might be tough to start a connection. If you've already reached out to someone to initiate a business relationship and they haven't responded, it's time to send a follow-up.
For outreach emails, follow-up should look like this:
you send the first email with an extended description of your business and offer;

send the second message at another time to remind a recipient about your previous message;

if you do not receive a response, you may send a third reminder email in case the previous ones get lost.
The idea is to constantly remind about yourself in case you chose the wrong time and your recipient just missed your email. Reminders allow you to stay on the potential partner's radar.
Step 5. Choose the best time to send outreach emails
We recommend you send cold emails on a weekday between 10 AM and 4 PM, keeping in mind the recipient's time zone. It's recommended to mail multiple times, preferably three days apart, only on weekdays and during business hours.
How to create outreach emails that convert
Personalized and well-designed content increases the likelihood that your recipient will open your email. This increases the chances that your link-building plan will be effective. In this article, we'll examine the best practices for sending email campaigns that get a positive reaction and increase conversion.
1. Personalized subject line
It is recommended to include the company name in the subject line.
In the first place, the purpose of this is to get your reader's attention. It will also help your offer stand out from other offers.
2. Relevant and personalized email body
When addressing another individual, you should always use their first name. The most effective strategies are those that are person-to-person because it reduces the percentage of unread messages.
3. Start off by introducing yourself
The person on the other side of the screen needs to know who they are talking to, what company you represent, and why they should proceed with the conversation. Don't overwhelm recipients with long descriptions — a couple of sentences with the most essential information will be enough.
4. Do some research
It is important to put some thought into how to write an email that grabs the recipient's attention. You are welcome to provide feedback on an article that was published on a website you are interested in. In other words, you need to familiarize yourself with the individual or organization to spark an interest in talking to you and motivate them to accept your offer.
5. Add a clear call to action
Always equip your email with a call to action or question to ensure that the recipient comprehends the nature of the offer as well as the conditions that must be met.
Here is one of the follow-up email outreach templates to help you maintain your business ties: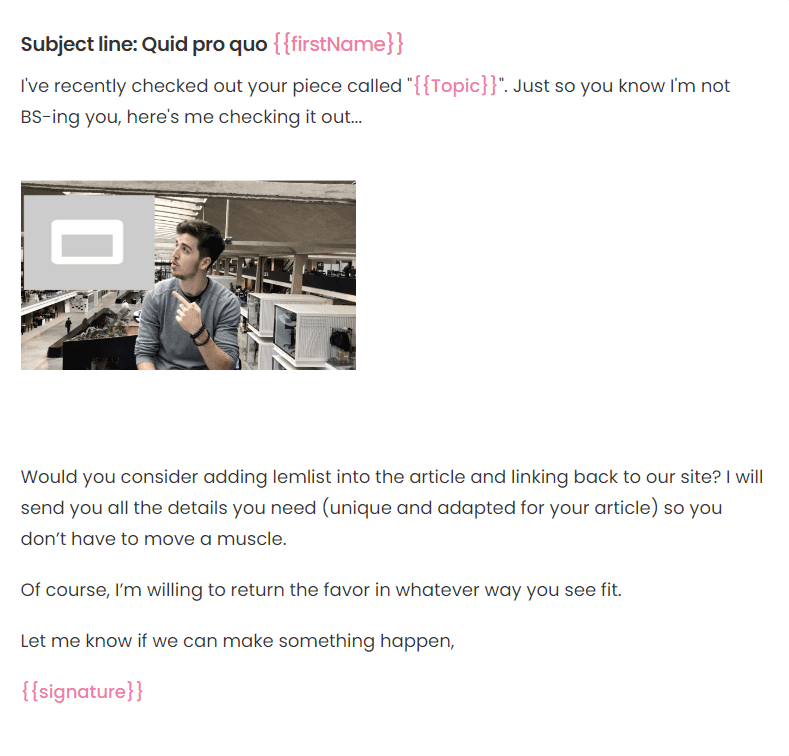 (Source: Lemlist)
Wrapping up
The best strategy to boost revenue, acquire high-quality backlinks, and stand out from the competition is through link-building outreach emails. When developing content marketing initiatives to boost conversions or search engine rankings, keep in mind all of the tips we described in this article.
Don't forget to use Stripo email templates to speed up the email production process and send responsive outreach messages.
Was this article helpful?
Thanks for your feedback!