28 May 2021
Tell Us What You Need to Make Email Production Easier, and We Will Implement It ASAP
In this customer success story, you will learn that sharing your opinion with us can be beneficial for both of us. How? Keep reading.
Q: Hello, Simon. Thanks for coming. We really appreciate that you found the time. Could you tell us a little bit about your company?
A: MAGIX is an international provider of multimedia software. Founded in 1993, MAGIX offers beginners and professional users a technologically advanced and at the same time user-friendly range of products for editing and publishing videos, music, photos, and websites. According to sales figures (Gartner market research), MAGIX sits in the top five successful companies in its sector.
Q: Simon, you've been using our tool for quite a long time. Can you tell us why you chose Stripo back then?
A: Time saving with Stripo was very noticeable. This is why we chose it over other tools.
Saving time is very important for us. And with Stripo, you significantly save time on email production.
A: I find Stripo user-friendly, dynamic, and advanced. You add lots of features and options, so I don't even have time to give them all a try.
Q: Thank you for all these kind words. We appreciate your high opinion of us. Given that you've built a number of emails with Stripo, can you tell us which option you find the most useful?
A: We've built like 700 emails with Stripo. What I like most about your tool? For sure, it's the Content Modules option. All the newsletters that we send out, go in 6 different languages. We store footers for those emails in different language versions. When working on a new email, we just pull a necessary footer/header into the email. Done. No need to build a new footer from scratch. This is a real time-saver.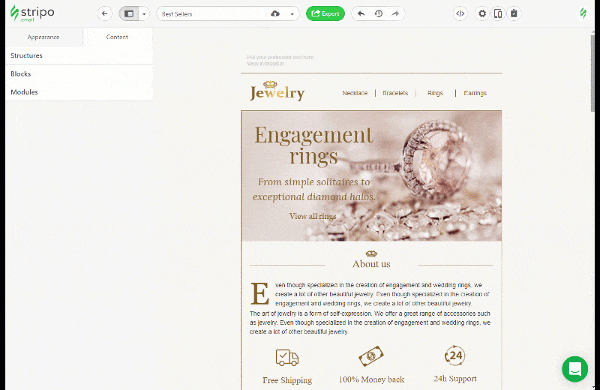 Q: Thanks. Did you know that you can actually synchronize those modules? To edit them all at once? For instance, the "Update preferences" link change, or you need to remove an icon of a social media from your footer. So, you don't have to go through 100 footers to update them. You edit just one, and these changes apply to all other emails with the Synchronized Modules.
A: That sounds very helpful. I should give this option a try.
Q: What options do you think we're lacking in Stripo?
A: Well. There are some I would wish for in Stripo. For example, it will be a great improvement if you enable users to pull data from websites into emails.
Q: We already enable our users to do that. To be able to pull data from websites into emails, you just need to activate the Smart Elements option.
A: Awesome. That is very helpful for us.
Please, refer to our "Smart Elements" blog post for the user guide on how to activate the Smart Elements option to build multiple product cards with 1 click.
Q: What else do you want us to include in our editor?
A: Second, integrations" Currently, your tool is not integrated with my marketing automation system. So we need to set up the email code after export. It would be a real help if you do integrate with my ESP. It would save us hours. The third improvement would be something like a translation option. As I said, we run email campaigns in 6 different languages. Right now I have to build 6 different emails for each language.
Q: I will forward this information to our team leads. Simon, thank you for your honest feedback and valuable input in our product development.
Little Follow-Up
After this call, we've integrated with 12 more ESPs — marketing automation systems.
And we are now working on the Translations option. How will it work? We will show soon.
But now we can say that you build just one email — one language version. And recipients in their inboxes will see this email in that language version that correlates to the language settings in their browsers. One email instead of 6! This option is expected to be released in June 2021.
Making Stripo convenient and useful for our clients is our top priority. Please, let us know what features we are lacking in your opinion. And will make our best to add them ASAP.