Table of contents
1. Describe the problem your foundation is fighting with
2. Tell a story about how your foundation started doing good deeds
3. Show the people whom you will help with donations
4. Reports on the money spent and how your organization is helping with that donation
5. Focus your efforts on highlighting the issue
6. Make gifts for supporters with the largest donations
7. Show your community members and donors to others
8. Align your fundraising campaign to some occasion
9. Say thank you
10. Create your fundraising event
1.
1. Describe the problem your foundation is fighting with
Fundraising organizations can't carry out their good deeds without sufficient support from the people. They try by any means to tell about their fundraisers to as many people as possible. And many nonprofit organizations use fundraising email messages to attract donations.
Creating emails that can touch the feelings of donors and contain the right donation call requires flexing your creativity muscle. We decided to put together a small selection of ideas for fundraising emails that will help you upgrade your fundraising email newsletter and stand out from other nonprofits.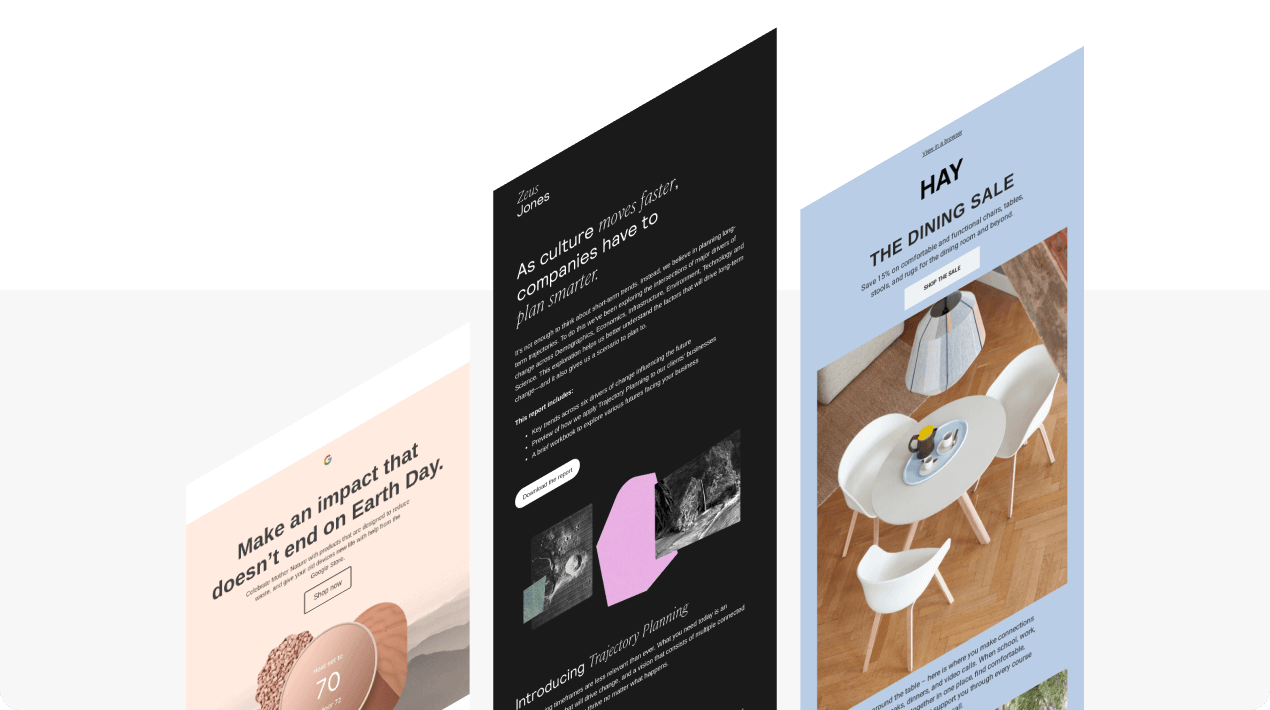 Build professional, fully responsive fundraising emails in no time with Stripo's dedicated templates
Browse
1. Describe the problem your foundation is fighting with
We think it's difficult to drive donations if the problem is described rather superficially. This may result in potential donors will think your fundraising campaign is fishy. No one wants to donate to suspicious fundraising companies.
Therefore, you should describe the problem in more detail in your fundraising email template. Tell your readers about it, like what it threatens (people, nature, or even donors themselves) and how donations will help the foundation solve this problem. Feel free to spice up your copy with a little emotion. You can also add different photos that can touch their feelings and visually show the problem. If your foundation performs a humanitarian mission, show photos of those you help. If you want to fight beach pollution, then make a comparison of beaches before and after cleanup. Your imagination only limits you, but your creativity will result in an impactful donation request.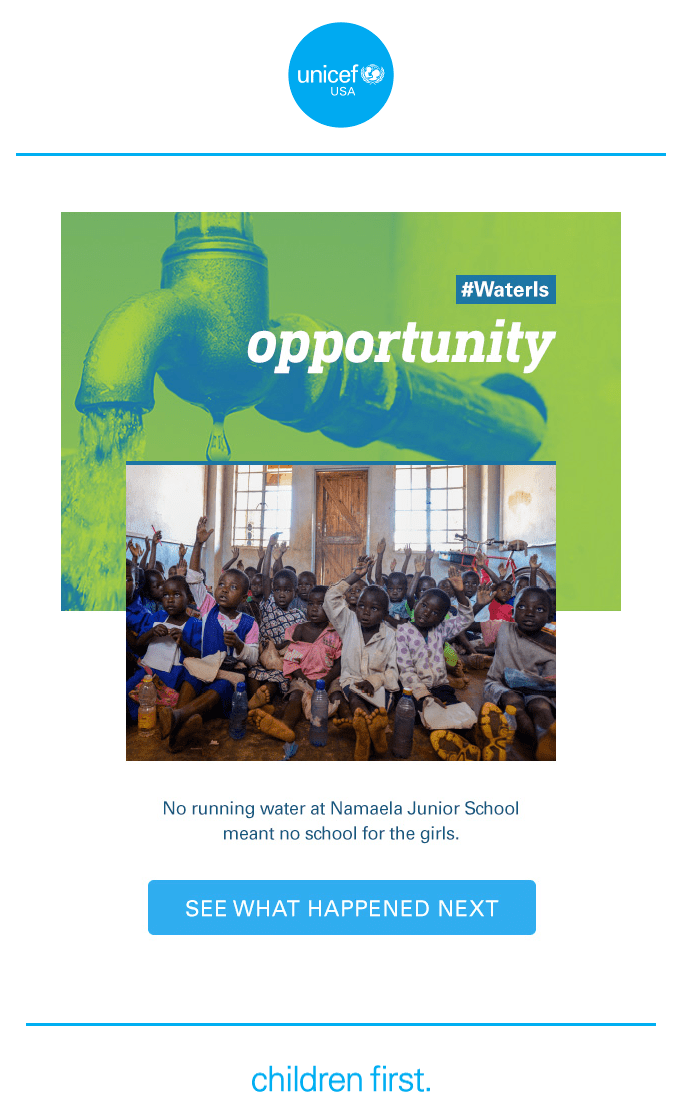 (Source: Really Good Emails)
A good example of this approach is a brief email from UNICEF email with a photo of the school and its pupils that they want to provide clean water.
2. Tell a story about how your foundation started doing good deeds
How to attract potential donors and drive more donations? Tell the story of your foundation and what inspired you to take the path to solve a particular problem. Often in such emails, nonprofits tell how some kind of problem of humanity has rallied like-minded people who together want to solve it, and they only need the help of caring people and their donations.
Try the same. Mention how the history of your organization began, who was at its origins, and what problem of humanity has united you. Finish everything with a brief story about what your organization is now and what it has achieved over the years. Mention previous donations made by your community that were a record for that time and compare them to donations your receive now. By creating a such email, you will open up from a more personal side and show that behind the logo of the organization are the same ordinary and caring people as the recipients of your email.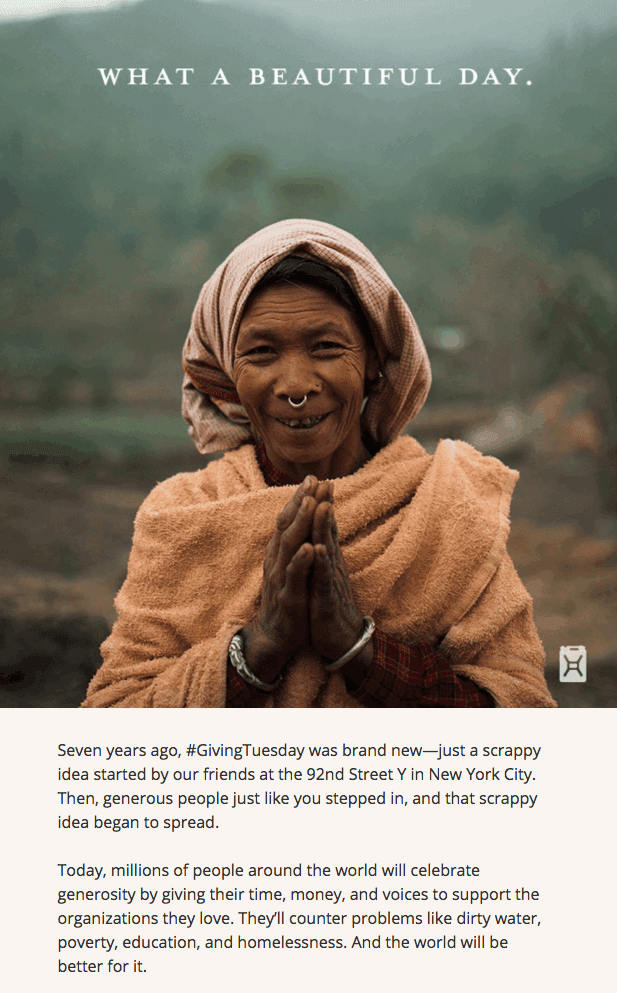 (Source: Email from Charity Water)
In their email, the international organization Charity Water told readers how their story began and how donors have helped them develop over the years.
3. Show the people whom you will help with donations
Another way to get more personal in your fundraising email templates is to tell (or, better yet, show) the people your donations will help. Thus, the efforts you describe in your emails will be visualized. You will show that you provide help not to abstract starving people in Africa but to the inhabitants of these countries with their names, stories, and so on. You can even go further and interview these people to share their stories and how your foundation has helped them. This approach will give you a valuable social proof to boost your fundraising goal and gain more money from donors.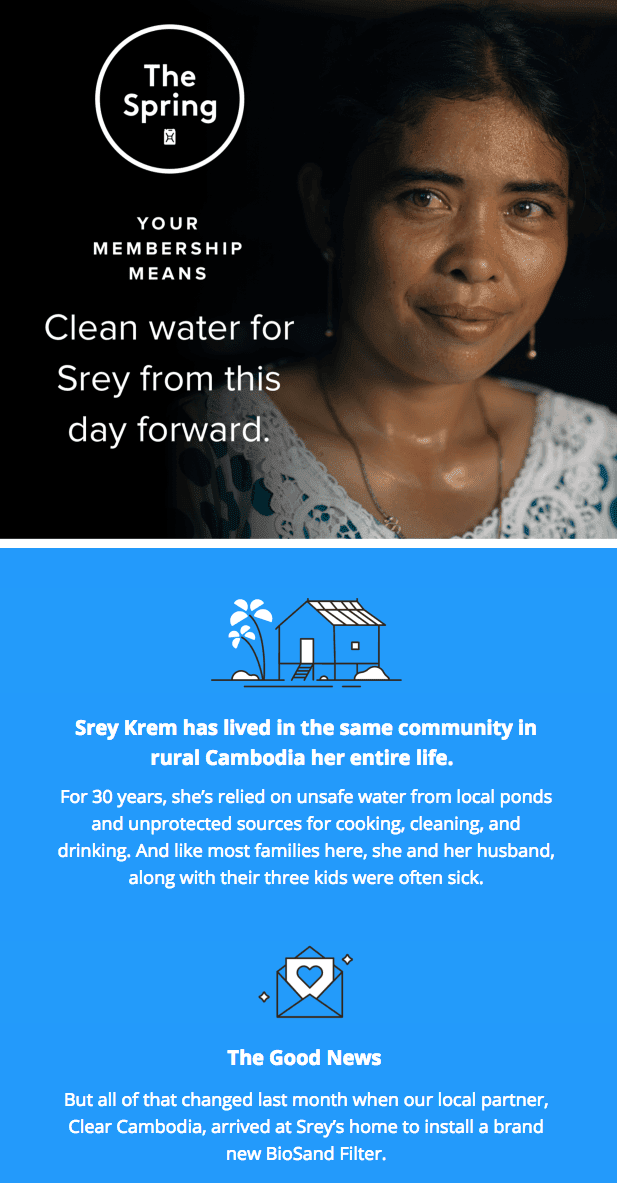 (Source: Email from Charity Water)
The previously mentioned Charity Water often uses this approach in its fundraising email templates. In this email, they talked about Srey Krem from Cambodia and how she and her family have relied on sources of less than pure water for housekeeping and cooking for many years. They also did not forget to mention how donations from ordinary people helped this family.
4. Reports on the money spent and how your organization is helping with that donation
Transparency is one of the most important qualities of any fundraising company. Telling where donations go is a sure way to show that a nonprofit organization can be trusted and is truly changing the world for the better.
You should make it a good habit to report to supporters at the end of each fundraising campaign how their funds were spent. Provide links for statistical summaries, show photos of people who received humanitarian assistance from you, videos of the transfer of goods for animal shelters, and so on. The more transparent your reports are, the more willing community members will be to drive donations to your foundation in the future.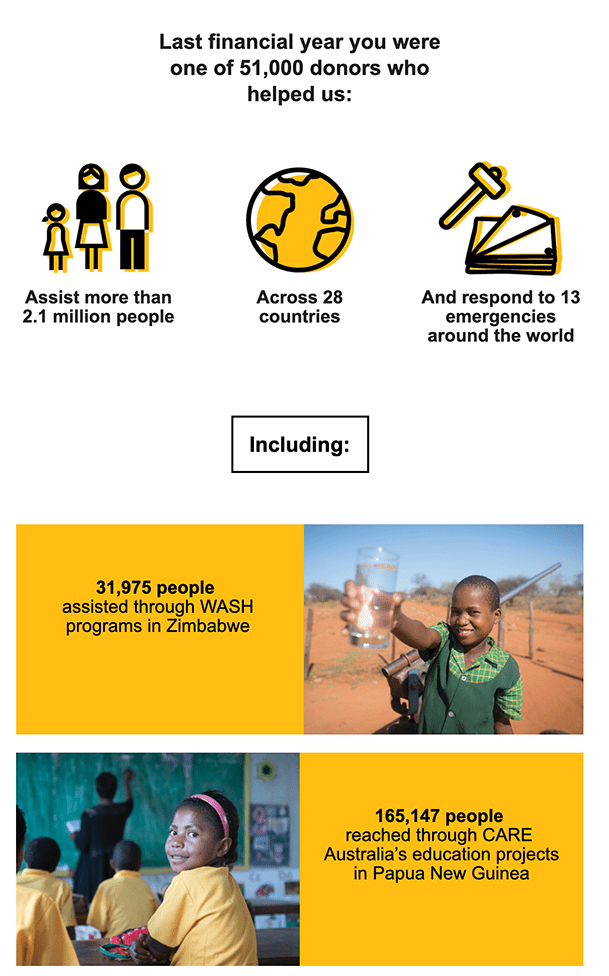 (Source: Email from CARE Australia)
CARE Australia is constantly adding this one of the best practices to their emails. They make reports for every fundraising event and financial year. In their emails, you will always see detailed numbers of donations collected, the number of people who were helped, and their photos.
5. Focus your efforts on highlighting the issue
Although many companies spend more than 3 hours on email design (solely the visual part), this does not mean that you should do the same. Undoubtedly, a beautiful email template is pleasing to the eye, looks great on various screens, and appeals to a potential donor. However, your goal is different. You should encourage people to donate to solve severe problems with your email template, which is why the design aspect can be simpler. Instead of creating complex designs, focus on touching photos (or any other images) and impactful copy that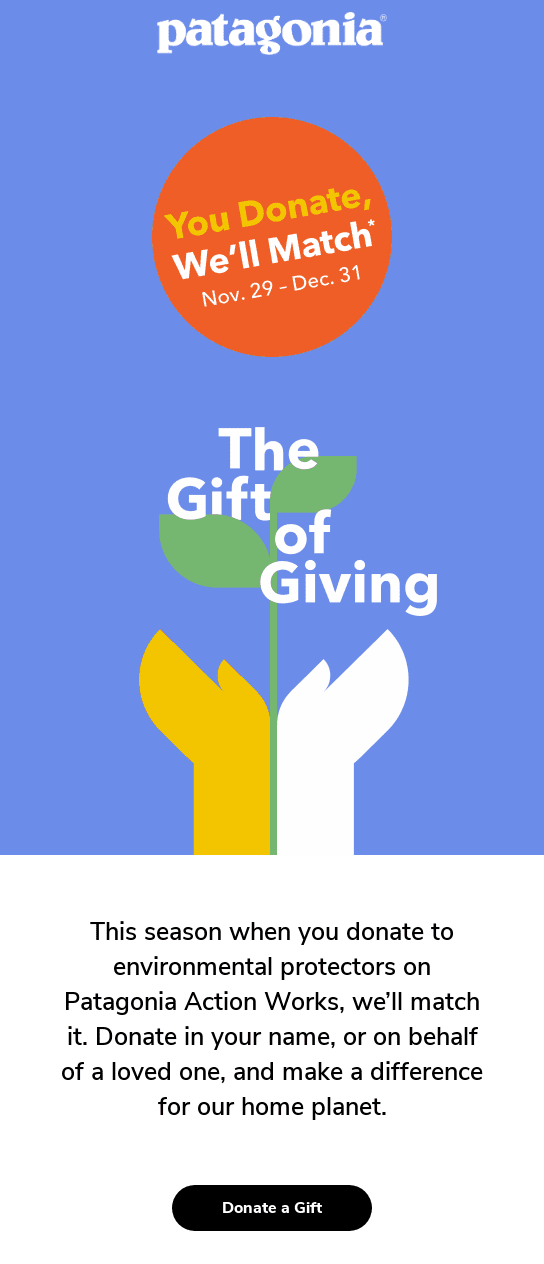 (Source: Email from Patagonia)
For example, here is a nonprofit email from Patagonia. As you can see, it is extremely simple in its execution. No fancy designs, image carousels, advanced animations, or other elements can distract the reader. It's a simple fundraising message with a conscious subject line, a fancy picture, a well-written copy, company contacts, a website address, and a call to action donate button to click through.
6. Make gifts for supporters with the largest donations
Donor heroes with the most generous donations should be thanked in a special way. For example, you can create a list of the top 10 largest donations and send gifts to their senders that are somehow related to your activities. In addition to branded t-shirts, badges and cups, you can get creative. For example, if your nonprofit organization fights for the environment, you can send eco-friendly toothbrushes and combs to the most generous supporters.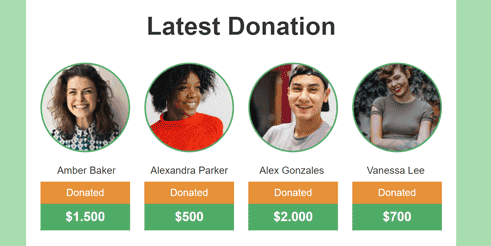 (Source: Stripo template)
Express your gratitude to donors in a special way and encourage others to support your organization.
7. Show your community members and donors to others
In addition to sending gifts, you should highlight record donations in your email templates for other readers. You can make top donors, and add their photos and names to your email (with their permission, of course) so that other readers can see these heroes.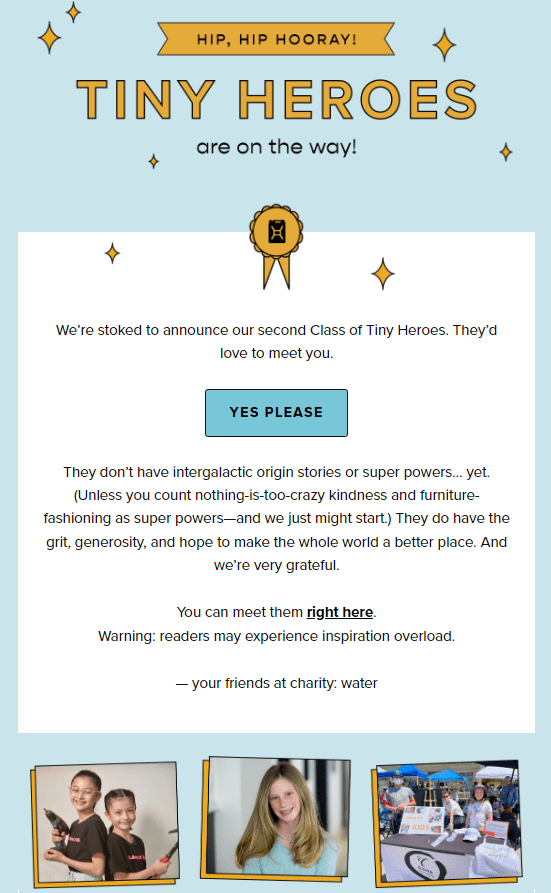 (Source: Email from Charity Water)
For example, Charity Water created an email newsletter for its event called Tiny Heroes. Such e-mails tell about children who volunteer and help the foundation do good deeds. Here you will find everything: nice design, photos of small volunteers, and a link to the foundation's website.
8. Align your fundraising campaign to some occasion
While many nonprofits consider the last quarter of the year to be the best time of the year for fundraising, that shouldn't stop you from using other events as an occasion for raising money. Throughout the year, many events and occasions can be the basis of your email campaign and encourage readers to contribute financially to your venture. For example, it can be Earth Day, when it is customary to turn off all house appliances and lights for an hour. Or, you can time your fundraising email marketing campaign around International Day for the Protection of Children and make a fundraising campaign to donate to African children. Your creative possibilities for gathering support are endless.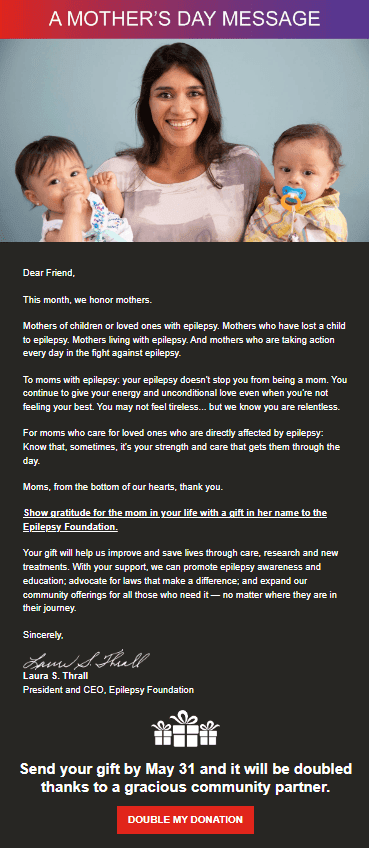 (Source: Epilepsy Foundation)
For example, the Epilepsy Foundation created a special newsletter for Mother's Day with congratulations and an appeal to donate to the fund to fight epilepsy among the population.
9. Say thank you
We all know another magical word that comes right after "Please" is "Thank you." Don't forget to thank your donors for participating in your fundraising campaigns. This is one of the best practices and a nice touch that will show your courtesy, and donors will be pleased to support you in the future.

Express your gratitude and say how much you appreciate every reader and cent from your audience. Let them feel that each donation is a part of something important and helps to do good deeds.
10. Create your fundraising event
Do you lack the existing events in the world to complete all the good deeds and donation requests? So create your own. Nothing prevents you from creating your own interesting fundraising event that will captivate your audience, gain volunteers and help you achieve your fundraising goal. This will help to interest email recipients, attract new donors and stand out among other fundraising organizations.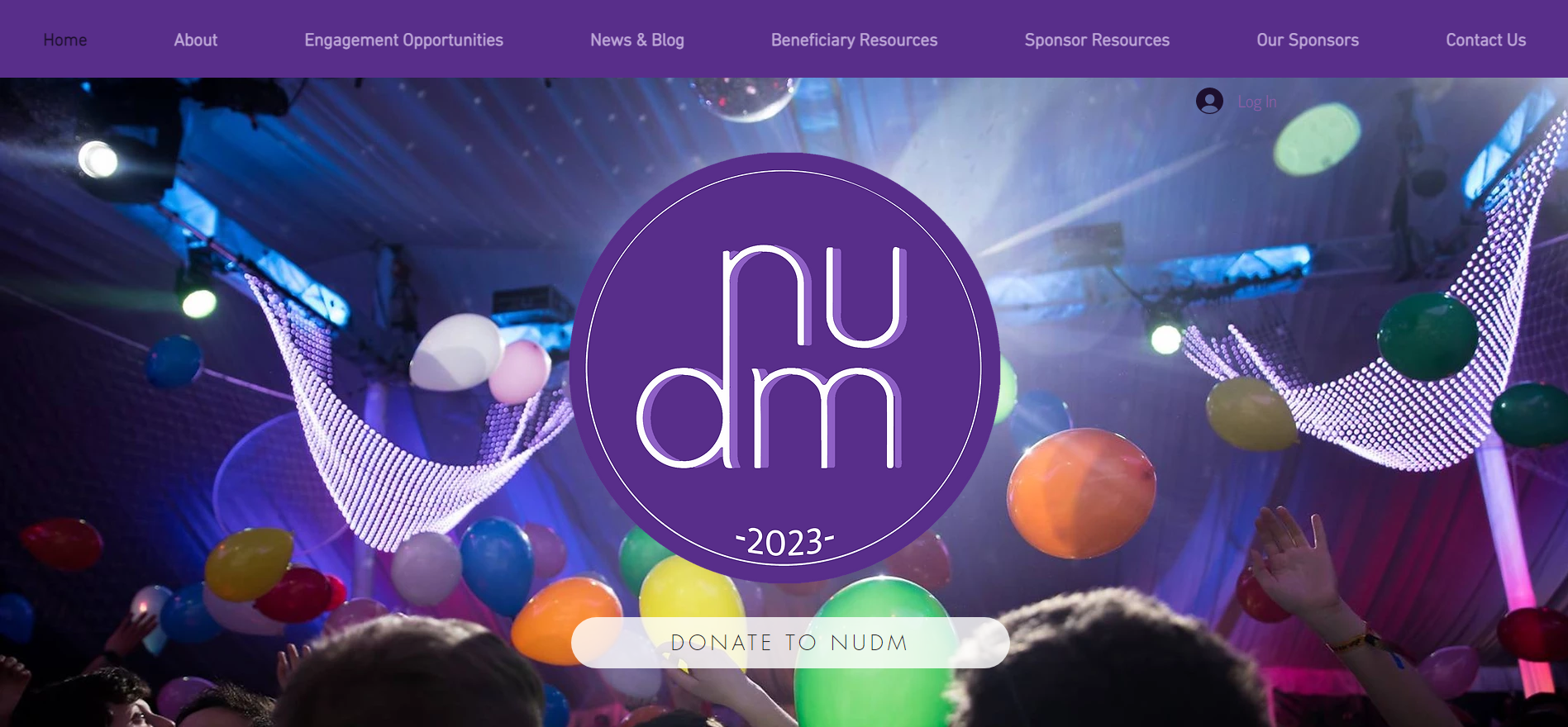 (Source: Northwestern University of Chicago)
For example, Northwestern University of Chicago organizes an annual Dance Marathon and collects record amounts that are then transferred to various charitable organizations. You can do something similar. The only caveat is that you are a nonprofit organization and can directly ask for support and donation.
Wrapping up
Like any other email campaign for companies in various industries, fundraising email marketing for nonprofits requires creativity. Nonprofit organizations are always in the process of generating ideas for creating emails to tell readers about a problem, inspire action and show donation requests for good deeds. We decided to make this email fundraising ideas compilation to help you create an effective fundraising email template for your organization. However, in addition to ideas, we can help you with one more thing.
Was this article helpful ?
Thanks for your feedback!